Mo-Chica (Los Angeles, CA)
Mo-Chica on 7th Restaurant
514 W 7th St, Los Angeles, CA 90014
213.622.3744
www.mo-chica.com
Thu 06/07/2012, 07:55p-12:05a

When
Ricardo "Martin" Zarate
opened
Mo-Chica
back in the spring of 2009, no one really paid much attention to the proto-restaurant, tucked away at the
Mercado La Paloma
just south of Downtown. That all changed, however, following the glowing endorsement of
Jonathan Gold
. Soon enough, Mo-Chica became a must-try foodie destination, and ushered in an era of renewed interest in Peruvian cookery, not only in LA, but across the nation. Partnering with restaurateur-of-the-moment Bill Chait and Frenchman Stephane Bombet, the Chef debuted
Picca
as the much-anticipated follow-up to the original restaurant. The place was a smash hit, and boosted Zarate's renown even further. He was named one of
Food & Wine
's "Best New Chefs" for 2011, while Picca was deemed one of the "Best New Restaurants" in the City by
Los Angeles Magazine
. Alan Richman, meanwhile, declared Picca one of the "Ten Best New Restaurants in America" in
GQ
, and Zarate was soon made the ambassador for Coca-Cola in his home country of Peru.
Given the success that Zarate has enjoyed in recent years, perhaps it came as no surprise that he wanted to breathe new life into Mo-Chica, the place that started it all. The humble stall in the food court at MLP was opened with what he could scrape together at the time. What we have here, thus, is what Mo-Chica would've been had the Chef had the financial resources to fully realize his dream and vision back then, still serving the original's modernized Peruvian comfort dishes, but just ratcheted up to the Nth degree.


Zarate and company got a hold of the space, next door to Soi 7 and the perpetually-packed Bottega Louie, way back in 2010, but spent over a year and a half completely remodeling the building. It's a large-ish, urban-rustic-industrial space, split into two areas and beaming with flashes of red. In the back room, walls are covered by artwork from artist
Kozem
(depicting a spray-painting alpaca), while Peruvian
ekeko
figurines (painted by local chefs and industry types) stand guard along one perimeter. Out front, there's a surprisingly small bar doling out an array of Latin liquor, while the gleaming open kitchen takes center stage.



Mo-Chica's menu features much of the fare from the original restaurant, plus a bevy of new, modern-rustic, family-style additions. As was the case with
Picca
, sharing is definitely a good idea; with six people, we were able to gamut the entire menu, plus a few specials. To drink, cocktails take the forefront, though amazingly, Julian Cox was
not
responsible for them. Rather, the musically-monikered concoctions are the charge of Deysi Alvarez (
Picca
,
Fraiche
,
Rivera
), who, admittedly, did work with Cox at one point or another. There's also a smattering of wines and beer as well, if that's your thing. Click for larger versions.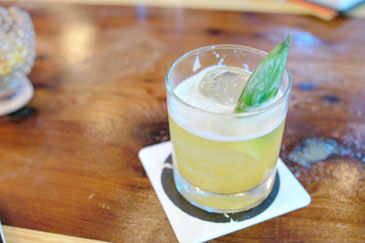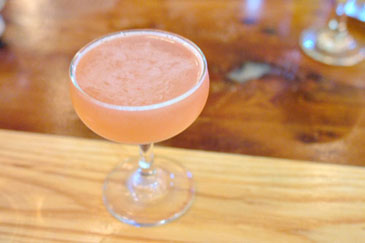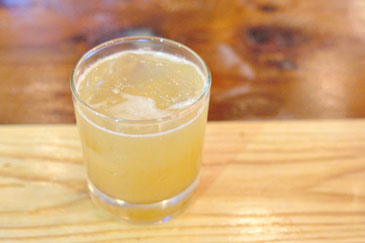 OAXACALIFORNIA LOVE [$12.00]
| mezcal, tequila, fresh lime juice, pineapple rocoto gomme
PAPA DON'T PEACH [$12.00]
| banks rum, fresh peaches infused with calvados, peach bitters, simple syrup, fresh lemon juice
SANTA CLAUS IS BACK IN TOWN [$12.00]
| atlantico reserva rum, elizabeth all spice, fresh lime juice
Six specialty
cocteles
reside on the menu currently, and we got started with a threesome. My favorite was the
Oaxacalifornia Love
, which showed off a tropical, fruity, creamy sugariness initially, leading to a balanced mix of smoky, woody flavors on the midpalate, with a long, lingering finish imbued with the essence of mezcal. The
Papa Don't Peach
, meanwhile, was a refreshing concoction made using dehydrated peach; it had an almost candied sweetness to it, tempered by the boozy backbone of the Banks. Finishing things off for this first round, the
Santa Claus Is Back in Town
also featured rum, but was a headier libation, with the allspice lending a definite character of sweet spice to the drink, over a weighty base of rum.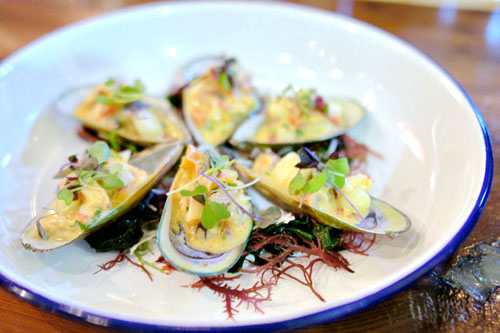 CHORITOS A LA CHALACA [$8.00]
| Grilled chopped mussels, prawns, squid, tomato choclo salsa
We began our gauntlet with a preparation of
choritos
, apparently inspired by the cuisine of Callao, Peru's central port and an area known for its seafood. It was certainly very nice, with the tartness of the salsa going in stellar fashion with the inherent brine of the mussel, prawn, and squid. A lovely mélange of textures, too.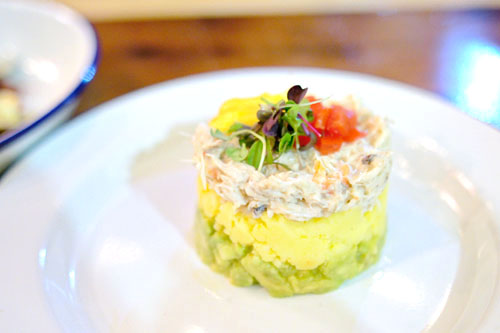 CAUSA DE CANGREJO [$10.00]
| Aji amarillo mashed potatoes, fresh crab, avocado
A
causa
of crab did a wonderful job highlighting the natural sweetness and salinity of the crustacean, with the avocado adding a palpable lusciousness to the dish, and the potato providing an apt temper.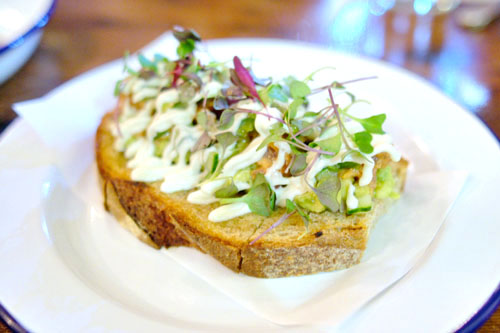 PAN CON TUNA [$10.00]
| Grilled bread, spicy tuna, rocoto sauce, yuzu mayo
Interestingly, one of my dining companions aptly described this course as a "hearty tuna roll." The fish was on point, and went well with the accompanying tang and creaminess of the yuzu mayo, while the microgreens provided further levity to the dish. I would've liked to have seen more actual tuna here though.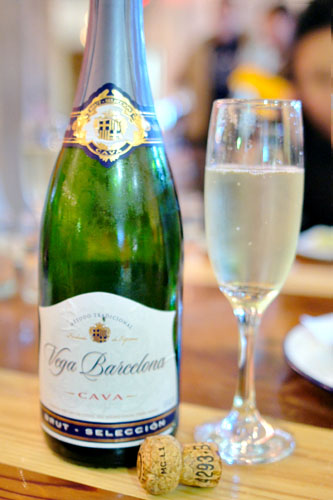 At this point, we ordered up a bottle of sparkling wine, the
vega barcelona, cava, spain NV [$44]
. This was a pretty prototypical cava: fairly dry and medium in weight, with subtle notes of citrus and stone fruit, some bread-y character, all tinged with just a touch of minerality.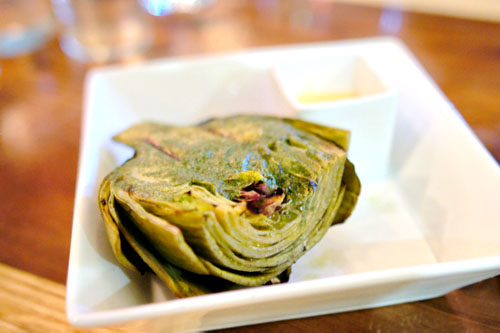 ALCACHOFA [$9.00]
| artichoke, huacatay butter, rocoto sauce
And here we see our first off-menu special of the evening, a braised and grilled artichoke, finished on the salamander. It was pretty classic in essence, with the use of huacatay butter adding an additional point of interest, and the rocoto sauce serving as a lovely, piquant counterpoint. However, it was all just a bit too much work trying to get at the tender, tasty heart.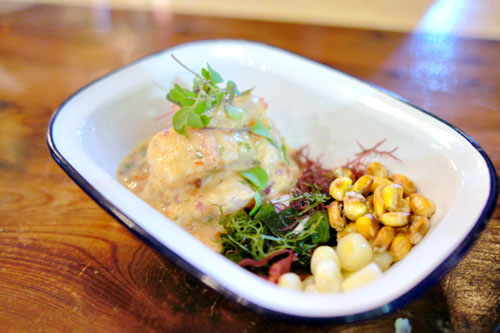 CEVICHE CARRETILLERO [$13.00]
| Seabass, rocoto, red onion, leche de tigre, choclo, yuyo
This ceviche, ostensibly inspired by street cart fare, was certainly one of the tastiest that I've had. The sea bass itself was on point, with a superbly focused, forceful brine that was beautifully balanced by the pointed piquancy of the
leche de tigre
marinade and red onion. At the same time, the seaweed did a wonderful job in complementing the flavors of the fish, while the
choclo
offered up a delightful crunchiness to the dish.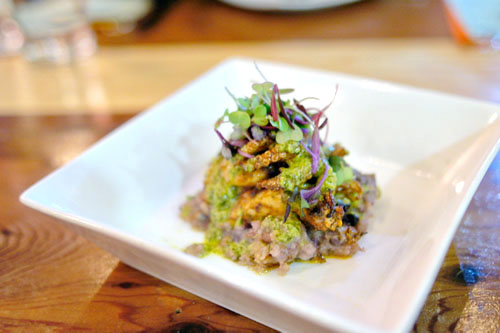 ANTICUCHO DE PULPO [$10.00]
| Grilled octopus, roasted potatoes, jalapeno sauce
An
anticucho
of octopus was delectable. I loved the firm, yet supple consistency of the
pulpo
, as well as its subtly sweet flavor and smoky char. The jalapeño salsa, meanwhile, offered up a wonderful bit of counterbalancing heat to the dish, while the potato added a well-placed bit of body to things.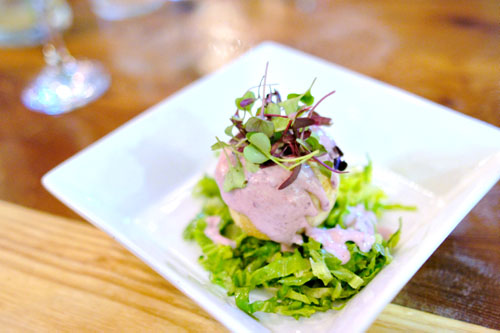 PAPA RELLENA [$7.00]
| Stuffed potato, eggplant stew, Peruvian olive oil
A
papa rellena
arrived in near-perfect spheroid form, with the potato itself melding well with the olive oil and yuzu, while the lettuce added a great touch of levity to the fray. Tasty, though unfortunately I didn't get much from the actual eggplant.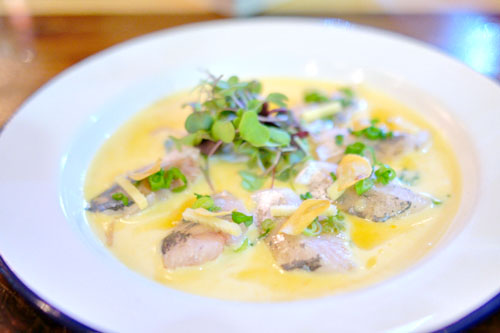 TIRADITO DE JUREL [$18.00]
| Spanish mackerel tiradito, ginger amarillo sauce, garlic chips, sesame oil
The strong, fishy character of mackerel was keenly highlighted in this next dish, with the
jurel
forming a superb balance with the creeping tang of the ginger sauce. The sesame oil, meanwhile, further amplified the Asian-y tinge of the course. Very nice.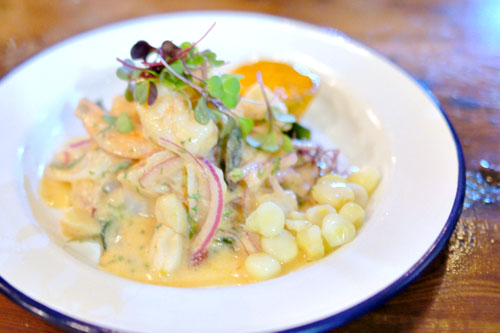 CEVICHE MIXTO [$18.00]
| Halibut, prawns, scallops, squid, red onion, rocoto leche de tigre, camote
A mixed ceviche was fairly classic in nature, with all the proper components in play and each item of seafood being distinct, on point, and delicious in combination with each other and the bracing
leche de tigre
. Huge kernels of corn, meanwhile, did an admirable job providing some gravity and crunch to the dish, while the sweet potato added a dash of sugar to the mix.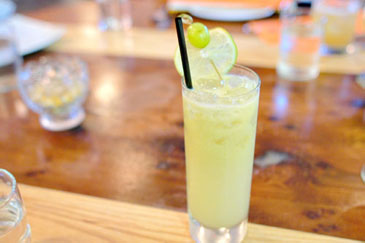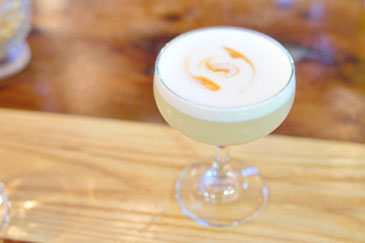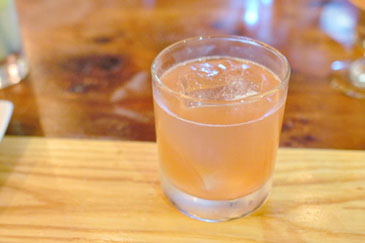 I'M GRAPEY AND I KNOW IT…(wiggle, wiggle) [$12.00]
| green grape & cardamom reduction, fresh ginger juice, orgeat syrup, oro italia pisco, soda, lime wheel
THA DOGGFATHER aka PISCO SOUR [$11.00]
| pisco porton, egg white, fresh lime juice, fresh lemon juice, cane syrup sugar, angostura bitter
TEA-NAGE DREAM [$11.00]
| Oro quebranta pisco, pitta & brendan's tea
Time for round #2 of cocktails. The
I'm Grapey and I Know It
was a riff on the classic Peruvian Chilcano, a drink made with pisco, ginger ale, and lemon juice. It was pretty delicious, with a sweet, vinous, almost lychee-like sweetness to it, all laced with tangy overtones of ginger--a great summer quaffer. Next up was
Tha Doggfather
, which was basically a completely traditional pisco sour. It was spot on in that regard, an imminently balanced libation with a superb mix of sweet, sour, bitter, and boozy flavors. Wrappings things up, thus, was the
Tea-Nage Dream
, which conveyed a bracingly sweet, floral character that was actually a bit overwhelming for me.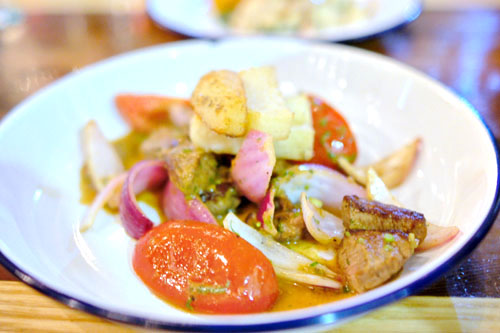 LOMO SALTADO [$14.00]
| Sautéed beef filet, roma tomatoes, red onions, ginger, garlic, soy sauce, banyuls vinegar, Kennebec fries
The lomo saltado definitely showed off its
chifa
roots, conveying here a very Chinese-y type aesthetic. The beef itself was quite nice: tender and flavorful, and excellent when taken with the tangy onion and sweet, succulent cuts of tomato. Hearty blocks of potato, meanwhile, did a great job in moderating all the otherwise strong flavors at play.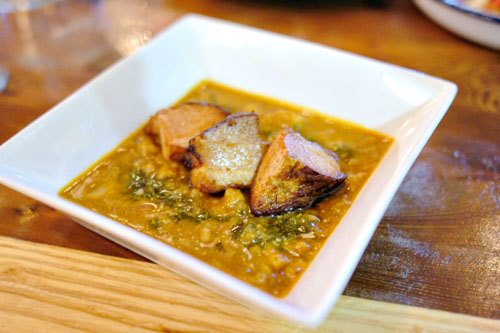 CARAPULCRA [$12.00]
| Peruvian sun dried potato stew, crispy pork belly, chimichurri
Pork belly formed the basis for this
carapulcra
, a traditional Peruvian stew of potato and pig. The belly was nicely crisp, with a good mix of lean and fat, and went well with the comparative levity of the
papa
. However, the crux of the dish was the absolutely fascinating combination of sweetness and spice present (I think peanut butter was involved), which really did tie the dish together.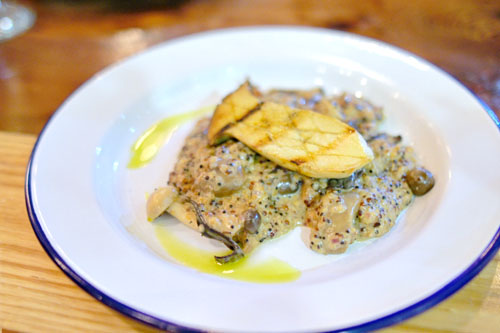 QUINOTTO [$13.00]
| Quinoa risotto, wild mushrooms, parmesan, parsley infused oil
Here was Zarate's version of risotto, made with quinoa and maitake, chanterelle, and king oyster mushrooms. It was lovely, with the gritty, earthy grain pairing wonderfully with the heady, umami-laden relish of the 'shrooms, while the use of Parmesan added a further bit of savoriness to the amalgam. Something that I could just eat a big bowl of.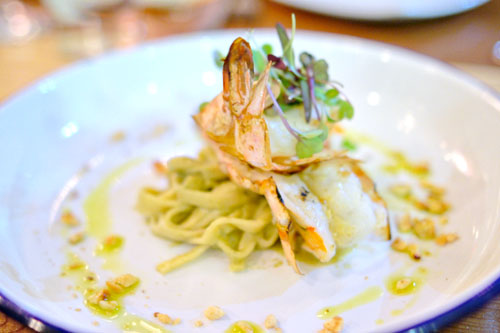 TALLARINES VERDES CON CAMARONES [$13.00]
| Grilled black tiger prawns, tagliatelle, peanuts, Peruvian black mint pesto
The prawns here had an amazing aroma, one that I could smell from clear across the table. Taste-wise, they were just as good, delightfully snappy in consistency and with a mouth-watering salinity. The
camarónes
, though delicious alone, were superbly accented by the minty tang of the
huacatay
, and I appreciated the inclusion of the noodles as well.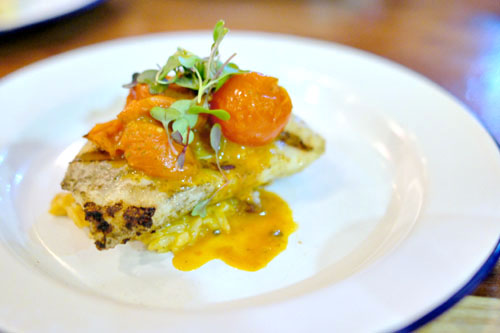 PAICHE [$16.00]
| Amazonian fish from Peru, ajiaco de arroz, cherry tomato escabeche
Chef Zarate once called
paiche
"
the best fish you are going to eat
," and though I'm not quite ready to give it that honor yet, I can say that it was pretty spectacular. The fish, also known as
arapaima
, was firm in texture, yet yielding, with a lip-smacking savoriness and great hint of char, all contrasted against the bright tang of the tomato escabeche. If that wasn't enough, the paired rice stew was certainly commendable as well.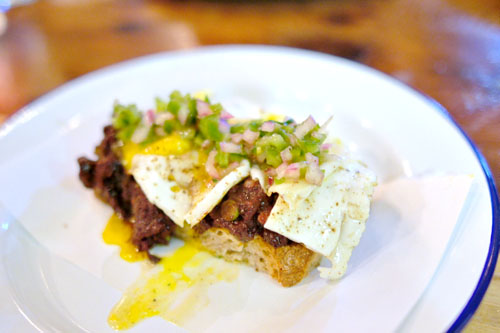 SANGRECITA [$11.00]
| Morcilla crostini, fried egg, jalapeno salsa
Zarate's
morcilla
, somewhat surprisingly, was one of the highlights of the meal. Though
sangrecita
is traditionally made with chicken blood, a pork varietal was used here instead, and with stellar results. It was loaded with flavor, but didn't display any of the metallic-y character that one often finds with blood sausage. The egg, meanwhile, added an excellent enveloping luxuriousness to the dish, and I loved the heat of the salsa here as well. This would be a real treat for breakfast.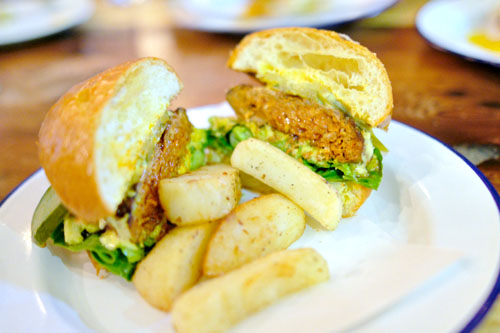 HAMBURGESA [$12.00]
| Alpaca & lamb patty, pickled cucumbers, aji amarillo yogurt dressing
Mo-Chica's requisite burger was something to behold. Made with a mix of lamb and alpaca, the patty was dense, juicy, and satisfying, but with a sweet, gamy flavor profile that I couldn't quite put my finger on. No matter, the tasty puck of meat was enjoyable on its own, and also paired swimmingly with the countervailing piquancy provided by the pickles and yogurt dressing. Overall, quite a nice little lamburger.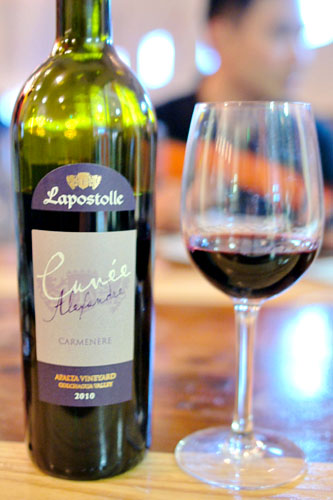 To pair with some of our heartier dishes, a bottle of
casa lapostolle, cuvee alexandre, carmenere, colchagua valley, chile 2010 [$48]
was called for. It was pretty hefty, loaded with dark, red fruit character and interspersed with hints of spice, smoke, coffee, and chocolate--quite nice with some of the heavy meat dishes to follow.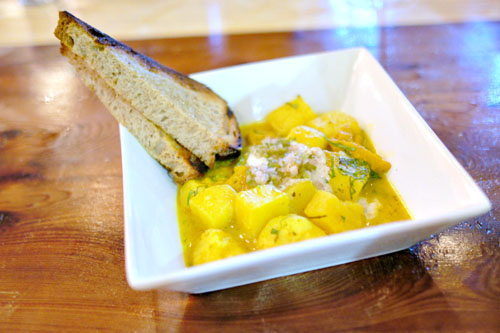 CAU CAU [$11.00]
| Tripe stew, peruvian potatoes, grilled bread, cumin yogurt, mint chimichurri
Here was
cau cau
, a rustic Peruvian tripe stew that I'd actually tasted before at last year's
Plate by Plate
benefit. As was the case before, the stew was heart and homey, with the offal itself soft, slippery, and supremely tender, offset by the tang of the chimichurri, while the potato did its part in moderating the heady flavors at play.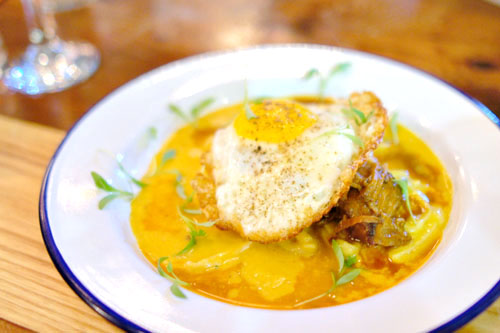 ESTOFADO DE ALPACA [$16.00]
| Alpaca stew estofado, tagliatelle, aji amarillo sauce, fried organic fertile egg
Alpaca once again reappeared on the menu, this time in stew form. The meat once again showed off mounds of flavor, but really could've been more tender. Nevertheless, the dish worked overall, with the noodle providing a wonderful complement to the alpaca, and the fried egg adding an overarching, integrating measure of luxuriousness to the entire dish.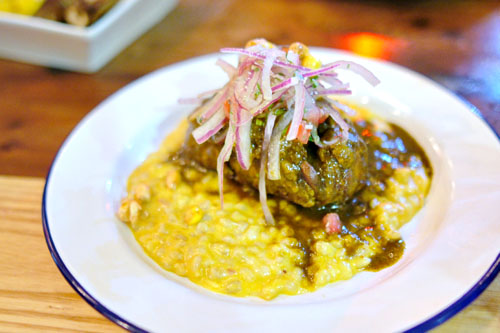 COLITA DE REZ [$14.00]
| Oxtail, trigo de mote, huancaina salsa criolla
A massive brick of oxtail was exactly what I'd expect: tender and toothsome to the bite, and teeming with deep, dark flavors. All that meat alone would've been overwhelming, however, so I really enjoyed the tempering effect of the
trigo de mote
(boiled wheat) here, as well as the bright acidity of the Creole salsa. Bits of
cancha
, meanwhile, offered up pinpoints of crunchiness to the dish.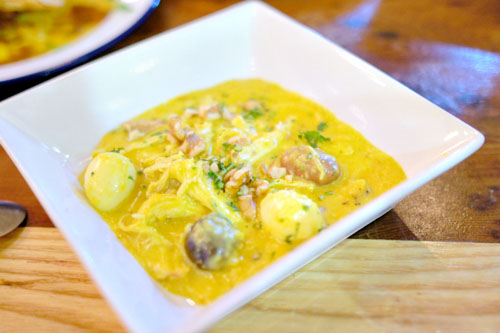 AJI DE GALLINA [$11.00]
| Chicken stew, aji amarillo bread sauce, boiled quail egg, confit pee-wee potatoes, walnuts, parmesan
Here was an elevated preparation of the classic
aji de gallina
chicken stew. It was absolutely lovely, with all the various, disparate elements coming together in supreme fashion, all bound together by the subtle tartness of the
ají amarillo
sauce. I even appreciated the walnuts, which I'm usually not a fan of.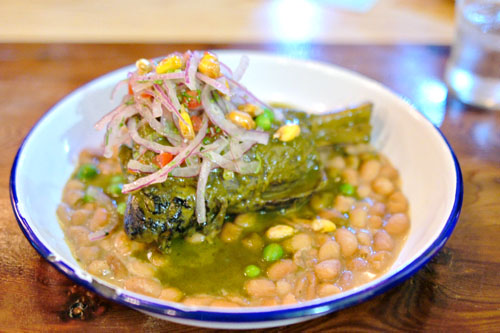 SECO DE CORDERO [$16.00]
| Lamb shank, canario beans, cilantro beer sauce
A shank of lamb was rich, fatty, and falling-off-the-bone tender, with a considerable intensity and gravity that was keenly balanced by the
salsa criolla
, while the canary beans served as an earthy counterpoint as well. I would've liked a bit more cilantro here, though, in the beer sauce.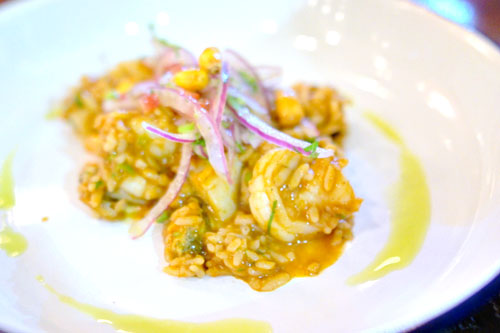 ARROZ CON MARISCOS [$14.00]
| Peruvian seafood paella, salsa criolla
Zarate's take on paella was up next, and did not disappoint. Again, I really liked how the inherent nature of the seafood was so deftly conveyed here. Each element was distinct, yet the entire dish was well integrated, beautifully tied together by an overarching piquancy and spice. I wanted a bigger bowl.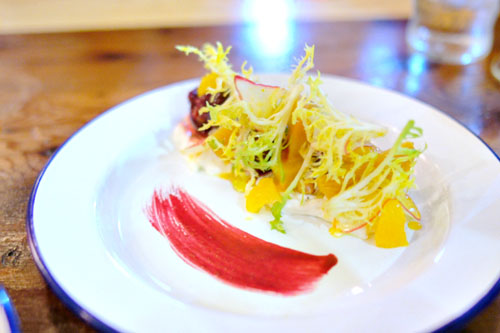 BETERRAGA [$9.00]
| Roasted beet salad, burrata, candied corn, orange aji amarillo dressing
Here, the Chef presented his version of the classic combination of beets and burrata. I wasn't in love with it, but then again, I pretty much loathe beets.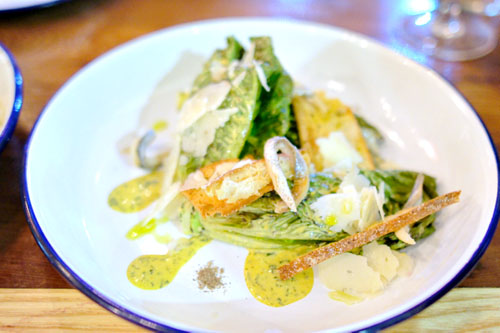 CAESARIN [$11.00]
| Peruvian ceasar salad, grilled baby romaine, parmesan, huacatay anchovie dressing
Caesar salads are usually served at the start of meals, but Mo-Chica's was definitely worth the wait. It was, in fact, quite possibly the best rendition of the salad that I've ever had, a faultless mélange of crunchy, tangy, light, salty, and fishy. I bet the key is that
huacatay
dressing.
SOLTERITO [$9.00]
| Southern style peruvian salad, lima beans, choclo, feta, olives, english peas, queso fresco, rocoto vinaigrette
We followed up with yet another salad, this time a
solterito
from the Arequipa region of Peru. It was actually much, much better than I'd anticipated, a bevy of light, bright flavors and disparate tastes and textures, augmented in weight by the queso fresco, and beautifully tied together by the rocoto vinaigrette.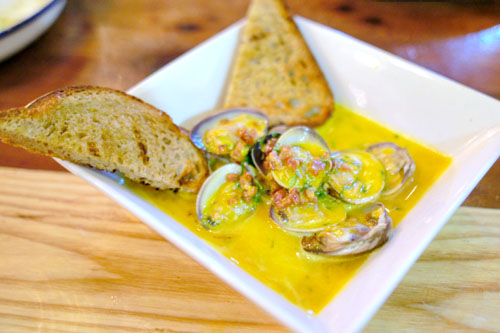 ALMEJAS [$12.00]
| steamed clams, pancetta, aji amarillo butter
The next special was a bowl of steamed clams, inspired by a similar dish featuring mussels from
Picca
. The clams were spot on, succulent and supple, with a great brininess that went superbly with the salty kick of pancetta and the
aji amarillo
butter.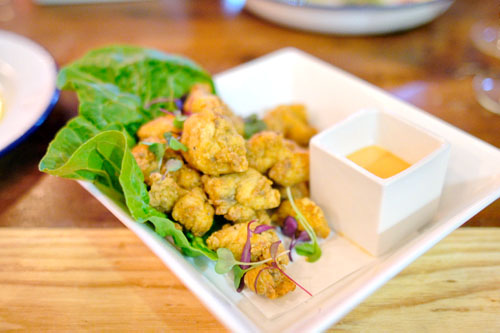 CHICHARRON DE POLLO [$7.00]
| marinated crispy chicken, rocoto sauce
Our final special of the night was the
chicharrón de pollo
(also from Picca), which you can pretty much think of as the best popcorn chicken you'll ever have. The bird was tender, juicy, and immensely flavorful, with a delightfully crisp fried skin and wonderful tinge of spice. It was delicious all by itself, but also paired superbly with the heat of the accompanying rocoto.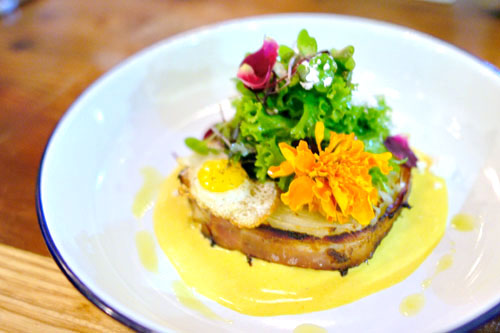 PAPA A LA HUANCAINA TERRINE [$10.00]
| Peruvian potato terrine, bacon, fried quail egg, huancaina sauce
In our last savory dish, Zarate takes the classic dish of
papa a la Huancaina
and ups the ante. Potato was layered in thin strips, in
mille feuille
fashion, and showed off a wonderfully crisp, yet yielding consistency. Mild in flavor, the
papas
were adroitly accented by the creamy, cheesy, piquant Huancaína sauce, while the pancetta added great pricks of saltiness. Meanwhile, the greenery threw some levity into the mix, and also made for some pretty plating as well. A resounding success.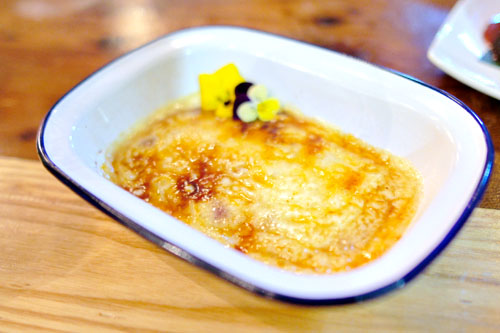 SOL Y SOMBRA [$8.00]
| purple corn, pineapple, granny smith apples, apricots, raisins & kiwicha creme brulee
Our first of three dessert was the "sun and shade," a playful mix of sweet, fruity flavors and a delightful
kiwicha
custard. One of my dining companions even described it as a combination between a crème brûlée and a fruit tart. Very nice bitterness and crunch from the burnt crust as well.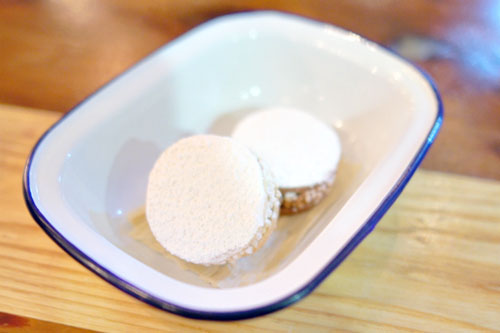 ALFAJORES [$8.00]
| Peruvian cookies, dulce de leche & rocoto chocolate ganache
Next we had a duo of
alfajores
, one filled with dulce de leche, and the other a rocoto-spiced chocolate, and both dusted with powdered sugar. Though both were enjoyable, I think we all preferred the former.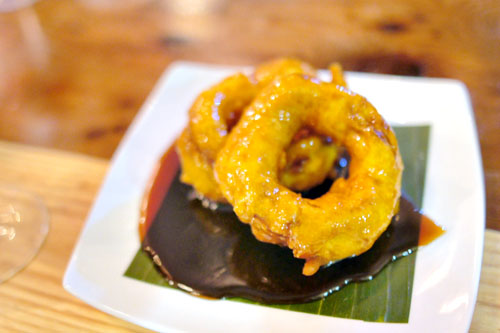 PICARONES [$8.00]
| sweet potato, kabocha peruvian beignets, star anise, cloves, cinnamon, chancaca sauce
Finishing things off was an order of
picarones
, a sort of Peruvian doughnut made with squash and sweet potato. I adored their dense, yet somewhat fluffy consistency, and the combination of sweet and spicy flavors here really worked for me, especially with the syrupy
chancaca
condiment.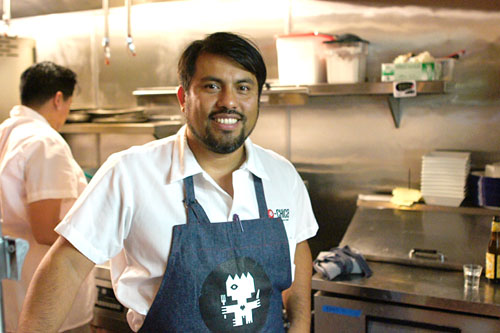 Executive Chef Ricardo Zarate.
Zarate and company have got another winner on their hands, and I think I may like this place even more than
Picca
. The food at the new Mo-Chica is traditional at heart, comfort food even, but the Chef has been keen in modernizing and refining it, imbuing the cooking with the sensibilities and skills that he's acquired over the years. I think that's what makes this stand apart from your everyday Peruvian place. As for what's next for Zarate, he plans to use the original Mo-Chica space as a testing ground for future restaurant projects. Unfortunately, we won't be seeing Moche, his Peruvian fine dining concept, any time soon. However, he
is
working on a new seafood-centric place, so definitely stay tuned for that.