5weet & Savory at Breadbar (Los Angeles, CA)
Sweet & Savory at Breadbar
10250 Santa Monica Blvd, Century City, CA 90067
310.277.3770
www.breadbar.net
Thu 03/22/2012, 07:30p-11:00p
If there's anything we've learned from watching
Top Chef
, it's that regular chefs are often full of fail when it comes to desserts (
Voltaggio
Brothers
notwithstanding). But how about the other way around? Can pastry chefs cook savory? The 5weet & Savory pop-up dinner series, launched last Thursday at BreadBar and benefitting
Share Our Strength
, aims to address that very question.
5weet & Savory is the creation of Carlos Enriquez (
Pastry Solutions
,
Top Chef: Just Desserts
, Holsteins) and Ramon Perez (
Puur Chocolat
, Comme Ça,
Sona
). The duo is out to prove that pastry chefs can do more than just bake, and have recruited Kei Hasegawa (
Matsuhisa
,
Sashi
,
Nobu
), Waylynn Lucas (
Fonuts
,
The Bazaar
,
Patina
), and David Rodriguez (
Providence
,
Red Medicine
,
XIV
) to join them on their mission. For each dinner in the series, each chef will prepare a sweet
and
a savory course, and to mix things up, each savory course will have at least one "sweet" element, while each sweet course will have at least one "savory" element. If that wasn't enough, to pair with the food tonight, we enjoyed cocktails from Devon Espinosa (
Pour Vous
,
Ink
,
Tasting Kitchen
) as well as wine/beer pairings courtesy of Enriquez's girlfriend Julie Rodin, former owner of New Moon Bar & Grille in Harwich Port, MA (which closed in 2005).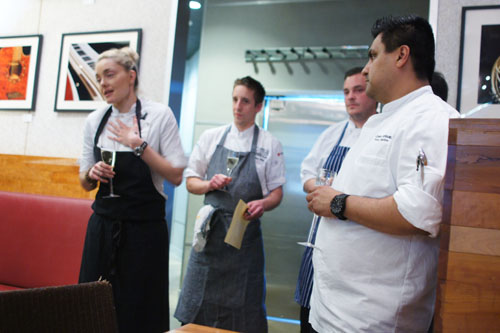 The Chefs say a few words before the start of dinner.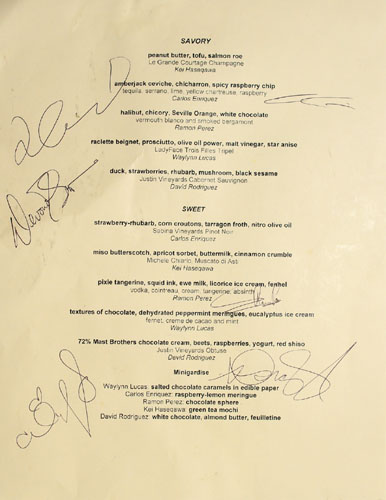 The evening's menu comprised 10 courses, priced at a not-unreasonable $95pp, plus $40 if you wanted the cocktail/wine/beer pairings. À la carte cocktails were also available. Click for a larger version.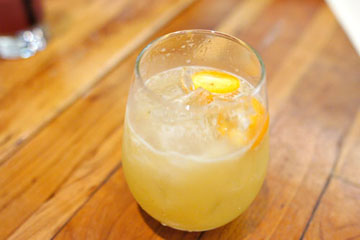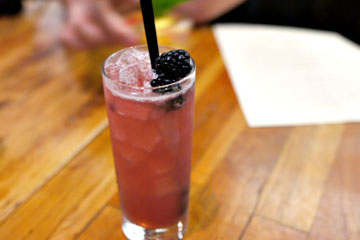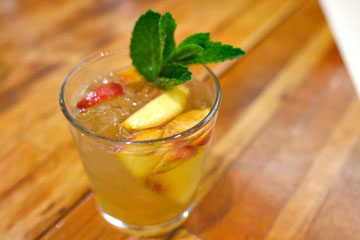 Kumquat Smash
| bourbon, orange blossom, honey, kumquats
Spring Fever
| vodka, rose water, st. germain, blackberries, lemon
White Sangria
| white peaches, almond, mint
Speaking of those aforementioned cocktails, Devon Espinosa provided a threesome for us to try. The Kumquat Smash showed off a delectable backbone of citrus-y and honeyed sweetness, all offset by the subtle weight of the whisky. The Spring Fever, meanwhile, was even lighter, with a great mix of fruit and floral flavors and just the slightest hint of booze, all leading to a lingering, perfumed finish. Last up was the White Sangria, Espinosa's take on the classic wine punch. It displayed a redolence of stone fruit up front, with a refreshing body and a bit more complexity than your typical sangria. Overall, a refreshing, easy-drinking, eminently quaffable troika of cocktails--superbly suitable for springtime sipping.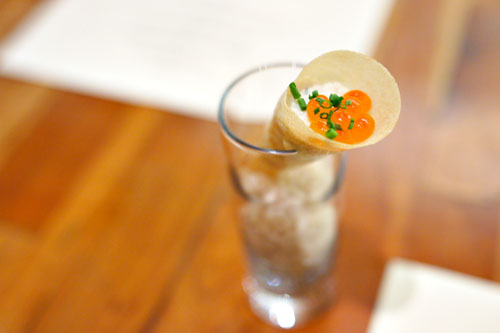 1: peanut butter, tofu, salmon roe
[Kei Hasegawa]
Le Grande Courtage Champagne
The meal got off to a strong start with Hasegawa's amuse bouche. I didn't get much peanut butter in the bite (probably a good thing), but the mild tofu base here really worked well with the salinity of the
ikura
, tempering the zing of the roe nicely. At the same time, I loved the overarching accent of the chive, while the crunchy Parmesan(?) cone gave the dish a marked saltiness, and made for a great crunchiness as well. Very well balanced.
2: amberjack ceviche, chicharron, spicy raspberry chip
[Carlos Enriquez]
tequila, serrano, lime, yellow chartreuse, raspberry
Enriquez gave us a ceviche "like his mother used to make." I'm assuming mom didn't serve hers in the world's smallest pizza box, but the flavors here were classic, with the mix of amberjack, avocado, lime, and tomato showing off a delectable combination of creamy and tart flavors. The ceviche was perfectly paired with a miniature tostada, which added a wonderful crispiness and savoriness to the dish. However, the crux here was Espinosa's serrano-infused Ocho blanco, which supplied a crucial touch of sharp, lingering spice and sweetness, completing the ceviche gorgeously.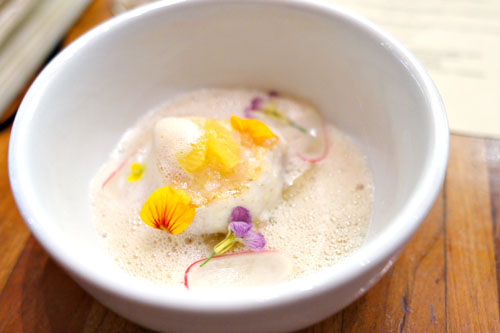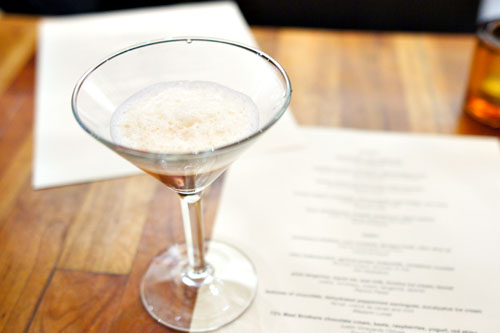 3: halibut, chicory, Seville orange, white chocolate
[Ramon Perez]
vermouth blanco and smoked bergamot
Halibut arrived deftly cooked, tender and flaky with a nose strangely reminiscent of a sausage pizza (probably had to do with the fennel). The taste, however, was far more subtle, with a mild sweetness paired with the strong aromatics from the Earl Grey, all while the endive soubise provided a countervailing bitterness to the dish. This one paired very well with its included cocktail, thanks to the latter's incorporation of bergamot.
4: raclette beignet, prosciutto, olive oil powder, malt vinegar, star anise
[Waylynn Lucas]
LadyFace Trois Filles tripel
Lucas delivered what one diner likened to a "savory French toast." The beignet itself showed off a somewhat
fonut
donut-like consistency: crisp and airy, with a tasty savoriness from the cheese. The prosciutto, meanwhile, offered a great hammy tinge of salt to the fray, while the greenery contributed an offsetting astringency. Malt vinegar provided additional depth and complexity, nicely moderating the beignet, but I would've liked more from the anise and olive oil.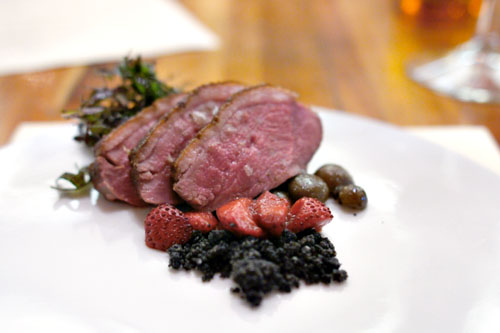 5: duck, strawberries, rhubarb, mushroom, black sesame
[David Rodriguez]
Justin Vineyards Cabernet Sauvignon
Rodriguez served the most substantial course of the evening. Duck came out consummately cooked to the proper temperature, and the breast conveyed a profoundly duck-y relish that I just loved, especially when paired with the bitter greens in the dish. The combination of strawberries and rhubarb did add a fitting bit of sweetness as well, though it wasn't absolutely necessary for me.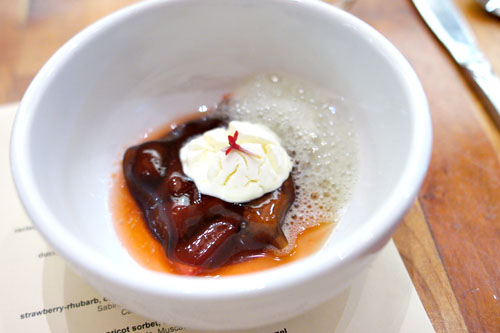 6: strawberry-rhubarb, corn croutons, tarragon froth, nitro olive oil
[Carlos Enriquez]
Sabina Vineyards Pinot Noir
Enriquez was up to bat for our first dessert, which I found somewhat reminiscent of a reimagined strawberry shortcake. A gelatinous mass of rhubarb and strawberry glided effortless down the throat, and displayed loads of fruity, sugary sweetness on the palate. Its heft was deftly tempered by the tang of the tarragon here, while the olive oil contributed further balance and even a touch of savoriness to the course.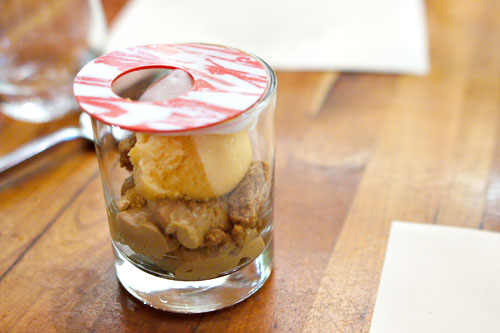 7: miso butterscotch, apricot sorbet, buttermilk, cinnamon crumble
[Kei Hasegawa]
Michele Chiarlo, Moscato di Asti
Our next dessert showed off an expert combination of sweet and savory flair. The core of the dish was all about the
shiromiso
, which gave us an overarching earthy tinge that beautifully counteracted the butterscotch and overt fruitiness of the apricot, while at the same time bringing its own unique brand of saccharine flavor to bear. The cinnamon crumble, meanwhile, added a certain spiciness to things, and also mixed things up texturally.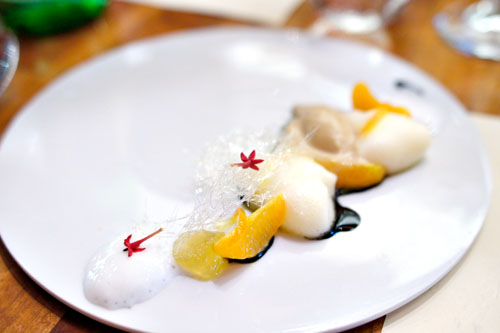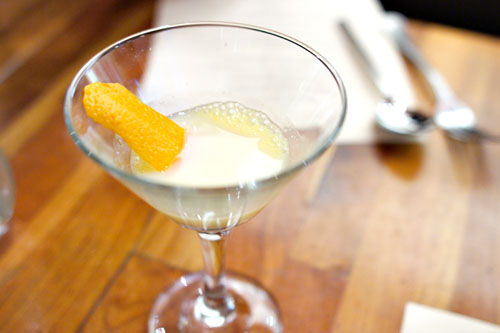 8: pixie tangerine, squid ink, ewe milk, licorice ice cream, fennel
[Ramon Perez]
vodka, Cointreau, cream, tangerine, absinth
Perez's dessert played the tart, citric sweetness of tangerine against the sharp tang of sheep's milk, while the licorice ice cream provided an aniseed-esque zest to the dish, and also served to integrate the various ingredients. Squid ink afforded a wonderful color to the dessert, but I wasn't quite as keen on its flavor here. Nevertheless, this was great with the paired cocktail, which one of my dining companions likened to an alcoholic Orange Julius.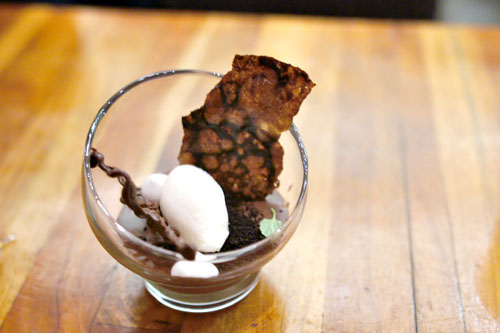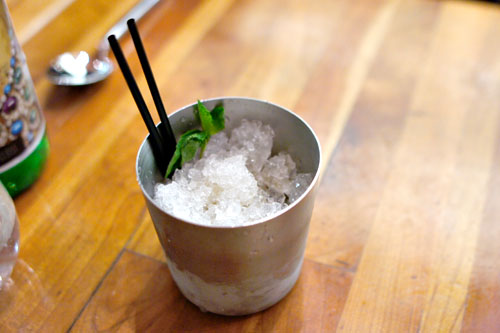 9: textures of chocolate, dehydrated peppermint meringue, eucalyptus ice cream
[Waylynn Lucas]
fernet, creme de cacao, mint
Here, shards of chocolate actually reminded me of Cocoa Puffs, and the dessert itself conveyed a weighty, near impenetrable base of chocolate-y sweetness. The key, thus, was the combination of peppermint and eucalyptus, which provided a countervailing influx of green, minty flavor that adroitly cut through the gravity of the chocolate. Great textures here, too, and the paired cocktail (described by one diner as a "York Peppermint Pattie with Chinese herbs") was a nice fit as well.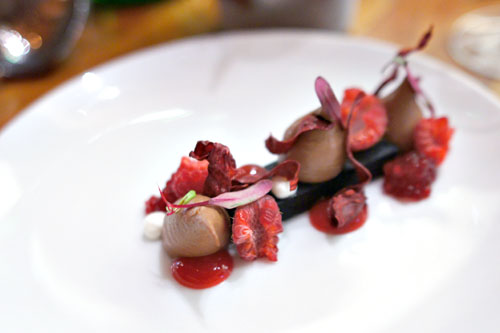 10: 72% Mast Brothers chocolate cream, beets, raspberries, yogurt, red shiso
[David Rodriguez]
Justin Vineyards Obtuse
Our last dessert effortlessly combined the rich, sugary sweetness of chocolate with the tart, tangy taste of raspberry. Savory components were expertly incorporated here as well, with the bits of fried beet adding crisp pricks of salt, and the shiso a delightfully minty touch. Very pretty.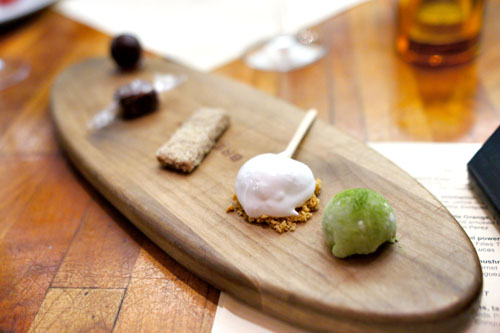 To cap things off, a platter of mignardises included a green tea mochi (Kei Hasegawa), a raspberry-lemon meringue (Carlos Enriquez), a white chocolate-almond butter feuilletine (David Rodriguez), a salted chocolate caramel in edible paper (Waylynn Lucas), and a chocolate sphere (Ramon Perez).
I was a bit concerned coming into this dinner. I knew that the chefs would deliver on the dessert front, but when I read the menu for the savory courses, I had my share of trepidations. Some of the flavor combinations just seemed odd to me, so I was pleasantly surprised at how strong the food turned out. I was afraid that making the chefs incorporate sweet into their savories would result in some clumsy, ill-fitting courses, but everything worked out pretty well; nothing seemed overly forced or contrived. I suppose that pastry chefs
can
indeed cook beyond the sweet stuff. Hell, I might just posit that these five can do savory better than a lot of regular chefs out there!