Yamakase (Los Angeles, CA) [2]
Yamakase Restaurant
Los Angeles, CA 90034
www.yamakase.com
Thu 06/27/2013, 08:00p-01:40a
One of my favorite discoveries in recent times has been
Yamakase
, the semi-secret,
omakase
-only Japanese eatery opened by Chef Kiyoshiro Yamamoto and his business partner Stan Liu. I was really impressed by my dinner here last December, and had been thinking about a return visit ever since. This wouldn't be just any ol' meal though. No, I wanted a follow-up to our epic 1995 Champagne horizontal tasting at
Urasawa
. As such, we opted for a
vertical
tasting this time around, one featuring perhaps the most famous Champagne of them all: the house of Moët & Chandon's Dom Perignon. Oh, and it happened to be my birthday dinner as well!

Above, we see the extent of the restaurant. Yamakase comprises not much more than a singular bar surrounding the kitchen, one seating up to 11 diners.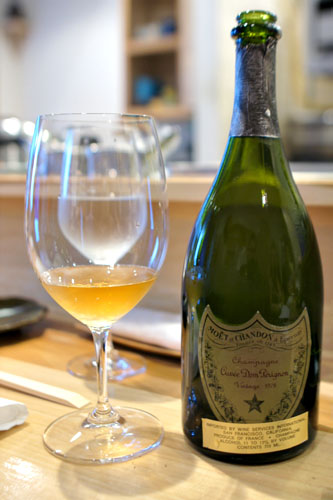 We let Yama-san choose the ordering of wines, and he opted to go in chronological order, kicking things off with the
1978 Dom Perignon
, the oldest in the group. It certainly tasted its age, coming in not very bubbly and with a distinct oxidative quality, giving in a sherry-like or maderized character joined by notes of nutty caramel. More interesting than good.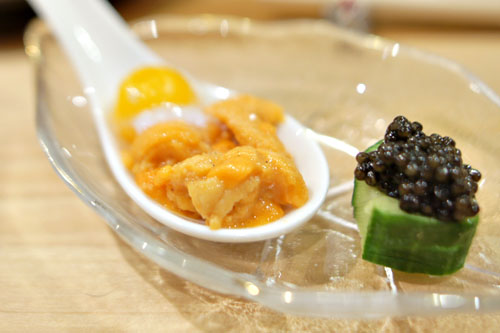 1: Hokkaido Uni
Moving into the food now, here was a spoon of Hokkaido uni, soft-boiled quail egg, and truffle salt, joined by a caviar-topped cucumber. It was a luxurious way to begin the meal, with the truffle-y overtones working beautifully with the sweet, creamy sea urchin, all while the egg lent a certain gravitas to the bite. I also appreciated the salty kick of the caviar here, as well as how the cucumber contributed both texture and lightness to the course.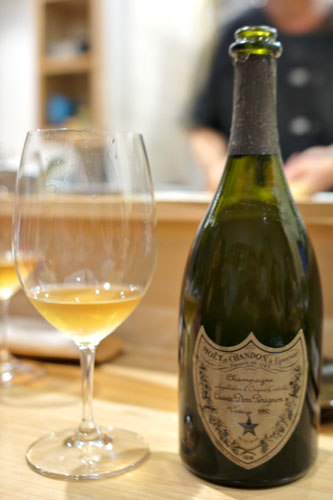 What a difference two years make! The
1980 Dom Perignon
was much fresher, though still mature, with a distinct breadiness and just a whisper of oxidation, all balanced by a lively acidity.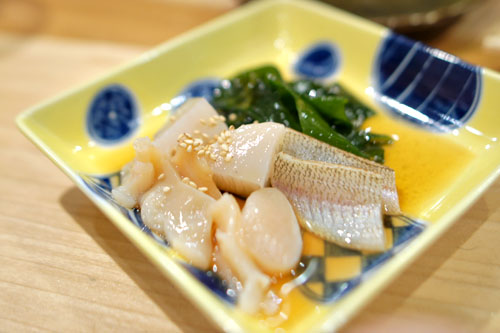 2: Ayoagi, Kisu, Tairagi
Here was a troika of orange clam, Japanese whiting, and pen shell, lightly dressed and accompanied by Naruto
wakame
and sesame. The sharp, focused brine of the various seafood was proudly conveyed, well-integrated and replete with a great mix of disparate textures. I especially appreciated the
kisu
fish, which had a firm, satisfying bite to it that was almost shellfish-like. Fantastic earthiness from the sesame as well, which did a great job moderating the strong flavors at play.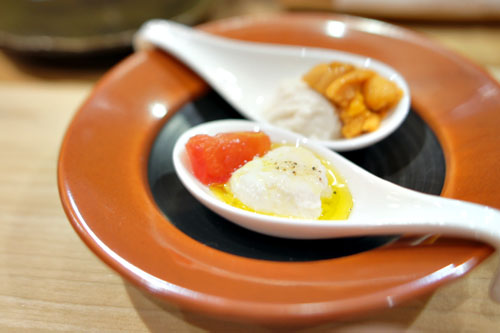 3: Kyoto Tofu
Now, the first of Yama-san's signature spoon duets. In the front, we had Kyoto tofu with tomato, olive, and truffle salt, in effect a sort of reimagined
insalata Caprese
. It really did recall the classic dish, with the tofu serving as a fitting replacement for mozzarella, the whole thing nicely balanced and imbued with a tinge of truffle goodness. This was followed up by a spoon featuring the tofu along with Japanese sea urchin and soy sauce. Here, I enjoyed the mild notes of the tofu at first, which then transitioned seamlessly to the richness and depth of the uni, while the finish was again suggestive of bean curd.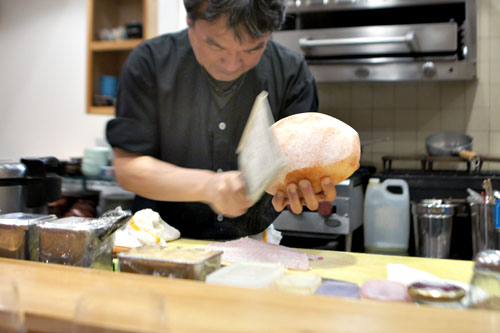 Yama-san grates from a massive block of salt that he's been using for at least 15 years.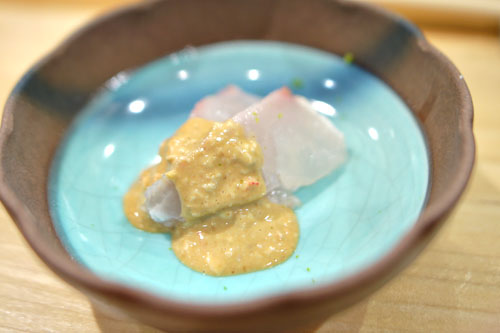 4: Tai Hara
Our first course of sashimi brought us snapper belly dressed in crab innards sauce and sprinkled with yuzu. I quite liked this, with the fish serving as a dense, yet supple base on which the citrus and earthy
kanimiso
could really dance.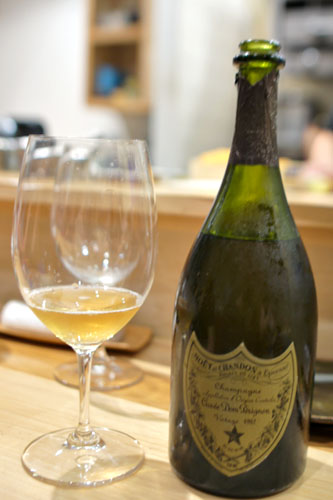 I'm happy to report that the
1982 Dom Perignon
, my birth year wine, was undoubtedly one of the highlights of the evening. It was an eminently balanced bubbly, mature, yet remarkably vigorous, with a perfect toasty depth to it. A revelation in aged Champagne.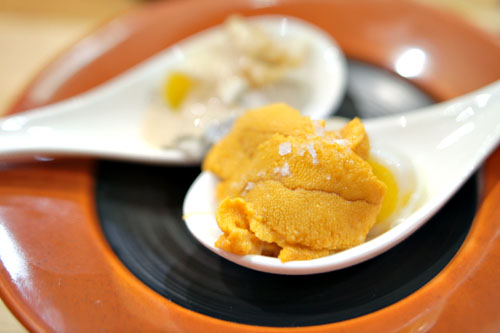 5: Kusshi Kaki
Kusshi oyster was the star of our second spoon duo. Up front, it was joined by Santa Barbara uni, yuzu, and Japanese sea salt. The citrus was key here, coming through forcefully on the attack, with the creamy, salty oyster-urchin combo making itself known from the midpalate to a long, lingering finish redolent of seawater. Bringing up the rear was Kusshi with blue crab, sesame cream, and truffle-infused egg. Here, the sweetness of the crab was the hero, joined by the nutty-earthy component from the sesame (though there was perhaps a bit too much of it), while the oyster once again came through on the close.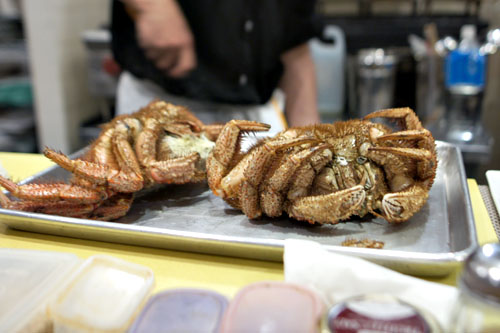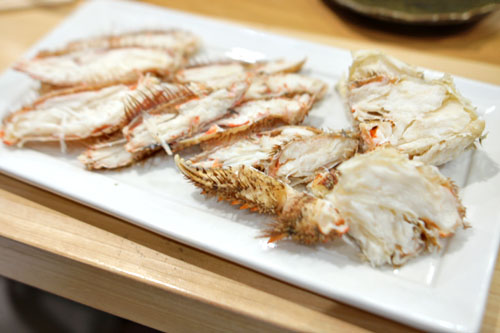 6: Kegani
Yama-san made an impressive display with these here hairy (or horsehair) crabs, which he dispatched right before us. They were prepared simply via steaming, and presented unadorned, thus giving us the true, tender, sweet essence of
kegani
. Tasty, though actually not all that different from your everyday crab.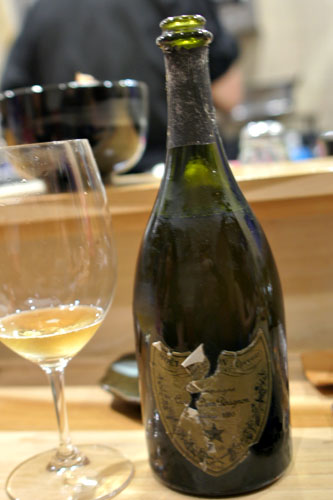 Despite the torn label, the
1985 Dom Perignon
was another winner. I found it surprisingly crisp and youthful, with a fantastic interplay of citrus-y and yeast-y notes, all underscored by a slight boozy undercurrent. Smooth, and even easy-drinking.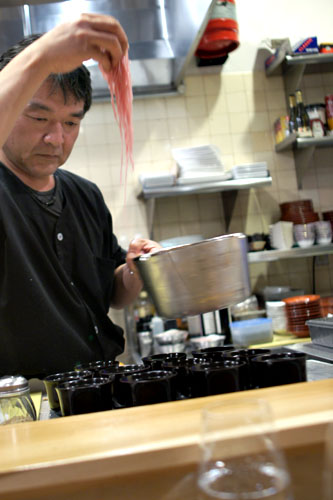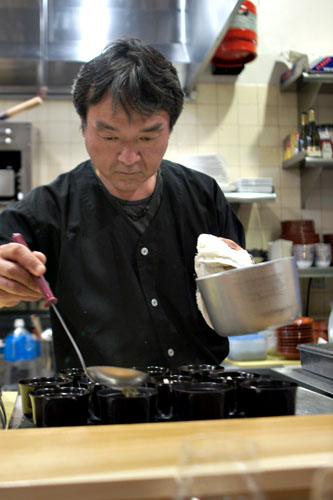 Here, we see Yama-san preparing our somen course. The pinkish noodles definitely caught our eye.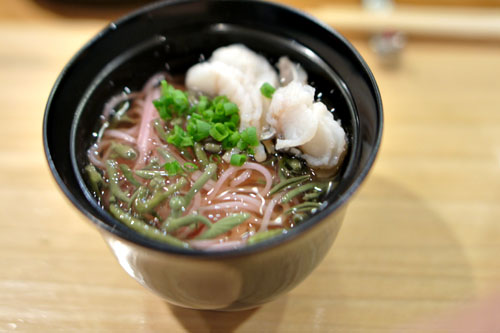 7: Hamo Somen
We're right around the peak of
hamo
eel season, so I wasn't surprised to see the conger pike featured tonight, joined by ruddy strands of
umeboshi
somen (a nod to the pickled plum typically served with the fish),
junsai
, and Japanese chive. I quite enjoyed this course, finding a great balance between the slightly tart noodles and the meaty, yet mild cuts of
hamo
, all while the chive added a modicum of levity to the fray. Interesting textural component from the water shield, too. Yum.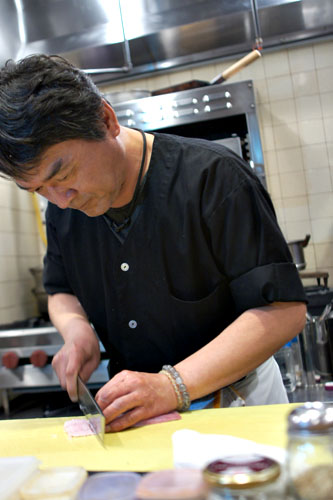 Here, Yama-san busts out his
hamokiri
knife and shows off his
hamo honegiri
bone cutting skills.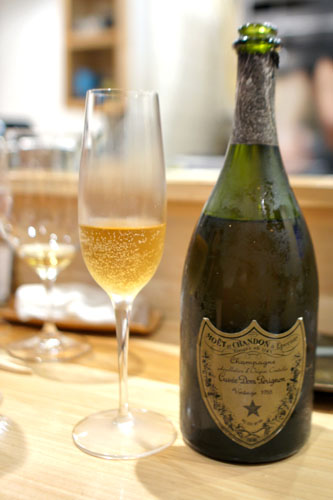 With the
1988 Dom Perignon
, we switched glasses to the more traditional Champagne flute meant for younger wines. The '88 was actually surprisingly mature for its age, great on the nose, with a fruity, caramel-y, acidic, slightly oxidized character. Probably past its peak.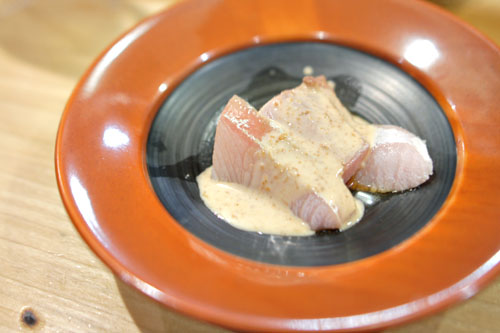 8: Kanpachi
Kanpachi came from Kumamoto on Japan's southerly Kyushu island. The amberjack was blanched by a quick dip in hot water, then served with a sesame-ponzu condiment. Texturally, I appreciated the fish's firm, meaty consistency, while its delicate flavor was keenly complemented, yet not dominated, by the sauce.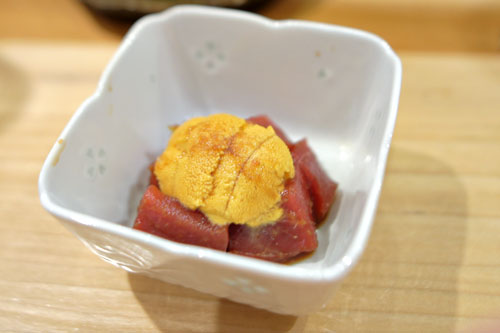 9: Kuromaguro
Bluefin tuna from Spain was cured in soy sauce and sake, mixed in with wasabi and pine nuts, then topped with sea urchin. The marination process added a considerable depth to the dish, but the key was the wasabi, which contributed a spicy undertone to the fish that made it rather interesting, especially when taken with the crunchy nutty bits here. I would've preferred thinner slices though, to make for a smoother, silkier mouthfeel to the tuna.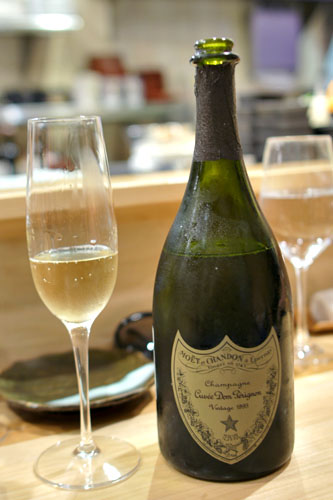 Our sole representative from the decade of grunge and O.J. was the
1995 Dom Perignon
, which was all sorts of amazing. I loved the stone fruit undertones present here, and how the wine's crisp, citrus-y flavors interacted with hints of its toasty beginnings. A perfect balance between youth and maturity; I'm curious to see how this one develops.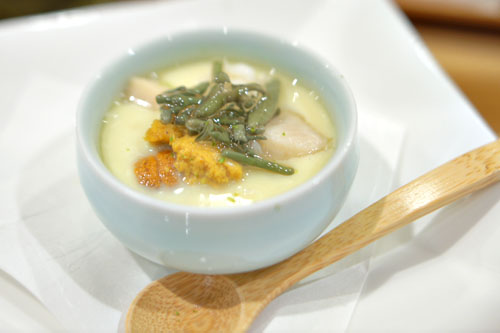 10: Chawanmushi
Tonight's requisite
chawanmushi
featured Japanese sea urchin, Dungeness crab, baby scallop,
junsai
, and yuzu. It was a hot, hearty dish, a pleasant mish-mash of various tastes and textures overarched by pin pricks of citrus-y tartness.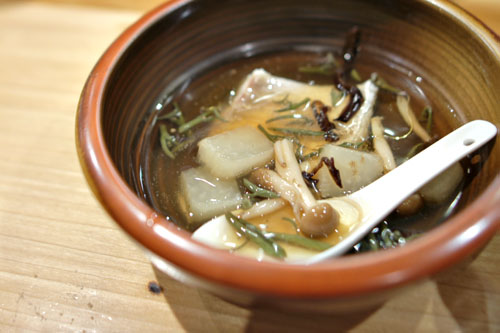 11: Mushi Tai
Even more comforting was a soup featuring sake-steamed red snapper, root vegetables, shimeji, and
kikurage
, set in a Japanese gravy dusted with
sansho
pepper. I rather liked this one, finding it complex, multifaceted, with the briny, firm character of the fish melding well with the weight of the veggies, all while the pepper added an almost ephemeral spice to the dish. Lovely texture from the wood ear, too. Delish!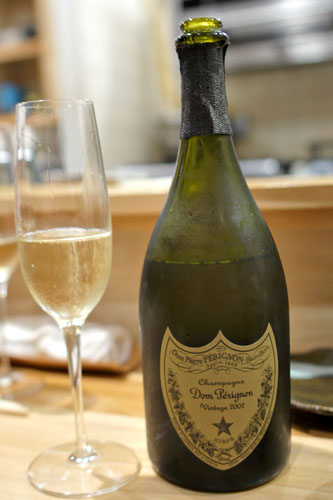 Moving on now to the young stuff, the
2002 Dom Perignon
certainly tasted of its youth. It was dry, minerally, and uncommonly crisp, with a somewhat tart citrus-y twang. Tight and a bit austere now, but there's probably a lot of potential here.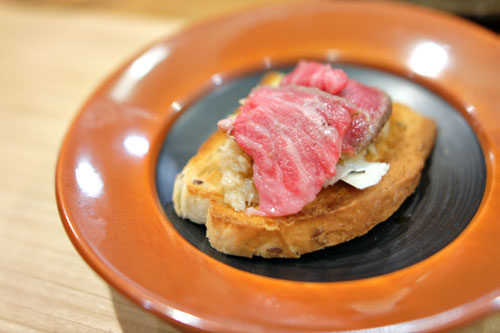 12: Beef Sashimi on Toast
Raw beef was paired with crab and Italian truffle cheese, making for a sort of unholy cheese steak. It was as tasty as it sounds though, with the meat and cheese combo working in flawless fashion, all under a veil of truffle-y goodness.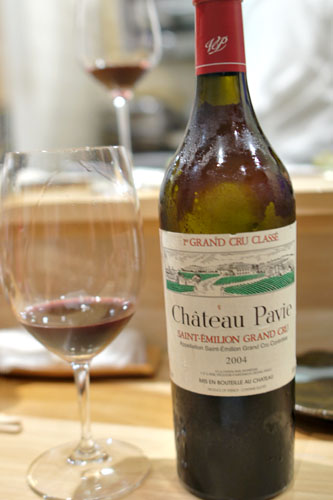 Knowing that Yama-san would inevitably be serving some wagyu, I brought along a bottle of
2004 Chateau Pavie
. It was superb, really reminding us of the joys of a top notch Bordeaux. I loved its dry, tannic, oaky, somewhat earthy character initially, when then transitioned beautifully to juicy notes of dark fruit on the finish. Impeccably balanced, nuanced, smooth, and uncommonly delicious--I want to try this again in a few years.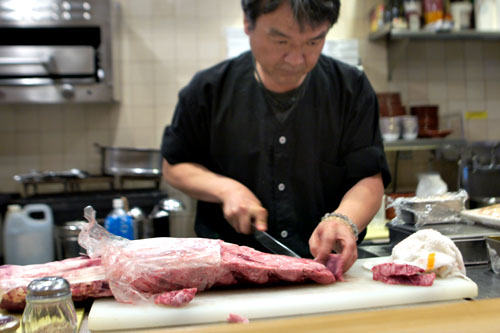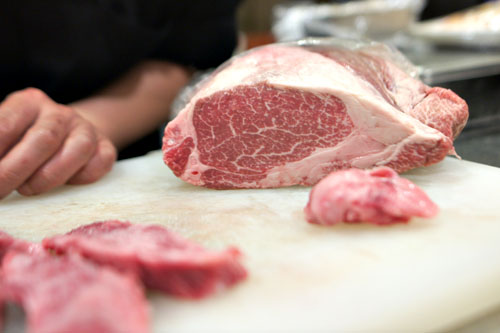 Speaking of beef, here we see Yama-san slicing a beautiful cut of A5 Kagoshima tenderloin.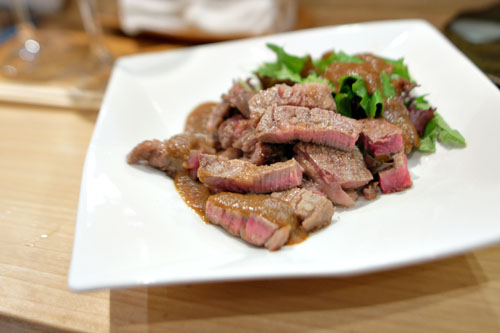 13: Kagoshima Gyuniku
The aforementioned tenderloin was cooked to a medium-rare temperature, lightly doused with a soy sauce-onion condiment and truffle salt, then served with a small salad. The wagyu itself was particularly tender, gelatinous almost, with a marked beefiness that I found immensely satisfying. I appreciated the levity imparted by the salad here, but the sweet, tangy sauce wasn't all that necessary, as the beef could easily stand alone.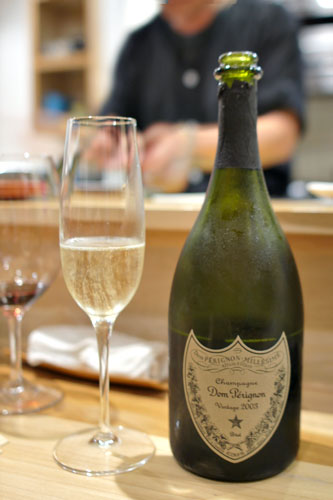 For the sushi courses to follow, we opened our last remaining Champagne, the
2003 Dom Perignon
. This one showed off the youthfulness of the '02, but on an even larger scale. Think lots of citrus here, with a dry, steely minerality and bright acidity. Refreshing, but definitely in need of some cellaring.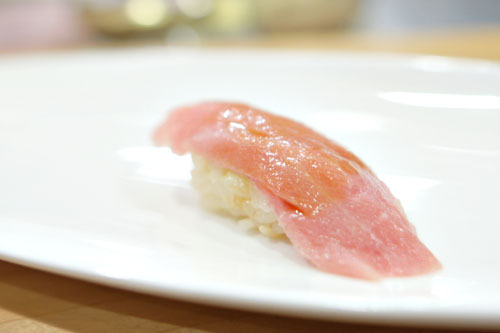 14: Chutoro Sushi
Medium fatty tuna was a great example of the style, a deft balance of fattiness and fishiness with a light hit of soy initially to set the stage.
Magnifique
.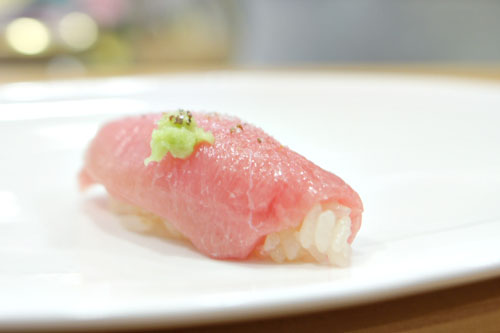 15: Toro Sushi
The full fat version was even better, with the intensity of the fish complemented, but not overshadowed by the application of truffle salt and wasabi.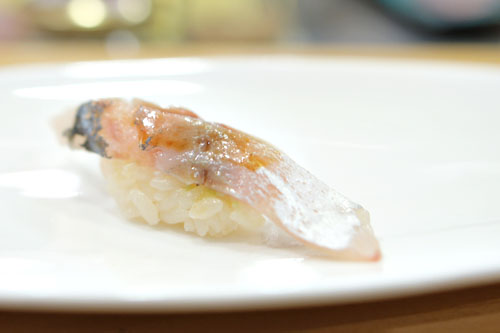 16: Ki-Aji Sushi
Here was a "special" type of aji sourced from around Kyushu, one that Yama-san mentioned was particularly difficult to find in the US (99% of it stays in Japan we were told). Indeed, it was very mild, very subtle for mackerel, with a delicate, nuanced brine that grew in intensity toward the finish. Very cool.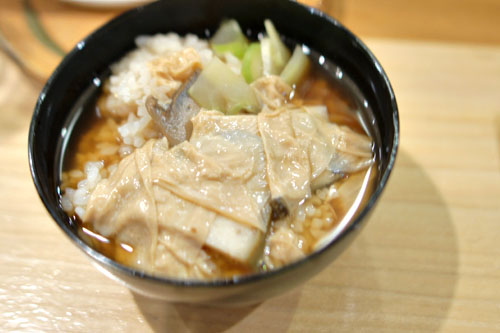 17: Awabi Kayu
Our final savory course of the meal was undoubtedly one of my favorites, comprising a rice potage of six-day Japanese black abalone,
yuba
,
zasai
, and truffle butter. I loved the rich, hearty broth, positively imbued with umami-laced brine. The abalone itself was spot on as well, fantastic texturally and a great foil to the crunchy tang of the pickled mustard. Comforting and cozy, yet complex and multifaceted--something I could just eat a big heaping bowl of.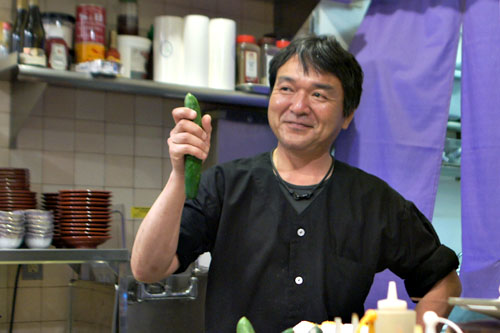 Yes, Yama-san's quite a ham for the camera.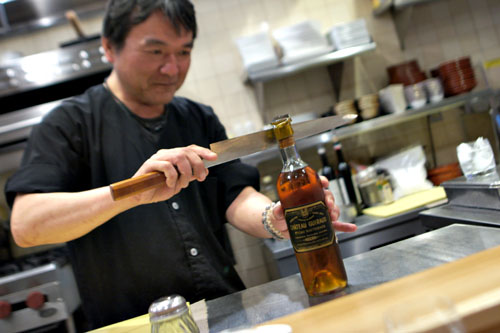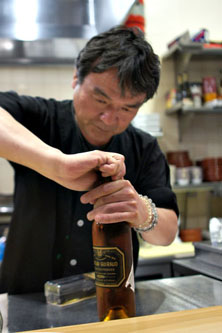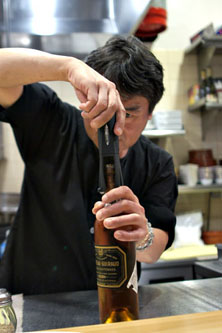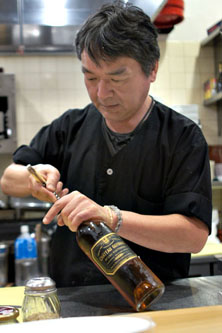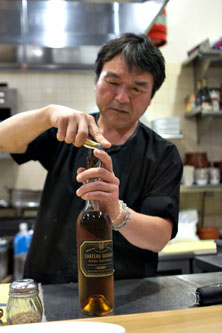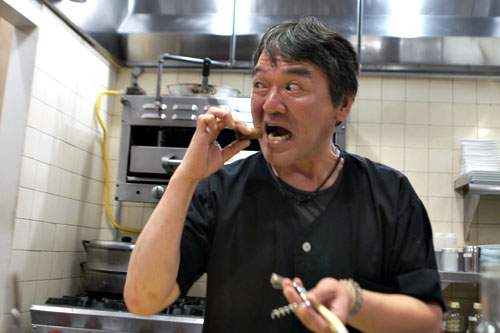 Now we come to the evening's
pièce de résistance
in terms of wine, which, unsurprisingly given its age, had a rather uncooperative cork, forcing Yama-san to taken on drastic measures to dislodge it.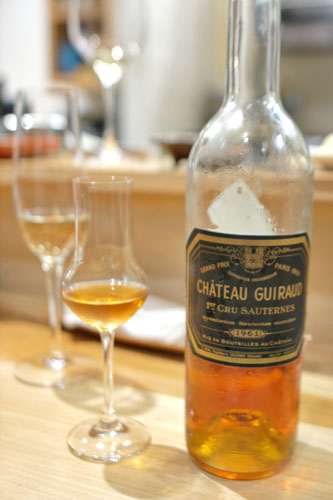 The
1961 Chateau Guiraud
was a bottle that I'd been holding in my cellar for some time now, just waiting for the perfect opportunity to drink. Tonight was the night, and the wine
did not disappoint at all
. It was probably the best dessert wine I've had, and one of my most memorable wines overall, even surpassing the legendary
'01 d'Yquem
(though I'm sure that'll become much, much better with age--I'm still holding on to a bottle). The Sauternes was a gorgeous mahogany tone, and conveyed a subtle, subdued, refined sweetness that wasn't cloying or overly showy at all (a problem with younger wines). This was joined by some nutty notes, a tinge of acidity, and even some booziness, all making for a perfectly balanced, mature sticky. Still plenty of life left--this one really made me want to buy up more old Sauternes!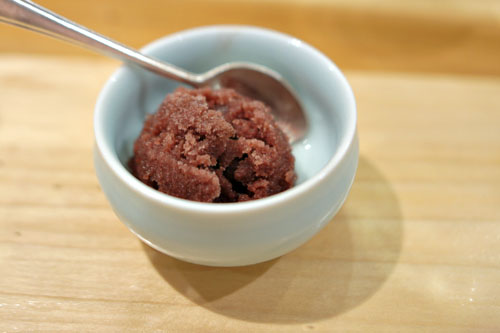 18: Asai Sorbet
Dessert consisted of an açaí berry sorbet, a bright, bracing creation that put forth contrasting notes of sour and sweet--great as a palate cleanser.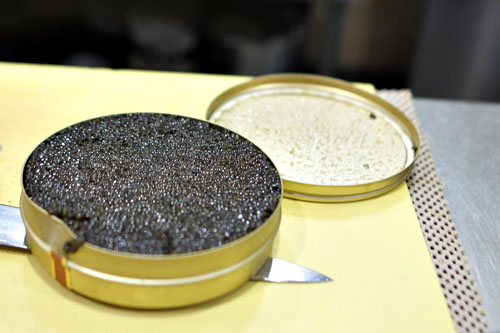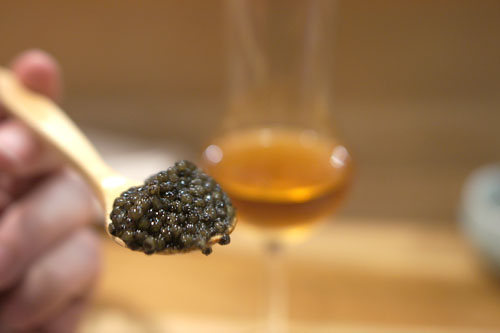 19: Ossetra Caviar
We thought we were done at this point, but then Yama-san busted out a beautiful tin of Ars Italica Italian oscetra caviar that he'd just purchased in the morning. We then took spoonfuls of the salty, yet somehow creamy roe and ate it with the Guiraud, the Sauternes really bringing out the salinity of those globules. An over-the-top, luxurious, yet fitting conclusion to the meal.
Dinner tonight came out to a not-unreasonable $216 per person for food only, with all the booze purchased and brought separately (there's no corkage fee here). The meal served as sort of a confirmation that the Chef here has a unique style that's quite unlike that of any of his contemporaries in LA. Yama-san's got a certain brashness and irreverence to him that I adore, as well as a knack for presenting unique, luxurious ingredients in a fashion that blends tradition with some fusion-y elements. The end result is an experience worth seeking out to be sure--get a seat here if you can.