Mori Sushi (Los Angeles, CA)
Mori Sushi
11500 W Pico Blvd, Los Angeles, CA 90064
310.479.3939
www.morisushi.org
Sat 03/05/2011, 06:30p-09:50p

LA's a sushi town, no doubt. As such, the question of the "best" sushi inevitably comes up. For me, the answer to this query is simple:
Urasawa
. The issue of number two, however, is a stickier wicket, with the most popular responses being
Sushi Zo
and Mori Sushi, both Michelin-starred places. I'd actually dined at Mori way back in 2007, but a questionable ban on photography left a bad taste in my mouth, and kept me away for all these years. However, there seemed to have been a renewed interest in Mori over the past couple of months. This, along with news that cameras were now allowed, compelled me to give the restaurant another go.
About the Chef
: Owner and Chief Sushi Chef Morihiro Onodera was born in 1964 in the town of Fujisawa, Iwate Prefecture, Japan. He had hopes of becoming a sushi chef at an early age, largely due to the influences of his grandmother. Mori excelled at baseball and music as a youngster, but immediately began his culinary training after graduating high school. He moved to the Bunkyo Ward of Tokyo, where he worked for three years at
Kintaro Sushi
, honing his skills in traditional Japanese cuisine, sushi in particular. However, Onodera wasn't satisfied, and after being inspired by
Eikichi Yazawa
's best-selling 1978 autobiography
Nariagari
, he decided to move to the United States. Mori packed one bag, purchased a one-way ticket to America, and landed here in 1985 to begin his culinary career in the States. He first worked for Masaru Michite at the famed Katsu on Hillhurst in Los Feliz, which was
the
sushi spot in the 1980's (it closed in 1998).
As an aside, Michite was a pioneer in the LA sushi scene, and also owned Café Katsu on Sawtelle, Katsu 3rd on Third Street, and most significantly, Restaurant Katsu in Studio City. Restaurant Katsu debuted in 2000, but was rechristened Tama Sushi in 2002 following a fire. Tama achieved quite a bit of popularity, but the space shuttered in 2008, only to be taken over by Katsuya Uechi and turned into Kiwami. Michite then opened Katsu Beverly Hills, but the restaurant never caught on, and closed in mid 2009. His current whereabouts are unknown.
Getting back to Mori, following his stint at Katsu, Onodera worked at
R23
in Downtown and Nobu's seminal
Matsuhisa
on Restaurant Row. Then, the Chef took a detour to New York, taking on a position at the legendary Hatsuhana, which is where
Naomichi Yasuda
first made a name for himself. He eventually returned to the Southland, landing at the well-regarded Takao in Brentwood. Then finally, in 2000, Mori opened his eponymous eatery in West LA.
Mori's a notorious stickler when it comes to his ingredients, even going as far as to make his own soy sauce and grow his own rice. The rice is particularly noteworthy. It comes from Sacramento, where it's grown by Ichiro Tamaki, a farmer hailing from Fukushima Prefecture.
Koshihikari
rice is used for sushi, while the
yumegokochi
variety is utilized in everything else. Apparently, in order to further elevate their appreciation for the rice, members of Mori's staff are even invited to visit the rice fields during planting and harvesting. This custom rice is then shipped unhulled to retain its freshness, then polished daily on site for maximum effect. This level of care is also undertaken in the dishware, most of which is handmade by Mori himself and designed to maximize flavor and appearance (he first started producing ceramics during his time in Greenwich Village, New York).
As for the food here, diners may choose to order both sushi and cooked items à la carte. At the same time, three omakase options are available: Sashimi Moriawase, basically an assorted combination platter of sashimi followed by sushi; Sushi Omakase, with three appetizers followed by sushi; and
the
Omakase, which is basically the Sushi Omakase with additional hot courses. We opted for the last choice, which was priced at $170 per head for our party of four. The menu was executed by Chef Masanori "Maru" Nagano, a Japanese native who's been with Mori for ten years.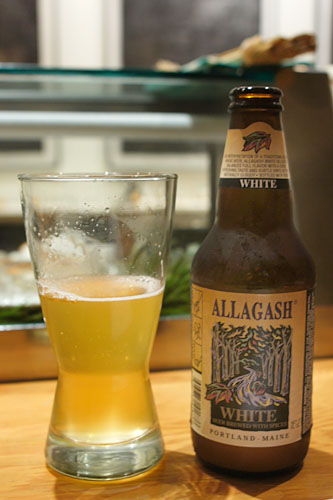 To drink, I began with an Allagash White [$7.50], sort of a quintessential example of the witbier style, showing off a refreshing citrus sweetness backed by a bit of pepper on the backpalate.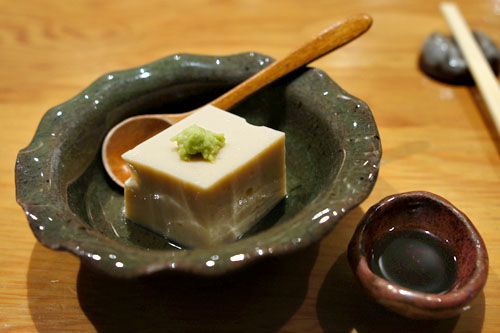 1: Homemade Tofu
The meal started with a cube of Mori's housemade tofu, garnished with freshly-grated wasabi and a tiny bowl of homemade soy. The tofu was very mild at first, with the characteristic flavor of soybean growing subtly with time. As a result, the umami-tinged smack of the
shoyu
was key in adding richness and depth to the dish, and I appreciated the heat imparted by the wasabi as well.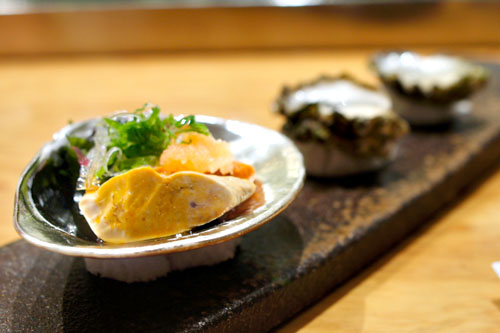 2: Ankimo & Kumamoto Oysters
Next up was a combination of monkfish liver and oysters. I attacked the Kumamotos first, and appreciated their subdued sweetness, perked up by the application of sudachi and finished with a lovely ocean-y relish. The ankimo, meanwhile, was delicious as well. The liver demonstrated its signature luxuriousness, and was beautifully balanced by the paired scallion and
momiji oroshi
, while the seaweed gave the dish a lovely close.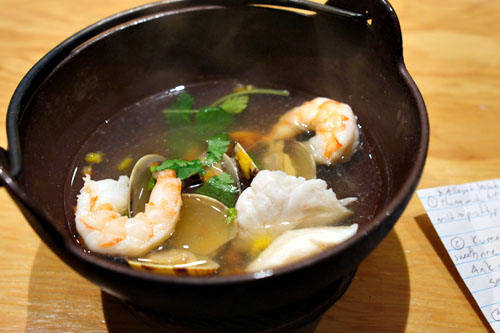 3: Seasonal Fish Soup
Placed before us next was an intoxicating stew of red snapper, shrimp, asari clam, mitsuba, and bell pepper, teeming with an aroma of umami-tinged brine. The snapper was falling-apart tender with a subtle flavor, while the shrimp arrived cooked through, but surprisingly not overdone. My favorite item was the clam, with its delightful ocean-y flavor that paired perfectly with the tangy vegetal essence of the broth. Very nice.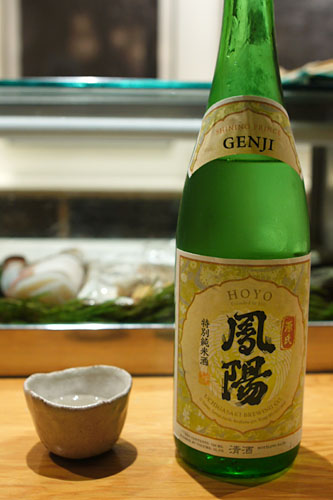 With our beers dispensed with, it was time to move on to sake, specifically the Hoyo 'Genji' Junmai "Shining Prince" [$50] from Miyagi's Uchigasaki Brewing Company. I found this relatively viscous and somewhat sweet, with a fresh apple character bound by a bit of alcoholic character.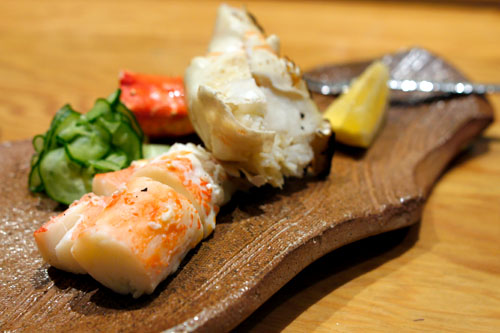 4: Grilled Alaskan King Crab Sunomono
Grilled legs of king crab were delectable, with a perfectly supple texture and creeping sweetness accented by a touch of bitter char. I enjoyed the crab alone, but it was even better when taken with the piquant tang of included vinegar dipping sauce.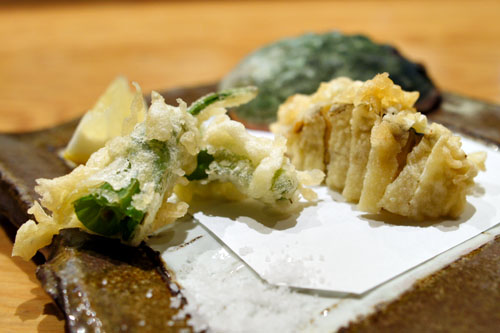 5: Abalone Tempura
Our final appetizer course brought us a superb tempura of abalone. The gastropod had a wonderful, snappy yet soft consistency that I adored, especially in concert with its crisp tempura exterior. Its flavor was restrained, yet satisfying, and went gorgeously with a dash of the included French
fleur de sel
. Tempura'd shishito peppers were also included, and were delectable in their own right as well.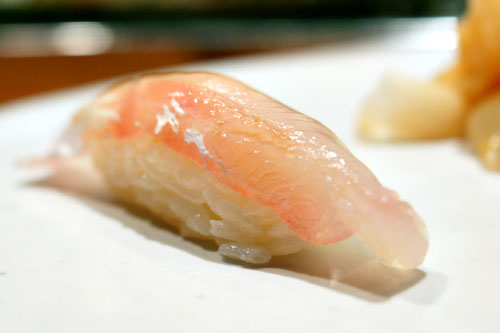 6: Red Snapper / Tai
Our gauntlet of sushi began with red snapper, done up in a
kobujime
fashion, which means that the fish is treated with
konbu
kelp. In the process, excess moisture from the fish is transferred to the kelp, and the result on the palate is a richer, more complex flavor.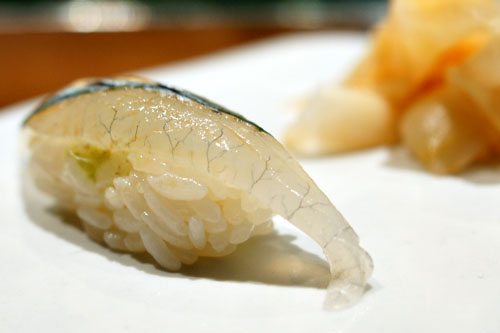 7: Needlefish / Sayori
Needlefish was absolutely lovely, with a wondrous texture and slightly fishy flavor countered by a well-placed smidge of wasabi tang.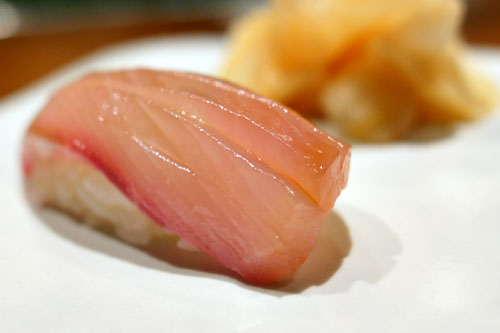 8: Wild Yellowtail / Seki Buri
Previously, I'd had
seki aji
and
seki saba
, special types of mackerel caught in the Bungo channel near Saganoseki, Kyushu. This was the first time, however, that I'd experienced
seki buri
, or wild yellowtail from the region. Indeed, it was truly a cut above your typical hamachi, with a bolder, more robust, more mature flavor, and a perfect amount of fattiness.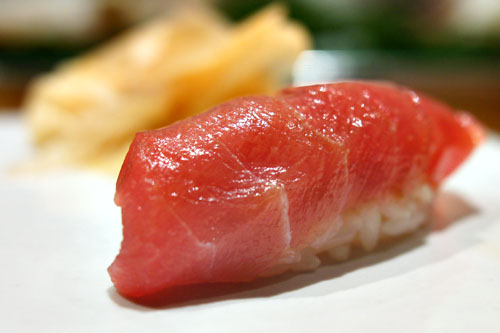 9: Medium Fatty Bigeye Tuna / Mebachi Chutoro
Chutoro of bigeye tuna was all that you'd expect, with a melty texture and just the right modicum of marbling, perfectly merged with the relative levity of the rice.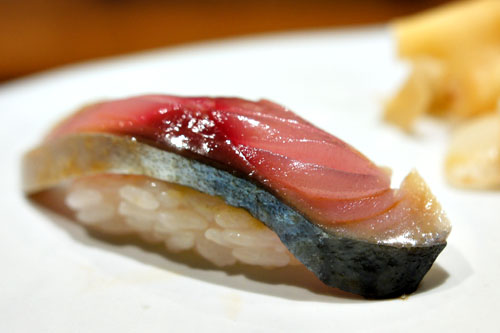 10: Japanese Mackerel / Saba
Mackerel from Japan was wonderfully textured, and showed off its characteristic fishiness, which lingered long on the palate. This was our Chef's personal favorite of the evening.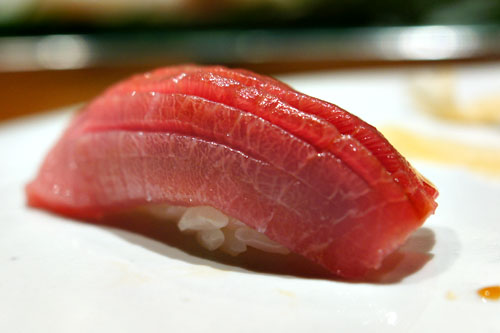 11: Medium Fatty Blue Fin Tuna / Kuromaguro Chutoro
Compared to the bigeye tuna above, the blue fin chutoro was noticeably creamier in consistency (note the more apparent veins of fat) and more luxurious overall. At the same time, the rice was again absolutely crucial in balancing the bite.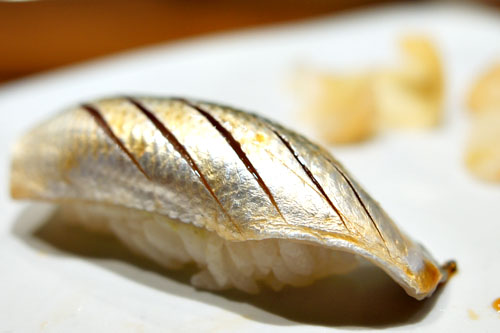 12: Gizzard Shad / Kohada
Kohada arrived pickled in vinegar, which gave the fish a slight sourness that complemented the shad's strong flavor faultlessly. At the same time, I much appreciated the kohada's firm, satisfying texture.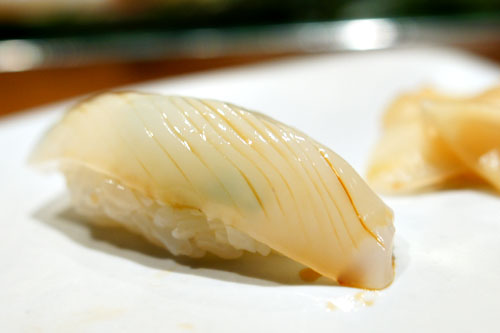 13: Cuttlefish / Sumi Ika
Cuttlefish was expectedly creamy in consistency, yet with a bit of a crunch as well. Its savor was rather mild, and accentuated by the minty tang of the included sliver of shiso.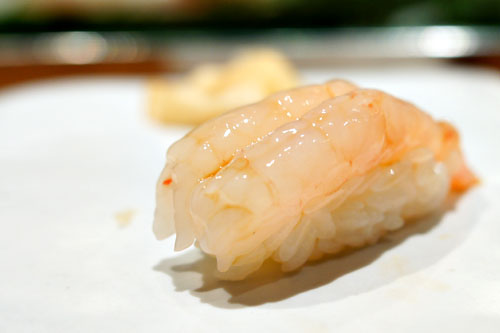 14: Sweet Shrimp / Amaebi
Sweet shrimp were sourced from the Boston area, and were very, very creamy, with a creeping amount of sugary brine to go along.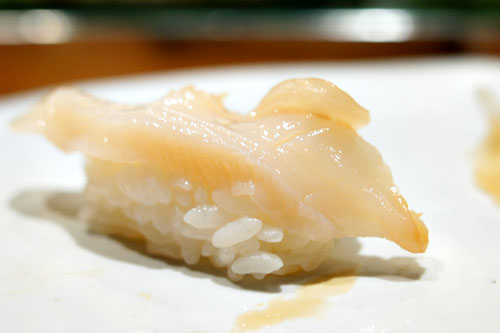 15: Geoduck / Mirugai
The unfortunately-named geoduck, also known as giant clam, was unabashedly crunchy, with a certain ocean-y sweetness augmented by a sharp, citric tang.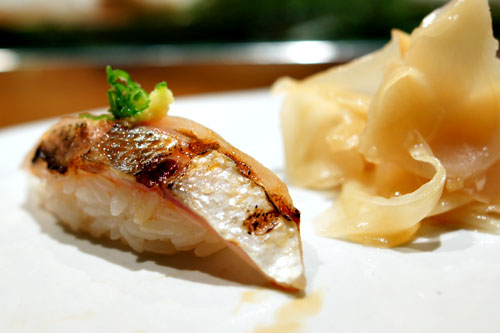 16: Seared Baby Barracuda / Tataki Kamasu
Barracuda isn't a common find on menus, and indeed, this was my first time having the fish in sushi form. It conveyed an almost undetectable sweetness, along with a faint fishiness that was deftly moderated by the bitterness the char. One of our favorites.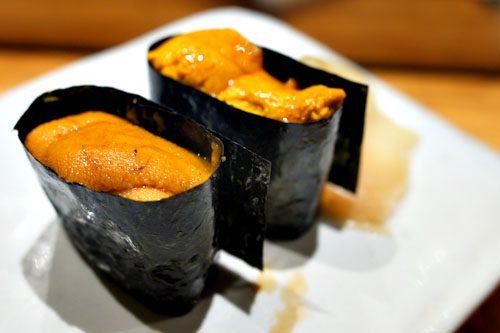 17: Sea Urchin Roe / Uni
The best uni in the world comes from either Santa Barbara or Hokkaido, and we had the pleasure of trying both varieties back to back. The Japanese varietal showed off a sharp, yet restrained brine, which then led to a characteristic urchin sweetness, tempered by the lovely relish of nori. The Santa Barbara uni, on the other hand, was noticeably creamier, sweeter, and more cohesive. Both were tasty, but if cornered, I suppose that I'd have to give the victory to the American contender.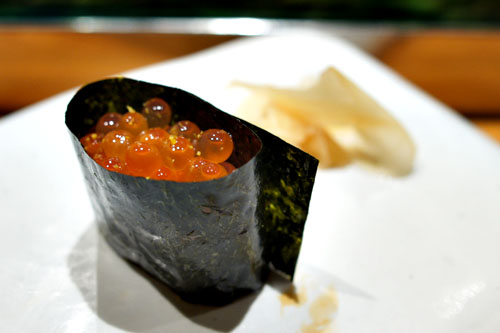 18: Salmon Roe / Ikura
Following the sea urchin roe was salmon roe, presented here topped with yuzu zest. It was one of the better preparations of ikura that I've had, with the amber globules bursting forth forcefully with their ocean-y relish upon mastication. I especially appreciated the countervailing flavor imparted by the yuzu.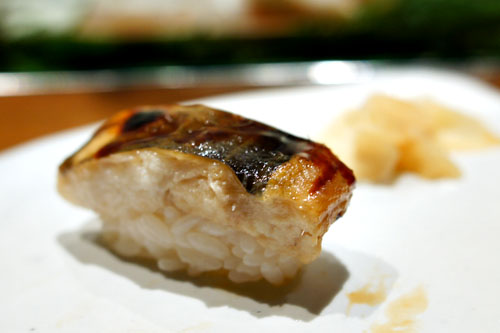 19: Sea Eel / Anago
Anago, again, was one of the stronger versions that I've had. The sea eel was surprisingly meaty, hearty even, with rich, dark flavors that lingered on the palate.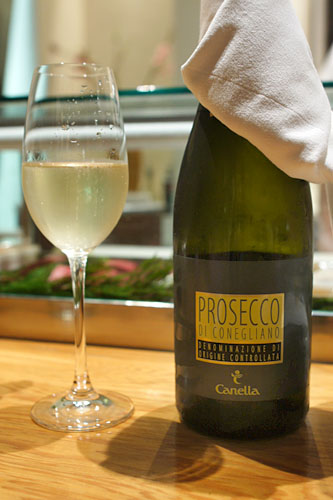 To close out the night, we ordered up a bottle of Canella Prosecco di Conegliano [$40], which we shared with the chefs. This was an undoubtedly easy-drinking sparkler, with juicy notes of pear and apple balanced by a lively effervescence and a slight bit of minerality.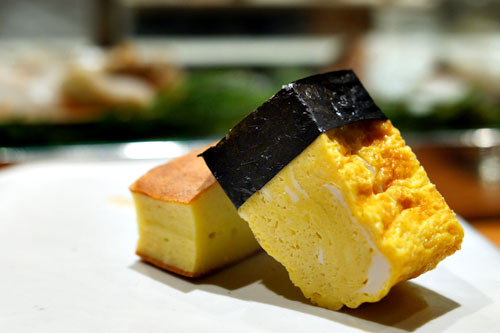 20: Egg / Tamago
As usual, tamagoyaki served as the closer for the savory section of the meal. Two types were offered. The first (in front) was more of your traditional variety--eggy, but semisweet. The other utilized fish cake and was thus more intriguing, with a subtle fishiness added to the fray.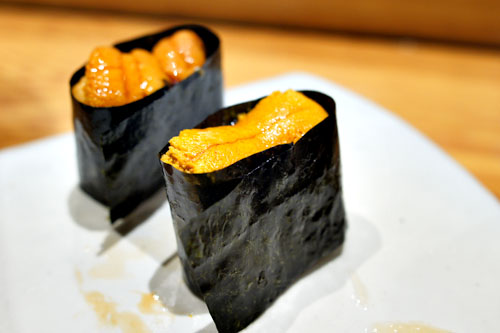 21: Sea Urchin Roe / Uni
We requested a second round of uni (which was complementary) in order to reevaluate the relative merits of the Hokkaido and Santa Barbara versions. I still preferred the latter.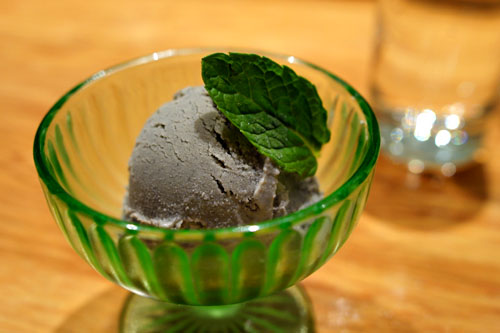 22: Black Sesame Ice Cream
Dessert comprised a singular scoop of black sesame ice cream, loaded with sesame flavor and reminding us a bit of Chinese
tangyuan
.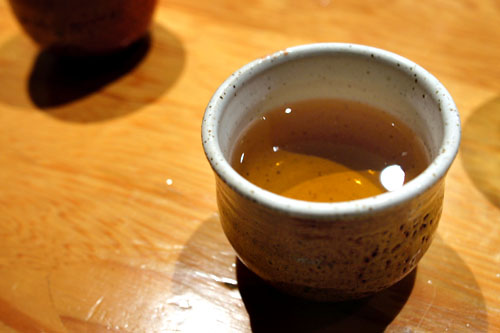 23: Hojicha
Hojicha, a type of roasted green tea, to round things out.
I'm happy to report that we left Mori sated and satisfied. It was a much better experience than I'd had four years ago, and indeed, one of the best sushi experiences I've had
ever
in Los Angeles. The sushi itself was pretty much faultless, and the cooked dishes were tasty in their own right. Number two? I can definitely see it.