Barmini (Washington, DC)
barmini by José Andrés
855 E St NW, Washington, DC 20004
202.393.4451
www.minibarbyjoseandres.com
Wed 09/25/2013, 11:20p-01:40a
If you read my
Minibar
post, you'll know that a dinner there also includes a reservation at Barmini. Set in an adjoining space, Barmini debuted in February and is a 30-seat "cocktail lab" concept run by Juan Coronado, one featuring a menu of over 100 chef-driven libations that simultaneously pays respects to classic cocktails while also showing off some distinctly modernist leanings. Barmini also acts as a cocktail development center, thus serving as a drink-focused version of Minibar in some respects.

As far as the interior goes, it's vastly different from pretty much every bar out there--light, modern, even a bit surreal--but really fits in with Minibar's aesthetic next door.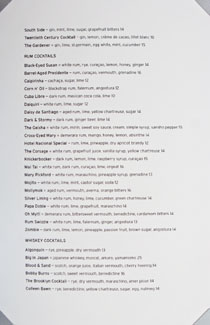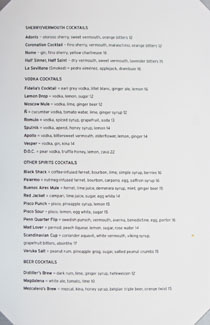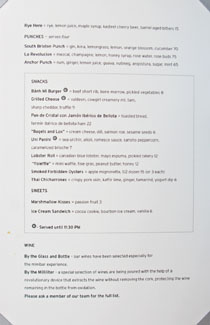 As we see above, I'm not exaggerating when I say that Barmini's menu is
vast
, broken up by choice of base spirit. Note the use of "-" versus "=" next to the descriptions, the former signifying a classic drink, the latter signaling a more contemporary (though not necessarily avant garde) concoction. Wine is also an option here, but why? In addition, you'll probably want to eat something, so there's even a small menu of elevated bar snacks to go along with the booze. Click for larger versions.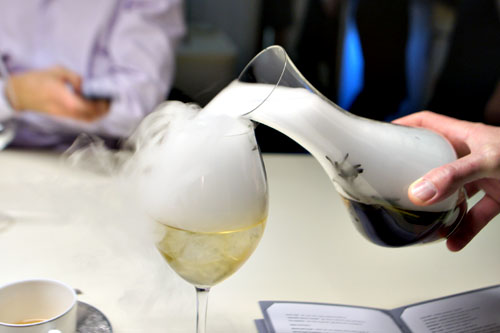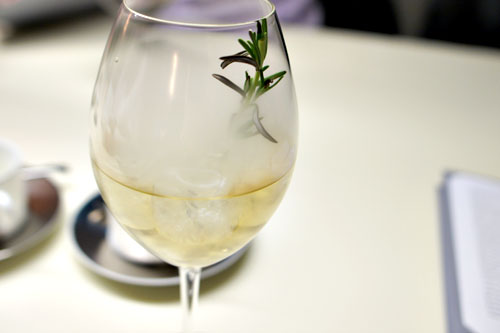 The Highlander [$16.00]
| whiskey, mezcal, rosemary syrup, crème de cacao
To start, I requested something "unique," and Bartender David Strauss (who took care of me most of the night) responded with
The Highlander
. It was excellent, quite simply one of the best cocktails I've had in a while, and not just because of its plumes of rosemary scented air, which did indeed draw its share of oohs and aahs. I'm a fan of whiskey, and a fan of mezcal, and the two together here brought a beautiful commingling of woody, smoky flavors that played off of the aromatic, herby nuances of rosemary beautifully, all while the crème de cacao imparted just a smidge of sugariness to the drink. Utterly balanced, and uncommonly delicious.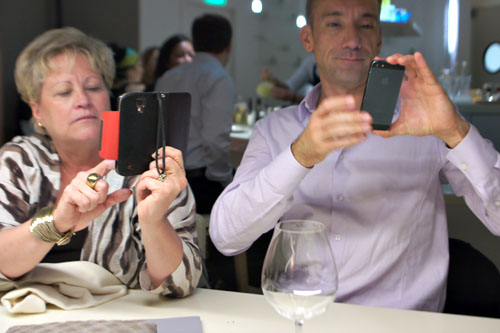 Clearly, I wasn't the only one interested in documenting the spectacle.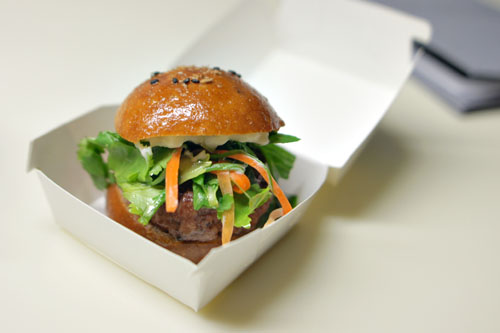 Bánh Mì Burger [$8.00]
| beef short rib, bone marrow, pickled vegetables
The burger came out looking more like a slider, but it was nevertheless one of the best I've eaten. The patty itself verged on decadent, with the super fatty, flavorful, succulent beef melding with the pickled veggies in perfect harmony. A flawless few bites.
Martinez [$12.00]
| gin, vermouth, maraschino, orange bitters
For my second cocktail, I veered in a completely different direction and went with the
Martinez
, the predecessor to the martini that came recommended by Matt Hensel from
Minibar
. The classic combo of gin and vermouth was tarted up by the addition of orange bitters and maraschino liqueur, which resulted in a citrus-y, bittersweet, yet unabashedly stiff cocktail with a surprising complexity to it.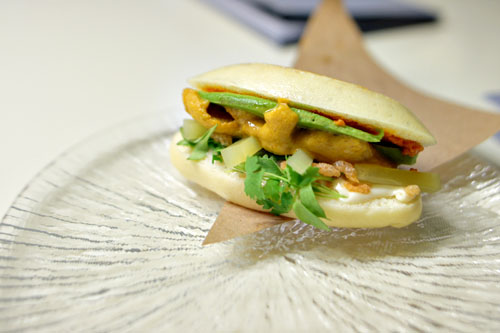 Uni Panini [$7.00]
| sea urchin, alioli, romesco sauce, sansho peppercorn, caramelized brioche
My next snack was the mini uni panini (that's a lot of
ni
's). This one was delicious as well, with the lush, sweet, saline sea urchin masterfully tempered by the use of various veggies, all while the tangy romesco and sansho brought it all together.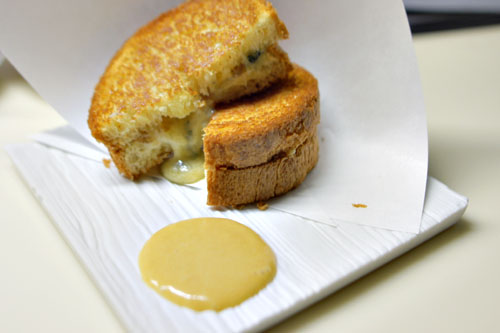 Grilled Cheese [$9.00]
| valdeon, cowgirl creamery mt. tam, sharp cheddar, truffle
The grilled cheese was pretty phenomenal too, the best I've had in fact. There was just this multifaceted richness and saltiness present, moderated by the crisp toast, and a fantastic truffle-y overtone that integrated everything.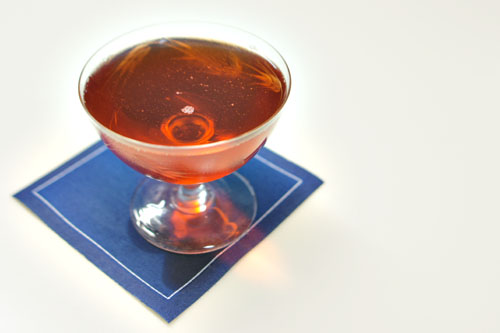 Right Hand
| aged rum, sweet vermouth, campari
Next, based off my request for something with dark rum, Strauss suggested this off-menu cocktail originally created by Michael McIlroy (Attaboy, Little Branch, Milk & Honey) back in '07. It was another winner, showing off a great blend of bitter and sweet flavors, the vermouth really coming through, all with just a tinge of spice at the end.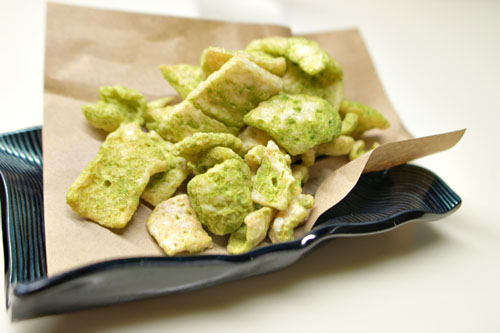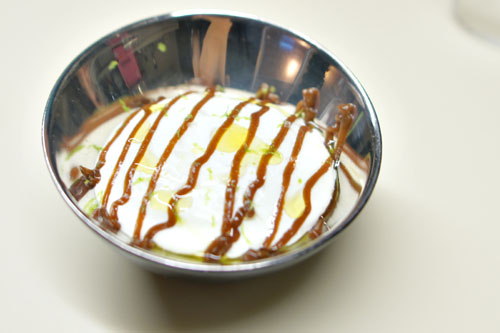 Thai Chicharrones [$6.00]
| crispy pork skin, kaffir lime, ginger, tamarind, yogurt dip
The Thai-inspired pork rinds were fun, with their tart, herby flavors mixing with the sweet, creamy yogurt in commendable fashion.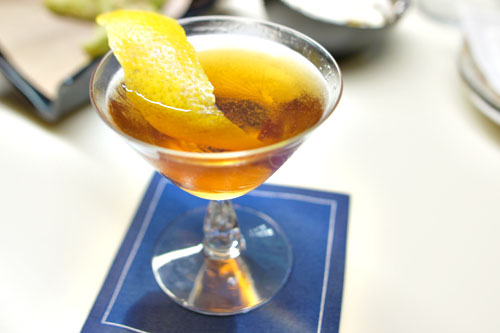 Adonis [$12.00]
| oloroso sherry, sweet vermouth, orange bitters
Another cousin of the martini, the
Adonis
substitutes sherry for gin. The resulting cocktail gave up a lot of citrus fruit initially, which then led to a body brimming with the dark, wonderfully oxidative qualities of the oloroso.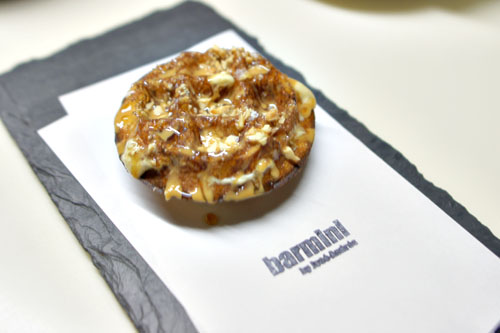 "Foieffle" [$12.00]
| mini waffle, foie gras, peanut butter, honey
The team at Minibar/Barmini really have a facility with foie, as we see here again. I was quite the fan of this
über
waffle and how the luxuriousness of the liver was so deftly integrated. It was almost PB&J-like in essence: sweet, lush, delectable, with the foie gras underscoring the entire experience.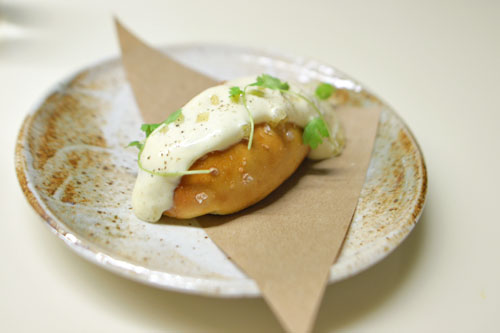 Lobster Roll [$12.00]
| canadian blue lobster, mayo espuma, pickled celery
Naturally, I had to try the lobster roll here for my last savory (though blue lobster isn't actually lobster, but a type of crayfish). It was tasty, the sweetness and brine of the flesh working well with the tangy, crunchy pickles, all while mayo helped tie everything together. My only qualm here was with the texture, as I would've preferred the meat snappier, springier in consistency.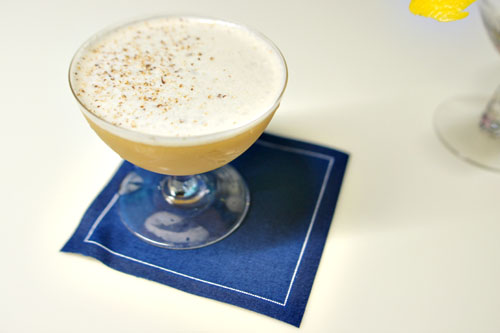 Aged Rum Flip
| coffee, bourbon
To pair with the ice cream sandwich, I went with another off-menu cocktail, this one prepared by the lovely Carlie Steiner. It was pretty fantastic: smooth, frothy, a perfect dessert cocktail that blended a delightful sweet spice with a great base of heady booze. Yum.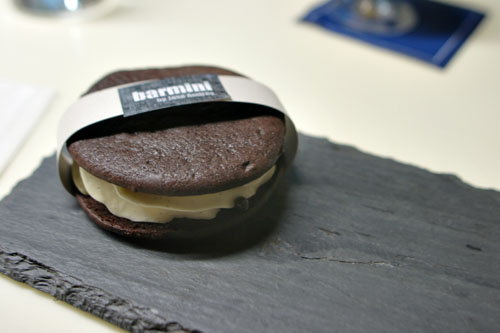 Ice Cream Sandwich [$6.00]
Finishing things off was probably the best traditional ice cream sandwich I've had, which was stuffed with what I wanna say was a vanilla-bourbon ice cream. The ice cream itself was
on point
, and I loved the cookie texture, which was substantial, yet almost falling-apart, with an apparent but not domineering sweetness. Think classic flavors, elevated, but still familiar and satisfying.
Even based on my short time here, I think it's safe to say that Barmini's one of the most exciting bars to debut this year, a place where traditional drinks are executed with a precision, flair, and reverence not commonly seen and new creations tantalize in even more indescribable manners--a real showcase of all that's possible these days in the cocktailian realm. And the food's pretty damn good too.