Salt Air (Los Angeles, CA)
Salt Air Restaurant
1616 Abbot Kinney Blvd, Venice, CA 90291
310.396.9333
www.saltairvenice.com
Thu 09/05/2013, 08:00p-11:20p

Back a few years ago, 1616 Abbot Kinney was home to Capri, an Italian spot that was, by all accounts, pretty horrible. However, the address was brought back to life in December 2011 with the opening of Brian Dunsmoor and Kris Tominaga's much-lauded
Wolf in Sheep's Clothing
pop-up. The two eventually launched
The Hart and The Hunter
, leaving the space in the hands of Kevin Kathman's AK Supper Club (interestingly, Kathman would go on to helm the second incarnation of WiSC at Lilly's), and then Benadicto Gell's Cal-Dominican Mangu. All this time, though, the building was actually under the control of
Dave Reiss
, whom you might know from
A-Frame
,
Sunny Spot
, and
littlefork
. He had plans all along to rework the location into a new concept, and finally partnered with Carol Ann and Moise Emquies to debut Salt Air on June 21st this year.
Running the kitchen here is New Yorker Greg A. Daniels, not to be confused with Greg Daniels of
Haven Gastropub
fame. The Buffalo area native began his culinary career at
Frosty's
, his family's ice cream shop, then attended the French Culinary Institute in Manhattan. Following graduation, he cooked at
Jean-Georges
Vongerichten's Perry St, working his way up to an executive sous chef position. Daniels was slated to move to Vongerichten's eponymous flagship eatery, but instead ended up relocating to Los Angeles to be with his girlfriend, so here we are.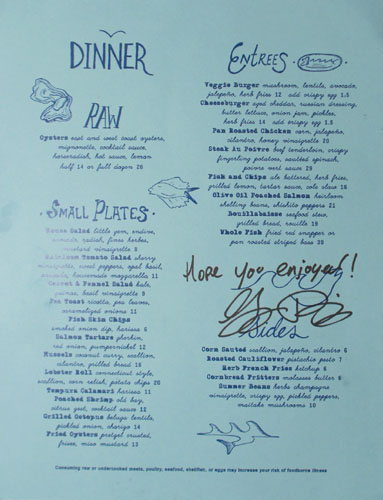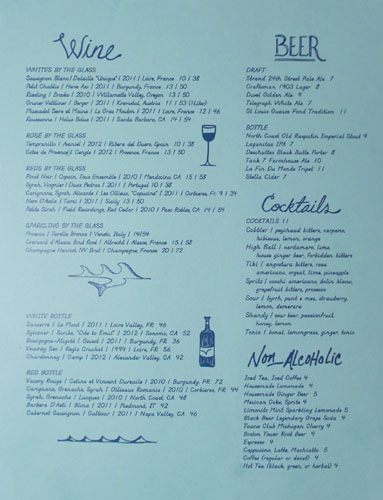 As far as Salt Air's menu goes, it's a blend of familiar seafood classics as well as some more unconventional dishes such as the oft-talked about fish skin chips. To drink, you'll find cocktails from Brian Butler (though note that there's no full bar here), as well as a pretty nice selection of beers, wines, and even non-alcoholic libations. Click for larger versions.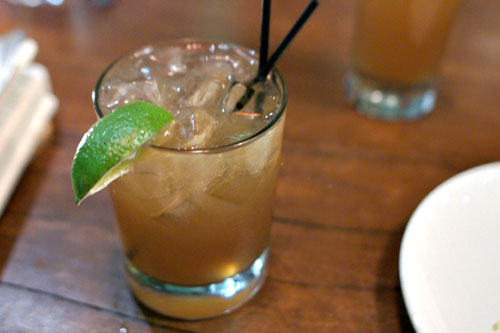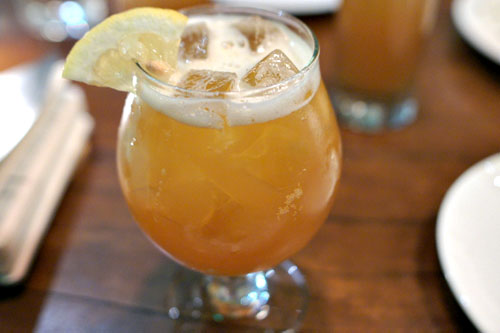 Tonic [$11.00]
| bonal, lemongrass, ginger, tonic
Shandy [$11.00]
| sour beer, passionfruit, honey, lemon
Naturally, we had to try all the cocktails on the menu, and first up was the
Tonic
. Based on Bonal, the drink conveyed a sort of herby, medicinal, but soft bittersweetness to it that went nicely with the ginger-y notes present. The
Shandy
, meanwhile, incorporated gueuze, giving it a great tart, funky, acidic quality with just a whisper of countervailing sweetness--nice!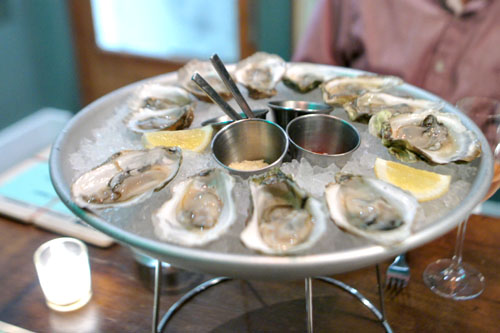 Oysters [$26.00/full dozen]
| east and west coast oysters, mignonette, cocktail sauce, horseradish, hot sauce, lemon
Oysters were a natural beginning to the meal, with three varieties on offer. First were the Sweet Petites from Martha's Vineyard (the Chef's favorite), which I found surprisingly full-flavored, with a particularly briny finish laced with just a modicum of sweetness. Even more intense were the Sunberry Points from Prince Edward Island (my first time with 'em), while the Wellfleets were the heftiest and largest of the trio, with the most pronounced salinity.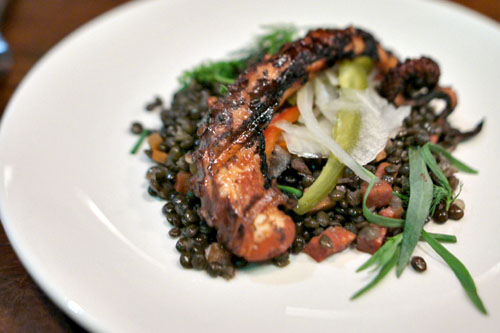 Grilled Octopus [$14.00]
| beluga lentils, pickled onion, chorizo
I do love my octopus, and Salt Air's was a prime presentation of the cephalopod. It was beautifully prepared, coming out tender, yet substantial, with a subtle sweetness and a great char bitterness to it. What made this dish for me, though, were the accompaniments, the onions adding a tanginess on the back end, while the chorizo contributed an underlying heat to things. I appreciated the lentils here as well, which imparted an earthy, weighty quality that grounded the course. A table favorite, and one of the best octopus dishes I've had in a while.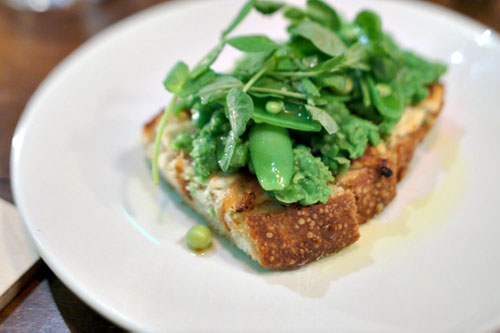 Pea Toast [$11.00]
| ricotta, pea leaves, caramelized onions
Pea toast is probably something you want to order, with its creamy sweetness (courtesy of the ricotta-onion combo) lending a lushness to the dish that was gorgeously balanced by the brightness of the peas.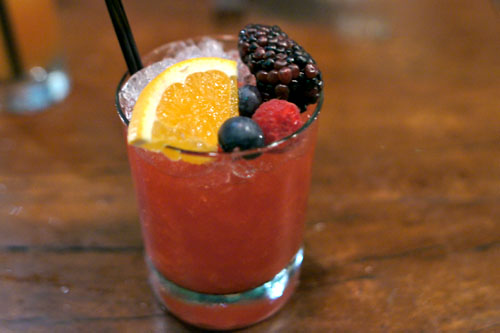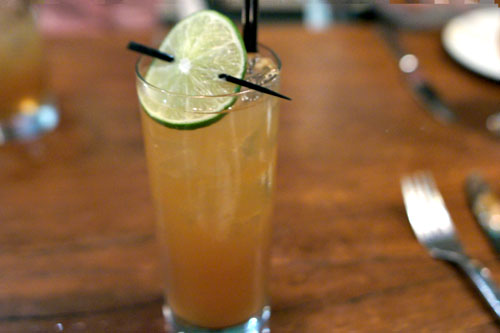 Cobbler [$11.00]
| peychaud bitters, carpano, hibiscus, lemon, orange
High Ball [$11.00]
| cardamaro, lime, house ginger beer, forbidden bitters
Time for more cocktails. The
Cobbler
was a great rendition of the old-school drink, with a rich base of sweet spice joined by a bevy of delectably tart, fruity flavors. I also really enjoyed the
High Ball
, with its refreshing, ginger-y base playing off of the aromatic, cinnamon-y nuances from the bitters and the slightly oxidative quality of the amaro.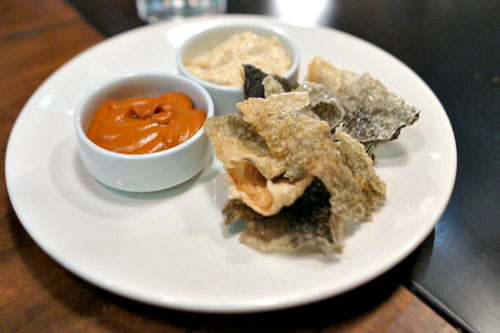 Fish Skin Chips [$6.00]
| smoked onion dip, harissa
Next, we come to perhaps the most bandied-about item on Salt Air's menu: the baked-fried salmon skins. They were salty and briny, sort of like what you'd imagine a fish
chicharrón
to be like, but with a very delicate consistency. I quite liked the chips on their own, but the harissa and smoky/sweet onion dip had their place, too.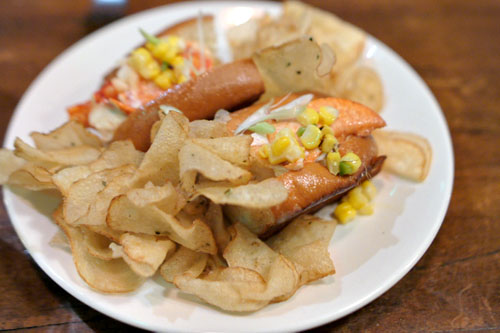 Lobster Roll [$20.00]
| connecticut style, scallion, corn relish, potato chips
I don't know if the lobster roll is the new ahi tuna tartar or what, but it seems to be popping up on menus left and right these days. Salt Air's hot rendition is certainly worthy of consideration, with the crustacean arriving warm, utterly buttery, and almost uncommonly sweet--its sugary character only bolstered by the inclusion of corn--while the scallion served to temper the dish (just a bit). And the potato crisps? Salty and spot on.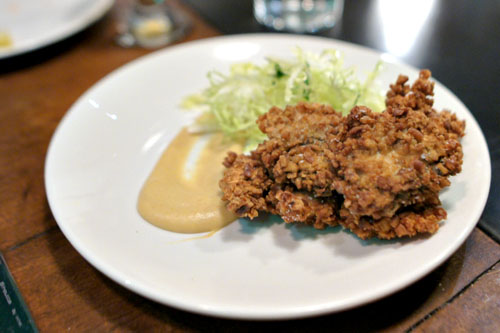 Fried Oysters [$13.00]
| pretzel crusted, frisee, miso mustard
I've had fried oysters before,
but never like this
. They come coated in pretzel bits, making for a fun, unabashedly crunchy eating experience that did a great job recalling the classic combo of pretzels and mustard. Definitely give these a shot.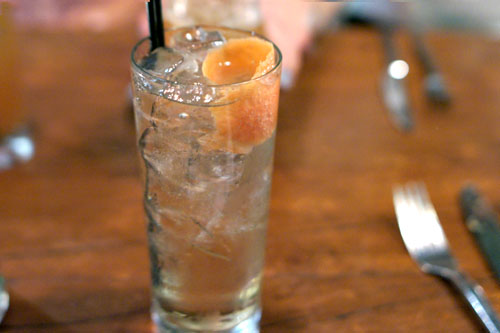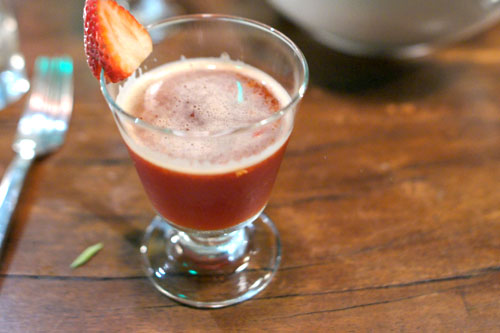 Spritz [$11.00]
| cocchi americano, dolin blanc, grapefruit bitters, prosecco
Sour [$11.00]
| byrrh, punt e mes, strawberry, lemon, demerara
Our third round of cocktails started with the
Spritz
, a bubbly, citrus-y concoction with a great hit of light, herbaceous, refreshing bitterness from the Cocchi and Dolin. The
Sour
, on the other hand, was akin to a boozy strawberry juice, with the sugariness of the fruit deftly played against the complexity of Byrrh and vermouth.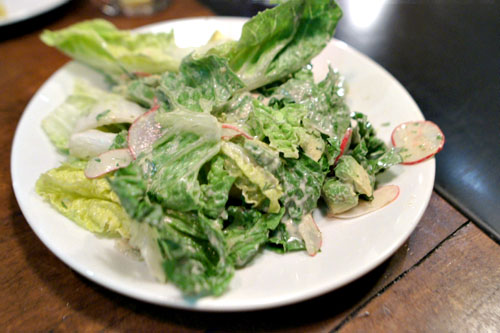 House Salad [$8.00]
| little gem, endive, avocado, radish, fines herbes, mustard vinaigrette
The generically-named House Salad wasn't much to look at, but the flavors were on point. All the elements actually came together really nicely here--a mélange of textures and tastes, expertly tied together by that tangy dressing.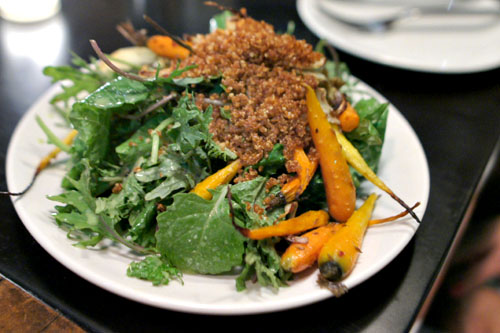 Carrot & Fennel Salad [$9.00]
| kale, quinoa, basil vinaigrette
Our next salad was a bit more ambitious, but not quite as successful. Carrots imparted a pleasant sweetness and crunch to the course, and the kale made sense too, but the quinoa was just a tad discordant, distracting even at times. There were also inedible parts (twigs and whatnot) in the salad, which were vexing.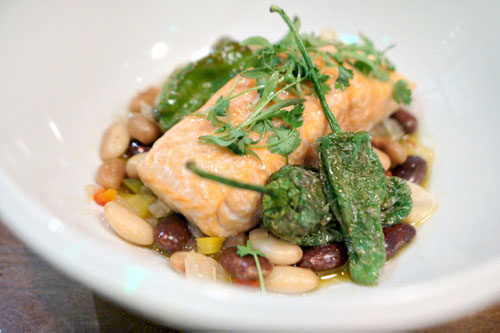 Olive Oil Poached Salmon [$21.00]
| heirloom shelling beans, shishito peppers
At this point, we moved into the mains, specifically the poached salmon. It was a perfect presentation of the fish, the filet coming out still slightly rare and beautifully flaky, with a hint of fattiness to it that went swimmingly with its lush, ocean-y flavors, countered just barely by the bright nuances of the herbs and veggies. If that wasn't enough, I also appreciated the slight tinge of heat from the shishitos, as well as how the beans added a noticeable, moderating heft to the dish. A highlight of the meal for sure.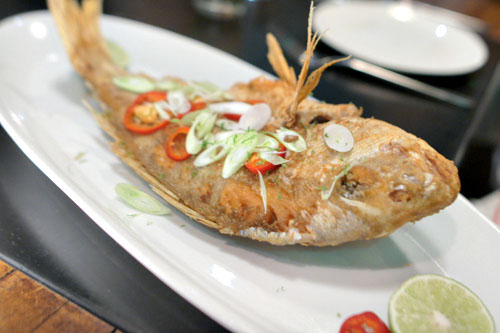 Whole Fish [$39.00]
| fried red snapper
No doubt, the
pièce de résistance
this evening was the whole snapper, which was coated in flour, fried, garnished with pickled Fresno peppers and scallion, then filleted at the table by our server. It really was one of the tastiest
tai
s I've had, the fish coming out juicy and flavorful, with a delightfully crisp skin and a palpable Asian-y tint to it.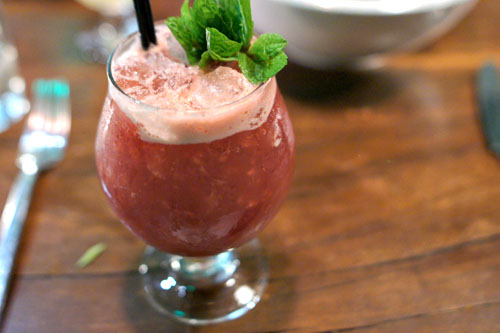 Tiki [$11.00]
| angostura bitters, rosa americano, orgeat, lime, pineapple
Our final drink was the
Tiki
, which, as the name implies, conveyed the tropically sweet, spicy flavors that you'd expect, all over a great base of Cocchi Americano Rosa. Splendid.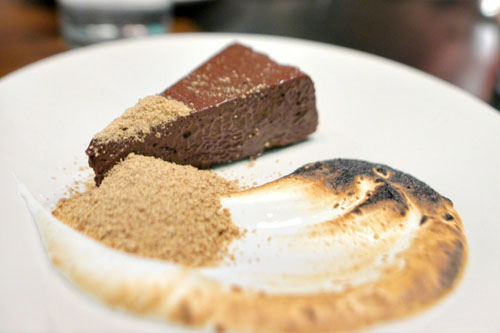 Chocolate Cake [$8.00]
Moving on to dessert now, the requisite chocolate cake was nothing to sneeze at, with the richness of the cake nicely balanced by countervailing thrusts of bitterness and smoke.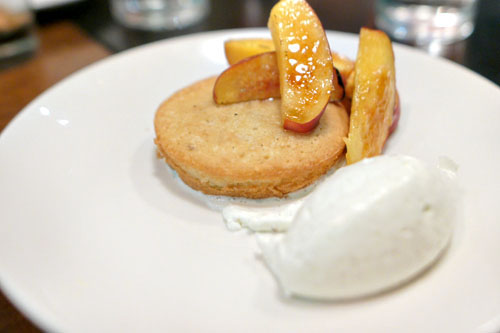 Peach Cream Poundcake [$8.00]
I was quite fond of the poundcake, which I found surprisingly light, with its subtle sweetness pairing well with the juicy notes of the peach, all while the cream added a great touch of levity to the fray. Beautifully balanced and integrated.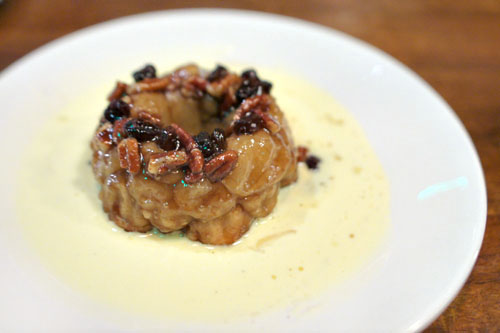 Monkey Bread [$8.00]
We ended with Salt Air's signature dessert, the Monkey Bread. It was as sticky and sweet as it looked, with a caramel-y, cinnamon-y quality to it joined by just a bit of savory flair from the nuts. A must try.
Sure, it would've been nice if
WiSC
stuck around, but I'm quite happy with its eventual replacement. Daniels' cooking really livens up the area's dining scene I think. He brings a blend of the familiar and the new, effectively taking the skills he acquired under Jean-Georges and translating them to fit the aesthetics of an eclectic seafood joint. It's a combination that works well for me, and, combined with the commendable cocktails (which give the liquorless concoctions at
Scratch|Bar
a run for their money), makes for a great new dining option on Abbot Kinney.