Etto (Washington, DC)
Etto Restaurant
1541 14th St NW, Washington, DC 20005
202.232.0920
www.ettodc.com
Tue 09/24/2013, 08:30p-10:40p

After spending
two
years
away from DC, I recently made my way back to the Nation's capital for a business trip. First on the eating itinerary was Etto, a new, low-key pizza/wine bar concept named after an Italian measure of weight equaling 100 grams. The Logan Circle restaurant opened in May, and represents a collaboration between the owners of the vaunted 2 Amys pizzeria (Amy Morgan and Peter Pastan) and beer garden-slash-BBQ joint Garden District/The Standard (Tad Curtz and David Rosner); Curtz, by the way, was a cook at 2 Amys from 2006 to 2010. The Chef here, meanwhile, is Cagla Onal-Urel, a Turkish native who worked at Pastan's Obelisk for several years before moving back to Istanbul to head the kitchens at Hotel Les Ottomans. She was invited back to the US by her former employer, and joined the Etto team in September of last year.

Etto is located in the old
Well Built
building, which has since been transformed by local architect
Bill Feeney
. The 42-seat space sports a comforting sort of vibe befitting the food, and many of the furnishings and fixtures were actually constructed by Curtz and his father.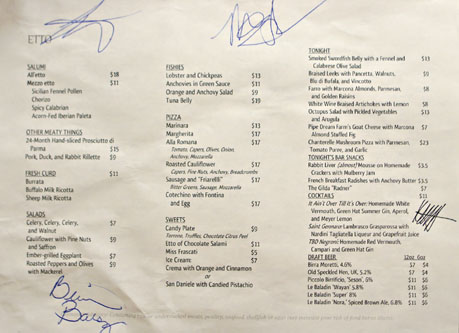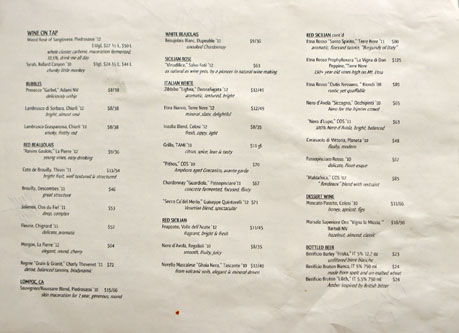 As far as Etto's menu goes, there's a standard set of dishes--anchored by pizzas and housemade
salumi
--that compose most of the offerings, joined by a dynamic selection of daily specials ("Tonight"). To drink, you'll find a Sicilian-heavy, Beaujolais-boasting wine list, some Italian-leaning beers, and a handful of cocktails. Click for larger versions.
TBD Negroni [$11.00]
| Homemade Red Vermouth, Campari and Green Hat Gin
Etto's negroni, famously concocted with the restaurant's homemade vermouth, was one of the best I've had. I loved its medicinal, vegetal nuances up front, as well as its base of pleasant, restrained bittersweetness. Very well integrated, thoroughly balanced, and unquestionably delicious.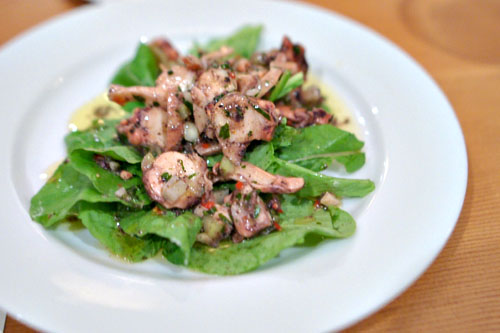 Octopus Salad with Pickled Vegetables and Arugula [$13.00]
Octopus was a must, of course. The version here featured substantial cuts of the cephalopod, savory and sweet, with a fitting counterpoint in the form of those sharply astringent greens. Tying things together, meanwhile, was the salad's delightfully tangy dressing.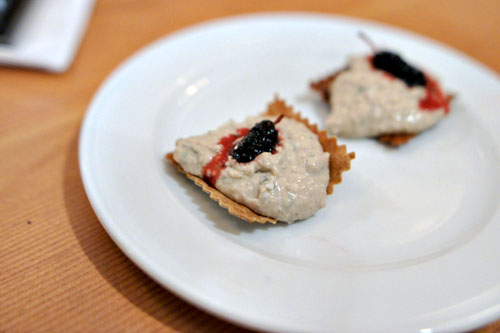 Rabbit Liver (almost) Mousse on Homemade Crackers with Mulberry Jam [$3.50]
Etto's rabbit liver was stupendous, I'm pretty sure one of the tastiest preparations I've had. The mousse arrived earthy and lush, yet subtle, with a perfect amount of moderating sweetness and a great crunch from the cracker.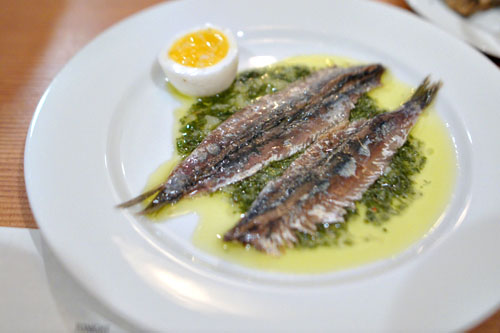 Anchovies in Green Sauce [$11.00]
The restaurant has a particular penchant for anchovies, and here the fish was shown in its best light, its focused, yet refined brine utterly balanced by the tangy salsa verde, all while the egg acted as a luxurious foil in the dish. Very well thought out.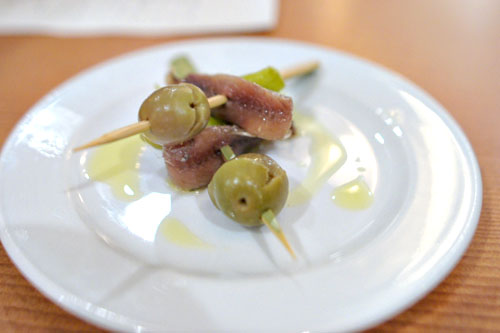 The Gilda "Radner" [$7.00]
Here was a take on the
gilda
, a traditional tapas "lollipop" dish composed of anchovy, olive, and chile pepper. Think fishy and intense, the power of the anchovy tempered by the piquant, acidic, spicy jolt of its pickled accoutrements.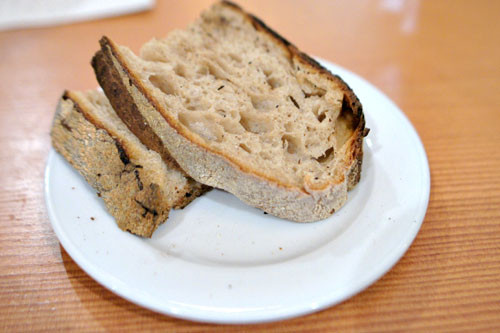 Bread, smoky and crusty, is made in-house, natch.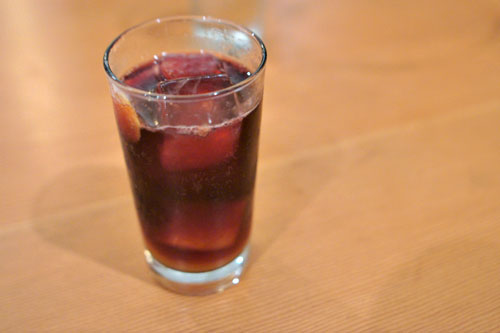 Saint Gennaro [$11.00]
| Lambrusco Grasparossa with Nardini Tagliatella Liqueur and Grapefruit Juice
My next cocktail was also pretty fantastic, with a base of lambrusco vivacity intertwined with aromatic notes of fruit, spice, and a beautiful bittersweet component. This one went down easy (almost too easy).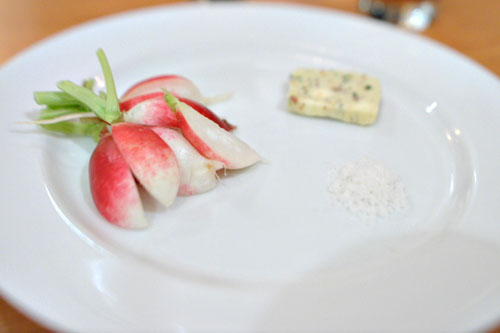 French Breakfast Radishes with Anchovy Butter [$3.50]
Radishes were crisp and astringent, their sharp, bracing character balanced out by the application of salt and that fishy compound butter.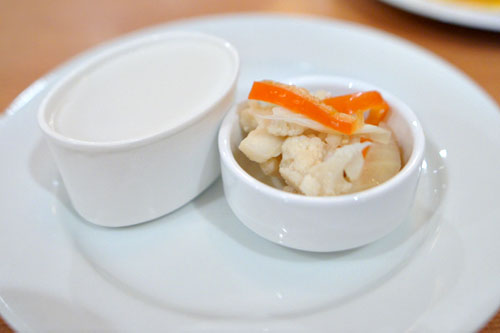 Pork, Duck, and Rabbit Rillette [$9.00]
Rillettes were dense and hefty, imbued with a heady meatiness and a modicum of sweet spice to smooth things out. Pickles, meanwhile, provided a crucial crunch and acidity to things.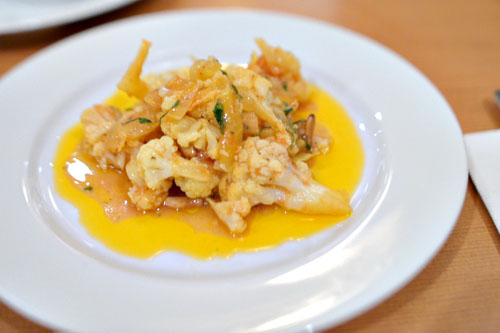 Cauliflower with Pine Nuts and Saffron [$9.00]
Cauliflower was a must-try given my proclivity for it. Saffron offered up a particularly effective complement to the vegetable, and I really appreciated the nutty crunch here imparted by the
pinoli
. However, I would've really liked the cauliflower to have been firmer, crisper in consistency.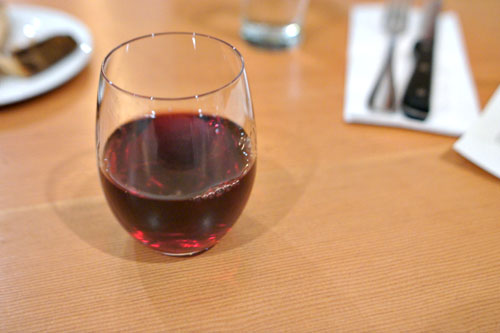 With the pizza, I switched things up to wine and had a glass of the
Nerello Mascalese "Ghiaia Nera," Tascante '10 [$12]
. This Sicilian was fairly intense, loaded with strong berry flavors joined by a slightly grassy/herby/spicy component. Tannins were quite apparent, as was an undercurrent of minerality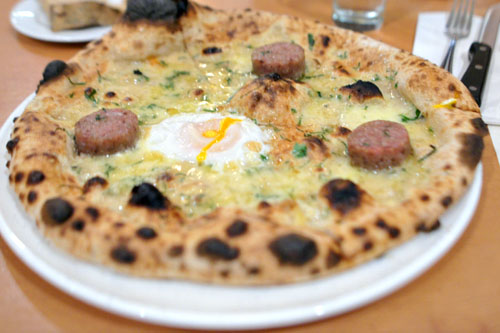 Cotechino with Fontina and Egg [$17.00]
Given the pedigree of the owners, trying one of the pies was certainly called for. The dough here is composed of wheat milled on site, along with a touch of spelt, and fired in a red oak-burning oven. The result is a crust that's fluffy and stretchy (not to mention properly leopard spotted), with a bittersweet tinge to it that was quite to my liking. Taken with the fatty, herby, unabashedly pork-y sausage, salty cheese, and runny egg, the effect was rather fetching.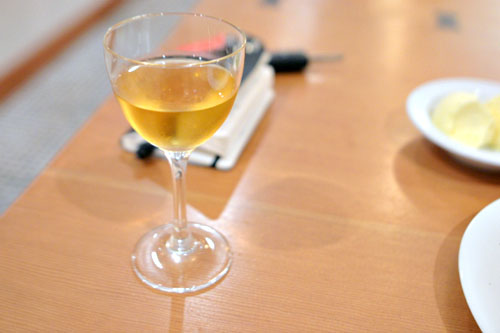 To pair with dessert, I ordered up a serving of the sticky stuff, specifically the
Moscato Passito, Colosi '10 [$11]
. This was exactly what you'd expect: a blast of honeyed, stone fruit sweetness, but balanced by a great backbone of acidity.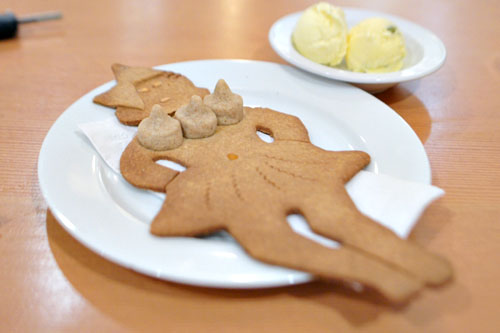 Miss Frascati [$5.00]
Ice Cream [$6.00]
| Crema with Orange and Cinnamon & San Daniele with Candied Pistachio
Dessert was interesting, featuring the legendary three-breasted (two milk, one wine) woman from Frascati, basically a sweet 'n' spicy cookie that went wonderfully with the excellent homemade ice creams.
Etto was a nice way to get back into the DC dining scene. The cooking shows off a sort of approachable simplicity, with flavors that are pure, focused, and undoubtedly work with each other. I appreciated the rustic, home-y quality of the food, as well as the emphasis on housemade product, making for a combination that, judging from the crowds, is working wonders for the team here.