Go's Mart (Canoga Park, CA) [2]
Go's Mart Sushi
22330 Sherman Way, Los Angeles, CA 91303
818.704.1459
Sun 08/25/2013, 04:30p-07:25p

One of LA's best, and certainly most unique sushi joints is also one of the most out-of-the-way. I'd first visited Go's Mart
way back in 2007
after coming down from a dinner at
The French Laundry
. Despite the strength of that experience, I'd stayed away all this time due to the considerable drive out to Canoga, and as a result, our meal here once again came on the back of
another Bay
Area trip
.
An interesting note is that the VHS video rental aspect of Go's seems to be no longer, unsurprisingly given the advent of DVD, Blu-ray, and video-on-demand. However, Go-san's right-hand man Oscar is still at it here after 14 years (keep in mind that the placed opened circa 1997), though his other assistant Lino has seemingly been let go, replaced by a young guy named Tomás.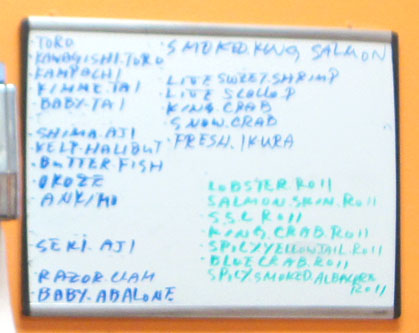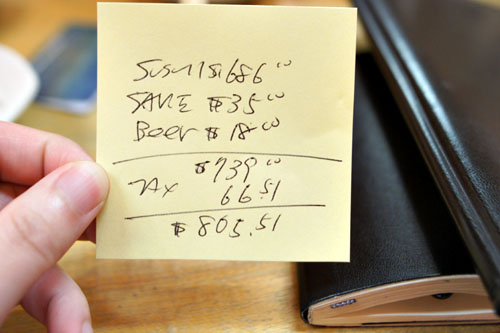 As far as Go's Mart's menu is concerned, the standard selections are fairly mundane, so clearly the way to go is to sit at the counter and order the
omakase
, drawn largely from the specials board and totaling $171.50 a head this evening. To drink, think an unremarkable selection of sake and beer (though I hear there's no corkage...). And yes, the check was presented on a Post-it note (charming). Click for a larger version.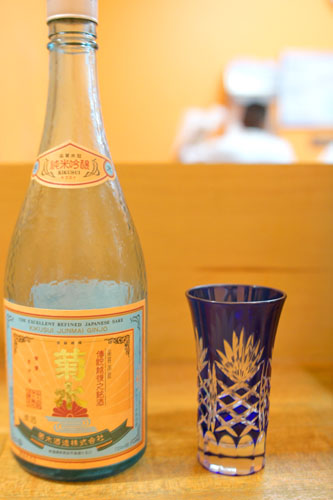 Speaking of sake, we began with a bottle of the
Kikusui Junmai Ginjo [$35]
, a commonplace, but very approachable brew that was viscous in consistency, with a strong melon character over a base of
koji
notes and a trace of alcoholic burn.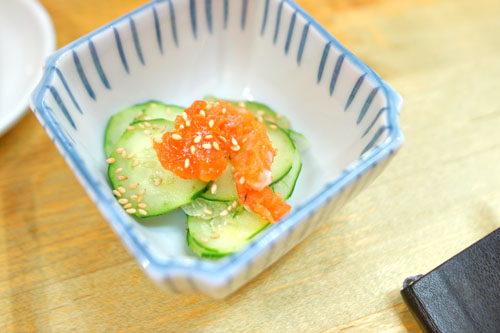 1: Salmon & Cucumber
Our first course brought together cucumber, sesame, and smoked salmon in commendable fashion, the heady, hefty flavors of the fish balanced by the bright, crunchy veggie, all while the sesame imparted a lovely nuttiness that overarched the entire dish.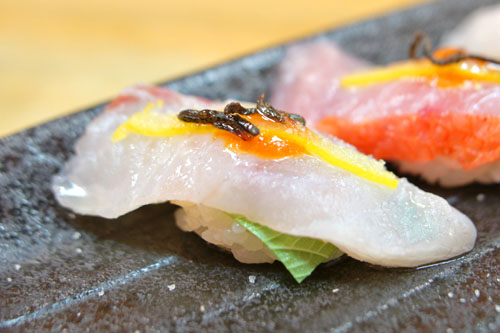 2a: Suzuki [$7.00]
We moved right into the
nigiri
with this foursome. Sea bass was delightful, silky in texture, with a delicate taste that melded seamlessly with the truffle and lemon notes present, all while the back end was awash in the clean, minty essence of shiso.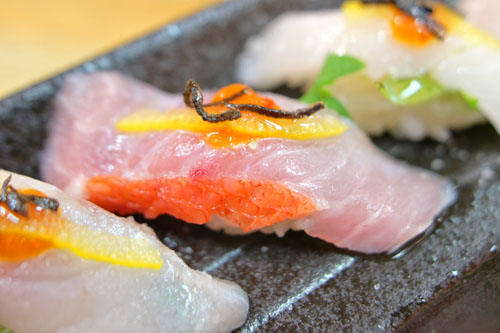 2b: Kinmedai [$7.00]
The golden eye snapper (a.k.a. splendid alfonsino) was even better, with a meatier consistency and a more assertive flavor profile. Delish, and my favorite of the four here.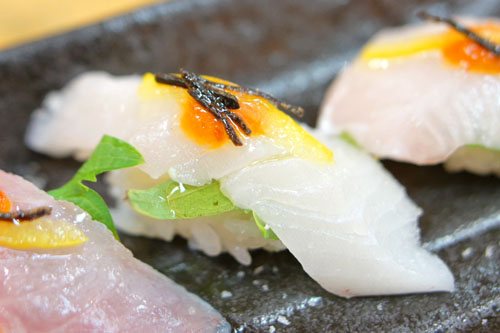 2c: Managatsuo [$8.00]
Butterfish was, as the name would imply, the lushest of the bunch, with a nice citrus counterpoint and a strong kick of wasabi on the finish.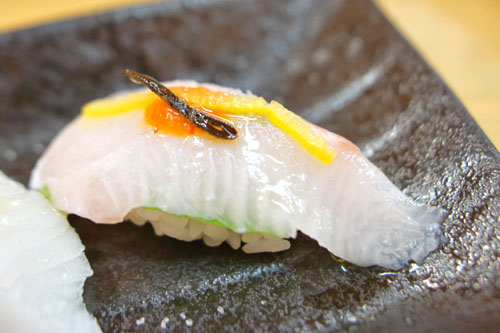 2d: Kanpachi [$6.00]
Finally, the amberjack was the firmest, the crunchiest of the quartet, with the sweetest flesh and a subtle bit of shiso brightness toward the end.
3a: Kuromaguro [$3.00]
Next, we were presented a trio of different tuna preparations. First was the blue fin, a great preparation of the sushi staple with a good depth to it and a smart hit of garlic on the midpalate, while its finish was all about that wasabi burn.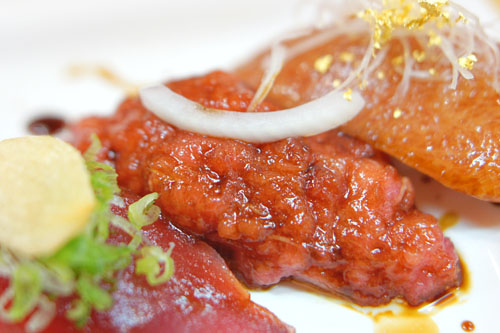 3b: Kawagishi Toro
Here was a version of toro that I've only encountered here at Go's. Its basically tuna flesh that's scraped from the bone, resulting in a sort of paste-like consistency with no sinew at all--chewing wasn't even required. Mixed with soy sauce, it was rich and dark, with the crunch and astringency of the onion serving as a fitting foil.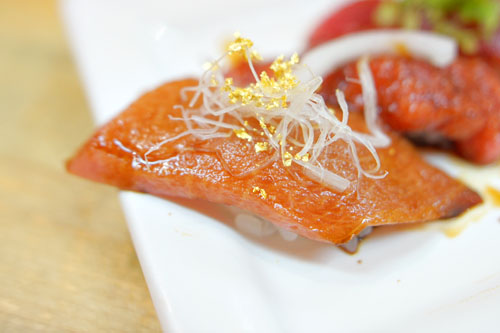 3c: Toro [$10.00]
The toro proper was of medium fattiness, undeniably tasty with a bit of chew to it and a nice wasabi element to balance things out.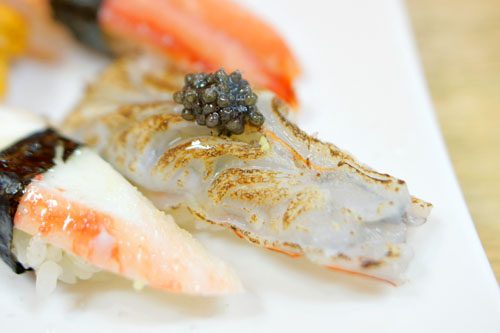 4a: Ebi [$8.50]
One the standouts for me was the blue shrimp, which arrived wonderfully snappy in texture, with a superb char character and salty kick from the caviar that went along beautifully with the savory-sweet flavors of the shrimp. Nice bit of wasabi zing here, too.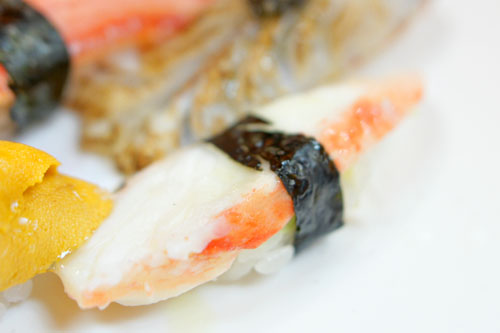 4b: Tarabagani [$10.00]
King crab was spot on: tender, sweet, and cool, with just a whisper of truffle goodness that paired in stellar fashion with the lingering salinity of the crustacean.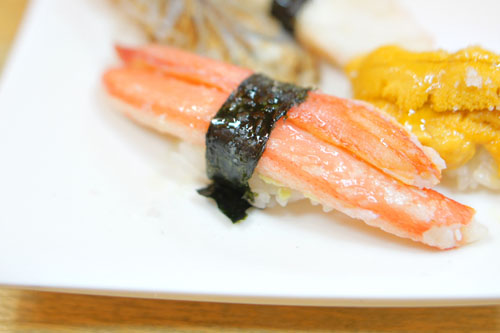 4c: Zuwaigani [$8.00]
Snow crab was similarly on point, arriving juicy and sweet, with a delightful consistency to it and a great touch of wasabi to focus the flavors.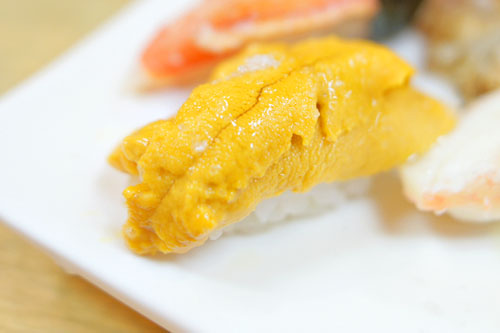 4d: Uni [$6.00]
Go-san humorously referred to this as "Santa Barbara peanut butter," and he wasn't far off the mark with that description. It was a delectable presentation of uni, its creamy, sweet nature on proud display against the subtle truffle nuances in the course, all while salt added pleasing jolts of saline goodness on the palate.
5: Shrimp Head
The head of the shrimp above was then presented to us in fried form, a crispy, crunchy, utterly delicious course that showed off an almost instant ramen-like savor to it.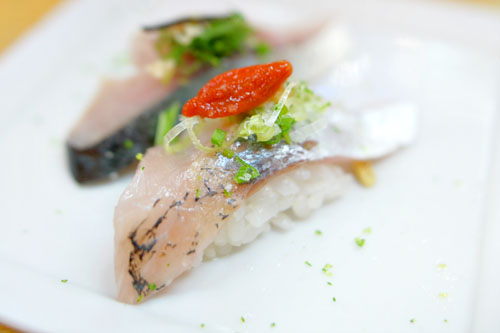 6a: Aji [$7.00]
Next, a duet of oily fish. Spanish mackerel was a shining example of the style, light and bright, with a growing fishiness along with an apparent sweetness from the goji berry.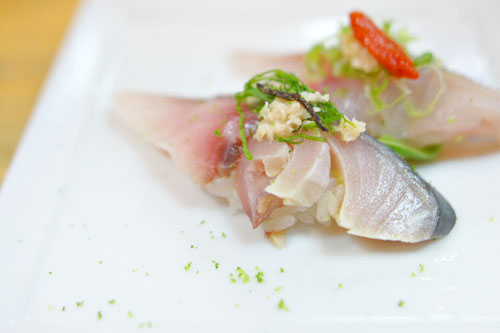 6b: Saba [$6.00]
Meanwhile, the
saba
mackerel was much fuller flavored, and firmer in body, with a long, lingering brine offset by the use of ginger.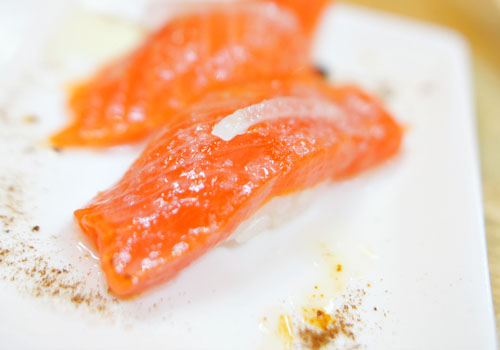 7a: Benizake
Sockeye was our first of two salmons, and was pretty amazing, with a great interplay between the truffle and the inherent fattiness of the fish, all while salt and wasabi added further points of interest to the course.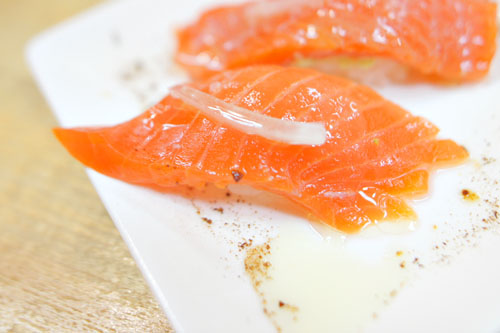 7b: Sake no Kunsei
Smoked king salmon was also to my liking, its woody, hammy savor working flawlessly with the moderating bitterness of the onion.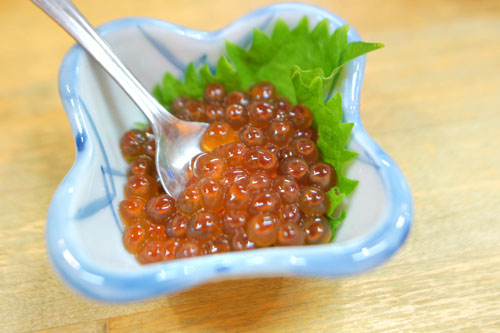 8: Ikura [$8.00]
Ikura was smooth and buttery, probably the lushest presentation I've had of the roe, but also showed off a smoky, saline character as well.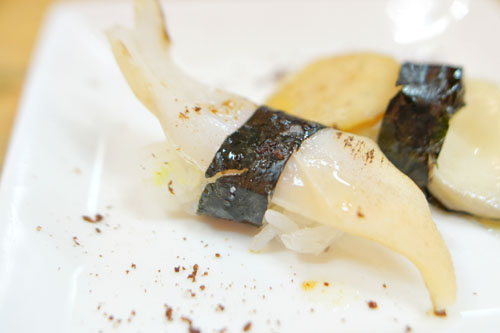 9a: Mirugai [$6.00]
Seared geoduck was lovely, with a great mix of crunchy yet supple textures and a focused brine that was dutifully offset by the burn of wasabi.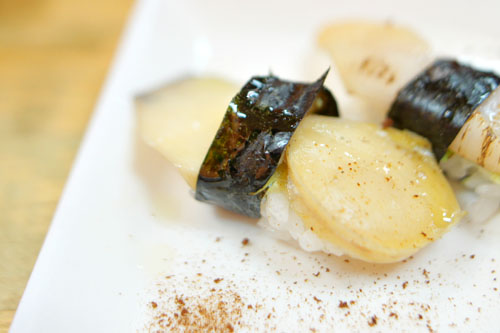 9b: Awabi [$5.00]
Baby abalone was great texturally, with a supple, yet satisfying bite to it and a veil of truffle-y flavors that made this one of the most unique presentations of
awabi
sushi I've had.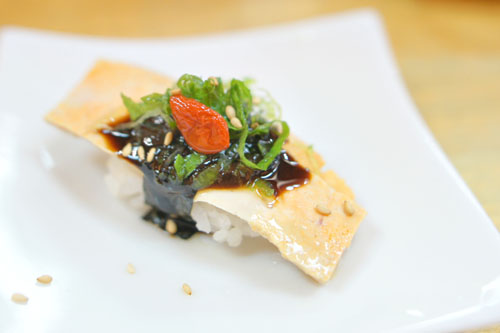 10: Ankimo [$5.00]
Go-san's monkfish liver was some of the most approachable I'd ever encountered, with a tangy sweetness initially that lead smoothly to the creamy, liver-y notes toward the finish.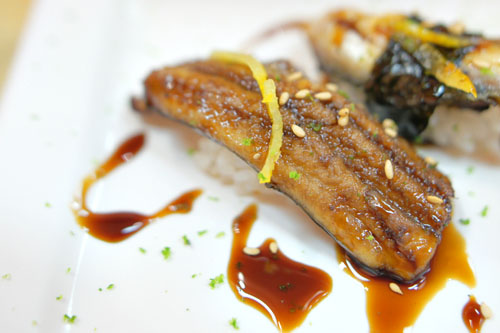 11a: Anago [$6.50]
Sea eel was deep and dark, with a commixture of sweet and savory flavors that just worked.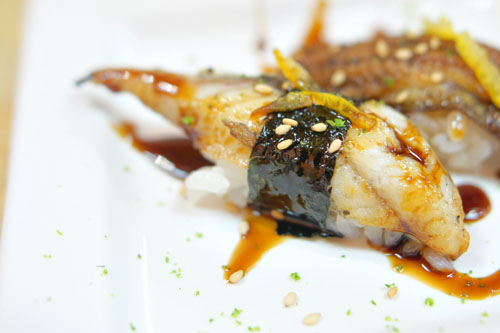 11b: Unagi [$6.50]
The freshwater eel, on the other hand, was fattier, more luxurious, with a crispiness to it and a palpable, citrus-y, offsetting tang.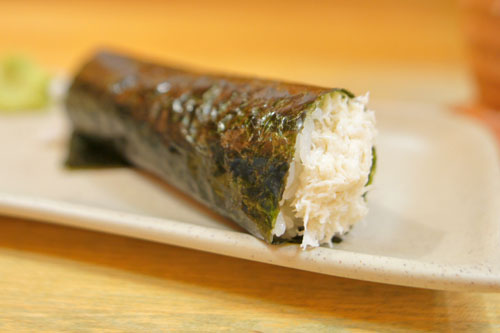 12: Watarigani no Temaki [$9.00]
The requisite blue crab hand roll was just as sweet, cool, and creamy as you'd expect, but with the added benefit of truffle, which added an almost intoxicating overtone to the course.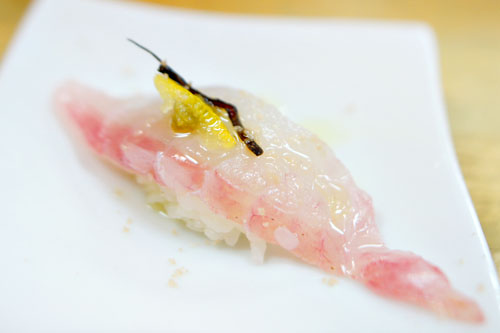 Supplement: Okoze [$7.00]
At this point, the set
omakase
was pretty much over, so we ordered a couple more courses to round things out. First was the
okoze
, which I'd actually never encountered before. Go-san called it a sculpin, though stonefish appears to be the more common translation. In any case, it was really quite nice, wonderful texturally with a subtle sweetness that paired well with the lemon-y and
yuzukosho
notes present.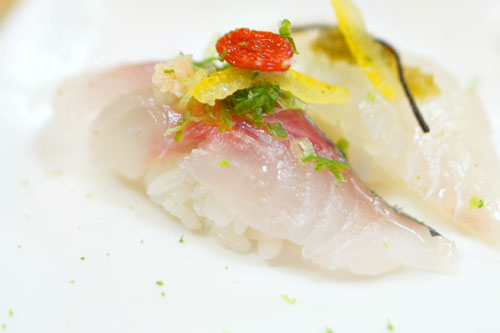 Supplement: Seki Aji [$7.00]
Seki aji
's a special brand of the fish caught only from Japan's Bungo Channel, and is a real treat at sushi restaurants. The mackerel was light and delicate on the palate, with a tempering brightness from the shiso and a nice bit of wolfberry sweetness. It tasted pretty similar to the
aji
above, though.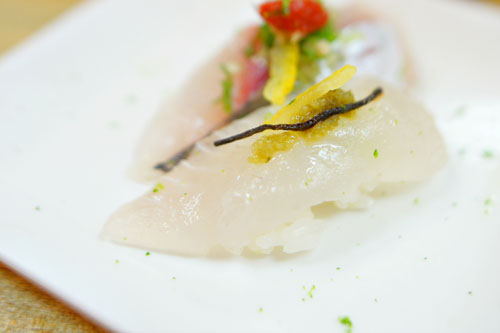 Supplement: Hirame no Kobujime [$5.00]
Our last fish was a kelp-treated flounder done in the
kobujime
style. The result of the process was a denser, more complex tasting fish, one that went just swimmingly with salty-spicy flavors of the
yuzukosho
here.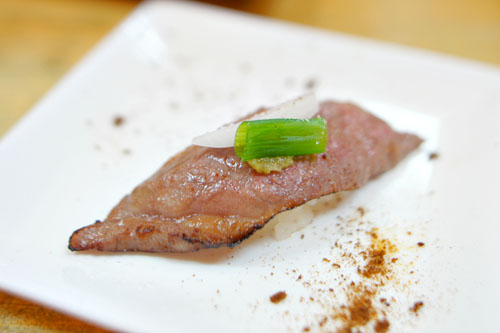 Supplement: "Holy Cow" [$10.00]
We ended our savories with some beef sushi, which was as tasty and savory as you'd expect, with a fantastic lingering spice to it. However, I really would've preferred the meat rarer, so that I could've better appreciated it texturally.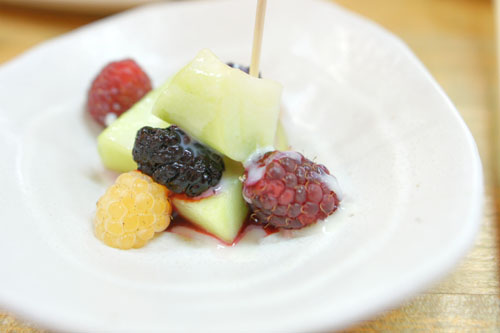 13: Fruit Plate
Dessert comprised a simple plate of fruit, a sweet, refreshing close to the evening.
This meal really was a reminder of how good Go's can be. Certainly, the Chef's liberal use of truffle, salt, citrus, shiso, and other accoutrements may not be for everybody. Some may complain about authenticity even. Sure, I get it. I appreciate having the fish stand alone just as much as anyone else, but the little flourishes here really make the sushi some of the most interesting around, and really point toward Go-san's unorthodox, irreverent style. That's really what makes the place special, and one of the real gems of the SFV. Sushi fiends, Go's needs to be on your bucket list.