RivaBella (West Hollywood, CA)
RivaBella Restaurant
9201 W Sunset Blvd, West Hollywood, CA 90069
310.278.2060
www.rivabellarestaurant.com
Fri 09/20/2013, 08:35p-11:55p
When we last left
Gino Angelini
, he had converted La Terza to the more casual Minestraio. Minestraio, however, failed to catch on and shuttered in March 2011, replaced by The Churchill. The Chef's next move was revealed at the beginning of last year, when it was announced that he'd be partnering with the
Innovative Dining Group
to launch RivaBella in the old Hamburger Hamlet building on Sunset (a location shared with haute Chinese concept Chi-Lin). Named after a village near Angelini's hometown of Rimini, RivaBella represents his biggest, most glamorous restaurant yet, and debuted on January 14th. As he can't be expected to be in the kitchen all the time, running the day-to-day here are Chef de Cuisine Ezio Puccioni (All' Angelo, La Terza) and Executive Sous Chef Adam Titze, formerly of BOA.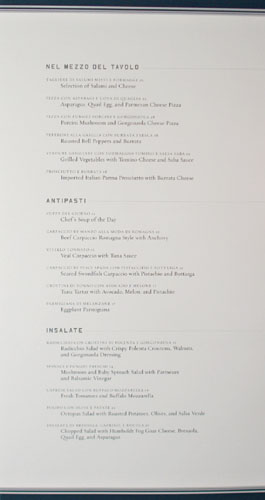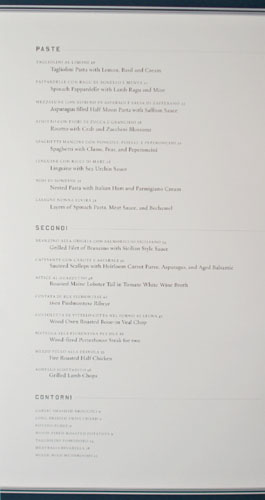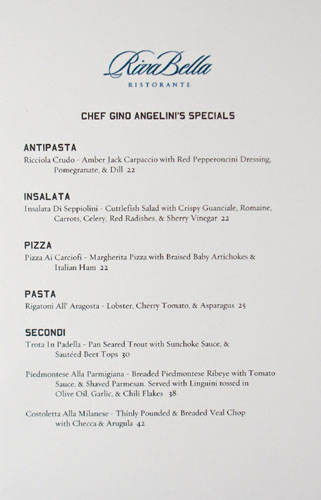 The menu at RivaBella reads a bit pan-Italian, but with a nod toward the Chef's Emilia-Romagna upbringing. To drink, we're talking about Italian-centric cocktails from bartender Aaron Alvarez (
Plan Check
, Sunset Tower Hotel, SoHo House, not to mention Chi-Lin) as well as a respectable Cal-Italian wine list. Click for larger versions.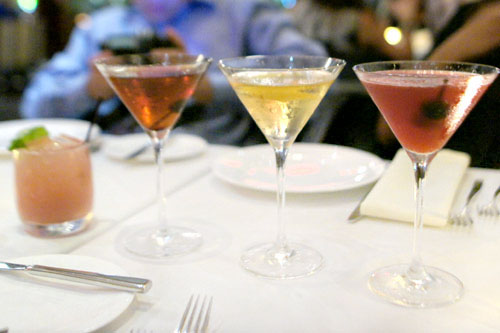 Vista Mar [$14.00]
| Grey Goose Vodka, Fresh Basil and Organic Hibiscus Liqueur
Notte Scura [$14.00]
| Maker's Mark Whisky, Nonino Amaro and Carpano Antica Sweet Vermouth with Luxardo Cherry
Negroni Nuovo [$14.00]
| Bombay Sapphire, Calisaya, Cocchi Americano, Stirred
Amore Di Violette [$14.00]
| Oxley Gin, Creme de Violette and Maraschino Liqueur with Fresh Blackberries and Candied Violet Petals
A quartet of cocktails to begin. Going left to right, we had the
Vista Mar
, its straightforwardly sweet hibiscus flavors balanced against the herby overtones from the basil, the vodka almost invisible. The
Notte Scura
, on the other hand, was much boozier, with the woody nature of the Maker's nicely conveyed alongside the spiciness of the amaro, all while the vermouth and Luxardo imparted a delightfully sugary undercurrent to the drink. The
Negroni Nuovo
was a riff on the traditional cocktail--sweet, bitter, herbaceous, and surprisingly light--with Calisaya in place of Campari and Cocchi Americano substituting for vermouth. Finally, the
Amore Di Violette
I found unexpectedly boozy, with the aromatics of the gin strongly displayed, set off by the sweet, floral notes present.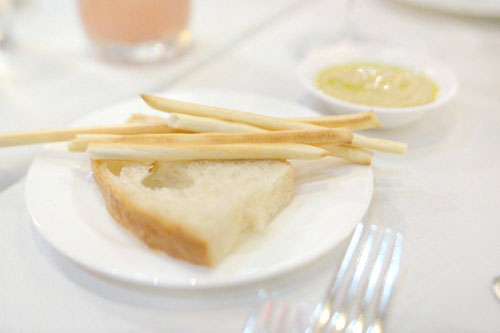 Bread and
grissini
were presented with a dip of cannellini and garbanzo beans, olive oil, and garlic.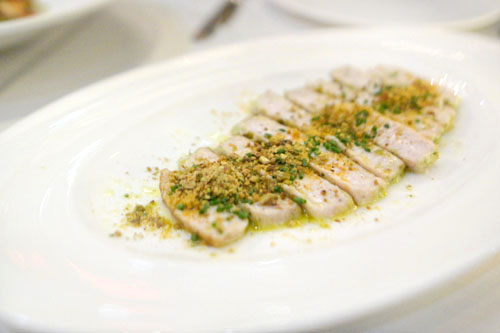 Carpaccio di Pesce Spada con Pistacchio e Bottarga [$21.00]
| Seared Swordfish Carpaccio with Pistachio and Bottarga
Swordfish was meaty and moist, well cooked and pretty enjoyable. However, the kitchen was heavy handed with the bottarga here, which imparted a very strong salinity to the dish that tended to overwhelm the comparatively delicate fish.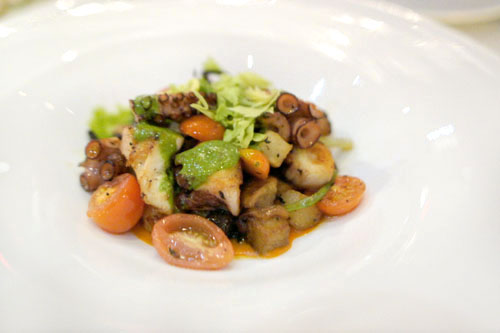 Polipo con Olive e Patate [$22.00]
| Octopus Salad with Roasted Potatoes, Olives, and Salsa Verde
I'm a sucker for octopus, and indeed, the salad here was one of the highlights of the meal. The cephalopod arrived nicely cooked, albeit a bit tough in places, showing off a mouthwatering brine and char that linked up beautifully with the savory, deliciously cubes of potato tossed in. At the same time, tempering things out were the tangy influences of the salsa and tomato, making for a well balanced dish overall.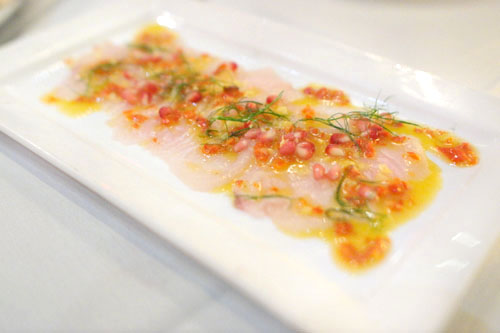 Ricciola Crudo [$22.00]
| Amber Jack Carpaccio with Red Pepperoncini Dressing, Pomegranate & Dill
One of the specials of the evening, the amberjack was the least successful course of the night. The fish was effectively masked here, first from the very piquant combination of peperoncini and pomegranate, then with strong blasts of both olive oil and salt that just overwhelmed the palate.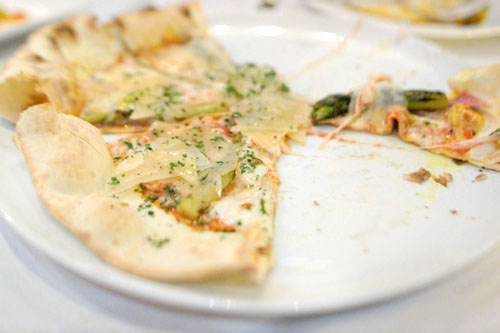 Pizza con Asparagi e Uova di Quaglia [$22.00]
| Asparagus, Quail Egg, and Parmesan Cheese Pizza
RivaBella only offers a handful of pizzas, but the one we had was enjoyable. The pie came out thin and crisp, with a strong cheesy component that fared well against the bitterness of the asparagus. Tasty.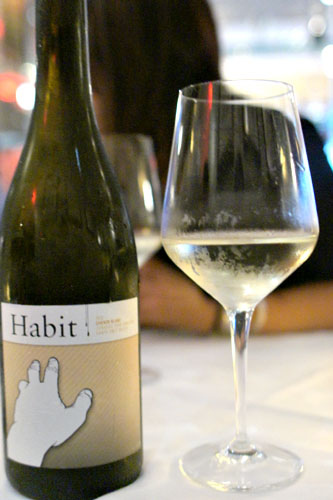 With the cocktails dispensed with, we moved on to a white wine, the
2012 Habit Chenin Blanc Jurassic Park Vineyard [$75]
. Chenin Blanc's usually not a varietal I gravitate toward, but this was
really
nice: light, bright, and utterly refreshing, with an almost effervescent quality and plenty of vibrant stone fruit nuances to go along with the grassy notes and great backbone of minerality. Interestingly, the winemaker here is none other than
Jeff Fischer
, who voices the eponymous character (Hayley's stoner, loser boyfriend) on
American Dad
.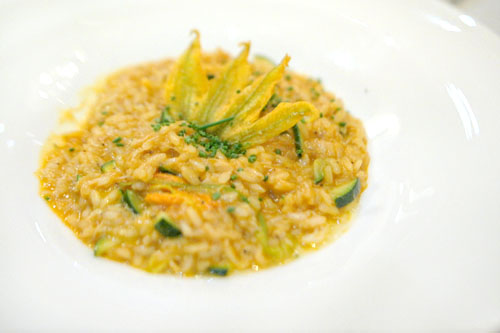 Risotto con Fiori di Zucca e Granchio [$28.00]
| Risotto with Crab and Zucchini Blossoms
Moving into the pastas now, we of course had to start with the risotto, which I rather liked. The ocean-y essence of the crab really penetrated the nicely
al dente
grains here, and I much appreciated the tempering aspect provided by the zucchini too.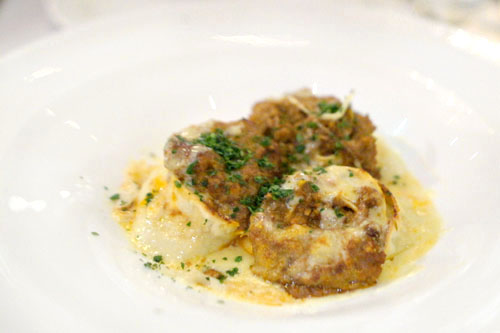 Nidi di Rondine [$21.00]
| Nested Pasta with Italian Ham and Parmigiano Cream
Next was a San Marino specialty of nested, baked pasta. I'd actually never had the dish before, but it was easily the most comforting of the trio, with its brazenly cheesy, meaty goodness hitting the spot nicely.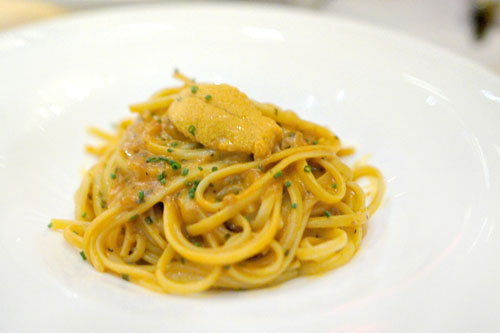 Linguine con Ricci di Mare [$28.00]
| Linguine with Sea Urchin Sauce
Sea urchin seems to be the pasta topping
du jour
these days, but RivaBella's was a worthwhile presentation. The noodles themselves were properly firm, serving as a fitting base for the lush, herby, slightly spicy flavors to really sing. I would've liked a bit more of the urchin here, though.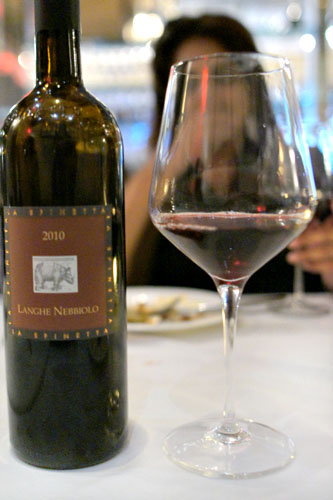 With our mains, we went for a red, the
2010 La Spinetta Langhe Nebbiolo [$68]
. This one was intensely perfume-y on the nose, with plenty of rich, fruity notes that actually led to a decidedly more austere palate, one that was quite tannic and acidic, with hints of smoke and alcohol toward the close.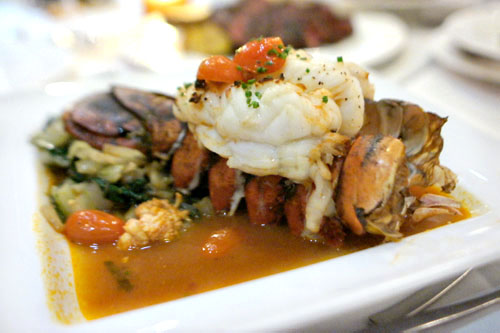 Astice al Guazzetto [$48.00]
| Roasted Maine Lobster Tail in Tomato White Wine Broth
Inspired by
Eater LA's recent list
, we went with the lobster. The tail was meaty and firm, with a pretty decent texture to it and a mildly sweet relish that paired swimmingly with the accompanying, tangy tomato stew.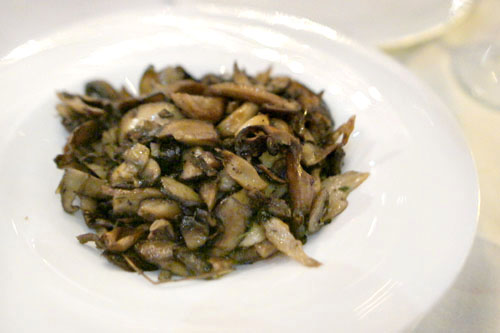 Mixed Wild Mushrooms [$10.00]
Mixed mushrooms were just what you'd expect: dark, earthy, and delectably savory.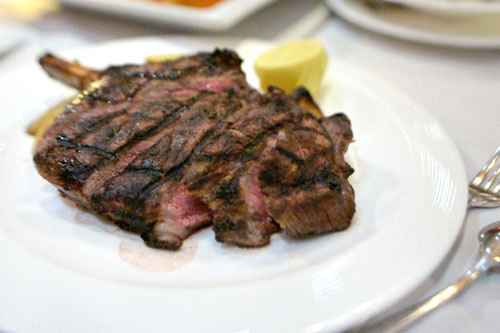 Costata di Bue Piemontese [$62.00]
| 16oz Piedmontese Ribeye
Here, we see our most substantial course of the evening. The rib eye was a pretty impressive sight, arriving juicy, with a very strong char component. Taste-wise, the steak was nice, though not particularly beefy in nature, while texturally, it could've been improved in places. The cut was joined by some delectable rosemary(?) potatoes, which were spot on.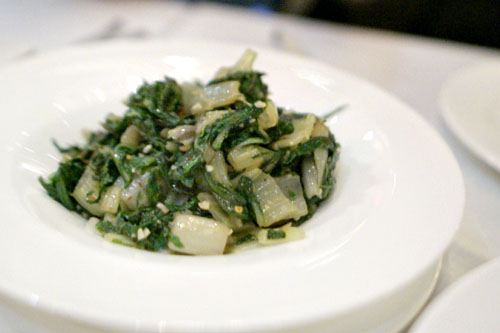 Long Braised Swiss Chard [$9.00]
Chard was light and crunchy, with a touch of astringency to it that made sense with the strong garlicky notes present.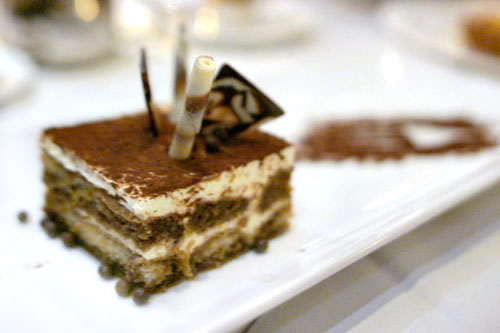 Classic Tiramisu [$11.00]
| Layers of Espresso Soaked Lady Fingers with Mascarpone Cheese, Brandy and Cocoa
Desserts proceeded with the ubiquitous tiramisu. RivaBella's was one of the strongest preparations I've had, traditional in essence, with the lush, espresso- and brandy-saturated cake showing off an eminently pleasing combination of sweet, boozy, coffee-laced flavors.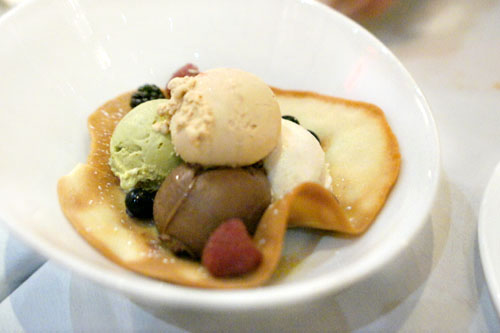 Selezione di Gelato dello Chef [$12.00]
| Selection of House Made Gelato
The restaurant's selection of homemade gelatos were on point, coming tonight in hazelnut, vanilla, chocolate, and pistachio flavors. They were all delicious in their own right, and went beautifully with their crispy cookie base.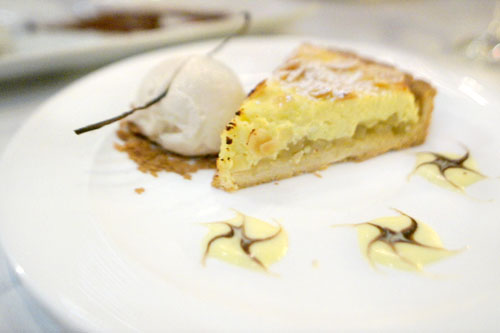 Torta di Ricotta [$12.00]
| Italian Cheesecake with Ricotta Cheese, Almonds and Rum Poached Pears
We ended with the cheesecake, a commendable version of the dish that deftly played sweet and tangy nuances off each other, augmented by the weight of the poached fruit. Superb when taken with the accompanying ice cream.
Given that this was an IDG joint, I didn't exactly have high hopes for the food, so my expectations were met, maybe even a bit exceeded. I think the menu can perhaps verge on "safe" at times, but the ideas generally work. Execution could use improvement though, and overall I'd definitely like to see more finesse, more precision. Service, meanwhile, was shockingly on point, even on a Friday night, and it seemed like our servers were genuinely trying to do the right thing. Even more surprising, the whole vibe wasn't nearly as noxious as I'd feared. The likes of
Sotto
and
Bestia
need not fret, but this isn't a bad choice necessarily.