Atelier Crenn (San Francisco, CA) [2]
Atelier Crenn
3127 Fillmore St, San Francisco, CA 94123
415.440.0460
www.ateliercrenn.com
Fri 08/23/2013, 08:10p-01:10a
My first meal
at Dominique Crenn's self-titled eatery--not too long after the place opened--was quite the experience to behold, arguably my best meal of 2011. At the end of that dinner, I predicted Michelin stars for the restaurant, and, not surprisingly, that prognostication came to fruition in 2012 when Crenn got the deuce. Given the strength of my last meal, I was curious to pay Atelier another visit, to see how the place had progressed in the intervening years.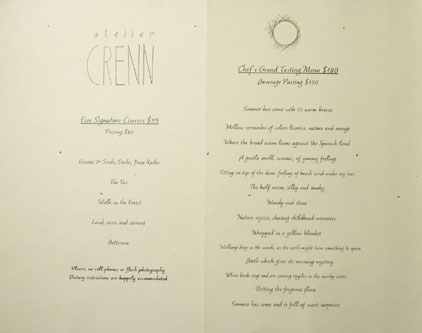 Atelier Crenn's menu format has changed slightly since my last visit. There's now a Signature Menu at $95 along with a ~14 course Chef's Grand Tasting Menu at $180 (the one you want to get), plus $150 a head for wine pairings from Sommelier Ian Burrows. Click for a larger version.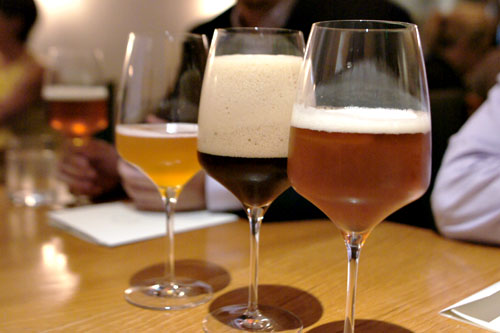 Before the meal, we enjoyed all three beers on Crenn's list. First was the
Divine Brewing Co. 'Engelen Tarwe' Triple Ale, Sonoma, California [$10]
, a slightly skunky, spicy, sour-ish ale with a soft undercurrent of fruit. Its sister beer, the
Divine Brewing Co. 'Teufelweizen' Bock-Style Ale, Sonoma, California [$10]
, showed off a
ridiculous
amount of head (see photo), and was even better, with a smooth, dark, roasty, chocolate-y character to it that I quite liked. Finally, we sampled the
De Ryck 'Special Belge', Belgium [$7]
, a steely, crisp, dry ale with a pleasant yeasty quality and just a touch of hop bitterness.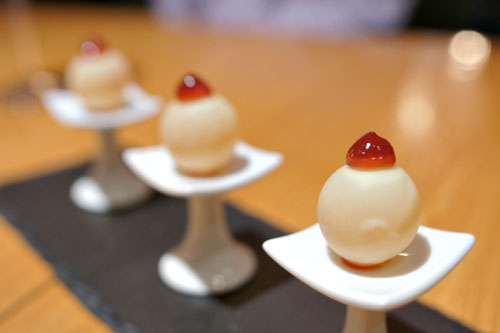 1: Kir Breton
[Summer has come with its warm breeze]
We commenced with Crenn's signature amuse bouche, a reimagined take on the classic Kir Breton. Apple cider arrived encased in a crème de cassis-topped sphere of white chocolate and cocoa butter, the shell disintegrating near-instantly upon contact with the tongue, unleashing torrents of tart apple flavors that then transitioned to the sugary sweetness of the chocolate. Fun, as well as effective, a great harbinger of things to come.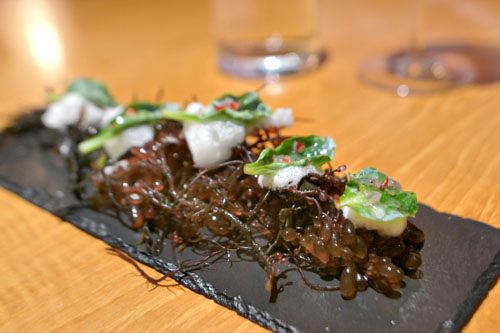 Oyster leaves were zesty little jolts to the palate, really recalling the essence of its namesake bivalve and thus setting the stage wonderfully for our next course...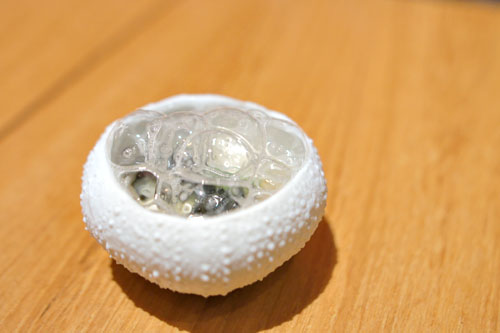 2: Uni, Caviar, Licorice
[Mellow serenades of colors licorice, nature and orange]
Riesling Kabinett 2011, Zilliken 'Rausch', Mosel Valley
...And what a course! Sea urchin torchon was paired with caviar and licorice root, then enveloped in yuzu bubbles. The tang of the citrus was strong on the nose, but transitioned seamlessly to the rich brine of the uni and salty kick of the roe, all while licorice added an almost ethereal spiciness to the dish.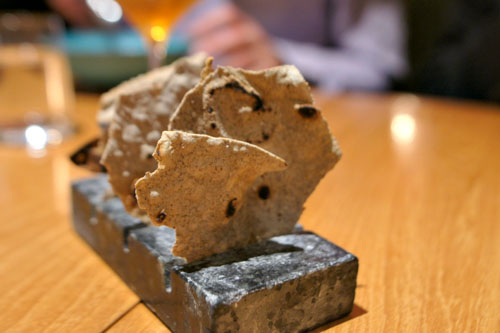 In lieu of bread service, we were instead presented charred buckwheat crackers, smoky and crunchy to the bite.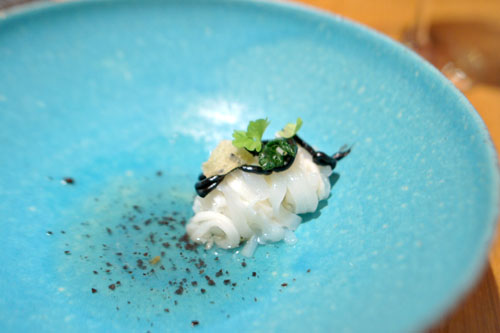 3: Squid, Iberico, Lardo
[Where the broad ocean leans against the Spanish land.]
Gruner Veltliner 2011, Hirsch 'Heiligenstein', Kamptal
Noodles of Japanese squid were fantastic, supple to the bite and mild, but beautifully augmented by the one-two punch of lardo and ibérico, an unabashedly salty, savory duo that melded wonderfully with the heady, integrating truffle broth. One of the highlights of the dinner for me, and a perfect pairing to the accompanying Grüner Veltliner, which itself showed off some delightfully earthy, truffle-y notes as well. Awesome.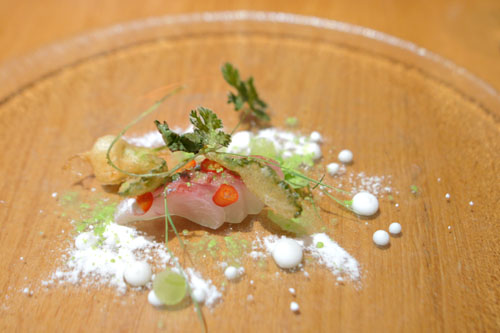 4: Shima Aji, Coconut, Cilantro
[A gentle smell, oceanic, of yummy feeling]
Sake, Wakatake 'Demon Slayer', Shizuoko
Cured shima aji was another winner, and quite possibly the best rendition of the ingredient I've ever experienced. The fish alone was uncompromisingly clean, delicate, with a subtle brine that went perfectly with the bright cilantro and coconut flavors present--think a distinctly Southeast Asian tinge accented by just a smidge of pepper-y heat. What took this over the top, though, were the tempura'd veggies, which imparted a fantastic savoriness and crunch to the dish that just brought everything together gorgeously. Lovely pairing here too with the
Onigoroshi
, a smooth, viscous
junmai daiginjo
with delicious floral-fruity notes on the nose and a creeping bit of alcoholic burn on the back end.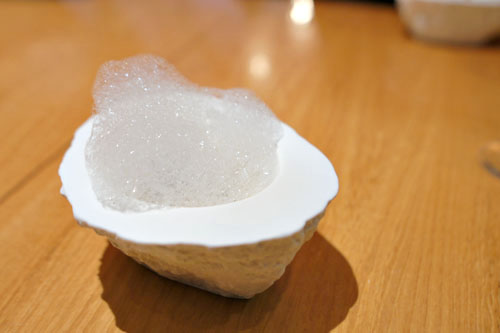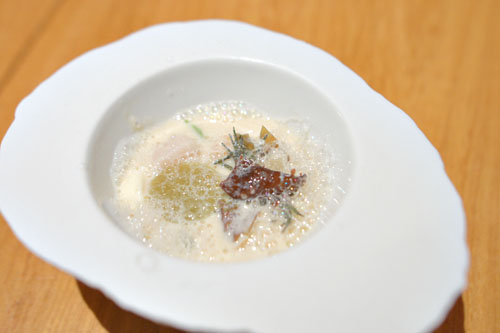 5: Shellfish, Sweetbreads, Phytoplankton
[Sitting on top of the dune, feeling of beach sand under my toes]
Chardonnay 2010, Failla 'Estate', Sonoma Coast
This bisque-like potage was another homage to the flavors of Brittany, a part of France that the Chef visited often as a child. It was a mélange of razor clam, Manila clam, pork belly, sweetbreads, and bone marrow dumplings, all accompanied by sea grapes, plankton gel, and a tomato water air. I found it a masterful presentation of the clams' multifaceted brine, paired in genius fashion with the heady, earthy nuances from the offal, while the seaweed offered up a tempering crunch. Hearty and cozy, a great complement to the rich, buttery, grassy Chard that came with.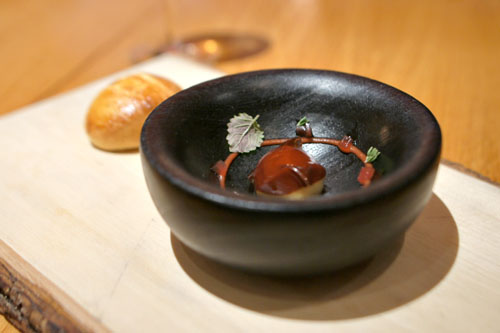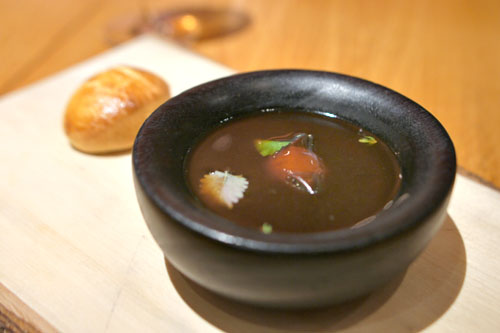 6: Charred Onion Soup, Comte, Truffle
[The half moon, silky and smoky]
Oloroso VORS 1/14, El Maestro Sierra, Jerez
Next up was Crenn's take on the ubiquitous French onion soup. It was classic in essence, with the sweetness of the onion marmalade working hand-in-hand with the Comté dumpling and the slightly smoky notes present, all while an apple cider vinaigrette provided an overarching tartness to the dish that really tied everything together. I was especially fond of the bright, herb-y nuances in the dish, and the paired brioche made for a fitting accoutrement, too.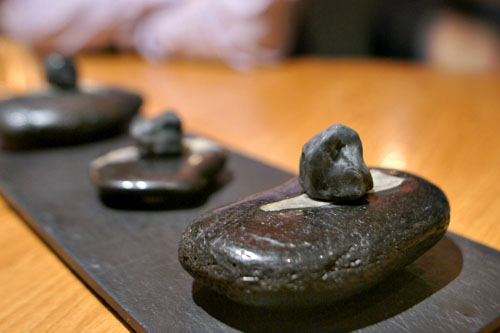 7: Rhubarb & Ash
[Woody and stone]
Here was another whimsical course, sort of a palate cleanser after the intensity of the preceding dishes. We had here a liquid fennel and citrus consommé encased in a stone-like shell, a sweet, tangy explosion of flavors imbued with just a hint of medicinal twang. Sitting below the "rocks" were thin chips that recalled candied ginger.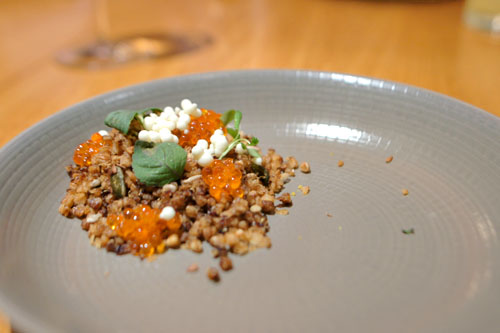 8: Grains & Seeds, Sturgeon, Dashi
[Nature rejoice, chasing childhood memories]
Gewurztraminer, Arista 'Ferrington', Anderson Valley, California
Humble ingredients were the star of the show here--flax seeds, pumpkin seeds, sunflower seeds, quinoa--but they were presented in simply amazing fashion. They were either toasted, roasted, smoked, or fried, and accompanied by trout roe, white sturgeon roe cream, and
yuzukosho
, all set in a dashi broth. There was just such an incredible depth and profoundness to the seeds, their earthy, nutty savors perfectly balanced by the blasts of salinity from the sturgeon and trout, while herbaceous whispers added a modicum of lightness to the mix. The flavors here were wonderful, but taken with the fantastic textural interplay and hot-cold contrasts in the dish, we have here my favorite course of the night, and quite possibly the best thing I've eaten all year.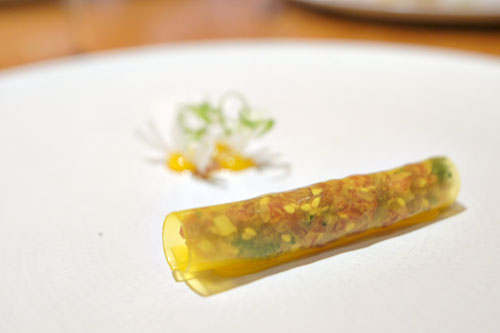 9: Fermented Wagyu, Broccoli, Egg Yolk
[Wrapped in a yellow blanket]
Cabernet Franc 2012, Lieu Dit, Santa Ynez Valley
Crenn's riff on steak tartar didn't quite reach the lofty heights of the preceding course, but was still one of the strongest preparations of the dish I've had. Wagyu was commingled with sesame and broccoli fermented in sake lees, then rolled in an egg yolk sheet and garnished with a scallion salad. Taken alone, the beef showed off a superb spiciness and earthy depth, with a lovely touch of pepper on the finish. What really made this for me, however, was the scallion, which imparted just a wonderful, offsetting astringency to things that served as the exclamation point. I found this very nice with the paired wine--a bright, perfume-y, utterly vivacious Cab Franc--as well.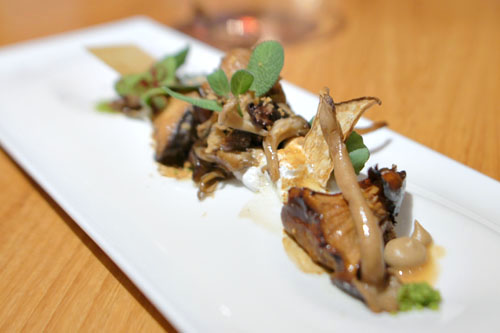 10: Mushroom, Pine, Pumpernickel
[Walking deep in the woods, as the earth might have something to spare]
Pinot Noir 2007, JK Carriere, Willamette Valley
Arguably the most popular dish at Atelier Crenn, we had here an amalgam of roasted, pickled, and dehydrated mushrooms, Douglas pine meringue, wood sorrel oil, sage, and hazelnut praline, all dusted with pumpernickel-brioche crumbs. It was a complex, multi-angled exploration of earthy, woody flavors, played against the countervailing sweet and bitter thrusts present, with the pine serving as the overarching, integrating force in the dish.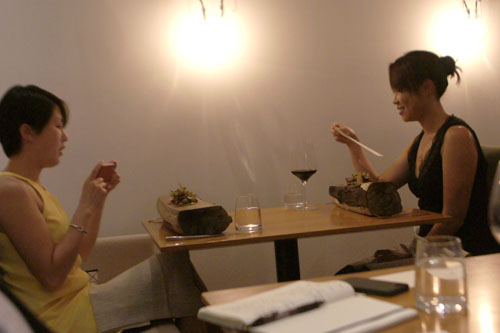 I noticed that the table beside us was given a superior presentation of the preceding dish, replete with logs in place of the generic plates. That's too bad.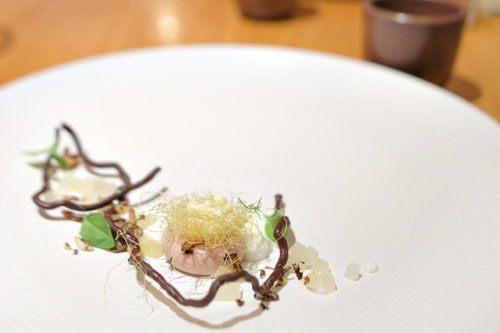 11: Duck, Chocolate, Corn
[Birth which gives its morning mystery.]
Brachetto 2012, Sottimano 'Maté', Piedmont
Next was perhaps the most high-concept plate of the evening. We had what I believe was a duck liver pâté underneath a "nest" of corn silk, with puffed rice, pear, apple, vanilla, and finished with porcini-dusted chocolate "twigs," all with a cup of
canard
consommé on the side. It was a real celebration of duck, with the earthy essence of the bird pairing surprisingly well with its various accoutrements, the sugariness of the chocolate working particularly well as a foil. A bit cerebral, and perfectly washed down by the incredible depth of that consommé.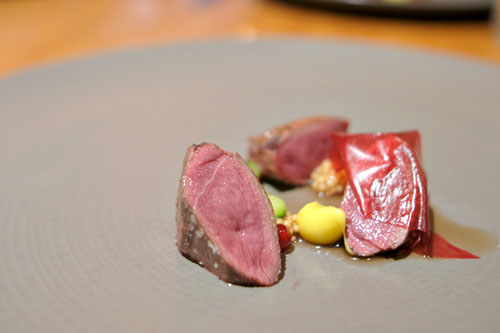 12: Squab, Summer Squash, Red Currant
[Where birds sing and are causing ripples in the nearby water]
Mourvedre Blend 2006, Gros Noré, Bandol
Our final savory course of the evening gave us a smoked-seared squab with squash, mustard, rose, hibiscus, and currant. The bird was as delicious as it looked, with a mouth-watering salt and savor to it that was duly brightened by the crunchy bits of squash here, all while the rose-hibiscus-currant combo imparted a wonderful floral-fruity component to the dish. Excellent counterpoint from the mustard, too.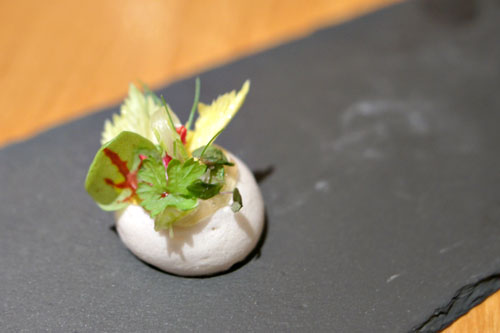 13: "Salad"
[Dotting the fragrant flora]
Traditionally, a salad serves as an intermezzo before dessert in a formal French meal, so we were presented a sort of a deconstructed version here, combining various herbs and flowers in a vinaigrette-Banyuls-olive oil dressing. The bite was sweet, tangy, with a strong celery component, though it didn't quite click for me.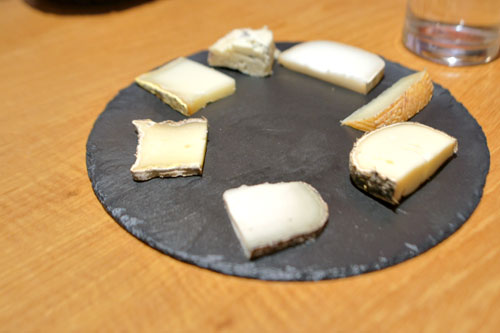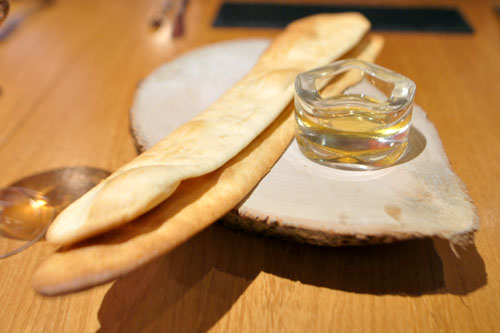 We opted for a cheese course, which turned out to be a surprisingly pricey proposition at $12.50 per slice. The
fromages
themselves were spot on, though. We had: Petit Pardou, a four-month-aged Pyrenean varietal; the mild Catalonian goat's milk favorite Garrotxa; the peppery Montenebro, my favorite of the bunch; a delightfully mushroom-y Tomme de Crayeuse; a tangy sheep's milk cheese that I didn't catch the name of; a classically sharp Bleu d'Auvergne; and finally an herby Basque cheese which I don't recall the name of either. Accompaniments were a wild flower honey and chickpea crackers, and we also enjoyed glasses of the
Marsala Superiore - DeBartoli 'La Vigna Miccia' [$18]
to go along.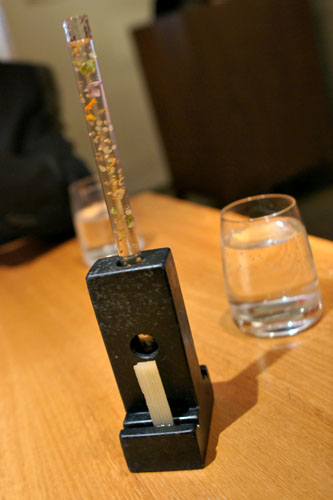 Our first pre-dessert was almost verging on
Alinea
-esque, comprising a test tube of guava consommé, chia, shiso, and finger lime, along with a tab of lemongrass-infused sugarcane. Think fun and fruity, with bursts of tartness from the finger lime vesicles to go along with the sheer sweetness of the cane.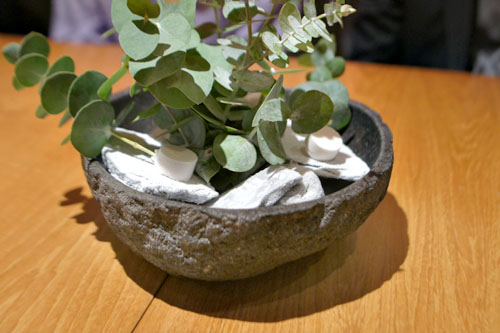 Next were Crenn's trademark eucalyptus ice cream pops, this time incorporating menthol. They were even more bracing, more refreshing than before, with an herby sweetness at first giving way to a cool, minty astringency toward the finish.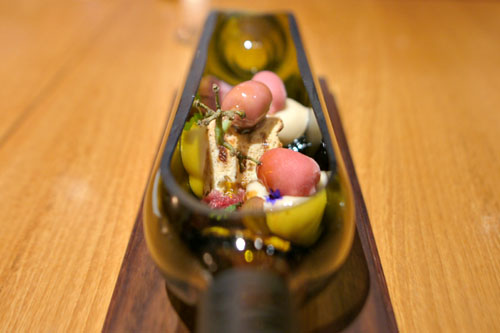 14: Grape, Hazelnut
[Summer has come and is full of sweet surprises]
Jurançon, Möelleux 2011, Clos Uroulat, Gascony
Set in a custom made bisected wine bottle was our main dessert, courtesy of Chef Patissier Juan Contreras. It contained hazelnut ice cream encased in grape skin, Port foam, fresh grape, and baguette with sultanas, all drizzled with
saba
syrup that was cleverly hidden in a faux cork. The dish served as an exploration of the many faces of grape, and when taken with the hazelnut, made for a tasting experience that was sort of like a cross between a PB&J and a Ferrero Rocher, with a palpable vinous quality to it. I would've liked a bit less bittersweetness here though, so that more of the fruity aspects of the grape could've shown through.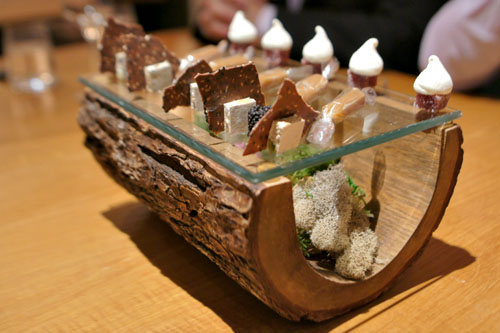 Finally, mignardises arrived in a rather striking serving vessel (replete with moss garden), and consisted of Maldon sea salt caramels, passion fruit marshmallows, strawberry-pink peppercorn
pâtes de fruits
, almond-pistachio nougats, coffee-milk chocolate ganache "berries" (my favorite), and sesame-chocolate crisps.
Once again, Atelier Crenn is poised to be one of the very top meals of the year, no doubt serving up some of my best bites of 2013. It's obvious that Crenn has grown even more as a chef, with her food coming across as less explicitly "artsy," but just and complex and high-concept. Even better, the cooking's bolder, more confident, while flavors tend toward more intense, more strident, and more focused in general. There really are some great things going in the kitchen here these days, so that next
macaron
doesn't seem that far out of reach now.