Birch & Barley (Washington, DC)
Birch and Barley / ChurchKey
1337 14th St NW, Washington, DC 20005
202.567.2576
www.birchandbarley.com
Thu 09/26/2013, 07:15p-09:20p
After a pretty much
epic
dinner at
Minibar
the previous night, I was in the mood for something a bit more low-key, and Birch & Barley (and its upstairs bar ChurchKey) fit the bill nicely. Located in Logan Circle just a stone's throw away from
Etto
(where I ate just two nights prior), the restaurant is best known for its vast,
vast
selection of beers (as in over 500), paired with the cooking of Chef Kyle Bailey.
About the Chef
: The Aston, Pennsylvania native got his start in the industry at age 14 as a dishwasher at the nearby Brass Ladle Bistro, and after finishing high school, enrolled at the vaunted Culinary Institute of America in Hyde Park, graduating in 2000. Following, Bailey went the hotel route, cooking at resorts in the Caribbean and then in Florida, including Hotel St. Michel in Coral Gables and the Biltmore in Miami. He then moved to New York, spending three years at the celebrated, wine-focused Cru under Shea Gallante, the transitioned in 2007 to Dan Barber's Blue Hill at Stone Barns, where he really began taking an interest in pairing beer with food.
Bailey started his first Executive Chef position in December 2008, when he took the reins at the Michelin-starred Allen & Delancey, replacing Neil Ferguson. He left just months later, however, due to disagreements with management, and moved down to DC in July 2009 after being scouted by
Neighborhood Restaurant Group
co-owner Michael Babin. Bailey ended up taking over for Rustico's Frank Morales, who was supposed to helm Birch & Barley, and debuted the restaurant in September 2009 to considerable acclaim. He even picked up
Food & Wine
's "People's Best New Chef" award for the mid-Atlantic region in 2011.
Joining Bailey at Birch & Barley is Tiffany MacIsaac, NRG's Executive Pastry Chef who also happens to be his wife. The two met at Cru, where she was Pastry Chef, and he followed her to Allen & Delancey before getting hitched and settling in Washington. Rounding out the team is Beer Director Greg Engert, a 2010
F&W
"Sommelier of the Year" and 2012 James Beard "Outstanding Wine & Spirits Professional" nominee who manages the suds at all of Neighborhood's properties.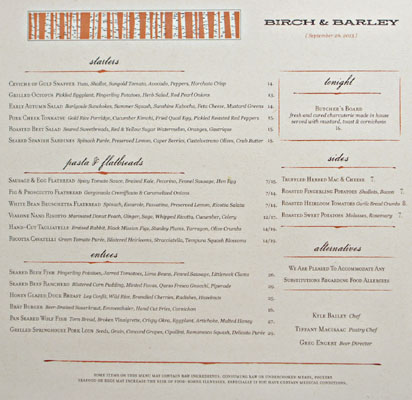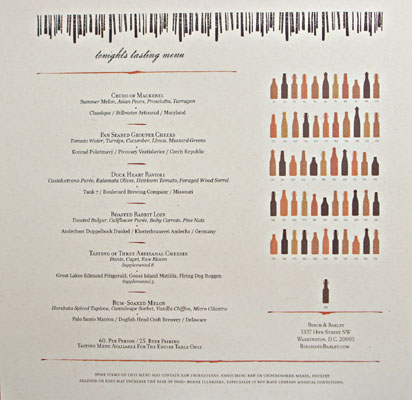 Birch & Barley's menu features Bailey's new American stylings in both à la carte and tasting menu formats. Given that I was by myself, I went with the latter, a five-courser priced at a reasonable $60, plus $25 for the beer pairing, along with a couple supplements as well. Click for larger versions.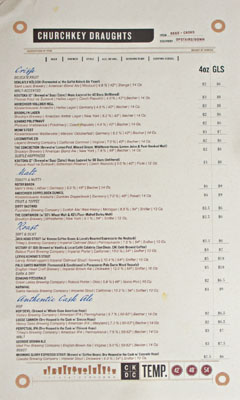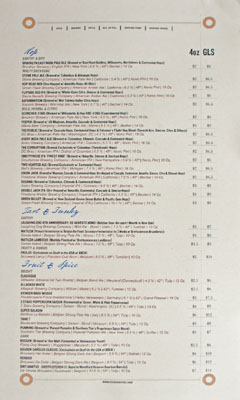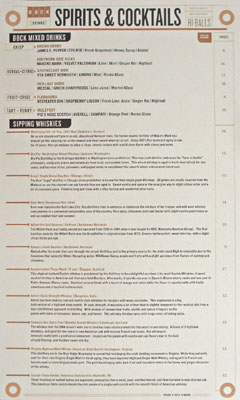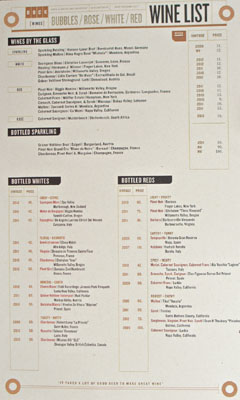 As mentioned above, B&B's beer list is pretty ridiculous, claiming 555 selections nominally divided into 500 bottles (broken down in a 30 page book by flavor profiles:
Crisp, Hop, Malt, Roast, Tart & Funky, Fruit & Spice
), 50 drafts (shown above), and five cask-conditioned ales (also above). If there's any place that has a larger beer selection, I haven't seen it. In addition, if beer isn't your thing, you'll find a smattering of cocktails, an interesting whisky list, as well as the requisite wines. Click for larger versions.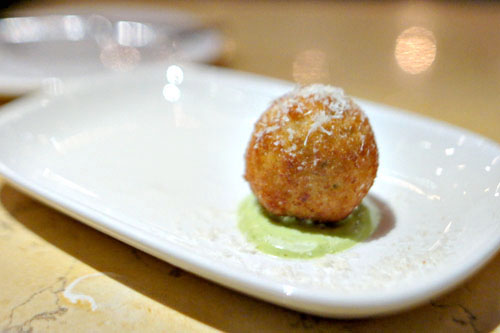 Amuse Bouche: Arancino
Things got off to a comfy start with this Parmesan-stuffed risotto ball, a hot, gooey bite of cheesy goodness with a delightfully crisp crust to boot.
1: Crudo of Mackerel
| Summer Melon, Asian Peas, Prosciutto, Tarragon
Classique / Stillwater Artisanal / Maryland
A crudo of mackerel was clean and delicate, with just a whisper of fishiness tempered by the bright, fruity flavors present while the prosciutto added a pinch of salt to the fray. Rather tasty, and a good match to the light, herby, zesty, subtly funky nuances of the paired saison.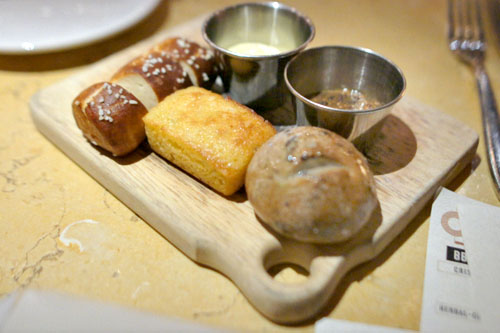 Breads here are specially made by MacIsaac, and featured wonderfully salty pretzel, cornbread, and kalamata olive (my fav) varieties this evening, all served with honey and butter.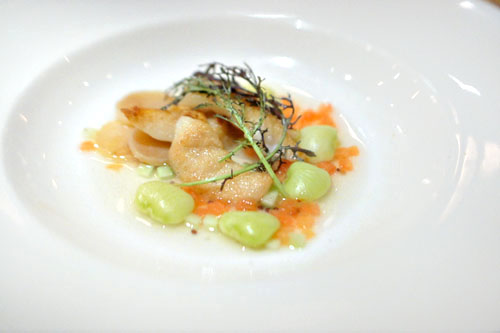 2: Pan Seared Grouper Cheeks
| Tomato Water, Turnips, Cucumber, Limas, Mustard Greens
Konrad Polotmavý / Pivovary Vrstislavice / Czech Republic
The grouper, meanwhile, was the highlight of the meal for me, and probably the best preparation of the ingredient that I've ever had. The fish itself was perfect, with its firm, yet yielding consistency and immensely savory, satisfying relish that was beautifully countered by the lightness of the tomato water. At the same time, the lima beans imparted a textural component to the dish, and the mustards just an slight undercurrent of tartness. Great beer here as well, with the Polotmavý (a style that I don't think I'd had before) coming out malty and somewhat herbaceous, with a soft smoky quality to it.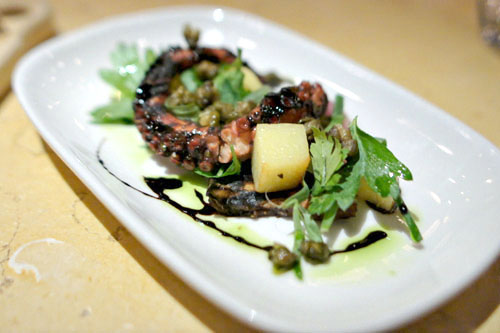 Supplement: Grilled Octopus [$7.00]
| Pickled Eggplant, Fingerling Potatoes, Herb Salad, Red Pearl Onions
Octopus, of course, was a must-try for me, so I added it on as a supplement. As we can see in the photo, there was a lovely char on this one, along with a palpable sweet spice that made sense with the main ingredient. Excellent use of potatoes as well, and I much appreciated the zip of the onions too. My only concern was that the tentacle could've stood to be more tender in places.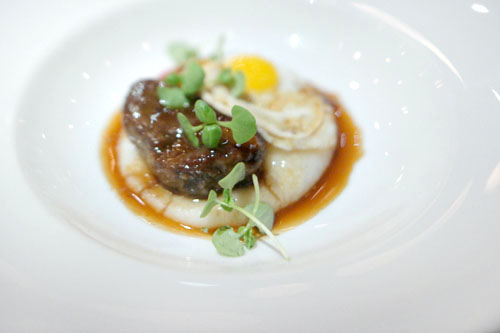 Supplement: Pork Cheek Tonkatsu [$7.00]
| Gold Rice Porridge, Cucumber Kimchi, Fried Quail Egg, Pickled Roasted Red Peppers
Another supplement brought out this pork cheek, which was sticky and gelatinous, loaded with the deep, dark, unabashedly porky flavors that you'd expect. The rice porridge was superb in providing a semblance of balance to the dish, though I would've liked to have tasted more from the kimchi.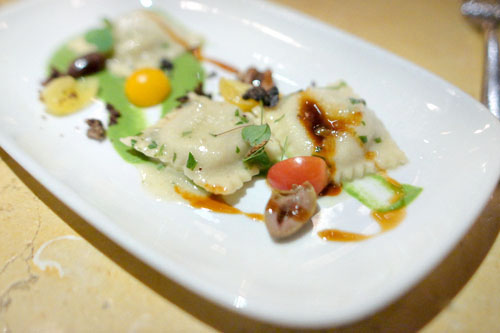 3: Duck Heart Ravioli
| Castelvetrano Purée, Kalamata Olives, Heirloom Tomato, Foraged Wood Sorrel
Tank 7 / Boulevard Brewing Company / Missouri
Ravioli were firm to the bite, with the pasta hiding a filling of intensely earthy, satisfying duck heart. The duo of olives here actually worked really well in complementing the bird, while the tartness of sorrel was key as a moderating force in the dish. Given the heft of the course, the bright, bracing flavors of the accompanying ale were
very
apropos.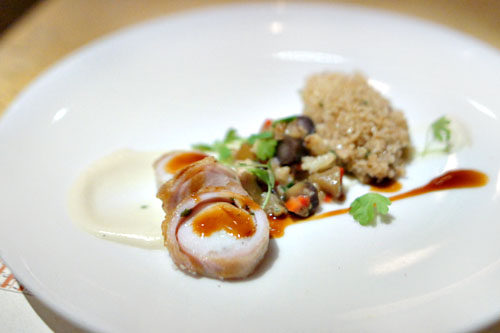 4: Roasted Rabbit Loin
| Toasted Bulgur, Cauliflower Purée, Baby Carrots, Pine Nuts
Andechser Doppelbock Dunkel / Klosterbrauerei Andechs / Germany
The final savory tonight was a deft presentation of rabbit, which I found quite satisfying, no doubt one of the better versions of the protein I've experienced. Cauliflower served as an effective counterweight to the meat, and the carrot I found an intriguing focal point in the dish. Bulgur, meanwhile, played a foil both in terms of taste and texture, though I didn't need quite so much of it.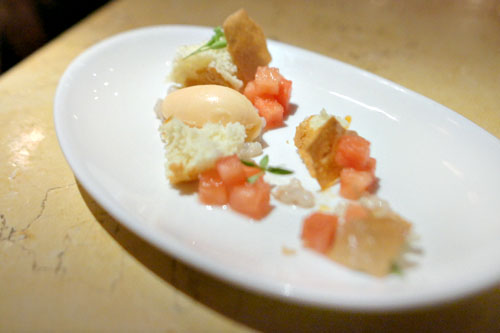 5: Rum-Soaked Melon
| Horchata Spiced Tapioca, Cantaloupe Sorbet, Vanilla Chiffon, Micro Cilantro
Palo Santo Marron / Dogfish Head Craft Brewery / Delaware
Dessert was fetching, the bright, sweet fruit and sorbet augmented by the boozy weight of rum, yet enveloped by the subtly sugary-spicy notes of the tapioca and chiffon. A really nice mélange of flavors here, brought out especially well by the chocolate-y, yet spicy notes of the paired beer.
Ah, if only I didn't have to go to work following this meal, I would've undergone a much more thorough examination of the beers here! That being said, I did get a nice taste, and Bailey's cooking is nothing to sneeze at either. It's an approachable, straightforward, yet polished sort of style that plays well into today's market-driven mantra. The beer really does stand up to the food (or is it the other way around?), and the combo is something I wouldn't mind exploring more.