Vidalia (Washington, DC)
Vidalia Restaurant
1990 M St NW, Washington, DC 20036
202.659.1990
www.vidaliadc.com
Fri 09/27/2013, 06:20p-08:25p
The fourth restaurant on my recent DC culinary tour was certainly one of the longest-lived. Vidalia was opened back in 1993 by Chef Jeffrey Buben and wife Sallie, and restaurant quickly made a name for itself as
the
place to go for modern American Southern cookery. It's a bit of an institution, and has served as the training ground for a number of the area's most well-known chefs, including CityZen's Eric Ziebold, Restaurant Eve's Cathal Armstrong, Rogue 24's R.J Cooper (Chef de Cuisine from 2004 to 2010), and Newton's Table's Peter Smith (CdC from '98 to '04).
About the Chef
: A graduate of the Culinary Institute of America (class of '78), Jeff Buben got his start, unsurprisingly, in New York City, working at the likes of Le Cygne, Le Chantilly, Sign of the Dove, and The Pierre hotel before relocating to DC in 1984. There, he cooked at La Bagatelle, Nicholas at the Mayflower hotel, the Four Seasons Georgetown, and then became Executive Chef at Occidental Grill when it reopened in 1986. Buben stayed there until 1993, when he would leave and start Vidalia, inspired by the culinary heritage of wife Sallie. The restaurant was a hit, and quickly garnered praise by
Bon Appétit
as one of their "Best New Restaurants."
Given the success of Vidalia, Buben debuted Bistro Bis, a modern French bistro, in 1998, located at the Hotel George on Capitol Hill. This was followed by a nod from James Beard in the form of the "Best Chef: Mid-Atlantic" award the next year. The Bubens, however, were content on just having two restaurants until very recently. In November 2012, they opened Woodward Table, a more casual American eatery with a takeout component, housed inside the historic Woodward Building apartments, just steps from the White House.

Vidalia still resides in its original location, a space that's perhaps best known for being completely underground. The room is divided into a wine bar/lounge and a bi-level dining area, pictured above.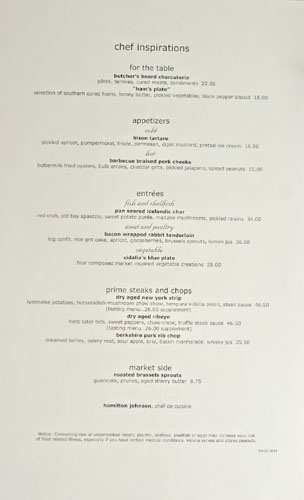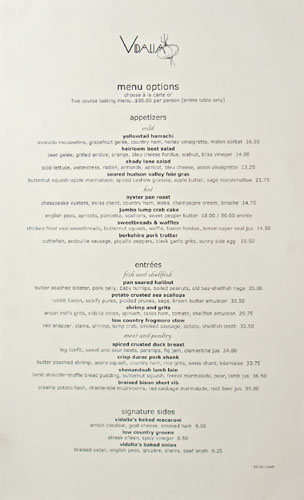 As far as Vidalia's menu goes, I opted for the five-course prix fixe at $80, comprised of a selection of the restaurant's more classic dishes. The "Chef Inspirations" features newer items from CdC Hamilton Johnson, and all plates can be ordered à la carte as well. Click for larger versions.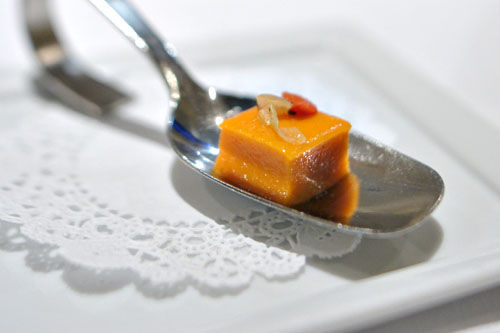 Amuse Bouche: roasted pepper panna cotta
First to arrive was a cuboid of roasted pepper panna cotta, which really showed off the light, vegetal brightness of the pepper, enhanced by just a smidge of sweetness to round things out.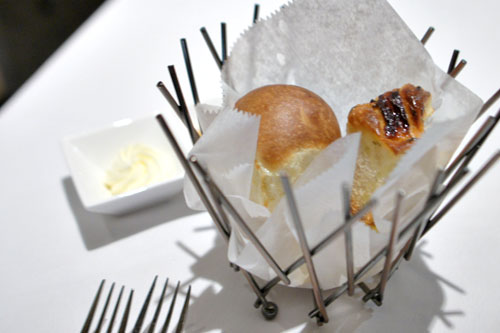 Vidalia's bread basket is widely known to be one of the City's best, and for good reason. Housemade varieties included the trademark onion focaccia, cornbread, and potato bread, all served with a soft, sweet butter.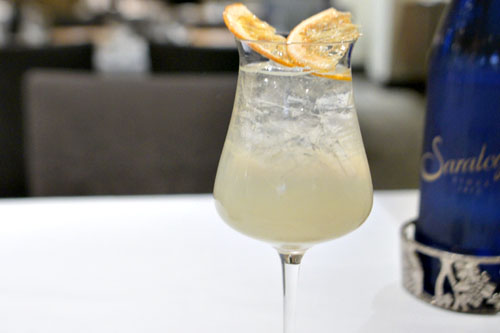 maximilliano [$12.00]
| cimarron reposado tequila, st. germain, riesling, grapefruit chips
To drink, I went with cocktails this evening, and the first to bat was the
Maximilliano
, a light, refreshing libation that I found citrus-y and sweet initially, but with a boozy kick and a delicious undercurrent of Riesling character. A tasty one.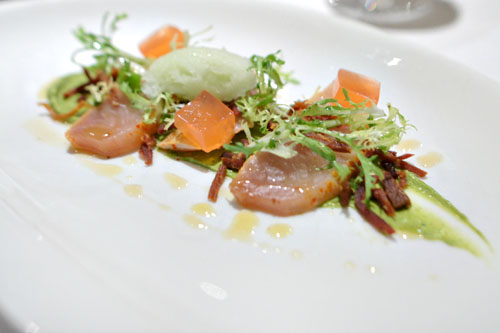 1: yellowtail hamachi
| avocado mousseline, grapefruit gelée, country ham, honey vinaigrette, melon sorbet
A crudo of sorts was delectable indeed, the yellowtail arriving meaty and substantial, with a subtle, fishy fattiness that was tempered by the liberal use of fruit in the dish. Nice temperature contrast here as well, but my favorite part were the pricks of saltiness imparted by the crispy bits of ham tossed in. Quite nice.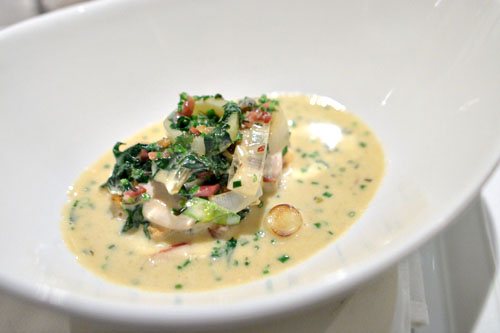 2: oyster pan roast
| chesapeake oysters, swiss chard, country ham, leeks, champagne cream, brioche
From something light and delicate, we move to something verging on decadent, one of the best cooked oyster dishes I've had in fact. The oysters themselves were masterfully prepared, coming out silky and slick, their brine fortunately still intact. To that, the luxuriousness of the accompanying broth was spot on, a rich, hearty, creamy liquid that paired with the bivalves in stellar fashion, interjected by flits of salt from the ham, all while the chard and leeks added a countervailing bitterness to the dish.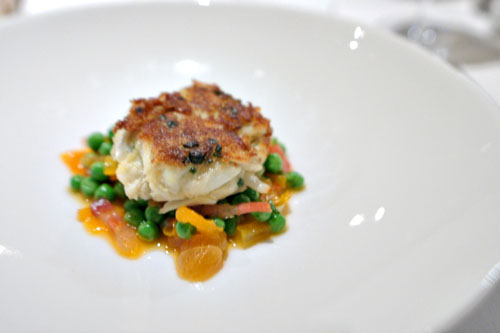 Supplement: jumbo lump crab cake [$18.00]
| english peas, apricots, pancetta, scallions, sweet pepper butter
Another customer favorite is the crab cake, which, admittedly, I would've ordered as a supplement even if it weren't. It was a good-looking cake to be sure, and taste-wise it was on point as well, bringing forth a bevy of crabby, saline flavors that I was rather fond of. The peas, meanwhile, added a great touch of brightness to the course, and I appreciated the salty pancetta as well, but I could've done without the apricot, which I found distractingly saccharine.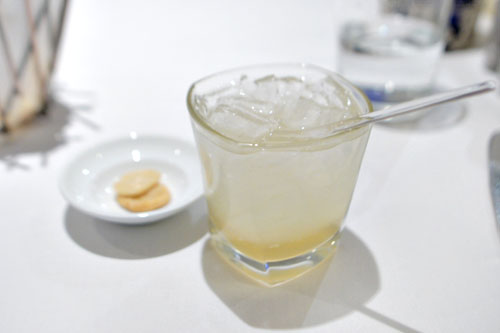 kitty hawk [$12.50]
| eldorado rum, leopold bros maraschino, sour, honey syrup, bittermans tiki bitters, ginger shortbread
The next cocktail was the
Kitty Hawk
, which, somewhat confusingly, came with two tabs of ginger shortbread. The drink itself conveyed a honeyed sort of sweetness, but one underscored by the boozy kick of the rum. I enjoyed the cookies as well, but I'm still befuddled as to why they were included in the first place.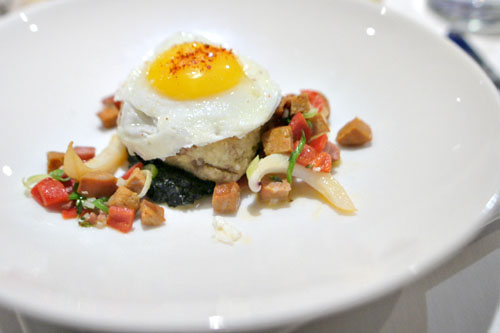 Supplement: berkshire pork trotter [$15.50]
| cuttlefish, andouille sausage, piquillo peppers, black garlic grits, sunny side egg
My second supplement was another winner. The trotter itself was as hefty and pork-y as you'd expect--in other words, delish. Add to that the spicy sausage, creamy egg, and fun bits of cuttlefish, and you've got a tasty little dish, all grounded by a base of garlic grits. Yum.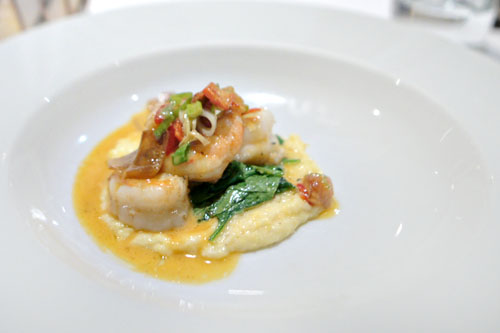 3: shrimp and grits
| anson mill's grits, vidalia onion, spinach, tasso ham, tomato, shellfish emulsion
Next up was Vidalia's most famous dish, its take on the Southern classic shrimp 'n' grits. The actual shrimp, though, were a touch overdone, but still very tasty, with a strong salinity to 'em, augmented by the shellfish emulsion, that paired just swimmingly with the grits. Loved the slight bit of heat from the tasso as well, not to mention the countering astringency from the spinach.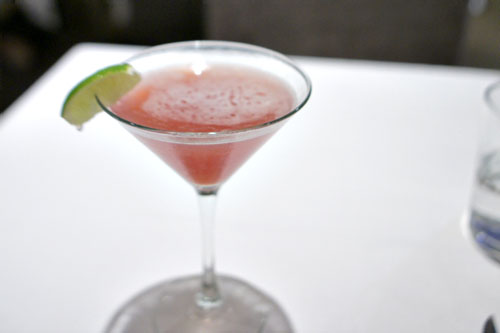 the rose and briar [$12.00]
| combier red fruits, sloop betty vodka, peychauds bitters, cava
My final cocktail of the night came in the form of
The Rose and Briar
. It was definitely the sweetest of the bunch, with an almost jammy quality to it that was nicely moderated by the bitterness of the Peychaud's and a crisp backbone of booze.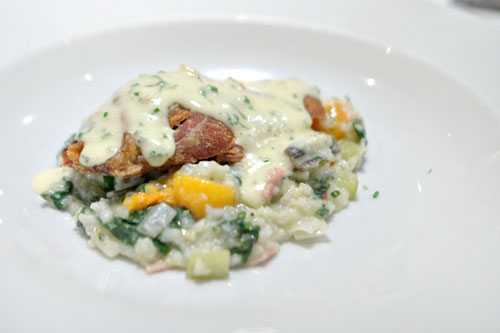 4: crisp duroc pork shank
| butter poached shrimp, acorn squash, country ham, rice grits, swiss chard, béarnaise
A shank of Duroc hog was as crisp as advertised, which I appreciated, but the crispiest parts also tended to be dry. That being said, the flavors here were good, with the undeniably pork-y smack of the shank expertly paired with those creamy grits and luscious béarnaise, all while the chard served to balance things out a bit. I really didn't think that the sweetness of the squash was needed, though.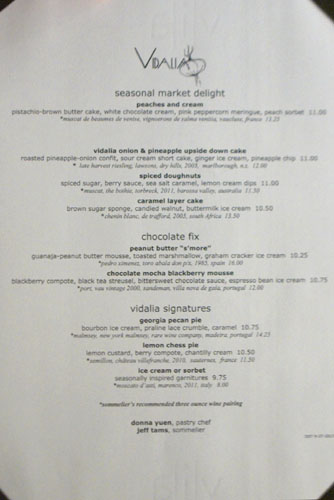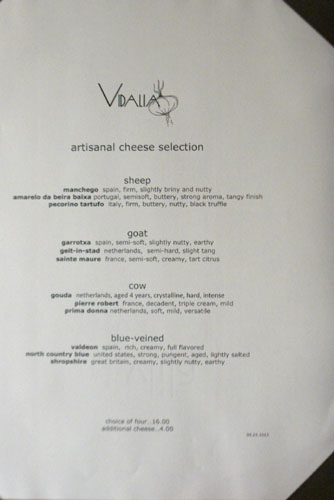 Desserts here at Vidalia are the charge of Pastry Chef Donna Yuen, who took over in September from longtime incumbent Beverly Bates (now at Woodward Table). Click for larger versions.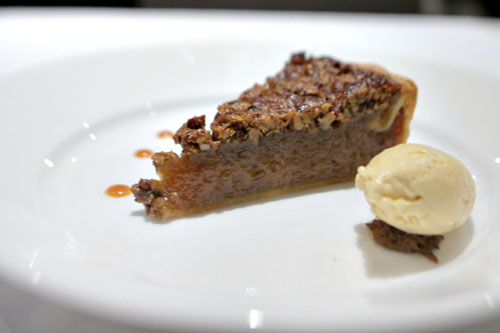 5: georgia pecan pie
| bourbon ice cream, praline lace crumble, caramel
I had to stick with the tried-and-true and go with the pecan pie, a sweet, nutty, boozy creation that was as classic and comforting as you'd expect.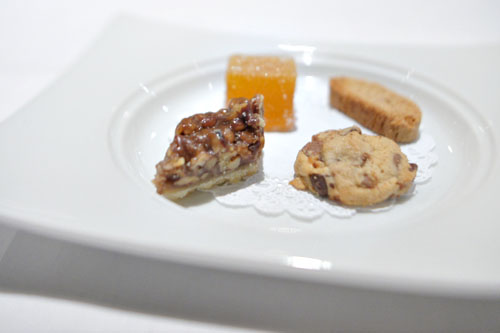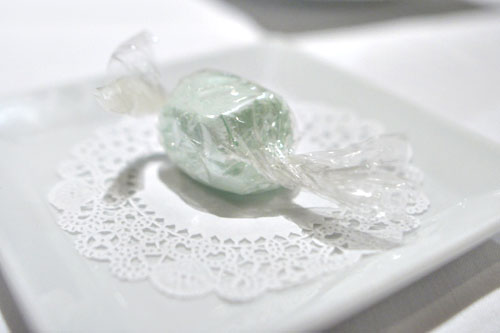 To close: various little mignardises, and a mint marshmallow.
Vidalia may not be as hip or happening as it was in its heyday, but I think the food's still worth a go, and the place obviously has lasting power. There's not much flash in the cooking per se, but there's plenty of substance in Buben and Hamilton's regional-American dishes, which blend Southern influences with just enough modernity to keep things interesting. It's a combination that's been sustaining the place for over 20 years, and I really don't see them stopping any time soon.