Playground (Santa Ana, CA) [2]
Playground Restaurant
220 E 4th St, Santa Ana, CA 92701
714.560.4444
www.playgrounddtsa.com
Sat 09/13/2014, 08:15p-12:15a
It'd been far too long since my last visit to
Playground
(I really don't get down to Orange County much). Sure, I attended a couple of
IO dinners at 2.0
, but two years had passed since I last dined at the restaurant that started it all. A visit from a couple out-of-towners gave me the perfect excuse to return.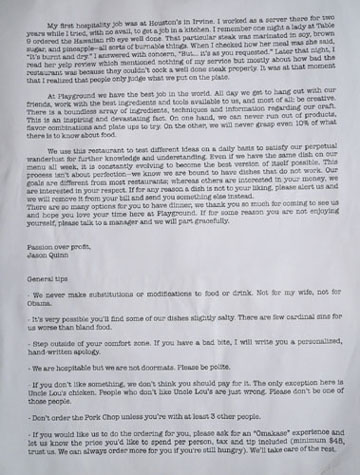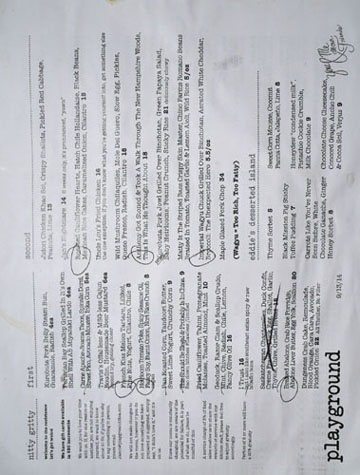 Playground's menu format has changed since last time--split into smaller plates, larger plates, and desserts now--but still reads as well as ever, replete with its whimsical descriptions of the food (note, though, that the Chef did send out some non-menu items for our table to try). To drink, beer is the choice of beverage here, with 15 California brews on tap and 60-plus in the bottle, all managed by Jarred Dooley. Rhett Butler, meanwhile, oversees the wine list, and there are even cocktails now from barman Joe Valdovino. Remember, importantly, that BYOB is definitely an option here given the lack of a corkage fee (for wine--for beer, better arrange ahead of time). Click for larger versions.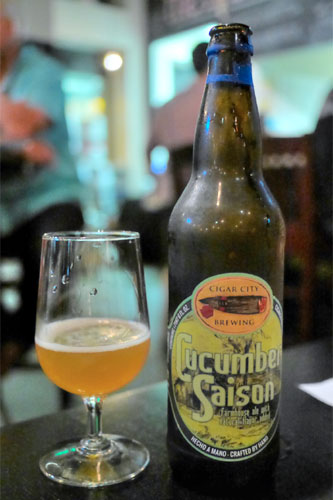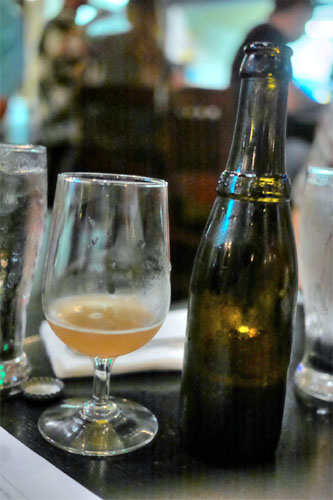 I went a little crazy and brought around a dozen beers. First up to the plate was the recently released
2014 Cigar City Cucumber Saison
, which had your classic farmhouse qualities, but with the addition of fresh cucumber notes intermixed with a tart-ish pickle-y character. For something on the utterly classic part of the spectrum, we had the
2012 Westvleteren Blonde
, a quintessential Belgian pale ale filled with all the yeasty, bready, subtly spicy and mildly bitter notes that you'd expect and want in such a beer.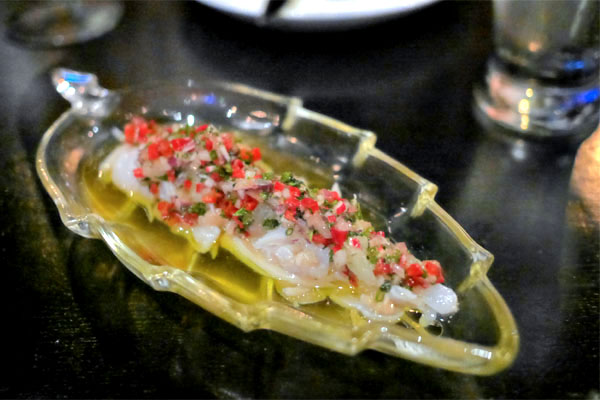 Geoduck, Razor Clam & Scallop Crudo, Mint, Chive, Radish, Chile, Lemon, Fancy Olive Oil [$16.00]
Geoduck and razor clam are pretty much must-orders for me by this point, so it's not surprising that we started with this dish. You definitely had the sweet salinity of the three types of shellfish on display here, counteracted by bright, tangy blasts from the mint-radish-lemon-chili, the olive oil sort of melding everything together. I would've liked slightly larger pieces though, to better appreciate the distinct textures of each of the items.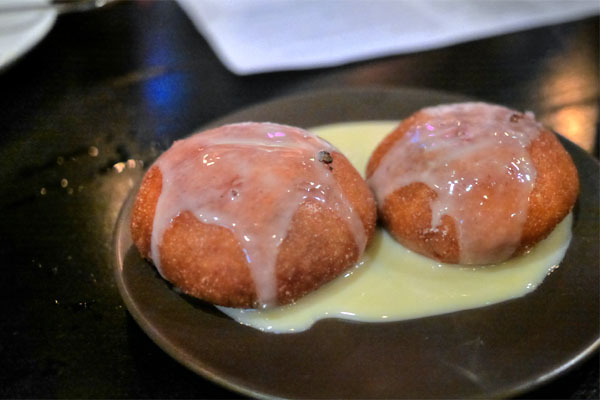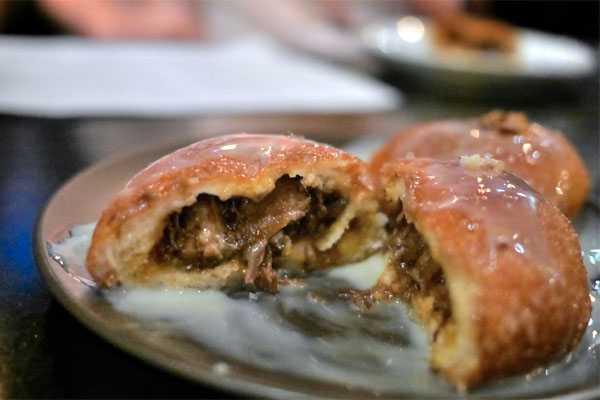 This Should Be Illegal & Probably Is In China [$9.00]
| Bao down bitches #flawless /limited
You had here a deep fried bun basically, one stuffed with char siu and topped with a condensed milk glaze. It was a donut-y sort of eating experience, with the heady pork pieces really working quite beautifully with the sugariness of the dish. Seemed a bit wrong, but tasted oh-so right--sacrilicious?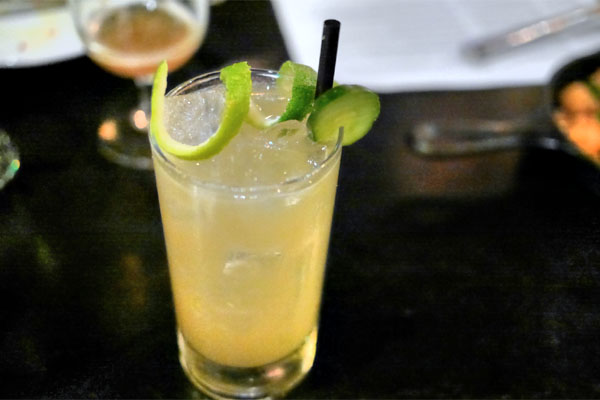 Using the Cucumber Saison that we gave him to try, Dooley proceeded to concoct a version of Playground's beer Gin & Tonic using the Cigar City brew. It was pretty much the perfect beer to have in the drink, since the cucumber notes worked so well with the aromatics of the gin. Delicious.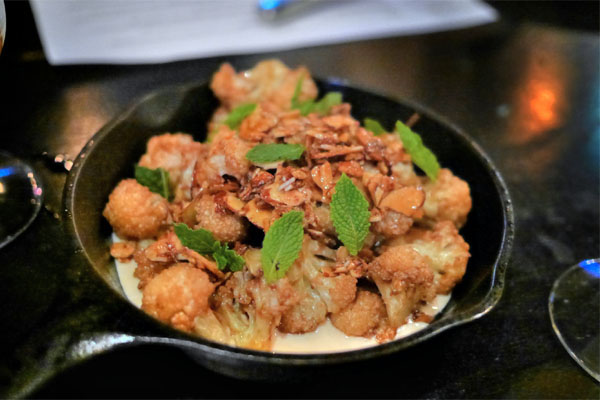 Fried Cauliflower, Tahini, Pomegranate Molasses, Toasted Almond, Mint [$10.00]
Cauliflower was perfectly fried, beautiful texturally, with the veggie's mild flavor profile accented by the zing of that pomegranate molasses, the mint adding a superb brightness to the course. My only concern was that almond, which gave a nice crunch to things, but veered overly sweet, distracting me somewhat.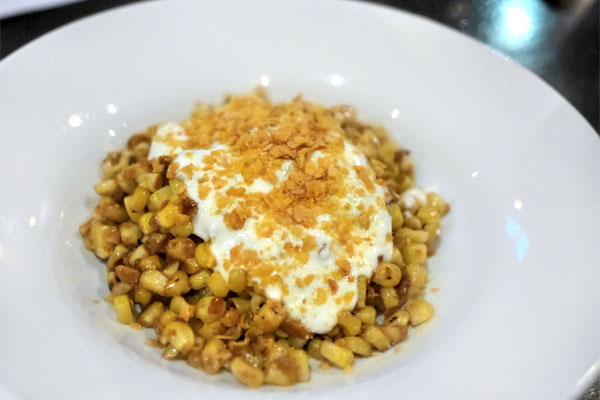 Pan Roasted Corn, Tandoori Butter, Sweet Lime Yogurt, Crunchy Corn [$9.00]
Corn was quite nice, with a delightful bit of Indian-y flavor to go along with the inherent sweetness of the kernels. Nice bit of lightness here too from the yogurt.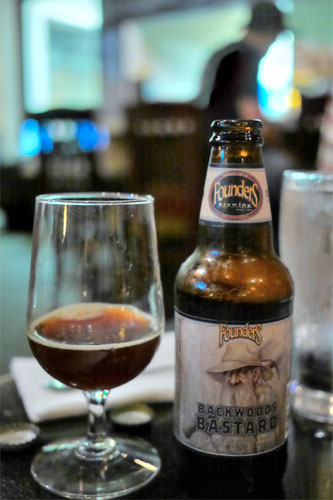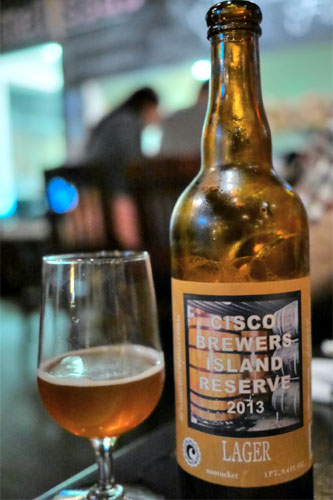 Moving us on into something heavier was the
2013 Founders Backwoods Bastard
, an exceptional Scotch ale aged in bourbon barrels. I got a base of caramel sweetness and fruity malt, joined by spice, smoke, roast, and woody qualities from the oak aging. The
2013 Cisco Island Reserve Oak Aged Bohemian-Vienna Style Lager
was also to my liking with its slightly sweet, somewhat fruity core meshing with a yeasty bit of funk and some earthiness from its time spent in wood.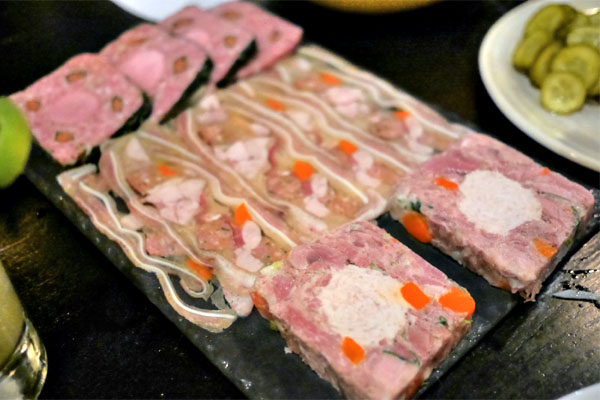 Charcuterie
An impressive spread of three types of charcuterie was next. Up front was Quinn's terrine of Tails & Trotters foreshank and ibérico de bellota
secreto
rillettes, a pure celebration of pork that matched the lushness of the ibérico with the more rustic goodness of that shank. In the middle were thin slices of pig ear-foie gras-sweetbread-sausage terrine from
Electric City Butcher
's Michael Puglisi (who's planning on opening up shop nearby in the coming months). I loved the textures on this one, as well as its multifaceted, offal-y flavors. Lastly, we enjoyed another one of Puglisi's: a spicy sausage and pork tenderloin terrine wrapped in leek. It was a winner, with a great touch of spice and a smart counterpoint from the zip of that leek, a real showcase of old school charcuterie chops.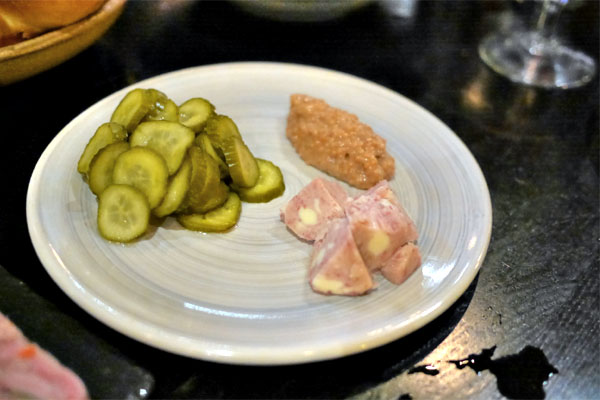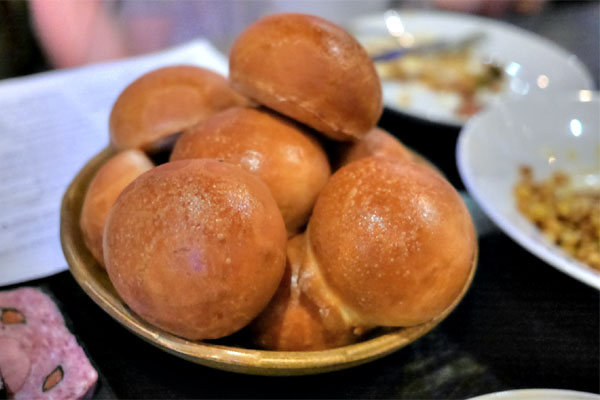 The charcuterie was served alongside a plate of pickles, beer mustard, and ridiculous ham butter, as well as some of the freshest, most pipingly hot bread
ever
(smear some of that ham butter on there--oh yeah).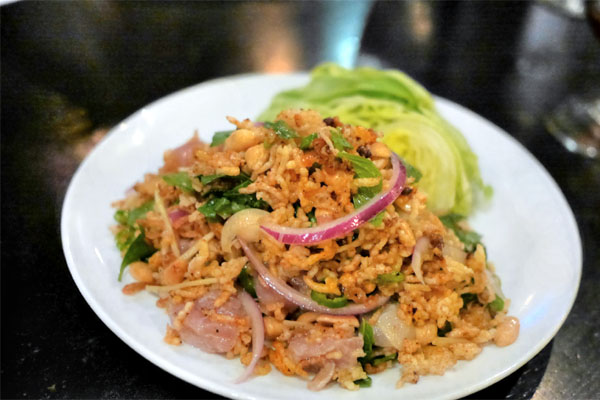 I Trust [$16.00]
| but i also like southeast asian spicy & raw bluefin tuna
Playground's take on one of my fav Thai specialties,
nam kao tod
, was legit, giving me the spicy, sour, savory nuances and great textures that I wanted. I found it slightly sweeter than I typically get, and of course you had the tuna adding an extra, welcomed dimension to the dish.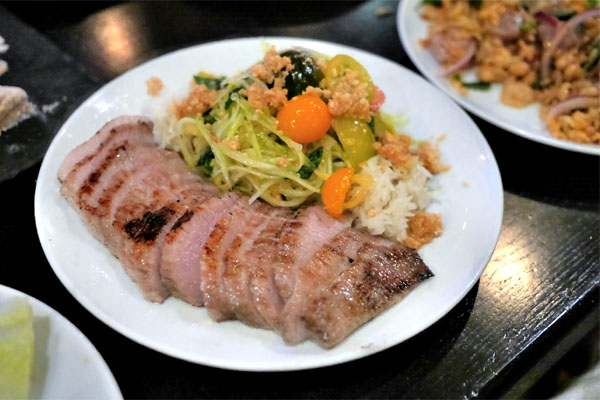 Kurobuta Pork Jowl Grilled Over Binchotan, Green Papaya Salad, Baby Heirlooms, Peanut Crunch, Sticky Rice [$21.00]
| deliciously chewy
We stayed in Asia for the next course. Think smoky, succulent cuts of jowl, wonderfully pork-y with a nice bit of bite, taken down a notch by the brightness of the accompanying papaya. Yum.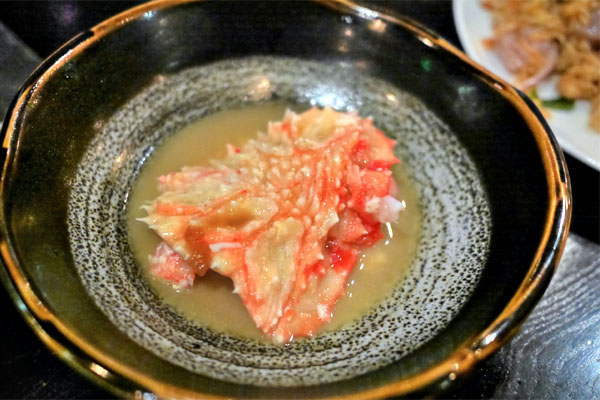 Next was what I believe was my first encounter with king crab "tail" (part of the abdomen), served with claw, merus, and a crab stock nage. Unsurprisingly, the claw and merus were spot on, but the star was clearly that tail, which was pretty amazing texturally and showed off a lovely sweetness that paired beautifully with the buttery broth.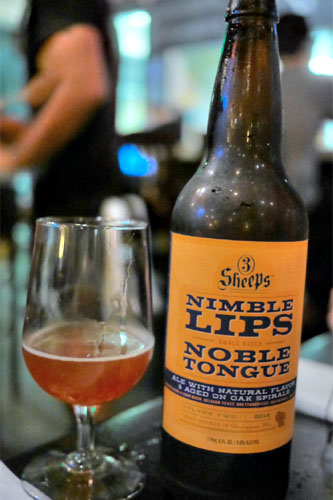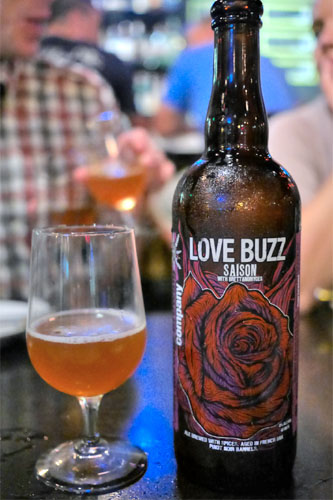 Our first sour of the night was the clumsily-named, yet delicious
2014 3 Sheeps Brewing Nimble Lips, Noble Tongue Volume 2
, brewed with raspberries and Brett then aged on oak. It actually reminded me a bit of a Flanders ale, with its funky, yeasty, spicy, vinegar-y flavors overarched by juicy notes of berry fruit. The
2014 Anchorage Brewing Love Buzz Saison
, meanwhile, was a tasty brew indeed, its classic tart farmhouse flavors joined by a floral-fruity quality underpinned by a vinous depth.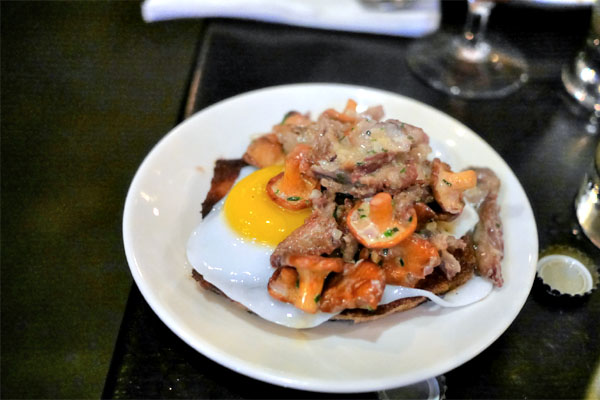 Saskatchewan Chanterelles, Duck Confit, Creme Fraiche, Duck Egg, Shallot, Garlic, Thyme, Chive, Grilled Bread [$18.00]
Flavor bomb here, with the confit coming out
super
ducky and delicious, smartly set off by the various herbs while the mushrooms added further weight to the dish. You can't go wrong with that runny egg either, and I actually appreciated the toast as a sort of base to the course.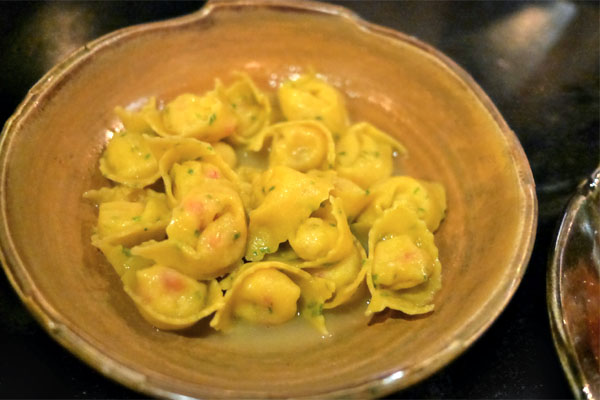 The Chef then sent out a couple pastas from a previous dinner at 2.0, both of which were handmade by his wife Hillary. First was a Dungeness crab capaletti with chive-lemon pasta and a roasted pork belly dripping nage. I loved how it so authentically showcased the sweet brine of the crab, and how its delicate flavors paired with the chive and lemon-y notes in the pasta while the broth imparted just enough heftiness to the dish.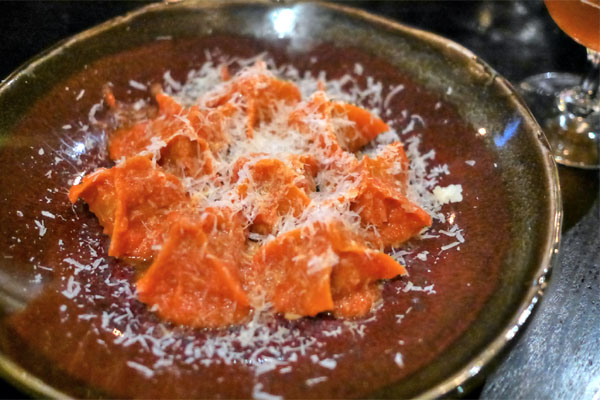 Hillary's tomato fagottini, meanwhile, was also a winner, its delectable stuffing of pork cheek Italian sausage melding with the Pecorino and San Marzano in utterly satisfying fashion.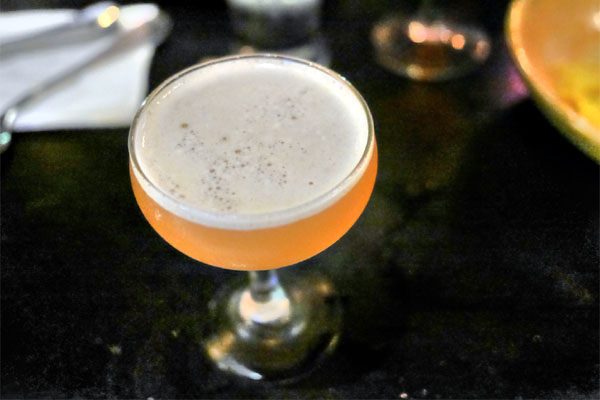 Dooley's second on-the-fly cocktail was deemed the "Suspect Device #2," and featured the 3 Sheeps sour along with Old Tom gin, Kina L'Avion d'Or, lime, and simple syrup. He did a great job with it, really utilizing the tartness of the beer to play off of the bittersweet, boozy notes in the drink--superb.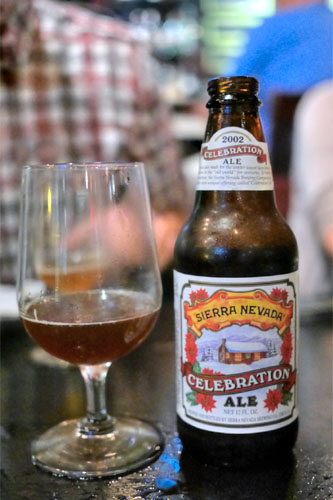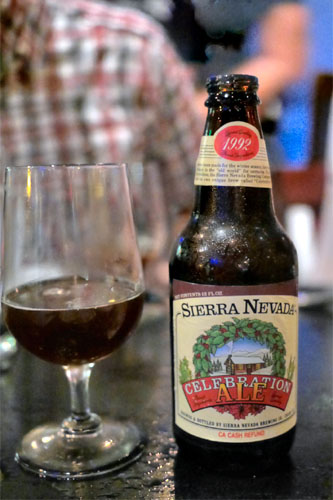 Time to bust out some of the old stuff. Kicking things off was the
2002 Sierra Nevada Celebration Ale
, a longstanding winter-time IPA release. Everyone says that you're not supposed to age IPAs, but I must say that this held up quite well. Of course, the hops had faded, but you're still left with plenty of dark fruit and malt, a sort of barleywine-ish presentation joined by a marked oxidative character--still rather tasty. We then traveled back a decade, and popped a
1992 Sierra Nevada Celebration Ale
to see how the beer'd evolved. This one was somewhat thinner in body, yet with much more in terms of aroma, while taste-wise, it was noticeably sweeter, with a lot more chocolate-y goodness going on.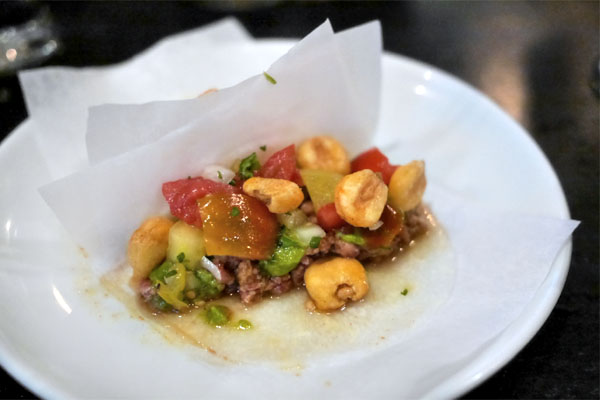 Carne Apache Jicama Tacos, Spinalis Dorsi, Street Pico, Avocado Mousse, Inka Corn [$5.00/each]
Ribeye cap was presented in a beef ceviche-like manner, the meat really coming to life alongside the tart, acidic notes in the tacos. A fun, refreshing couple of bites, with a fantastic crunchiness from those huge-ass Corn Nuts.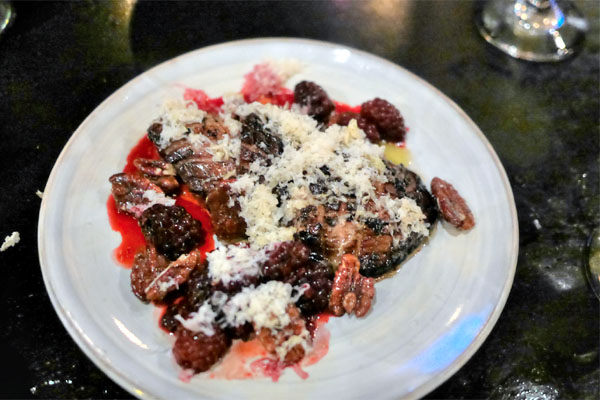 This gift from the kitchen comprised a half lobe of foie gras, done up with pickled blackberries, candied pecans, Maldon, and shavings of Hungarian honey truffle (which start out mildly earthy, but have a lingering sweetness on the finish). It was a damn good version of hot foie, damn good. The actual liver itself was excellent, the organ's earthy, musky goodness tempered by a well-placed char bitterness and pin points of salt. And despite my aversion to sugary foie, the pecans and berries and honey truffle worked wonders here, serving as perfect accoutrements to the offal. Oh how I've missed this.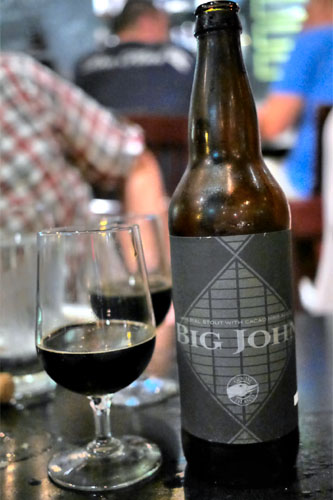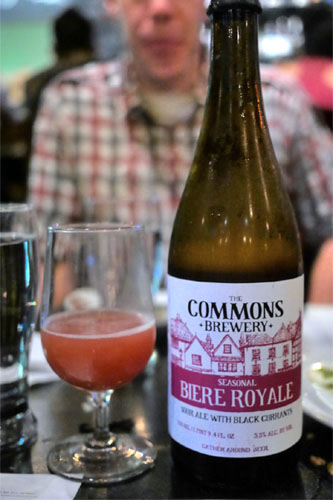 The
2012 Goose Island Big John
marked the appearance of the first stout of the evening, an imperial version brewed with cacao nibs. This was
smooth
, and super well-balanced, with its chocolatey, roasty, coffee qualities proudly displayed, joined by a vanilla-esque character that I really enjoyed--a very pleasant surprise overall. Also tasty was the
2014 The Commons Biere Royale
, a seasonal sour brewed with black currants that's ostensibly inspired by the Kir Royale cocktail. Overtly jammy on the nose, it drank tannic and tart, with its acerbic profile cut by the presence of the fruit.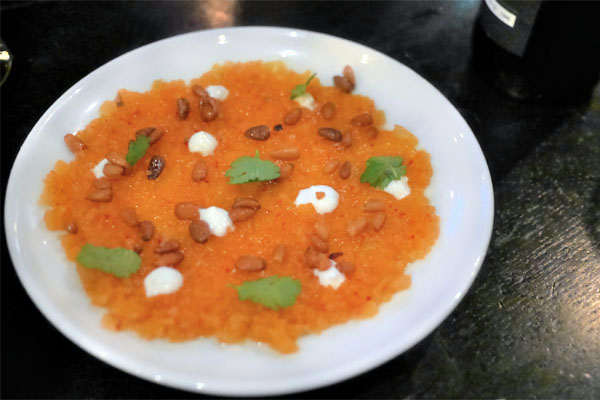 French Kiss Melon Tartare, Lilikoi, Pine Nuts, Yogurt, Cilantro, Chile [$8.00]
After the heft of the foie, the melon tartar was a welcomed change of pace, the sweet-tangy fruit perked up by zesty hits of cilantro and chili while the yogurt imparted a lactic creaminess to things. Great crunch from those pine nuts, too.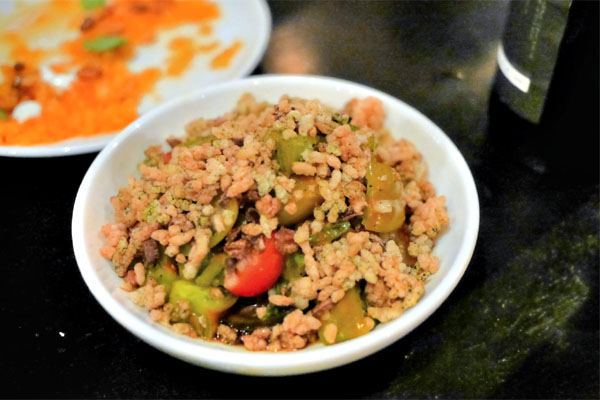 Heirloom Tomato Poke, Spicy Sesame Oil, Fancy Soy, Burnt Onion, Nori Rice Crunch [$8.00]
| vegan
Also refreshing to see was a tomato-based poke, the dish displaying the classic, umami-laden notes that you'd expect, with the crispy seaweed rice doing a fantastic job in mixing things up texturally.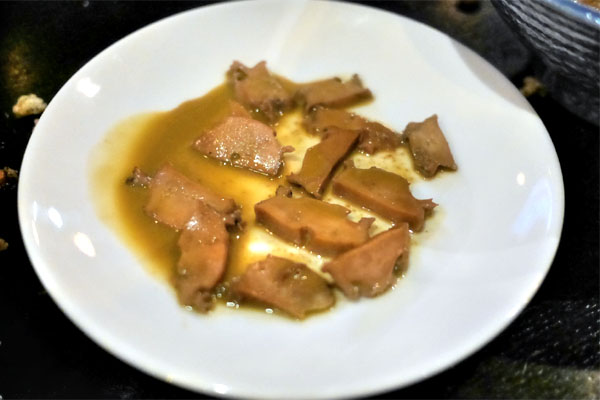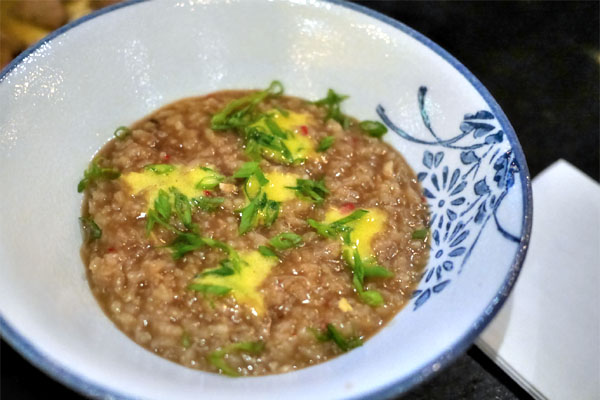 Braised Abalone, Crab Rice Porridge, Abalone Liver Butter, Egg Yolk, Scallion [$20.00]
These days, it seems that I can't
not
order abalone on a menu, so I had hopes for this course. I was not let down. The abalone itself was served separately so we could get an appreciation of its texture, which was pliant, substantial, yet not rubbery. Take it with the porridge, and you have a pretty incredible depth of flavor, the ocean-y essence of the ingredients really well conveyed, accented by pricks of astringency from the scallion. This was something you'd just want to have a big-ass bowl of and go to town with.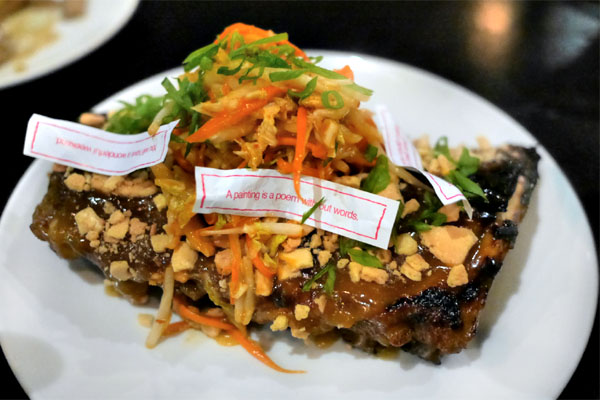 Anthony Got Stoned & Took A Walk Through The New Hampshire Woods, This Is What He Thought About [$18.00]
In what may be the best-monikered dish ever, baby back ribs were dressed with orange chicken glaze and accompanied by sambal slaw, fortune cookie crumbles, and the actual fortunes themselves ("A painting is a poem without words"--whoa). Cheekiness aside, these were some tasty ribs, the sweetness of the sauce here really making sense with the tender cuts of meat, all while the slaw gave up an Asian-y heat and lightness to the dish.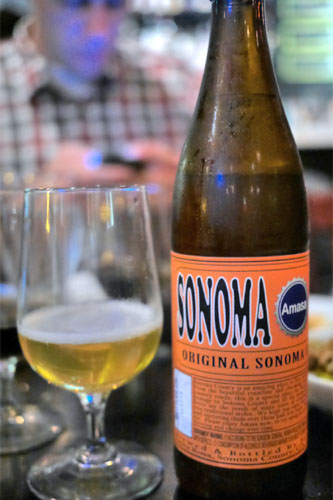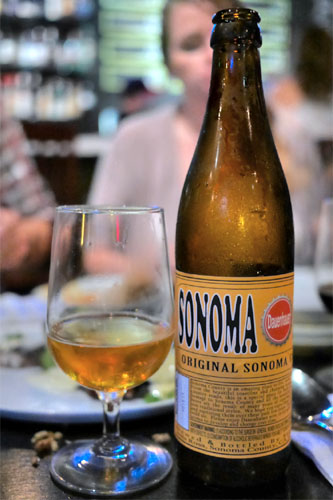 One of my dining companions traveled to NorCal recently and brought down a couple brewery-only side project releases from Russian River's Vinnie Cilurzo. The
2014 Russian River Sonoma Pride Amasa
was a dry, citric blonde with a tasty farmhouse slant to it--crisp and spicy. It was joined by the
2014 Russian River Sonoma Pride Dauenhauer
, a slightly headier beer that was both hoppier, maltier, and yeastier.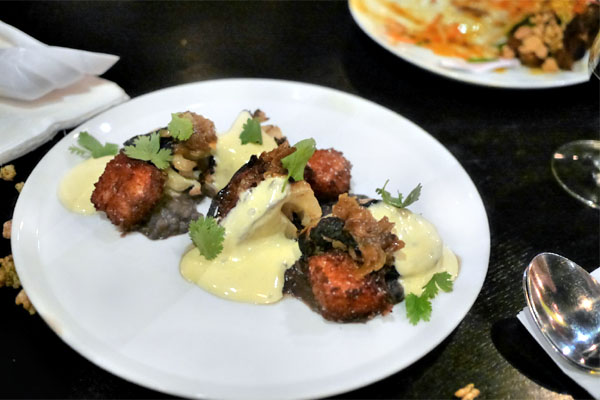 Roasted Cauliflower Hearts, Hatch Chile Hollandaise, Black Beans, Mexican Rice Cakes, Caramelized Onion, Cilantro [$15.00]
As you probably know, I'm quite the fan of cauliflower, but I rarely encounter its heart, the part of the veg where all the florets come together. Done up here with a Southwestern sort of flair, the heart shined with its firm, meaty consistency and more assertive flavors, which really stood up well to the other elements on the plate. I'd love to see more chefs utilize this part of the cauliflower.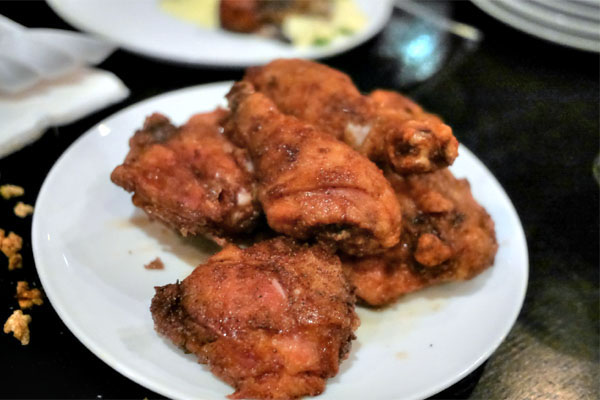 Uncle Lou's Fried Chicken [$16.00]
| the one exception. if you don't know what you're getting yourself into, get something else
Playground's infamous fried chicken is something worth seeking out, an homage to Uncle Lou's out in Memphis (they're using the same recipe). The bird lacks the usual crunchy battered exterior you'd expect, yet was still far from soggy. At the same time, biting in, it was probably the juiciest fried chicken I'd ever eaten, almost ridiculously so, and exuded a momentous savoriness that was really set off by the vinegar-y, slightly sweet marinade. Bomb.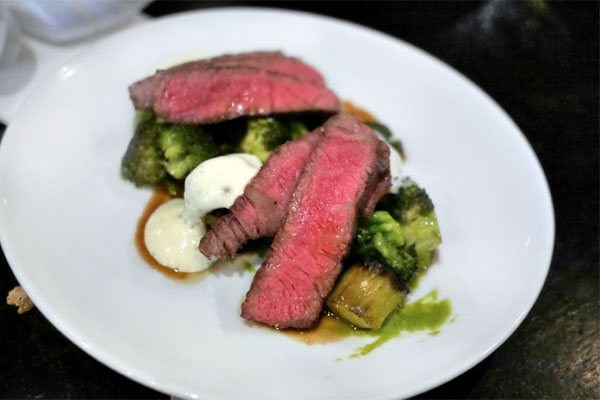 Imperial Wagyu Chuck Grilled Over Binchotan, Aerated White Cheddar, Broccoli: The Unexpected Hero [$5.50/oz]
In our final savory, we enjoyed beef chuck, an oft unsung part of the cow. This wasn't just any chuck though, but wagyu chuck, which meant elevated fat and elevated flavor, a cut that would stand up to most steaks, especially with that
binchotan
char. As good as the protein was, the accompaniments were appreciated as well, especially that broccoli, which seemed to simultaneously amplify yet moderate the meat.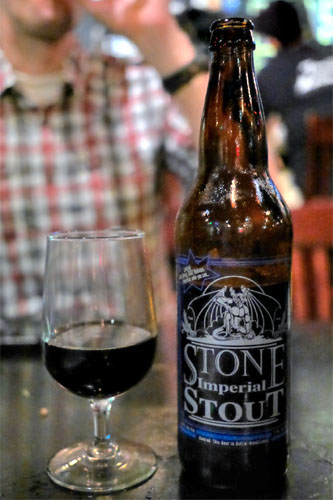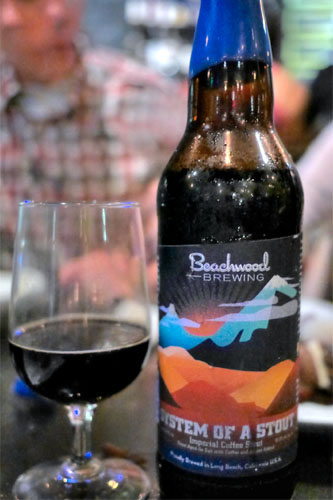 A duet of stouts brought out a vintage bottle of
2002 Stone Imperial Russian Stout
. My oldest stout so far, it was quite an experience to drink, a velvety smooth brew having almost no carbonation and a plethora of fruity, bitter nuances that reminded me of an iced coffee. Speaking of coffee, the Stone was followed by something from the present, the
2014 Beachwood System of a Stout
, an imperial done in the style of Armenian coffee: brewed with cardamom, molasses, and Portola coffee, then aged for weeks on Armenian brandy-soaked oak chips. The result was pretty damn tasty, the aromatics from cardamom really singing in the beer and working as a perfect foil to the roasty, bitter, coffee notes tasted.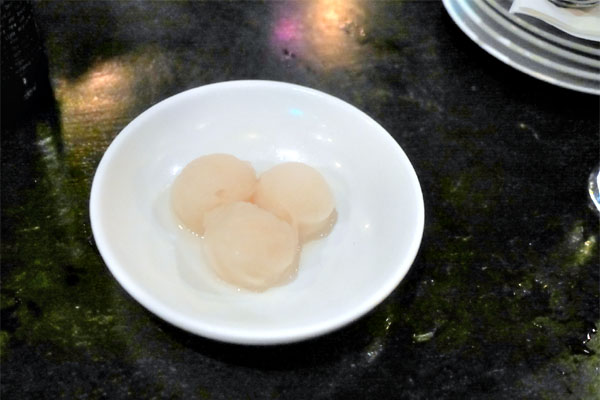 Thyme Sorbet [$5.00]
Time for some desserts, which come from former Playground Sous Chef Eddie Perez. Serving as an intermezzo was a thyme sorbet, a delightfully herby palate cleanser underscored by a backbone of juicy sweetness.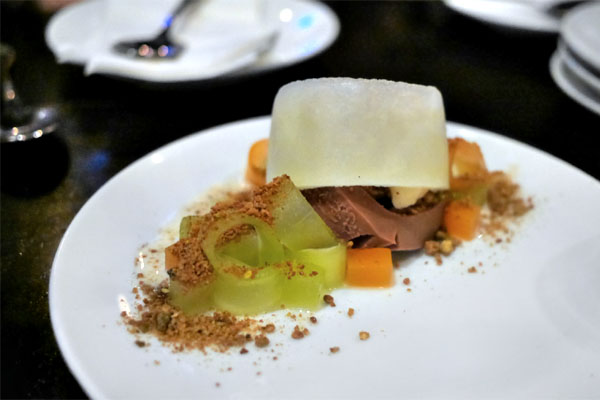 Honeydew "condensed milk", Pistachio Cookie Crumble, Milk Chocolate [$9.00]
My favorite of the desserts was this multifaceted presentation of honeydew, which played the sweetness of the melon against contrasting notes from the chocolate and pistachio crumble, making for a super well integrated dish. And that "condensed milk?" Pretty amazing. I believe my exact words upon tasting the dish were
that shit cray
.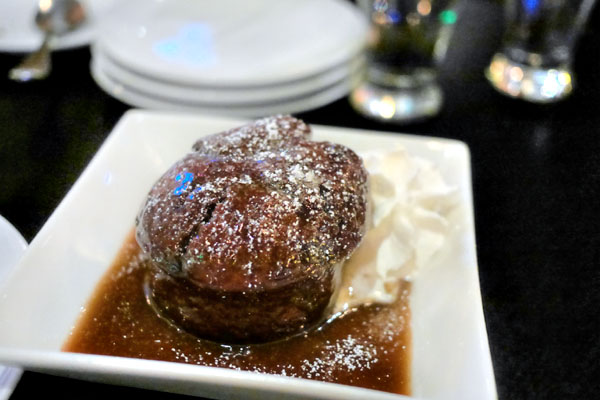 Black Mission Fig Sticky Toffee Pudding [$7.00]
Playground's sticky toffee pudding is still on the menu, and for good reason. It remains one of the best I've had, a powerhouse of dense, dark fruit goodness that makes you just want to keep eating.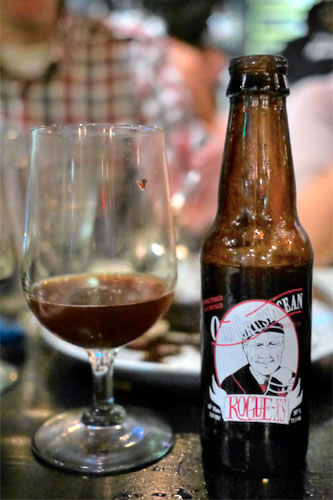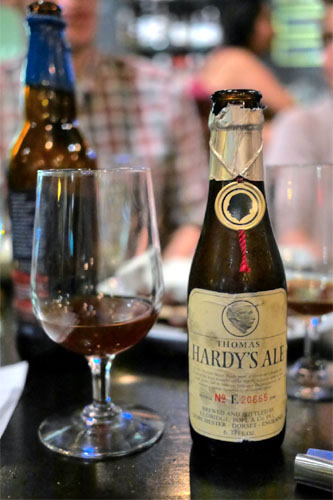 Next, I cracked a miniscule bottle of
1997 Rogue Old Crustacean
that I'd picked up on my recent
Portland trip
. Barleywines are great for aging, and it showed here. On the nose I got loads of dark fruit, which continued on to the palate, where it was joined by plenty of malt, spice, oxidation, and a tiny bit of heat. Lastly, I took it back,
way
back, with an even tinier bottle of
1990 Eldridge Pope Thomas Hardy's Ale
. According to the label, the beer is designed to last for
at least
25 years, and I don't doubt it. Ridiculous aroma on this one, it hits you hard with a blast of spice, fruit, and oxidation. To taste, I got more of that Sherry quality, joined by rich malt, roast, and caramel--the oldest beer I've tasted, and a mighty fine one at that.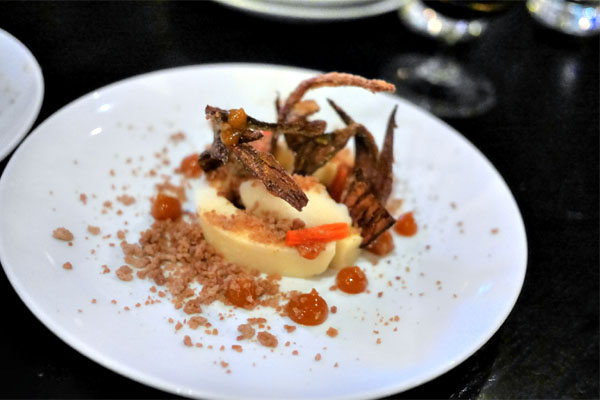 Carrots Like You've Never Seen Before, White Chocolate Ganache, Ginger Honey Sorbet [$8.00]
The carrot dish was another standout, with the inherent sweetness of the carrots smartly paired with fantastic notes of ginger and honey while the flexible ganache grounded the whole dessert. Loved those crispy bits, too; one of my dining companions even described it as "autumn in my mouth."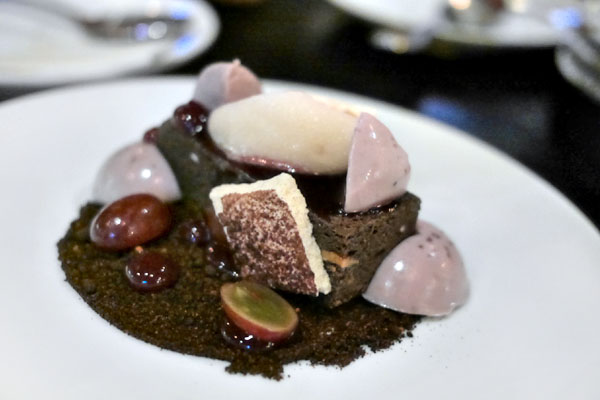 Chocolate Cheese Cheesecake, Concord Grape, Ancho Chili & Cocoa Soil, Verjus [$9.00]
The cheesecake was one of the most creative I'd seen, and did a commendable job conveying chocolate while still retaining the essence of a classic cheesecake. I appreciated the additional wrinkles provided by the "soil" as well here, not to mention the tartness of the grapes and verjus.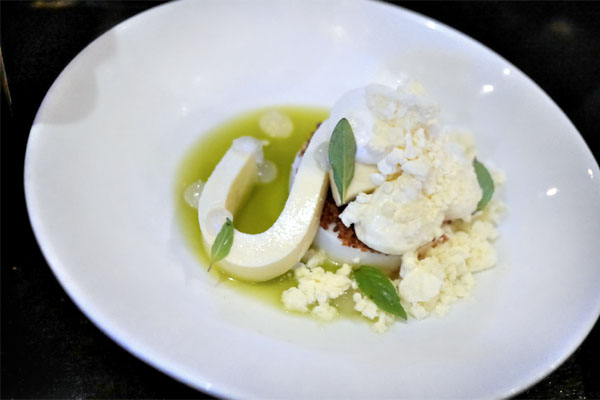 Sweet Corn Mousse, Coconut Panna Cotta, Jalapeño, Lime [$8.00]
Last up was a fun mousse that communicated the delicate sweetness of corn, a perfect match to the coconut and lime. Great use of the herbs and jalapeño here to add a final exclamation point to the dessert.
I'd been a fan of Playground ever since my first meal here, and this latest dinner just continues that trend. The food's more irreverent than ever, but the experimental edge, the focus on ingredients and technique remain at the forefront. There is a palpable sense of fun, of excitement here that you just don't find at most other restaurants, one that pervades the dining room, the kitchen, the staff; this is a special sort of place to be sure.
I'm not the only one who thinks that, as Playground's been a huge success for Quinn and company, which means there's money for expansion. First was
2.0
next door of course, but look out for Dough Exchange to debut soon. This'll be their bakery concept featuring pastries, doughnuts, sandwiches, breads, and meat pies. Following will be the launch of Lunchbox by Playground. Set in the upcoming 4th Street Market, Lunchbox will be composed of three separate food stalls--burger joint Wagyu Chuck, the self-explanatory PFC/Playground Fried Chicken, and
khao soi
stand Noodle Tramp--as well as a bar and wine shop. The team is also expanding Playground itself, building a cocktail-slash-dessert bar above the restaurant, so look out for that next year.