Coni'Seafood (Inglewood, CA)
Coni'Seafood Restaurant
3544 W Imperial Hwy, Inglewood, CA 90303
424.261.0986
www.coniseafood.com
Wed 10/01/2014, 07:00p-08:55p

Coni'Seafood had been on my to-eat list for seemingly forever, since its days as Mariscos Chente's actually. I finally made it out to the Mexican (Nayaritan-Sinaloan, more specifically) seafood spot recently (the best in Los Angeles according to many), and was eager to try the place's ceviche, marlin tacos (which they ran out of, unfortunately), and signature
pescado zarandeado
. The history behind Coni'Seafood is famously convoluted, and I'm sure some parts have been lost to time, but here's what I think went down:
The place dates back to the summer of 1985, when it was started by Nayarit native Vincente Cossio in his family's backyard on 106th in Inglewood (the O.G. underground restaurant, in a sense). People began taking notice of his cooking, which allowed him to debut Mariscos Chente's in 1991 at this very spot on Imperial. Cossio's daughter Maria Angie eventually married one Sergio Peñuelas, who emigrated from Los Mochis in Sinaloa. Peñuelas began working at Mariscos Chente's in the late 1990's, fusing his father-in-law's Nayaritan stylings with his own Sinaloan cooking background. Cossio and his wife Magdalena Garcia wound up divorcing some time afterward, and she went on to open Mariscos Chente (no apostrophe) over on Centinela near Mar Vista, taking Peñuelas with her.
It's unclear to me why, but Cossio's other daughter Conchita "Connie" then took control of the original restaurant. A 2008 kitchen fire in the Mar Vista spot, however, resulted in Peñuelas and company setting up shop on Inglewood Ave in Lennox. They eventually moved back up north at the start of the following year, but Peñuelas ended up going back to the Lennox location in April 2010, which was now being run by Vincente (who apparently returned to the kitchen due to declines in food quality there). Meanwhile, Connie opened up Mariscos Chente's No. 2 on Redondo Beach Blvd in Gardena in 2010 (it's now closed), teamed up with her brother-in-law Sergio, and renamed the original Mariscos Chente's to Coni'Seafood in 2011. And so here we are.

The inside's small, but probably nicer than you'd expect, and there's even outdoor seating in the back (which isn't quite as nice).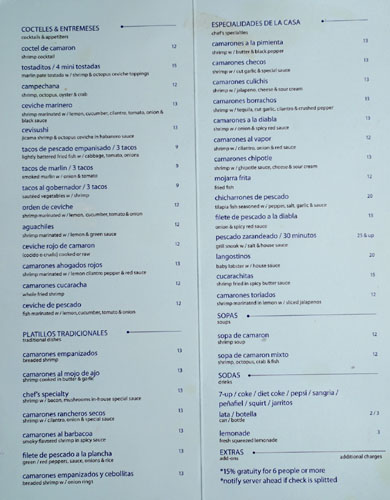 The Coni'Seafood menu is pretty much exclusively seafood, with a particular emphasis on shrimp, while to drink, you get soft drinks and a few beers. Corkage is a possibility though, and we ended up paying a $10 flat fee for the bottles we brought. Click for a larger version.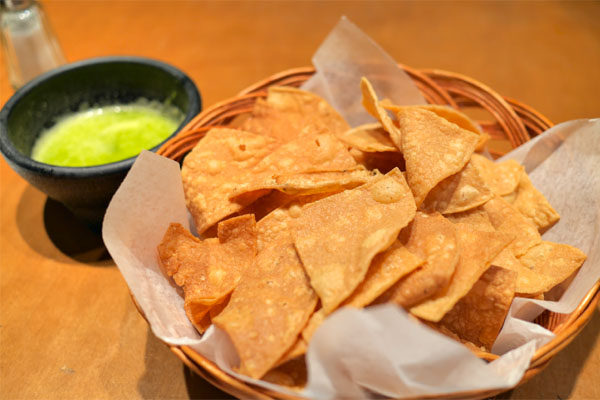 Chips were excellent, thick and crispy and tasty on their own. However, they were taken up a notch by a dab of that bright green salsa, which started out citrus-y and sour, but finished with the piercing heat of jalapeño. Try not to fill up on these.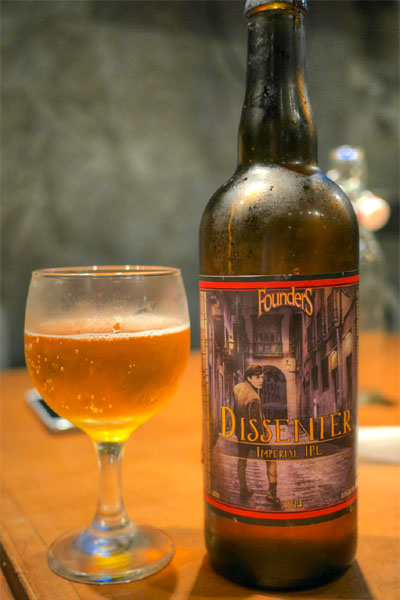 My first beer was the
2014 Founders Dissenter Imperial India Pale Lager
, the first lager brewed by Founders in a dozen or so years. A one-time-only release from their Backstage Series, it was pretty heady, and drank almost like an IPA with its marked, citric, hoppy bitterness counteracted by a backbone of fruity malt. Quite nice.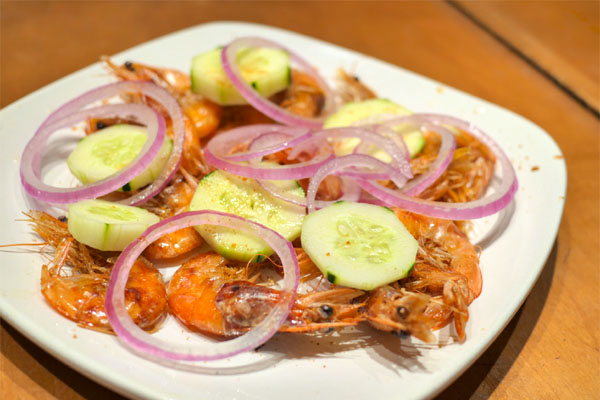 camarones cucaracha [$12.00]
| whole fried shrimp
I sent a glass of the beer above back to the kitchen and Chef Chata (Sergio was off this evening), and perhaps as a result, out came a complementary plate of shrimp "cockroaches." I definitely got the connotation here--shiny shells and all--but despite the name, these suckers were pretty dang good. Designed to be eaten whole, they had a complexity of flavor to 'em: simultaneously spicy, sour, earthy, and were smartly tempered by the cool cucumber and zesty onions on the plate.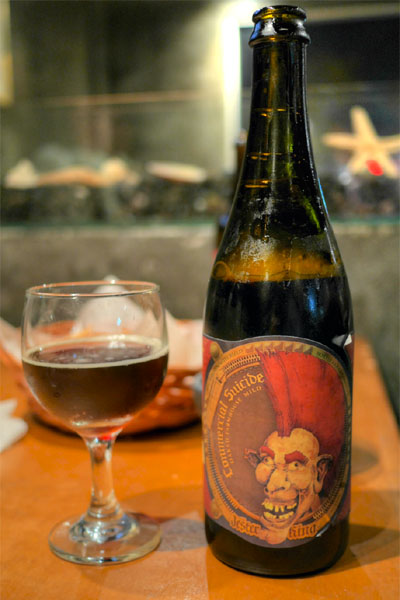 Next up was the
Jester King Commercial Suicide Oaked Farmhouse Mild
, a style I rarely get to try. Despite ringing in at only 3.5% ABV, the beer was full-flavored, with a base of malty-meets-woody notes and just a tinge of yeastiness. Better than I thought it'd be.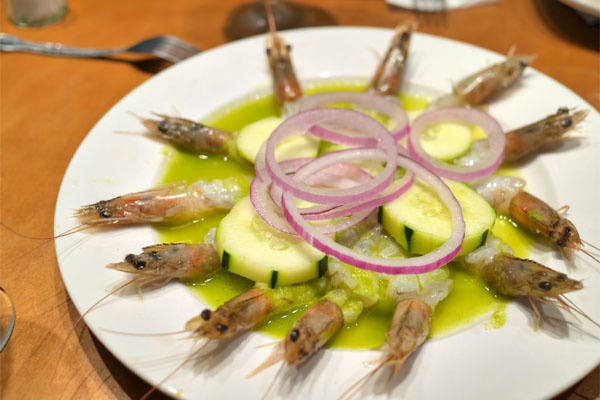 aguachiles [$12.00]
| shrimp marinated w/ lemon & green sauce
Coni's
aguachile
is perhaps more artfully presented than most, combining raw shrimp with jalapeño and lemon. Here, you really got to taste the sticky, ocean-y goodness from the
camarones
, evened out by the zing of the accompanying sauce.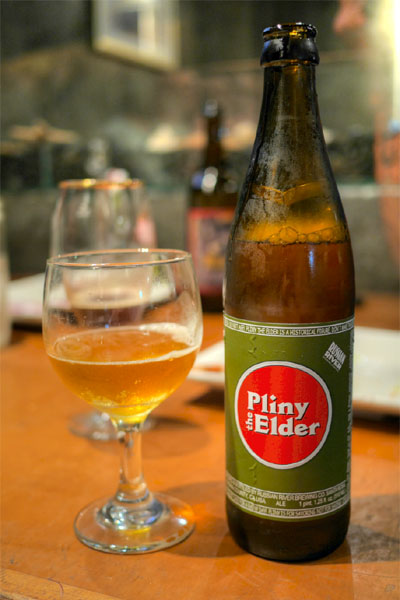 Any beer aficionado will tell you to drink
2014 Russian River Pliny The Elder
fresh, but I wanted to put some age on this example, which was bottled at the end of April (it'd been refrigerated this whole time, though). You know what? I think I like it better this way. Heresy I know, but with the hops not quite as explosive, the beer's become more mellow, easier-drinking. I still have some more bottles left that I plan on keeping even longer, so we'll see how they turn out.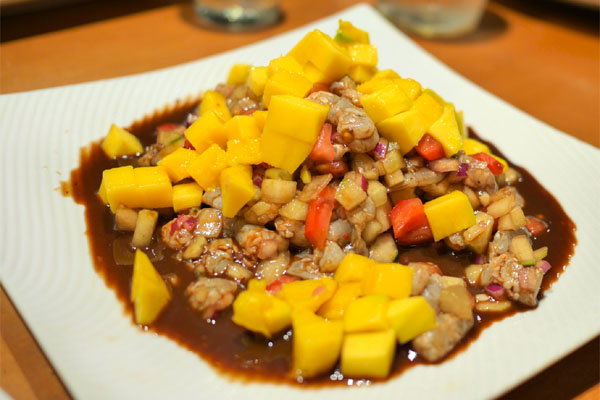 ceviche marinero [$13.00]
| shrimp marinated w/ lemon, cucumber, cilantro, tomato, onion & black sauce
We then placed an order for Coni'Seafood's most notorious ceviche, a mish-mash of raw shrimp chunks, veggies, unexpected blocks of mango, and a befuddling black sauce laced, ostensibly, with Worcestershire. It's sort of an odd combination that somehow convinces you that it makes sense, with the sweetness of the fruit going back and forth with the pungency of that sauce, all while the shrimp acted as a fitting base to the dish.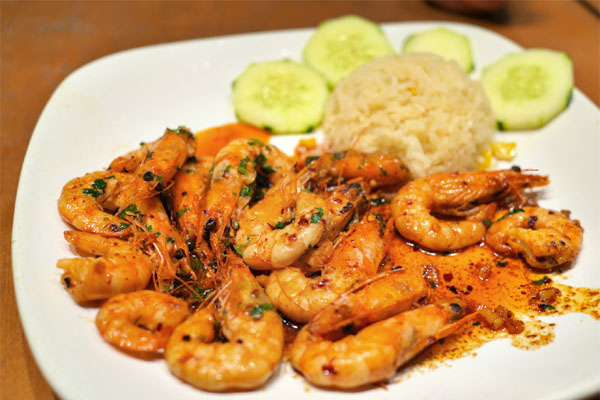 camarones borrachos [$13.00]
| shrimp w/ tequila, cut garlic, cilantro & crushed pepper
"Drunken" shrimp were lovely, cooked through but not overcooked, with a great interplay of garlic and creeping spice overarched by notes of the tequila. And the combo of the leftover sauce and rice? Heavenly.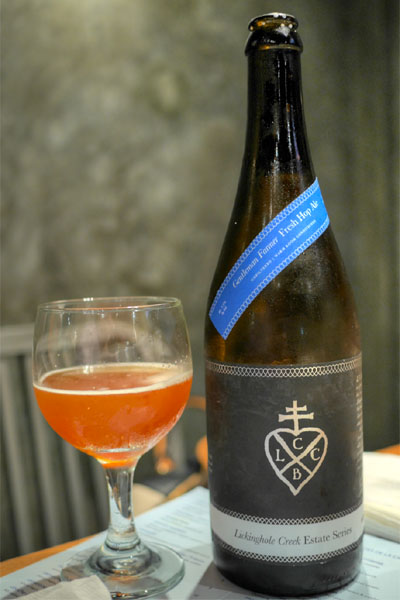 The
2013 Lickinghole Creek Gentleman Farmer Estate Hop Ale
was a pleasant surprise for me as well as the rest of the table. A limited release, somewhat obscure beer from Goochland, Virginia, this one went down easy, showing off a fruity, malty quality accented by contrasting notes of spice and boozy heat.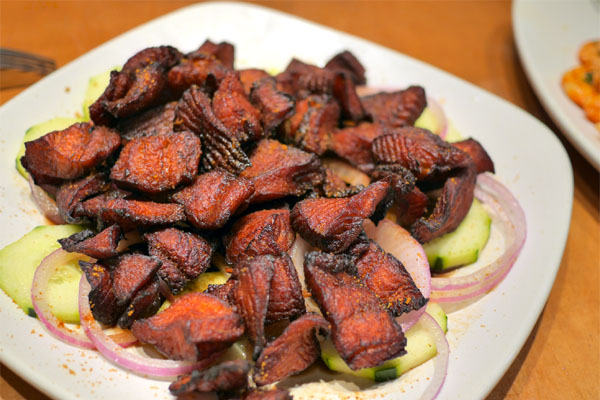 chicharrones de pescado [$20.00]
| tilapia fish seasoned w/ pepper, salt, garlic & sauce
In the most polarizing course of the evening, chunks of tilapia were marinated in god knows what and fried to a charred, almost chewy consistency. I was quite the fan of the resulting fish, which was near jerky-like to the bite, with a taste that was deep, dark, and spicy (I swear I got some star anise in there), yet balanced by the tangy liquid on the plate.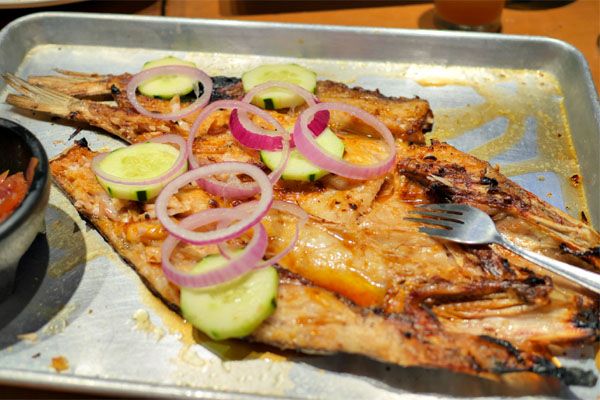 pescado zarandeado [$20.00]
| grill snook w/ salt & house sauce
And now for
la atracción principal
:
robalo
(the rather hard-to-come-by snook), butterflied, rubbed with secret sauce, grilled over coal in a special basket, and served on its signature metal tray. The fish didn't disappoint, coming out soft and flaky, brimming with its juices, with a pretty remarkable depth of flavor that was briny, sweet, salty, all at the same time. The bowl of caramelized onions on the side was an interesting addition, one that I'm still not sure worked or not, but no matter, the snook delivered.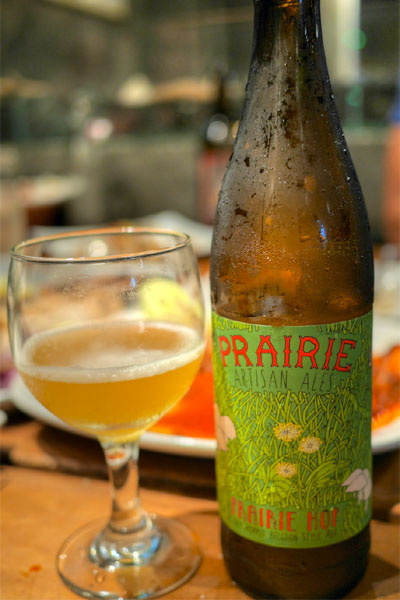 The
Prairie Hop
was a lighter beer, a sort of dry, hoppy saison that had plenty of bright tropical fruit flavors to go along with a spicy, grassy, subtly funky character.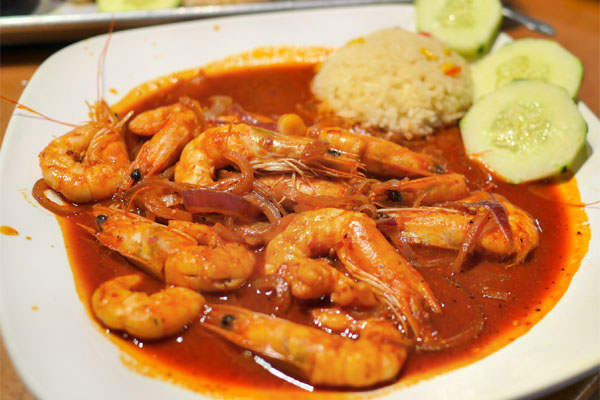 camarones a la diabla [$13.00]
| shrimp w/ onion & spicy red sauce
"Deviled shrimp" weren't quite as hellish as I'd feared, spicy sure, but with a concurrent, onion-y sweetness to them that really moderated the dish. And again, that leftover sauce combined with the rice was something else (we even asked for an extra bowl of rice).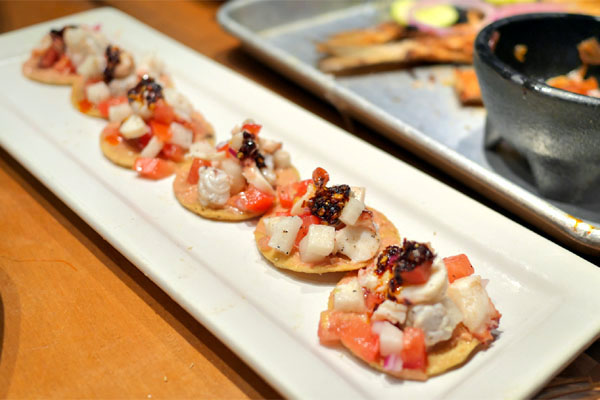 tostaditos / 4 mini tostadas [$15.00]
| marlin pate tostada w/ shrimp & octopus ceviche toppings
We ended with a sextet of miniature tostadas, each topped with a trio of seafood items, a presentation that struck me as a bit non-traditional. They were fun, toothsome little bites though, with the smoky brine of the
mariscos
mellowed by a palpable tangy sweetness.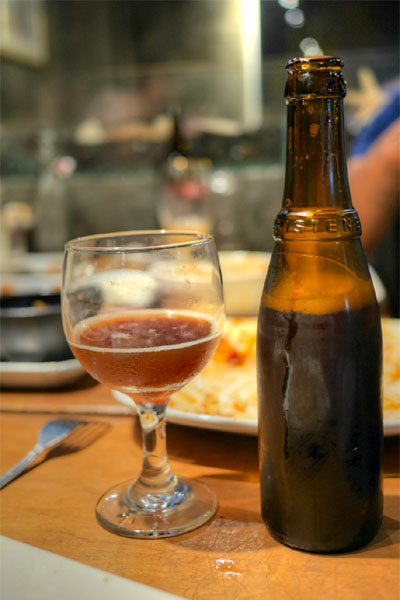 The final bottle was the
2013 Westvleteren 8
, my favorite beer of the night. It was pretty much a perfect example of the dubbel style, one just teeming with delicious notes of dark fruit, caramel, brown sugar, chocolate, and Belgian-y yeast. It's something that you just want to keep drinking.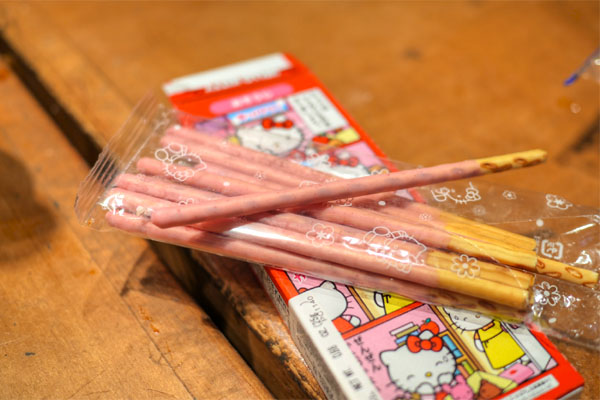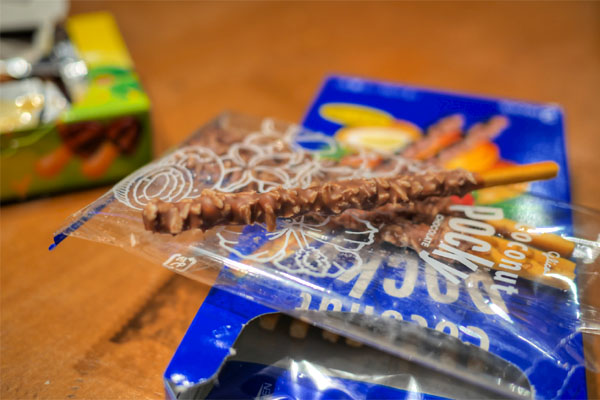 Since Coni'Seafood lacks a dessert menu, we brought along a few treats to close out the meal: the very timely
Kabaya Hello Kitty 40th Anniversary Strawberry Biscuit Sticks
, the slightly phallic yet delectable
Meiji Kinoko No Yama
chocolate-biscuit "mushrooms," and
Glico Coconut Pocky
, quite possibly the best version of Pocky I've had.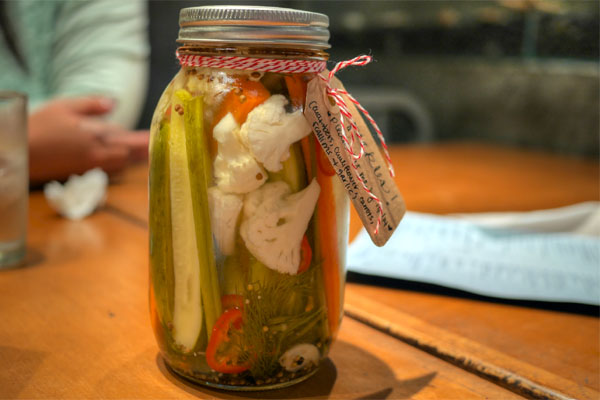 One of my dining companions even brought along some homemade pickles for us to take home.
This was a meal several years in the making, and I gotta say that it was worth the wait. The cooking was robust, pure, tasty, not to mention a great change of pace for me, and I already want to return to try some of the rest of the menu (including those marlin tacos we missed).