Father's Office (Los Angeles, CA) [2]
Father's Office Bar
3229 Helms Ave, Culver City, CA 90034
310.736.2224
www.fathersoffice.com
Mon 09/29/2014, 10:50p-11:50p
Hard to believe it's been over five years since my last visit to Sang Yoon's
Father's Office
, a place that can probably take credit for both popularizing the gourmet burger and for doing the gastropub thing before it became a thing. After attending a lovely Sam Smith concert at the Greek, we were in search of some impromptu late night eats en route to SaMo, and so FO it was.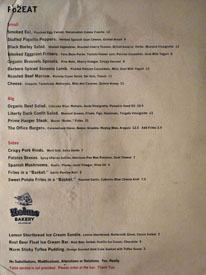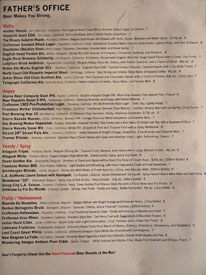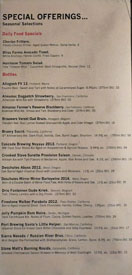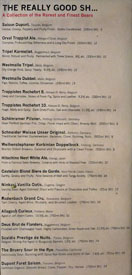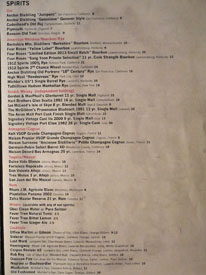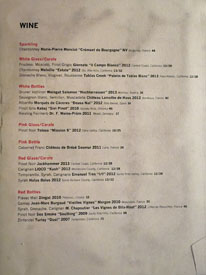 The Father's Office menu remains much as it's always been, a compact list of pubby plates joined by an extensive booze selection encompassing spirits, wine, and plenty of beer. Click for larger versions.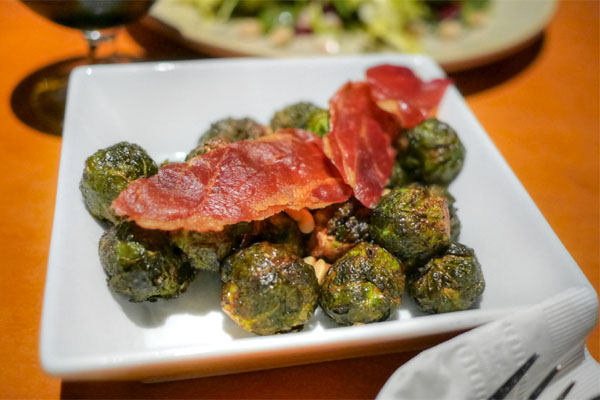 Organic Brussels Sprouts [$9.00]
| Pine Nuts, Sherry Vinegar, Crispy Serrano
Whole Brussels were a must, natch, coming out delightfully charred and bitter, their astringent flavors evened out by the tangy vinegar while crisp ham imparted both texture and salt to the dish. Quite good.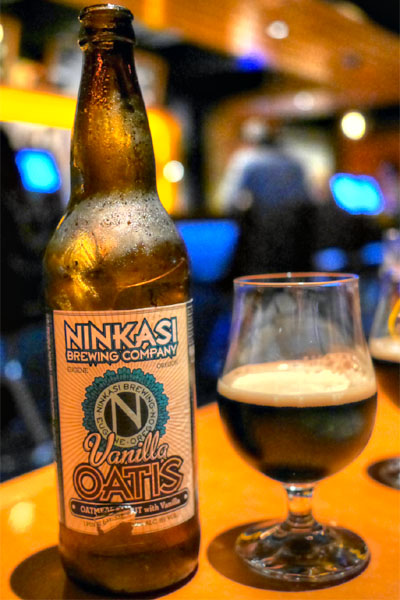 A couple bottles of beers to wash down the grub: our first was the
Ninkasi Vanilla Oatis [$12]
, an oatmeal stout from Oregon brewed with whole vanilla beans. It was pretty smooth, with classic flavors of bitter roast, chocolate, and coffee intermingled with a touch of vanilla character.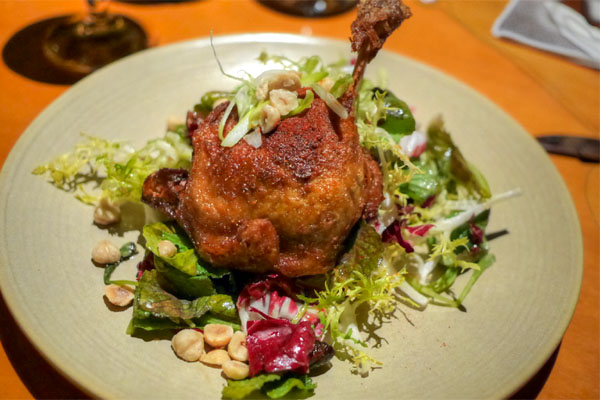 Liberty Duck Confit Salad [$13.00]
| Mustard Greens, Frisée, Figs, Hazelnuts, Tangelo Vinaigrette
Duck confit rarely disappoints, and this example delivered in spades, showing off a pretty amazing amount of ducky depth along with a delightfully crisp skin, the potency of the bird balanced by the brightness of its accompanying greenery.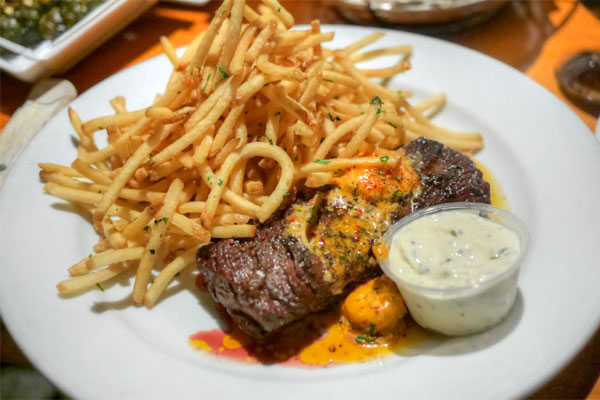 Prime Hanger Steak [$21.00]
| Bacon "Butter," Frites
Their version of steak frites was legit, the hanger arriving properly tender and rare, its boatload of bovine goodness taken up a notch by the included "butter." The fries were on point too, all crispy and crunchy and with a great herbiness to them--tasty alone, or with a dab of the lemon-y aioli.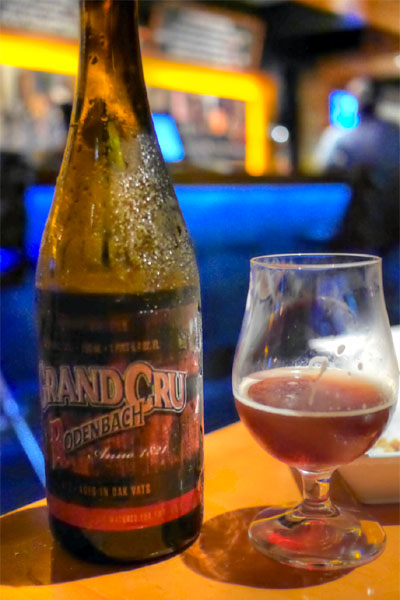 Next up was the
Rodenbach Grand Cru [$20]
, a paradigmatic example of the Flanders Red style conveying a classically tart, fruity, vinous character backed by notes of earthy oak.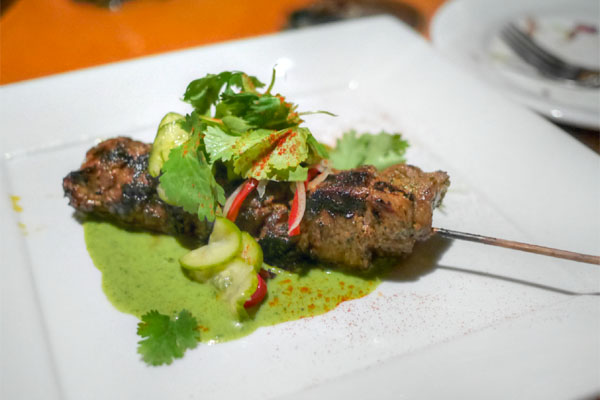 Berbere Spiced Sonoma Lamb [$12.00]
| Pickled Persian Cucumbers, Mint, Goat Milk Yogurt
The lamb was a standout, coming out tender, yet with some bite, deftly charred and well spiced. Combined with the zip of the mint and yogurt, the dish was eminently balanced, and veered almost South Asian in essence.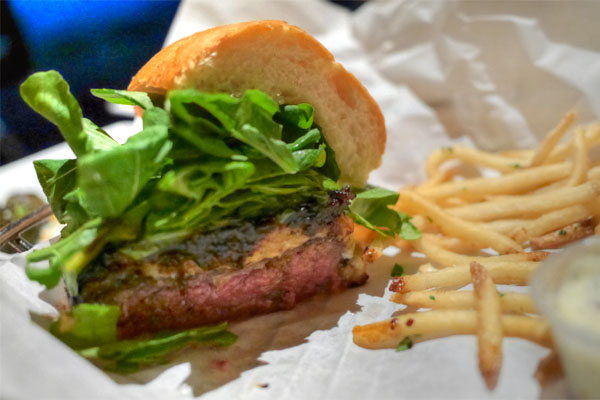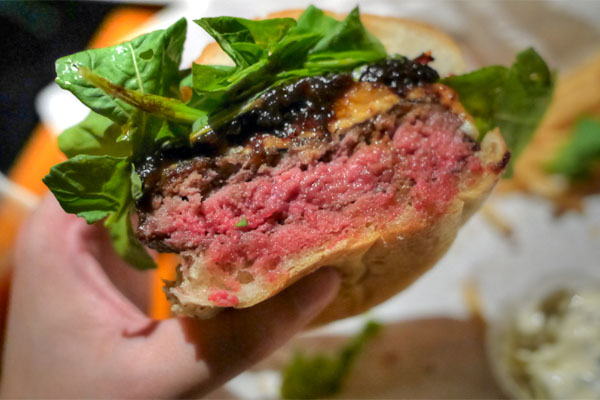 The Office Burger [$12.50 + $5.00]
| Caramelized Onion, Bacon, Gruyére, Maytag Blue, Arugula + Add Frites
We ended, unsurprisingly, with Father's Office's namesake burger, which was as formidable as ever. The star of the show was that rare patty, which melded with the duet of cheese to form a massive base of flavors on which the sweet onion and zesty arugula could sing. One of the City's quintessential burger experiences.
It looks like FO's still going hard after all these years, despite of, of because of its draconian policies, which are
de rigueur
at a lot of places these days. I guess they were ahead of the times on that one. I'm glad I made it back though.