Red Medicine (Beverly Hills, CA) [3]
Red Medicine Restaurant
8400 Wilshire Blvd, Beverly Hills, CA 90211
323.651.5500
www.redmedicinela.com
Fri 10/10/2014, 09:00p-12:30a

Despite all the controversy surrounding Red Med, I'd always felt that Jordan Kahn's cooking stood among the best in the City, and so I was disheartened to hear that the restaurant would be closing at the end of October after nearly four years in business, ostensibly due to higher overhead resulting from the sale of the building. Given the significance of the place, one last visit was certainly called for.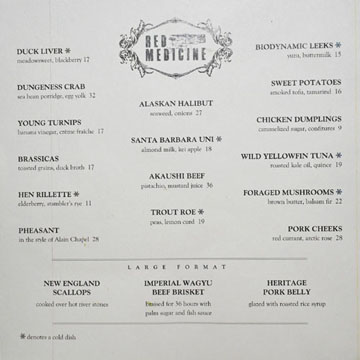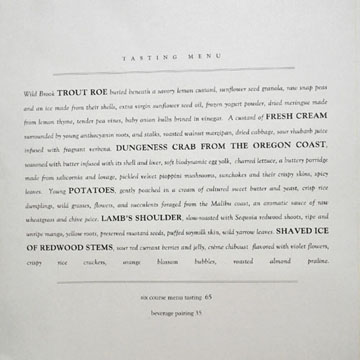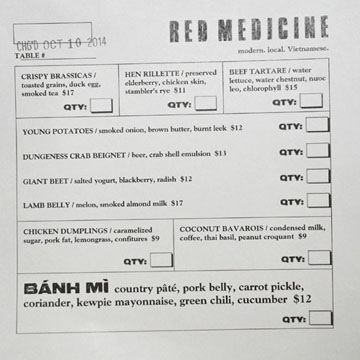 Red Medicine's menu had, by this point, transformed from Viet Modern to neo-Nordic-influenced, though there were still a couple vestiges left over from the old days in the form of that wagyu and those chicken meatballs. Plates were mostly medium-sized, save for the large format items along the bottom, and there was the option of a six-course tasting menu at $65. Separately, you'd also find a bar menu, which lists the restaurant's signature
bánh mì
. Click for larger versions.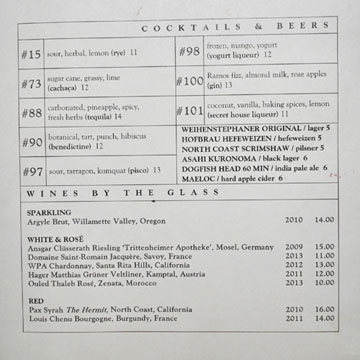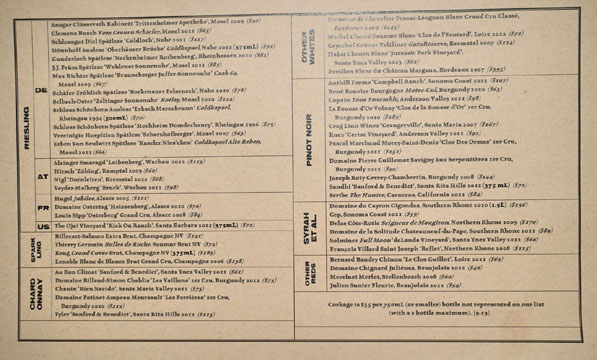 To drink, as always, the numbered cocktails were the main draw here, though there was also a pretty decent wine list and a handful of beers to choose from. Click for larger versions.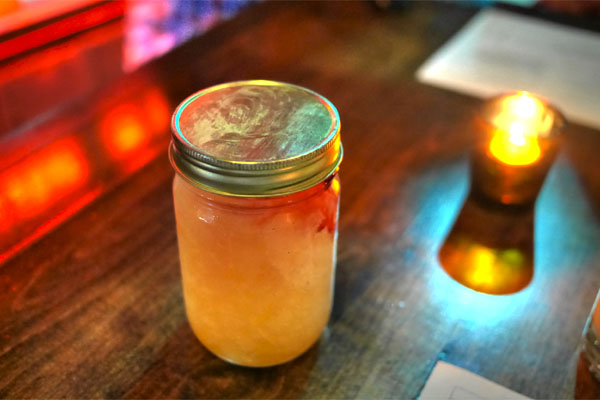 #90 [$12.00]
| botanical, tart, punch, hibiscus (benedictine)
We enjoyed a couple cocktails while we were waiting for our table to open up, the first of which turned to a vibrant crimson when shaken. It was a fun drink, with a nose redolent of yuzu-esque tartness, while taste-wise, you had tangy, floral notes up front with the back end introducing some herb-y, spicy bitterness to the fray. Mouseover for a secondary photo.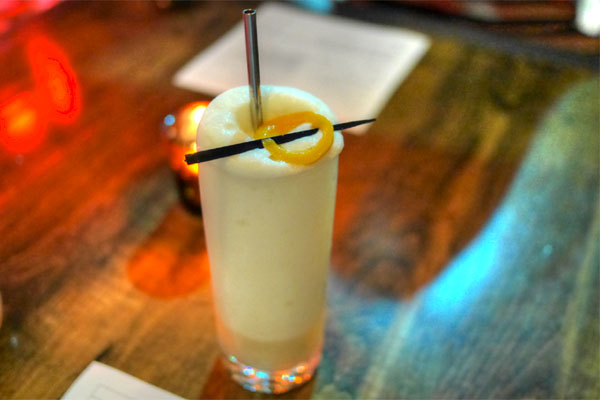 #100 [$13.00]
| Ramos fizz, almond milk, rose apples (gin)
Red Med's take on the Ramos gin fizz went down easy, with a floral, apple-y quality to it underpinned by a countervailing bitterness while the finish was creamy and almost dessert-y at times.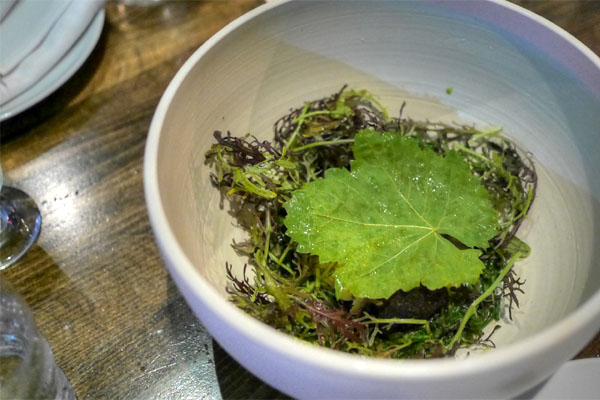 DUNGENESS CRAB [$32.00]
| sea bean porridge, egg yolk
The meal started off with a bang in the form of shell- and liver-infused Oregon Dungeness, probably one of the best crab dishes I'd ever eaten. Buttery, briny, and sweet, the crab melded beautifully with the lushness of the soft egg yolk here, and the accompaniments of sea beans, lovage, and various other greens gave up a fantastic bit of aromatic, herbaceous goodness that expertly played off the crustacean. I loved the savory, charred weight of the sunchokes as well, and the whole course took on a vaguely Asian-y slant that suited it perfectly--damn. Mouseover for a secondary photo.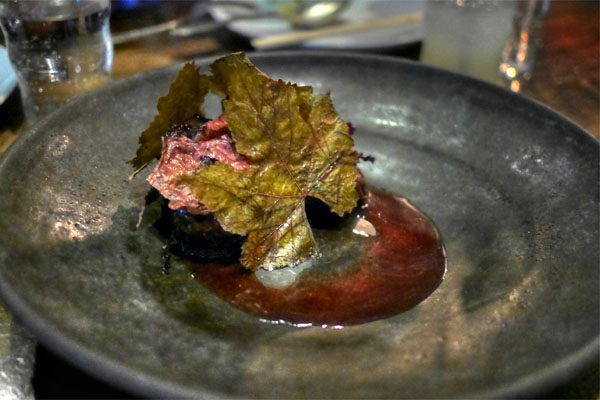 PORK CHEEKS [$28.00]
| red currant, arctic rose
Pork cheeks, meanwhile, were super tender, sticky, and teeming with piggy flavors, a hearty, satisfying cut that was delicious on its own. What elevated the course, though, were the various accoutrements here--Belgian red endive, berries, beet-dyed grape leaves, red currant juice--which added tangy, bittersweet, acerbic nuances to the dish to really even out the meat. Mouseover for a secondary photo.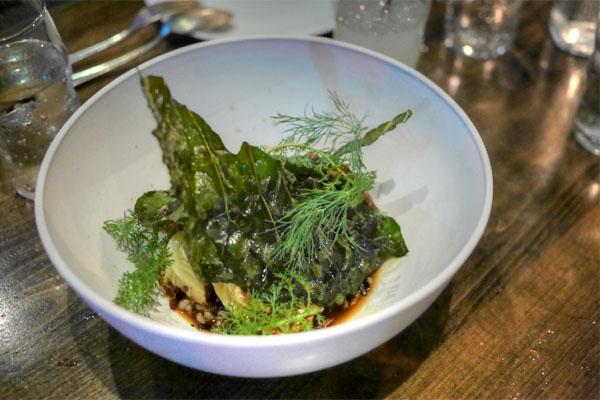 BRASSICAS [$17.00]
| toasted grains, duck broth
A bevy of
Brassicas
was another standout for me, arriving with poached duck egg and crème fraîche in a roasted duck-smoked tea broth. I loved the bitter, astringent, char-forward flavors here, and well as the disparate textures, everything coming together with the luxuriousness of that egg while the broth added depth and richness to the course. The toasty notes from the crunchy grains were superb, too, and served as a bit of an accent piece for the food. Mouseover for a secondary photo.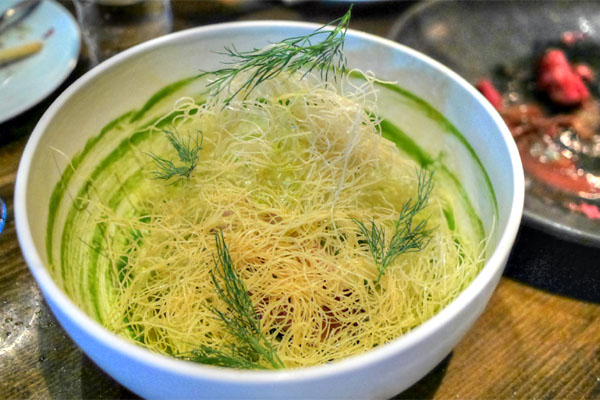 PHEASANT [$28.00]
| in the style of Alain Chapel
Kahn's next course paid tribute to legendary French chef Alain Chapel and was also a table favorite. What we had was 24-hour brined pheasant breast and loin, both cooked in brown butter, over black trumpet duxelles, with strained yogurt, braised lettuce, baby radish, and streaks of English pea and tarragon purées. On top was a nest of
kataifi
phyllo threads with herbs, while a broth of pine butter and English pea shell juice was poured tableside. There was a lot going on, but it all meshed beautifully. The bird itself was spot on in both preparations, its delicate flavors mixing with the creamy yogurt and really working in concert with the bright, grassy, bitter flavors at play. Loved the crunch of that filo, too. Mouseover for a secondary photo.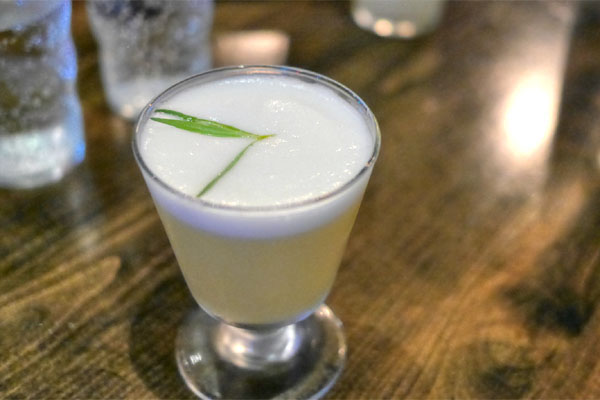 #97 [$13.00]
| sour, tarragon, kumquat (pisco)
A take on a pisco sour, our next drink was enjoyed by all. It really showed off the character of the spirit, countered by the zestiness of tarragon/kumquat, while the egg whites imparted a lovely touch of froth and creaminess to the cocktail.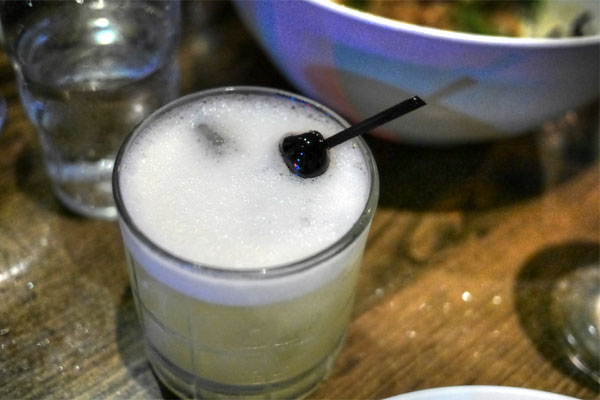 #101 [$11.00]
| coconut, vanilla, baking spices, lemon (secret house liqueur)
Red Med's highest-numbered cocktail was also to my liking, deftly conveying a delicious bit of spiciness over a base of sweet-ish vanilla and coconut flavors, the lemon adding the right amount of sourness to the mix.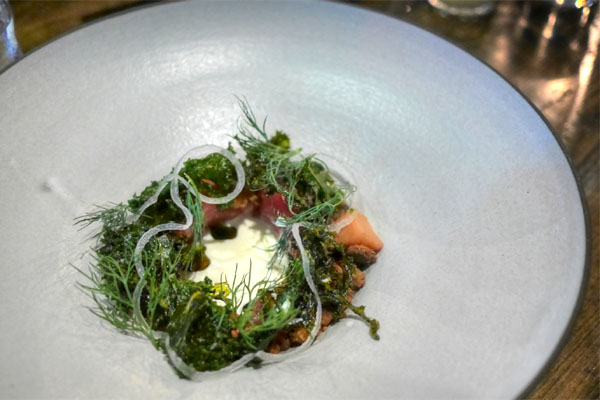 WILD YELLOWFIN TUNA [$19.00]
| roasted kale oil, quince
Yellowfin made a strong case for itself, arriving to the table smoky and oceany, with a supple bite to it that paired gorgeously with the savory crunch of rye bread crumbles. I appreciated the creamy, dill-laced condiment in the center, not to mention the sweetness imparted by the quince, and the whole thing was pleasantly reminiscent of bagels and lox.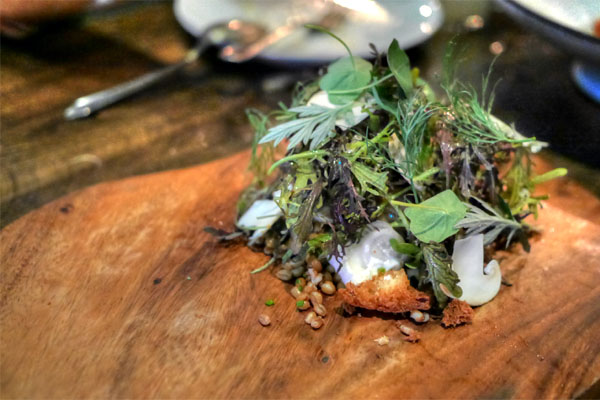 FORAGED MUSHROOMS [$22.00]
| brown butter, balsam fir
Foraged mushroom combined here with an assemblage of greenery, a mélange of tangy, bitter, and creamy that recalled the distilled essence of forest floor. Shards of fried bread added texture and heft to the dish, and I was fond of the wheatberries as well, which added a fun, chewy, nutty component.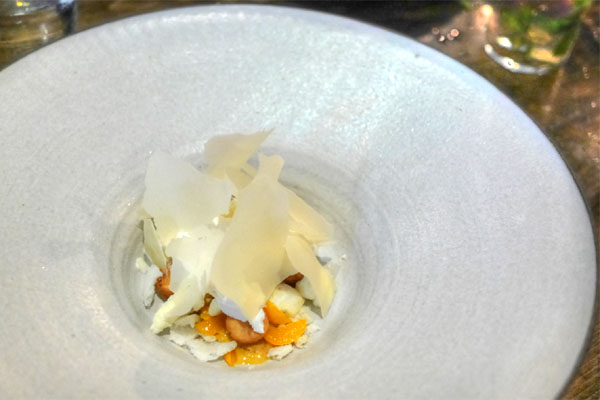 SANTA BARBARA UNI [$18.00]
| almond milk, kei apple
The sea urchin, not too surprisingly, was also one of the most unique preparations I'd tried. Served here slightly charred, the roe was joined by nitro horseradish cream, kei apples, and dehydrated almond milk tuiles. I really liked the brine of the uni, and how it paired with the astringency of its char and the sweet-tart fruit, the horseradish providing a cool, creamy counterweight to it all. The best part, though, was the crispy almond milk "bark," which had an almost rice-y quality to it that worked wonders with the urchin.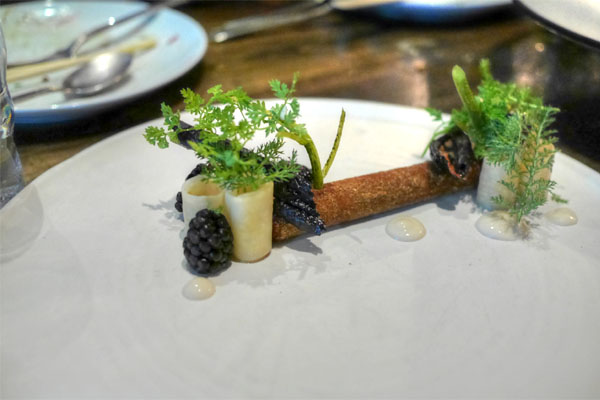 DUCK LIVER [$17.00]
| meadowsweet, blackberry
Duck liver was creamy and lush, though it appeared here with its signature earthiness restrained, replaced by a bittersweet, astringent, almost medicinal quality that was perked up by pricks of tart blackberry. Not sure how I felt about this one.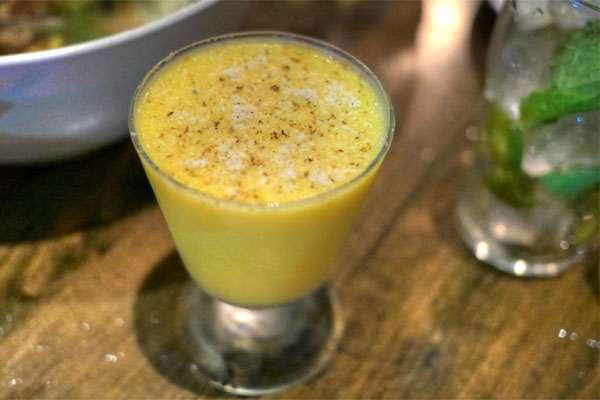 #98 [$12.00]
| frozen, mango, yogurt (yogurt liqueur)
A vibrantly yellow cocktail was probably the most controversial of the evening, a creamy, thick concoction that displayed notes of mango and yogurt interspersed with hints of wood and dank "wet dog."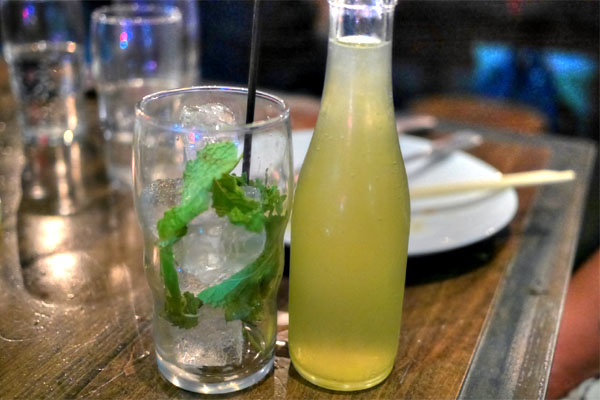 #88 [$14.00]
| carbonated, pineapple, spicy, fresh herbs
Next up was a bottled cocktail, this one bright and fruity and effervescent, teeming with juicy flavors of pineapple over a backbone of booze, with the herbs adding a tasty aromatic component to the drink. A bit of spice on the back end there, too.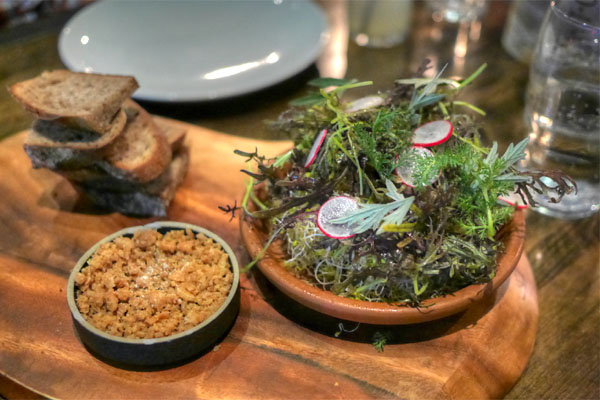 HEN RILLETTE [$11.00]
| elderberry, stambler's rye
A rillettes of hen conveyed deep, heady flavors, enhanced by the application of salty chicken skin and spicy rye bread. It would've all been overwhelming had it not been for the various shrubbery, the zesty sprouts in particular, which worked admirably in the dish. Mouseover for a secondary photo.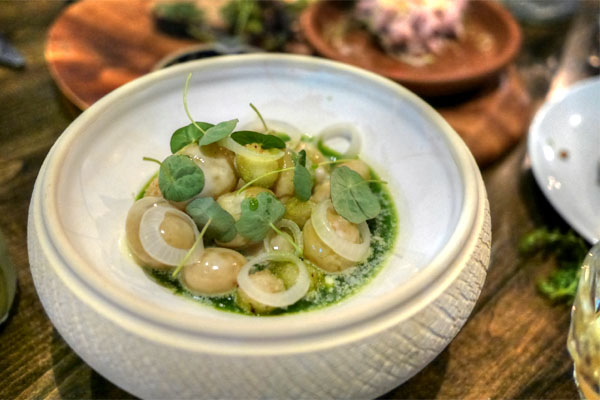 Young POTATOES [$17.00]
| gently poached in a cream of cultured sweet butter and yeast, crisp rice dumplings, wild grasses, flowers, and succulents foraged from the Malibu coast, an aromatic sauce of raw wheatgrass and chive juice
The potato course was a stunner, and one of the best dishes featuring the ingredient I've had. The combo of butter and yeast really did a great job complementing the mild savor of the taters, while the herby, green flavors present served as perfect exclamation points in the dish. Excellent dumplings, too. Never had potatoes like these before.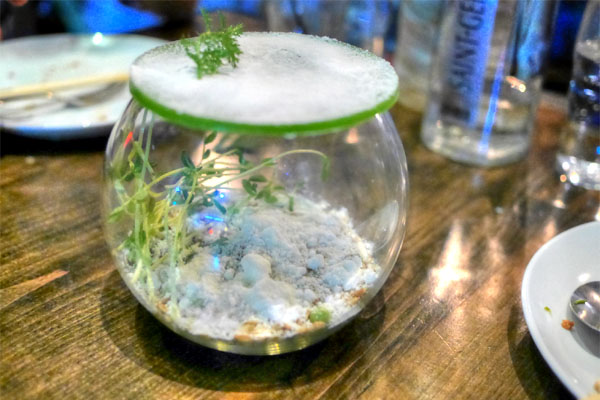 TROUT ROE [$19.00]
| peas, lemon curd
Our final savory was quite a sight to behold, featuring Kahn's signature terrarium presentations. Trout roe was hidden beneath strata of lemon custard, sunflower seed granola, raw peas, sunflower seed oil, powdered frozen yogurt, lemon thyme meringue, pea vines, and vinegar-brined onion bulbs, everything capped with a disk of pea pod ice. I found it an eminently complex, yet cohesive dish, one that set the salty base of roe against bright, bitter, nutty, and grassy, making for a chorus of disparate flavors that remained distinctive, yet somehow harmonious. Some great temperature contrasts to boot, and I was quite enamored with the texture of those raw peas, too.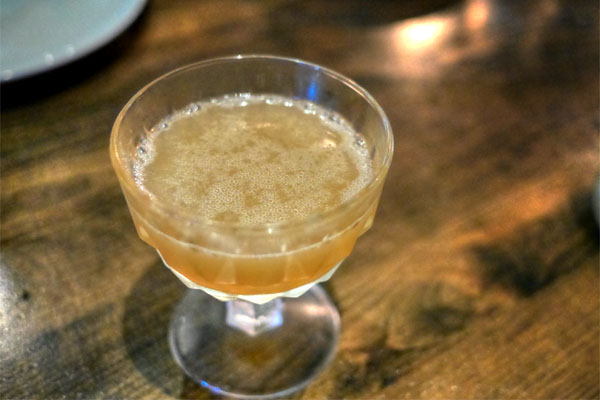 #15 [$11.00]
| sour, herbal, lemon (rye)
Our final round of cocktails brought us one from way back when, as evinced by its assigned number. It was definitely one of the more straightforward drinks we had, an amalgam of tangy, herbaceous flavors over a base of spicy, boozy rye.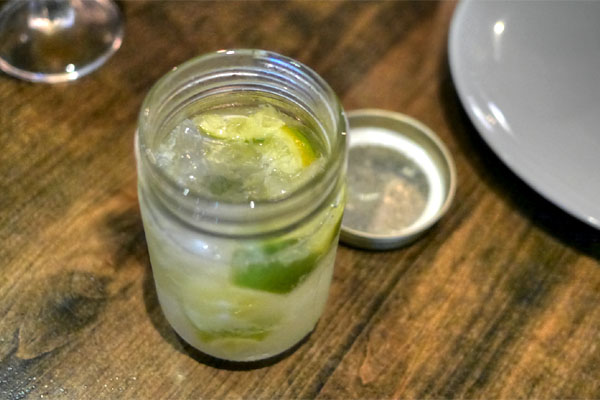 #73 [$12.00]
| sugar cane, grassy, lime (cachaça)
Last up was Red Med's take on the caipirinha, a commendable prep that balanced sweet, sour, and minty with the weight of cachaça. Lovely.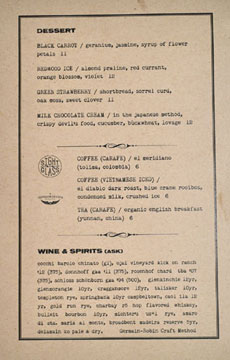 Given Kahn's background in pastry, we of course had our way with the desserts, ordering each and every one. Click for a larger version.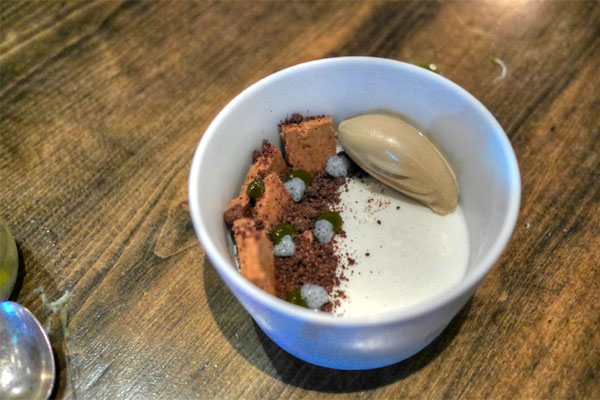 COCONUT BAVAROIS [$9.00]
| condensed milk, coffee, thai basil, peanut croquant
Our first dessert was Red Med's signature, and actually came off of the bar menu. I was sort of blown away by it the first time I had it at
Test Kitchen
in 2010, and the dish was as good as ever. The interplay between Thai basil and coconut gave off a Southeast Asian sort of flair, a light, bright affair that was brought back down by the bitter-sweet weight of the coffee and peanut. Great textures too, with the smooth, creamy bavarois serving as foil to the crunchiness of that croquant.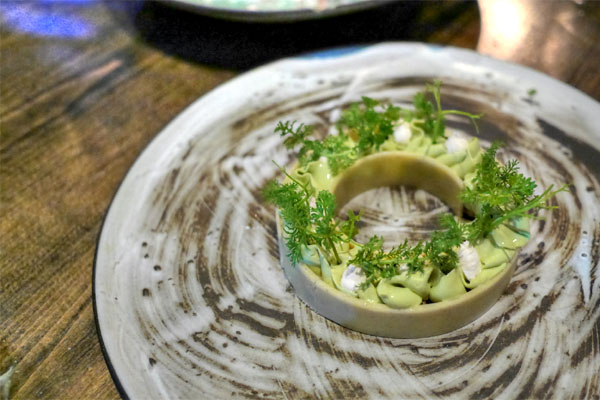 GREEN STRAWBERRY [$11.00]
| shortbread, sorrel curd, oak moss, sweet clover
Green strawberries were firm, tart, acerbic, linking up with the sorrel and shortbread to form a green, gritty complex of flavors that definitely veered untraditional, the whole dessert overarched by a palpable citrus-y aspect. Certainly the most polarizing of our desserts--I wasn't really feeling this one.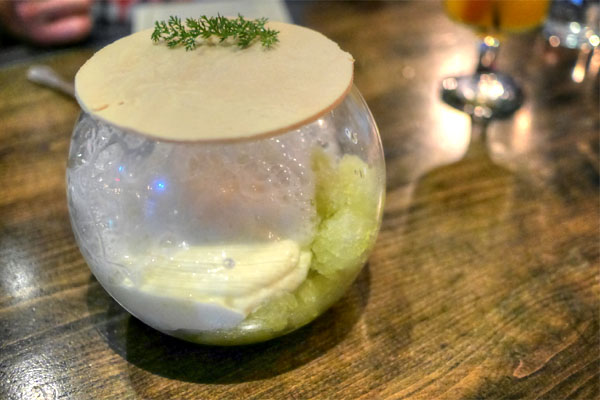 REDWOOD ICE [$12.00]
| almond praline, red currant, orange blossom, violet
Next was a variation of Kahn's "Birch Ice" dessert, which I can confidently say was one of the best desserts I'd ever eaten. We had here redwood stem shaved ice with red currant berries/jelly, violet-flavored crème Chiboust, orange blossom bubbles, crispy rice crackers, and a roasted almond praline. It's a lot to take in, but the end result was pretty special, a burst of nutty, floral, fruity, and tea-like flavors, underscored by the sugariness of currant. Some amazing textures, too, with the praline adding a much-appreciated weight and substance to the dish.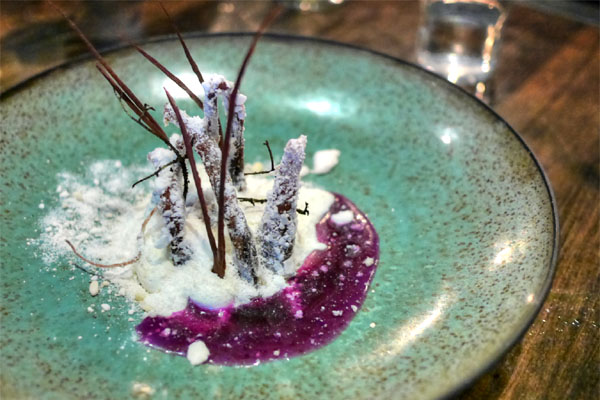 BLACK CARROT [$11.00]
| geranium, jasmine, syrup of flower petals
Following was a visually arresting dessert of black carrot, coated in rose-geranium powder and doused with a shockingly magenta flower petal syrup. Think creamy, lush, and super-duper floral (I commented that it was almost lotion-like) over a base of fruity sweetness. The texture on those carrots was pretty amazing as well, and the slight savoriness of those thin crispy bits was an excellent finisher.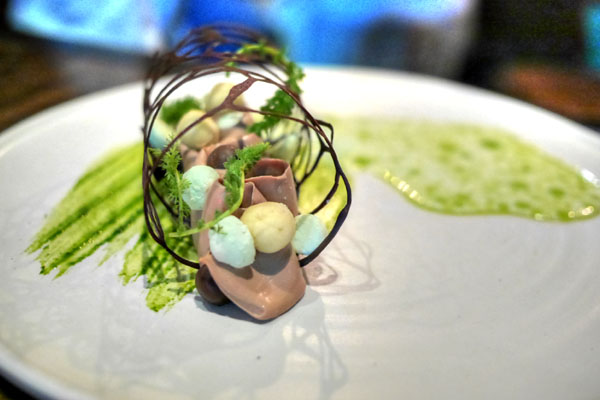 MILK CHOCOLATE CREAM [$12.00]
| in the japanese method, crispy devil's food, cucumber, buckwheat, lovage
The requisite chocolate dessert comprised Japanese milk chocolate ganache, Chantilly, and almond sablés in a chocolate "cage," accompanied by lovage purée, lovage oil, and buckwheat whey. It was another smart combo from Kahn, the sugary heft of the chocolate combining beautifully with the Chantilly and almond while the lovage-cucumber-nasturtium trio imparted a wonderfully light, herby counterpoint to the plate.
We found this a strong showing from Kahn and company. Red Medicine's shutter is certainly a loss for the Los Angeles dining scene. The cooking's always been among the most creative/ambitious/modern/cerebral in the City, but RM seemed like it never really got off the ground. You had the whole Ho Chi Minh logo fiasco, the Virbila debacle, the public shaming of no-shows, and a general aura of bad karma surrounding the place that I'm sure turned off a lot of Angelenos. Though Red Med was oft praised at a national level, I'm also pretty sure it was the most hated restaurant in LA, not unlike
Sona
in its heyday. In a sense then, we should be surprised that it lasted even this long.
As for what's next for the partners here, Adam Fleischman will of course keep on with Umami, and hopefully continue to pursue more interesting restaurant concepts like
Smoke Oil Salt
. Noah Ellis, meanwhile, has still got his Vice Food & Beverage consulting biz, which just helped launch Hutchinson with Chef James Trees and is also involved in Top Round. Finally, Kahn is reportedly working on another concept, to be revealed in the coming months. Personally, I'd like to see a super intimate, tasting menu place along the lines of an
Alma
/
Maude
/
Trois Mec
, which would really showcase the food and is arguably what Red Medicine should've been in the first place. We'll see.