Coin de Rue 13ème Pop-Up (Los Angeles, CA)
Coin de Rue 13ème Pop-Up at Michael J's Pizzeria & Bar
643 N Spring St, Los Angeles, CA 90012
213.687.8888
Thu 04/30/2015, 08:15p-11:45p

Back in February, we saw the return of David Féau to the LA dining scene. The Chef staged a three-week pop-up called
Coin de Rue
inside the old
Red Medicine
space in concert with Adam Fleischman. The series was largely well-received, and so he followed up with a second iteration (
sans
Fleischman as far as I could tell), which debuted on April 16th and ran until May 1st. Michael J's in Chinatown was the setting for this incarnation, entitled
13ème
after Paris' 13th arrondissement, home to the City's Chinese population.

Inside, things were pretty cozy. They didn't really have any large tables (save for the communal hi-tops), so our party of six had to squeeze into a booth meant for four. It was workable, though certainly not preferable.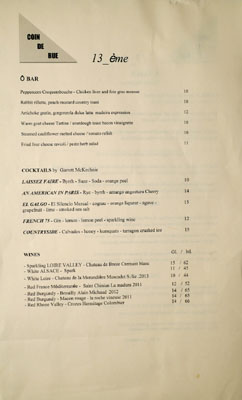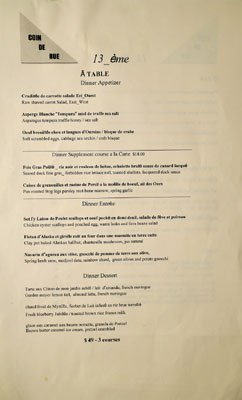 The Chinese-influenced menu for Coin de Rue
13ème
centered around a three-course prix fix at $49 a head, which was joined by supplemental courses and some bar bites. To imbibe, Garrett McKechnie (formerly of 1886 at The Raymond) had a few cocktails going, while wines were available by the glass or by the bottle. BYOB was definitely an option as well (which we clearly took advantage of). Click for larger versions.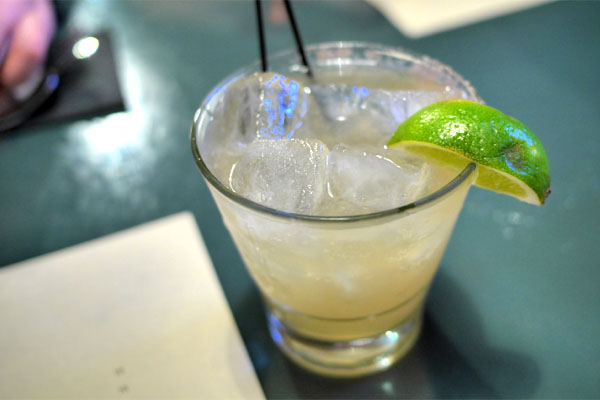 El Galgo [$15.00]
| El Silencio Mezcal - cognac - orange liqueur - agave - grapefruit - lime - smoked sea salt
Given my penchant for mezcal, I had to get started with this. Think pleasantly smoky on the nose, and tasting of sweet-n-sour along with an overarching wisp of cognac heft.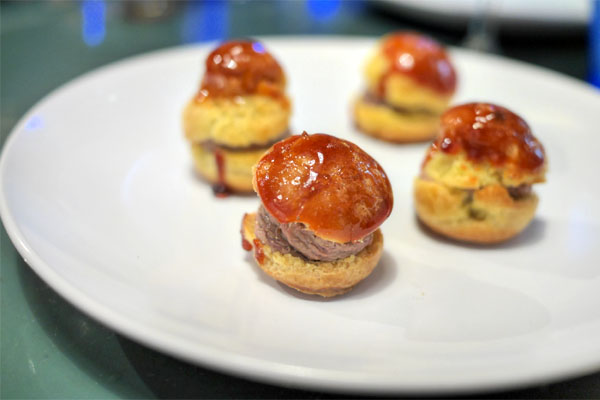 Peppercorn Croquembouche - Chicken liver and foie gras mousse [$10.00]
The
croquembouches
were a repeat from the
last go around
, though we weren't complaining. They were delightful little bites, sugary at first, with the heft of the liver coming in later, the whole thing accented by the crunch of that caramelized top.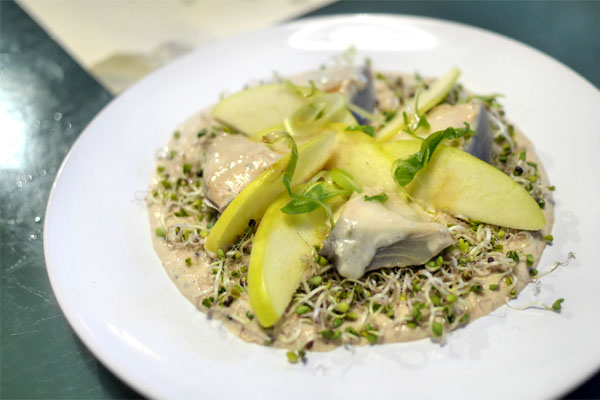 Artichoke gratin, gorgonzola dulce latte, madeira expression [$12.00]
Next was quite possibly the most unconventional preparation of artichoke that I'd ever encountered. The star ingredient's light, vegetal flavors were forcefully conveyed, yet complemented by the pungent, piquant nature of the blue cheese while apples added some juicy crispness to the fold. I really appreciated the sprouts here as well, which offered a zesty accent to the dish.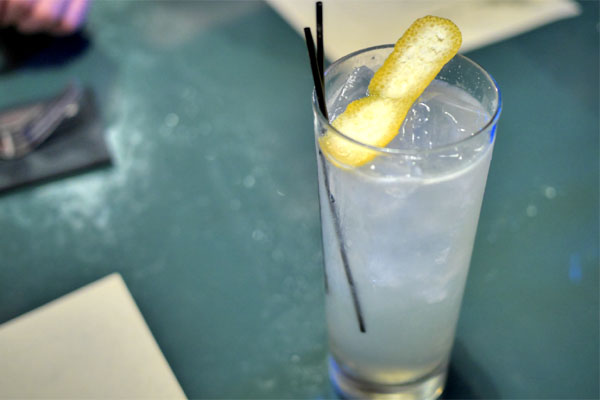 French 75 [$12.00]
| Gin - lemon - lemon peel - sparkling wine
A pretty traditional French 75 was light and refreshing, with the lemon-y notes in the drink working well alongside the gin. What was interesting here was that there was a marked savoriness on the finish that I couldn't quite put my finger on.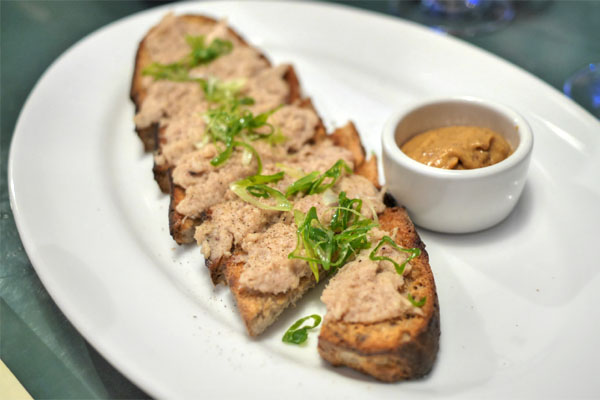 Rabbit rillette, peach mustard, country toast [$10.00]
Rillettes were classic, really showing off the supple, savory rabbit while the mustard provided a sugary underpinning to the course. Superb texture on that crusty bread, too.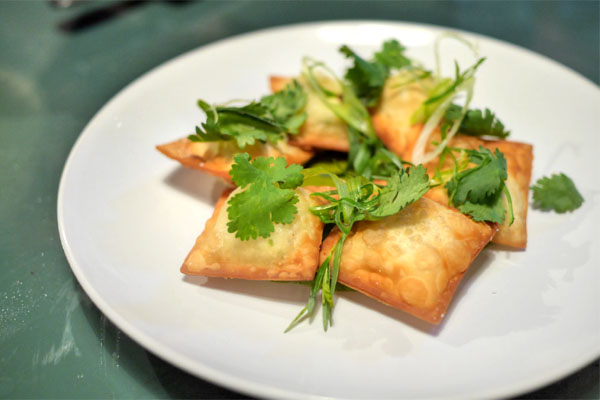 Fried four cheese ravioli / pesto herb salad [$11.00]
The most whimsical of the bar bites (and probably my favorite), ravioli were encased in egg roll wrappers as an ode to the pop-up's Chinatown locale. I loved the herb-y brightness here, which did a wonderful job counteracting the cheesy flavors at play, all while the egg roll casings imparted a fantastic Asian-y fried savor to the fray.
We BYOB'd it tonight for the most part, starting with the
1996 Henriot Champagne Brut Millésimé
. It was great to taste some aged Champagne for a change. This one still had plenty of effervescence to it, and boatloads of breadiness paired with a nice oxidative quality and some citric notes.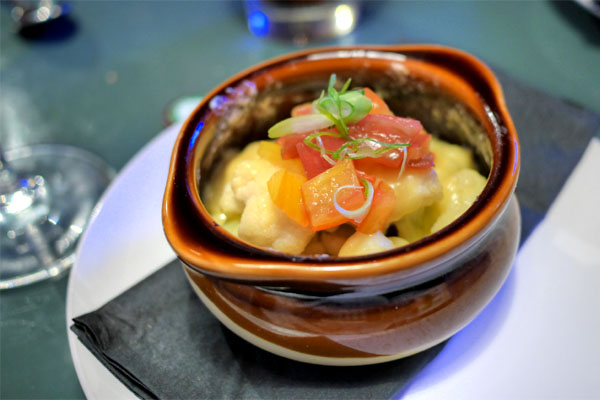 Steamed cauliflower, melted cheese / tomato relish [$10.00]
Cauliflower was crisp and crunchy, and very subtly seasoned, so the cheese was key in providing the requisite amount of heft to the dish. Nice tartness from the tomato here as well.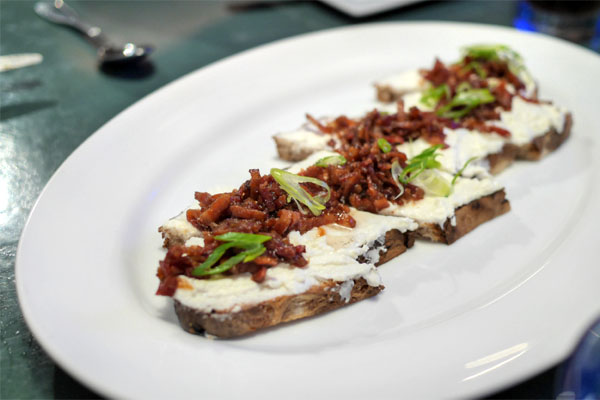 Warm goat cheese Tartine / sourdough toast, bacon vinaigrette [$10.00]
A goat cheese tart was on point, with the creamy, tangy chèvre providing the necessary lactic lushness to the dish while bacon imparted saltiness and savor. And again, wonderful texture on the bread.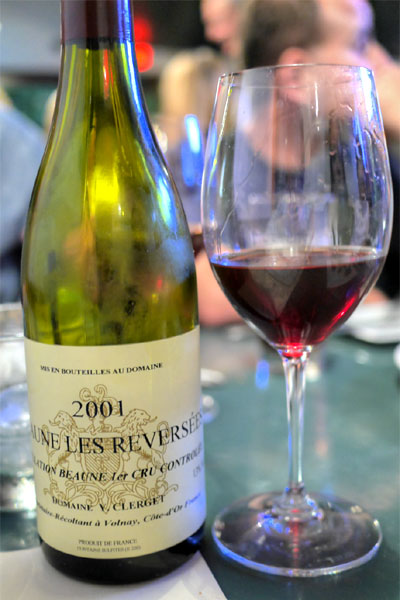 My favorite wine of the evening was the
2001 Domaine Y. Clerget Beaune 1er Cru Les Reversées
. I found this earthy, acidic on the nose, while on the palate, I tasted tart, light fruit, spice, and a green, herbaceous edge.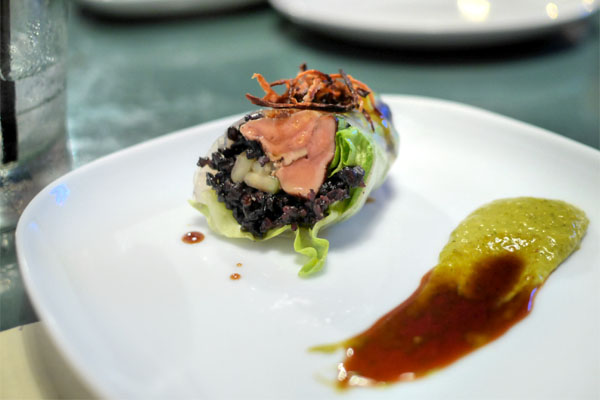 Foie Gras Poëlé _ riz noir et rouleu de laitue, echalotte brulé sauce de canard lacqué [$18.00]
| Seared duck foie gras_ forbidden rice lettuce roll, toasted shallots, lacquered duck sauce
At this point we got into the evening's three supplemental courses. This first was impressive, and reminded us of Feau's foie gras barbeque lettuce wraps that we had at that epic
30-course foie dinner back in 2012
. The richness, the potency of the silky, supple, seared liver was beautifully displayed here, moderated by the sticky sushi-like rice while cucumber provided a crunch and levity to things. Toasted shallots supplied a hit of savory astringency, and the close was all about that Peking duck sauce and its bittersweet finish. Definitely one of the highlights of the meal.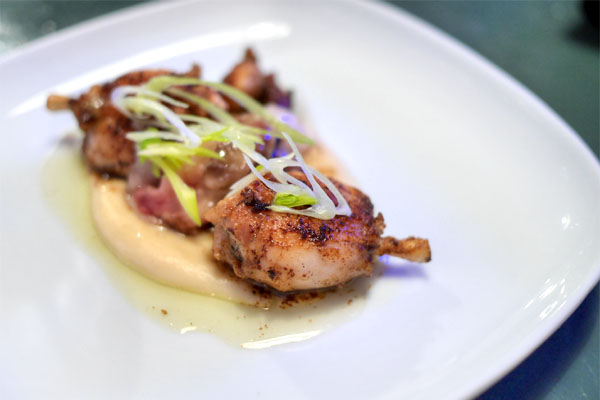 Cuisse de grenouilles et racine de Persil a la moëlle de boeuf, ail des Ours [$18.00]
| Pan roasted frog legs, parsley root bone marrow, spring garlic
Frog legs were perhaps a bit chewier than I'd like, but were spot on flavor-wise, with their briny edge nicely played against the slight sweetness and spring garlic present. The marrow, meanwhile, wasn't really necessary.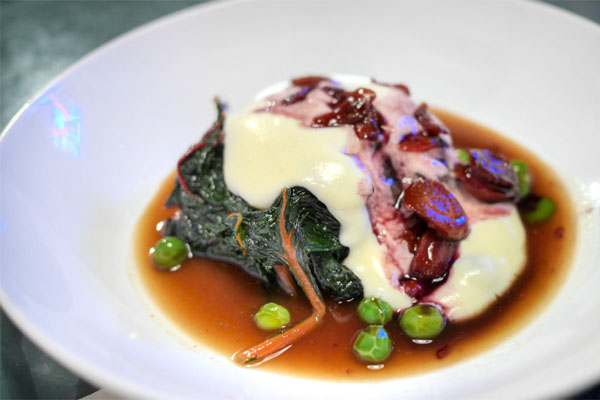 Beef Cheeks [$20.00]
An off-menu special, the beef cheek was another standout, coming out super tender and showing off all the deep, dark, bovine flavors that you'd want, amplified by the dish's clear broth. At the same time, the green chard was a welcomed touch, adding a great hit of counteracting bitterness, and I was a fan of the purple carrot and potato emulsion as well.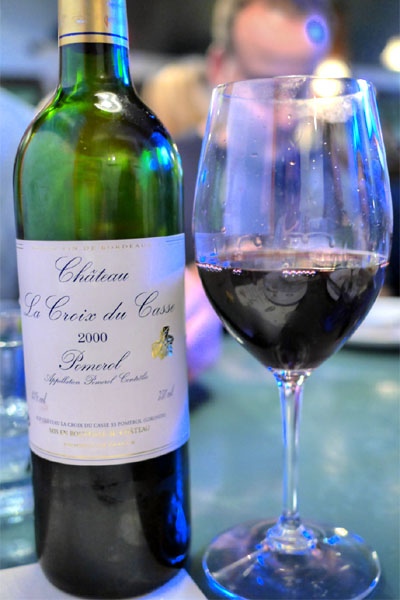 Bordeaux time. The
2001 Château La Croix du Casse
was a potent wine, earthy and almost meaty in terms of bouquet, while on the tongue, I got notes of deep, dark fruit, tinged by a trace of mint.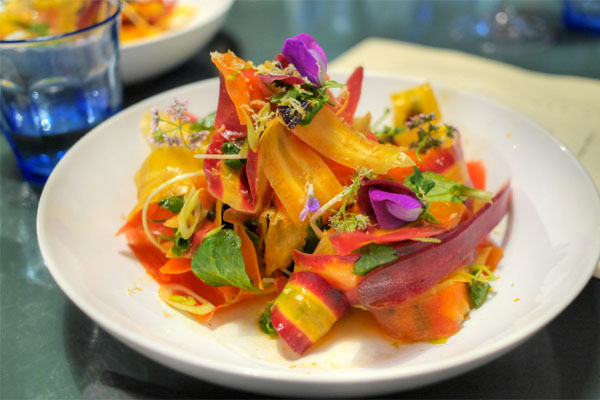 1a: Cruditée de carrotte salad Est-Ouest
| Raw shaved carrot Salad, East_West
Getting into the prix fixe now, we commenced with certainly one of the most intriguing presentations of crudités I've had. I loved the crisp texture on the carrots, and how their inherent sweetness was paired with all the bright, herby, citrusy nuances present.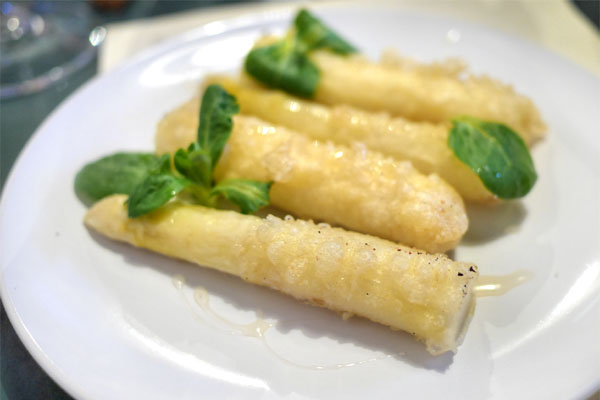 1b: Asperge Blanche "Tempura" miel de truffle sea salt
| Asparagus tempura, truffle honey / sea salt
Another favorite of mine was the asparagus, made into some of the best tempura I'd ever tasted. I got an initial kick of truffle and sugary sweetness here, which then led to the crisp, bitter flavor profile of the meaty stalks of asparagus. Wonderfully light batter, too.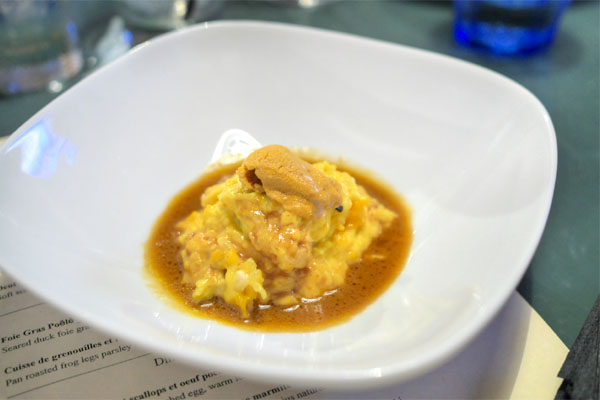 1c: Oeuf brouillés chou et langues d'Oursins / bisque de crabe
| Soft scrambled eggs, cabbage, sea urchin / crab bisque
In another redux from the last pop-up, eggs and uni were paired together again in buttery, briny fashion, the crab bisque further amplifying the saline notes in the dish. Also key: the cabbage, which did all it could to provide a modicum of levity to things. Good, but not quite as revelatory as last time's.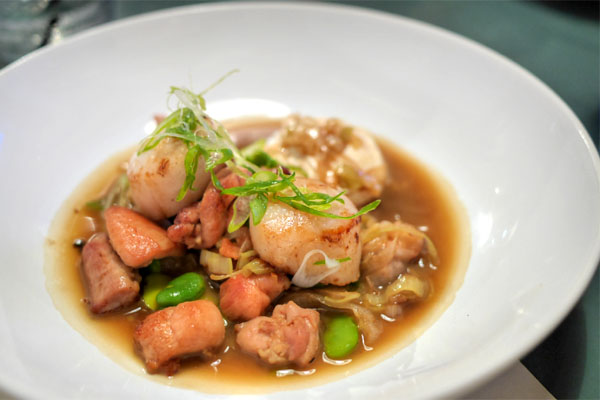 2a: Soy l'y Laisse de Poulet scallops et oeuf poché en demi deuil, salade de fève et poireau
| Chicken oyster scallops and poached egg, warm leeks and fava beans salad
Scallops arrived well-textured and tasty, though they were outshone by the chicken oysters, which had a wonderful savoriness to them that paired swimmingly with the crunchy favas. A cozy, hearty sort of dish.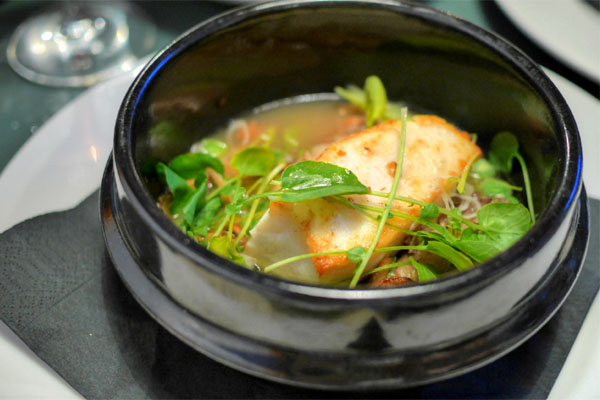 2b: Fletan d'Alaska et girolle cuit au four dans une marmite en terre cuite
| Clay pot baked Alaskan halibut, chanterelle mushroom, jus natural
Halibut was soft and super flaky, with its delicate flavors augmented by the earthy chanterelles while the greenery up top provided just the right amount of brightness. Lovely.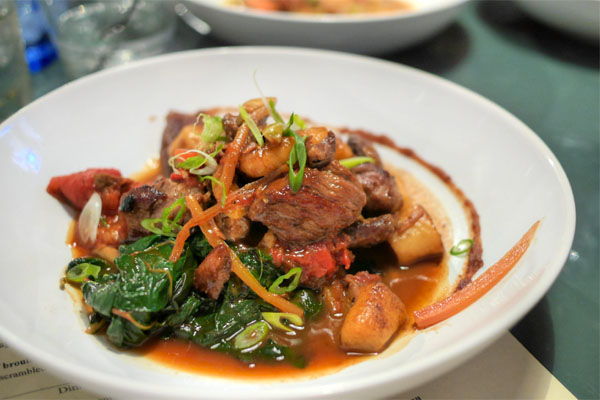 2c: Navarin d'agneau aux olive, gnocchi de pomme de terre aux olive
| Spring lamb stew, medjool date, rainbow chard, green olives and potato gnocchi
This was a homey course, with the lamb's rich, hefty flavors joined by the sweetness of date while the chard gave up a nice touch of bitterness. I liked the fluffy bits of gnocchi here as well, though my concern was that the lamb was a touch tougher than I'd prefer.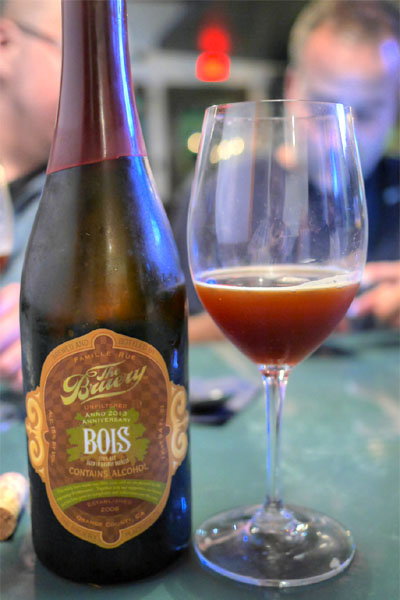 For dessert, we moved on to a beer, the
2013 The Bruery Brandy Barrel Bois
. This was a doozy, unsurprisingly, with its nose of dark fruit, brown sugar, oak, and booze leading to more of the same on the palate, along with a tangy, vinous note from the brandy barrel-aging.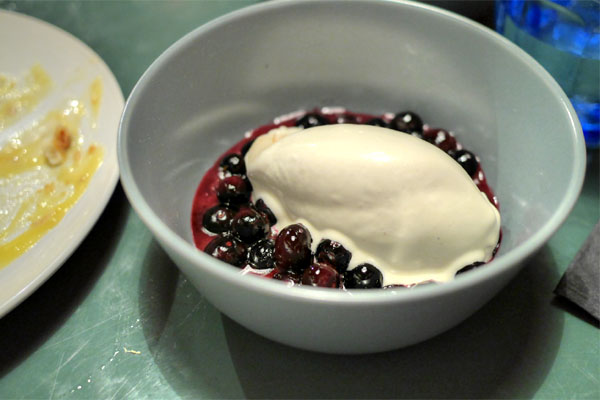 3a: chaud foie de Myrtille, Sorbet de Lait infusé au riz brun torrefié
| Fresh blueberry Jubilée / toasted brown rice frozen milk
A frozen milk of rice was sweet and creamy, but also conveyed a huge amount of sesame oil-like character that was rather unexpected. Those nutty notes actually paired pretty well with the sweet-tart berries, but I would've liked a bit more brightness here, maybe from some mint or some lime.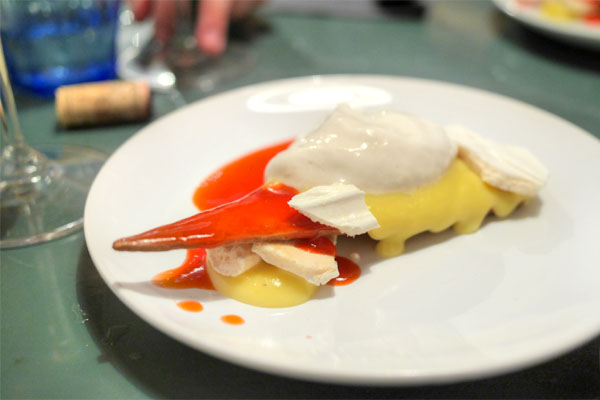 3b: Tarte aux Citron de mon jardin sablé / lait d'amande, french meringue
| Garden meyer lemon tart, almond latte, french meringue
A lemon tart was appropriately tangy, with its puckering qualities tempered just a smidge by the savoriness of that crust. Nice textures on the meringues.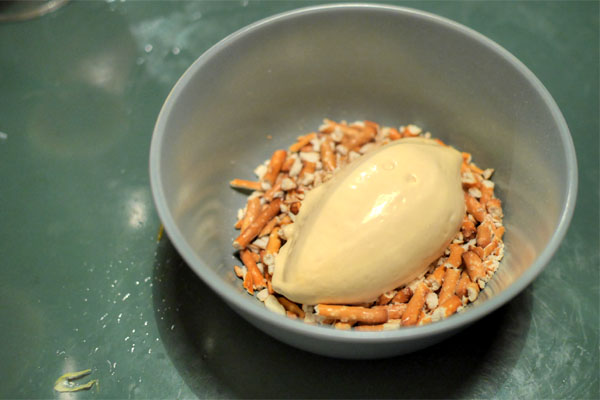 3c: glace aux caramel aux beurre noisette, granola de Pretzel
| Brown butter caramel ice cream, pretzel crumbled
In my favorite of the desserts, ice cream showed off all the caramel-y, nutty flavors that you'd expect from brown butter, a sweet, but not overly saccharine presentation that melded well with the crunchy, salty pretzels.
We all left
13ème
very content with the food. Féau did a commendable job here, surpassing the plates that he put out at the first incarnation of Coin de Rue. The incorporation of Asian influences was fairly subtle for the most part, but definitely seemed to jive with his French roots. In fact, it's a direction that I'd like to see him pursue further. When asked about his future plans, the Chef stated that he already has another location in the works, so I'll be sure to be on the lookout for that coming up.