Juniper & Ivy (San Diego, CA)
Juniper and Ivy Restaurant
2228 Kettner Blvd, San Diego, CA 92101
619.269.9036
www.juniperandivy.com
Fri 04/24/2015, 08:00p-11:10p

The biggest thing to hit the SD dining scene in recent times has gotta be Juniper & Ivy, a shiny new modern American eatery with a "left coast edge." Named after the streets that border the building's location on the outskirts of Little Italy, the restaurant is the brainchild of Chef Richard Blais, investment manager Michael Rosen, and Concentrics Restaurants, the hospitality company that developed Blais' concepts out in Atlanta.
About the Chef
: Blais was born in Uniondale, Long Island in 1972. His first job in the biz was at McDonald's, though he did eventually move up to Fuddruckers at age 14, and went on to cook at a number of places near his hometown. His first
real
job, though, was a
stage
at Charlie Palmer's landmark Aureole in Manhattan. Blais entered the Culinary Institute of American in 1996, and after his first year there, interned at
The French Laundry
, where he cooked alongside CdC Eric Ziebold as well as
Grant Achatz
. Upon returning to the CIA, he began teaching at the school's fish kitchen and working on a sustainable farm in Mount Kisco. This led to a position at Daniel Boulud's eponymous Daniel upon graduation in 1998, and later a brief stint at Cal Cuisine icon
Chez Panisse
.
In 2000, Blais relocated to Atlanta to take on the Executive Chef role at Fishbone. He stayed at the seafooder until its closure in 2003, then went to Spain for six weeks to
stage
at El Bulli. Invigorated from the experience, the Chef debuted BLAIS in September 2003 with George McKerrow Jr. (the owner of Fishbone), a full on "molecular gastronomy" joint that was ahead of its time; the restaurant closed in the middle of 2004 after less than a year. After the shutter, Blais formed consulting firm
Trail Blais
, then served as Exec Chef at tapas restaurant Bazzaar for a handful of months. In 2005, he became head toque at Concentrics Restaurants' One Midtown Kitchen and also developed the menu at Piebar, a pizza-focused eatery also from Concentrics. He also competed on Season 3 of
Iron Chef America
during this period, losing to Mario Batali in "Battle Chickpea."
Blais left Atlanta in the summer of 2006 and headed south to Miami, where he consulted for the short-lived Barton G on the Boulevard. He later returned to Atlanta in January 2007 and took over the kitchens at Element Gastro Lounge + Food Lab, which closed that October while he was filming
Top Chef
in Chicago. That December, Blais went to work at Elevation in Kennesaw, but was out by the next spring, right around the time when
TC
premiered; he ended up in second place, behind winner Stephanie Izard. In April that year, he served as opening chef of Atlanta's Home Restaurant & Bar, but decamped after six months, only to team up with Barry Mills to launch Flip Burger Boutique in West Midtown that December.
Flip was a success, and in August 2009, Blais made an appearance on
Top Chef Masters
, assisting winner Rick Bayless. December 2009 saw another outpost of Flip at The Summit in Birmingham, Alabama, while a location in Atlanta's Buckhead district opened in October 2010. December 2010, meanwhile, marked the debut of
Top Chef All Stars
--which ended with Blais taking home the win over
Mike Isabella
--as well as
Blais Off
on the Science Channel. His hot dog joint HD-1 Haute Doggery opened in Poncey-Highland, but wasn't nearly as successful as Flip, and was converted to the burger concept in November 2013. Blais' next restaurant came at the end of March 2012, The Spence, an ambitious yet casual spot produced in partnership with Concentrics. In April 2012, the Chef made an appearance as a judge on Season 2 of
Top Chef Canada
, and in October, starred on
Life After Top Chef
.
Blais' YouTube cooking show
Burger Lab
was introduced in January 2013, and in February, his cookbook,
Try This at Home: Recipes From My Head to Your Plate
, dropped (it was later nominated for a James Beard award). Rounding out 2013 were appearances on Food Network's
Chopped All-Stars
(he came in second to Gavin Kaysen),
Guy's Grocery Games
, and
Rachael vs. Guy: Kids Cook-Off
, not to mention a hosting gig for
Cook Your Ass Off
on the HLN network. In March 2014, Blais launched Juniper & Ivy, and in August, triumphed over Marcel Vigneron on
Top Chef Duels
. That October, he continued his relationship with the
TC
franchise as a regular judge for Season 12, and also brought us
Hungry Games
on Food Network. At start of 2015, Blais opened another Flip Burger in Nashville, and in March, left his role at The Spence to focus on Juniper & Ivy.
The team at J&I also includes Blais' right-hand man, Executive Chef Jonathan Sloan, a Pacific Northwest native who previously served as Chef/Partner of Roy's San Diego Waterfront. Sloan is accompanied by West Virginian and California Culinary Academy grad CdC Anthony Wells, who worked with Blais at The Spence and completed
stages
at both
Meadowood
and
Per Se
. Rounding out the kitchen are two Bradleys: Sous Chef Bradley Austin (Tender Greens, The Lodge at Torrey Pines,
Blanca
) and Pastry Chef Bradley Chance (another alum of The Spence and Flip). Finally, the front-of-the-house is led by General Manager Daniel Pena (Herringbone, Burlap, Searsucker) and AGM/Sommelier Tami Wong (La Valencia Hotel, 3rd Corner Wine Shop & Bistro).




Juniper & Ivy occupies the warehouse that was once Helix Wholesale Co. Redone by Atlanta's
The Johnson Studio
(
The Royce
in Pasadena), the restaurant spans a massive 7,500 square-feet and accommodates around 250 diners. The space is anchored by an impressive expo kitchen (replete with eight counter seats) and also features a two-story wine cellar, upstairs private dining room, and outdoor patio dining.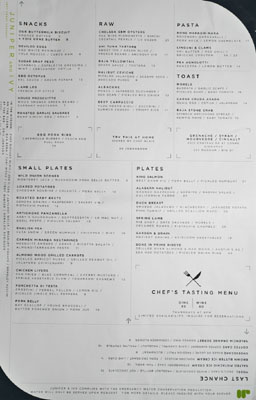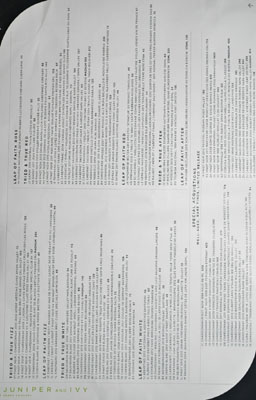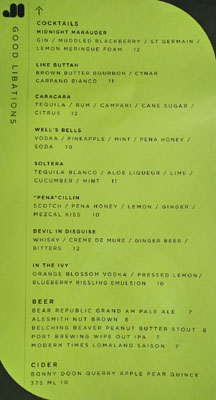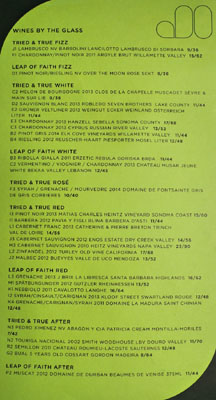 The menu at Juniper & Ivy is divided into six sections. It's a bit unwieldy actually, though the dishes themselves do read well. À la carte is usually the way to go here, though in February, a tasting menu option was instituted at $95 plus $60 for beverage pairing, available for eight diners only, on Thursdays. Speaking of beverages, you'll probably want to order cocktails from Eric Johnson (Sycamore Den, Craft & Commerce, Noble Experiment), who joined the team in March (opening bar manager Jen Queen is out). Wine's a worthy option as well, with a roughly 100-selection list (of which two-thirds is imported) divided into "Tried and True" and "Leap of Faith" sections. The restaurant's beer program (i.e. six taps), however, leaves much to be desired, especially considering San Diego's longstanding obsession with craft brews. Corkage is offered at $25, though the fee is waived for each bottle you purchase from the list. Click for larger versions.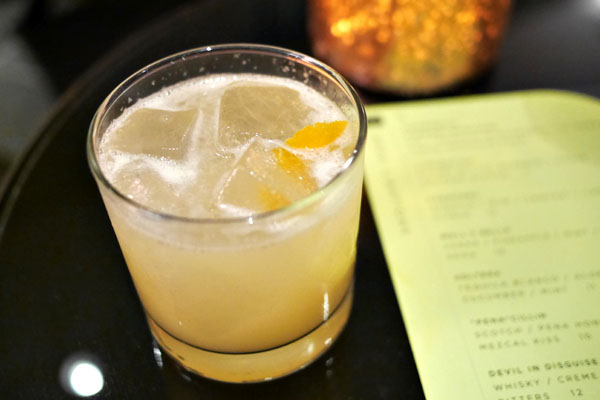 "Pena" Cillin [$10.00]
| Scotch / Pena Honey / Lemon / Ginger / Mezcal Kiss
Our table wasn't quite ready when we arrived, so we opted for some cocktails in the waiting area out front. First up was an ode to Sam Ross' modern classic, the Penicillin. Lovely smokiness here on the nose, intermingled with fresh lemon, while on the palate, I got a mish-mash of citrus and almost honeyed sweetness, all finished again with a pleasant touch of smoke form the Scotch/mezcal combo. Quite good.
Midnight Marauder [$12.00]
| Gin / Muddled Blackberry / St Germain / Lemon Meringue Foam
This next cocktail was on the easier-drinking side, with the sweet foam leading to lots of tart fruit, all closing out with the sourness of lemon.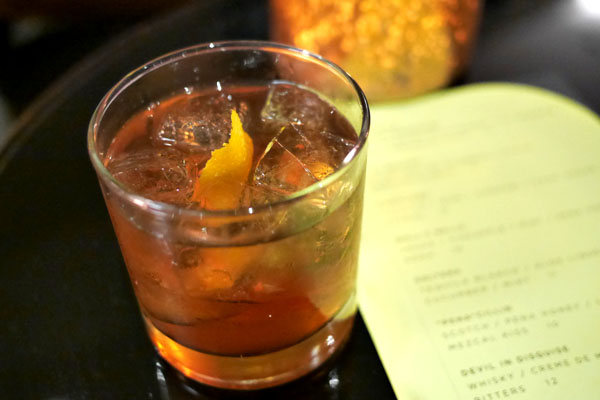 Like Buttah [$11.00]
| Brown Butter Bourbon / Cynar / Carpano Bianco
Arguably my favorite of the threesome here, this drink really did live up to its name. Think classic citrusy, bitter aromas, leading to the weight of the bourbon and a growing buttery goodness that lingered long and strong. Very cool.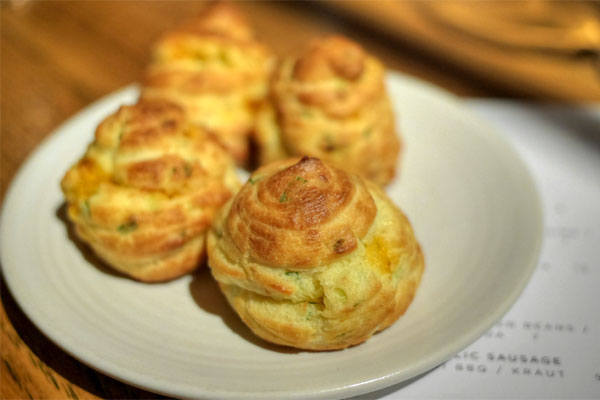 Upon being seated, we were presented with some cheddar-chive biscuits: creamy, cheesy puffs that showed off a great countervailing chive astringency. Delish.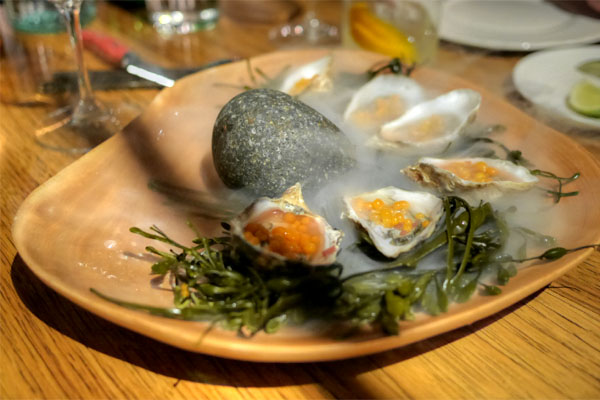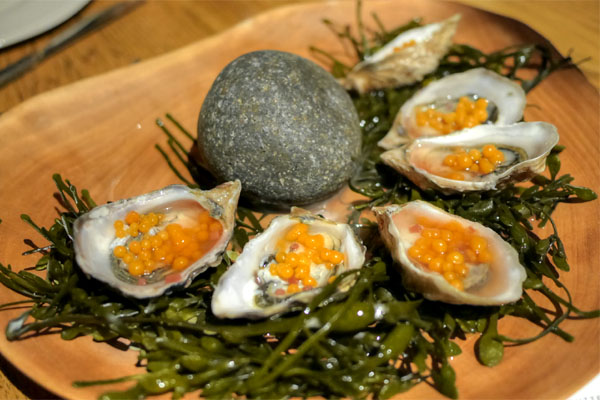 Chelsea Gem Oysters [$21.00]
| Red Wine Mignonette / Kimchi Cocktail Pearls / 1/2 Dozen
The meal proper began with an appropriately "molecular" presentation, the half-dozen oysters arriving in a cloud of liquid nitrogen gas. The Washington bivalves were briny and sweet, a suitable base on which the spicy kick of the kimchi spherifications could really shine. A spot on pairing.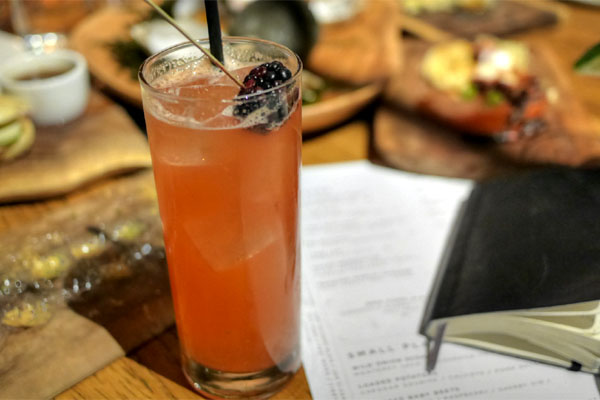 Devil in Disguise [$12.00]
| Whisky / Creme de Mure / Ginger Beer / Bitters
The next cocktail displayed a pleasant mix of sweet berry, sour citrus, and zesty ginger flavors, all cut by a marked bitterness and just a hint of booziness from the whisky.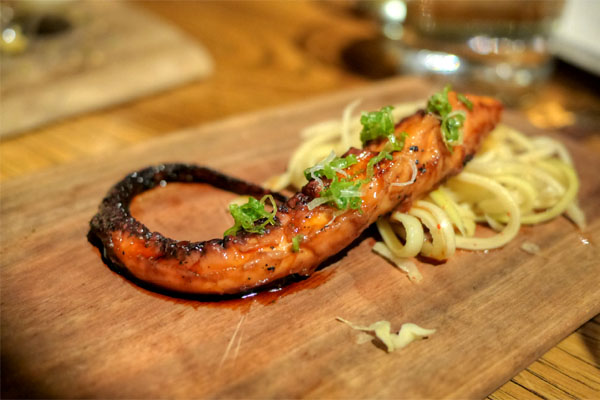 BBQ Octopus [$13.00]
| Eel Sauce / Green Papaya
Octopus was well-textured with a great char, its salinity augmented by notes of sweet spice from the
unagi
sauce. Nice acidity and crunch here from the papaya, too.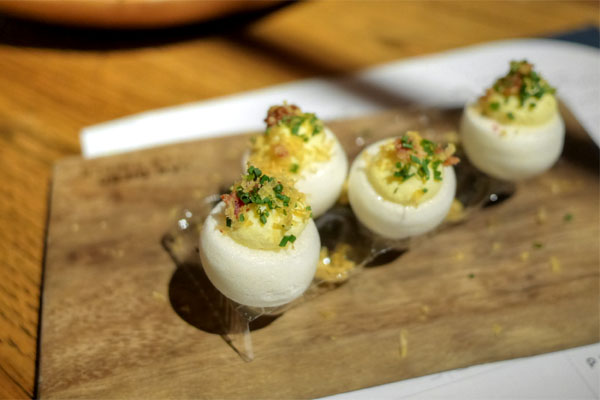 Deviled Eggs [$8.00]
| Egg White Meringue / Yolk Mousse / Cured Ham
Deviled eggs arrived creamy and sweet, with a punch of salt from the ham and a "shell" that dissolved near-instantly on the tongue. Very neat, though I did miss the texture of egg white here.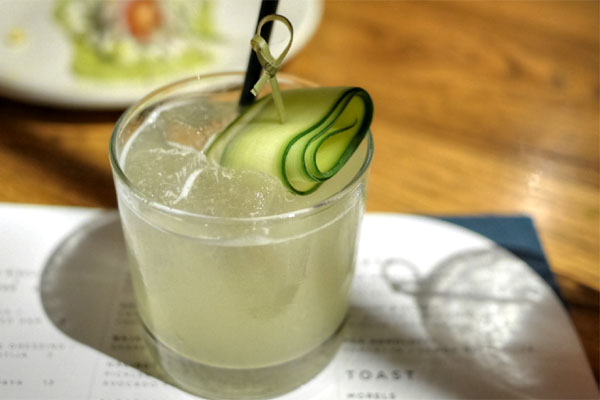 Soltera [$11.00]
| Tequila Blanco / Aloe Liqueur / Lime / Cucumber / Mint
Cucumber was smartly conveyed here, set against the sweetness of aloe while lime and mint provided the necessary zip to the drink.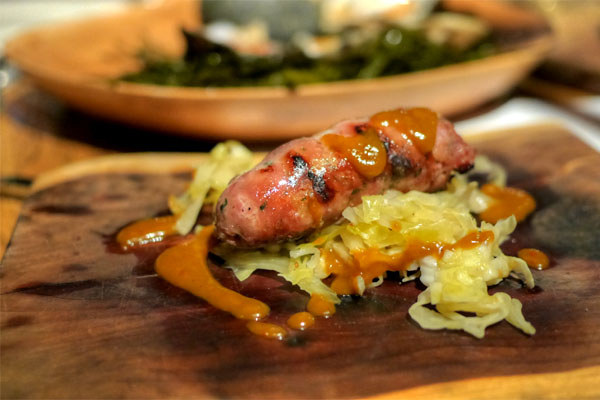 Roasted Garlic Sausage [$9.00]
| Ramp Kimchi BBQ / Kraut
Sausage was tasty, slightly sweet, with a welcomed tartness from the sauerkraut. However, texturally I wanted the meat juicier, with a snappier casing.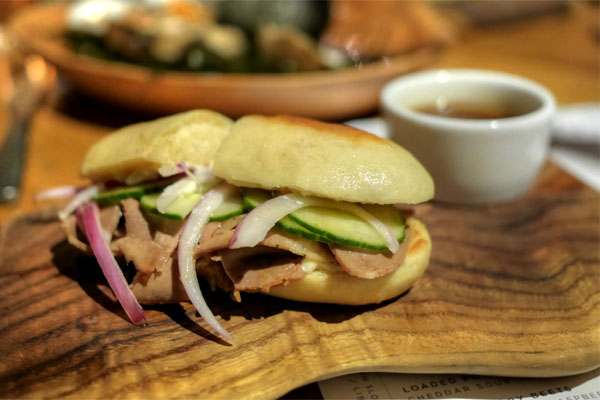 Lamb Leg [$12.00]
| French Dip Style
A miniature French dip did a commendable job showcasing the flavors of lamb leg, even without the accompanying jus. Nice bit of crunch and brightness from the accompanying veggies to boot.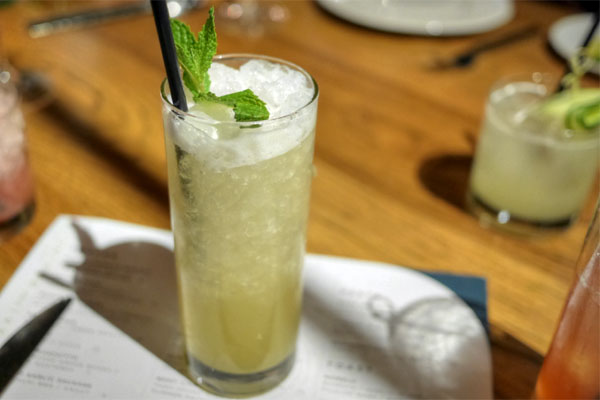 Well's Bells [$10.00]
| Vodka / Pineapple / Mint / Pena Honey / Soda
Pineapple was the star here, its tropical flavors enhanced by the pena honey while mint served as an accent piece in the drink. The vodka here I found surprisingly apparent, though not unpleasantly so.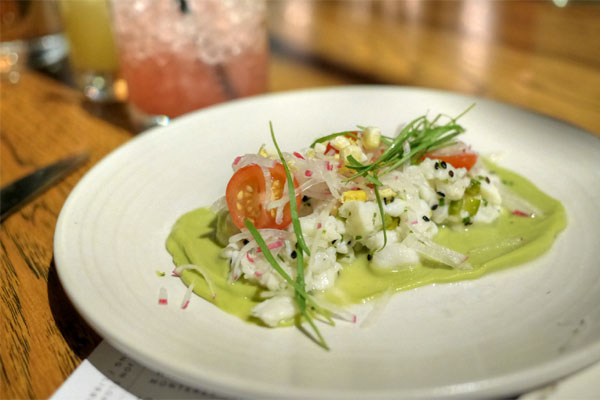 Halibut Ceviche [$9.00]
| Pickled Jalapeno / Sesame Seed / Avocado Puree
I always gravitate toward ceviche, and J&I's was enjoyable. Some really bright, tangy flavors here, all moderated by the creamy avocado while jalapeño gave things a great underpinning of heat.
Bone Marrow-Nara [$17.00]
| Rosemary Garganelli / Pork Neck / Lemon Gremolata
Pork neck really delivered here, arriving super tender and super porcine, a great complement to the well-textured pasta and tangy sauce. However, I didn't get much marrow at all (not that the dish really needed it).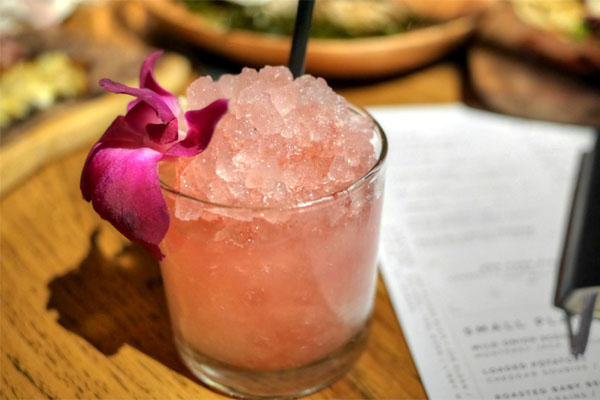 In the Ivy [$10.00]
| Orange Blossom Vodka / Pressed Lemon / Blueberry Riesling Emulsion
Here was the most gluggable cocktail of the evening, one that gave off an almost lemonade-y quality to it, with the blueberry-Riesling pushing things more toward the saccharine side. Tart and refreshing.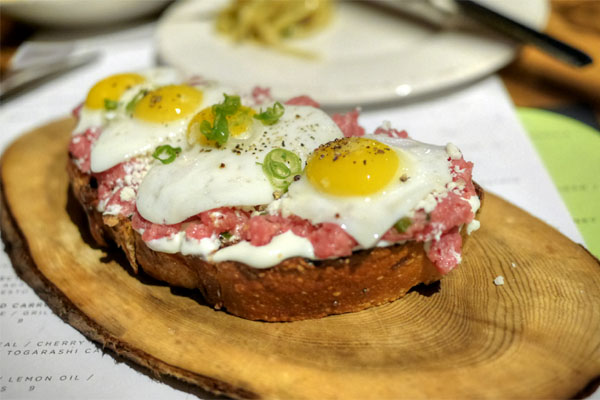 Carne Cruda Asada [$14.00]
| Quail Egg / Cotija / Jalapeno
In one of Juniper & Ivy's more well-known dishes, we had here a slab of crusty toast, covered in cotija, jalapeño-studded beef, and multiple quail eggs. It was as tasty as you'd imagine, with the springy cuts of meat taken up a notch by the heat of the peppers while the creamy cheese and runny egg provided that enveloping richness.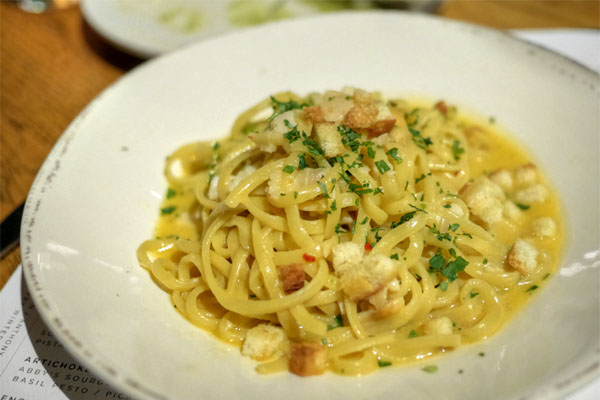 Linguni & Clams [$14.00]
| Uni Butter / Red Chili / Brioche Crouton
One of the highlights for me was the restaurant's take on traditional linguine with clams. The pasta here was wonderfully enrobed in the rich, buttery essence of sea urchin, which joined with the clams to make for a massively briny, lush combination that was dutifully offset by the overarching heat in the dish.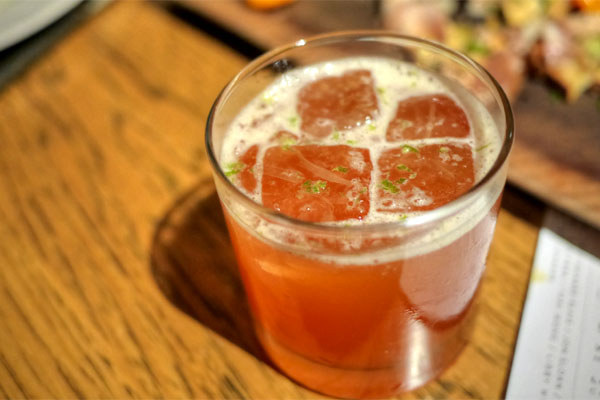 Caracara [$12.00]
| Tequila / Rum / Campari / Cane Sugar / Citrus
It wasn't clear to me if our final cocktail actually contained cara cara oranges, but it was certainly tasty, with powerful sweet citrus notes evened out by nuances of spice and bitterness, the booze peaking through just a tad.
Almond Wood Grilled Carrots [$9.00]
| Pickled Apricot Puree / Grilled Peanut Oil / Jalapeno Chimichurri
Carrots were a pleasant surprise. They showed off a fantastic charring, which did a great job counteracting the veggies' inherent sweetness. My favorite part? That zesty, spicy chimichurri. Yum.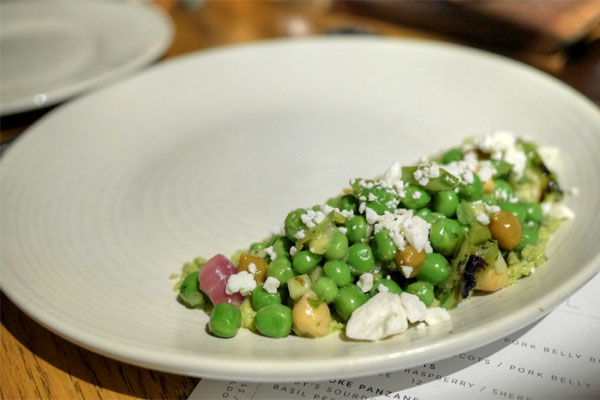 English Pea [$10.00]
| Feta Snow / Green Hummus / Chickpea / Mint
Peas were also to my liking, all light and bright and sweet, melding swimmingly with accompaniments of feta, hummus, and garbanzo.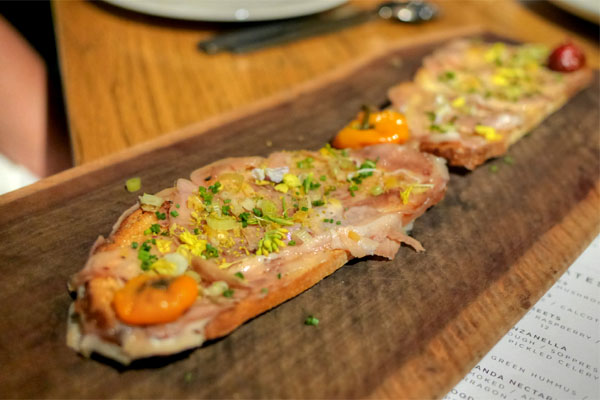 Porchetta di Testa [$9.00]
| Crostini / Fennel Pollen / Lemon Oil / Pickled Jingle Bell Peppers
Pig's head was appropriately porky, giving off plenty of salty, savory flavors over a base of crispy bread while the fennel and lemon added the requisite spice and acidity to even it all out.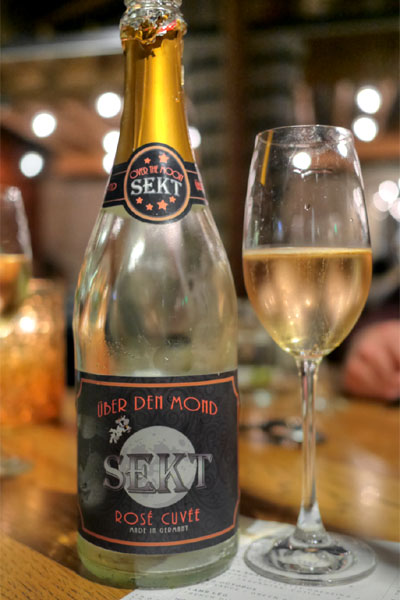 With the cocktails drunk up, we moved on to some bubbly, the
Pinot Noir/Riesling NV Over the Moon Rose Sekt [$36]
. It was a fun, lightweight sparkler, dry, yet with juicy notes of strawberry backed by a bright, crisp acidity.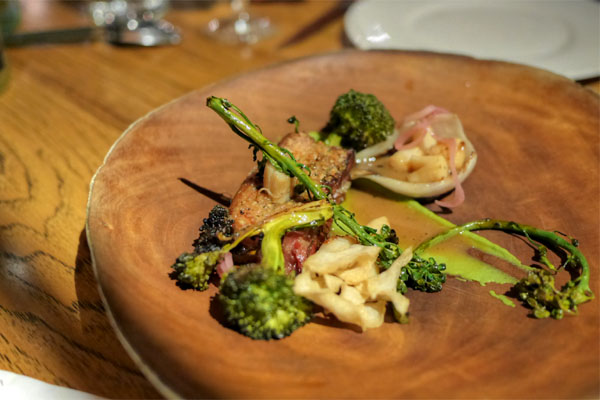 Pork Belly [$16.00]
| Bay Scallop / Young Broccoli / Butter Poached Onion / Pork Jus
Pork belly hit the mark, with the fatty slab of meat arriving delightfully charred, its hefty, porky flavors cut by the bitter broccoli and that zippy onion. Nice textural element from the scallop, too.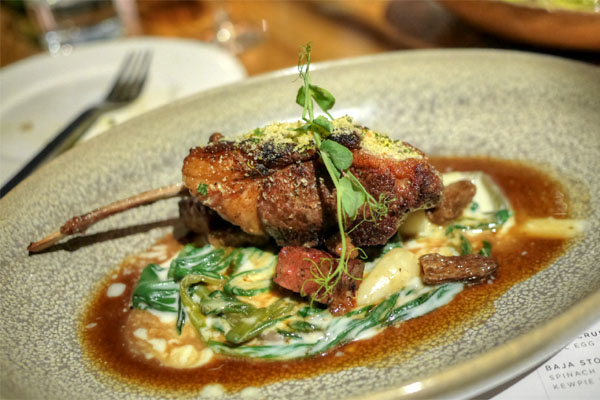 Spring Lamb [$38.00]
| Rib Chop / Date Sausage / Morels / Creamed Ramps / Pistachio Crumble
We ended with one of the larger plates on the menu. Lamb came at the proper temperature, imbued with a sweet spice and the savoriness of morels. I was a fan of the spring onions, which provided an offsetting pungency to the mix.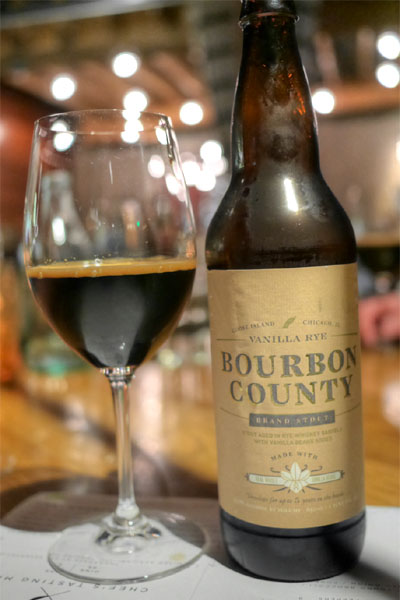 For dessert, I cracked open a beer that I'd been holding on to for a while now, the
2014 Goose Island Bourbon County Vanilla Rye
, an imperial stout aged in rye whiskey barrels with whole vanilla beans added. There's a ton of hype surrounding this bottle, but the beer actually lived up to it. The bouquet was intense, intoxicating, comprising boatloads of sweet, sugary vanilla joined by an undercurrent of malt and booze. On the tongue, more sweet vanilla, chocolate, with just a touch of tempering rye spice. There wasn't too much barrel character here, which probably worked out for the better. This was one of the best beers I've had all year, and one of the best stouts I've had, ever.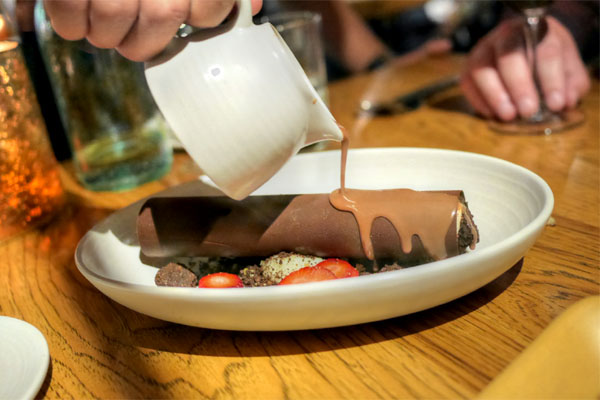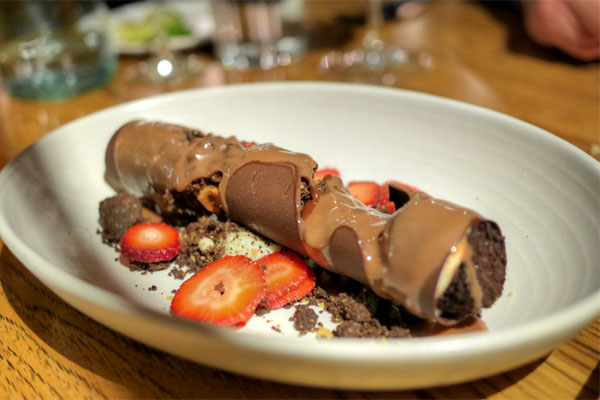 Yodel [$12.00]
| Devil's Cake / White Chocolate / Hazelnut Brittle / Hot Chocolate
We started with Juniper & Ivy's signature dessert, an homage to Drake's Yodels cakes (devil's food cake, vanilla creme, frosting). I'd actually never had a Yodels before, so I don't know this compares to the original. It was damn tasty though, with its rich, sugary chocolate flavors joined by nutty bits of hazelnut, the whole thing cut by the tart juicy sweetness of strawberry. Neat presentation, too.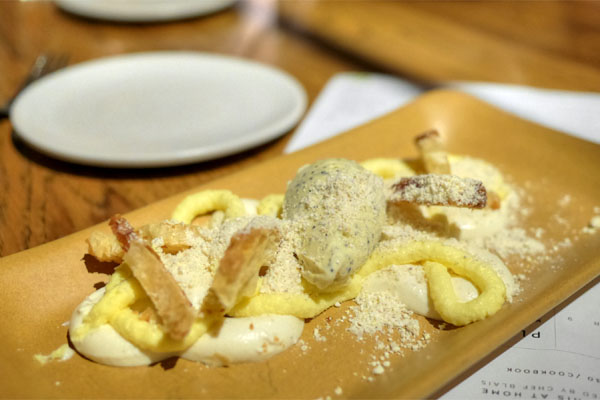 Brown Butter Ice Cream [$11.00]
| Popcorn Mousse / Torn Croissant / Lime Curd
Brown butter ice cream definitely delivered on its namesake, showing off a nutty sort of sweetness that worked well with the slightly savory popcorn mousse. Nice hit of lime from the curd to boot.
I was a tad wary going in to Juniper & Ivy given the scale of the operation, concerned that my experience here might veer corporate, humdrum, or impersonal. We really did have a lovely time though. The cooking was interesting enough and creative enough, yet still familiar, comforting, with a finesse to it. Blais seems to have let go of the whole "molecular" aura surrounding him, and looks to be turning out legit food with just a few modernistic touches thrown in where appropriate.
So what's next? Blais and Rosen (without Concentrics) are working on a second restaurant, an all-day, fast-casual spot called The Crack Shack. The new eatery will focus on food made from chicken and eggs, and is set to debut in the fall next door to J&I, with perhaps even more locations coming. Personally though, I'd like to see the Chef take a crack at the Los Angeles dining scene.