Preux & Proper (Los Angeles, CA)
Preux and Proper Restaurant
840 S Spring St, Los Angeles, CA 90014
213.896.0090
www.preuxandproper.com
Wed 03/18/2015, 05:05p-07:00p
One of the latest in the new crop of New Orleans-style eateries in LA is Preux & Proper, which debuted on December 18th in the building that once held
Casey Lane
's short-lived
Parish
(and Angelique Cafe before that). The restaurant is the work of Mark Egland and Joshua Kopel, who launched another NOLA joint, Hollywood's FiveOFour, back in August 2010. In fact, the initial thought was this was supposed to be just another outpost of FiveOFour, but plans soon changed given the unique personality of the space. The cooking here is, of course, inspired by the Big Easy, and helming the kitchen is Executive Chef Michael Ruiz, a SoCal dining veteran.
About the Chef
: Early in his career, Ruiz worked at Gale's in Pasadena and Nic's Restaurant & Martini Lounge in Beverly Hills. However, he only began making a name for himself when he opened Bistro Verdu in Glendale in the fall of 2003. The restaurant was well received, but he sold the spot in June 2007 to Nadav Bashan, who opened up the eponymous
Bashan
there soon after. The following January, Ruiz debuted Ingredients, a retail shop-slash-daytime eatery in Montrose, but shuttered the spot that May. Next, he became corporate chef for Steven Arroyo's Cobras & Matadors mini-chain, and revamped the menus at the original Beverly location (closed 2012), in Los Feliz (closed 2009), and on La Brea (closed 2008 after only a few months; formerly Goat bistro, and Happi Songs before that). Ruiz also transformed Arroyo's South Pasadena wine bar 750mL into the ill-fated, short-lived Lil' Parlor Pizzeria during this period.
In March 2009, the Chef, presenting himself as Saltbutterpork catering, partnered with Jeff Zimmitti from Rosso Wine Shop (located next door to Bistro Verdu) to launch Supper Club, an underground dining series. Those dinners achieve a modicum of popularity, and in December, he launched FORK bistro in Montrose. FORK, however, didn't even make it to the end of the year. Ruiz ended up leaving Arroyo's side in 2012 and began consulting, with one of his clients being The Morrison in Atwater Village. He was eventually brought on as Executive Chef there in October 2013, and in December that year, signed on with Ball & Chain in Hollywood, a meatball-centric venture by Spacecraft's Kris Keith and Morrison owner Marc Kreiner. The restaurant opened in June 2014, and by September, Ruiz had begun work on Preux & Proper (he left B&C in January this year).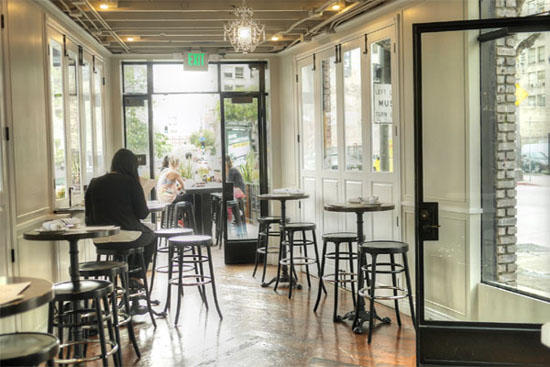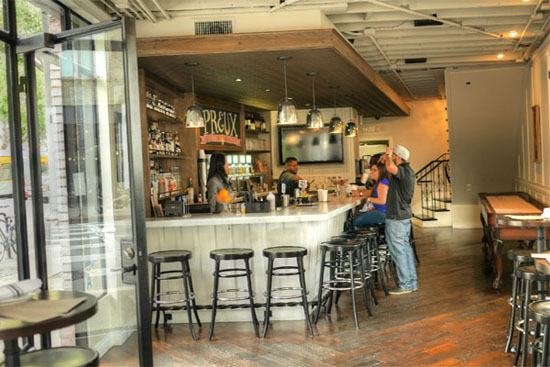 I didn't know this going in, but the restaurant's two distinct spaces are actually named "Preux" ("brave") and "Proper." Given that we were here during happy hour, we were limited to the downstairs "Preux" setting, the more casual of the two levels where ordering is done at the bar. "Proper," meanwhile, is the schmancier set, with proper table service and all that.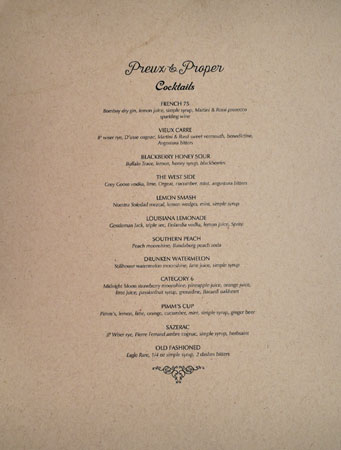 Again, given that it was happy hour, we were presented with a much more limited menu of bar-friendly bites at first. To drink, we have moonshine-centric, New Orleans-inspired cocktails reimagined by Pablo Moix, and if that's not your thing, there are a dozen beers on tap, some wines, and six flavors of frozen daiquiris (see below). Click for larger versions.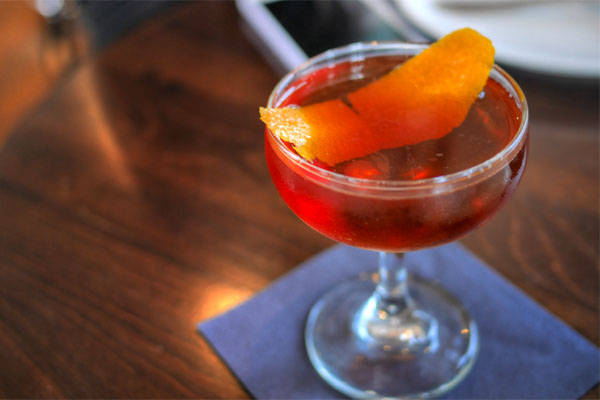 Vieux Carre
| JP wiser rye, D'usse cognac, Martini & Rossi sweet vermouth, benedictine, Angostura bitters
First to drink was NOLA's iconic Vieux Carré, a classically-leaning rendition of the cocktail that I found very well integrated, a viscous, heady drink with deliciously boozy, bittersweet nuances.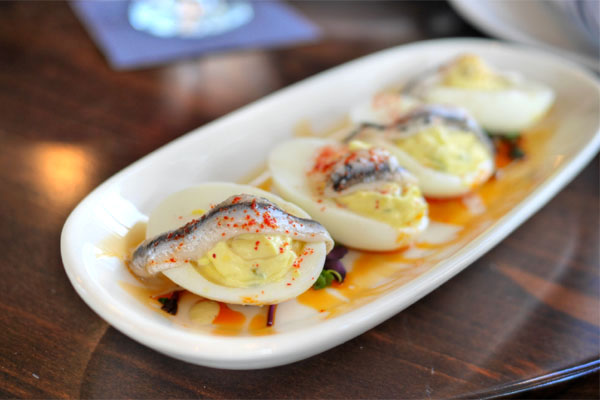 Deviled Eggs [$7.00]
| espelette, anchovy
Deviled eggs are a must for me, and P&P's definitely delivered, superbly balancing the fishiness of the anchovy against the lushness of egg, the whole bite finishing with a great countervailing acidity.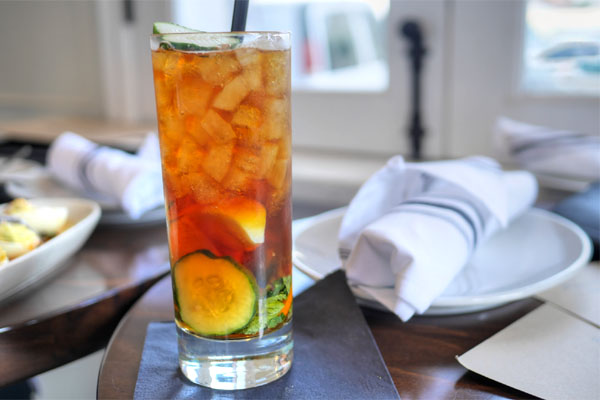 Pimm's Cup
| Pimm's, lemon, lime, orange, cucumber, mint, simple syrup, ginger beer
Here we had another version of an iconic cocktail, this one much lighter in presentation. Lovely notes of sweet spice initially, balanced by a subtle bitterness and a slightly medicinal backbone. Tasty, though a touch watery.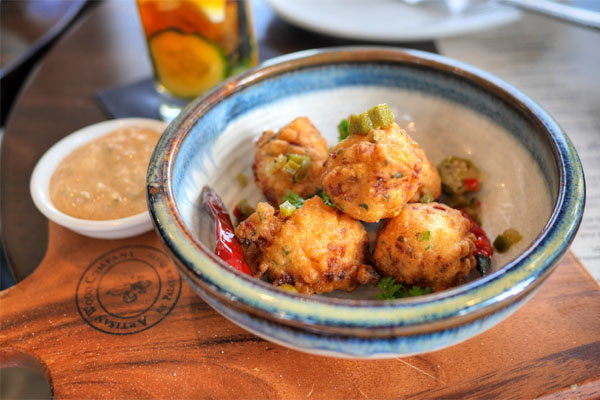 Smoked Shrimp Beignets [$8.00]
| remoulade, sea salt
The beignets were certainly a highlight of the meal for me, coming out fluffy yet substantial, with a superb brine and snap from the shrimp. Even better with a dab of the tangy remoulade.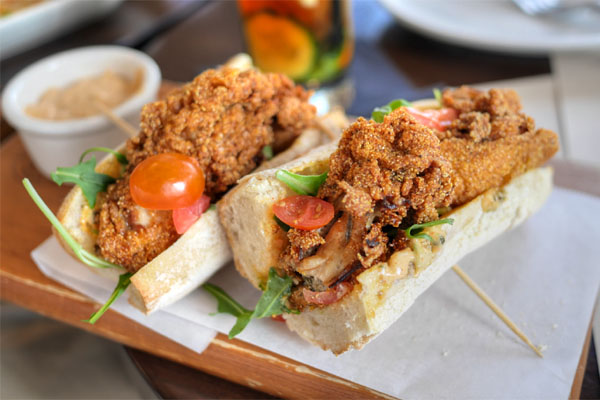 Fried Oyster Po' Boy [$12.00]
| arugula, tartar sauce, tomato
The iconic po' boy was enjoyable as well, with the savory, crispy, saline oysters nicely moderated by the inclusion of juicy tomato and zesty arugula. Good with dab of the creamy, spicy sauce on the side too.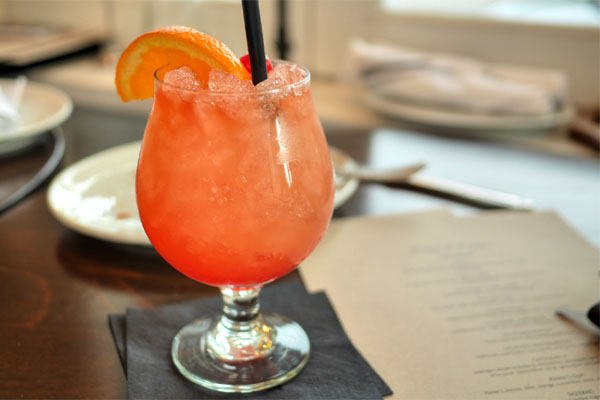 Category 6
| Midnight Moon strawberry moonshine, pineapple juice, orange juice, lime juice, passionfruit syrup, grenadine, Bacardi oakheart
Our next cocktail was a modified version of the Hurricane, that legendary N'awlins creation that manages to hide any trace of booze behind boatloads of sugar and fruit. Easily quaffable--the perfect drink for getting shit-faced in the French Quarter.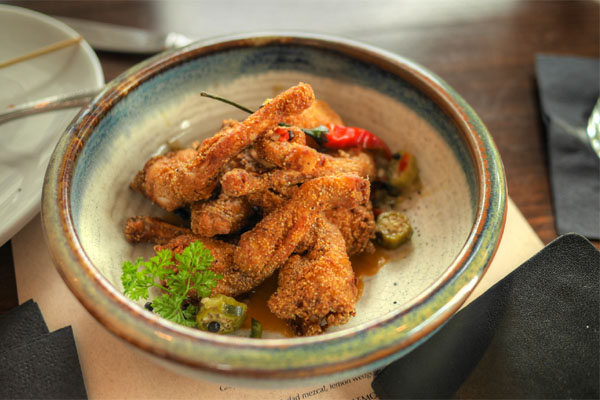 Crispy Frog Legs [$8.00]
| chiles, sauce picante, coriander seeds
Frog legs arrived crisp yet juicy, tasting not unlike a fishier version of chicken.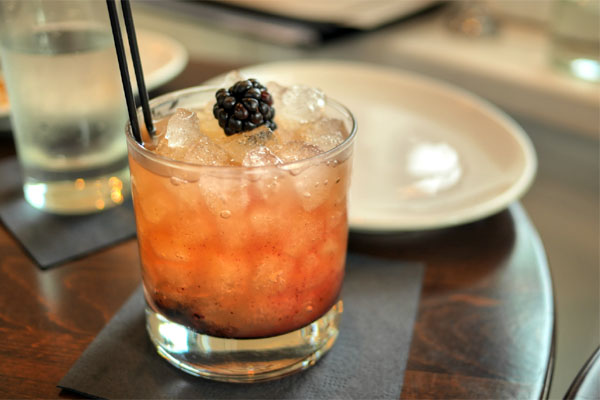 Blackberry Honey Sour
| Buffalo Trace, lemon, honey syrup, blackberries
This was rather nice, the cocktail's delectable notes of citrus up front leading to a palate full of tart berry commingled with bourbon and the weight of that honey.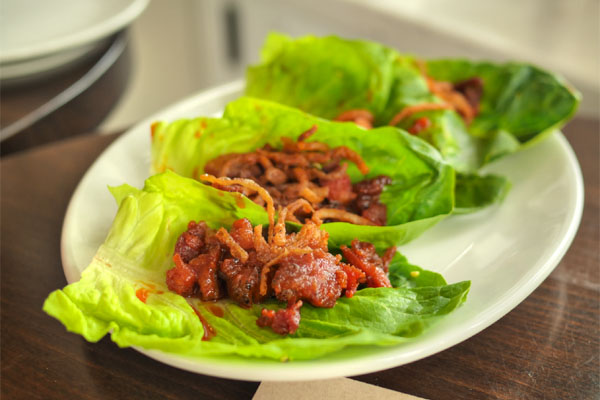 Belly Bites [$7.00]
| maple hot sauce, romaine, crispy onions
Pork belly came our crunchy, sweet, and savory, accented by a whisper of heat. The lettuce served as a fitting vessel, acting as a lightweight counterpoint to the pig.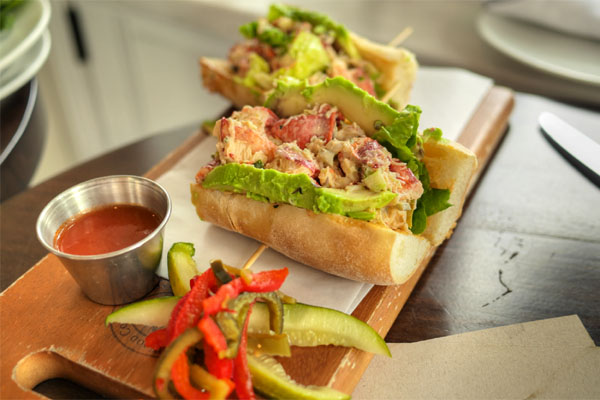 Lobster Roll' Boy [$16.00]
| cold dressed, remoulade, avocado, hot sauce
Here was arguably my favorite dish of the evening. I'm a sucker for lobster rolls, and I found this a thoroughly effective variation. The lobster itself was sweet and supple, and melded seamlessly with the creaminess of the avocado and the light, bright crunch of the lettuce, the tangy remoulade tying it all together. The optional hot sauce on the side made for a fitting accompaniment, too.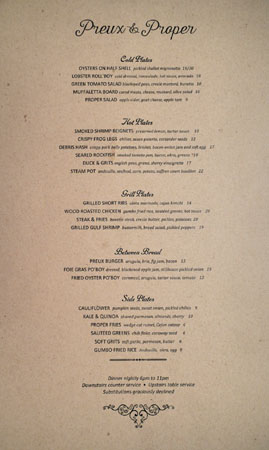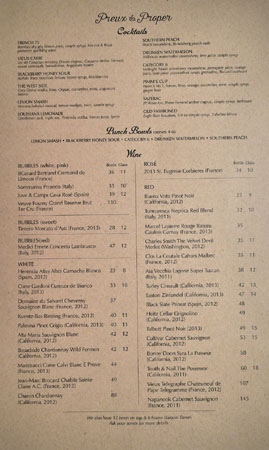 At this point, we transitioned over to the dinner menu, a fuller exploration of the cooking here. Click for larger versions.
Steam Pot [$22.00]
| andouille, seafood, corn, potato, saffron court bouillon
Here we see Preux & Proper's ode to the classic Cajun crawfish boil. I quite appreciated the depth and brine of the broth here, and how it tied together all the disparate, but harmonious elements. I was especially fond of the crab legs, as well as how the corn and potato grounded the dish.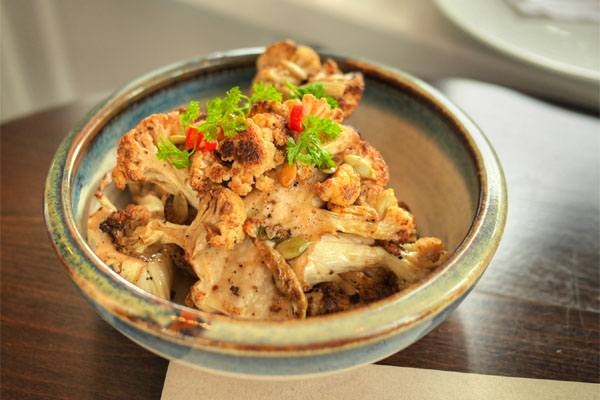 Cauliflower [$9.00]
| pumpkin seeds, sweet onion, pickled chilies
Cauliflower showed off spice, char, savor, and crunch. However, something seemed off here. I couldn't quite put my finger on it, but the dish was somehow discordant.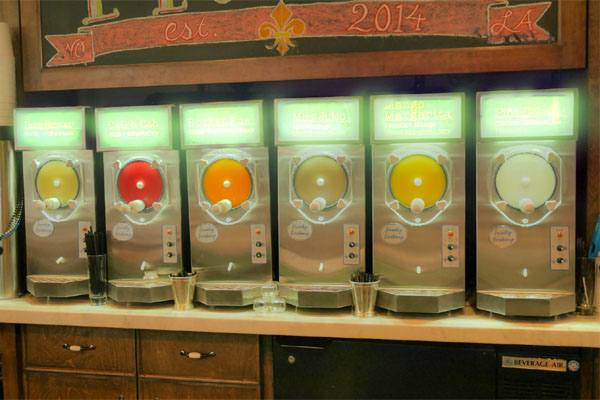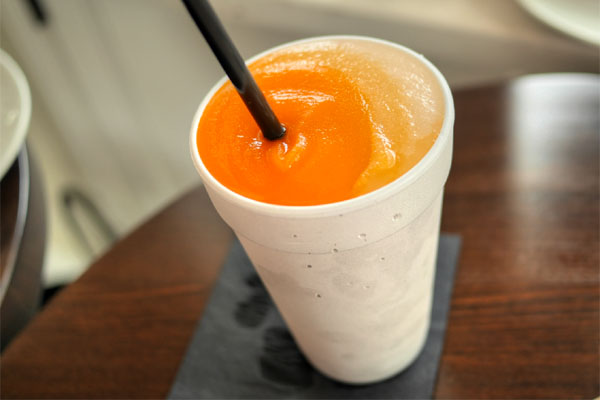 Rocket Fuel & Piña Colada Frozen Daiquiri
Of course, we had to try one of Preux & Proper's frozen daiquiris, and the bartender suggested this blend of
Rocket Fuel (Vodka, Everclear, Orange)
and
Piña Colada (Coconut, Moonshine, Pineapple)
. The overall effect was reminiscent of a boozy Creamsicle, and made for a dangerous drink, a trashy drink, the kind of drink that just begs to be drunk out of a two-foot-long plastic glass while walking the streets of Vegas.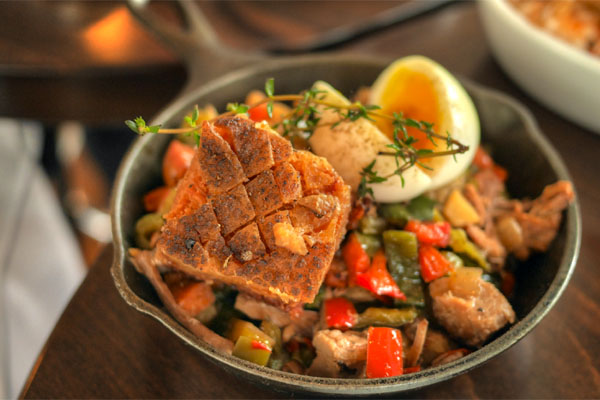 Debris Hash [$17.00]
| crispy pork belly, potatoes, brisket, bacon-onion jam and soft egg
I enjoy a good hash, and this was a good hash, the brisket tender, the belly crisp, the potato and peppers doing an admirable job tempering the heftiness of the meat.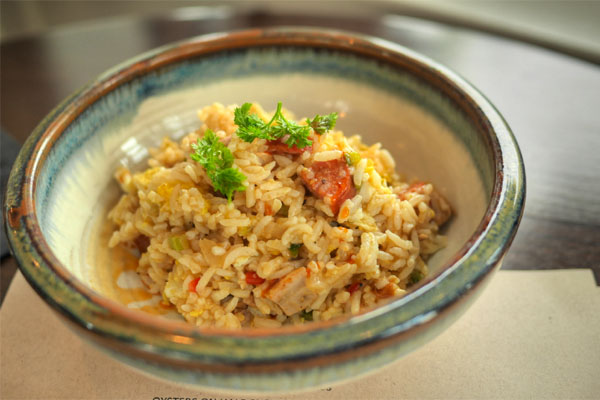 Gumbo Fried Rice [$8.00]
| andouille, okra, egg
Last up was the gumbo fried rice, which brought together two things I enjoy: gumbo and fried rice. It really did capture the essence of the classic Creole dish, and I wanted a bigger bowl of the stuff.
I walked into Preux & Proper pretty much because it was across the street from where I was earlier (the California Market Center). I walked in without much in terms of expectations, but walked out pretty satisfied. The food was by and large quite good, sort of presenting the core of New Orleans cuisine, but with a slightly Californian slant to it. We'll see if this place can outlast its predecessor.