Love & Salt (Manhattan Beach, CA)
Love and Salt Restaurant
317 Manhattan Beach Blvd, Manhattan Beach, CA 90266
310.545.5252
www.loveandsaltla.com
Wed 03/25/2015, 8:15p-11:10p

Certainly, one of the longer-standing eateries in Manhattan Beach has to be Cafe Pierre, which opened in May 1977 and spent its first two years as a
crêperie
before transforming in a casual Cal-French spot. The work of father-daughter team Guy and Sylvie Gabriele, the place closed its doors on April 14th last year after nearly 37 years in business. In its stead, the Gabrieles have brought us Love & Salt, an Italian-inspired Californian concept created with former Terranea toque Michael Fiorelli, who's on board as both Executive Chef and Partner.
About the Chef
: Born to an Italian-American family, Fiorelli was raised on Long Island, and supposedly got interested in food after reading through many a cookbook growing up. He never went to culinary school, but instead learned on the job, starting his career as a line cook at Asian fusion eatery Susanna Foo in Philadelphia. His next stop was the Tavern Room at Greenbrier Resort in West Virginia, where he cooked for three years under Chef Peter Timmons. During this time period, Fiorelli also worked stints at the Little Nell resort in Aspen on the off-season. He then moved to Patrick O'Connell's
Inn at Little Washington
, and then to South Florida, where he became Executive Chef at Mark Militello's Mark's at the Park in Boca Raton.
Following, Fiorelli went the corporate route in 2003, landing a job at Darden Restaurants developing Seasons 52 in Orlando. The Chef then moved out west to Los Angeles, becoming CdC at Kerry Simon's Simon LA at the Sofitel in 2006. In 2008, Fiorelli left to serve as Chef de Cuisine at Terranea Resort's mar'sel, and in May 2009, took on an additional role as Executive Sous Chef of the entire property. He stayed at Terranea until September 2013, and soon teamed up with the Gabrieles to launch Love & Salt, which debuted last November.
Second in command here is Rebecca Merhej, who functions as both CdC and Pastry Chef. She first worked with Fiorelli at Simon LA, and joined him at mar'sel in 2009 as sous before taking over as Chef de Cuisine in 2012 following his promotion (she herself was succeeded by Charles Olalia from
Patina
). Rounding out the team at L&S are General Manager Stephane le Garrec (the previous manager at Café Pierre) and AGM Melissa Gabrielle, Guy's other daughter.

Inside, the old Cafe Pierre space has been stripped and rejiggered by Ana Henton of
MASS Architecture
(
Aestus
,
Lukshon
) to a more casual, Californian, beachy, gray-on-wood affair. Spanning 2,600 square-feet and seating 100, the room features a kitchen counter in the back, a granite-topped bar to the side, and an impressively long communal table in the middle.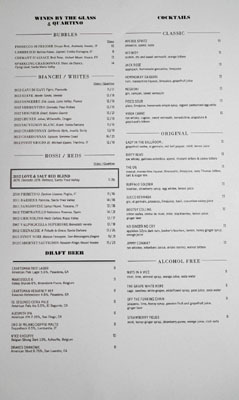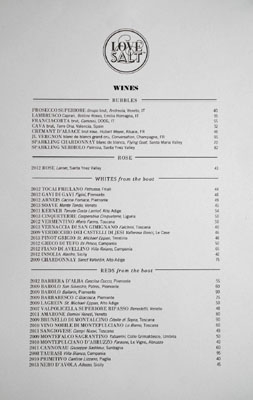 The Love & Salt menu features Fiorelli's Cal-Italian stylings in the familiar cadence of small plates-pizza-pasta-large format. To imbibe, Guy Gabriele's put together a respectable, reasonably-priced, Italian-leaning wine list (apparently, there also exists a much larger, much pricier "reserve" list), and you'll also find a handful of beers as well as cocktails designed by Copa D'Oro's Vincenzo Marianella. Click for larger versions.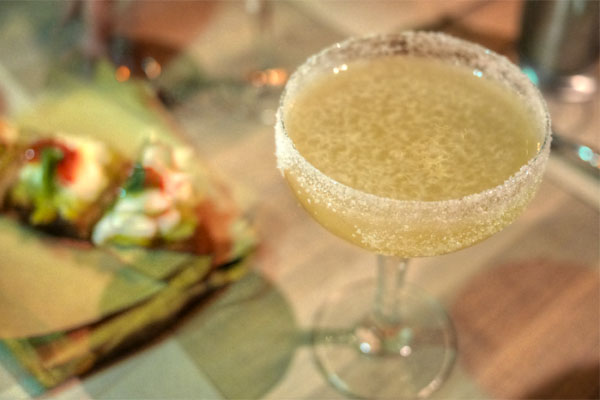 The OG [$13.00]
| mezcal, maraschino liqueur, limoncello, lime juice, Jerry Thomas bitters, salt & sugar rim
I had to commence with my mezcal cocktail of course. This particular one was super smoky, really showing off the spirit, though it did have subtle notes of sweetness and citrus to even things out. I wasn't terribly fond of the rim here though, finding it overwhelmingly salty.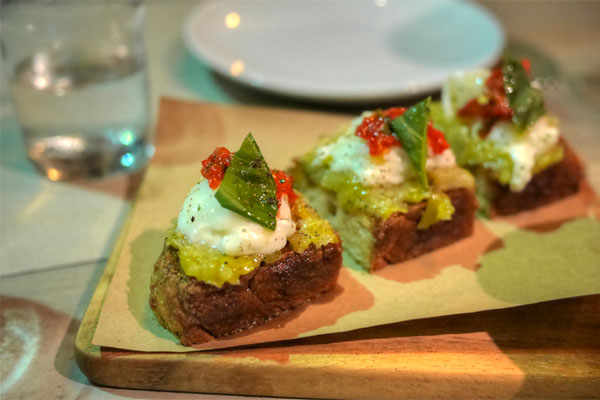 Burrata & Leek Toast [$13.00]
| pickled fresno chiles, california olive oil
A Cal-Italian meal wouldn't be complete sans a bruschetta-like dish, so this burrata-topped version sufficed, the cool, creamy cheese meshing well with the zesty leeks and tangy fresnos, all while the bread contributed crunch and char to the mix.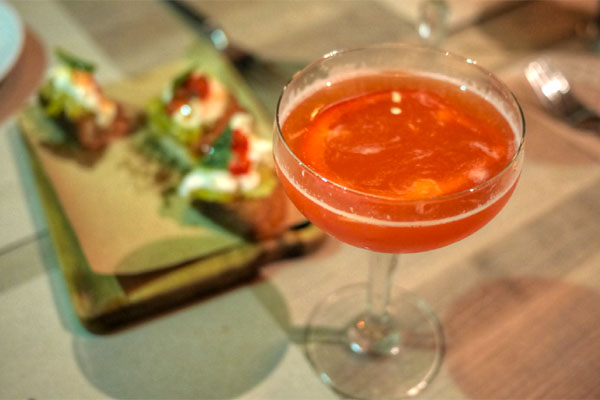 Lady in the Ballroom... [$13.00]
| grapefruit vodka, st germain, red bell pepper, mint, lemon juice
I loved the sweet, bright, super peppery nose on this cocktail, which led to more delicate pepper on the palate, along with a light, tingling spice backed by a touch of sweet-n-sour.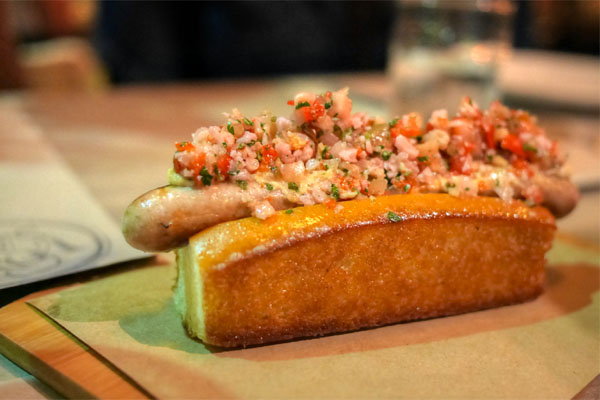 Mortadella "Hot Dog" [$10.00]
| pickled vegetable relish, house mustard
A miniature hot dog was delightful, showing off the mortadella against the acidity and crunch of the relish-mustard combo. Great crispness on the bun, too.
The Grape White Hope [$8.00]
| sage, seedless white grapes, elderflower syrup, pear juice, soda water
The lone non-alcoholic cocktail of the night conveyed the essence of grape in a candied, almost Asian-y manner that I rather enjoyed.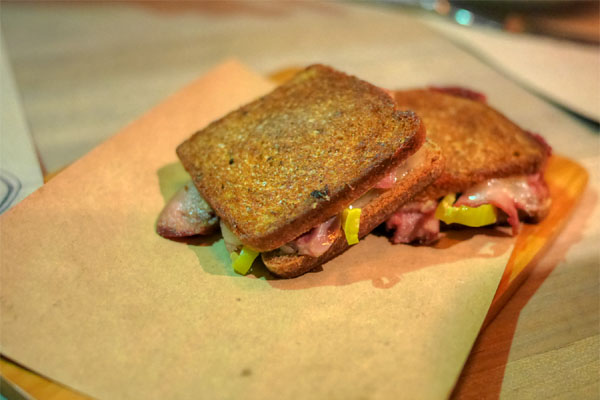 Corned Lamb Tongue Panini [$13.00]
| fontina, tomato aioli, pickled peppers, rye
Lamb tongue was done justice here, its earthy, deeply ovine qualities melding with the Fontina commendably, the aioli and peppers adding an offsetting element to the dish. Nice creeping spice here to boot.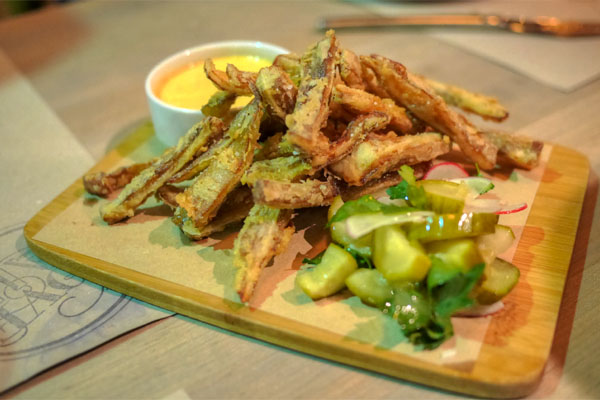 Crispy Pig Ears [$9.00]
| pickles, radish, spicy buttermilk aioli
Pig ears came out chewy yet crisp, their porky flavors highlighted by that tangy aioli on the side. Not a bad attempt, but I would've liked the ears crunchier, meatier.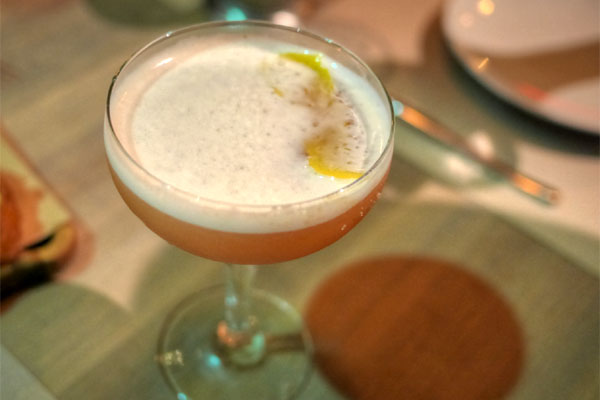 Buffalo Soldier [$13.00]
| bourbon, strawberry syrup, egg whites, lemon juice
I like me a cocktail with egg white, and this fit the bill, a frothy, bittersweet drink that gave up the sweetness of strawberry in a finessed manner, tempered by notes of citrus and spice.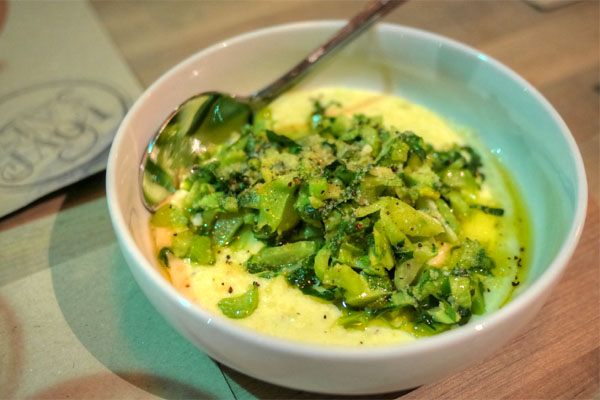 Sauteed Cauliflower Leaves [$12.00]
| olive oil, parmesan, soft mascarpone polenta
You don't see cauliflower leaves too often on menus, which is a damn shame, as they were superb here. Bitter and oh-so crunchy, they paired perfectly with the creamy, cheesy polenta.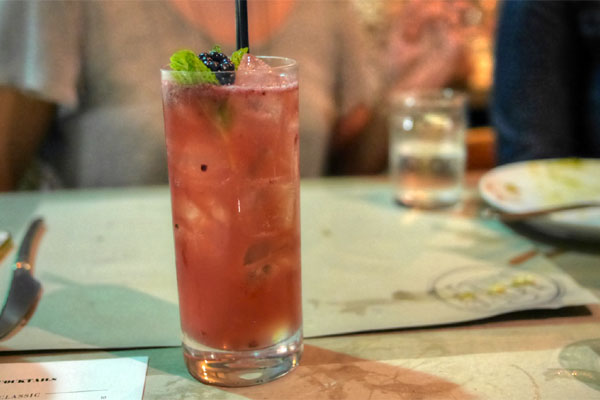 Bootsy Collins [$13.00]
| citron vodka, crème de mure, mint, blackberries, lemon juice, ginger beer
I got loads sweet, tart berry on the nose here, which I loved. Taste-wise, the fruit was more subdued, and the drink instead showed off strong notes of ginger and citrus, with the vodka adding a boozy base to the cocktail.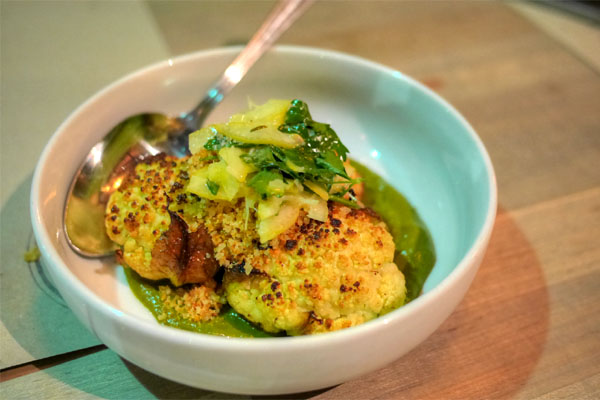 Roasted Baby Cauliflower [$14.00]
| salsa verde, preserved lemon, parmesan breadcrumbs
The actual cauliflower was a winner as well, coming out crisp to the bite, well-charred, and smartly paired with the combo of lemon and salsa verde. Great textural element from the breadcrumbs, too.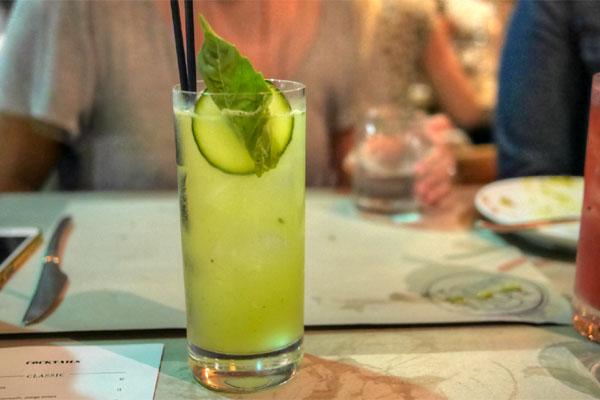 Succo Bevanda [$13.00]
| gin, st germain, prosecco, lime juice, basil cucumber-celery juice
The lone gin cocktail of the night, this smelled of bright, cool cucumber, while on the palate, I got more of that, along with light notes of citrus, spice, and even a bit of savoriness.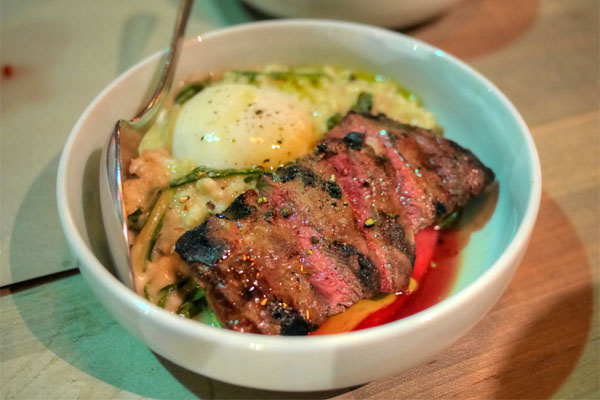 Grilled Flat Iron Steak [$24.00]
| barley risotto, soft cooked egg, dandelion greens, black truffle butter
Love & Salt's best-selling item, the flat iron came out a bit tough (unsurprising given the cut), but with a strong, delectable char to it that went swimmingly with the steak's deeply beefy flavors. I was definitely a fan of the risotto on the side, a creamy, eggy preparation loaded with nuances of truffle and well-matched to the astringency of those dandelion greens.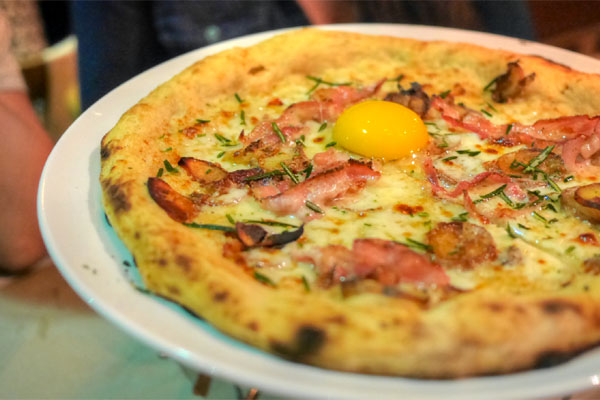 Duck Egg [$18.00]
| pancetta, panna, potato, rosemary, mozzarella, parmesan
We had to try a pizza, natch, and went with the restaurant's most popular, a gratifying combination of salty pancetta, cheese, and runny egg, all overarched by the aromatics of that rosemary.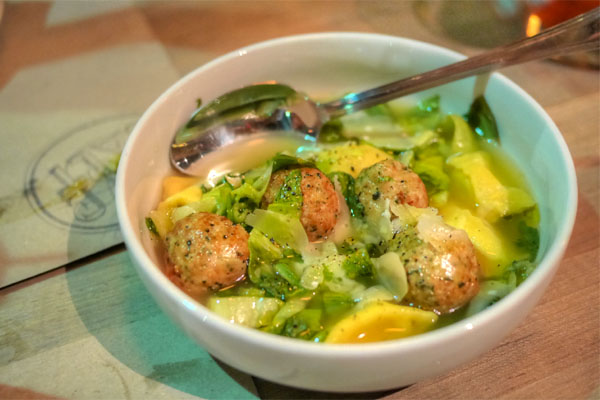 Agnolotti [$18.00]
| wilted escarole, parmesan brodo, little rabbit meatballs
Getting into the pastas now, the agnolotti was a favorite, with the wonderfully savory meatballs a great pair to the cheesiness of the pasta, all while the escarole offered up well-placed hits of bitterness.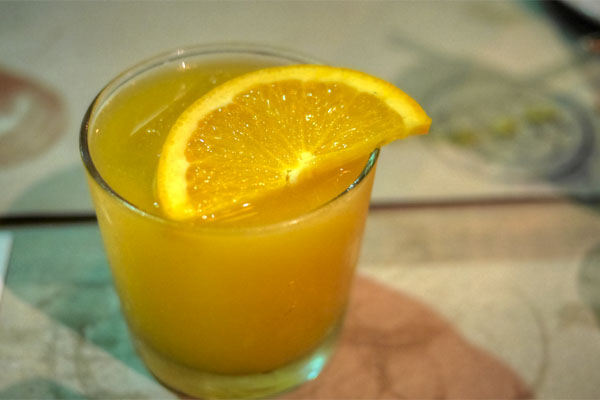 No Ginger No Cry [$13.00]
| appleton 12yrs dark rum, booker's bourbon, lemon, honey ginger syrup, orange juice
Ginger was the star here, its zestiness lingering long and strong, joined by a distinct honeyed sweetness and an apparent underpinning of booze.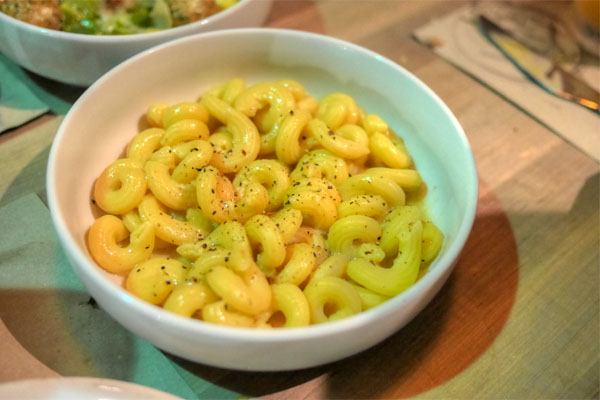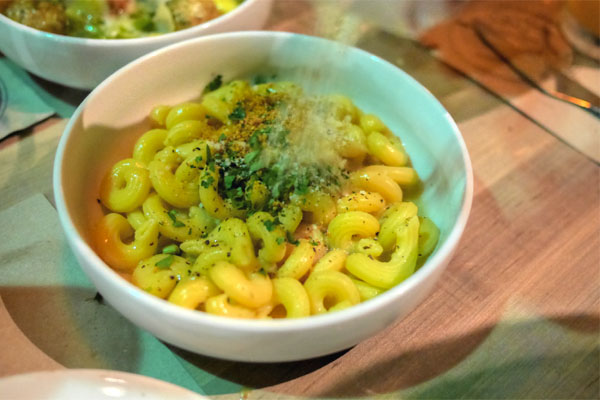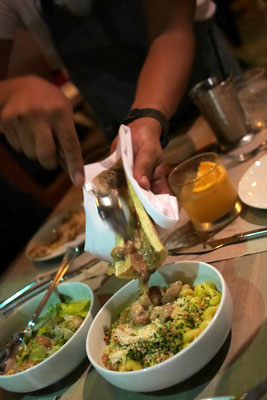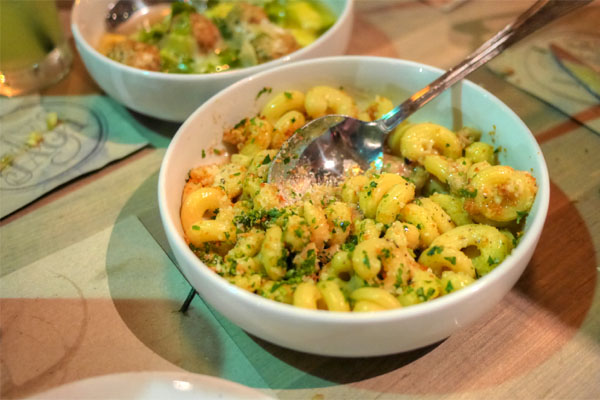 Cavatappi [$16.00]
| roasted garlic, bone marrow, parsley, parmesan, cracked black pepper
Given the presence of bone marrow, the cavatappi was a must. You could almost think of it as a jacked up mac 'n' cheese, a super herby, peppery preparation taken up a notch by the luxuriousness of that marrow. Great texture from the breadcrumbs as well, and I liked the tableside presentation (i.e. the sprinkling of parsley-Parm-crumbs and scraping of the marrow).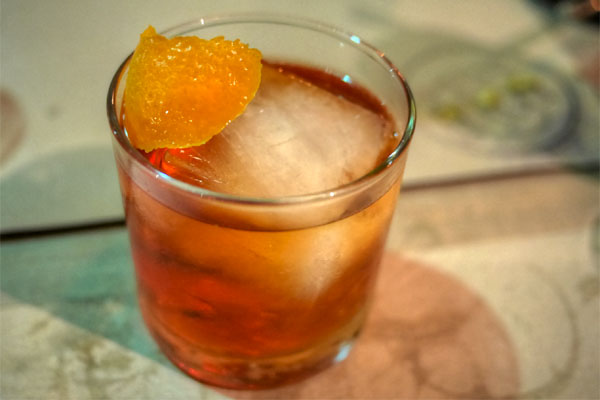 Dirty Blvd [$13.00]
| rye whisky, galliano autentico, aperol, rhubarb bitters & celery bitters
This was the stiffest cocktail of the evening, and quite delicious at that, smelling of sweet citrus and conveying a spicy, boozy bittersweetness in a viscous body.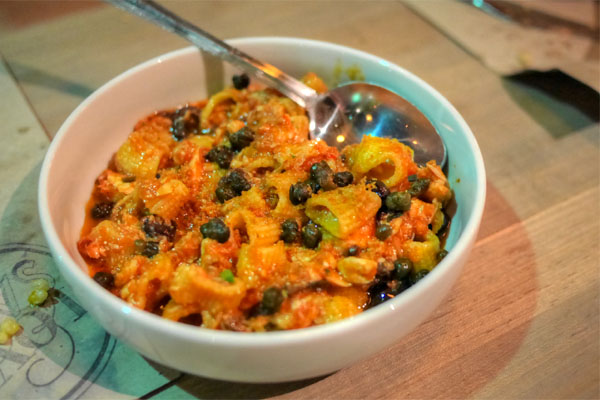 Rigatoni [$18.00]
| olive oil poached tuna, fried capers, taggiasca olives, stewed tomatoes
The rigatoni was the least successful of the pastas. I quite enjoyed the actual fish, though the duo of olive and capers tended to overpower a lot of the other elements here.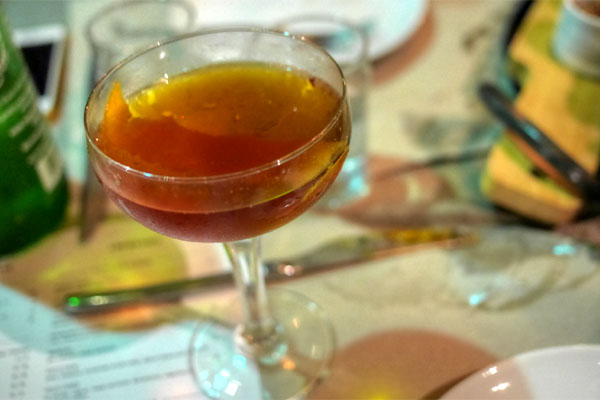 Jimmy Conway [$13.00]
| rye whiskey, rabarbaro zucca, amaro nonino, walnut bitters
The last of Love & Salt's original creations, this cocktail was also one of my favs. I found it sugary and spicy from the rye, with a pleasant bitterness and an intriguing component in the form of the walnut bitters. Very well put together.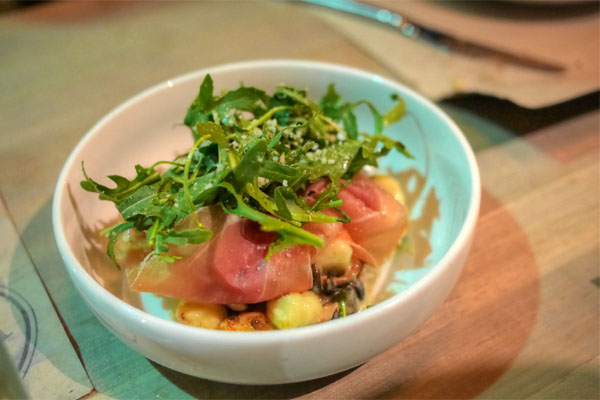 Potato Gnocchi [$16.00]
| prosciutto, mushrooms, wild arugula, parmesan
Our final pasta, the gnocchi arrived soft and supple, with a cheesy goodness to it that made reasonable sense with the salty ham and zesty arugula present. A bit awkward to eat though.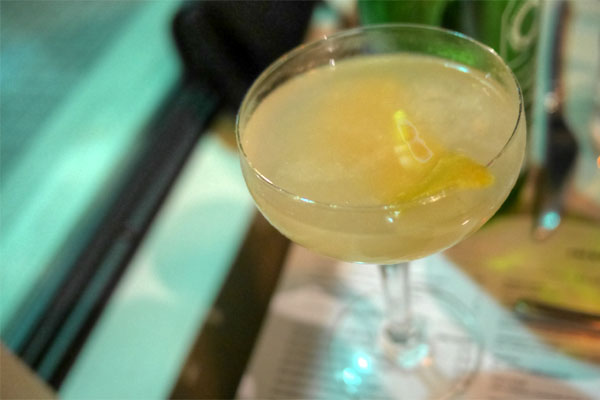 Hemingway Daiquiri [$13.00]
| rum, maraschino liqueur, lime juice, grapefruit juice
The restaurant's take on the traditional Hemingway daiquiri went well enough, with the citrus notes here doing an admirable job counteracting the more potent flavors of the maraschino and rum.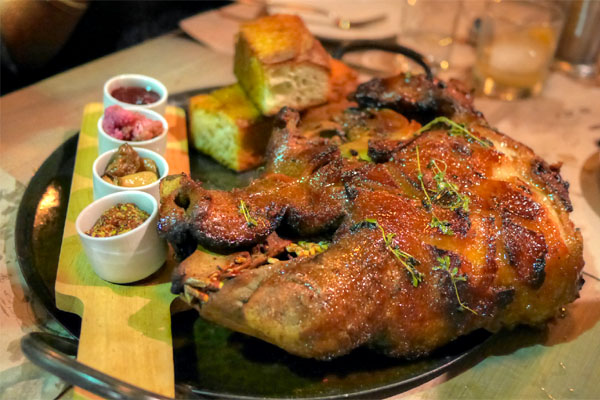 Roasted Glazed Pig Head [$45.00]
| maple, vinegar, pale ale, condiments, toast
The pig's head made for an impressive spectacle, coming out all glazed and shiny. The best part was the tender, toothsome, unabashedly piggy jowl meat, as well as the sweet, fatty, crunchy skin. Given how full we were by this point, we barely made a dent in the specimen, and ended up scraping all the meat off and taking it home.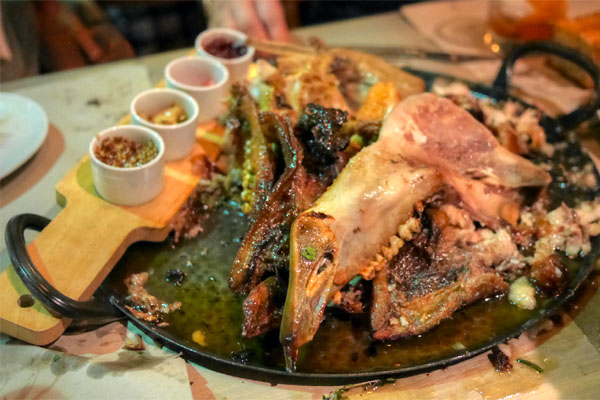 And here we see the rather scary aftermath...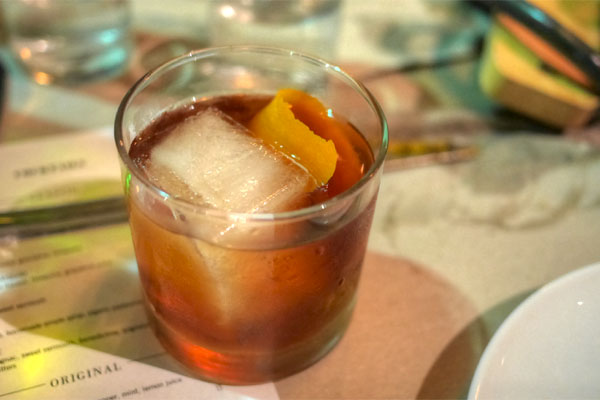 Vieux Carre [$13.00]
| rye whisky, cognac, sweet vermouth, benedictine, angostura & peychaud's bitters
Our final cocktail was an undeniable classic, a worthwhile rendition of the New Orleans staple that balanced all the elements at play, making for a bittersweet, boozy concoction that hit all the right notes.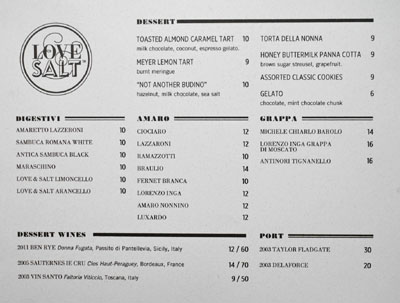 For dessert, you get the expected array of Italianate sweets from Merhej. Click for a larger version.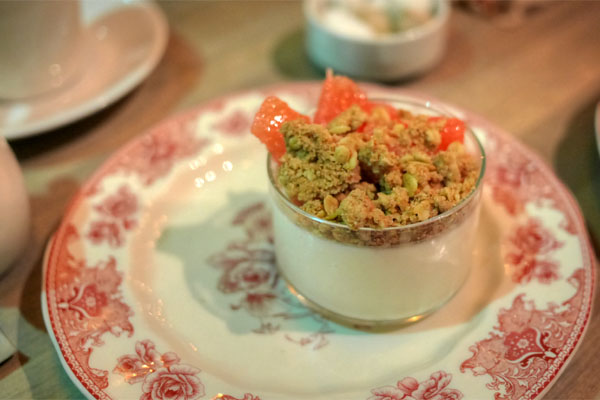 Honey Buttermilk Panna Cotta [$9.00]
| brown sugar streusel, grapefruit
The panna cotta came out super light, perhaps too light, with a subtly lactic quality to it that really called for the juiciness of the grapefruit and that sweet, nutty streusel on top.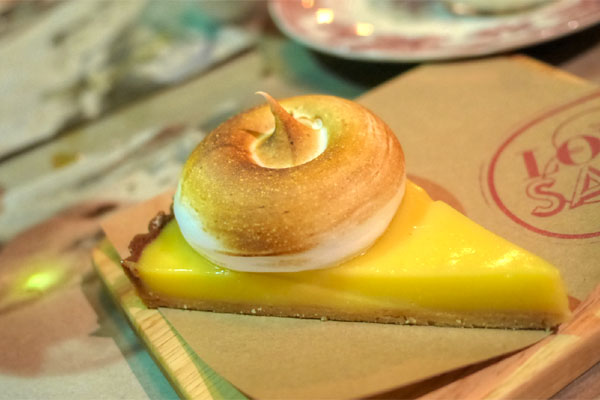 Meyer Lemon Tart [$9.00]
| burnt meringue
The tart, meanwhile, was exactly what you'd expect: sour, but not too sour, with a sugary backbone to it and a delightfully buttery crust. Nice moderating sweetness from the meringue, too.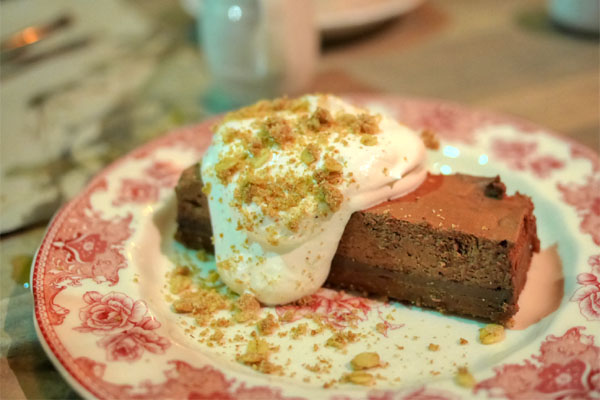 "Not Another Budino" [$10.00]
| hazelnut, milk chocolate, sea salt
Love & Salt strays away from the ubiquitous
budinos
made popular by the likes of
Mozza
. Instead, the restaurant turns the dessert into a tart of sorts, a rather tasty one that married hazelnut and chocolate flavors in one crispy, appealing package.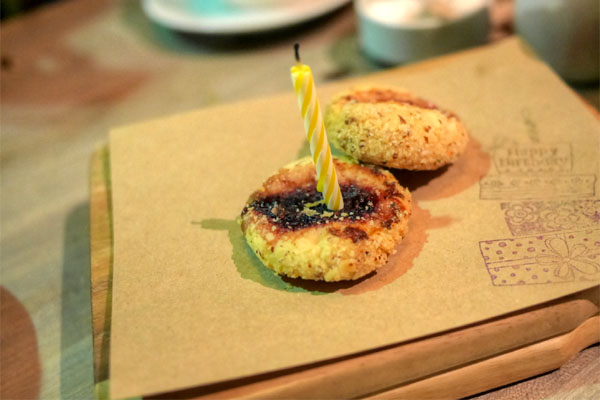 In place of the traditional cake came complementary birthday cookies.
I'd been wanting to try Love & Salt for a few months now, and I'm glad I made it out. The cooking was comforting at its core, yet managed to remain fresh enough and interesting enough at the same time. It's got a mix of Italian tradition and Californian sensibility going on, the result of which was some fine eating, and the cocktails were nothing to sneeze at either. Another score for the rising South Bay scene.