The North Left (Santa Ana, CA)
The North Left Restaurant
400 N Broadway, Santa Ana, CA 92701
714.543.3543
www.thenorthleft.com
Sat 03/14/2015, 8:25p-11:15p

I don't doubt that Jason Quinn's game-changing
Playground
was the spark that helped ignite the recent resurgence of Downtown Santa Ana, paving the way for all manner of restaurants to follow. The North Left is one of the area's latest, most promising debuts, a Pacific Northwest-inspired, rustic-modern American joint directed by OC golden boy Ryan Adams.
About the Chef
: Adams grew up in the tony Orange County enclave of Laguna Niguel and first started cooking alongside his grandmother. He knew that he wanted to become a chef by the time he reached age 15, and following high school graduation in 1993, enrolled at the California Culinary Academy in San Francisco. During his tenure there, he apprenticed at a number of places in the City, including One Market, Vertigo, and Jeremiah Tower's landmark Stars. After finishing culinary school in 1995, Adams moved to Hawaii, where he became CdC at Lahaina Grill in Maui. Two years later, he left and cooked briefly in Chicago and New York before moving to OC in '97 and opening Citrus City Grille in Old Towne Orange. Following, Adams became opening chef for French 75 in Laguna Beach, then corporate chef for David Wilhelm's restaurant group Culinary Adventures. From January 1998 to the end of 2008, he helped the company launch 25 properties, including Chat Noir and Savannah Supper Club.
After David Wilhelm declared bankruptcy in August 2008 and resigned his post at CA, he sold one of his restaurants, Sorrento Grille, to the property's longstanding (i.e. since 1988) landlords, Diane and Philo Smith. The Smiths kept Wilhelm on as a consultant, and as part of that arrangement, Adams was brought in as Executive Chef. He ended up buying out the Smiths in early 2011, then retooled the place, relaunching it as Three Seventy Common Kitchen+Drink later that year (interesting tidbit: his original name for the place was Common Table). The new restaurant was well-received, and he followed it up with The North Left, a venture with Chris Alfaro, Phil Nisco, and Marc Yamaoka of The Crosby that debuted in June 2014. Running the kitchen here on a day-to-day basis is Aron Habiger, top toque at The Crosby from when it opened in 2008 until the middle of 2013, back after a year of traveling and eating. The FOH, meanwhile, is the charge of Andy Markuson, formerly of Three Seventy Common and Lola Gaspar.

The North Left occupies the site of the
ill-fated
Crosby. The space has been refreshed a bit since its early 2014 shutter, but still has got a dark, gastropub-y, wood-centric vibe going on.


The North Left's menu is refreshingly compact, with around 10 smaller plates and just three larger ones. To drink, find a small array of wine, a handful of beers, and some worthwhile cocktails, including a quartet of barrel-aged ones. Click for larger versions.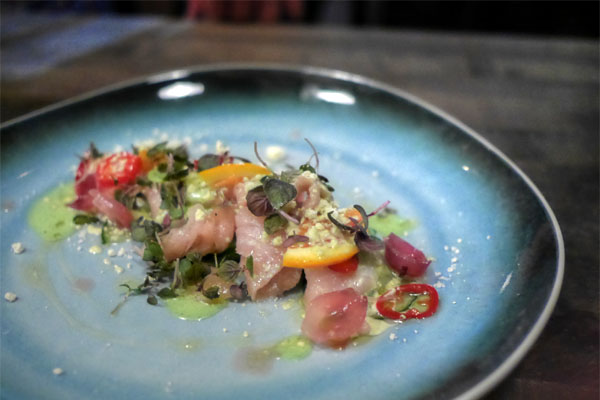 Crudo [$12.00]
| albacore < buttermilk < shiso < sorrel < cucumber < lemon < olive oil
We began with the crudo, a multifaceted preparation that played sweet against savory and the heft of the olive oil, the cucumber and shiso/sorrel adding a much appreciated zestiness. The tuna seemed a bit too warm though, and I would've like more acidity to cut through things.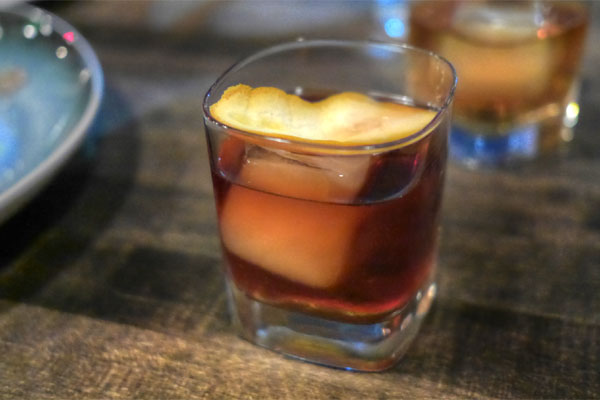 Barrel Aged Bourbon Manhattan [$12.00]
Our first cocktail was classic in essence, citrus-y and bittersweet on the nose, with a spicy, slightly herbaceous palate underscored by the weight of the booze.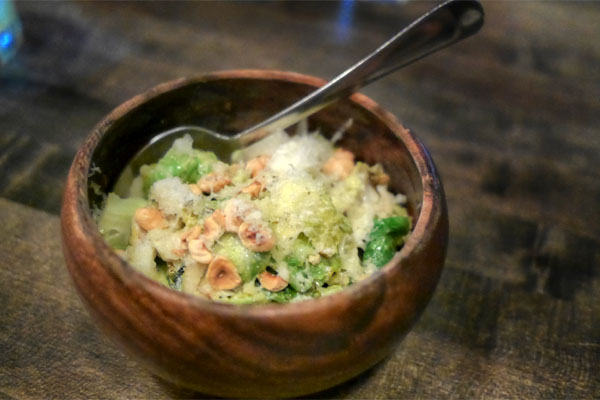 Brussels Sprouts [$10.00]
| san joaquin gold < hazelnut
Brussels were superb, coming out well-textured and satisfying to the bite, with their bitterness smartly paired with the enveloping richness of brown butter. Nice nutty crunch here, too.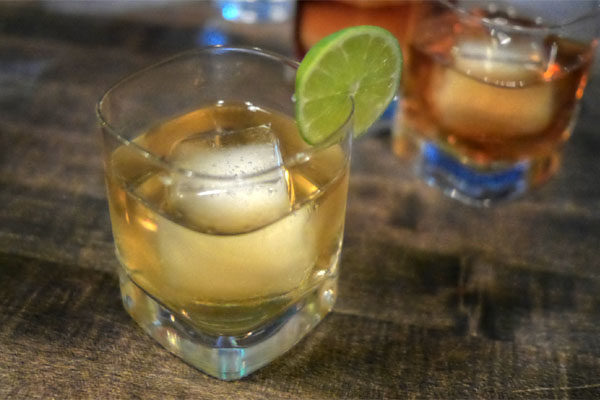 Barrel Aged Gin & Sage [$12.00]
This next cocktail was light on the nose, though bracing to taste, with the sage really amplifying the inherent botanical nature of the gin.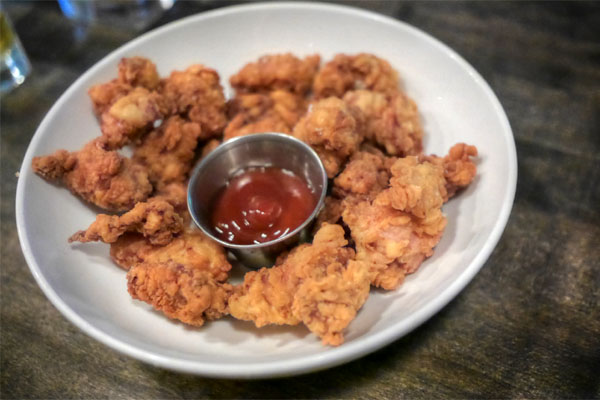 Chicken Nuggets [$15.00]
| fried < bbq < maple < bourbon
We had to get the nuggets, natch, and they didn't let us down. Tender, crispy, and imbued with a subtle spice, they were a joy to eat alone, and just as good with the sweet-n-sour condiment.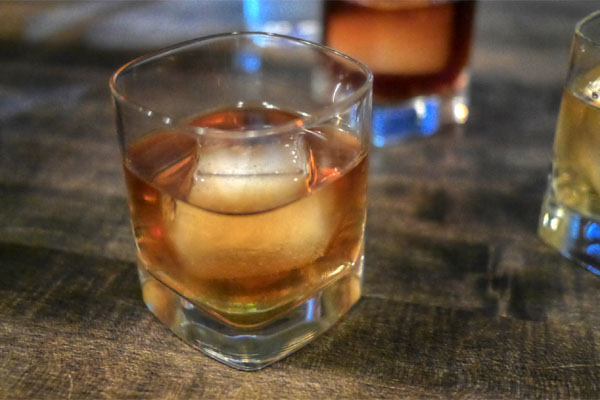 Barrel Aged The Leatherman [$13.00]
My favorite of the barrel-aged cocktails (apparently a combination of scotch, rye, and bourbon, smoked), this had an amazingly aromatic nose loaded with notes of vanilla. Taste-wise, I got lots of spice and smoke and booziness leading to a long, lingering finish. Very good.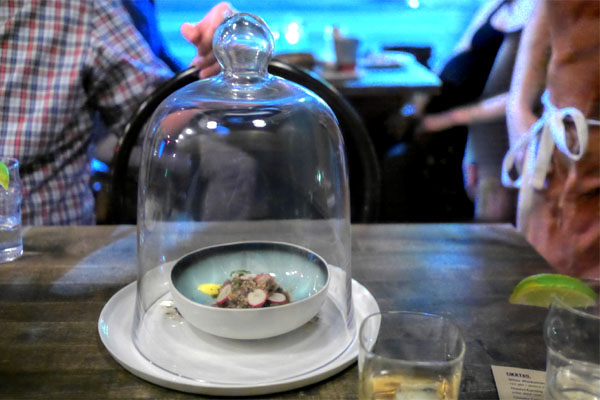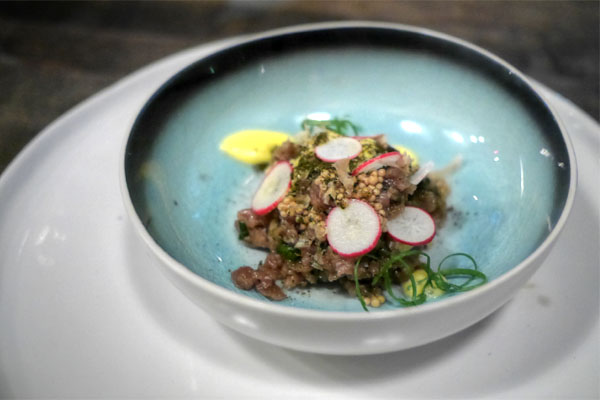 Steak Tartare [$13.00]
| bonito flake < scallion < shallot < sabayon
The tartar came smoked, and encased in probably the largest cloche that I've ever encountered. It was pretty amazing, with loads of smoke on the nose and the cuts of springy, supple beef beautifully paired with the sweet, tart nuances present. Lots going on, but it all came together.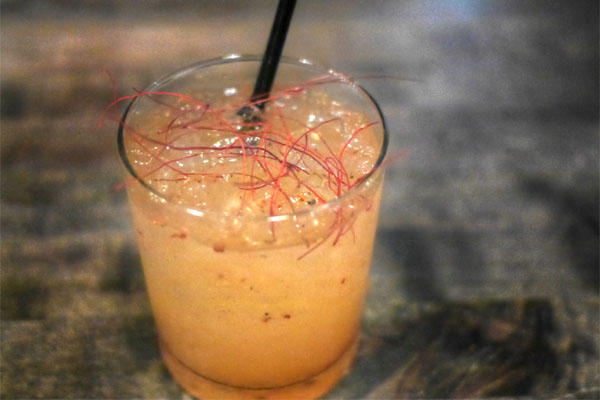 Gin Fuego [$11.00]
| gin < citrus < harissa < cayenne
Not much of a bouquet here, but on the palate it was another story: think sharply spicy, savory, and bitter, with a lovely touch of persisting heat on the close.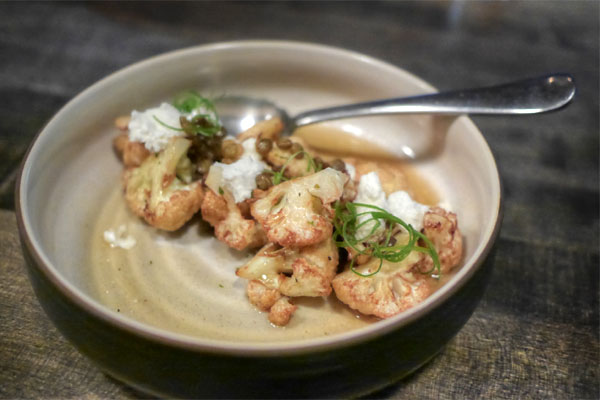 Cauliflower [$7.00]
| honey < thyme < goat cheese
Cauliflower arrived nicely textured and subtly sweet from the honey. The pairing of the chèvre was unexpected, though not unpleasant, and I loved the crunchy bits here as well.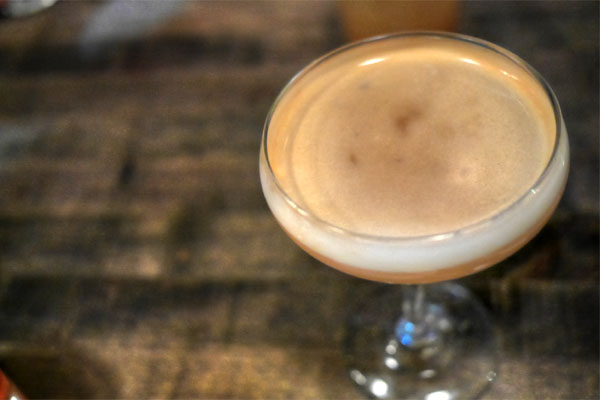 Honest Earning [$12.00]
| pilar dark rum < orgeat < citrus < meringue
Very intriguing nose on this cocktail, as I got a spicy, almost curry-like quality. It tasted much more conventional though, with tart flavors underpinned by a delicious bittersweetness.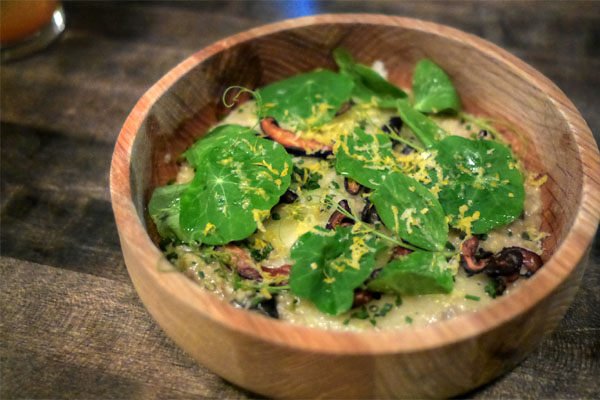 Steel Cut Risotto [$15.00]
| oats < escargot < manchego < mushrooms < chives < nasturtium < pea tendrils
Oat risotto was a commendable take on the classic rice dish that I found quite gratifying. The porridge was super creamy, with the Manchego adding an overarching richness that I appreciated. I was a big fan of the crispy, salty bits of mushroom here as well, and how the snail provided a sort of textural contrast. At the same time, nasturtium imparted a zippiness to things that really lightened the dish.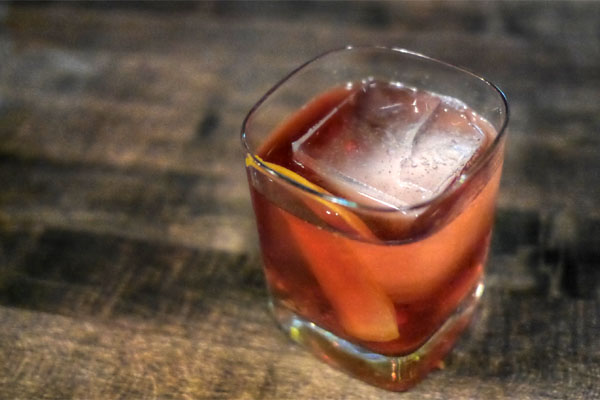 Bloody Nail [$12.00]
| scotch < drambuie < heering
Smelled of artificial cherry, and tasted much the same, with its almost medicinal sweetness joined by tangy notes of citrus.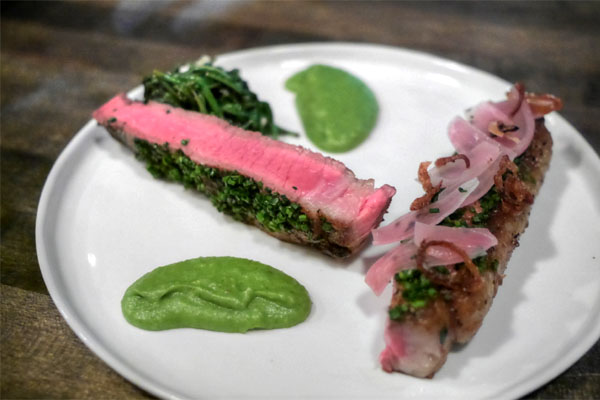 Herb Crusted NY Steak [$32.00]
| spinach mashed potato < bonito butter < sautéed arugula < pickled shallots
Steak came out artfully plated. The beef itself was enjoyable alone, but was really taken up a notch by its accompaniments, the bitter arugula, the tart shallots, that excellent, unabashedly verdant spinach mashed potato. Very nice.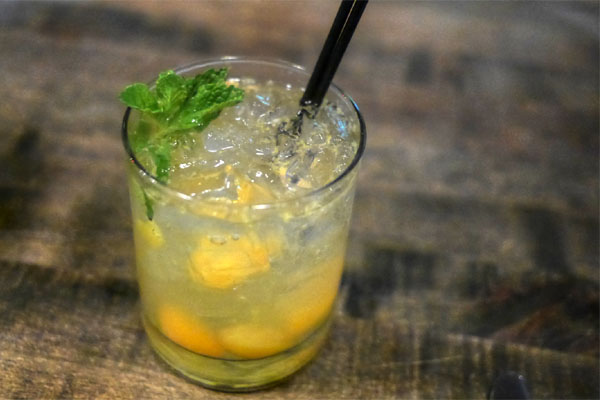 Peter Piper [$11.00]
| seasonal shrub, just ask!
Tonight's seasonal shrub was a kumquat vinegar, which provided a sharp, in-your-face tanginess that commingled with the sweetness of agave and the heft of the drink's tequila base.
Duck Salad [$18.00]
| duck confit < crouton < bacon < egg < sherry < apple
Up next was perhaps the manliest-looking salad that I'd ever encountered, sort of a play on the iconic
salade Lyonnaise
. It was pretty damn tasty, with the juicy, tender, deeply-flavored duck working well with the sweet apple, greens, and lushness of the egg. I wanted more crunchiness on the croutons though.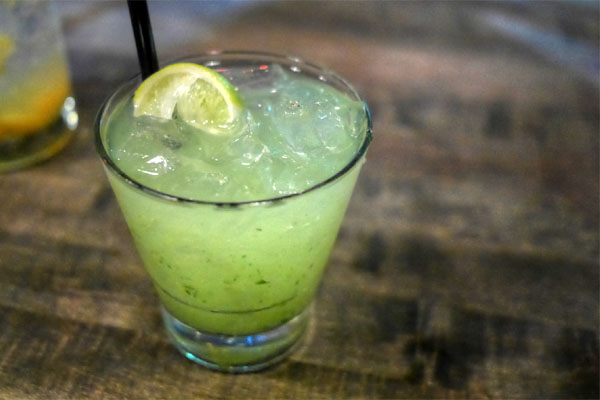 Cucumber Gimlet [$12.00]
| gin < cucumber < lime
The gimlet was classic, with the interplay of gin and lime augmented by refreshing mint and cool cucumber.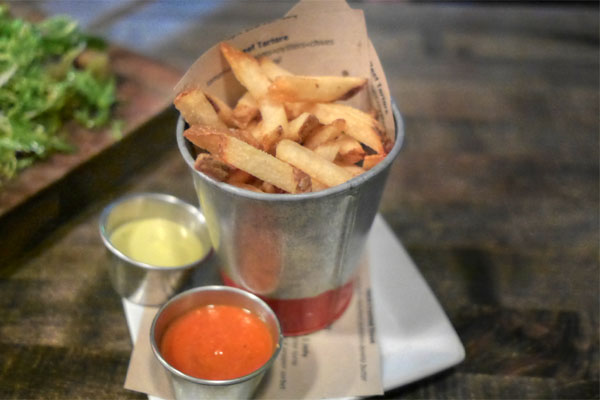 Fries [$5.00]
| house ketchup < green garlic aioli
Fries were on point, nicely textured and straightforwardly savory, and even better with a dab of smoky ketchup or pungent aioli.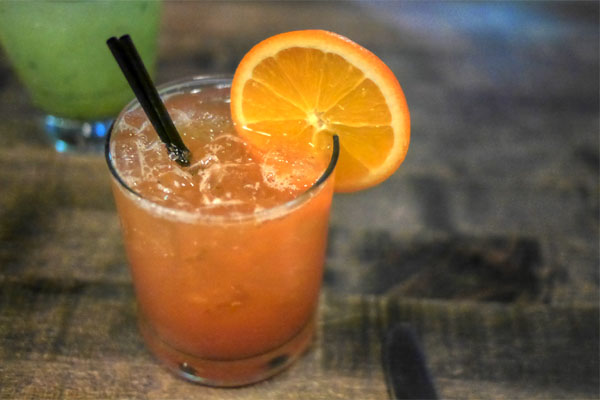 Chester Copperpot [$11.00]
| rum < ginger < cinnamon < citrus
Our final cocktail was an easy-drinking one, with loads of sweet, spicy, ginger-y notes leading to a tingling spice on the back end.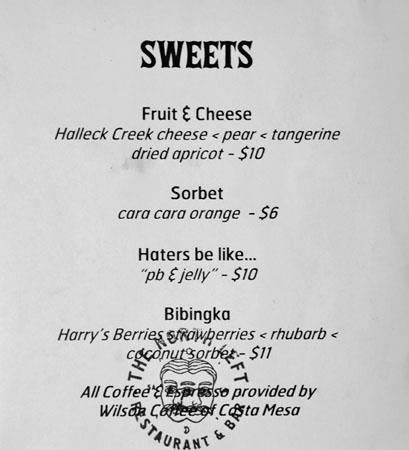 Desserts at The North Left come courtesy of Ashley Guzman (Ray's and Stark Bar,
ink
), whom we last saw at
Playground
. Click for a larger version.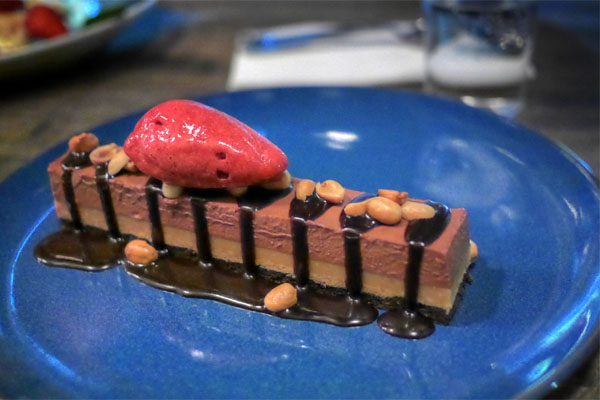 Haters be like... [$10.00]
| "pb & jelly"
I've always held a disdain for PB&J, but definitely warm up to the ubiquitous sandwich when it's turned into a plated dessert. Great mix of nutty and chocolate flavors here, with the jelly up top providing a contrasting tartness to the mix. Nice textural play on the peanuts to boot.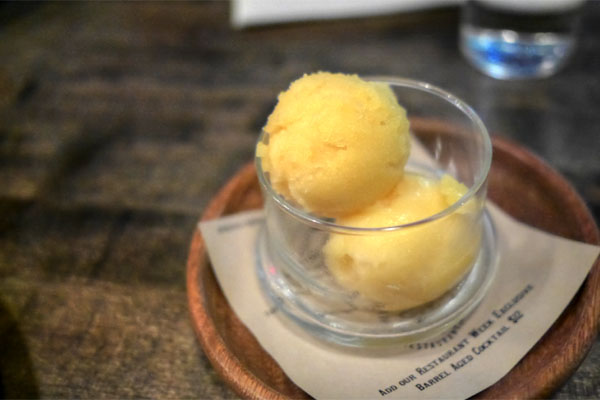 Sorbet [$6.00]
| cara cara orange
Sorbet was refreshing and served as an effective palate cleanser, the citrus' bright, true-to-life flavors really hitting the mark.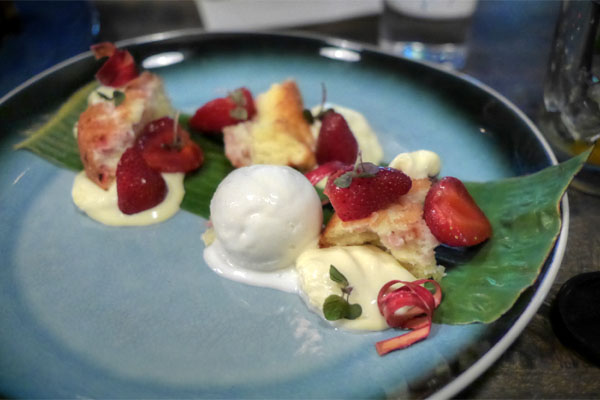 Bibingka [$11.00]
| Harry's Berries strawberries < rhubarb < coconut sorbet
Lastly, Guzman channeled her Filipino heritage for this take on the traditional
bibingka
rice cake. The actual cake was light, moist, and spongy, a fitting base for the pairing of strawberries, coconut, and creamy mascarpone. I liked the incorporation of the traditional banana leaf here as well.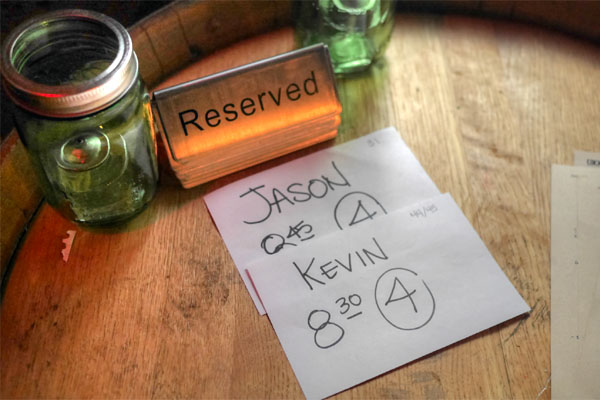 Markuson's reservation system is decidedly old school. They don't need no stinkin' OpenTable.
Despite dining here on a bit of whim, we ended up having a lovely time. The food was on point for the most part, and it was nice to see a blend of whimsical and rustic, of familiar and modern in the cooking here. And you can't forget about the cocktails, which have got to be some of the more notable in Orange County. Overall, another score for DTSA's burgeoning cuisine scene.