King Hua (Alhambra, CA)
King Hua Restaurant
2000 W Main St, Alhambra, CA 91801
626.282.8833
www.kinghuarestaurant.com
Sun 03/22/2015, 12:00p-02:40p

When talking about the top dim sum in LA, one can't deny that three places have firmly established themselves at the top of the heap: Sea Harbour, Elite, and King Hua, the subject of this post. Opened in April 2008 by Ming "Philip" Cai, the appeal here initially was that this place had poached the original dim sum chef from Sea Harbour. I've no idea if said chef is still around, but even in his absence, the place is still chugging along, serving the cart-less style of dim sum that's all the rage these days.

King Hua occupies the former digs of Ritz Garden, Sea Star, and New World. Most of the restaurant is comprised of the large main dining room, which is nicer than most and comes with the requisite seafood tanks along one side. There are also private rooms, but they're on the pricey side; we were quoted a minimum spend of $500 for 12 people, a tall order for dim sum.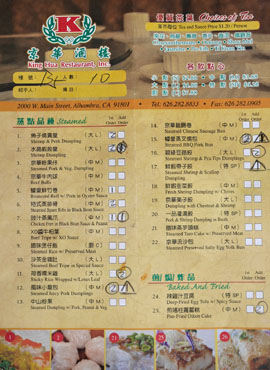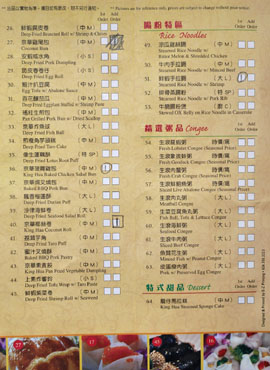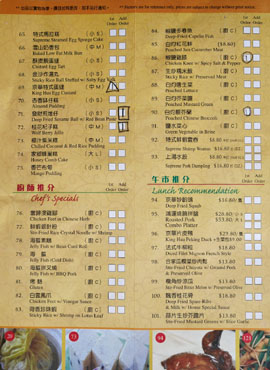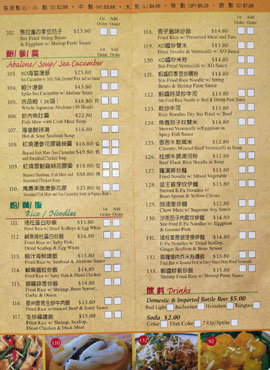 As for King Hua's menu, you get your classics, along with some more interesting, second-wave items and plenty of non-dim sum dishes too. Of course, for dinner there's your traditional, seafood-centric Cantonese
carte
, as well as those elaborate tasting menu affairs, priced per table with numbers ending in "8." The beverage list, unsurprisingly, leaves much to be desired. Corkage, thankfully, is offered here. The price of said corkage, however, will probably vary depending on who tallies the bill and how much he or she cares. We were charged a mere $10 for all five of our bottles. Click for larger versions.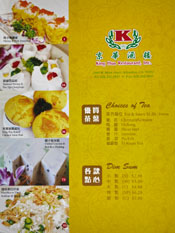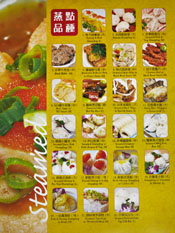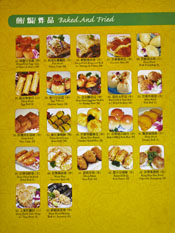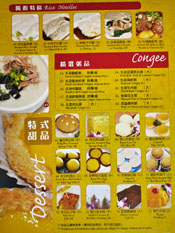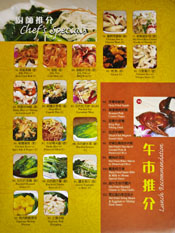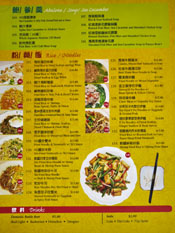 The picture menu can come in handy as well. Click for larger versions.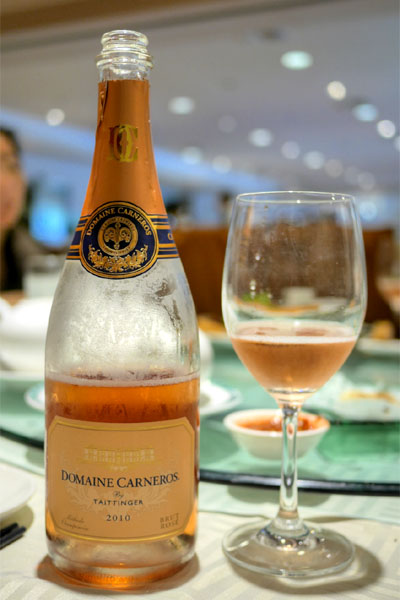 Speaking of bottles, we got going with some bubbly, the
2010 Domaine Carneros Brut Rosé
. Loads of juicy strawberry on the nose here, and on the palate, think dry, a bit yeasty, and easy-drinking. Quite refreshing overall.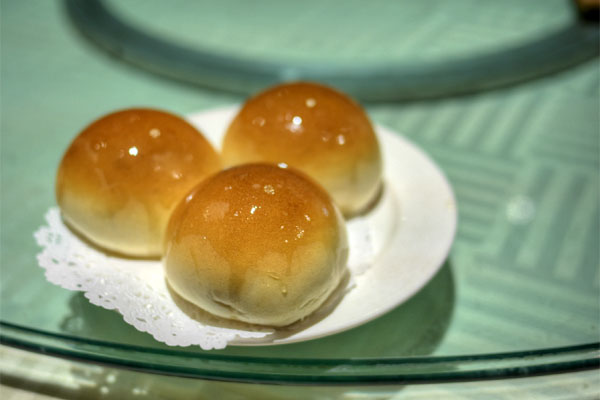 #37 Baked BBQ Pork Bun (M) [$3.88]
Interestingly, though King Hua is indeed cartless, it still features servers walking around trying to ply you with various plates. As such, we started off with a few. The baked
cha siu bao
was a must-get of course, a prototypical rendition featuring sweet-n-savory pork stuffed in light, yet substantial buns. Mouseover for a secondary photo.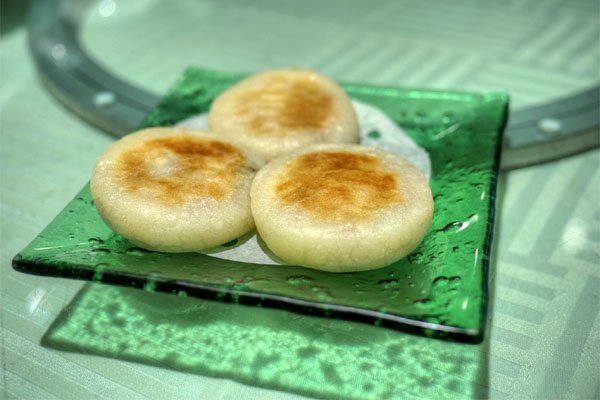 I'm not exactly sure what this second item was, as I couldn't locate it on the menu. We had a filling of salty, subtly sweet meat, encased in a glutinous, pan-fried outer layer. Quite good though. Mouseover for a secondary photo.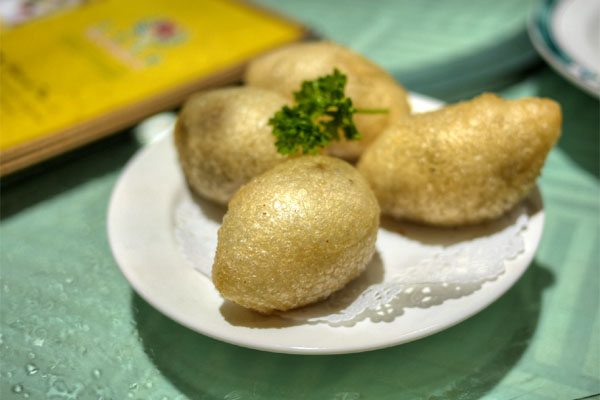 #28 Deep Fried Pork Dumpling (S) [$2.88]
One of my favorites, the
haam seoi gaau
were on point, salty and savory and first, but sweet on the finish, with a great balance of chewy and crispy textures.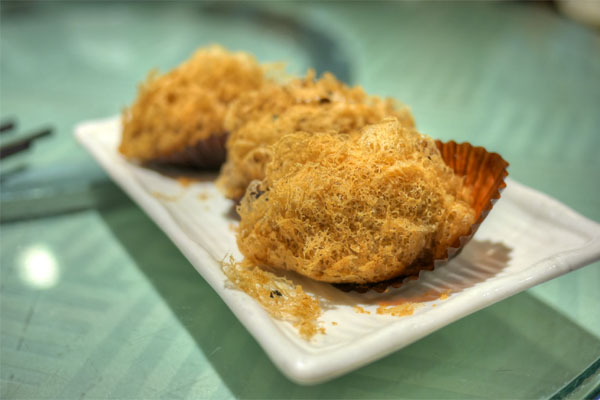 #41 Deep Fried Taro Puff (M) [$3.88]
I also enjoyed the
yutou jiao
, a mishmash of sweet nuances and a lingering savoriness courtesy of the filling. Nice textures here too. Mouseover for a secondary photo.
Roast Duck and Fried Tofu
Here was my least favorite plate of the meal. The tofu I found bland, while the duck was fairly forgettable, too.
Moving on to beer, here was the
2012 Cascade Gose
, a sour wheat beer spiced with sea salt and coriander. It was very good, probably the best gose I've had in fact, a refreshing, crisp ale with light notes of tart citrus and wheat accented by subtle hits of spice and salt.
#2 Shrimp Dumpling (L) [$4.88]
Har gow
were pretty much spot on, with delicate wrappers hiding delightful bits of briny, snappy shrimp.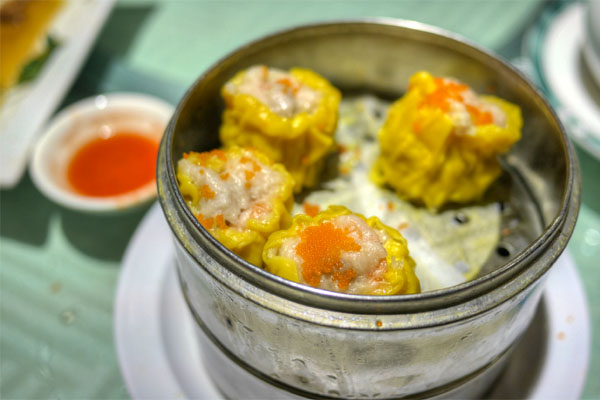 #1 Shrimp & Pork Dumpling (L) [$4.88]
Shaomai
were also very good, with a lovely commixture of savory, saline flavors from the combo of pork and prawn. Nice spongy, springy texture too.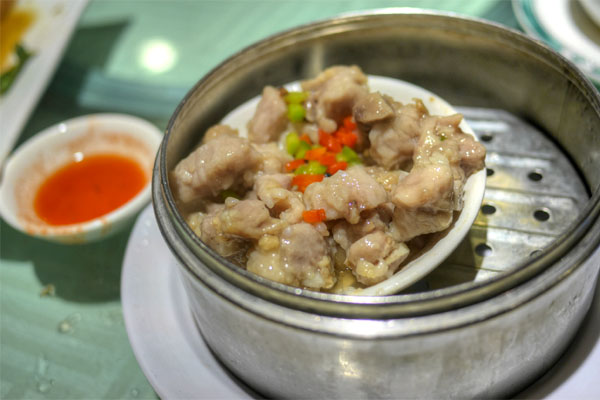 #6 Steamed Spare Ribs in Black Bean Sauce (M) [$3.88]
The
paigu
were well-textured, though a bit fattier than I'd prefer, with a palpable depth from the black bean.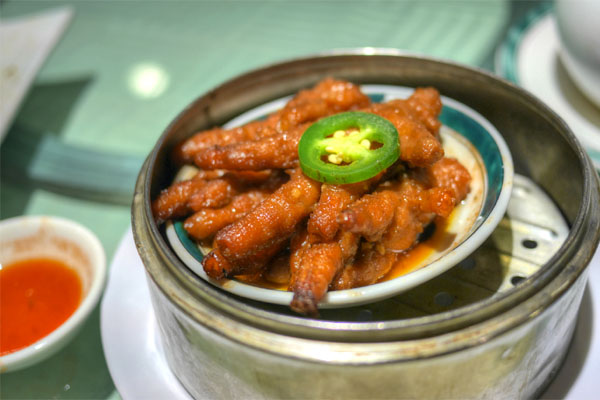 #7 Chicken Feet in Black Bean Sauce & Peanut (M) [$3.88]
I'm usually not a fan of
fung zau
, but these were probably the best I've had. Texturally, they were a great combination of soft and crunchy, and taste-wise, they were virtually flawless as well.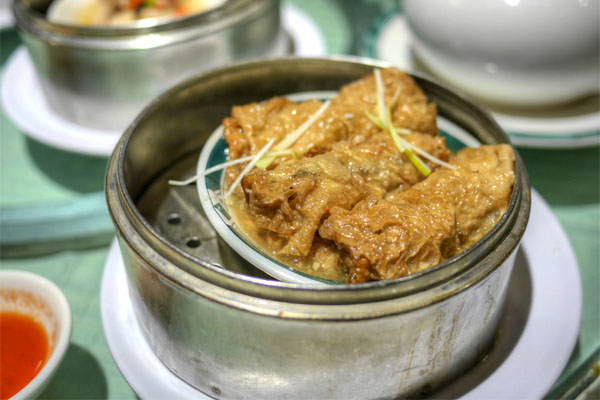 #5 Beancurd Roll w/ Pork in Oyster Sauce (M) [$3.88]
I quite liked the
xian zhu juan
, which showed off a great potency from the oyster sauce. Nice texture on the tofu skin, too.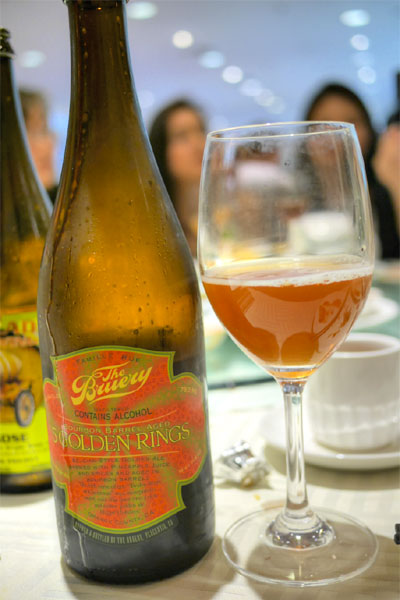 Our next beer was a doozy. The
2012 The Bruery Bourbon Barrel Aged 5 Golden Rings
was a Belgian-style golden ale brewed with pineapple juice, cinnamon, allspice, and ginger, then aged in bourbon barrels. The result was a heady, hefty beer, with big notes of holiday spice and sweet-sour pineapple leading to massive barrel characteristics of wood, smoke, and bourbon.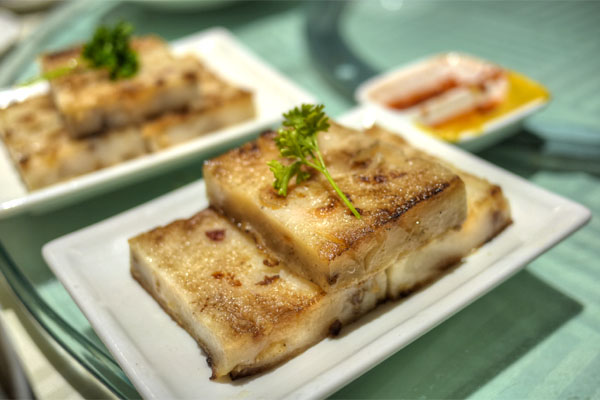 #25 Pan-Fried Dikon Cake (M) [$3.88]
Loubo gao
is one of my go-to dishes, and this was a commendable preparation: creamy, with a slight char, and loaded with the umami-laced goodness of
xiami
.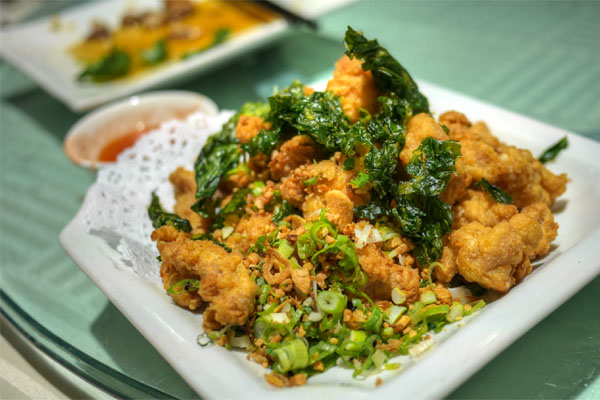 #86 Chicken Knee w/ Spicy Salt & Pepper (C) [$7.88]
Chicken knee is a new one for me. Bits of the deep-fried cartilage came out crunchy and oddly satisfying, the abundance of garlic, spice and salt here working swimmingly with the bird. A fun variation of popcorn chicken.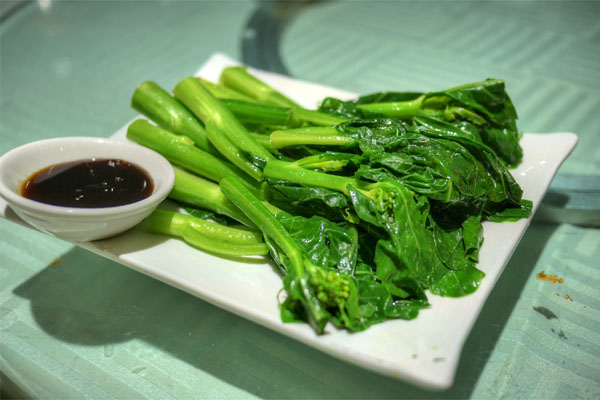 #90 Poached Chinese Broccoli (C) [$7.88]
Wanting to get some greenery in the mix here, we ordered up some delightfully bitter, crunchy
kai lan
.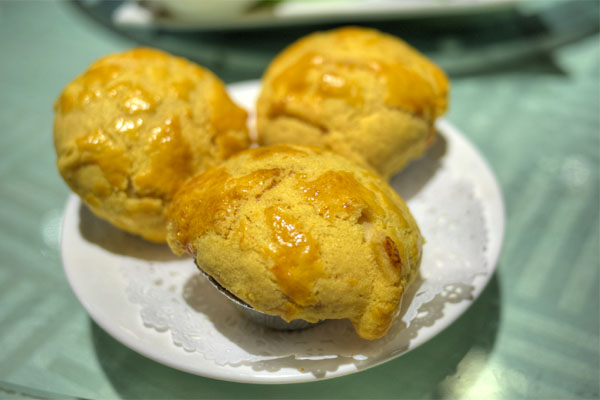 #36 King Hua Baked Chicken Salad Bun (M) [$3.88]
The chicken salad bun was unlike any chicken salad I've had, but was enjoyable nonetheless, with a savory filling enrobed in layers of sweet, flaky pastry.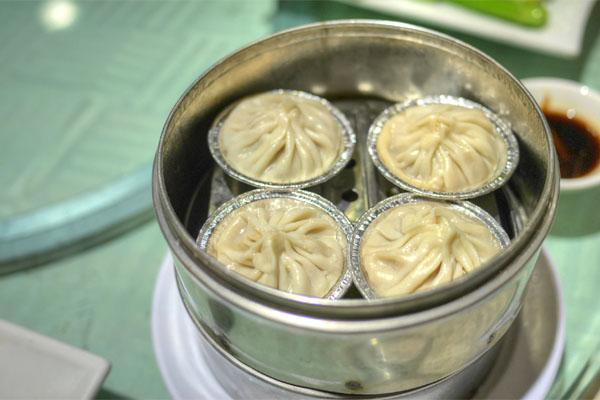 #12 Steamed Juicy Pork Dumplings (M) [$3.88]
The ubiquitous
xiaolongbao
were merely serviceable here, coming out appropriately juicy, though lacking somewhat in depth.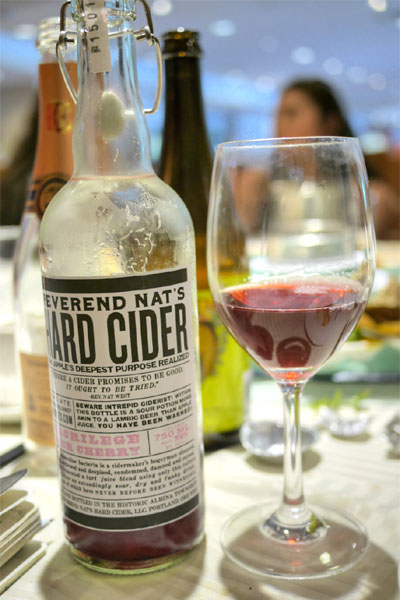 Next up was some cider, the
2015 Reverend Nat's Sacrilege Sour Cherry
, made with tart cherry and
Lactobacillus
blended in with the standard apple. I really enjoyed this, finding it pleasingly tart, with juicy notes of cherry joined by a dry, subtly funky quality.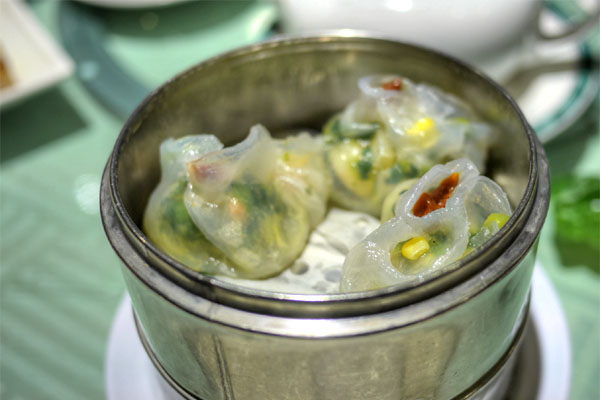 #16 Steamed Shrimp & Pea Tips Dumplings (L) [$4.88]
Apparently, these dumplings, stuffed with shrimp and snow pea shoots then garnished with the trifecta of wolfberry-corn-pea, represent King Hua's signature dim sum item, and they did not disappoint. I was a big fan of the sharp, focused brine of the shrimp, and how that was evened out by all the light, bright nuances present.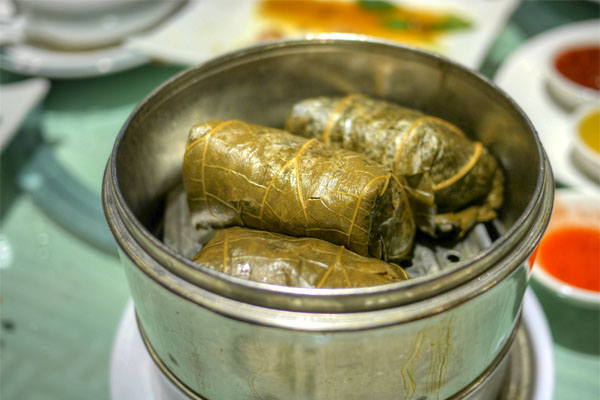 #11 Sticky Rice Wrapped w/Lotus Leaf (L) [$4.88]
Nuomi ji
was a winner as well, with its comfortingly savory flavors pairing beautifully with the well-textured sticky rice. Mouseover for a secondary photo.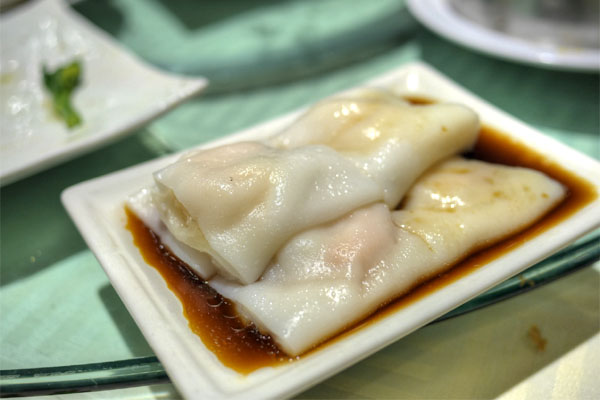 #51 Steamed Rice Noodle w/ Shrimp (L) [$4.88]
Xia chang
were a bit too heavy on the actual rice noodle, though I thoroughly enjoyed the snappy, saline shrimp hidden within.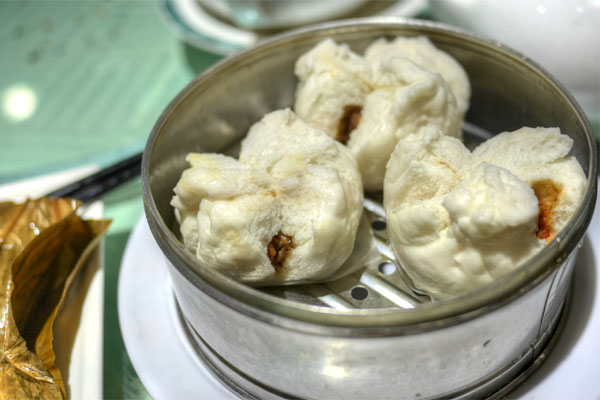 #15 Steamed BBQ Pork Bun (M) [$3.88]
The steamed
char siu baau
delivered, giving us classic BBQ flavors all wrapped up in substantial, yet finespun buns.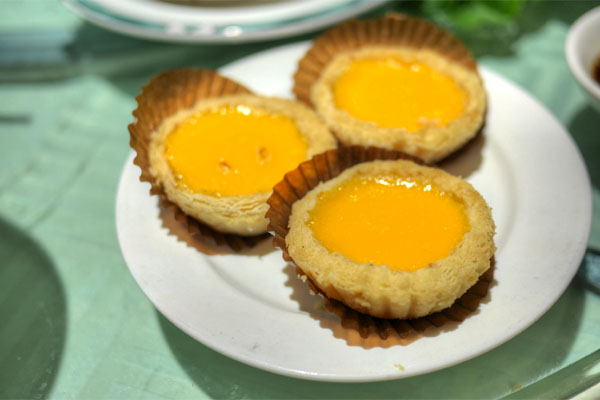 #69 King Hua Egg Custard (M) [$3.88]
Daan taat
were sweet and flaky, just as you'd expect, though I would've liked some caramelization on the top there (Portuguese style).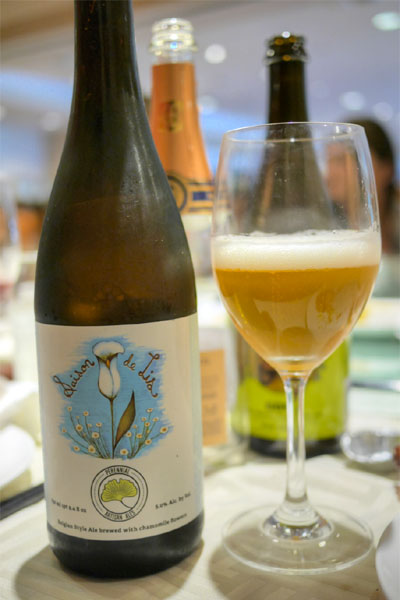 The
Perennial Saison De Lis
was our final tipple, a Belgian-style golden ale brewed with chamomile flowers. I found this crisp and refreshing, with a light funk, light floral qualities, and a grainy, yeasty backbone.
#123 Rice Noodles Dry Stir Fried w/ Chicken [$13.80]
A plate of stir-fried noodles was standard but satisfying, with a lovely crispness to the actual
mein
and a topping of tender, savory chicken. Nice counterpoint from the veggies, too.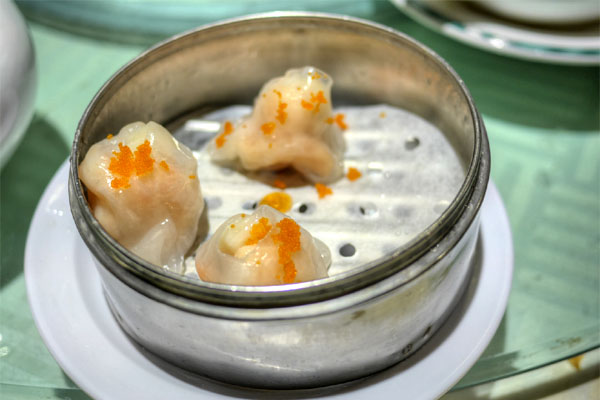 #17 Steamed Shrimp & Scallop Dumpling (SP) [$6.28]
Dumplings featuring both scallop and shrimp were delicious, well-textured and with the ocean-y essence of the seafood really emphasized.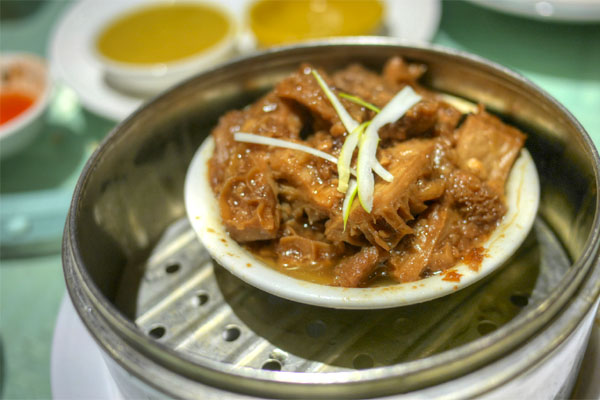 #10 Steamed Beef Tripe in Special Sauce (L) [$4.88]
Tripe arrived suitably tender, with an earthy, almost gamy flavor profile.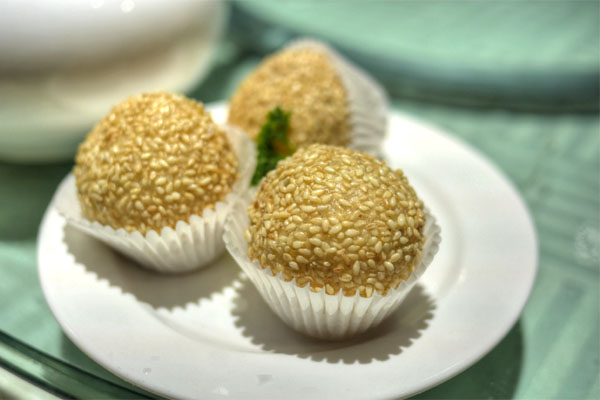 #71 Deep Fried Sesame Ball w/ Red Bean Paste (S) [$2.88]
Dessert brought out
jin deui
, which had sugary red bean interiors set against some nutty, even smoky flavors.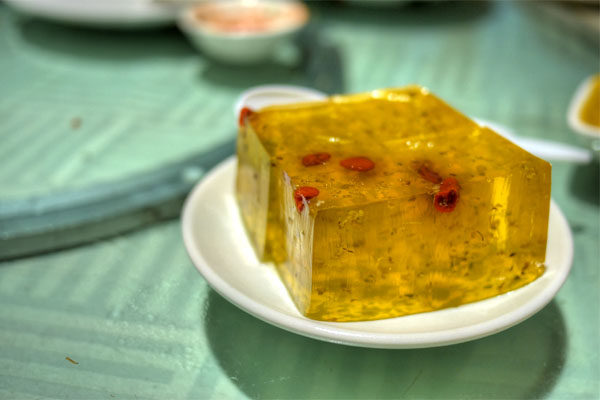 #72 Wolf Berry Jello (M) [$3.88]
Last up was the goji berry jello, which conveyed almost tea-like aromatics commingled with the sweetness of the fruit.
Since debuting back in '08, King Hua's made a name for itself as one of the top players in the dim sum game here in Los Angeles. That reputation seems warranted, as the food here was by and large very strong, with a few real standout dishes to boot. Another place to add to your dim sum itinerary for sure.
---

Following lunch, we wandered over to Fosselman's down the street, which I'd actually never visited before. They've been around since 1919, and this store dates from 1941 (it looks the part).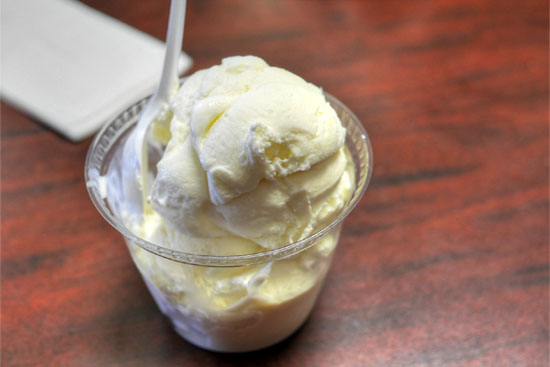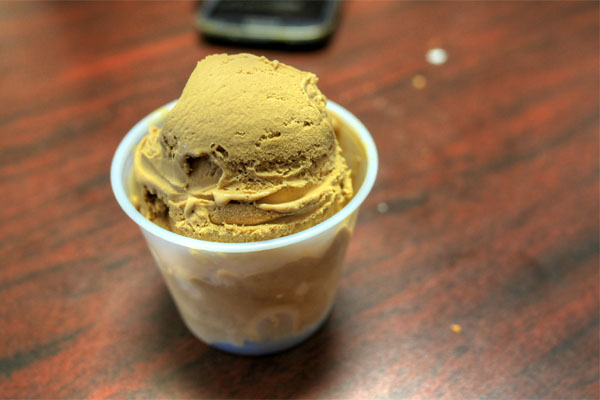 Flavors sampled were
Coconut Pineapple / Lychee
and
Espresso Coffee
, both of which were pretty enjoyable.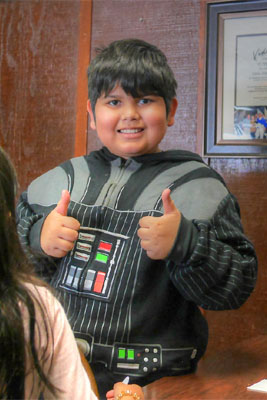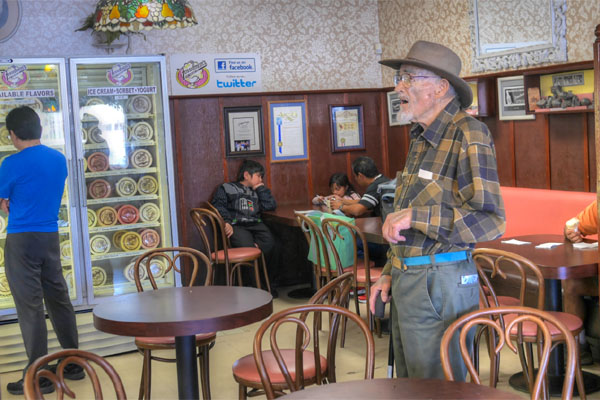 The place seems to appeal to both young and old, which perhaps can't be said for all the new-wave ice cream shops that have popped up in recent years.