Cadet (Santa Monica, CA)
Cadet Restaurant
2518 Wilshire Blvd, Santa Monica, CA 90403
310.828.3300
www.cadetsm.com
Thu 03/12/2015, 07:45p-11:00p

When we last caught up with Kris Tominaga, he was dishing out Southern inspired fare with Brian Dunsmoor over at Palihotel's
The Hart and The Hunter
. The two chefs, however, left the restaurant in September last year, ostensibly because their contracts with the hotel expired. Dunsmoor, of course, took up residence at
Ladies' Gunboat Society
at
Flores
, though he's since decamped to work with former H&H GM Jonathan Strader on Hatchet Hall in the old
Waterloo & City
space. Tominaga, meanwhile, has gone off and teamed with
Freddy Smalls
' Jeff Weinstein on Cadet, a wood-fired, French
campagne
-inspired joint that bowed on November 1st.

Cadet is situated in the former home of The Shack, and the aging sports bar has been transformed by
Nicole Gordon Studio
to a rustic, cozy sort of space, replete with exposed brick, plenty of wood, and a formidable wood-burning oven in the back.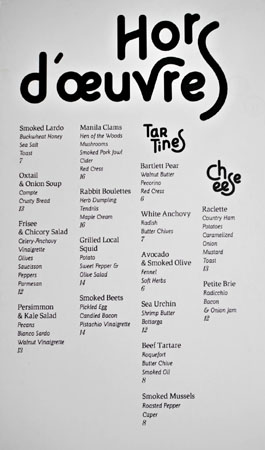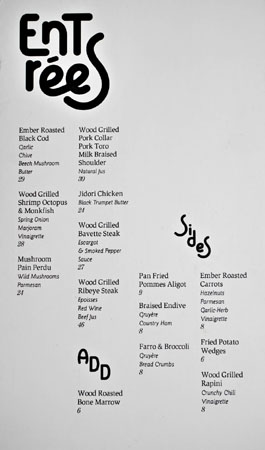 As for Cadet's menu, it starts with an array of
hors-d'œuvre
, which includes no less than six tartines. It then flows into an appealing selection of sides, and mains that comprise various wood-fired proteins served alongside
banchan
-like accompaniments. Click for larger versions.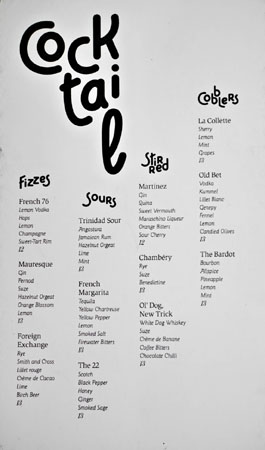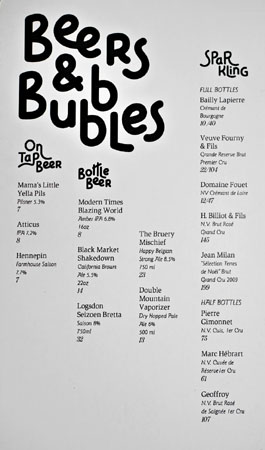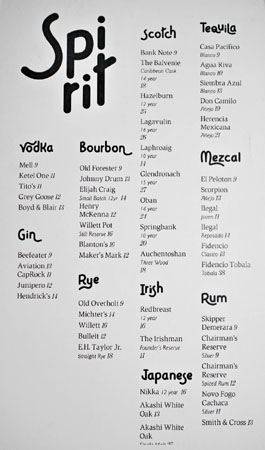 To drink, you get some beers, a small wine list, and a classically-leaning cocktail assortment from Gabriella Mlynarczyk (
Ink
) divided neatly into four distinct categories (the original incarnation with three variations of everything--classic, French, Cadet--is no longer). Click for larger versions.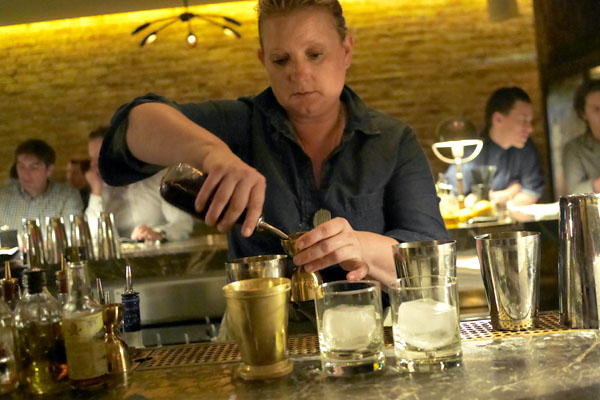 Since we arrived early, we took a seat at the bar in front of Gabby and ordered up a round of drinks.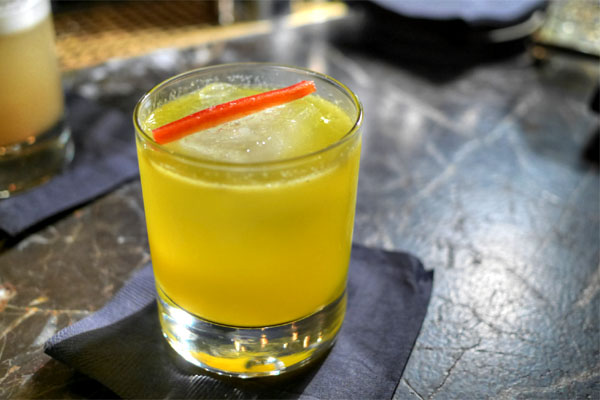 French Margarita [$13.00]
| Tequila, Yellow Chartreuse, Yellow Pepper, Lemon, Smoked Salt, Firewater Bitters
We began with Cadet's best-seller, its light, bright, peppery bouquet and spicy, smoky, savory flavor profile set over a restrained base of tequila. Easy-drinking and approachable--I can see why this is so popular.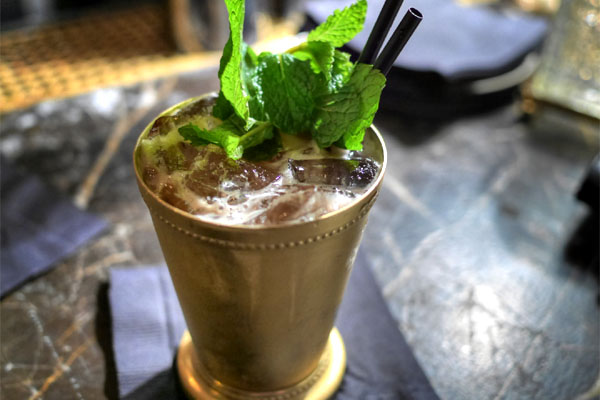 The Bardot [$13.00]
| Bourbon, Allspice, Pineapple, Lemon, Mint
This cobbler was one of my favorites: refreshingly minty on the nose, with a sweet, spicy, fruity, subtly boozy character that went down smooth.
The 22 [$13.00]
| Scotch, Black Pepper, Honey, Ginger, Smoked Sage
Now this was certainly the most challenging of the troika. Ostensibly a take on Sam Ross' iconic Penicillin, the cocktail smelled of spice and savor, and tasted bittersweet and tart, with the smoked sage imparting a woody quality that enveloped the drink.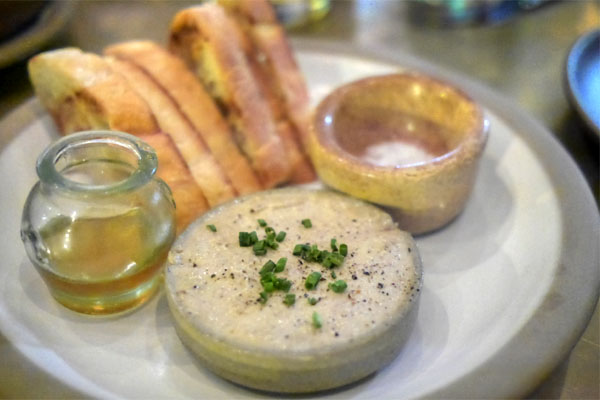 Smoked Lardo [$7.00]
| Buckwheat Honey, Sea Salt, Toast
After being seated, we quickly ordered a few dishes, beginning with the lardo, a smoky, salty, unabashedly porky presentation cut by the sugariness of that honey. Very nice when spread over the included toast.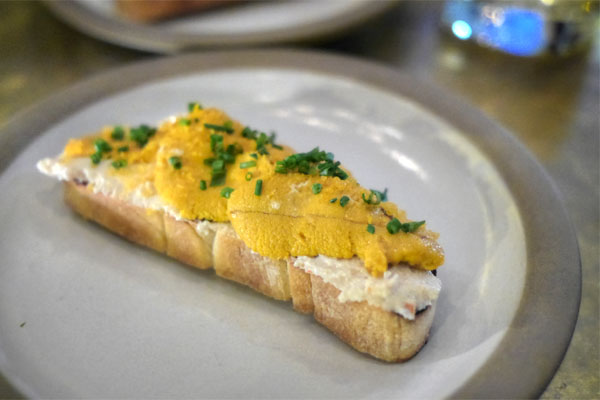 Sea Urchin [$12.00]
| Shrimp Butter, Bottarga
Uni toast is definitely a thing now, and Tominaga's was a worthy example, with the briny, lingering lushness of the urchin on proud display, tempered by its base of bread.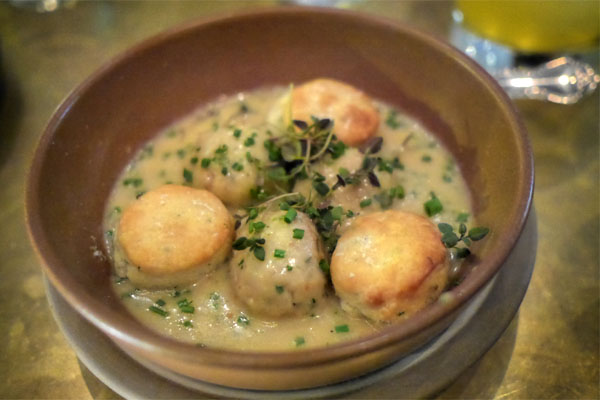 Rabbit Boulettes [$16.00]
| Herb Dumpling, Tendrils, Maple Cream
The meatballs are probably Cadet's signature dish by this point, and for good reason. First we have the rabbit, which comes out richly-flavored and well-textured, thoroughly enjoyable on its own. Then you add in the soft, fluffy biscuits and the creamy, herb-laced sauce to bind it all together, and you get a must-order item that's pretty hard not to like.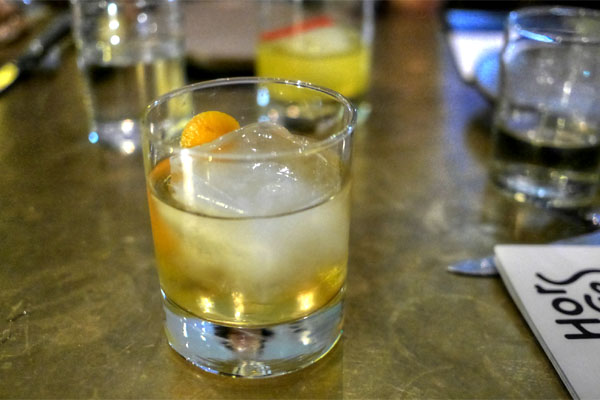 Ol' Dog, New Trick [$13.00]
| White Dog Whiskey, Suze, Crème de Banane, Coffee Bitters, Chocolate Chilli
Time for more cocktails. The unaged whiskey here made for a robust drinking experience, the viscous liquid arriving loaded with a distinct chocolate-y quality as well as savory, tart, and citrus notes, the whole thing underscored by the sweetness of banana.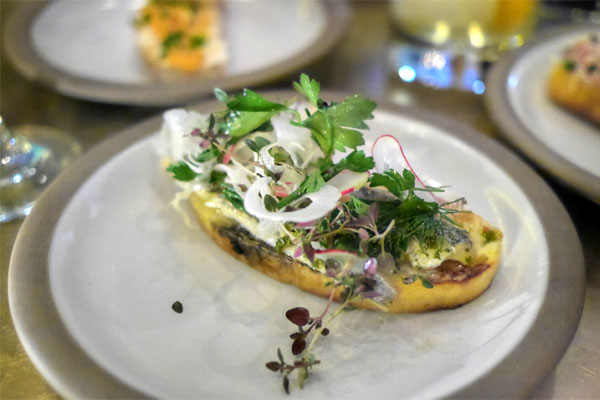 White Anchovy [$7.00]
| Radish, Butter, Chives
This anchovy variation was actually my favorite of the tartines, with its unmistakable fishiness beautifully countered by the greenery while the butter made for a softer finish to the dish.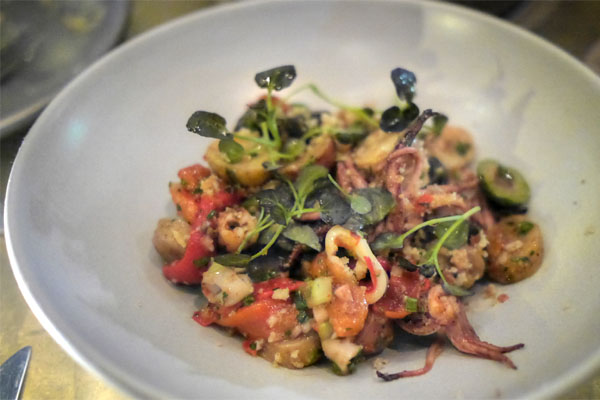 Grilled Local Squid [$14.00]
| Potato, Sweet Pepper & Olive Salad
Next was a lighter presentation of squid, one with the ingredient's inherent flavors amplified by the sweet pepper and zesty olive while the potato served to moderate the dish.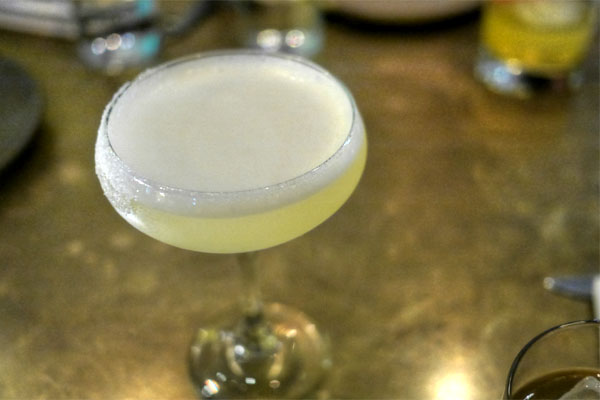 French 76 [$12.00]
| Lemon Vodka, Hops, Lemon, Champagne, Sweet-Tart Rim
Here was Mlynarczyk's take on the classic French 75, a tasty concoction that I found eggy and tart on the nose, and tangy and bitter on the palate, with plenty of lemon-y nuances to boot. Some of us even found it Pisco Sour-esque.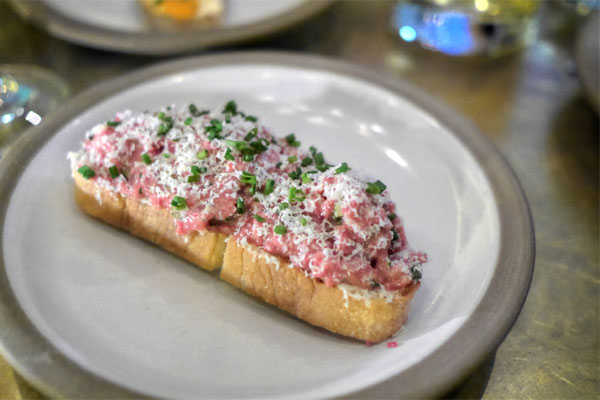 Beef Tartare [$8.00]
| Roquefort, Butter, Chive, Smoked Oil
You generally can't go wrong with beef tartar, and Cadet's didn't go astray, with the soft, springy meat elevated by the weightiness of the smoked oil while the chives added just a touch of levity to the mix.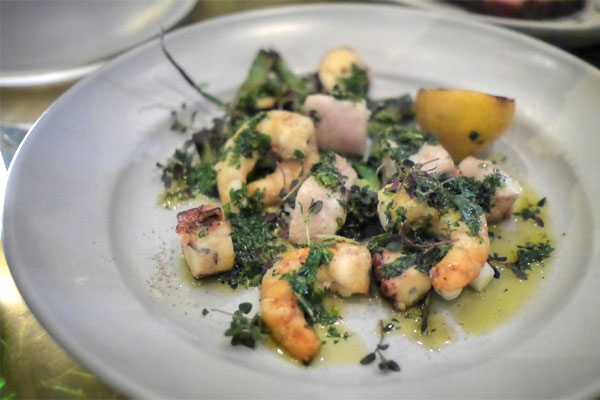 Wood Grilled Shrimp, Octopus & Monkfish [$28.00]
| Spring Onion, Marjoram, Vinaigrette
At this point in the meal, we moved on into the more substantial courses, starting with a trio of seafood. The octopus was my favorite element here, coming out snappy and tender and wood-kissed, and I enjoyed the firm texture and brininess of the monkfish as well. Shrimp were a touch over unfortunately, though I did appreciate how the onion and marjoram combo tied everything together with a bevy of bright, herbaceous flavors.
Here we see the various accoutrements: spicy chili sauce, homemade pickles, house mustard, horseradish cream, lettuce, and those wonderfully fluffy disks of tangy
injera
-like sourdough flatbread.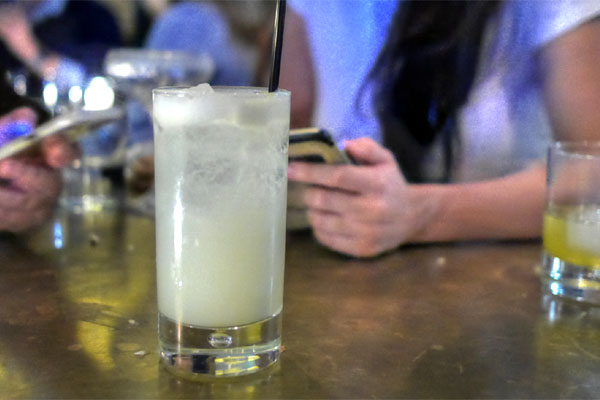 Mauresque [$13.00]
| Gin, Pernod, Suze, Hazelnut Orgeat, Orange Blossom, Lemon
A classic drink from southern France, this one was quite to my liking, with its distinct anise-y notes up front leading to a complex of sweet, creamy notes, accented by the zing of lemon.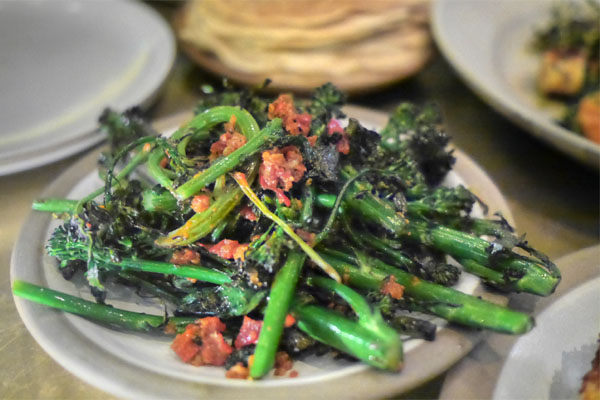 Wood Grilled Rapini [$8.00]
| Crunchy Chili Vinaigrette
Broccoli raab was spot on: bitter, crunchy, and well-charred, with a sharp bit of heat to finish things off.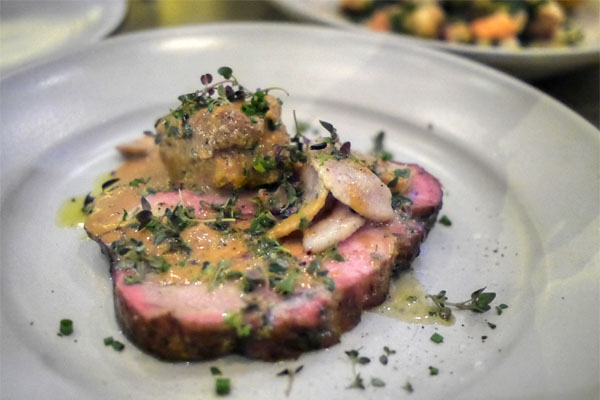 Wood Grilled Pork Collar, Pork Toro, Milk Braised Shoulder [$30.00]
| Natural jus
Following was a pork three-way, a hearty, heavy, gratifying presentation that showcased different facets of pig. Surprisingly effective when taken with the various little sides.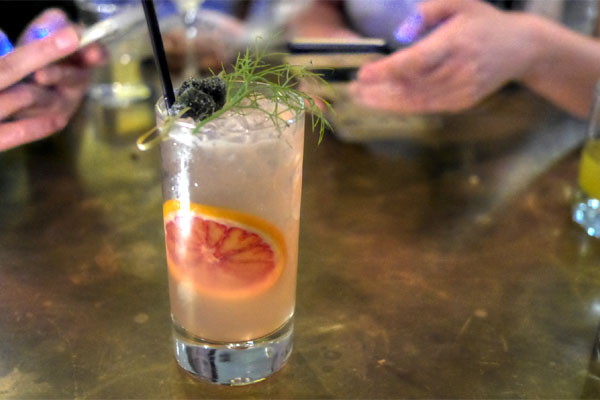 Old Bet [$13.00]
| Vodka, Kummel, Lillet Blanc, Genepy, Fennel, Lemon, Candied Olives
Here was another cocktail favorite of mine, one with tons going on, but with everything in perfect balance, a commixture of spicy, sweet, herbal, bitter, anise-y, and floral, tarted up by a
suan mei
-esque sourness. Fantastic candied olives, too.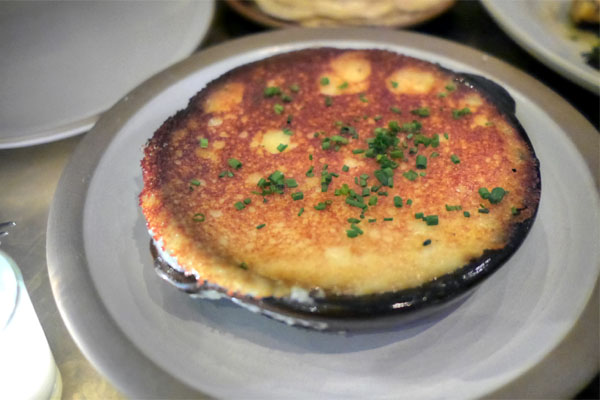 Pan Fried Pommes Aligot [$9.00]
An old-school dish from the South of France, this was just about the sexist preparation of
pommes
ever, a mash-up of cheese and potato that was almost fondue-like in its rich, creamy, gooey goodness. It was hard to tell where the cheese ended and the potato started.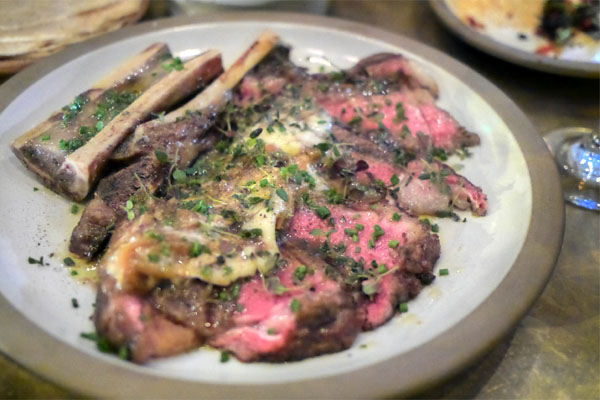 Wood Grilled Ribeye Steak + Wood Roasted Bone Marrow [$46.00 + $6.00]
| Epoisses, Red Wine, Beef jus
Our
pièce de résistance
of sorts, rib eye came out tender, juicy, and fatty, with some deep, salty, bovine flavors augmented, too much so actually, by the potency of the Époisses. We added on marrow, but it wasn't necessary here either. The meat can stand alone.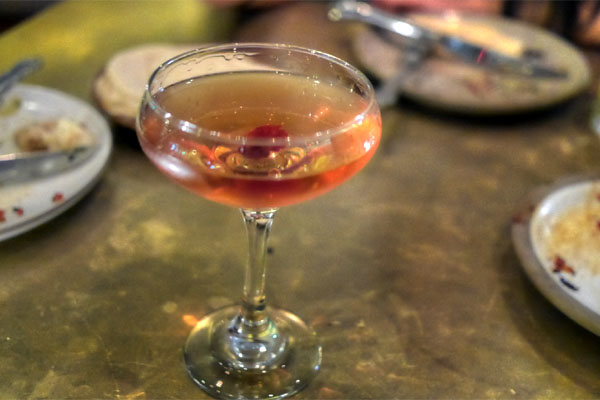 Martinez [$12.00]
| Gin, Quina, Sweet Vermouth, Maraschino Liqueur, Orange Bitters, Sour Cherry
The classic Martinez was also a stand-out, bittersweet and highly aromatic on the nose, with a taste that went boozy and sweet, yet superbly balanced with a great gravity to it.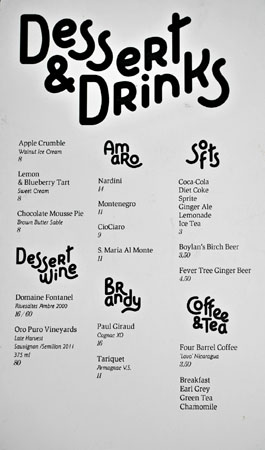 Cadet's dessert menu is small and simple, apropos for the place. Click for a larger version.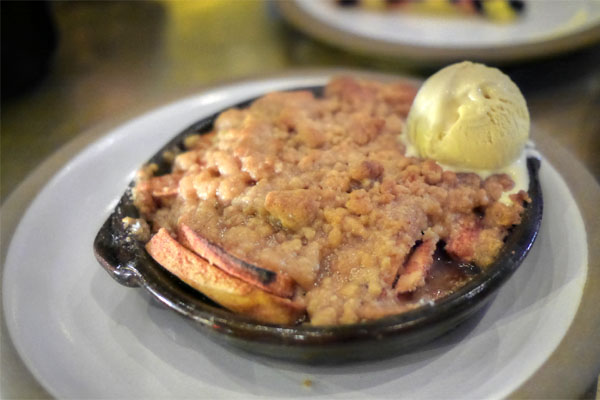 Apple Crumble [$8.00]
| Walnut Ice Cream
Cozy flavors of apple sweetness and spice, with a cool ice cream contrast. The definition of comfort.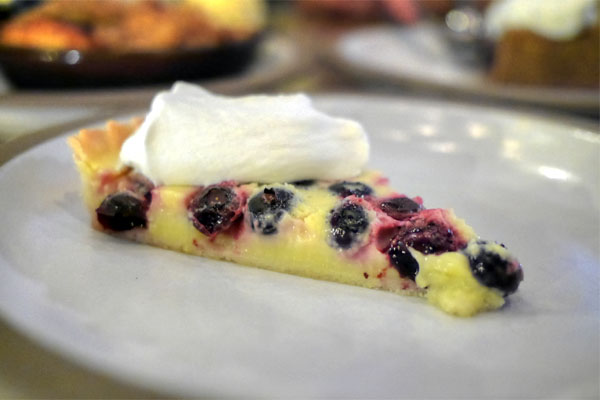 Lemon & Blueberry Tart [$8.00]
| Sweet Cream
Delightfully tart and sweet, yet moderated by the cream up top and the buttery, flaky crust.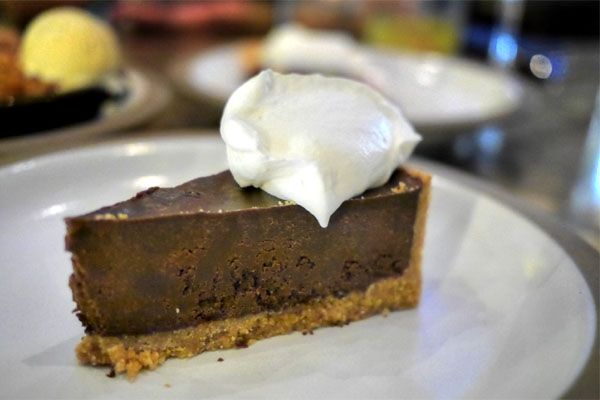 Chocolate Mousse Pie [$8.00]
| Brown Butter Sable
Super dense, super dark, super chocolate-y, evened out by lovely pricks of salt and the lightness of that cream. Nice crust, too.
We're so used to seeing Tominaga cooking alongside Brian Dunsmoor, and the two made for a formidable team to be sure, but it was good to experience the Chef getting back into a solo routine. The result is a more serious, more classic, more rustic style, rooted in the coziness of French countryside cooking. Cocktails were commendable as well, making Cadet another notable entrant to the increasingly worthwhile Santa Monica dining scene.