Ox & Son (Santa Monica, CA)
Ox and Son Restaurant
1534 Montana Ave, Santa Monica, CA 90403
310.829.3990
www.oxandson.com
Wed 05/13/2015, 08:10p-10:55p

Ox & Son is a place that's been getting quite a bit of buzz as of late. A new addition to the Santa Monica dining scene, the modern American eatery opened back in March, the latest project from Fork n' Awesome Hospitality Group. FNA was founded in 2014 by Mark Verge (213 Nightlife, Westside Rentals), along with Managing Partner Mark Mittleman and Executive Chef/Partner Brad Miller. Restaurants in the company's portfolio include Art's Table, OP Café, as well as the newish Ashland Hill, with Miller running the kitchens at both Ashland and at Ox. Joining him here are CdC Gabe Hatton (Inn of the Seventh Ray, Pinot Bistro) and GM Brandon Bernstein (
Faith & Flower
, Wilshire).
About the Chef
: Bradley Miller grew up in Ottawa, IL, the son of Cindy Christmann and Gary "Ox" Miller, co-owner of Bill Polancic's Meat Market and the inspiration for Ox & Son's name. He spent considerable time at his father's butcher shop in his younger years and soon developed a keen interest in food. After finishing up at Ottawa Township High School in 2000, Miller started the Le Cordon Bleu program at Scottsdale Culinary Institute. During his tenure there, he worked for local caterer Michael's, and following graduation in 2002, interned at the banquet kitchen of the Arizona Biltmore in Phoenix. He eventually got a job at the hotel's Wright's Restaurant, but left in May 2004 to cook a brief stint as sous at Mount Rrainier's Paradise Inn. Miller stayed in Washington until that October, then came back to work at Wright's for a few more months.
He then moved to Latilla Restaurant at Boulders Resort & Spa, where he became sous chef and later CdC. It was during this time that Miller competed on Season 3 of
Hell's Kitchen
, where he was the seventh chef eliminated. In 2008, he left Arizona and moved out west, taking on a line cook gig at LA mainstay
Patina
. He left in early 2009 and found his first Executive Chef role at The Inn of The Seventh Ray in Topanga. While there, Miller served as a guest judge on
Rachael vs. Guy: Celebrity Cook-Off
and also partnered with senior living provider Five Star Quality Care to revamp the company's dining program. He decamped last year to join the team at FNA, his first project being Ashland Hill, which soft opened on January 30 in the old Wildflour Pizza space.

Ox & Son takes over the address of the middling Cafe Montana. It's a rather masculine space, with lots of wood and dark leathers, the olive-toned banquettes adding a touch of levity to the room.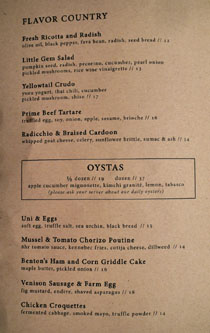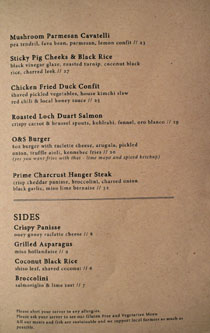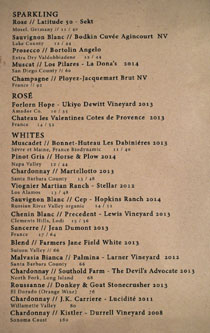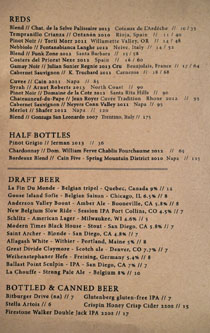 The menu at Ox & Son is pleasantly compact and eclectic, presenting twists on the classics set in the tried-and-true cadence of small plates, large plates, sides, and dessert. To drink, think a small selection of wines and a beer list put together by Ashland Hill's Luke Tabit. Click for larger versions.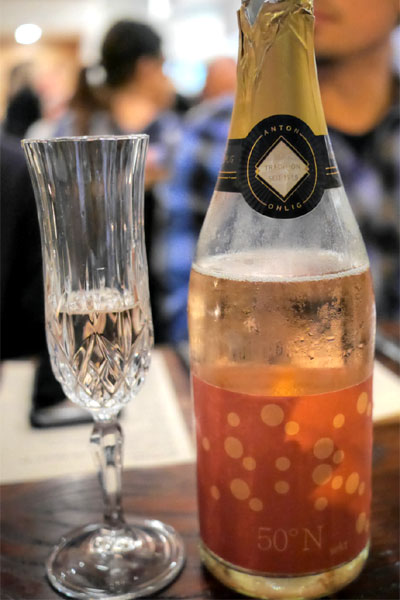 We opted for wine this evening, and commenced with some bubbly, the
Rose, Latitude 50 - Sekt, Mosel, Germany [$40]
. It was a nice start to things, with its crisp, dry minerality complemented by a subtle underpinning of strawberry and citrus.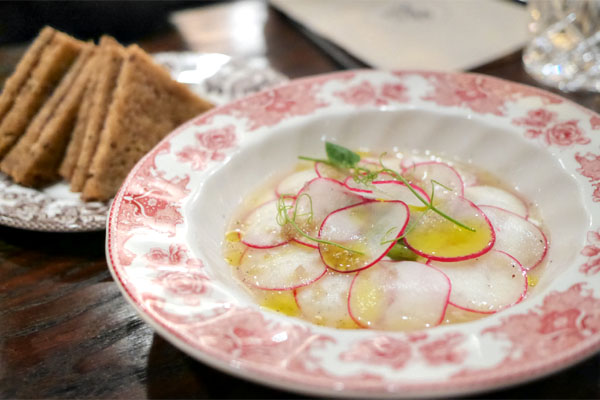 Fresh Ricotta and Radish [$12.00]
| olive oil, black pepper, fava bean, radish, seed bread
Things did not start well, as we endured a roughly 15-minute wait before even being offered water and amateurish service when it came to the bottle above. Perhaps as a result of that, the kitchen sent out a complementary course of ricotta. It was a winner, with the richness of the cheese beautifully paired with the potency of olive oil, the radish and fava providing an offsetting crunch and lightness. Superb spread over the bread, which was wonderful even by itself.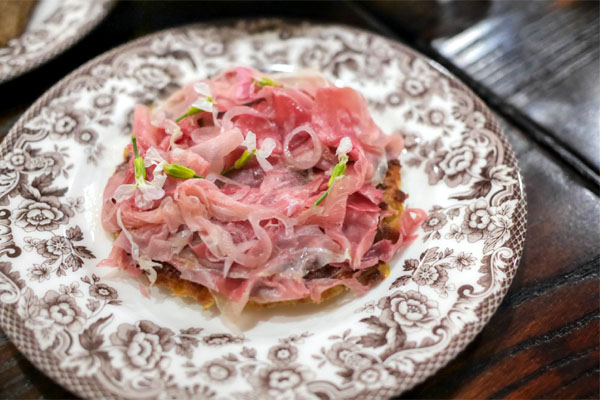 Benton's Ham and Corn Griddle Cake [$16.00]
| maple butter, pickled onion
This was a playful, tasty dish, with the salty, hammy savor of the Benton's leading to the sweet, gritty finish of griddle cake in seamless fashion.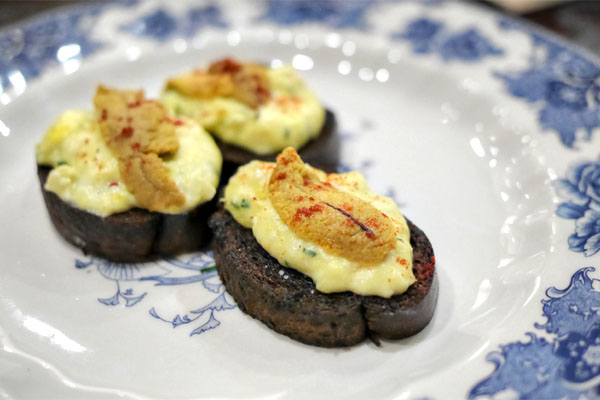 Uni & Eggs [$15.00]
| soft egg, truffle salt, sea urchin, black bread
We couldn't resist this next dish of course, seeing as how it combined two of our favorite things. The uni was certainly not the prettiest we'd seen, coming out somewhat discolored and scraggly-looking. Taste-wise, the urchin wasn't offensive, though it wasn't as luxurious as we were hoping for. The egg was the dominant force here, the roe contributing just a whisper of salinity while the entire bite was overlayed by the musk of truffle.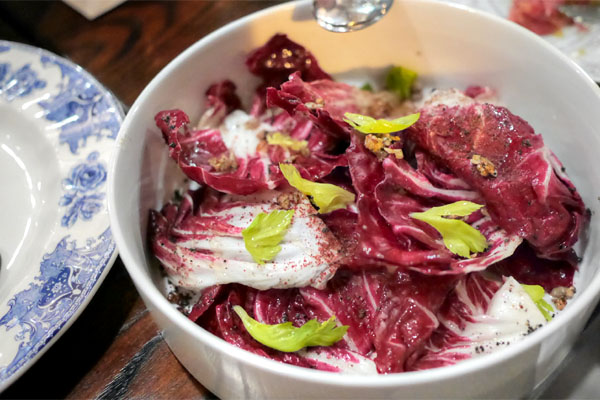 Radicchio & Braised Cardoon [$14.00]
| whipped goat cheese, celery, sunflower brittle, sumac & ash
Radicchio arrived crisp and properly bitter, its astringency balanced out by the tangy chèvre while sumac imparted a nice bit of piquancy to the mix.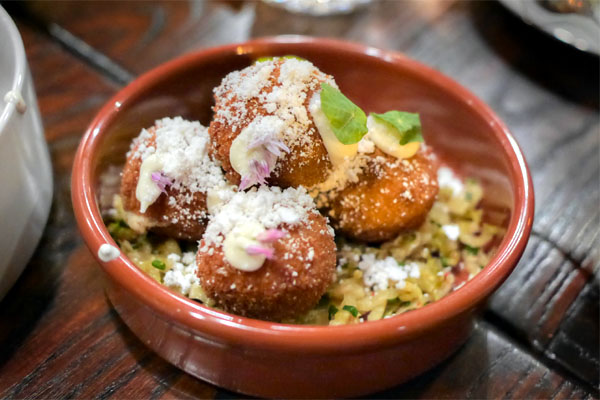 Chicken Croquettes [$14.00]
| fermented cabbage, smoked mayo, truffle powder
The croquettes were probably our favorite course of the evening, showing off a great depth of savor enhanced by the smoky mayo, all while the kraut gave up a counterbalancing acidity. I definitely could've used more of these guys.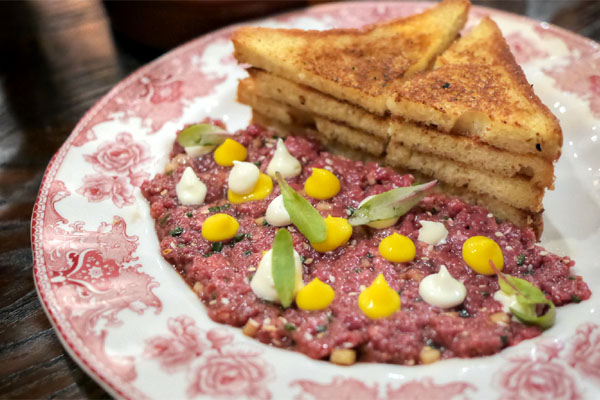 Prime Beef Tartare [$16.00]
| truffled egg, soy, onion, apple, sesame, brioche
I almost always have to get the tartar, and Ox & Son's was a worthy example, and one of the prettier preparations I've seen. The beef ate supple and springy, with a nice soy-augmented depth evened out by the Asian-y nuances of onion, apple, and sesame. Great over the paired brioche.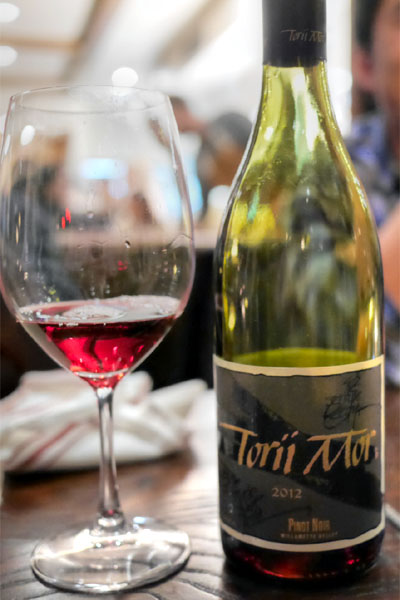 Our second wine was the
Pinot Noir, Torii Mor 2011, Willamette Valley, OR [$48]
. I was a bit ambivalent on this one. Imagine aromas of tart, red fruit and pepper, and flavors of more berry, earth, and spice, with a noticeable acidity.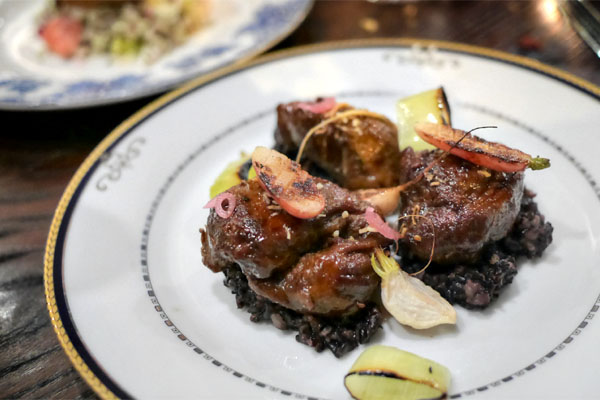 Sticky Pig Cheeks & Black Rice [$27.00]
| black vinegar glaze, roasted turnip, coconut black rice, charred leek
In the first of our larger plates, pork came tender and deeply flavored, enhanced by the black vinegar while turnips and leeks added a proper amount of countervailing astringency. However, I found the rice overly sugary, as it tended to overwhelm the cheeks here.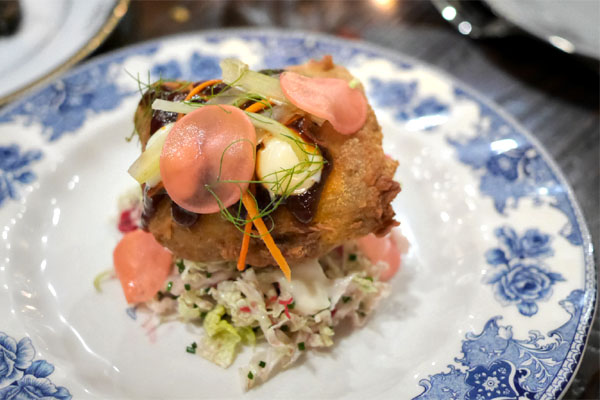 Chicken Fried Duck Confit [$25.00]
| shaved pickled vegetables, house kimchi slaw, red chili & local honey sauce
I couldn't
not
order something described as chicken fried duck confit, but the bird didn't live up to its promise. There was a lovely crispness on the duck, but flavor-wise, it just seemed one-note. I really appreciated the slaw and pickles--their acidity, their crunch, their funk--but the star of the show underwhelmed.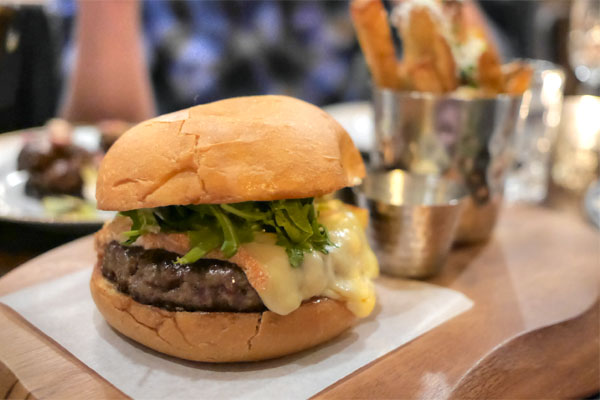 O&S Burger [$20.00]
| 8oz burger with raclette cheese, arugula, pickled onion, truffle aioli, kennebec fries (yes you want fries with that - lime mayo and spiced ketchup)
The signature burger appeared with a medium-rare patty that was appropriately beefy, though things did veer salty, due largely to the generous portion of Raclette I imagine. The arugula and pickled onion did help in evening things out though, and the fries worked well enough.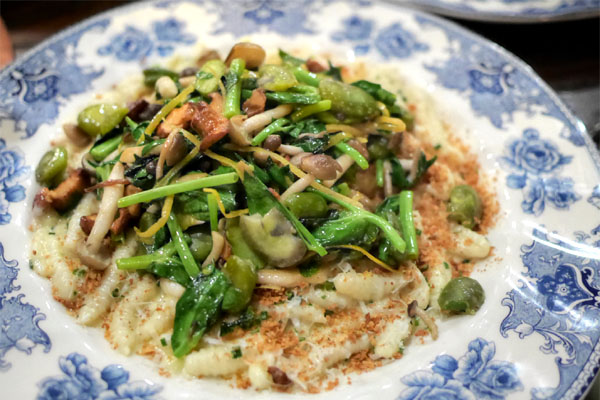 Mushroom Parmesan Cavatelli [$23.00]
| pea tendril, fava bean, parmesan, lemon confit
For our final savory, cavatelli was pretty well-textured, and I liked brightness of the peas and favas, though I wanted more lushness, more depth to the dish. I wanted the Parm and mushrooms to shine.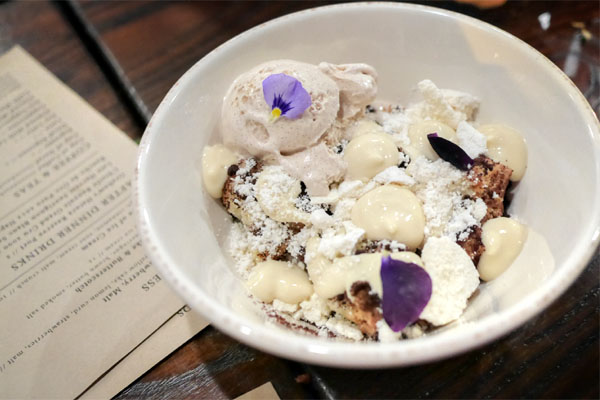 Coffee Cake & Butterscotch [$12.00]
| shattered meringue, brown butter, smoked salt, cinnamon ice cream
Dessert was definitely a highlight for me, with its masterful interplay of sweet and spicy from the butterscotch and cinnamon, all backed by notes of coffee while the salt added a fantastic smoky tinge to the dish. Very well put together, and great textures, too.
The night was a touch uneven. The cooking's got some interesting twists, some playfulness, which I like, and indeed, many of the dishes were realized fully in this regard (e.g. the ricotta, croquettes, tartar, and that superb dessert). However, more plates than I wanted didn't really hit the mark. I do think there's a lot of potential here though, so hopefully things get tightened up a bit.