Birch (Los Angeles, CA)
Birch Restaurant
1634 N Cahuenga Blvd, Hollywood, CA 90028
323.960.3369
www.birchlosangeles.com
Tue 05/05/2015, 08:20p-10:55p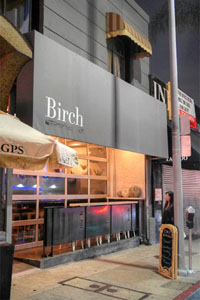 When I last encountered Brendan Collins, he was cooking over at
Waterloo & City
, one of the Southland's premier gastropubs, which he opened in May 2010 with GM Carolos Tomazos. The duo followed up W&C with Larry's, another gastropub-y spot inside Venice's Hotel Erwin that launched in August 2011. That September, Collins also took on a Consulting Chef role at Palihouse Courtyard Brasserie in WeHo, and the following January, started work on the food & beverage program at the related Palihotel (
The Hart & The Hunter
quickly took over the hotel's main restaurant though). In August 2013, he appeared on the debut episode of
Ilan Hall
's
Knife Fight
, defeating
David Féau
, and would later become a regular judge on the show.
A further foray into television came in the form of an "expert" role on MTV's
House of Food
, alongside
Casey Lane
and
Brooke Williamson
. Despite all his successes though, Collins announced late last year that Waterloo & City would soon shutter, and indeed, the restaurant closed at the start of February, to be replaced by The Hatchet Hall from Chef
Brian Dunsmoor
and Jonathan Strader. The reason for the closure, apparently, was that he'd grown tired of the gastropub genre.
In place of the cooking that he's been known for over the past several years, Collins is instead taking a more elegant approach with the food at Birch (the name is a nod to the thicket of birch trees near his hometown of Nottingham, England), a restaurant that aims to capture his entire journey as a chef, from his fine dining training in Europe to his various positions in Los Angeles. Birch bowed on March 10th, and joining Collins in the kitchen is Chef de Cuisine Stuart Gerber, the former CdC at Waterloo & City who'd been there for its entire run.

Birch occupies the 2,200-square-foot former home of Fuku Burger, which has been redone by Swede Ann Karlstrom. The restaurant reflects the designer's Scandinavian roots and features large swaths of light wood and plenty of neutral tones. There are 28 seats in the main dining area up front, two communal tables for 16, six stools outside, 15 seats at the bar, and another 16 seats in the patio out back.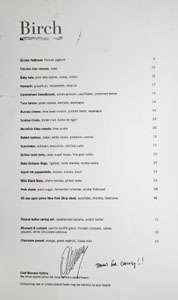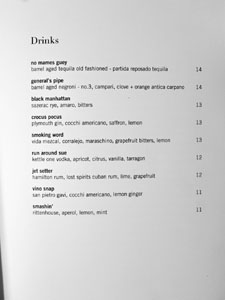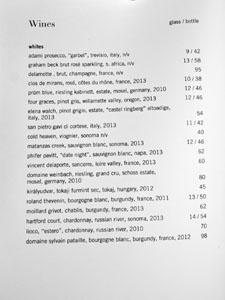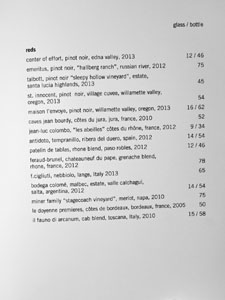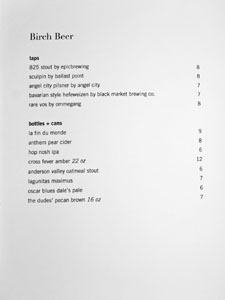 Birch's menu is pleasingly compact, mostly smaller plates and a few larger ones, all ostensibly influenced by the Chef's time spent here in LA. To drink, you get a small wine list, beers on tap and in bottles, and a selection of cocktails. The beverage program was originally created by Sal Roses (
MB Post
), with the help of Phil Wills and Tony Pereyra of Spirits in Motion, but Roses has since left, and I understand that the cocktail program has been recently revamped by Gabriella Mlynarczyk of
Cadet
. Click for larger versions.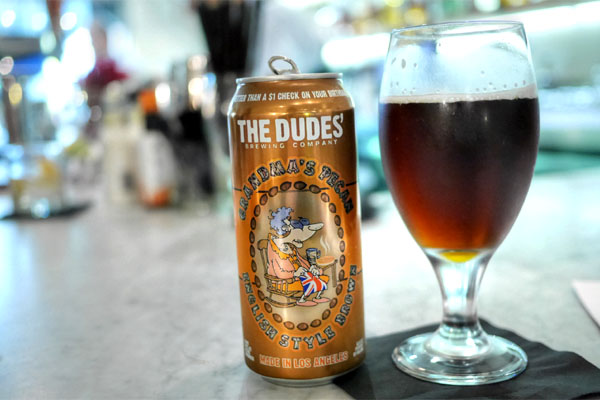 I arrived early at the restaurant, so I ordered up a can of
the dudes' pecan brown [$7]
while waiting. The beer really did live up to its name, delivering massive amounts of sweet, nutty notes with a backing of malt and slight coffee.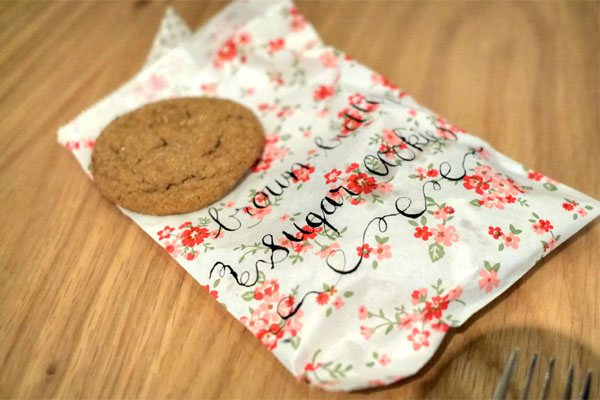 As such, the beer paired quite well with the homemade Brown Butter & Sugar Cookies brought by one of my dining companions.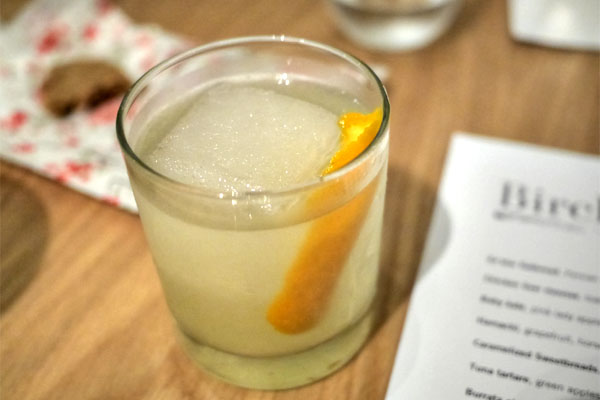 smoking word [$13.00]
| vida mezcal, corralejo, maraschino, grapefruit bitters, lemon
The requisite mezcal cocktail was surprisingly restrained on the nose, but on the palate, you got the smoky essence of the spirit, joined by countering bittersweet notes and hits of citrus.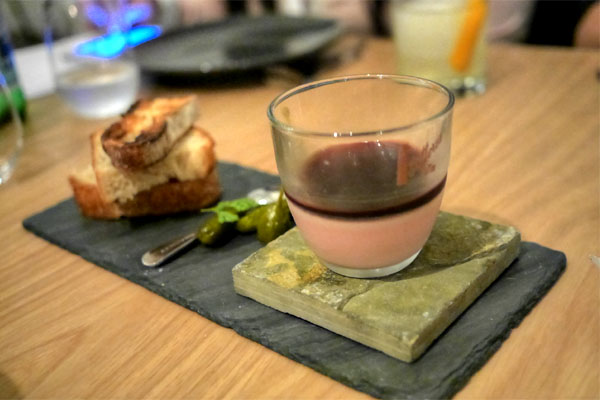 Chicken liver mousse [$12.00]
| toast
The chicken liver was classic at its core, giving up all the earthy nuances that you'd expect, tempered by the sugary layer of fruit on top. Great over toast, and I appreciated those tiny, tart cornichons as well.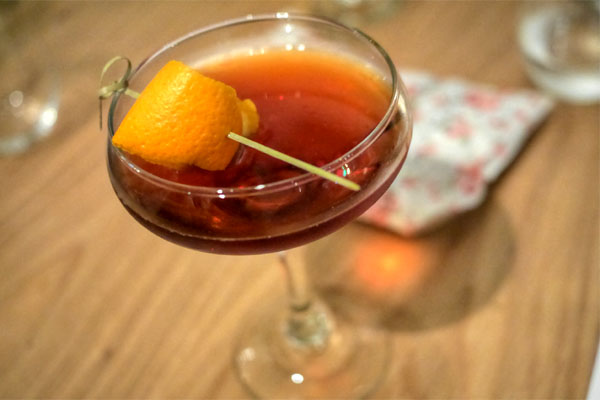 black manhattan [$13.00]
| sazerac rye, amaro, bitters
The traditional Manhattan was made "black" by the substitution of amaro for red vermouth. It was a worthwhile replacement, with the herbal, medicinal notes of the liqueur working well with the citric, bittersweet, boozy notes in the cocktail.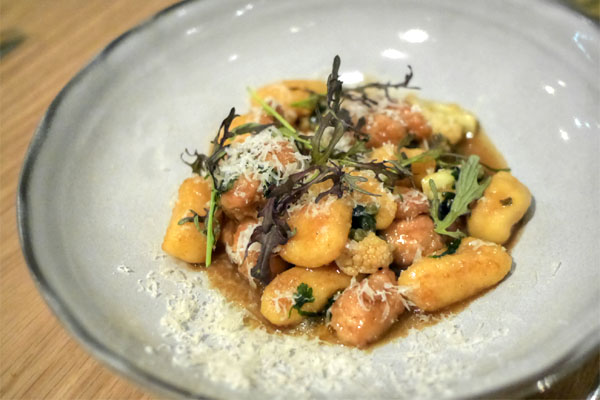 Caramelized Sweetbreads [$15.00]
| potato gnocchi, cauliflower, preserved lemon
Sweetbreads were richly flavored, giving off all the deep, dark flavors that you'd expect. They were joined by pillows of gnocchi and cauliflower, which provided a much-needed touch of levity. I would've liked a crispier bite on the offal though, to provide some more textural contrast to the dish.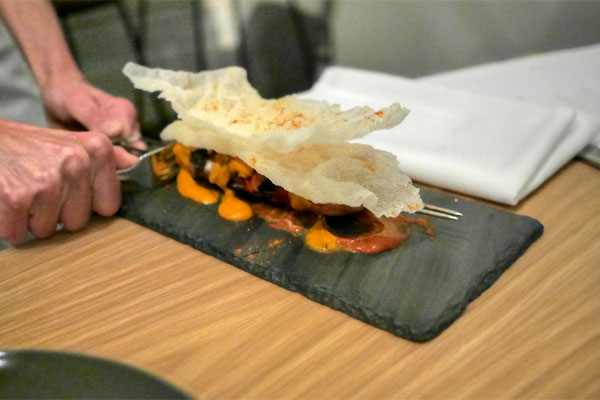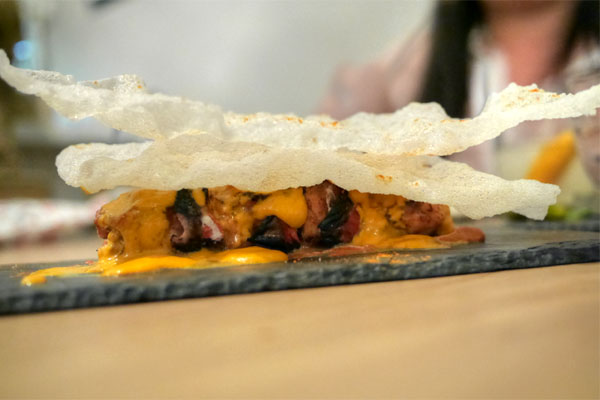 Monkfish tikka masala [$20.00]
| lime pickle
Chicken tikka masala seems to be everyone's introduction to Indian food, and Collins' monkfish version was right up there. He didn't hold back on the spicing, with the supple, springy, juicy fish coming out teeming with all the palate-tingling aromatics that you'd expect. Yum.
jet setter [$12.00]
| hamilton rum, lost spirits cuban rum, lime, grapefruit
Here was one of the easier-drinking cocktails of the night, one showing off an almost savory quality to its spicy nose, while on the tongue, there was a palpable sweetness and fruitiness to round things out.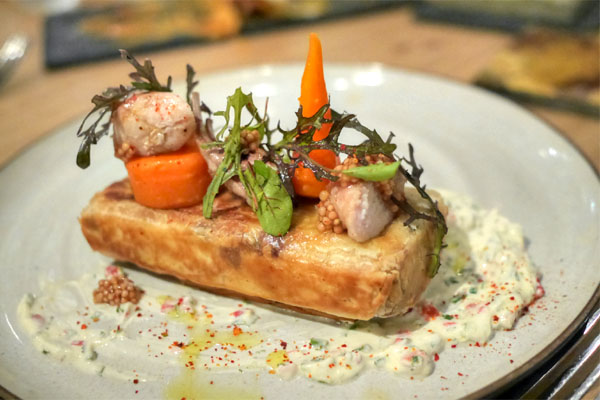 Rabbit baklava [$19.00]
| dates, white beans, pistachio, carrots
I'm generally not a huge fan of baklava, but Birch's rendition definitely hit the mark, pairing the tender, savory nuggets of rabbit with some delectably sweet, nutty notes. Excellent flakiness on the pastry, and I appreciated the coolness of the yogurt and the zippy mustard here as well. This is one you probably want to get.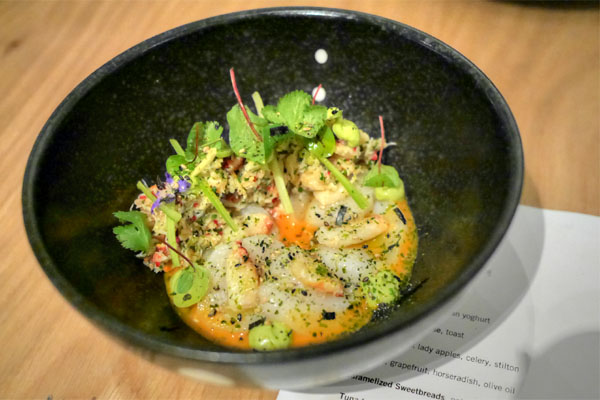 Scallop Crudo [$24.00]
| Jonah crab, leche de tigre'
The crudo was another highlight for me. I loved how the super sweet scallop was augmented by the even sweeter crab, both elements joined by contrasting herbaceous, acidic notes that evened out the whole dish.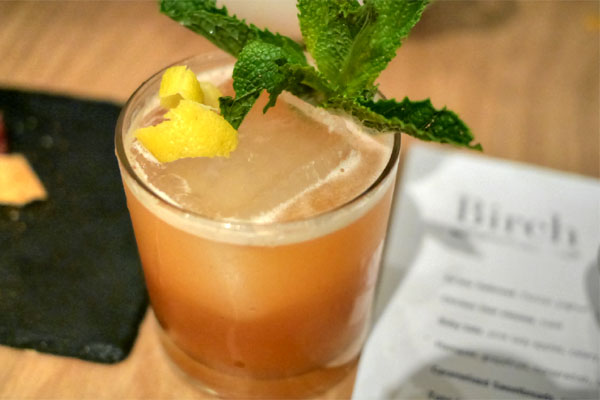 smashin' [$11.00]
| rittenhouse, aperol, lemon, mint
Birch's take on the Whiskey Smash worked out, conveying bright aromas of mint and citrus and a palate teeming with more lemon, bittersweet Aperol, and just a trace of whiskey.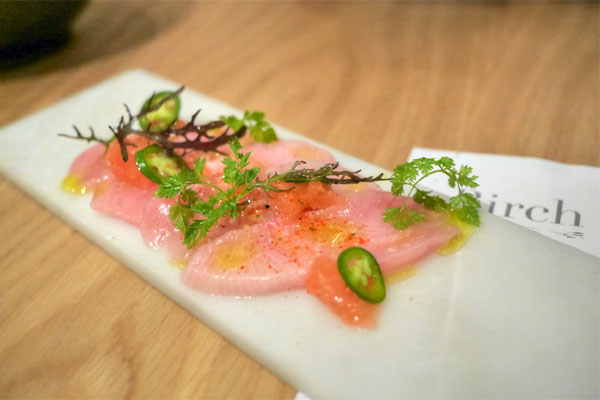 Hamachi [$17.00]
| grapefruit, horseradish, olive oil
Yellowtail arrived fresh and clean, and just fatty enough, smartly enhanced by the zip of horseradish, the juicy sweetness of grapefruit, and the lingering heat of the chiles.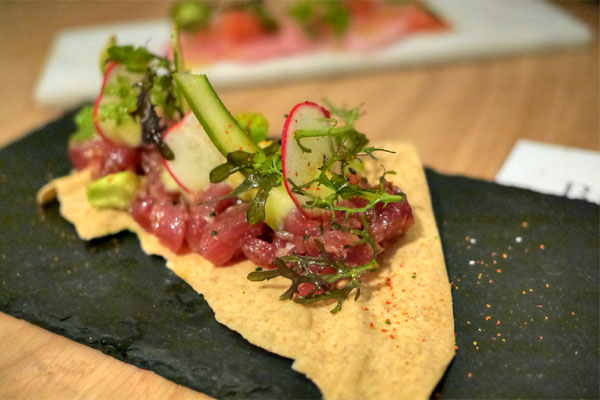 Tuna tartare [$14.00]
| green apples, avocado, asparagus
The tartar turned out much better than I thought it would. There was a great depth to the fish, and the acid and crispness from the apples was spot on. Lovely crunch from the chip on the bottom to boot.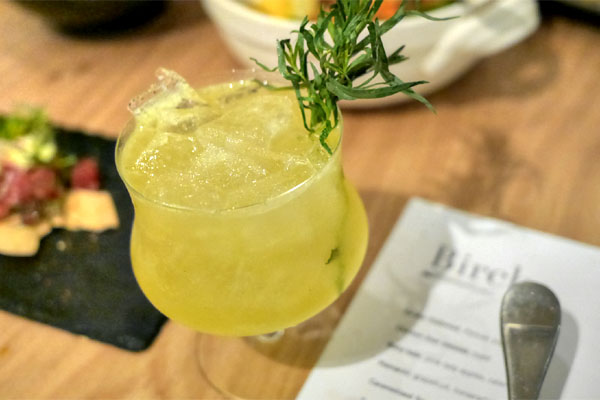 run around sue [$12.00]
| kettle one vodka, apricot, citrus, vanilla, tarragon
Next was perhaps the most gluggable cocktail of the evening. Herby notes of stonefruit in the bouquet, while the palate brought lots of fruit and sweetness, overarched by a strong vanilla presence.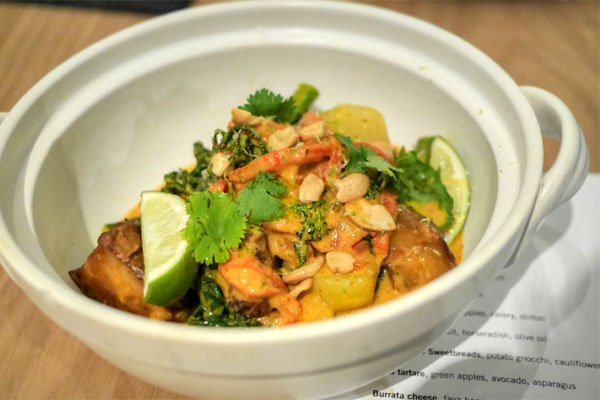 Sunchokes [$15.00]
| kohlrabi, broccolini, red thai curry
One of my favorites was without a doubt the sunchoke, which just might've been the best preparation of the root veggie that I've ever had. Its inherent nutty, mild sweetness was flawlessly matched with the rich, coconut-infused curry, which enveloped and integrated the entire dish while kohlrabi and broccolini added further points of bitter contrast. Great nutty bits here, too.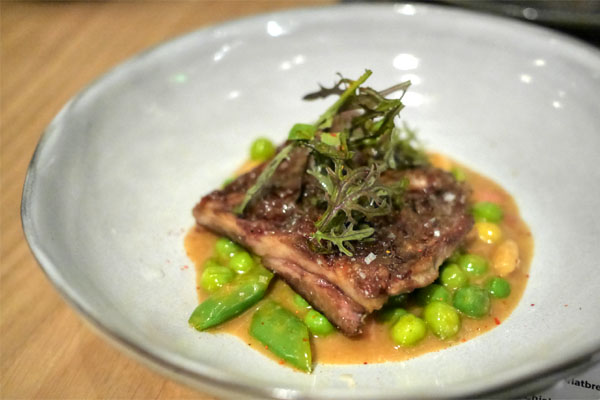 Grilled lamb belly [$19.00]
| peas, sugar snaps, foie gras butter
Lamb belly came out super tender, decadent almost, loaded with all the dark, fatty, ovine flavors that you'd want. The crunchy, bright peas made for a beautiful contrast, though I didn't taste too much from the foie gras butter (I'm not sure if I needed to).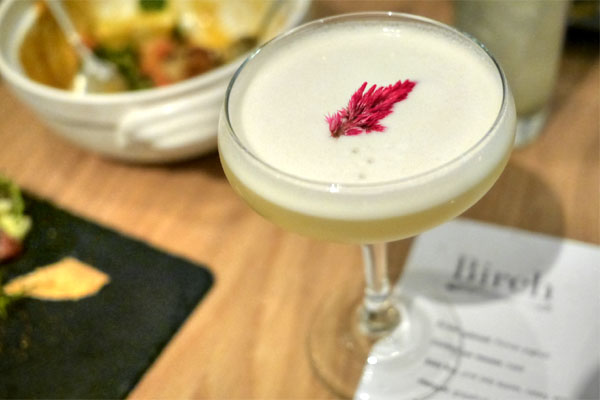 vino snap [$11.00]
| san pietro gavi, cocchi americano, lemon ginger
This wine-based cocktail was light and sugary on the nose, while taste-wise, I got a juicy and fruity bittersweetness, tinged by just a trace of ginger.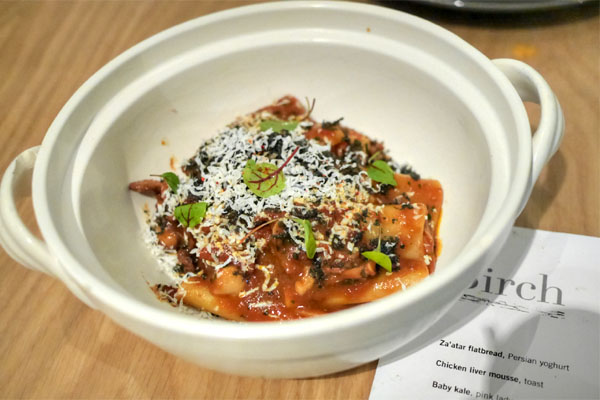 Baby Octopus Ragu [$19.00]
| rigatoni, bone marrow, ricotta salata
Pasta was heavily-flavored, with a tangy, salty base from the tomato-rich ragu here. The actual octopus was well-textured, though there wasn't enough of it. The other elements here sort of overwhelmed the supposed star ingredient.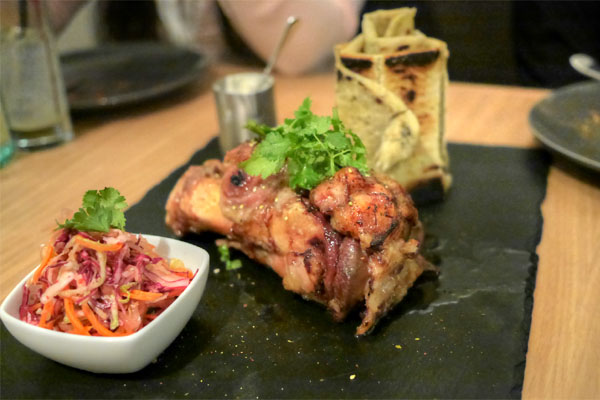 Pork shank [$28.00]
| palm sugar, fermented coleslaw, za'atar flatbread
Our final savory brought a pretty massive pork shank, an appropriately tender, super porcine preparation with just a smidge of sweetness. Particularly effective when taken with the slaw and its fantastic countervailing acidity.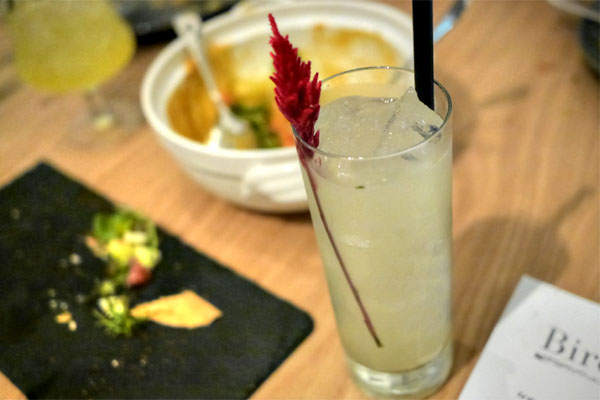 crocus pocus [$13.00]
| plymouth gin, cocchi americano, saffron, lemon
The last cocktail was a fairly lightweight one as well, with the bittersweet nuances of the Cocchi playing well with the aromatic saffron while the lemon gave things just enough tartness.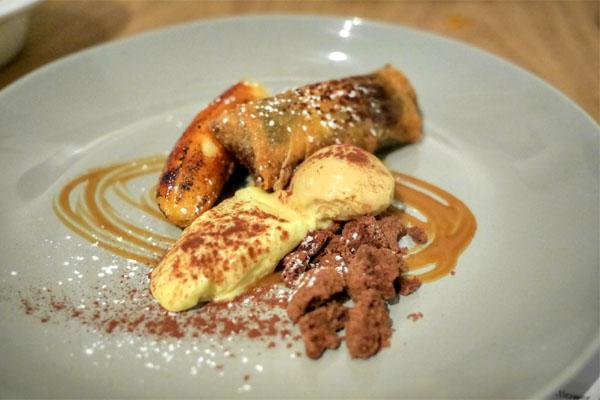 Peanut butter spring roll [$10.00]
| caramelized banana, scotch butter
Time for dessert. Our first was my favorite of the threesome, really doing a great job meshing peanut butter with banana in a bevy of textures.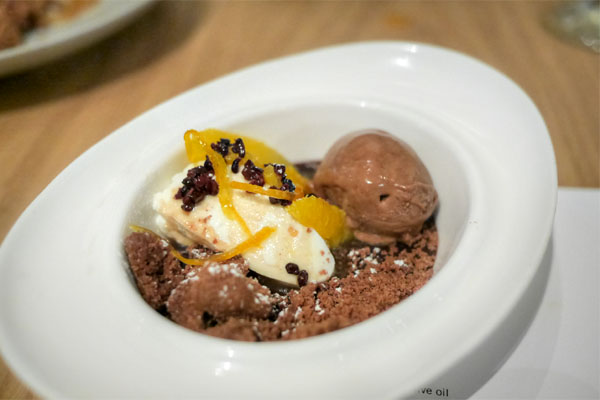 Chocolate posset [$10.00]
| orange, greek yoghurt, cocoa nibs
The posset also worked it out, the hefty presentation of chocolate serving as a foil to the Creamsicle-esque combo of yogurt and orange.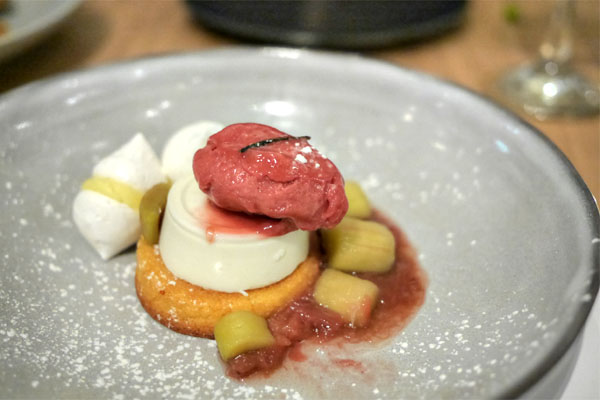 Rhubarb & custard [$10.00]
| vanilla soufflé glace, rhubarb compote, sorbet, jaquant, white chocolate crémeux
Rhubarb was the star here, its jammy, tart flavors offset by the crémeux and airy meringues while the soufflé cake grounded the dessert.
Birch looks to be a pretty worthy successor to Waterloo & City, giving us a taste of Collins' more elegant culinary stylings while still preserving the Chef's straightforward, relaxed ethos. It's a nice change of pace from what we were all used to at the old spot. Speaking of the gastropub, it may yet rise again, but in the meantime, Collins is working on a smaller, more casual project on Sawtelle, and has signed on as Exec Chef at Culver City's The Corner Door, which will be run on a day-to-day basis by his longtime CdC Ali Haji. That might be worth checking out as well.