SMYC (Santa Monica, CA)
Santa Monica Yacht Club Restaurant
620 Santa Monica Blvd, Santa Monica, CA 90401
310.587.3330
www.eatsmyc.com
Sun 05/03/2015, 07:50p-10:30p
[5/14 Update: I've been informed by very reliable sources that Walter has been relieved of his post at SMYC. Given how disparate his and Andrew's cooking styles were, I can't say that I'm surprised by this announcement. However, I am a bit surprised at how quickly things unraveled. It'll be curious to see how the menu evolves here.]

When Andrew Kirschner launched
Tar & Roses
at the start of 2012, he sort of set the stage for a mini-revival of the SaMo dining scene. The place is hugely popular and almost universally lauded, so I wasn't surprised when the Chef announced his second project last April, to be set in former digs of Stefano De Lorenzo's
La Botte
. Billed as a small plates joint featuring globally-inspired seafood, SMYC debuted on April 8th this year with Chef de Cuisine Walter El Nagar at the helm (coincidentally, he was also head chef at La Botte for a period). El Nagar, of course, has been running his
Barbershop
series of pop-ups over the past couple years, and was supposed to team with
Adam Fleischman
to launch a permanent spot called Barberia in Downtown (I'm assuming that's no longer happening). Also on board here are T&R partner Johnnie Jenkins as Director of Operations, and Jeff Swarthout as General Manager.

The old La Botte has been transformed into a nautical-meets-mid-century sort of affair by local firm
Peter Tolkin Architecture
. The space feels noticeably cozier, seating 84 inside along with 10 more on the patio.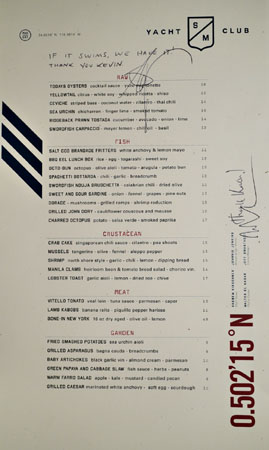 SMYC's menu is expectedly heavy on the seafood, with a handful of meat-centric plates and a few more veggie dishes to round things out. Note the international influence present, the Asian and the Latin flourishes that show up here and there. To imbibe, the focus is on cocktails by Chris Ojeda (Soho House, The Varnish, Osteria Mozza), classically-leaning examples with a nod toward seasonality. You'll also find a smattering of beers and a decent wine list. Click for larger versions.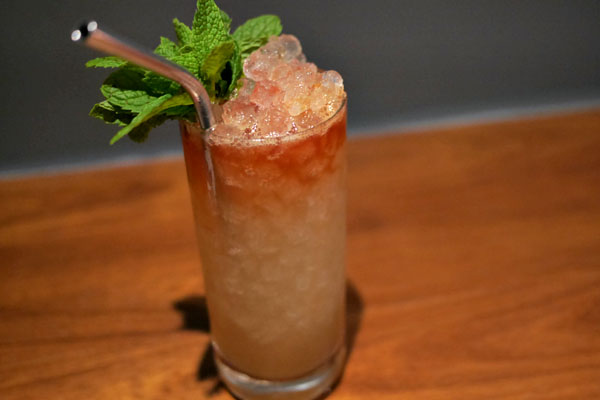 Don's Mai Tai [$14.00]
| a blend of aged rums, lime, grapefruit, pebble ice, absinthe
We arrived early for our reservation and ordered a couple drinks at the bar, including this take on a Mai Tai as interpreted by Don the Beachcomber (as opposed to Trader Vic's). Think bittersweet, sour, and spicy, with the potency of the rums underscoring the whole drink.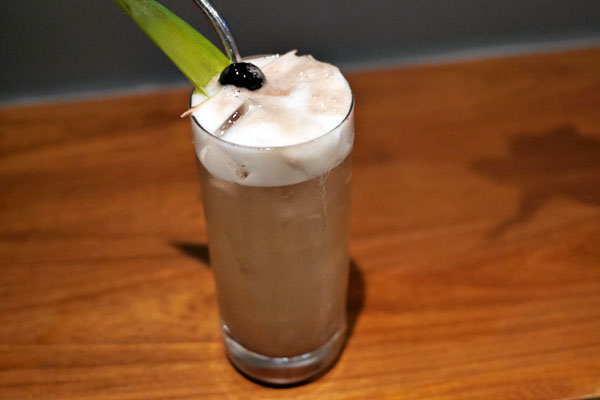 Singapore Sling [$14.00]
| gin, benedictine, cherry heering, lemon, pineapple, egg white, soda
The Mai Tai was accompanied by another long drink, the Singapore Sling, a tasty preparation that featured a pleasant astringency to it all, offset by nuances of tropical fruit and the moderating effect of egg white.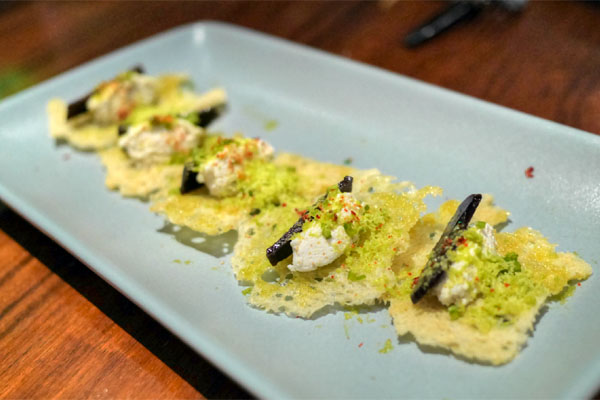 Upon being seated, we were brought a complementary amuse bouche of sorts comprising tuna heart, almond ricotta, avocado, and shaved bottarga. It was my first time tasting the heart, and it was intense, showing off an unabashedly deep, lingering saltiness augmented by the cured roe. At the same time though, the combo of avocado and ricotta provided a creamy, lush counterpoint that was key in evening out the bite. Very cool, and a very strong start to the meal.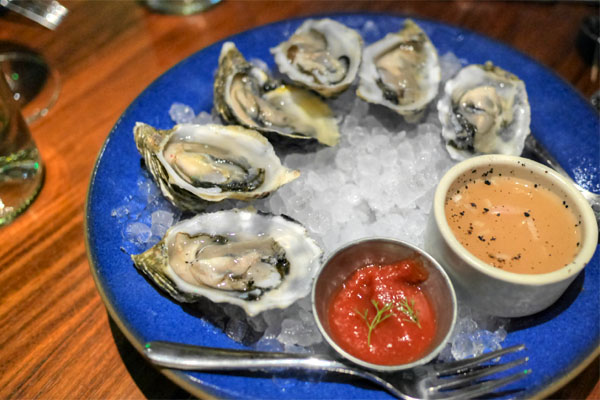 Todays Oysters [$18.00]
| cocktail sauce - yuzu mignonette
Oysters were crisp and appropriately ocean-y, nicely tarted up by the zip of yuzu.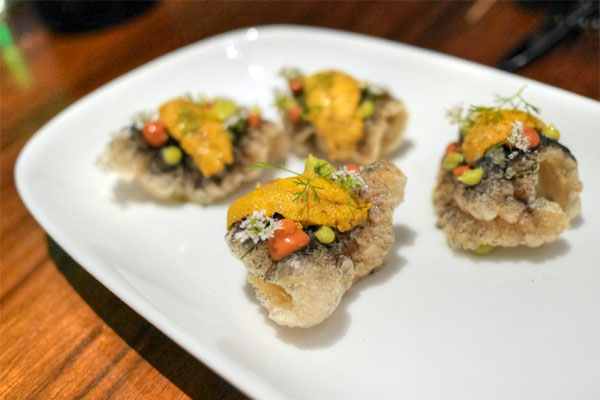 Sea Urchin [$16.00]
| chicharron - finger lime - smoked tomato
We couldn't pass up on the sea urchin of course, and indeed, the uni's lush, creamy salinity was at the forefront here, transitioning to the brightness of finger lime while the super-duper porky
chicharrón
lasted long on the close.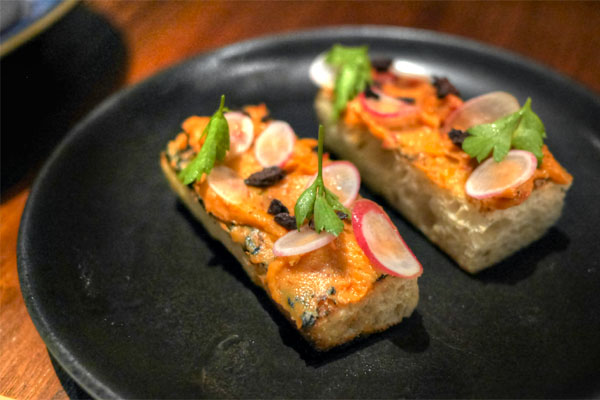 Swordfish Nduja Bruschetta [$10.00]
| calabrian chili - dried olive
This was certainly my first time having
'nduja
made with swordfish (it's usually crafted with pork). It had all the classic flavors though, a pungent, spicy, salty spread tempered by the dish's base of bread.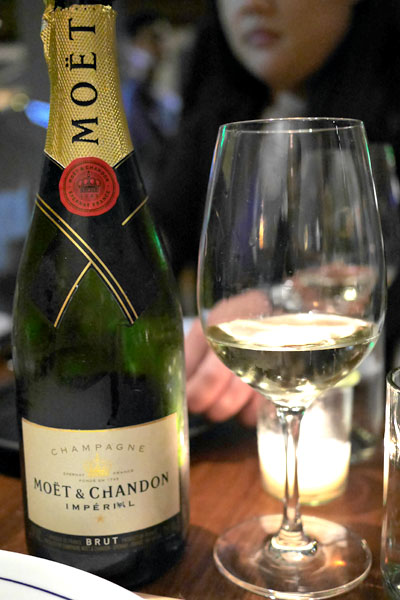 One of my dining companions happened to have some wine with him, so naturally we had to help drink. The first was the ubiquitous
NV Moët & Chandon Champagne Brut Impérial
, which we've probably all had before. It was a classic presentation of bubbly, with its notes of tart apple, sweet floral/fruit, and minerality backed by a toasty, biscuit-y foundation.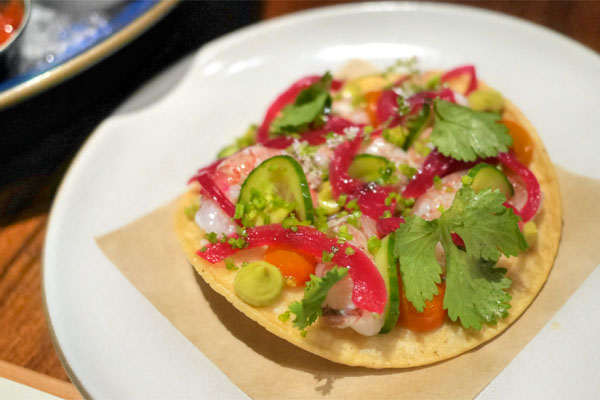 Ridgeback Prawn Tostada [$12.00]
| meyer lemon - chili oil - basil
The tostada was another highlight, the creamy prawns joined by plenty of bright, fresh, juicy, herbaceous notes to make for a perfectly summer-y dish. Great crunch from the tortilla to boot.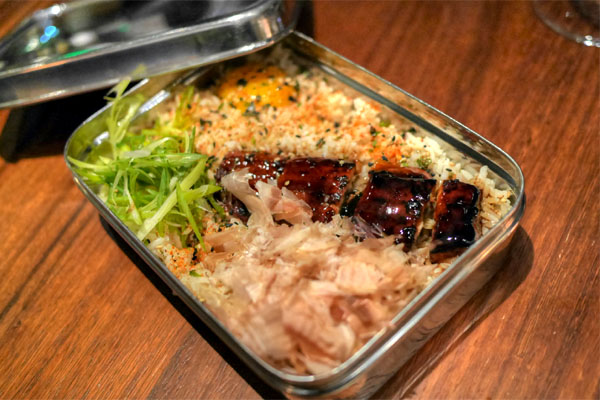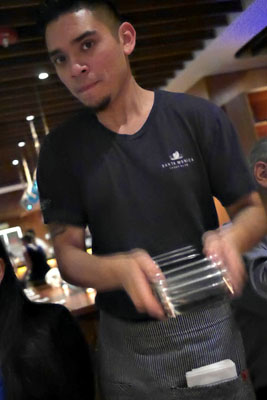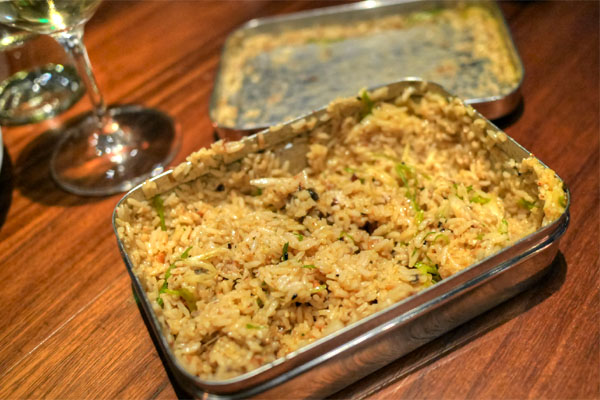 BBQ Eel Lunch Box [$12.00]
| rice - egg - togarashi - sweet soy
We were fans of the "lunch box" as well, a seemingly
dosirak
-inspired preparation plucked straight out of
Kang Hodong
. It wasn't the prettiest thing after all the vigorous shaking, but it was damn tasty, with its sweet, savory, distinctly Asian-y flavors satisfying in a cozy sort of manner.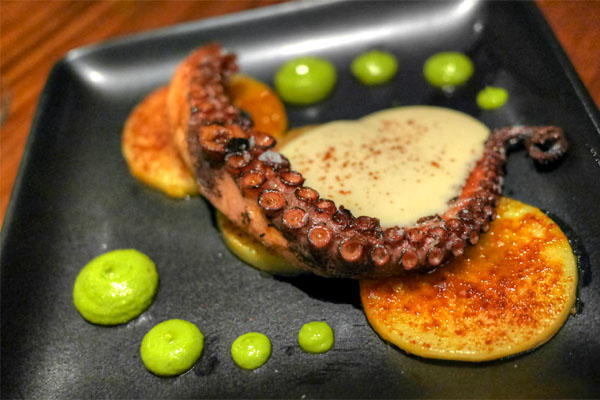 Charred Octopus [$17.00]
| potato - salsa verde - smoked paprika
Octopus was superb, a wonderfully textured example with a lovely char and savor that was certainly one of the better versions I've had in recent times. Loved the acidity and balance imparted by the salsa here, and the potatoes did a great job in grounding the dish. This is one to get for sure.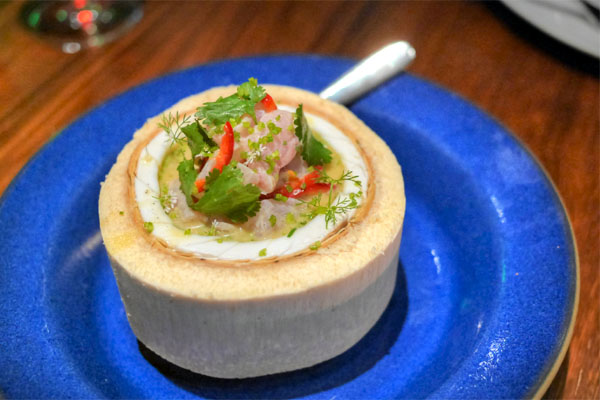 Ceviche [$14.00]
| striped bass - coconut water - cilantro - thai chili
Ceviche was beautifully plated, and delivered in the taste department too. Chunks of bass were supple and satisfying, a great stage on which the bright, sweet, herby, acidic notes here could sing. I loved the texture on that coconut as well.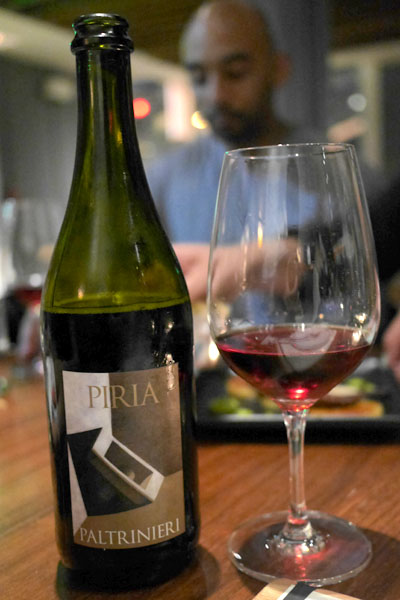 Next to drink was the
2013 Paltrinieri Lambrusco di Sorbara Piria
, one of the best lambruscos I've had for sure. Think really deep and perfume-y, with a balance of sweet, fruity, tart flavors evened out by just the right amount of minerality. A crowd pleaser.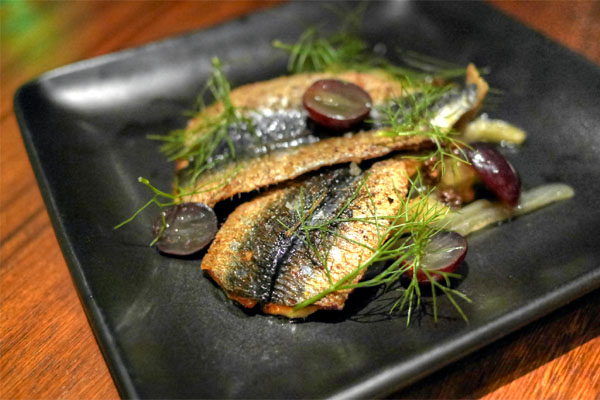 Sweet and Sour Sardine [$13.00]
| onion - fennel - grapes - pine nuts
Sardine was well presented here, its trademark brine and delightful charring offset by contrasting notes of sweet and zesty.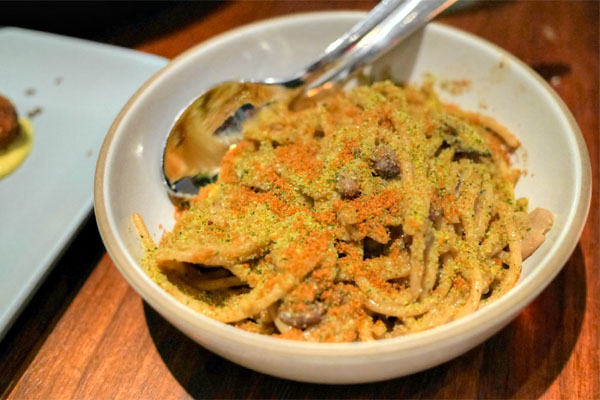 Next, El Nagar brought out a take on
pasta e fagioli
, which comprised pasta cooked in the method of risotto, along with clams and a mantis shrimp jus. The seafood made for some intensely savory, salty flavors here, while the texture of the pasta threw me, as I would've liked it firmer, less gummy.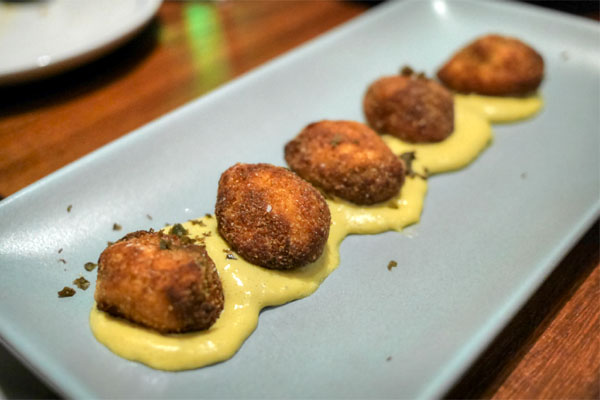 Another special from the Chef were these excellent fried mussels. Stuffed with ricotta and bottarga, they showed off a mouthwatering savoriness that paired swimmingly with a dab of the included uni aioli. I just wanted to keep popping these guys.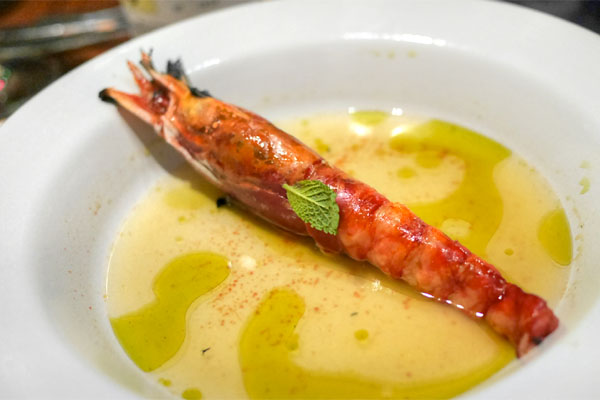 Finally,
carabineros
prawns from Spain arrived well-textured, with a forceful touch of salinity intensified by what I believe was a lamb consommé. Gotta suck the head.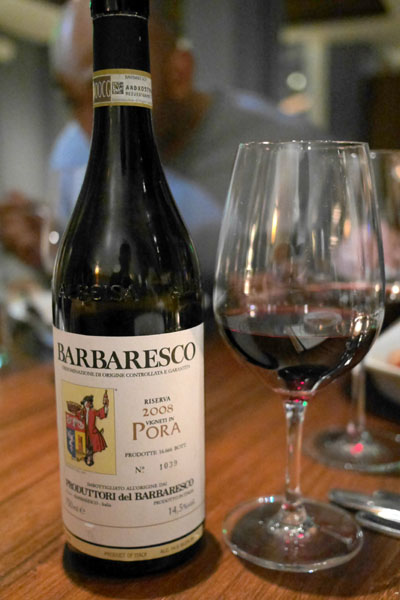 Our final wine was another Italian, the
2008 Produttori del Barbaresco Barbaresco Riserva Pora
. The person who brought it wasn't a fan initially, noting the presence of volatile acidity. However, we warmed up to the wine as the wine warmed up. Slightly acidic aromas of red fruit, earth, herbs; on the palate, a whisper of smoke, spice, berries, with a tart, tannic quality to it.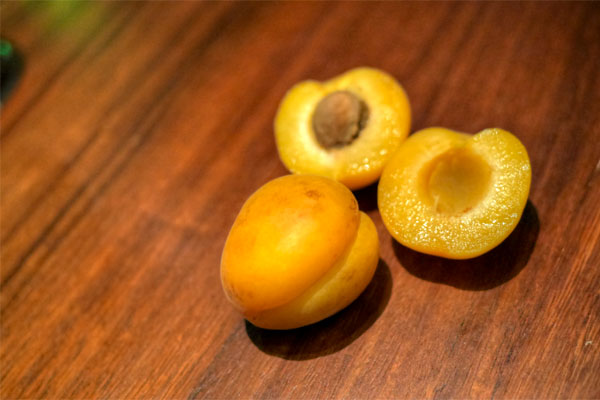 At this point, one of my dining companions busted out some apriums, which we promptly consumed.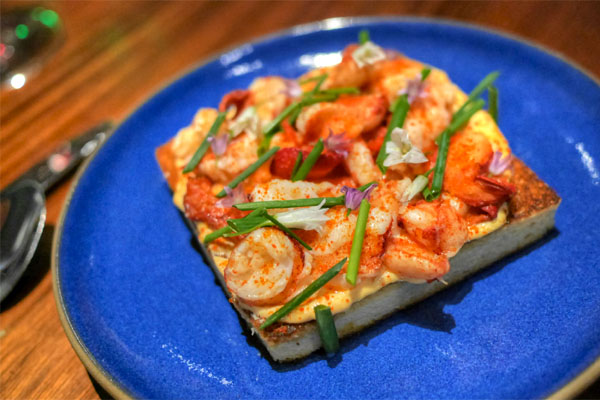 Lobster Toast [$17.00]
| garlic aioli - lemon - dried roe - chive
The lobster toast was another standout, conveying the sweet, buttery brine of the crustacean in glorious manner, set off by nuances of lemon and chive. Sort of like an open-faced lobster roll.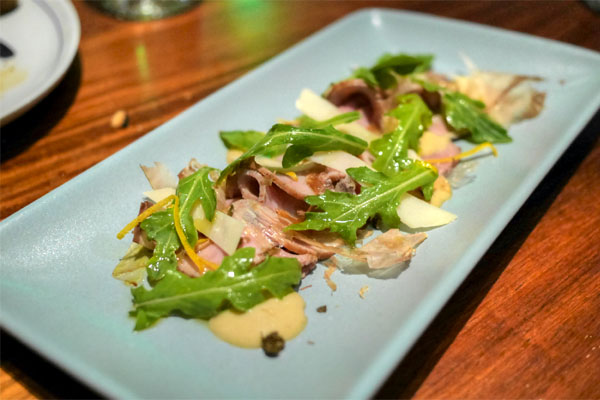 Vitello Tonnato [$13.00]
| veal loin - tuna sauce - parmesan - caper
Veal arrived cool and meaty, augmented by the creamy tuna-based sauce while Parm added a salty weight to the mix.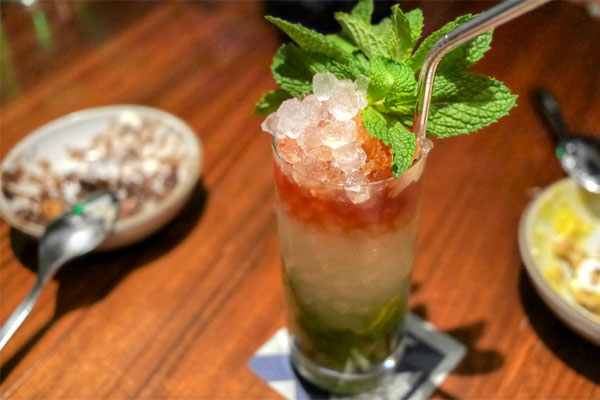 Queens Park Swizzle [$14.00]
| rum, lime, bitters, mint, pebble ice
With the wine all drunk up, Cody Summers (whom we last saw at
Coin de Rue
) brought out a few more cocktails for us to sample. First up was this tiki classic, with its appealing aromatics of mint and bitters leading to a boozy base of flavors cut by sharp bursts of lime.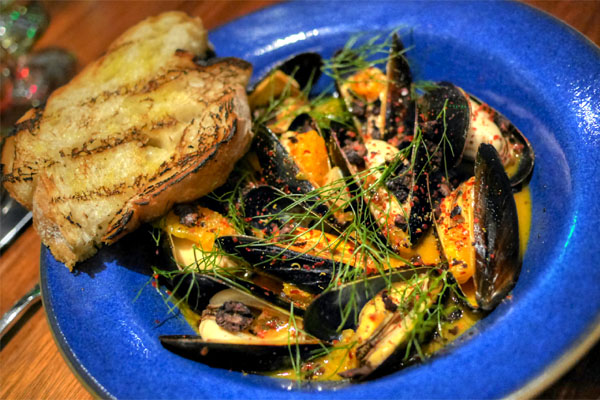 Mussels [$13.00]
| tangerine - olive - fennel - aleppo pepper
Mussels were probably the juiciest, plumpest examples we'd ever seen, tasting of the sea and deftly paired with contrasting thrusts of heat and fennel zip.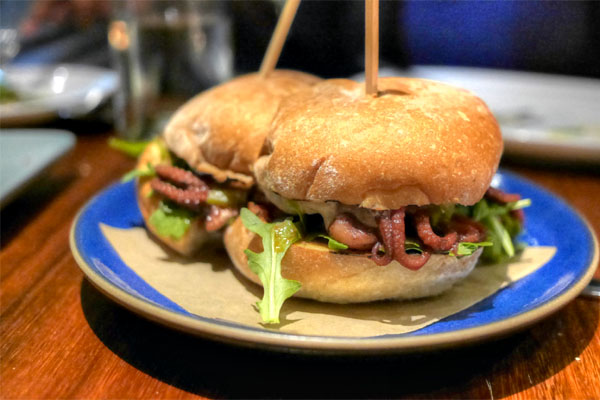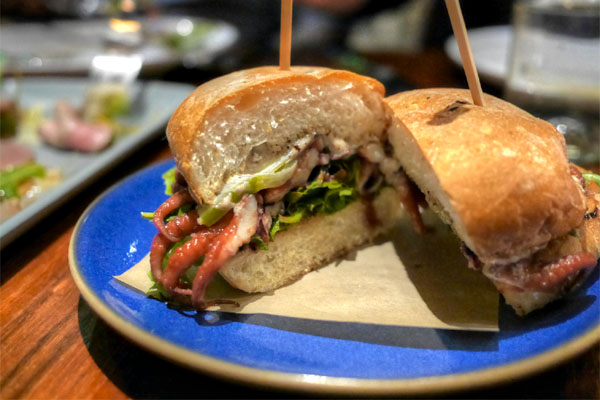 Octo-Bun [$15.00]
| octopus - olive aioli - tomato - arugula - potato bun
What basically amounted to an octopus sandwich played the savoriness of the cephalopod against the pickle-y tartness of the veggies here. Nice bun too, though I really would've liked more charring on the actual protein to make for some deeper flavors.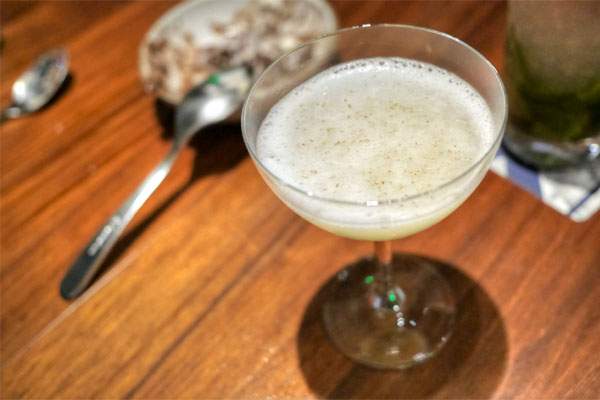 Army/Navy [$14.00]
| gin, lemon, almond, orange flower water. UP
Summers then gave us another classic cocktail, quite possibly my favorite of the night. I loved the flowery notes here provided by the orange water, and how that commingled with the sweet 'n' sour qualities of the almond and lemon. In fact, the whole floral, perfumed bouquet of the drink I found strangely reminiscent of my grandmother's house.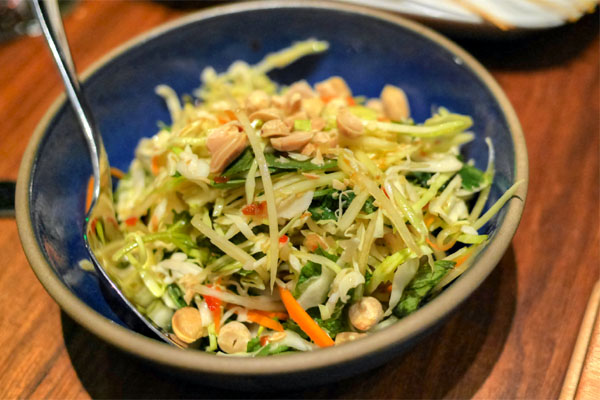 Green Papaya and Cabbage Slaw [$8.00]
| fish sauce - herbs - peanuts
This Thai-inspired salad hit the mark, an explosion of spice, acid, and crunch underscored by the pungency of fish sauce. Loved the peanuts here.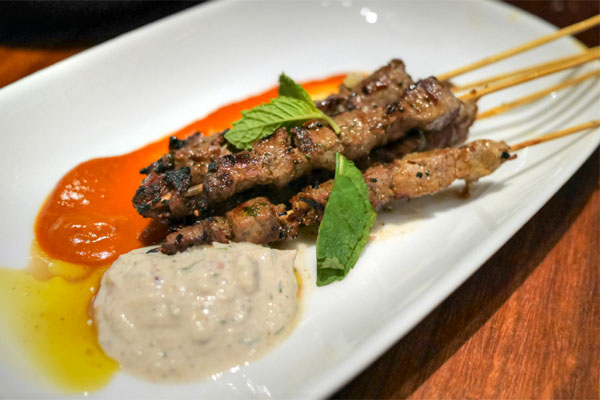 Lamb Kabobs [$11.00]
| banana raita - piquillo pepper harissa
Lamb was beautifully cooked, arriving mouthwateringly-flavored with a fantastic bit of charring. Tasty alone, and just as good with a dip in that sweet-cool raita.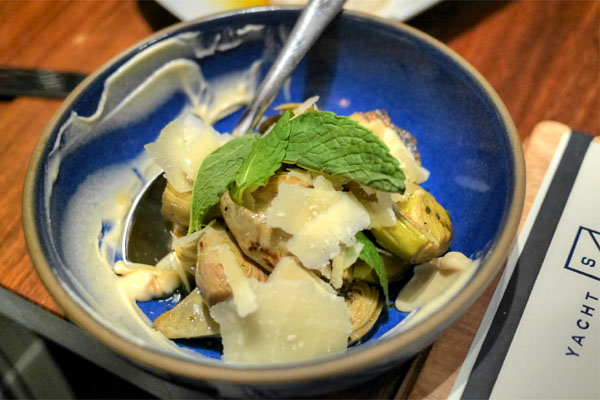 Baby Artichokes [$10.00]
| black garlic vin - almond cream - parmesan
I'm generally not a huge artichoke fan, but the ingredient was done justice here, its light, vegetal flavors amped up by black garlic and Parm while the almond cream imparted a bit of softness to things.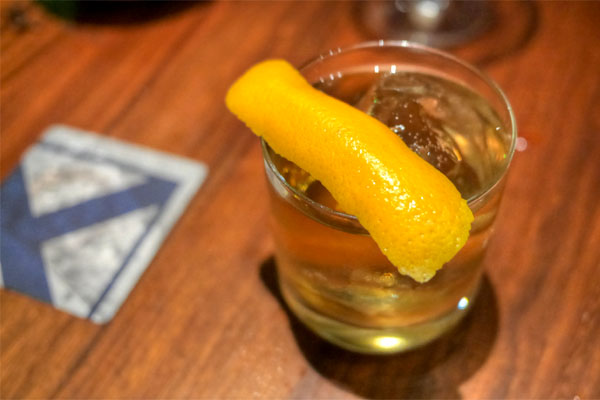 Smooth Sailing [$14.00]
| jamaican pot stilled rum, orange bitters, green chartruese. ROCKS
Our last cocktail was a creation from Chris Ojeda. It was the stiffest of the bunch, with smooth, citrus-y aromas leading to a heady blast of booze and astringency, tinged with just the right amount of sweetness.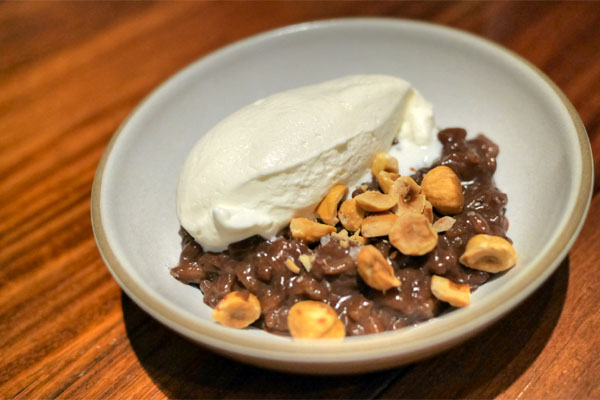 Chocolate Rice Pudding [$9.00]
There's no actual pastry chef at SMYC, so dessert options are limited to just two. We got both, naturally. The first was a rice pudding enhanced with chocolate, which made it sweeter than usual, but not overly so. Nice balance from the whipped cream up top, and the hazelnuts were a welcomed addition as well.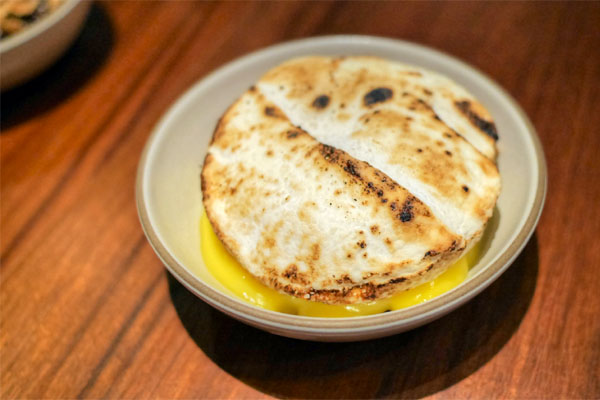 Lime S'more [$9.00]
A lime-infused s'more was even better, with the citrus' tartness working well with the classic flavors from the Graham cracker base and toasted marshmallow.
Tar & Roses made a hugely positive impact on the Santa Monica dining scene, and SMYC looks to continue in that tradition. The cooking seems to be a blend of Kirschner's robust, rustic sensibilities intermingled with El Nagar's more progressive Italian leanings, with a dash of international influence tossed in for good measure. It all makes for a fun, multifaceted approach to your good ol' seafooder.
---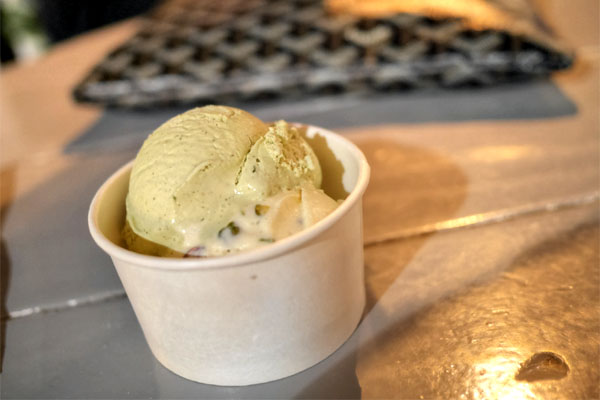 Given the limited dessert options at SMYC, we headed over to Sweet Rose Creamery following the dinner. Flavors tried included a sweet, zesty
Basil
and a delightfully floral, nutty
Rose Geranium with Salted Pistachios
. Yum.