The Gadarene Swine (Studio City, CA)
The Gadarene Swine Restaurant
11266 Ventura Blvd, Los Angeles, CA 91604
818.508.5500
www.thegadareneswine.com
Fri 05/08/2015, 08:50p-10:55p

When I last caught up with Phillip Frankland Lee and Margarita Kallas, it was the middle of 2013, shortly after the husband-and-wife team debuted
Scratch Bar
. The restaurant turned out to be one of the more surprising successes of that year, and since then, Lee has been busy on the Food Network circuit, scoring three consecutive wins on
Guy's Grocery Games
in January 2014,
Chopped
that February, and
Cutthroat Kitchen
in December. In July last year, the Chef also announced The Gadarene Swine, a vegetable-centric eatery produced in concert with Scratch Bar partner Daryoush Danesh that ended up dropping in September. Joining Lee in the kitchen is Chef de Cuisine Marty Shield (a.k.a. Martin Pajzs), while General Manager and Wine Director duties are handled by Jason Mosley.

The restaurant occupies the space that was once home to Eggplant, a seemingly middle-of-the-road Japanese place. Not too much has changed, though the room is a bit more rustic, woodier, and probably dimmer too. In addition to the tables, there are eight seats at the bar, along with a quaint little outdoor "wine garden" in the front.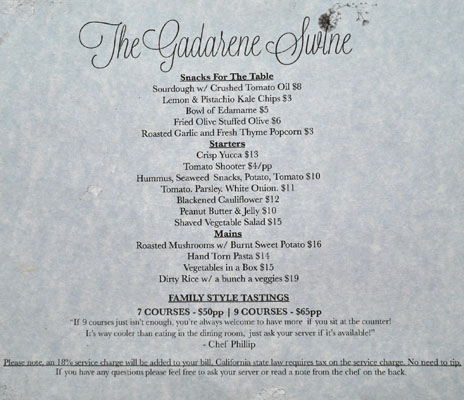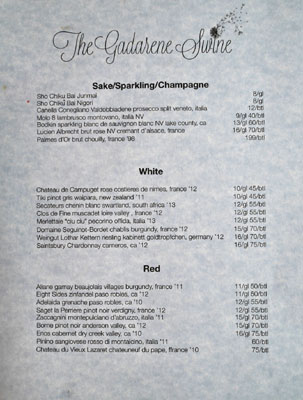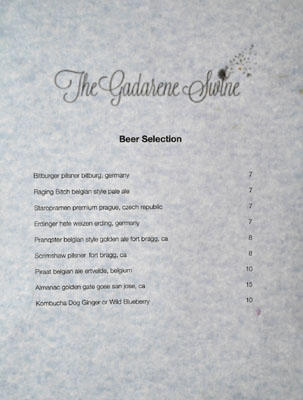 As for the menu, The Gadarene Swine offers up mostly à la carte courses, but there are reasonable tasting menu options at $50 and $65 as well. To drink, Mosley's got a small wine list going on, as well as a handful of beers. Click for larger versions.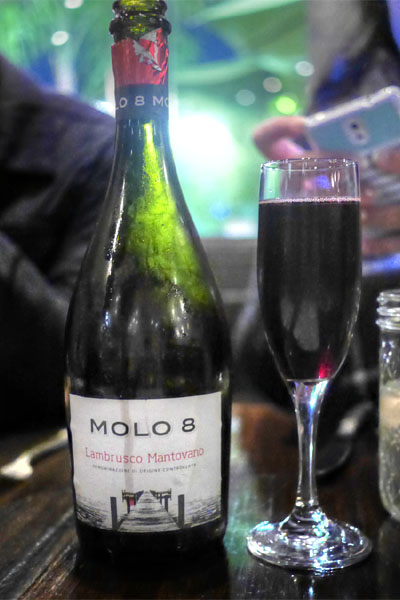 To drink, we opted for something fun to start, the
Molo 8 lambrusco monovano, italia NV [$40]
. As with most Lambruscos, I found this one grape-y and sweet, with lots of floral, dark fruit nuances that made it go down easy.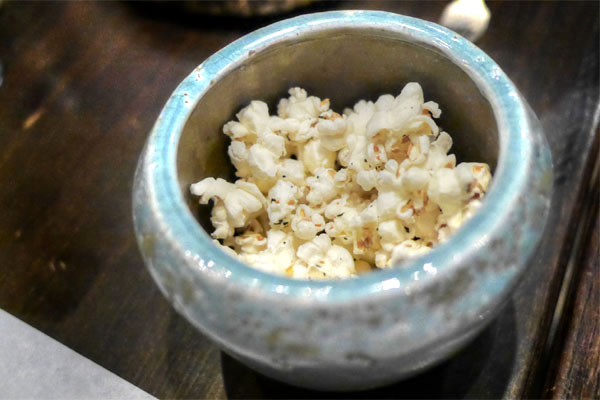 Roasted Garlic and Fresh Thyme Popcorn [$3.00]
The meal commenced, appropriately, with popcorn, enrobed in roasted garlic oil and dusted with sea salt, sugar, and thyme. These were surprisingly addictive: sweet and floral at first, with an herby kick, but also somehow buttery.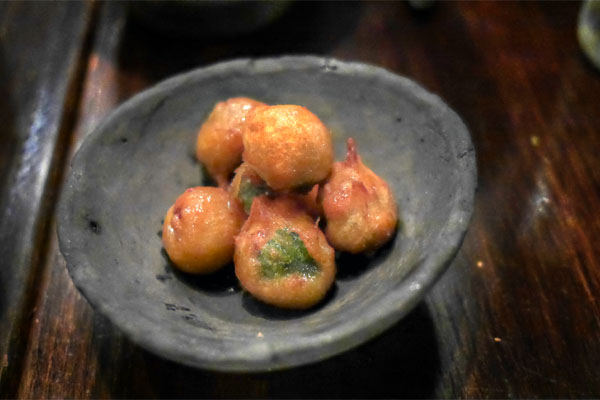 Fried Olive Stuffed Olive [$6.00]
Next was one of the restaurant's more well-known dishes, comprising olives stuffed with sweet potato and Kalamata purée, then coated with apple-lime syrup, fried in beer batter, then sprinkled with sea salt and more of that syrup. There was a great interplay of olive-y piquancy and sugariness here, and the textural contrast between the batter and the stuffing definitely worked as well. Note that this was once the sole dishing keeping GS from becoming vegan, due to its previous use of honey.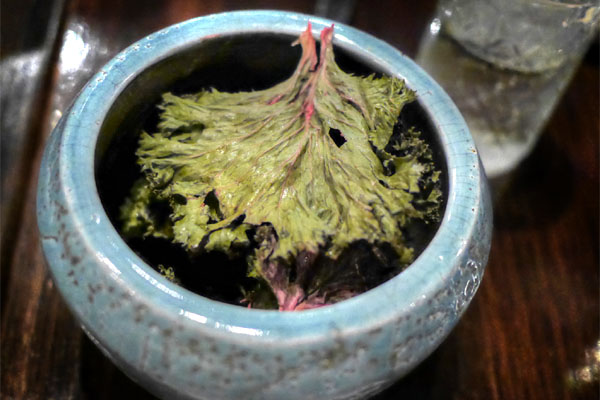 Lemon & Pistachio Kale Chips [$3.00]
"Chips" were composed of kale leaves, marinated in red vinegar, lemon, sugar, salt, and cayenne, then dusted with pistachio and dehydrated. The results were super light, fragile almost, with a flavor profile that balanced tangy and bitter. Scratch Bar also had a version of this dish, but using Parmesan instead of pistachio.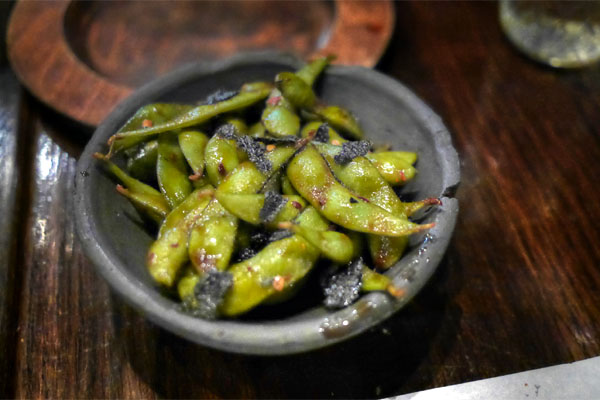 Bowl of Edamame [$5.00]
The ubiquitous bowl of edamame was taken up a notch by the inclusion of a house-made Japanese BBQ sauce and nori chips. It was a straightforward, but thoroughly effective match, with the rich, sweet-tart condiment working beautifully with the more delicate taste of the beans.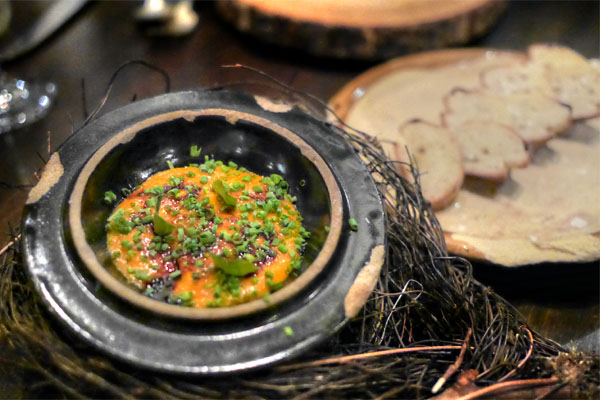 Sourdough w/ Crushed Tomato Oil [$8.00]
The tomato dip comprised sugar-blistered roasted tomatoes whipped with olive oil, topped with chives, basil, and balsamic. It did a nice job conveying the tanginess of the tomato, augmented by the heft of the olive oil and some herbaceous influences, and made for a fitting complement to the housemade sourdough (ostensibly baked from a 52-year-old starter).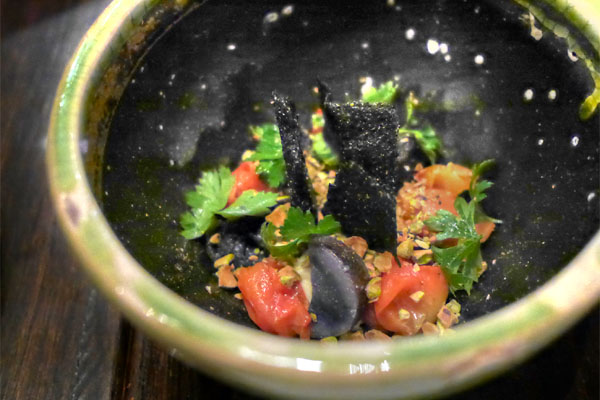 Hummus, Seaweed Snacks, Potato, Tomato [$10.00]
With the snacks all eaten up, we got into our starters at this point. The first brought a base of chickpea purée with roasted garlic, topped with purple potatoes, tomatoes, nori chips, pistachio, and parsley. It was one of my favorites tonight, a beautiful mix of textures and flavors, with the umami-rich savor of the seaweed serving as particular highlight. Great heft from the potatoes as well, and the pistachios really worked here too.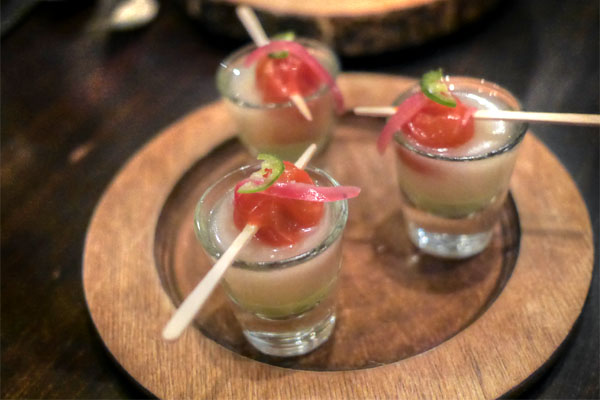 Tomato Shooter [$4.00/pp]
Next was a fun little course. First, consume the sugary roasted tomato with serrano and pickled red onion. Second, shoot the commixture of
nigori
sake, pineapple, and tomato oil. Finally, scrape out the remaining bits of creamy avocado mousse, red onion, and cucumber at the bottom of the glass.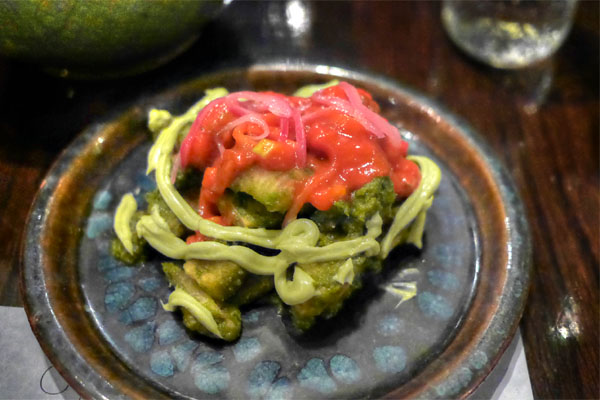 Crisp Yucca [$13.00]
My favorite dish of the night was arguably the yuca (note the single "c"), which was probably the best preparation of the ingredient that I've had. The root veggie arrived boiled, fried, coated in chimichurri, and dressed with pickled red onion, red bell pepper, apple, pecan purée, and avocado mousse. The hearty, sweet-savory character of the cassava was well-displayed, its weightiness perfectly balanced by the bright, tangy flavors that accompanied it.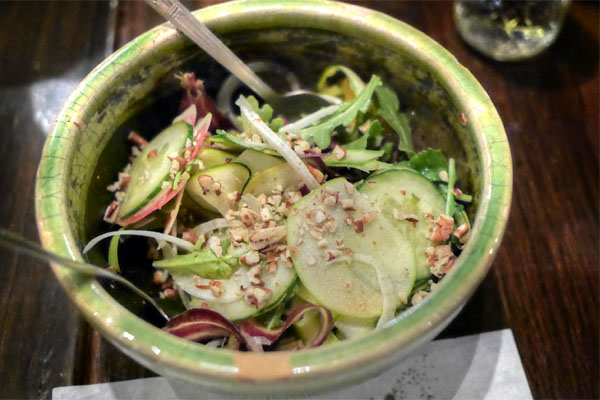 Shaved Vegetable Salad [$15.00]
The requisite salad was composed of a dozen or so vegetables, and came finished with toasted pecans and a yellow zucchini vinaigrette. I found it pretty satisfying, a mélange of crisp, bright flavors underscored by a palpable bitterness, the whole thing accented by nutty hits from the pecan.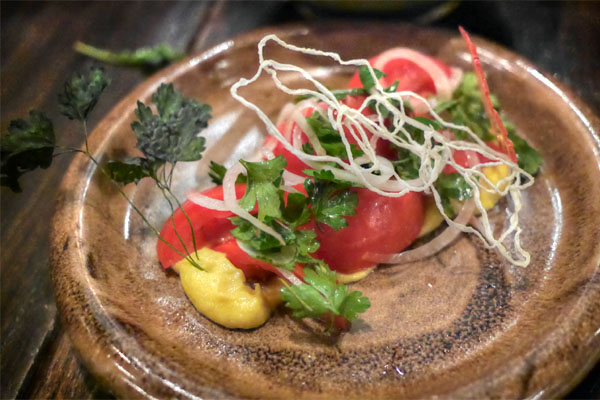 Tomato, Parsley, White Onion [$11.00]
Here we see tomato, parsley, and onion, topped with dehydrated versions of themselves, sitting atop a sweet corn pudding. The key was indeed that pudding, which provided a sugariness to the course that augmented the inherent sweetness of tomato, the duo of onion and parsley imparting a much-needed lightness.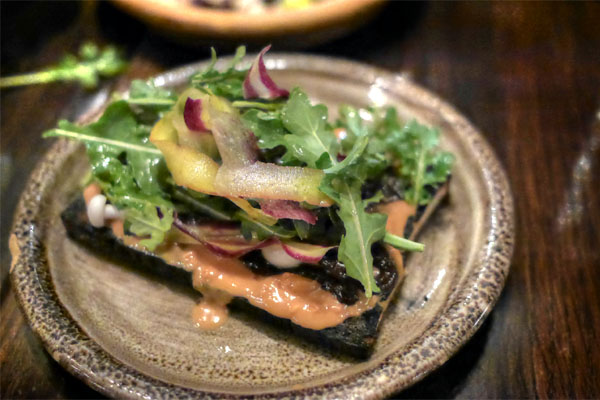 Peanut Butter & Jelly [$10.00]
Next was certainly the most unconventional take on PB&J that I've seen. The dish had a base of the aforementioned sourdough, covered with housemade peanut butter and a jam constructed from prunes, cranberries, and red wine. On top we have arugula, shaved carrots, salt, lemon, olive oil, and pickled
shimeji
. It all made for an interesting, yet surprisingly effective contrast between the classically sweet, savory, buttery PB&J on the bottom and the zesty, vinegar-y salad up top.
Blackened Cauliflower [$12.00]
Our final starter was a dish from Scratch Bar that apparently served as the inspiration for this entire restaurant. A multifaceted plate, it comprised a base of cauliflower purée, four colors of roasted-blackened cauliflower, pickled red onion, basil, pistachio, and dehydrated cauliflower stem chips. It was even better than I remember, with the still-crunchy veggie giving off a pleasing char savor that was well-paired with the aromatics of basil and zippy red onion, all while the pistachio offered up a nutty accent piece to the dish.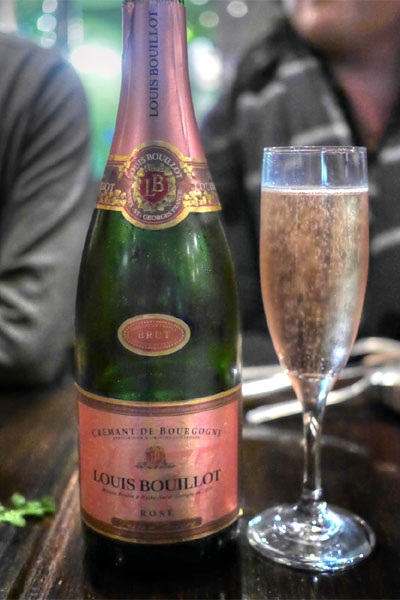 For our next wine, we kept with the bubbly stuff and ordered a bottle of the
Louis Bouillot brut rose NV cremant d'bourgogne, france [$70]
. It was a fun sparkler, with your expected notes of strawberry on the bouquet, leading to more light, bright, dry citrus-y fruit on the palate, cut by a marked minerality and perky acidity.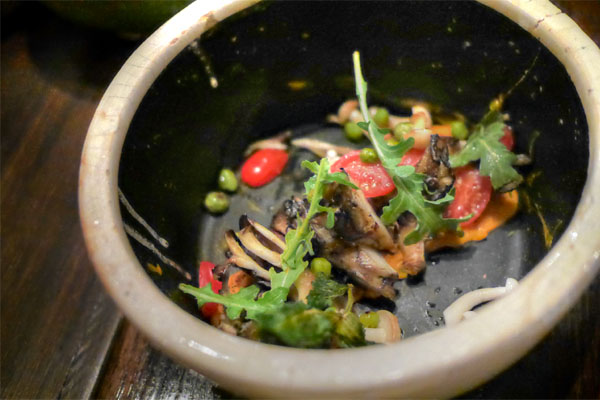 Roasted Mushrooms w/ Burnt Sweet Potato [$16.00]
Our first main course came in a
deep
bowl, and was composed of a torched sweet potato purée base with nutmeg and cinnamon. On top was a ragu of
shimeji
and cremini with English peas, grape tomatoes, arugula, cremini chips, as well as pan-roasted, shawarma-seasoned
maitake
. I was a big fan of the char and earthy savor of the mushroom here, as well as how its flavors were complemented by the various greenery present. However, the sweet potato went overly sugary for me, and tended to overwhelm some of the other things going on.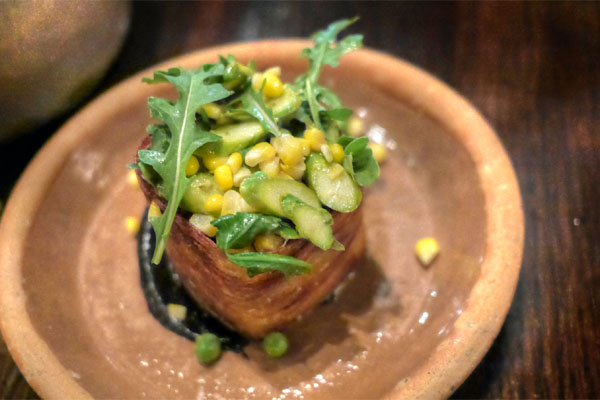 Vegetables in a Box [$15.00]
Lee is somewhat know for his "____ in a box" preparations, and with this, I think he's improved on what he was serving over at Scratch Bar. We had sautéed asparagus and corn, garlic, and parsnip purée encased in a deep-fried Yukon Gold potato box, garnished with arugula, salt, EVOO, and lemon, all sitting atop puréed charred Japanese eggplant. I liked this better than I thought I would, with the bright, crisp, straightforwardly satisfying veggies pairing swimmingly with the savory, potato chip-esque box, the whole thing underscored by a great smokiness from the eggplant.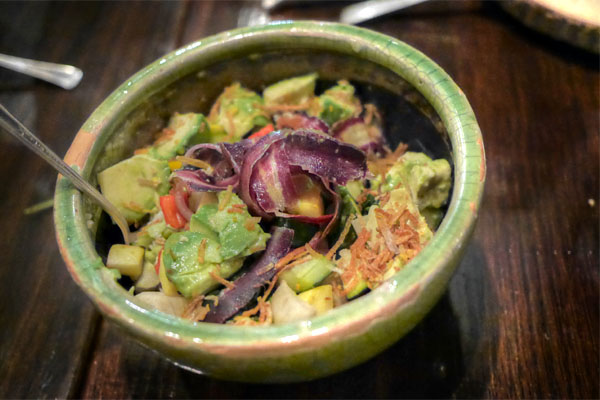 Dirty Rice w/ a bunch a veggies [$19.00]
The final dish of the standard menu was quite possibly the cleanest dirty rice ever, a presentation of brown rice, nori, roasted and sautéed veggies, avocado mousse, and fresh avocado. It all made for another standout dish for me, a lovely mix of tastes and textures, highlighted by the creaminess of that avocado while everything was brought together by a sort of overarching tanginess.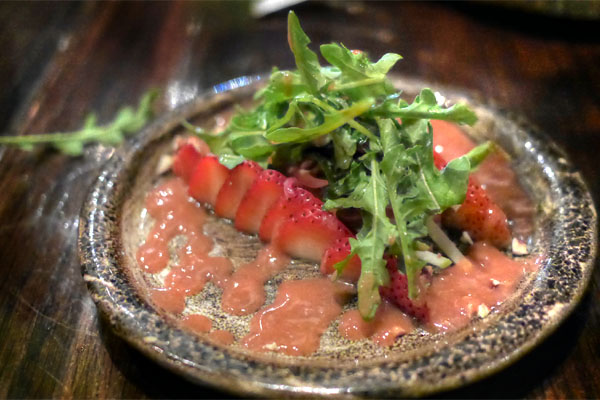 Strawberries & Champagne
At this point, we requested a couple dishes from the tasting menu that weren't on the à la carte selection. First up was a strawberry salad of sorts, with arugula, pickled cucumber, pickled sweet onion, figs, and toasted pecans, all drizzled with a strawberry-Champagne gazpacho. The plate looked almost dessert-like to me at first, but the sweetness of the berry was surprisingly well-balanced, with the veggies really counteracting the fruit while the pecan added a contrasting nuttiness to things. Neat.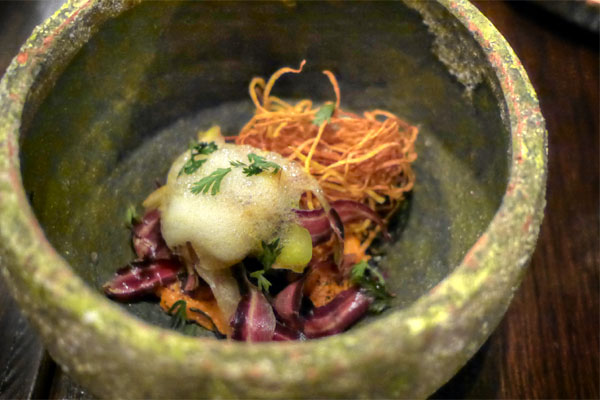 Roasted Carrots
Our last savory was a celebration of carrot, bringing together sugar-roasted carrot and shaved carrot over a sweet potato purée, alongside a butternut squash "nest", a pineapple-ginger-turmeric foam, and a garnish of carrot tops. Taken together, the course commingled the inherent sweetness of carrot with the holiday spices contained in the sweet potato, making for an almost carrot cake-like eating experience, countered by just a trace of bitterness.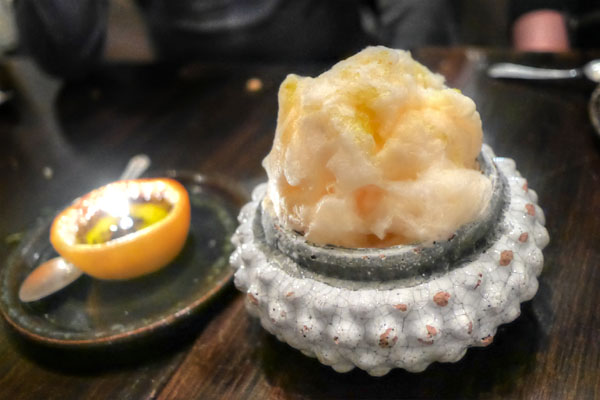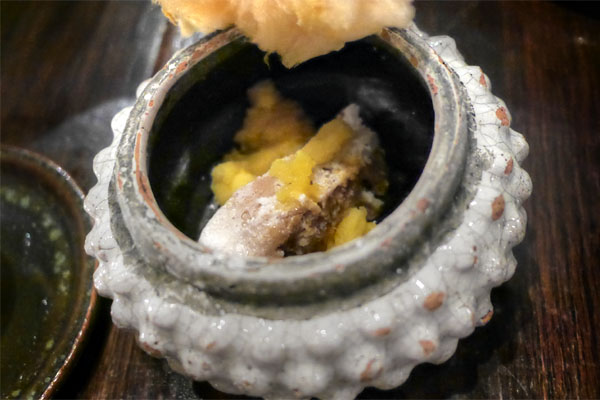 Tres Leche
Time for dessert. The first was easily the most unorthodox tres leches I've encountered. The cake itself was made from coconut, almond, and hemp milks, topped with a pickled orange juice granita and cotton candy, then drizzled with grapefruit candle oil. The actual tres leches was tasty enough, though not too similar to the traditional cake. However, I wasn't too fond of the candle oil, since it imparted a smoky, savory quality to the cotton candy that I found slightly disconcerting.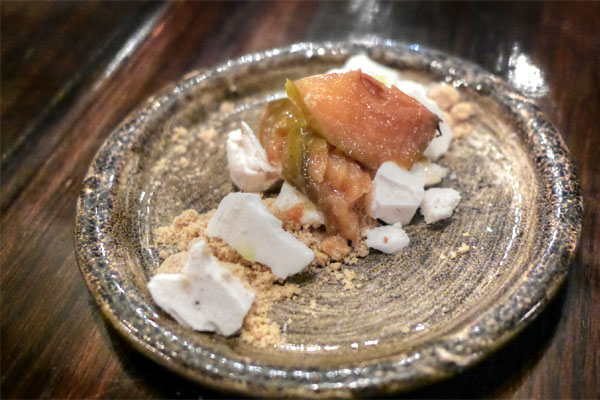 Deconstructed Pear Pie
A sort of deconstructed pear pie à la mode was much more successful in my eyes, marrying brown sugar streusel, coconut milk-pecan ice cream, and sugar-braised pear, all finished with sea salt and olive oil. Taken together, it was a harmonious commixture of fruit, spice, and creamy ice cream that did an admirable job conveying the essence of the classic dish. Great textures, too.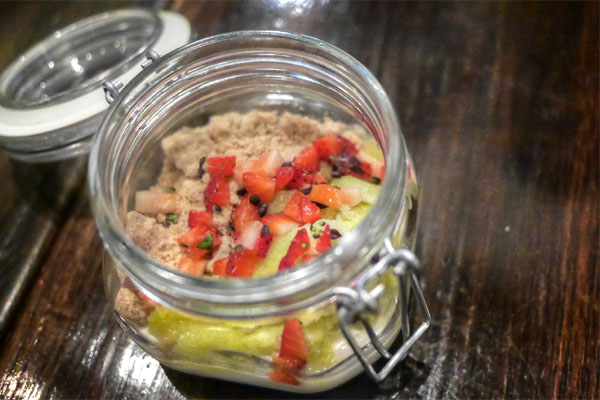 Coconut Pudding
Last up was the coconut pudding, with more of that brown sugar streusel from above, virgin mojito granité, diced strawberries, and Thai basil. The flavors really meshed well here, with the cool, creamy pudding making perfect sense with the tart berry and minty, herby elements here. And again, fantastic textures, with the streusel in particular offering up a great crunch.
I was somewhat wary coming in here, having limited experience with the whole vegan thing. The dinner really blew away all our expectations though. The cooking definitely highlighted the ingredients and displayed depth and complexity, but also managed to show off the Chef's creativity and playfulness--you really didn't miss the meat at all. In the end, what we have here is not merely good vegan food, it's good
food
.