Catch & Release (Los Angeles, CA)
Catch and Release Restaurant
13488 Maxella Ave, Marina del Rey, CA 90292
310.893.6100
www.catchandreleasela.com
Thu 05/07/2015, 07:30p-10:40p

The last time I posted about Jason Neroni, it was July 2012 and I was reporting on the opening night of
Superba Snack Bar
, that game-changing Venice eatery conceptualized in partnership with Pitfire Pizza's Paul Hibler. The Chef would eventually become Culinary Director for Hibler's American Gonzo Food Corporation, and in that role, launched Costa Mesa's Pie Society in June 2013, the Culver City branch of East Borough in January 2014, and
Superba Food & Bread
with
Jason Travi
in April 2014. However, Neroni left Hibler's side in June last year, only to team up with the Bill Chait-led Sprout Restaurant Group (and later drop B-Side Pizzeria in New York in September).
Set in the old
Paiche
space, Catch & Release is the first product of that partnership. As the name implies, we're talking about a seafooder, one ostensibly inspired by the time Neroni spent each summer back in Maine with his family, and also his many years spent working in the Southland. Catch & Release debuted on May 7th, and one of my dining companions was able to snag a table for opening night.

Paiche's deep sea digs have been transformed by
Studio Unltd
(
Bestia
,
BierBeisl
,
MessHall
) to a brighter, beachier sort of affair, with seating for 110 diners along with 10 more at the bar.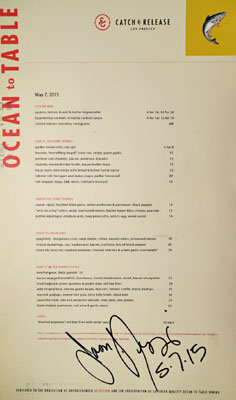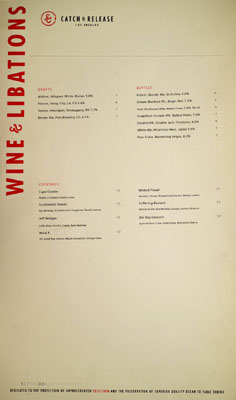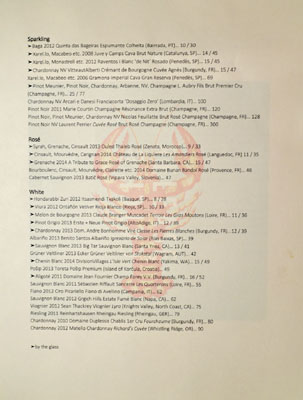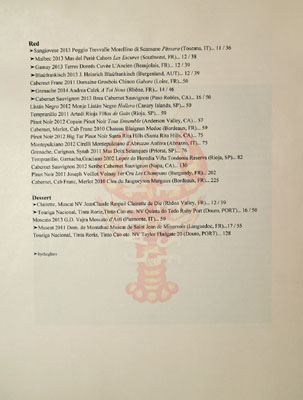 For Catch & Release's menu, Neroni's got a moderately-sized selection of shareable plates, perhaps traditional at their core, but with some fun flourishes and global influences mixed in. Drink-wise, we're dealing with fun cocktails designed by
Julian Cox
(and executed tonight by
Nick Meyer
), a handful of lighter-style beers, and a reasonably compact list of international wines. Click for larger versions.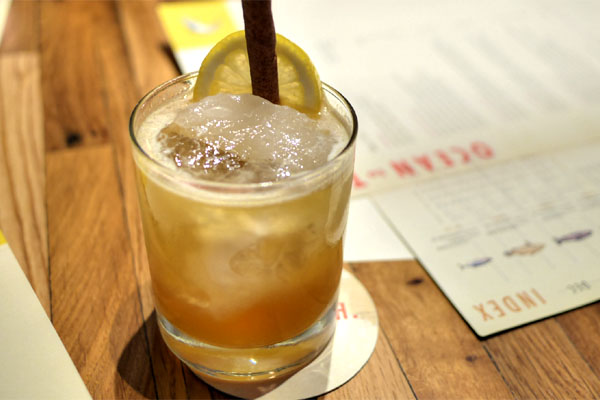 Wicked Pissah [$12.00]
| Bourbon, Honey, Gingerbread liqueur, Amaro, Lemon
With only seven cocktails on the menu, naturally we had to try 'em all. Given the New England slant of this place, we started with this appropriately-monikered number. Great mix of lemon and holiday spice on the nose, and on the palate, more of said spice, bittersweetness, and an almost chocolate-y sensation toward the close.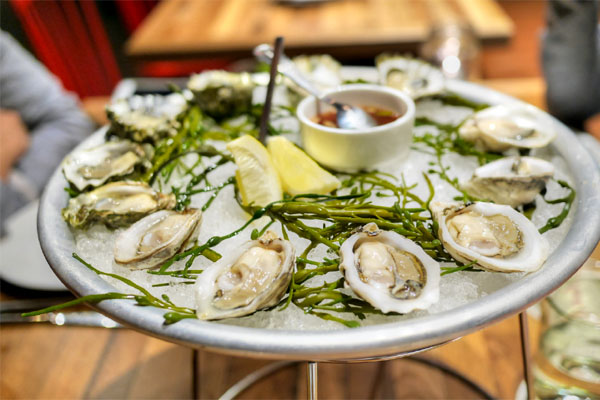 oysters, lemon, bread & butter mignonette - 12 [$28.00]
Kumamotos and Kusshis, arguably my two favorite oyster varietals, arrived plump and firm, with a clean brine that worked swimmingly alongside the zip of mignonette.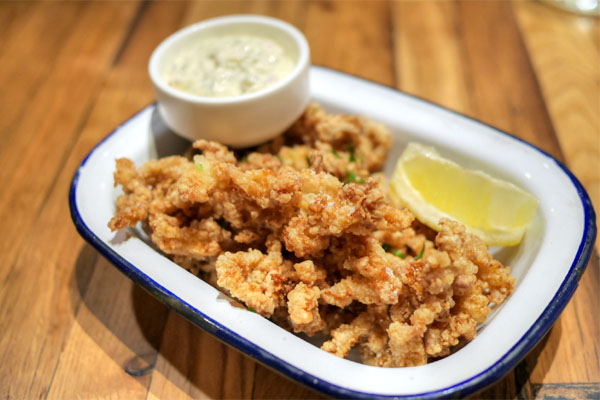 ho-jo style clam strips with bread & butter tartar sauce [$12.00]
A take on Howard Johnson's iconic clam strips was a winner: simply savory, beautifully textured specimens that paired perfectly with the herby sauce on the side.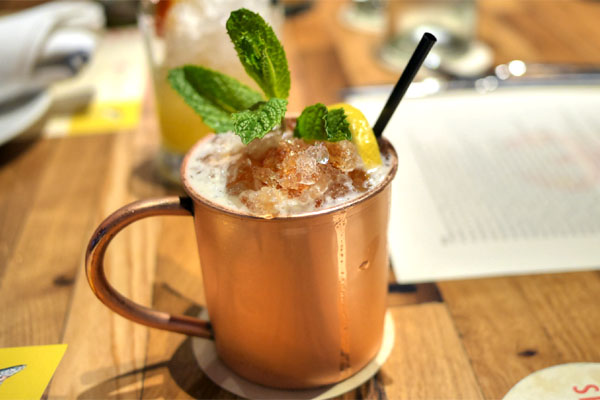 Suffering Bastard [$12.00]
| Vermont Gin, Rye Whiskey, Ginger, Lemon, Allspice
A vaguely Moscow Mule-inspired drink came in the signature copper mug and showed off a bracing interplay of ginger and lemon, all accented by mint while the finish was all about the spice of rye.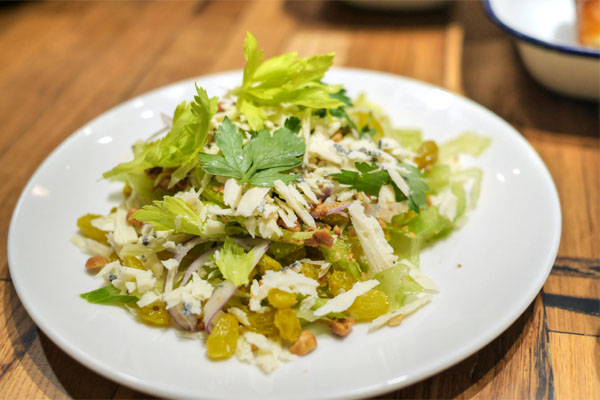 "ants on a log" celery salad, marinated raisins, bayley hazen blue cheese, peanuts [$13.00]
I'd actually never had the chance to experience the iconic American snack of ants on a log, so I didn't have a point of reference here, but I really enjoyed this. In fact, it was one of the best celery dishes that I've had. The key was the interaction between the tangy, almost smoky blue cheese, sweet raisins, and zesty celery, a really well-balanced combination that was a pleasant surprise for me.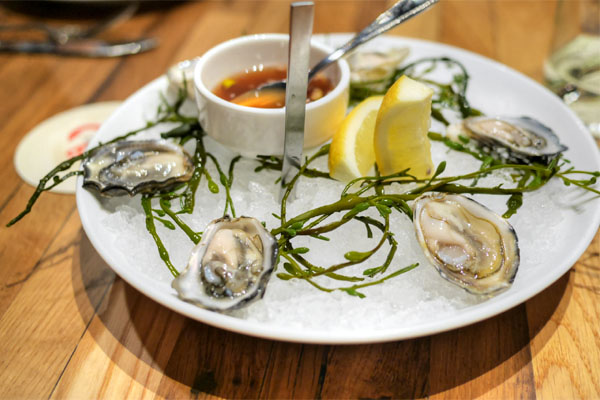 oysters, lemon, bread & butter mignonette - 6 [$18.00]
The third type of oysters on offer tonight, Ichibans, were also on point, creamier than the two above, but also imbued with a clean flavor profile that hit the mark.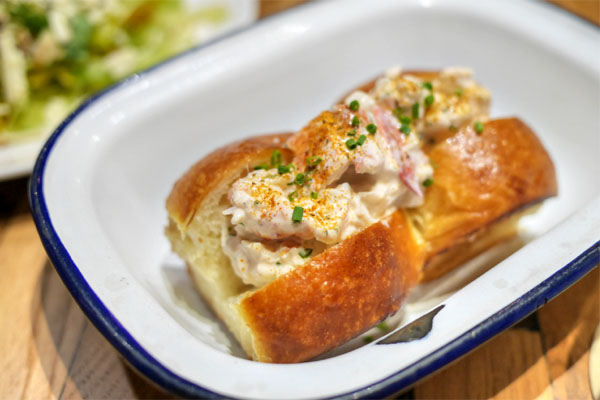 lobster roll, tarragon and dukes mayo, parker house roll [$20.00]
The requisite lobster roll satisfied as well, with the sweet, well-textured meat smartly paired with Duke's and a touch of spice. I especially liked the Parker House rollls here, with their soft, almost creamy consistency and buttery sweetness.
Scuttlebutt Smash [$12.00]
| Rye Whiskey, Dry Vermouth, Tangerine, Fennel, Lemon
This next cocktail was fairly easy-drinking, with loads of tart, citrusy notes over a subtle booziness, the whole drink finishing with a well-placed trace of fennel.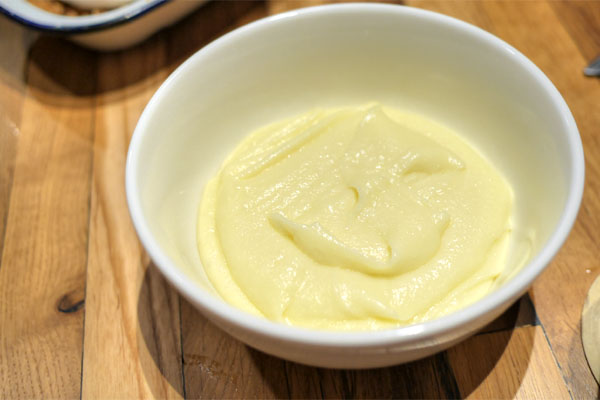 "mashed potatoes" [$10.00]
Given that this was listed as "mashed potatoes" on the menu, replete with quotes, I was sort of expecting something a little avant garde, like with foams or some such thing. Rather, what we got was a near flawless rendition of
Robuchon
-style
pomme purée
, an utterly classic, utterly buttery preparation that you should probably order.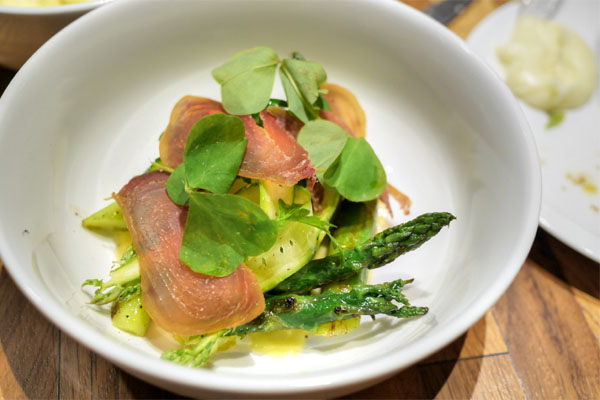 jumbo asparagus, colatura aioli, tuna prosciutto, kelly's egg, wood sorrel [$14.00]
Asparagus was as bitter and crunchy as I wanted, joined by an umami-rich tuna ham and piquant aioli that really did a nice job imparting depth and complexity to the dish.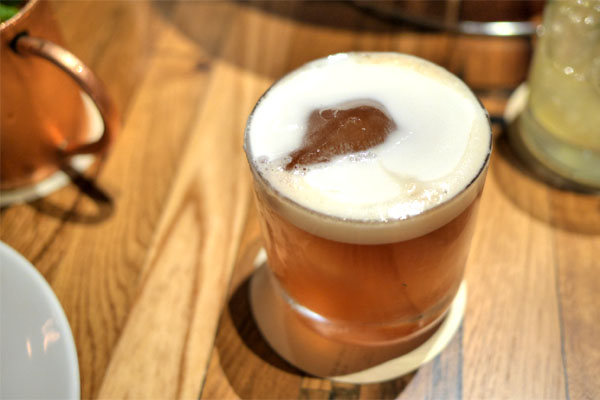 Ward 8 [$12.00]
| 101 proof Rye, Lemon, Maple Grenadine, Orange Foam
This take on an old school Bostonian cocktail was easy to take down, with its juicy notes of sweet fruit and spice offset by the tanginess of lemon a delicate backbone of rye.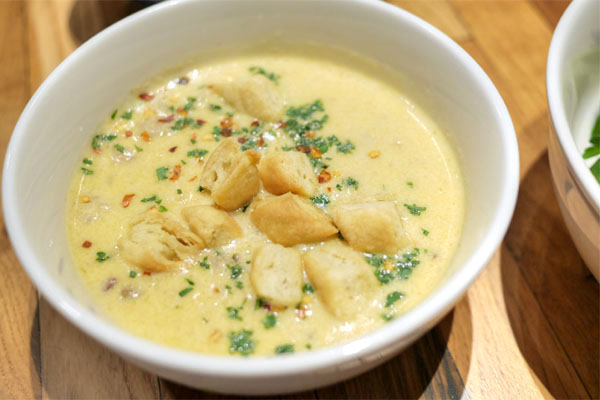 smoked cod chowder, bacon, potatoes, biscuits [$13.00]
I have a hard time resisting chowder, so this was of course a must-order for me. There was a fantastic depth of flavor here thanks to the use of smoked cod, and I appreciated the additional smoke and salt imparted by the bacon as well. I wanted more potato though, to help moderate things and provide some textural variation.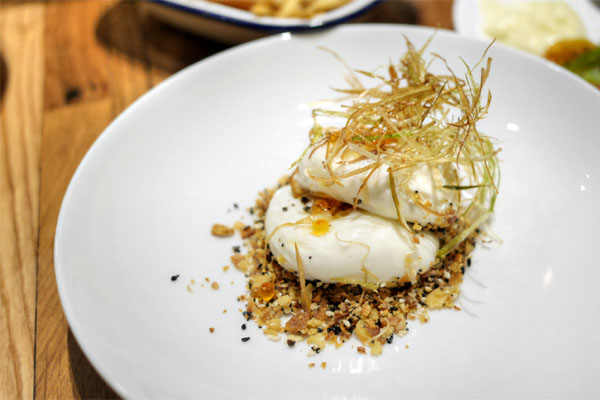 burrata, "everything bagel", trout roe, crispy green garlic [$15.00]
Neroni's reimagined "everything bagel" was the most whimsical dish of the night, and really did a great job playing the multifaceted spice here against the cool creaminess of burrata, all while the roe added a delightful salinity to the fold. Taken all together, you could almost get bagels and lox.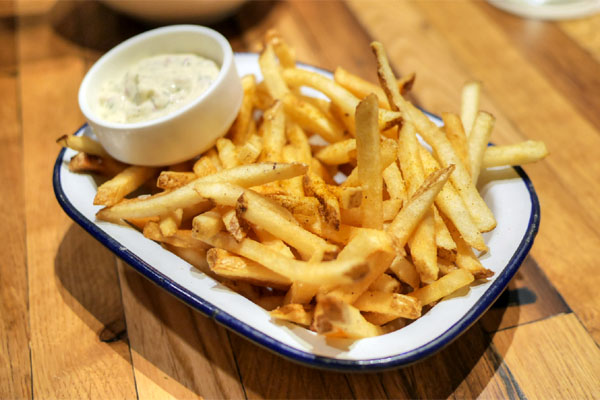 old bay fries with tartar sauce [$10.00]
Fries were pretty much spot on, perfectly textured and well-spiced with just a smidge of Old Bay. Tasty alone and even better with a dab of tartar.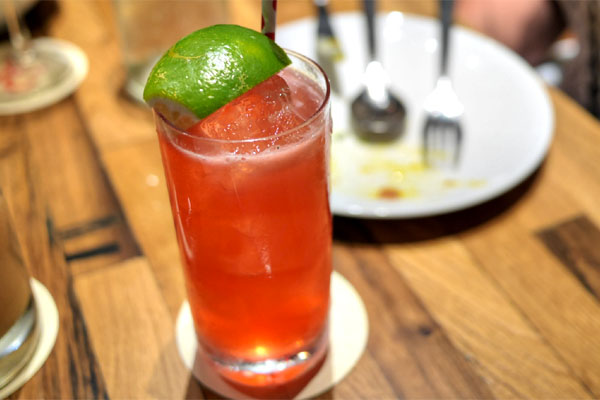 Cape Codder [$12.00]
| Vodka, Cranberry Cordial, Lime
This straightforward cocktail was light and refreshing, with a fruity, bittersweet bent backed by the potency of vodka.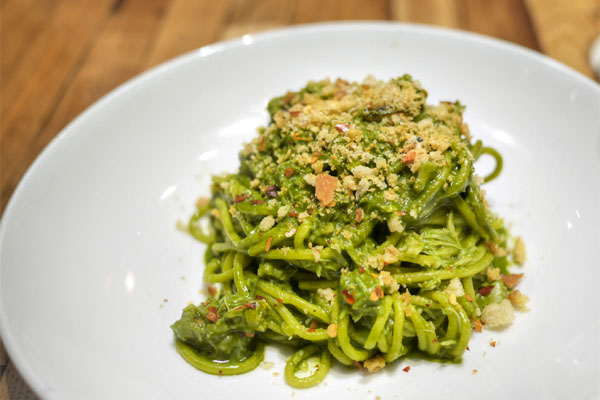 spaghetti, dungeness crab, ramp butter, chiles, breadcrumbs, preserved lemon [$18.00]
Spaghetti arrived al dente but also unexpectedly verdant, with the astringent kick of ramps balancing out the sweet brine of the Dungeness. Very neat.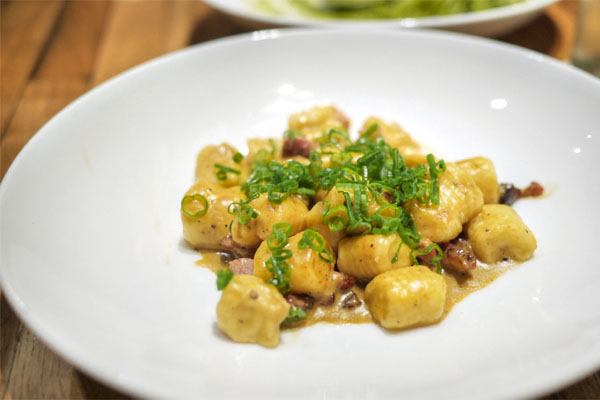 ricotta dumplings, uni, "carbonara", bacon, scallions, lots of black pepper [$20.00]
Gnocchi-like dumplings were almost fluffy to the bite, a fitting base on top of which the classic carbonara flavors could really sing. Loved the scallions here.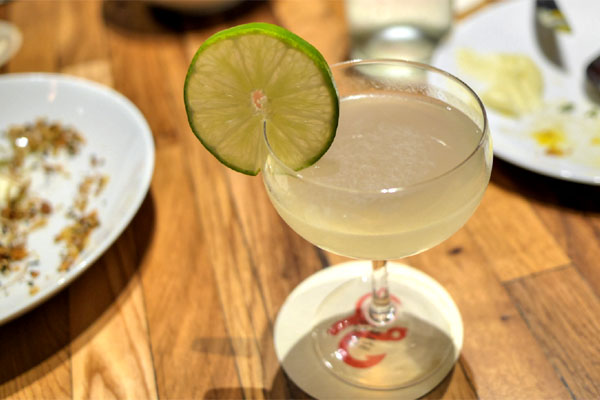 Del Rey Daiquiri [$12.00]
| Agricole Rum, Lime, Cane Syrup, Manzanilla Sherry
Here was one of the better daiquiris I've had, a delicious presentation that really showcased its ingredients in a straightforward, yet rather profound manner.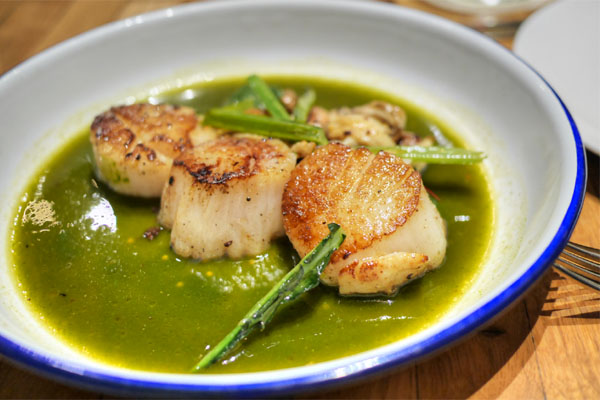 roasted scallops, seared foie gras, miso kelp broth, black kale [$34.00]
Scallops showed off a spot on texture and salinity, augmented by the smoky kelp broth while mushrooms added a great hit of earthiness to the mix. The foie wasn't even necessary.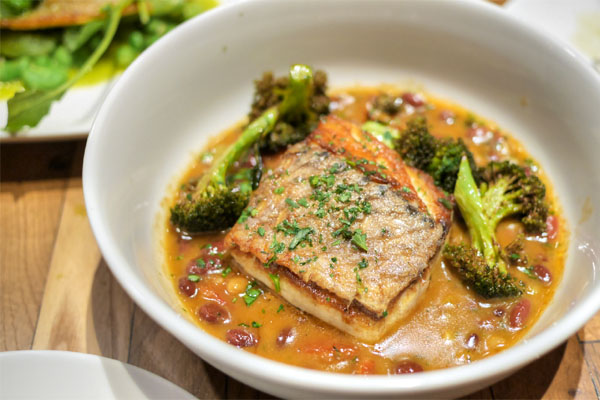 wild striped bass, rancho gordo beans, broccoli, tomato confit, sherry beef jus [$35.00]
Bass was well-cooked, but its accoutrements went too heavy. I got a lot of sweetness, butteriness, and tart tomato, but the fish was a bit lost amongst all that.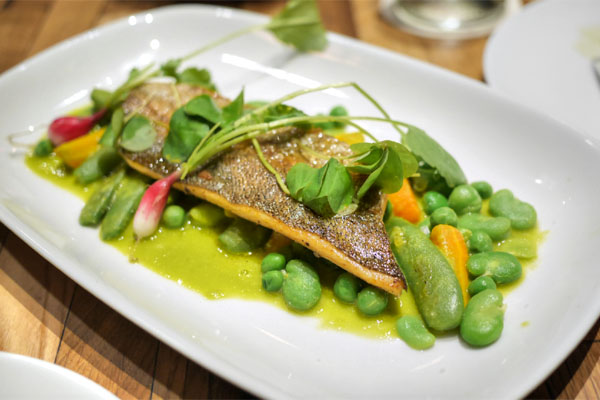 sausalito trout, pea and pistachio veloute, snap peas, pea greens [$29.00]
In our final savory, trout came out light and crispy, with its heady, briny flavors evened out by the brightness of the accompanying peas.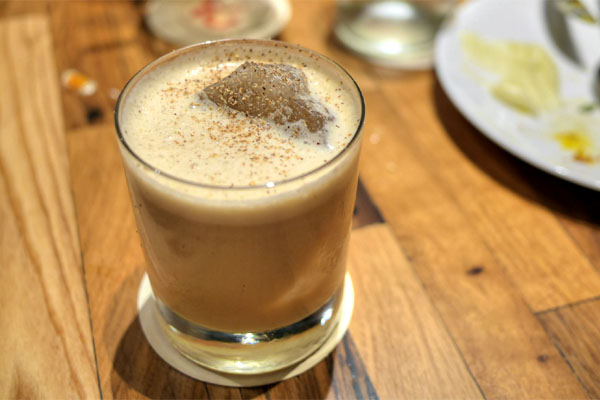 Jeff Bridges [$12.00]
| Caffe Moka, Vanilla, Cream, Rum, Nutmeg
This last cocktail was great for dessert, a White Russian-like concoction that displayed some delectably creamy, coffee notes intermingled with loads of sweet spice.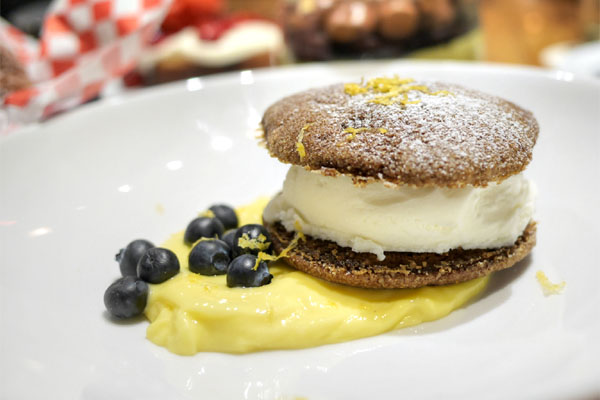 Gingerbread Whoopie Pie [$7.00]
C&R's take on the whoopie pie delivered, its spicy gingerbread serving as a great foil to the cool, lush buttermilk-lemon ice cream while the berries added a trace of tartness to things.
Brown Butter Zeppole [$7.00]
Zeppole
were made with brown butter in the batter, and were surprisingly hefty little examples, their creamy, spicy filling countered by the jammy blueberry-Meyer lemon preserves.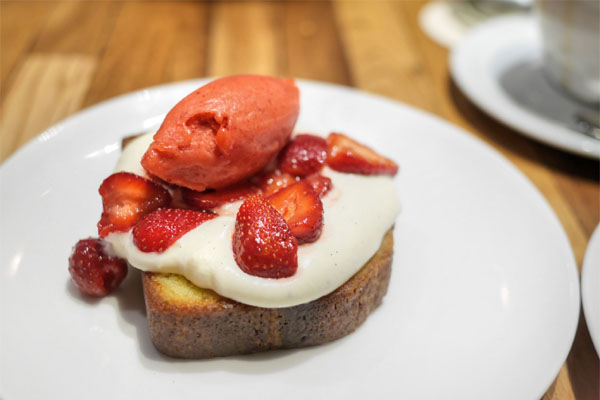 Strawberry Shortcake [$8.00]
This version of strawberry shortcake hit the mark as well, combining hot pound cake, fresh strawberry, strawberry sorbet, orange zest, and Chantilly cream into one cohesive, delicious whole that really showed off the fruit.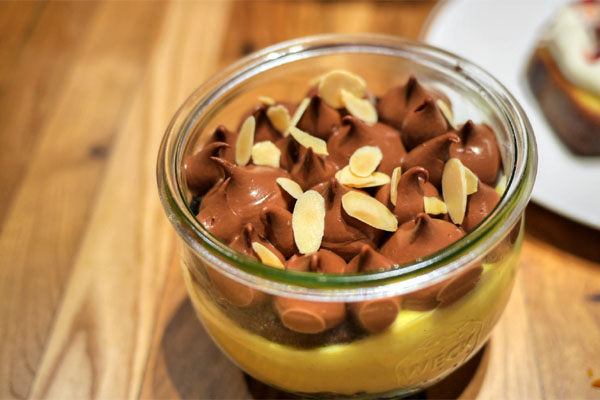 Boston Cream Pie Trifle [$8.00]
Boston cream pie was served in trifle form, a potent dessert that conveyed the traditional flavors of chocolate and cream, with the sliced almonds adding a nutty accent to things.
Despite it being opening night, things went pretty smoothly tonight, both in terms of the service and the cooking. The kitchen seemed to be mostly on the proper footing right out the gate, delivering seafood-centric plates that blended the classic with Neroni's more Californian leanings. It's a restaurant worthy to supersede Paiche. As for the Chef's next steps, he and Sprout will be taking over Venice's Rose Café, which shuttered in February. The plan is to reconceptualize the space, which will be renamed The Rose and hopefully debut in summer.