Faith & Flower (Los Angeles, CA)
Faith and Flower Restaurant
705 W 9th St, Los Angeles, CA 90015
213.239.0642
www.faithandflowerla.com
Wed 05/21/2014, 08:05p-10:40p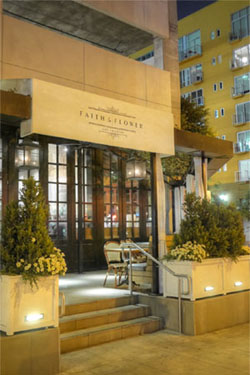 One of the most buzzed about Downtown debuts of late is Faith & Flower, set in the old Towne space at the bottom of WaterMarke Tower. Named after the current and historical name of its cross street Flower, the project was first announced last August, and is the work of the Coastal Luxury Management group (they're responsible for Pebble Beach Food & Wine and Los Angeles Food & Wine) and local restaurateur Stephane Bombet (of
Mo-Chica
,
Picca
, and
Paiche
fame). The restaurant bowed at the end of March, and features the cooking of LA neophyte Michael Hung.
About the Chef
: A New Jersey native, Hung started out in New York, quitting culinary school to
stage
at places such as Daniel and Marcus Samuelsson's Aquavit. In 2005, he moved to San Francisco, finding employment at Traci Des Jardins's lauded Jardiniere before transitioning to Bacar and The Lark Creek Inn, later returning to Jardiniere as sous. During this period, he also worked on Pixar's award-winning
Ratatouille
as a consultant, joining the likes of
Thomas Keller
and
Guy Savoy
.
In March 2011, Hung was tapped by Tak Matsuba to replace opening chef Seiji Wakabayashi at Bushi-tei, but was out the following February after the restaurant was put up for sale (it ended up closing that April). The Chef launched Red Sparrow, a pop-up dining series, soon thereafter, and landed the Chef de Cuisine gig at Roland Passot's Michelin-starred La Folie in July. He also attended the University of San Francisco concurrently around this time, graduating with a Master's in Fine Arts with a focus on fiction before joining the team here at Faith & Flower in December 2013.
Joining Hung in the kitchen is Sous Chef Huy Nguyen (
Josef Centeno
,
LudoBites 10
, Ray's and Stark Bar, Jardiniere and Social Kitchen & Brewery in San Francisco,
Waterloo & City
, The Mercantile, Abacus in Dallas,
Grace
). Co-opening sous Michelle Minori (Flower + Water, Il Cano Rosso, Acquerello, La Folie,
Aqua
, all in the San Francisco Bay area) has since left the restaurant.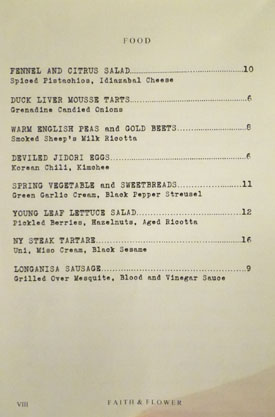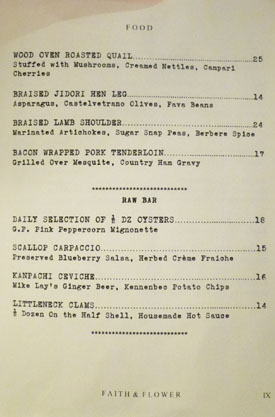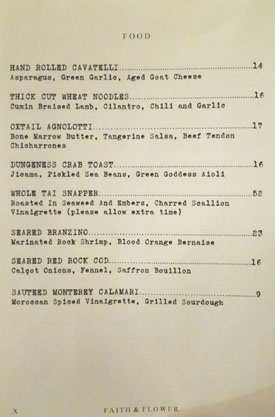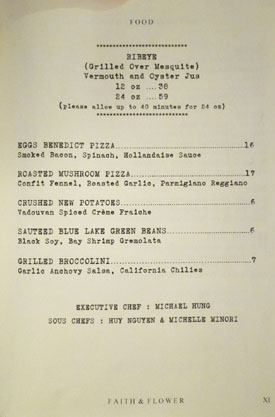 The menu at Faith & Flower features Chef Hung's semi-rustic, Cal-global cooking in a variety of formats. Lunch and brunch are also on offer, too, if that's your thing. Click for larger versions.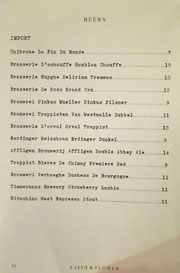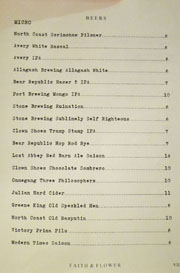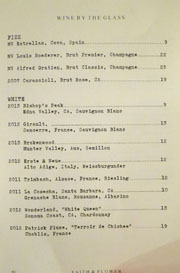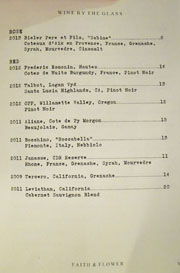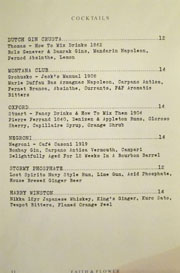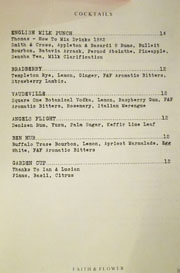 As for the drinks, you'll get a pretty decent selection of beers, a wine list by Wine Director Jared Hooper (
Hakkasan
,
The Royce
, Noir Food & Wine), and intriguing-sounding cocktails crafted by Chief Mixologist Michael Lay, who also worked at CLM's Rose. Rabbit. Lie. in Las Vegas and Restaurant 1833 up in Monterey. Click for larger versions.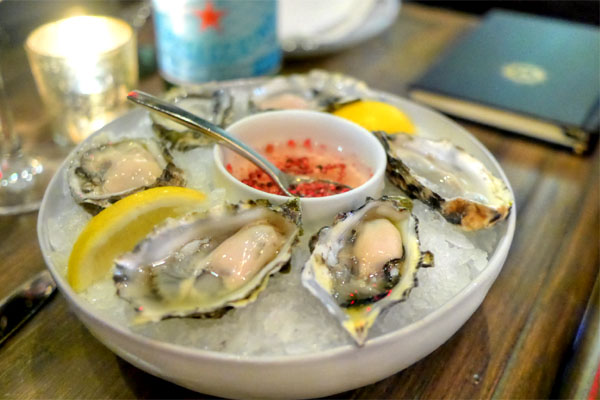 DAILY SELECTION OF ½ DZ OYSTERS [$18.00]
| G.P. Pink Peppercorn Mignonette
We went the oysters to start, which comprised two each of three varieties: Kumamoto, Kumiai, and Grassy Point. All of 'em were on point--clean, fresh, shell-free--and went swimmingly with a dash of that bracingly peppery mignonette.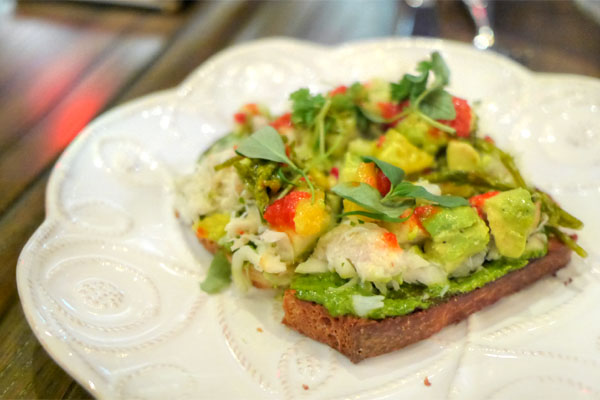 DUNGENESS CRAB TOAST [$16.00]
| Jicama, Pickled Sea Beans, Green Goddess Aioli
Crab toast was delightfully sweet, augmented by the fruitiness present, and paired just swell with the lushness of avocado and green goddess. The toast, meanwhile, formed a fitting base to the course, though I would've liked a bit more punch of acidity.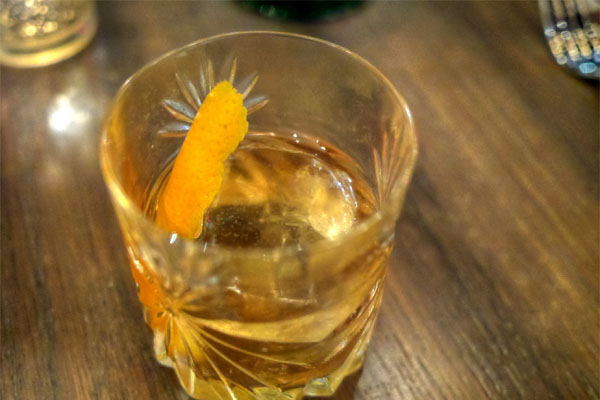 HARRY WINSTON [$14.00]
| Nikka 12yr Japanese Whiskey, King's Ginger, Kuro Sato, Teapot Bitters, Flamed Orange Peel
Of course I had to give the cocktails a go, and this first one fit the bill nicely, a strong, yet smooth and sophisticated drink that smartly layered notes of ginger over a bittersweet, boozy backdrop.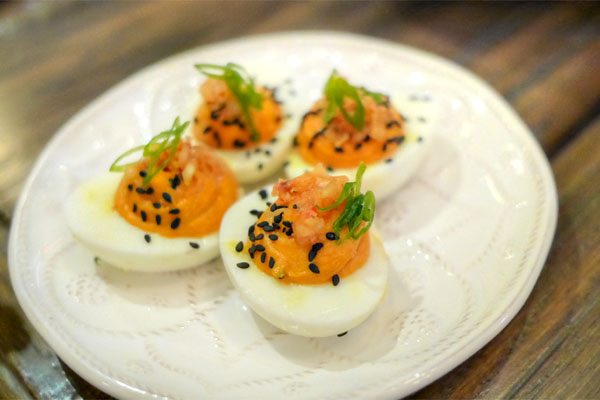 DEVILED JIDORI EGGS [$6.00]
| Korean Chili, Kimchee
Given my penchant for deviled eggs, these were a must-try, natch. Think of your traditional flavors, but amped up by the funky, spicy kick of
gochujang
and kimchi.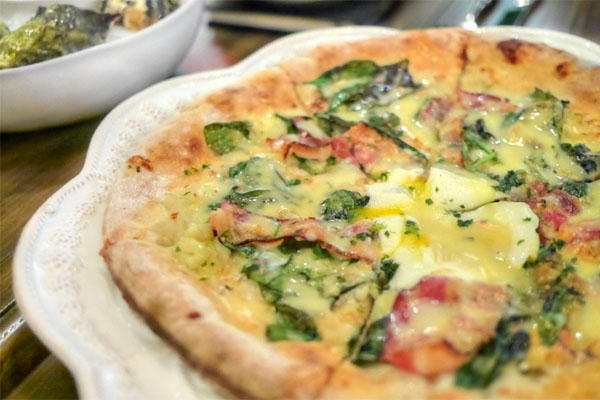 EGGS BENEDICT PIZZA [$16.00]
| Smoked Bacon, Spinach, Hollandaise Sauce
A classic Eggs Benedict comprises bacon, eggs, and Hollandaise atop an English muffin, and this pizza-fied version nicely captured the essence of the original. You had the combo of egg, creamy Hollandaise, and salty bacon, which was satisfying in its own right, but the addition of spinach provided a great, countervailing astringency to things that really brought it all together.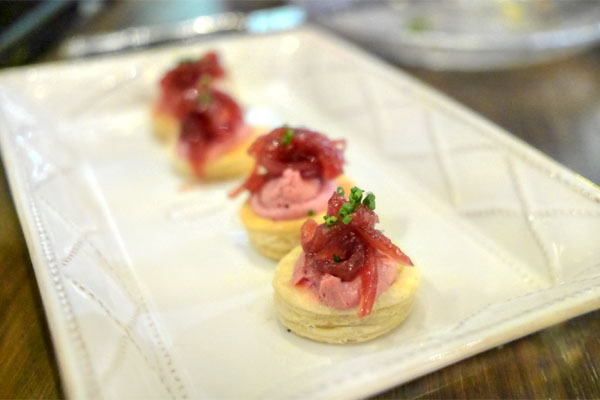 DUCK LIVER MOUSSE TARTS [$6.00]
| Grenadine Candied Onions
Duck liver was deftly presented here, its rich, yet restrained character dutifully evened out by the sweet-n-sour crunch of candied onions, all while the pastry did an admirable job in moderating the entire bite.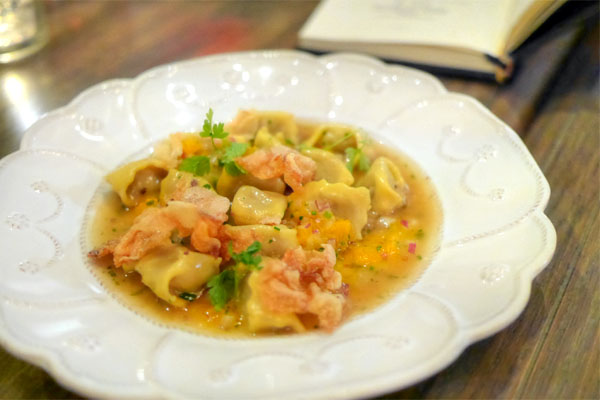 OXTAIL AGNOLOTTI [$17.00]
| Bone Marrow Butter, Tangerine Salsa, Beef Tendon Chicharrones
This next plate came highly recommended by our server, and he was right on the money. The actual pasta was as tasty as you'd expect thanks to the use of oxtail, but it was the combination of bright, tangy salsa and crunchy, salty
chicharrón
that really took this dish to the next level, forming perfect accoutrements to the agnolotti.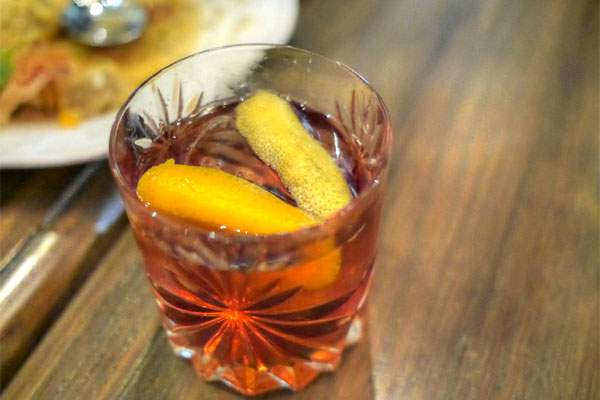 MONTANA CLUB [$14.00]
| Grohusko - Jack's Manual 1908; Marie Duffau Bas Armagnac Napoleon, Carpano Antica, Fernet Branca, Absinthe, Currants, F&F Aromatic Bitters
My next cocktail also veered toward the robust side, this one really offering up a multifaceted presentation of herbal, astringent, almost medicinal nuances set against contrasting sweet, nutty tones.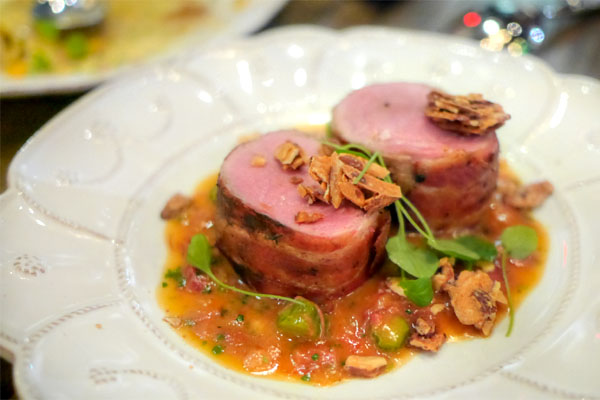 BACON WRAPPED PORK TENDERLOIN [$17.00]
| Grilled Over Mesquite, Country Ham Gravy
Cooked a touch rare, just how I like it, the pork impressed, giving us a slightly smoky, slight "hammy" sort of savor that was further enhanced by the salty strips of bacon here. Very tasty, though the crunchy slivers of nuts on top didn't quite seem necessary.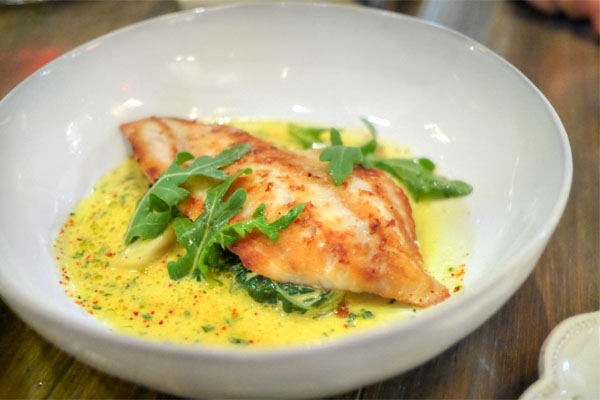 SEARED RED ROCK COD [$16.00]
| Calçot Onions, Fennel, Saffron Bouillon
Red rock cod was delicious, a firm, hearty filet beautifully paired with the zest of calçots and fennel, the saffron broth adding an enveloping, aromatic component to the mix.
VAUDEVILLE [$12.00]
| Square One Botanical Vodka, Lemon, Raspberry Gum, F&F Aromatic Bitters, Rosemary, Italian Meringue
My final cocktail made great use of vodka, the spirit setting the stage for a bevy of sweet, sour, and herbaceous notes on the palate. I was quite the fan of the frothiness here, too.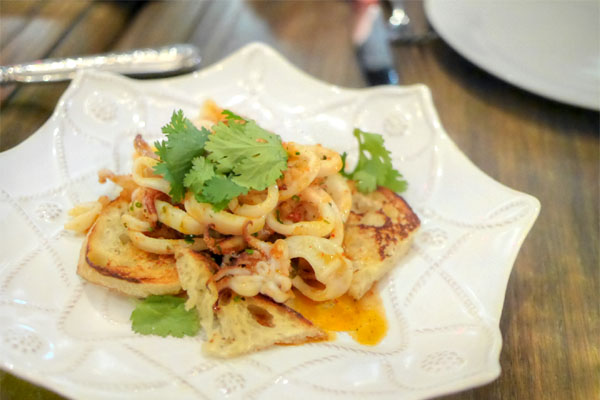 SAUTEED MONTEREY CALAMARI [$9.00]
| Moroccan Spiced Vinaigrette, Grilled Sourdough
Squid was snappy and springy to the bite, and well-spiced to take advantage of the calamari's inherent brine. I wasn't quite sold on the use of sourdough as a base here, though.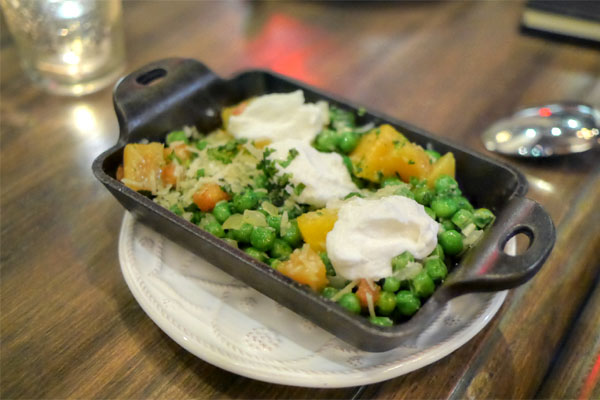 WARM ENGLISH PEAS and GOLD BEETS [$8.00]
| Smoked Sheep's Milk Ricotta
The combo of peas and beets was surprisingly effective, sort of forming a sweet, yet slightly nutty flavor profile that linked up well with the creaminess of that ricotta.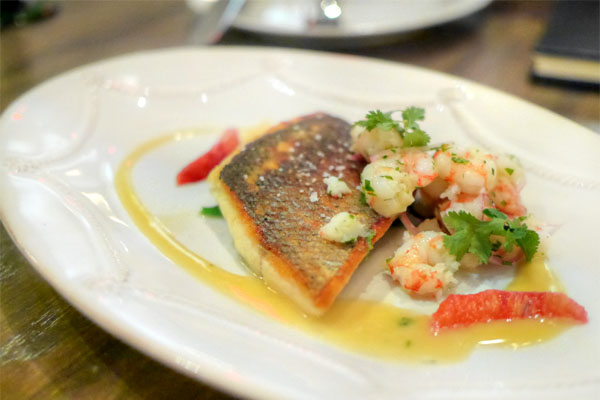 SEARED BRANZINO [$23.00]
| Marinated Rock Shrimp, Blood Orange Bearnaise
Loup de mer did not disappoint either with its wonderfully crisp skin and flavorful flesh. The fish easily stood alone, but I much appreciated the inclusion of rock shrimp here as well, not to mention the zip of the citrus-y Béarnaise.
RIBEYE [$38.00/12 oz]
| Grilled Over Mesquite, Vermouth and Oyster Jus
Our final savory brought out a rib eye, grilled over mesquite, which gave the meat a smoky quality that worked hand-in-hand with the inherent goodness of the beef. The steak was tasty just by itself, but the inclusion of an oyster-y jus did add just a touch more potency to the fold.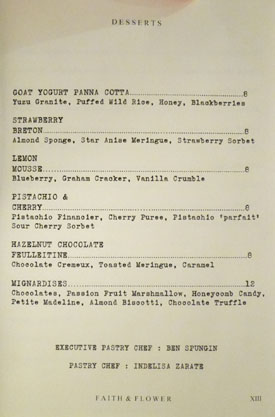 Time for some sweet stuff. Desserts here are the task of Executive Pastry Chef Ben Spungin (Bernardus Lodge in Carmel Valley, Post Ranch Inn in Big Sur,
The French Laundry
), while day-to-day operations are handled by Pastry Chef Indelisa Zarate (also from Bernardus and Post Ranch, no relation to Ricardo). Click for a larger version.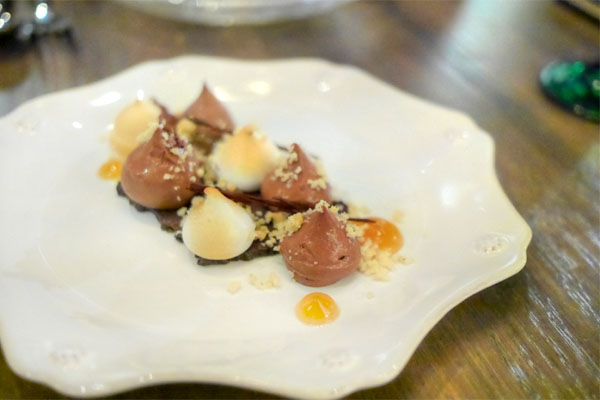 HAZELNUT CHOCOLATE FEULLEITINE [$8.00]
| Chocolate Cremeux, Toasted Meringue, Caramel
Our first dessert brought together the winning combination of chocolate and hazelnut, a sweet, nutty mélange balanced by the use of scorched meringue.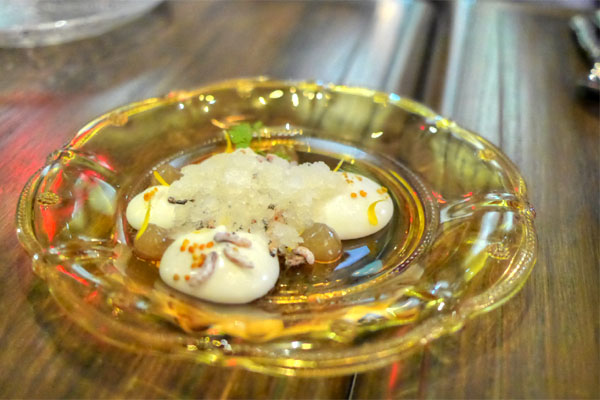 GOAT YOGURT PANNA COTTA [$8.00]
| Yuzu Granite, Puffed Wild Rice, Honey, Blackberries
The panna cotta, meanwhile, really showed off a sour, lactic sort of tanginess, one offset by the use of honey and blackberry. I was a big fan of the puffed rice here as well, which imparted a great crunch and hint of savoriness.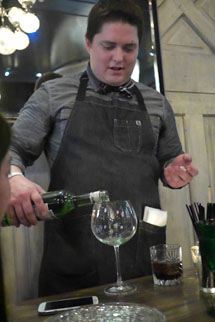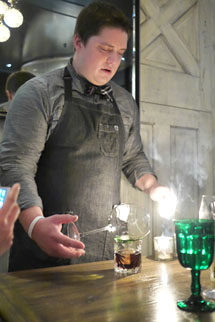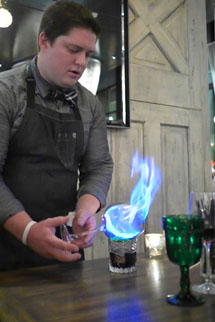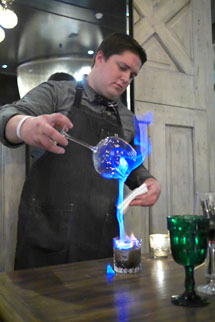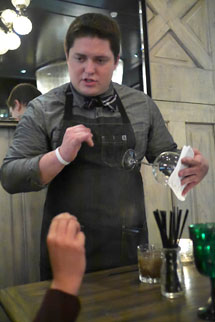 To conclude our evening, we were presented with the restaurant's "Russian style" absinthe service, deemed the "Leap of Faith." Our server Camden proceeded to pour some La Fée into a glass, set it aflame, and stream the glowing liquid atop a tumbler containing root beer before capturing the remaining vapors in the glass. We were then instructed to use a straw to inhale said vapor before taking a swig of the absinthe-root beer combo. It actually worked out surprisingly well, the aromas of absinthe really enhancing the sweet, refreshing, anise-laced beverage.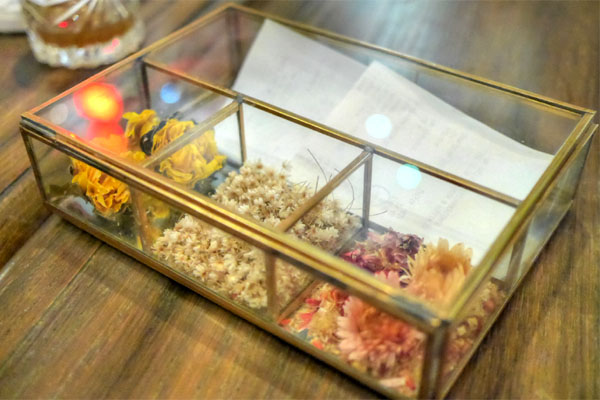 The presentation of the evening's bill was certainly one of the schmancier versions I'd seen.
I initially approached Faith & Flower with a bit of trepidation. Given Coastal Luxury Management's background, I was afraid that the place would tend toward overly corporate-y. Perhaps Bombet helped temper some of that, because I was actually quite happy with the cooking here. Hung's style can be described as Cal-rustic with some global influences, which is not uncommon these days, but there's a certain
je ne sais quoi
to the food that managed to satisfy while retaining a bit of accessibility. My dining companions were similarly impressed, and I'm certain that this place will have no problem outlasting its predecessor.