A-Frame (Culver City, CA) [2]
A-Frame Restaurant
12565 Washington Blvd, Los Angeles, CA 90066
310.398.7700
www.aframela.com
Tue 08/04/2015, 08:15p-11:00p
[9/11 Update: Johnny Yoo is no longer working at the restaurant, having decamped ostensibly to spend more time with his family. Turns out that this was actually his penultimate night on the job.]

Gracing us well before the likes of
POT
or
Commissary
was Roy Choi's former flagship,
A-Frame
. The restaurant debuted way back in November 2010, serving up "modern picnic food" in a converted IHOP on a sleepy stretch of Washington across from
Brendan Collins
' game-changing
Waterloo & City
. After the initial buzz wore off, the place was apparently sustained pretty much by locals, so Choi and business partner
David Reiss
decided to mix things up earlier this year, swapping out the menu for one featuring Hawaiian fare. It's actually not much of a stretch given what they were serving before, with the driving force behind the switcheroo being newly installed Executive Chef Johnny Yoo.
About the Chef
: Yoo was born in South Korea, and after stops in Saudi Arabia, Houston, and Hawaii, his family eventually settled in LA. After finishing up a business degree at Cal Poly San Luis Obispo, he spent time in Hawaii, working at places like Duke's Waikiki and eating at local staples Side Street Inn and Zippy's. Back on the Mainland at the end of 2001, Yoo enrolled at Pasadena's California School of Culinary Arts, and during his tenure there, worked under Rodelio Aglibot at Koi in WeHo. After graduating in 2003, he cooked at
David Myers
'
Sona
and Josiah Citrin's longstanding
Melisse
.
Next were stints at
Ortolan
(I wonder what Christophe Émé's up to these days), the Restaurant at the Getty Center, and sushi spot Kanzen in Redondo Beach (where he was part owner). In 2007, Yoo became opening sous at
Alain Giraud
's Anisette, and in 2008, he reprised the role at
Drago Centro
. He and Jacob Kear opened
Sang Yoon
's
Lukshon
as co-Chef de Cuisines at the beginning of 2011, but were out the door just months later, replaced by
Ted Hopson
(who decamped himself last March to work on The Bellwether in Studio City). Yoo then took a job at the Panorama City-based Bruce's Gourmet Catering (specializing in motion picture catering), where he stayed until joining the A-Frame team in 2014.


Inside, things have largely remained the same. It's still a breezy, wood-swathed space, but with a touch more of a tropical vibe, thanks in part to murals by local artist
Eric Junker
. Outside, the patio remains intact, replete with those fanciful lights.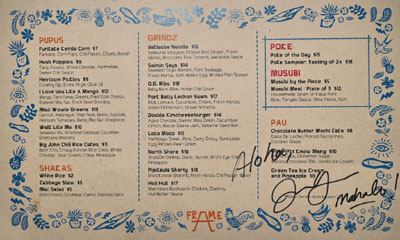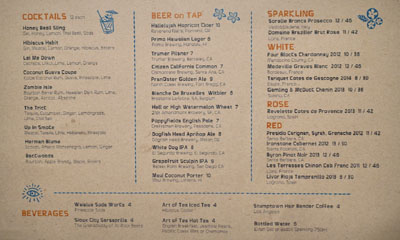 As for A-Frame's menu, it's mostly the work of Yoo, divided up into appetizer-sized
pupus
and more substantial
grindz
. Drink-wise, we have a dozen beers on tap, a small list of wines, and a revamped, tiki-influenced cocktail program by Dan McClary (Westside Tavern, The Brig). Click for larger versions.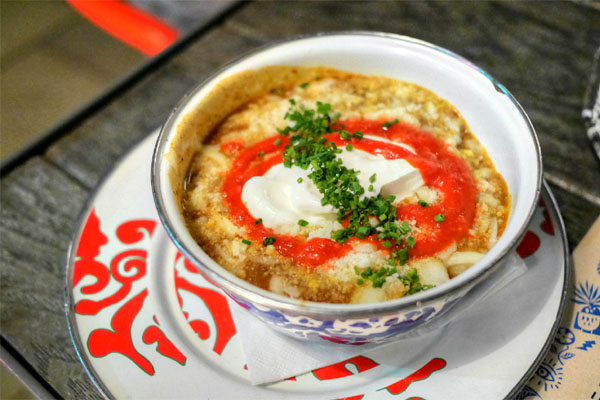 Big John Chili Rice Cakes [$11.00]
| Beef Chili, Crispy Korean Rice Cake, White Cheddar, Sour Cream, Chive, Pineapple
First up was a dish supposedly inspired by the signature chili at Zippy's. It was one of my favorites of the night, a hearty, satisfying mix of meaty, slightly spicy chili and crispy
tteok
, with the sour cream imparting an overarching lactic tang to it all.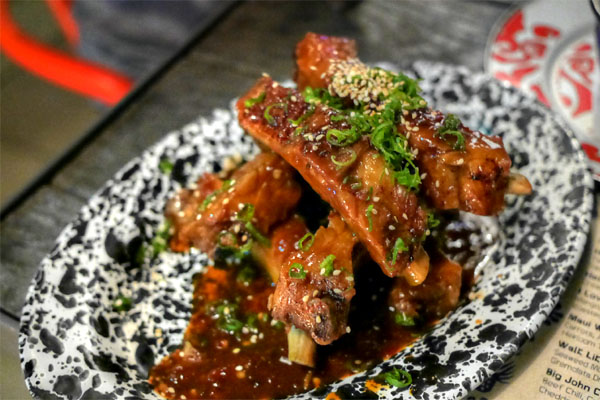 O.G. Ribs [$18.00]
| Baby Back Ribs, Hoisin Chili Glaze
Here was one of the holdovers from the previous menu, which returned even better than before. Texturally, the meat was tender, yet still with some bite and some crunchy bits, tearing cleanly off the bone. And taste-wise, think sweet, savory, subtly spicy, with a nutty sesame accent.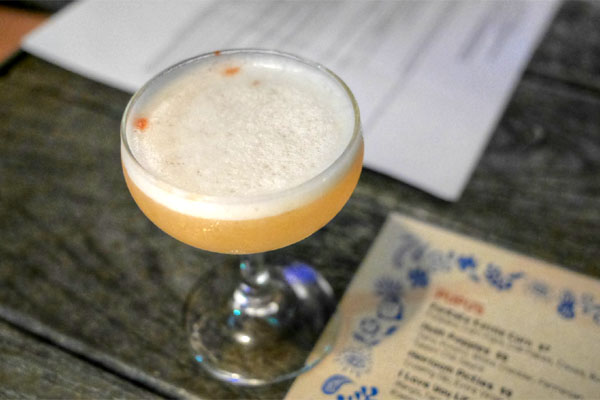 Coconut Guava Coupe [$12.00]
| Koloa Coconut Rum, Guava, Pineapple, Lime
We gave a few of the cocktails a whirl as well. This particular one I found super fruity on the nose, while on the palate, more tropical fruit, joined by an underpinning of rum and pricks of tart lime.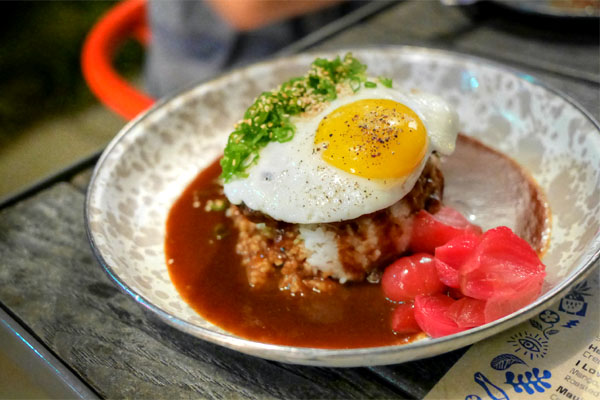 Loco Moco [$15.00]
| Hambagu Steak, Rice, Curry Gravy, Sunnyside Egg, Pickled Pearl Onion
Naturally, loco moco made an appearance on the menu. It was a homey sort of dish, with the sweet, savory, curry-infused gravy enveloping the rice and patty while the runny egg added further luxuriousness to things. My favorite part? The pickled onions, which gave up a touch of countering acidity.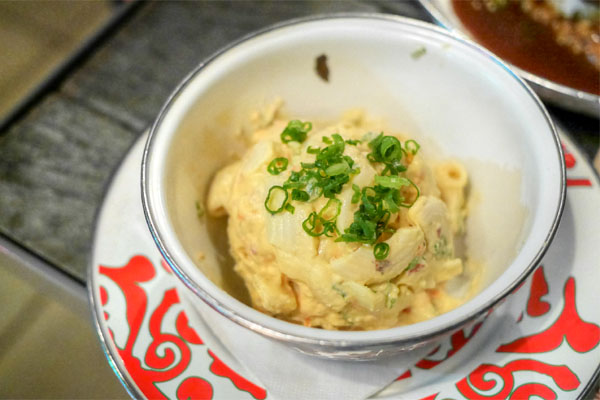 Mac Salad [$5.00]
| Riced Potato, Cucumber, Carrot, Roasted Garlic
Macaroni salad was a must of course, and A-Frame's was a tasty example, with a great balance between egg, potato, and veggies.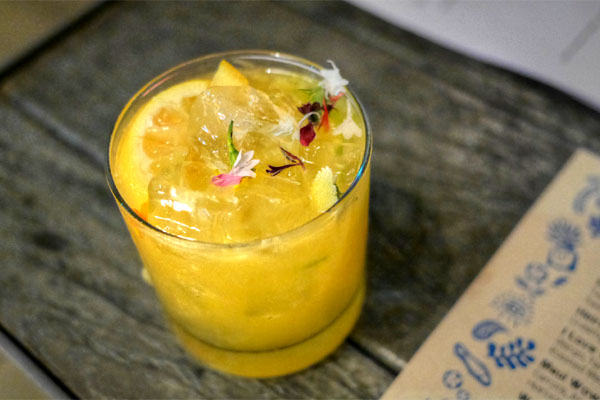 Lei Me Down [$12.00]
| Cachaca, Lilikoi, Lime, Lemon, Orange
This appealing-looking cocktail conveyed an abundance of passion fruit sweetness at its core, joined by notes of citrus and a subtle backbone of booziness from the cachaça.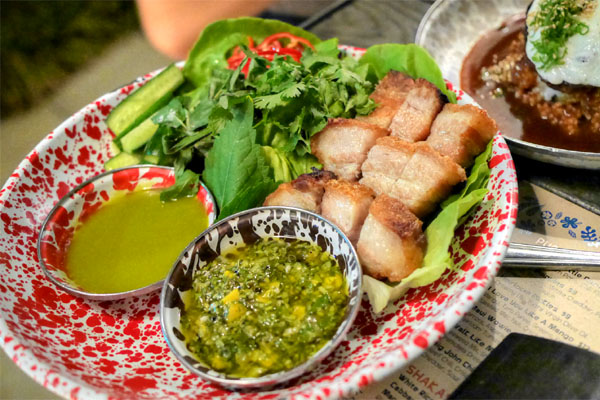 Pork Belly Lechon Ssam [$17.00]
| Bibb Lettuce, Cucumber, Chilies, Fresh Herbs, Island Chimichurri, Green Sriracha
Yoo's take on
lechon kawali
hit the mark, the belly coming out delightfully crisp, with a good balance between lean and fat. The pork was tasty on its own, but even better when taken with its various accompaniments, which provided countervailing nuances of spicy, sweet, sour, and herby.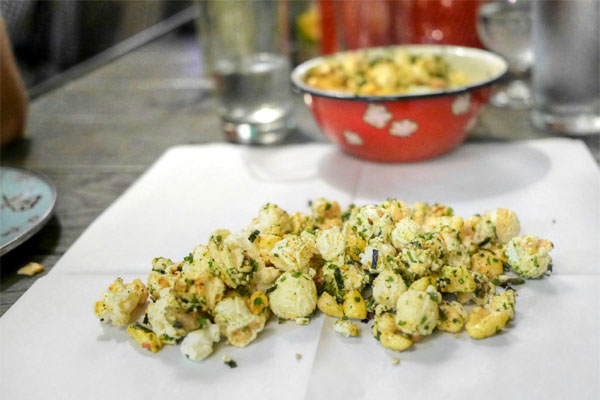 Furikake Kettle Corn [$7.00]
| Furikake, Corn Pops, Chili Flakes, Chives, Butter
Another holdover from A-Frame v1.0 was the popcorn, which was just as I remember: appropriately crunchy, with a fun mix of sweet, savory, and buttery flavors.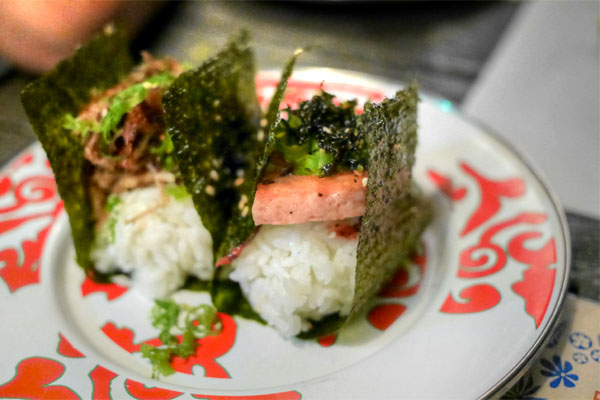 Musubi by the Piece [$5.00 x 2]
| Housemade Spam or Kalua Pork, Rice, Teriyaki Sauce, Ume Paste, Nori
The musubis were on point, the Spam variant as good or better than any I've had while the pork version came out tender and softly sweet.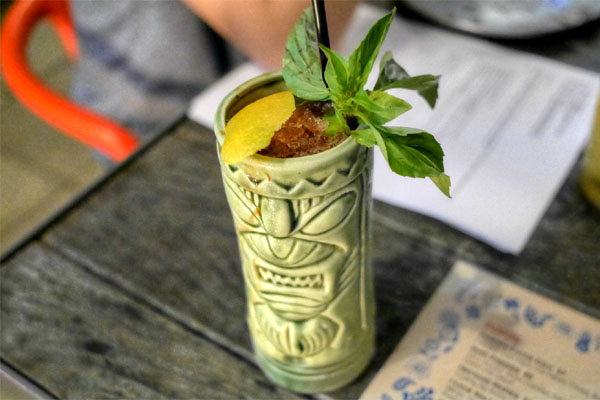 Zombie Isle [$12.00]
| Bourbon Barrel Rum, Hawaiian Dark Rum, Lime, Orange, Apricot, Absinthe
A-Frame's take on the iconic Zombie was nice enough, fruity at first, with the booziness and sweet spice coming in later, the drink finishing well with the zestiness of absinthe.
Heirloom Pickles [$9.00]
| Creamy Dip, Extra Virgin Olive Oil
Pickles weren't nearly pickle-y enough, coming out more like crudités, though they certainly were enjoyable with a dab of that creamy, nutty, somewhat sweet dipping sauce.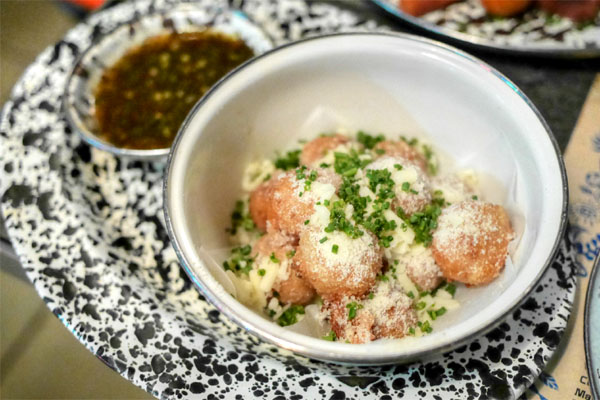 Hush Poippies [$9.00]
| Taro, Potato, White Cheddar, Parmesan, Sweet Chili Sauce
A play on hush puppies delivered, with the light, airy, cheesy bites well-matched to the sweetish hot sauce on the side.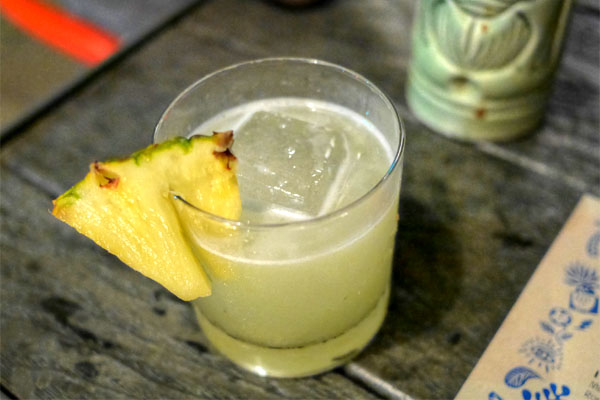 Up In Smoke [$12.00]
| Mezcal, Tequila, Lime, Habanero, Pineapple
The requisite mezcal cocktail worked itself out with its smart balance of smoky and citrusy flavors, accented by a touch of heat.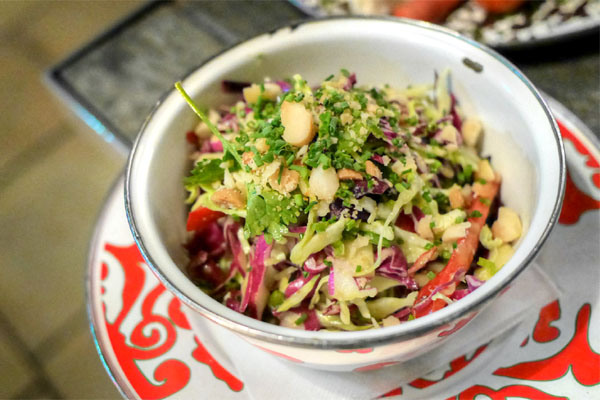 Cabbage Slaw [$5.00]
A cabbage slaw was a welcomed break from the heftier courses, a light, bright presentation with great textures.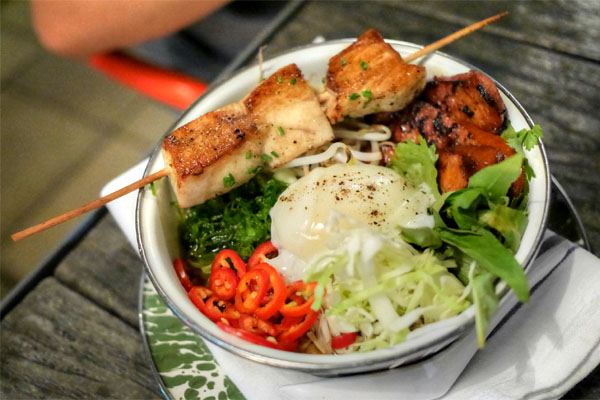 Saimin Says [$14.00]
| Hawaiian Style Ramen, Pork Sausage, Fresh Herbs, Soft Boiled Egg, Broiled Fish Skewer
The
saimin
was as satisfying as most any ramen out there, featuring some springy noodles in a well-flavored broth. I was especially fond of how juicy, tender, and savory the fish was, as well as the prickly heat on the sausage. Lovely bit of herbiness to bring it all together, too.
Backwoods [$12.00]
| Bourbon, Apple Brandy, Maple, Bitters
Our last cocktail was clearly the booziest of the bunch, apple-y on nose, with a bourbon-laden base enhanced by spice and the sugariness of maple.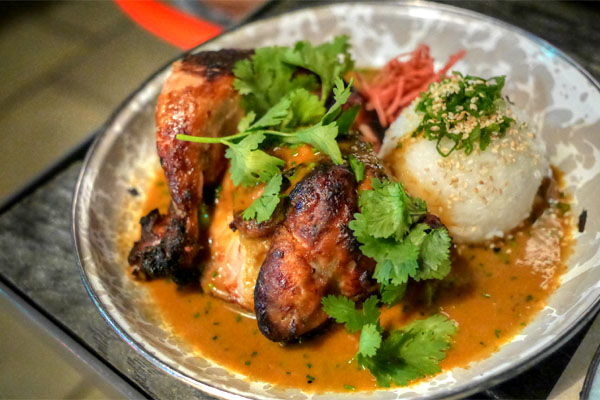 Huli Huli [$17.00]
| Marinated Rotisserie Chicken, Cilantro, Huli Butter Sauce
Huli-huli chicken was our final savory, the bird arriving tender and flavorful, with a deep spicy-sweet quality to it that definitely made sense with the accompanying rice and cilantro.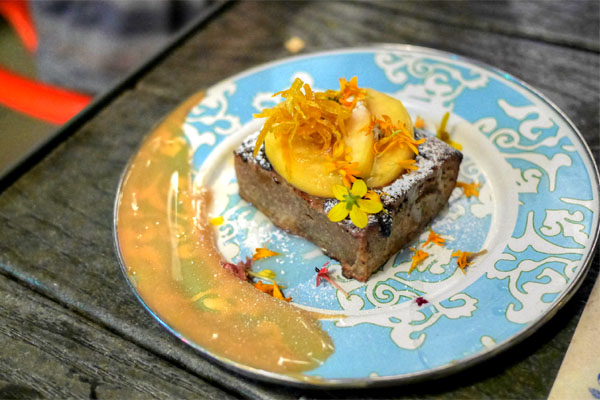 Chocolate Butter Mochi Cake [$8.00]
| Dulce De Leche, Pickled Nectarines, Coconut Glaze
Time for dessert. The mochi cake I found intriguing with its somewhat chewy consistency, its rich, dark flavors and sweet spice tempered by the crunch and juiciness of the stone fruit up top.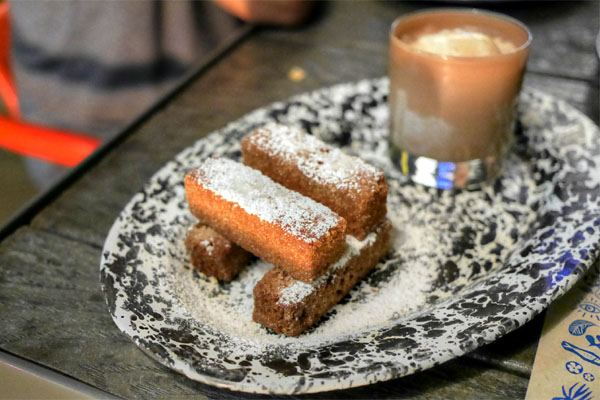 Chu Don't Know Mang [$10.00]
| Pound Cake, Cinnamon Sugar, Malted Chocolate Milk, Vanilla Ice Cream
Pound cake churros were just as good as before, though $3 more expensive. Great texture and spice on 'em, with the chocolate milk and vanilla working as a perfect accoutrement.
We all left A-Frame pleasantly surprised. In fact, I think I may prefer this menu to the restaurant's original. Flavors were robust, comforting, yet with just enough finesse. I have to say that Yoo and company have done a nice job translating the core of Hawaiian cuisine into a more modern, cheffier presentation.