Esters (Santa Monica, CA)
Esters Wine Shop & Bar
1314 7th St, Santa Monica, CA 90401
310.899.6900
www.esterswineshop.com
Thu 08/06/2015, 07:30p-10:10p

Josh Loeb and Zoe Nathan's
Rustic Canyon
family of restaurants just keeps on growing. Hot on the heels of the
Bryant Ng
-helmed
Cassia
is Esters, which opened at the end of July. Named after the chemical components responsible for some of the aromas in wine, the place is mainly the work of Kathryn Coker (née Weil) and her husband Tug Coker. Kathryn's been a longtime part of the RC family, and currently runs the wine program at both Rustic and Cassia in addition to her role here; she also helped open
Milo & Olive
a few years back. Esters functions as a wine shop-slash-wine bar-slash-fancy market, with the food program designed by
Jeremy Fox
and executed by CdC Jun Tan, former Pastry Chef at Rustic Canyon and Cube.

As was the case with Cassia, Esters is situated on the ground floor of a 1937-era Art Deco building. The high-ceilinged, 1,600 square-foot space was designed by LA-based
Oonagh Ryan Architects
and has an old-is-new-again sort of aesthetic going on. Inside, there's room for 50, including 20 at the three-sided bar in the center of the room, while more casual patio seating outside adds room for 40 more.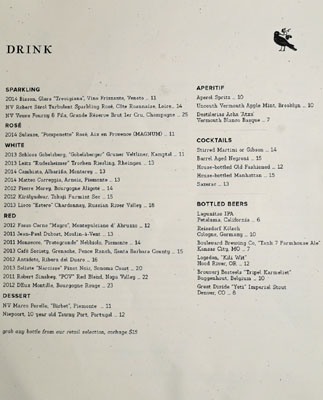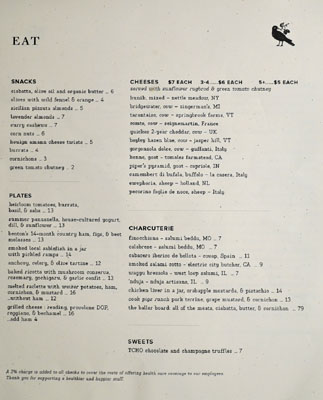 As far as wine goes, Coker's put together a diverse array of 200-plus bottles at various retail price points ($15 corkage to open), with at least 15 by the glass selections on offer at a given time. There's also the option of a few craft beers, as well as spirits, while Rustic Canyon Bar Manager Aaron Ranf has got a handful of classically-leaning cocktails available to boot. Food-wise, the menu is centered on cheese/charcuterie and cheese-centric small plates. Click for larger versions.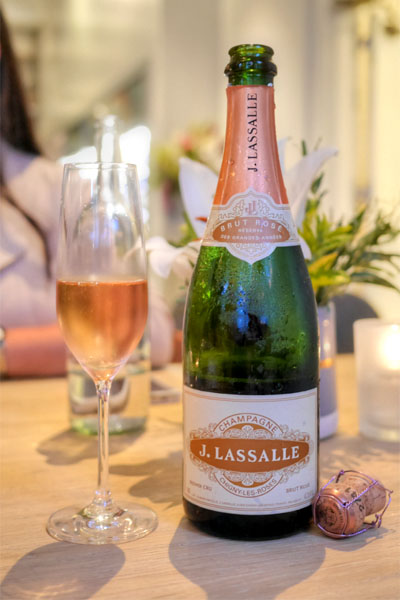 We had bubbles to start, specifically the
J. Lassalle Brut Rosé Premier Cru [$71.00]
. It was a bright, breezy sort of wine, with some light fruit up front leading to a more pronounced base of minerality and yeast later on.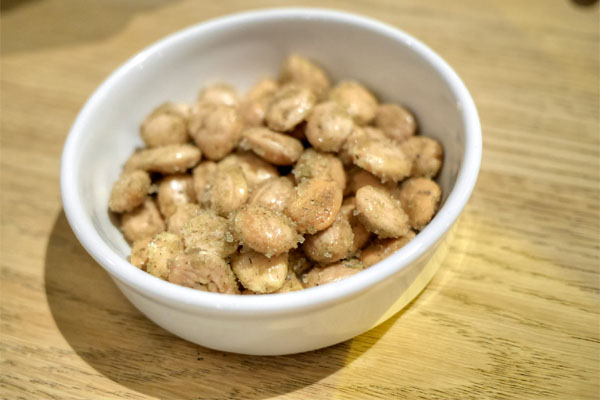 lavender almonds [$7.00]
Our meal commenced with a small serving of Jeremy Fox's signature nuts, which I'd first tasted years ago at the now-shuttered
Ubuntu
. They were as appealing as ever, their salty qualities well balanced by the floral notes of lavender.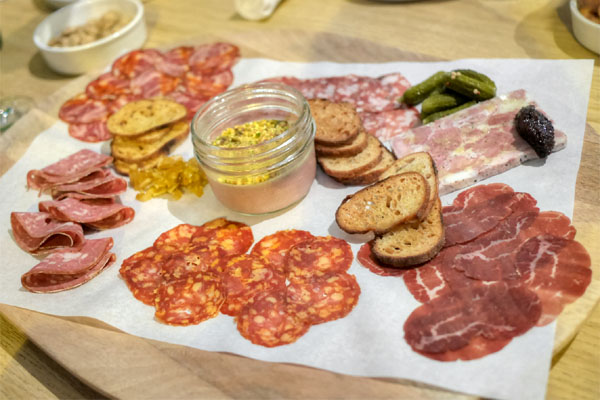 the baller board: all of the meats, ciabatta, butter, & cornichon [$79.00]
Given our large party, we felt compelled to get the "baller" charcuterie board, which supposedly has all the meats, though it was seemingly lacking
'nduja
tonight. Clock-wise from bottom-right, we had (mouseover for secondary photo):
wagyu bresaola - west loop salumi, IL: Perhaps the most deeply-flavored on the bunch, with a particular sweetness to it.
calabrese - salumi beddu, MO: Classic flavors with a lingering heat that packed quite a punch.
smoked salami cotto - electric city butcher, CA: Soft and subtly smoky, with a pleasant herby quality.
cabecero iberico de bellota - covap, Spain: Slick, fatty, and richly-flavored, just as you'd expect from ibérico.
finocchiona - salumi beddu, MO: Very nice, with a great zestiness to the salami.
cooks pigs ranch pork terrine, grape mustard, & cornichon: As porky and salty as you'd want; satisfying.
chicken liver in a jar, crabapple mostarda, & pistachio: This one showed off nutty and sweet nuances that were well-matched to the earthiness of the liver.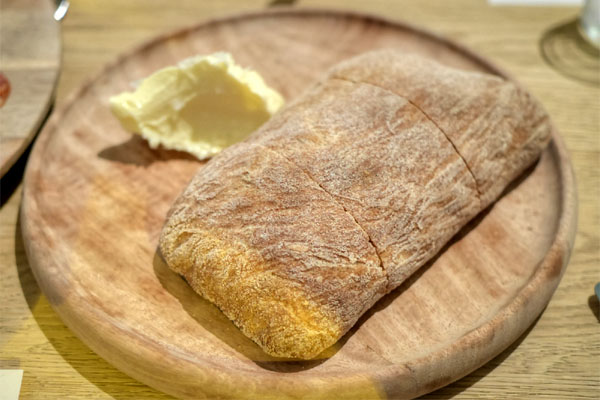 Along with the charcuterie came a loaf of classically-textured, somewhat rustic-tasting ciabatta, along with a delightfully sweet butter.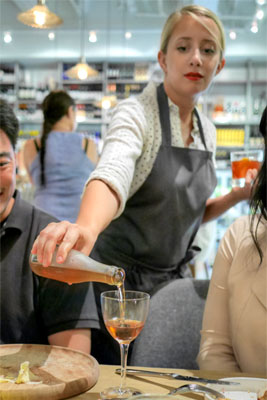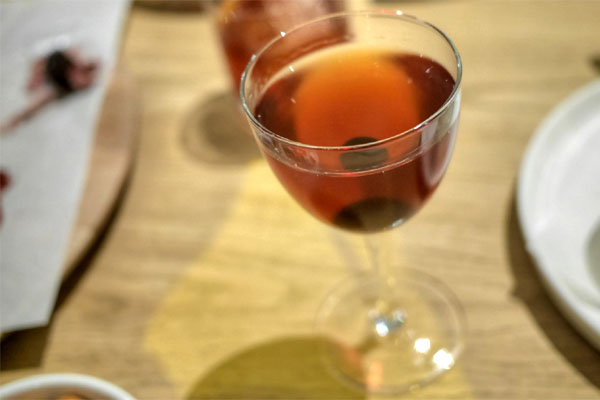 House-bottled Manhattan [$15.00]
Our first of two cocktails was Esters' take on the classic Manhattan, one that was super aromatic on the nose, while the taste veered boozy but balanced, with a lovely sugariness on the end courtesy of the maraschino.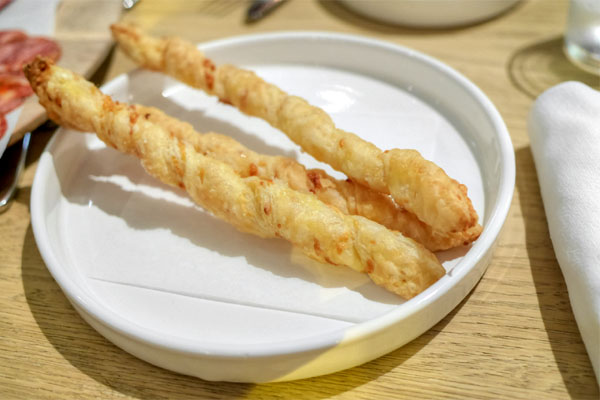 kouign amann cheese twists [$5.00]
My favorite of the snackier items was this play on a kouign-amann. I loved the initial savoriness of the cheese here, and how that played with the dish's sweet edge. Excellent textures from the crackly, caramelized layers of pastry too.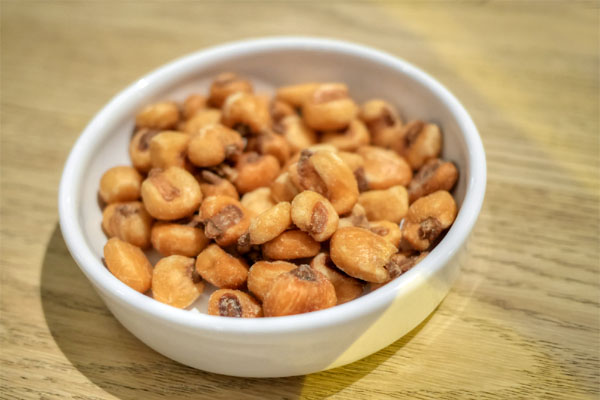 corn nuts [$6.00]
Esters' take on my favorite childhood treat also hit the mark, a corn-forward presentation that conveyed that classic CornNuts flavor profile. I also appreciated the larger kernels used here, perhaps a nod to the Peruvian style
choclo
found decades ago in the commercial product. Now if only these came in Ranch...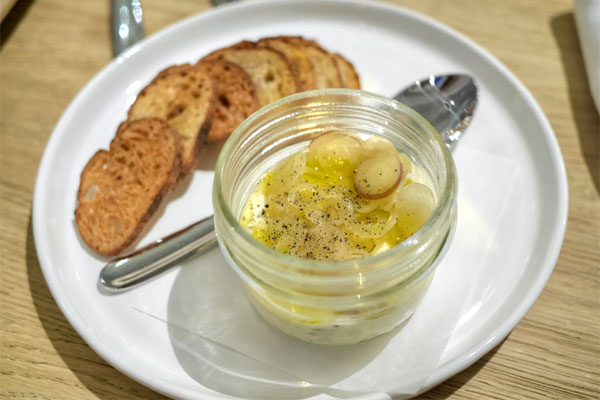 smoked local sablefish in a jar with pickled ramps [$14.00]
The potted fish was another highlight, coming out suitably briny, but with the ramps imparting a tempering brightness. Great over the included toast.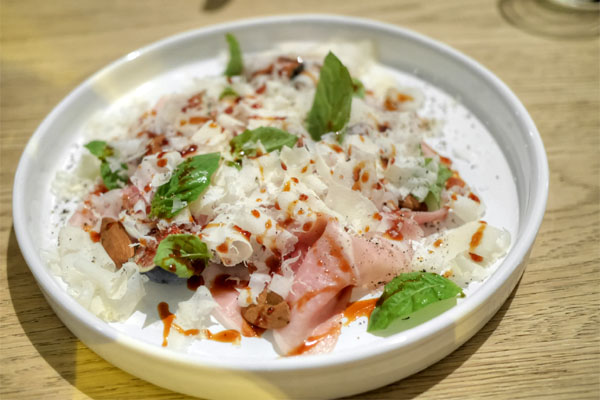 benton's 14-month country ham, figs, & beet molasses [$13.00]
I was a proponent of the ham as well, which presented the salty, rustic flavor of the Benton's succinctly, beautifully paired with the countering sweetness of figs and beets. A very well-integrated dish overall, with further notes of cheese, basil, and nuts rounding things out.
House-bottled Old Fashioned [$12.00]
The Old Fashioned followed in the same vein as the Manhattan, a spirit-forward preparation with a pleasing bitter component and a super aromatic nose loaded with fresh citrus.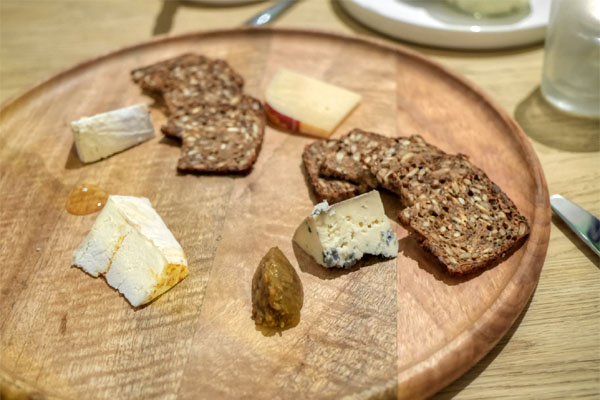 cheeses: served with sunflower rugbrod & green tomato chutney [$24.00]
We couldn't leave without getting some sort of cheese plate right? Clock-wise from bottom-right, we had:
bayley hazen blue, cow - jasper hill, VT: Richly-textured, with classic earthy and spicy notes joined by a marked sweetness.
piper's pyramid, goat - capriole, IN: Creamy and sticky, with a mild, slightly sweet flavor profile.
kunik, mixed - nettle meadow, NY: A luscious triple creme, mushroom-y and loaded with lactic tang.
ewephoria, sheep - holland, NL: Crumbly and crunchy to the bite, with a nutty-sweet taste that I liked.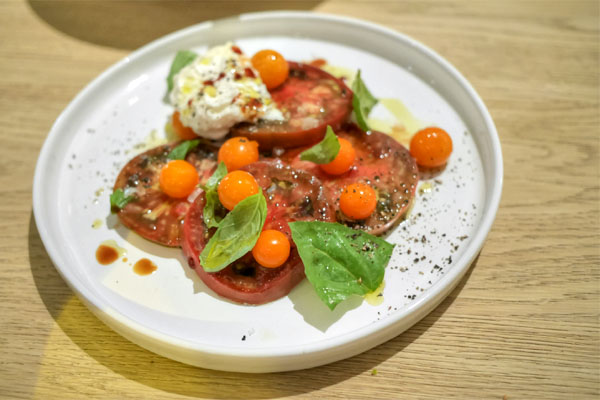 heirloom tomatoes, burrata, basil & saba [$13.00]
Done in the style of an
insalata Caprese
, this one showed off the super juicy, dense tomato against the luxuriousness of the cheese, all while basil and
saba
added your requisite piquancy to the dish.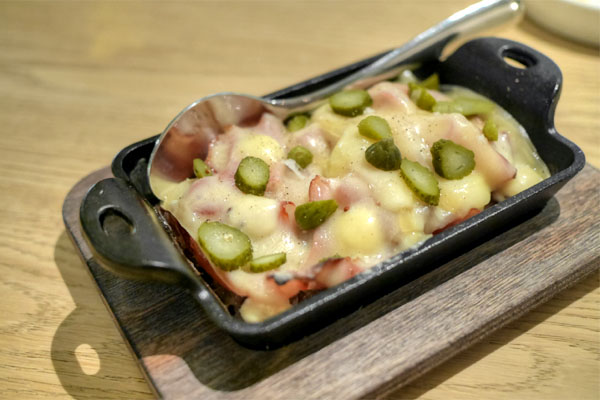 melted raclette with weiser potatoes, ham, cornichon, & mustard [$16.00]
The raclette may have been the heftiest course of the night, teeming with herby, pickle-y, and hammy flavors over a base of hearty potato, all tied together by the gooey cheese.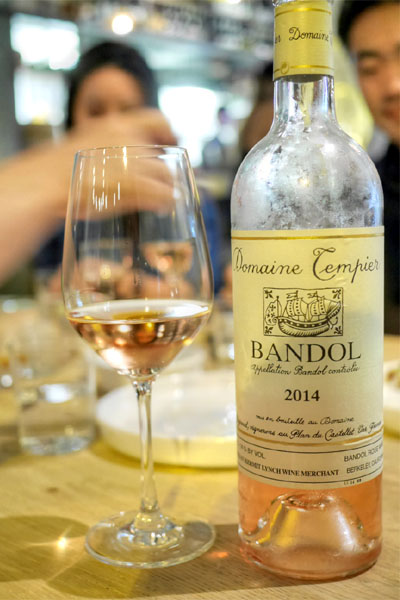 We stuck with the pink stuff for our next wine, the
2014 Domaine Tempier Bandol Rosé
. I found this quite perfume-y on the nose, with lots of strawberry coming in, while on the palate, think crisp, mineral-laced, with a palpable tartness.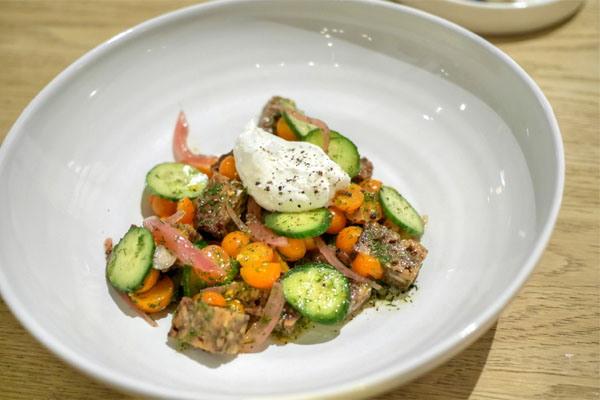 summer panzanella, house-cultured yogurt, dill, & sunflower [$13.00]
The panzanella did a good job working itself out, the spicy, hearty chunks of bread serving as a base for all the bright, acidic, lactic flavors at play, the whole thing overarched by the herbiness of dill.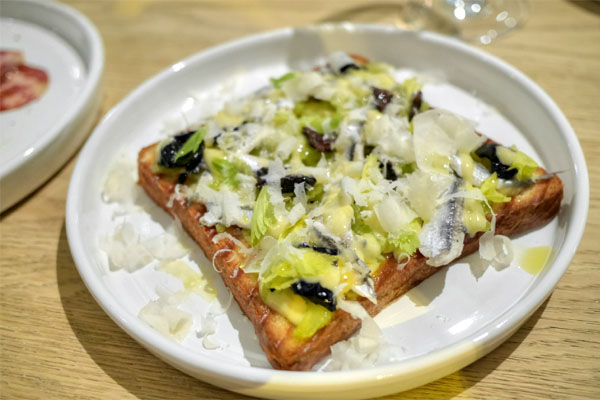 anchovy, celery, & olive tartine [$12.00]
Another standout for me was the tartine, which did a superb job matching the fishiness of anchovy against the moderating astringency and zip of celery.
grilled cheese: reading, provolone DOP, reggiano, & bechamel + add ham [$16.00 + $4.00]
Our final savory brought out one of the more refined grilled cheese sandwiches I've had, one that displayed the satisfying saltiness of the ham against a varied presentation of
fromage
.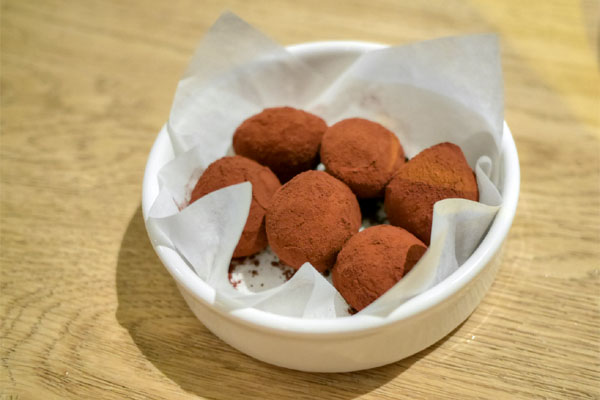 TCHO chocolate and champagne truffles [$7.00]
Truffles represented the lone dessert item at Esters, and the ones tonight were super rich, so dense and so dark that you get the feeling like they might collapse under their own weight.
Esters made a strong showing this evening, proving itself as a worthy neighbor to Cassia and an even worthier addition to the Rustic Canyon family. It's a multifaceted affair, one that combines a cozy wine shop-wine bar concept with a theme-appropriate menu that's far more finessed than most. I see this place doing quite well.