Sambar (Culver City, CA)
Sambar Restaurant
9531 Culver Blvd, Culver City, CA 90232
310.558.8800
www.sambarcc.com
Fri 08/07/2015, 08:00p-10:30p

It's been a while since I've reported on an Indian eatery, but bucking that trend is Culver City's new Sambar. Named after a southern Indian staple of lentil stew, the restaurant is the work of Chef/Owner Akasha Richmond, who'd been kicking around the idea for the place for years. Sambar debuted at the end of May, and aims to present a multiregional take on Indian fare, infused with a Californian sensibility.
About the Chef
: A child of the free-wheeling 1960s, Richmond grew up in Miami and Hollywood, Florida amongst an American-Russian family that loved to cook. She moved to Los Angeles in the late 70's to study yoga, and in 1979, started cooking at Golden Temple, a vegetarian eatery opened in 1974 by her yogi (at the site of the current Mercado, across from the Original Farmers Market). During her time there, she befriended none other than Michael Jackson, a regular customer who was recording
Thriller
at the time. In 1984, she and friend Mani Niall became private chefs for Jackson, and Richmond even accompanied him across the globe during his
Bad
and
History
tours.
After 14 years with MJ, she continued on in her private cheffing career with Barbara Streisand and Billy Bob Thornton, catered and consulted via her firm Akasha's Visionary Cuisine (which she started in 1985), and co-founded natural food company Eaturna in 2004. This was followed up by the publishing of a cookbook,
Hollywood Dish
, in 2006. With all that under her belt, Richmond started working on her first restaurant, and she and husband Alan Schulman would open Akasha in Culver City's Hull Building in February 2008 (a process documented on TLC show
Flip That Restaurant
). The menu at Akasha is centered around Californian fare with international influences, a theme that's explored to a much greater degree at Sambar.
Here, Richmond's second-in-command is OC-native and Chef de Cuisine Kirk Plummer. Plummer, for his part, started out in the FOH, but eventually enrolled at the California School of Culinary Arts in Pasadena in 2009. He worked at Akasha during his tenure at the CSCA, and upon graduating, became a sous chef there in September 2010. In January 2012, he moved to
Ford's Filling Station
a couple doors down, and after two years there, became Executive Chef at Madera Kitchen in Hollywood. After getting married, Plummer rejoined Richmond in August 2014, becoming CdC at Akasha before moving on to Sambar (replaced by former FFS CdC Gavin Lansdale, fittingly).
Sous chef duties at Sambar, meanwhile, are being handled by Adam Midkiff. An Art Institute of California grad, he started out in 2010 as an event chef for W Hotels, but later moved on to
Son of a Gun
in 2011, where he began as a line cook and later became sous. After two years at SoaG, he moved on to Jordan Kahn's avant garde
Red Medicine
as a chef de partie. Following, Midkiff worked as Chef de Cuisine at The Corner Door before joining the Sambar team in March.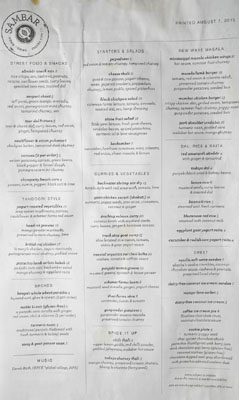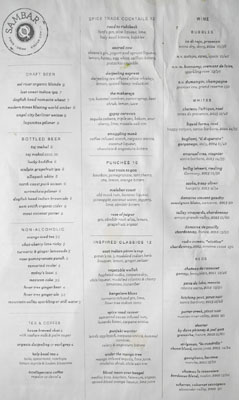 Designed with help from chef/consultant Ragavhan Iyer, Sambar's menu is a fairly lengthy affair, with a diverse selection of Indian-ish dishes, spanning your typical Northern fare as well as more uncommon selections (including an entire "New Wave Masala" section). Drink-wise, you get beers and wines joined by theme-appropriate cocktails from Clare Ward (who also runs the show at Akasha). Click for larger versions.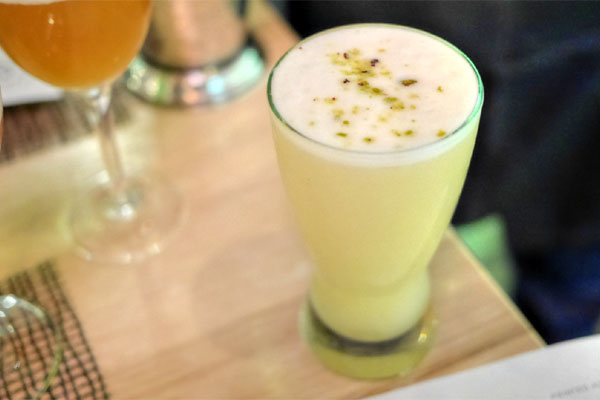 sacred cow [$12.00]
| sloane's gin, yogurt and apricot liqueur, lemon, honey, egg white, saffron bitters, pistachio crumble
We made sure to give the cocktails a whirl, and started with this seemingly
lassi
-inspired number. It did a commendable job paying homage to the classic drink, a creamy, viscous concoction with plenty of juicy, fruity flavors countered by notes of pistachio, lemon, and egg white.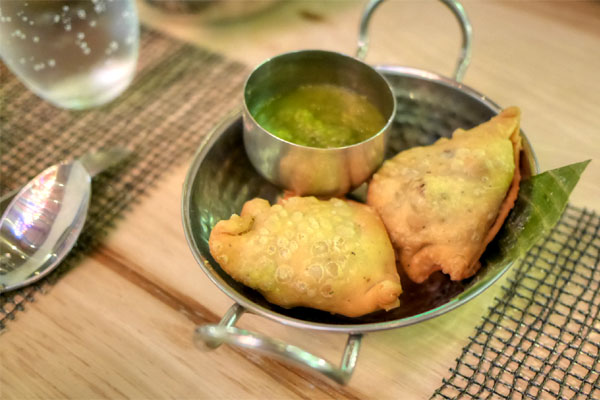 samosa [$5.00]
| weiser potatoes, carrots, green beans, black pepper & fennel dough, pomegranate-mint chutney
The samosas were very good, better than a lot that I've had at traditional Indian joints in fact, with a great depth of savor to 'em that paired perfectly with the minty chutney on the side.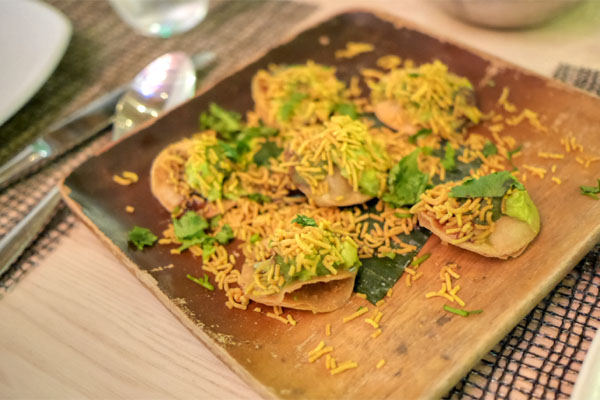 sevpuri chaat [$5.00]
| teff puris, green mango, avocado, red onion, pomegranate-mint chutney, tamarind chutney, sev
Sambar's take on
sevpuri
also delivered with its fantastic crunch, minty-sweet interplay, creeping spice, and cooling avocado component.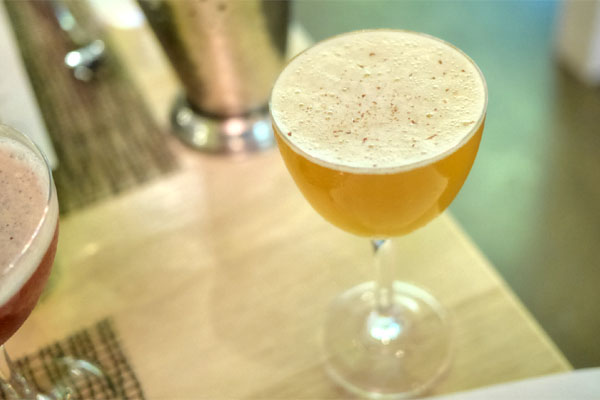 darjeeling express [$12.00]
| darjeeling tea infused white whiskey, lemon, spiced honey reduction
Light tea tartness and funk on the nose here, with a palate that played the booziness of whiskey against lemon and honey, the finish coming in with just a hint more of the Darjeeling.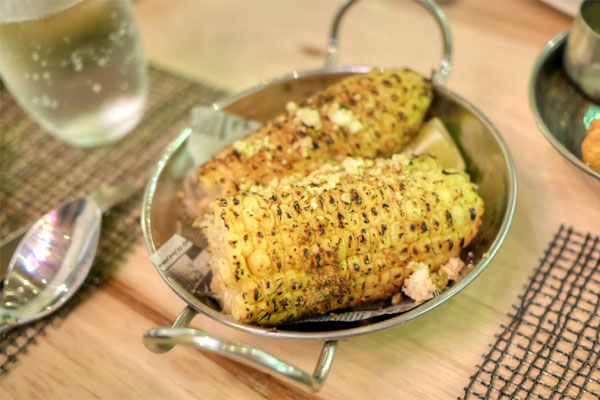 chowpatty beach corn [$4.00]
| paneer, cumin, pepper, black salt & lime
I was pretty satisfied with Sambar's ode to the grilled cobs oft sold on Mumbai's famous beach, the corn arriving sweet, yet countered by a lingering spice while the cheese imparted an additional bit of weightiness to the ears.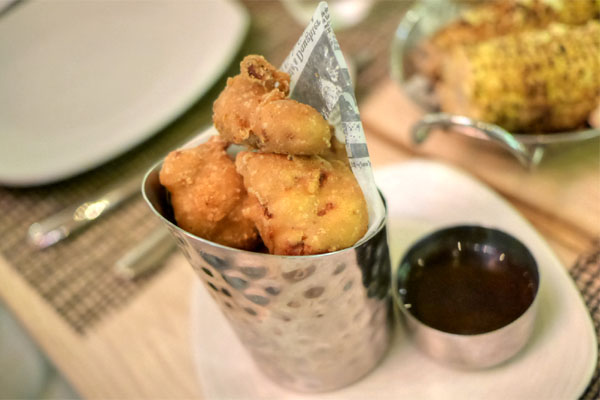 cauliflower & onion pakoras [$6.00]
| chickpea batter, tamarind-date chutney
The
pakoras
showed off a light, crisp batter, though I really wanted more spicing in said batter. They were tasty little bites still, nicely paired with the zip of the accompanying chutney.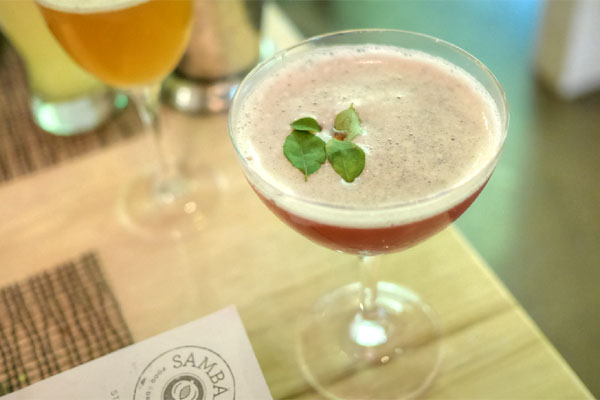 the maharaja [$12.00]
| rye, kummel combier, carrot syrup, beet shrub, lemon juice
Next to imbibe was a take on
kanji
, a fermented beverage featuring carrots and beet that's consumed during Holi. I've not had the traditional drink before, but the cocktail worked for the most part, conveying a mix of spicy, aromatic, and sweet notes over a base of rye, all accented by lemon.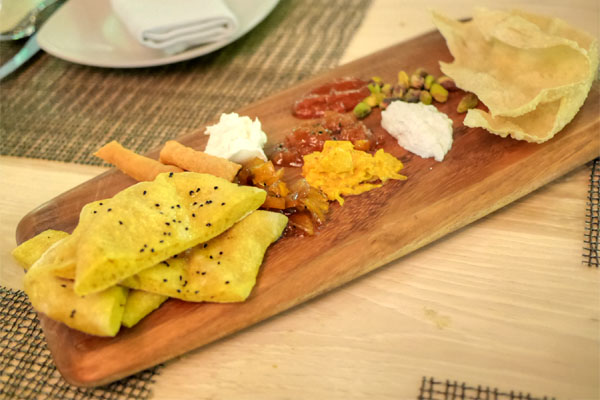 cheese thali [$11.00]
| goat & cow paneer, yogurt cheese, naan, gujarati crackers, pappadum, chutney, lemon pickle, spiced pistachios
Instead of the metal tray setup one typically finds with
thali
, Sambar's version came out looking more like a cheese-n-charcuterie board. The actual cheeses were on point though, as creamy and lush and lactic as I wanted, and well matched to the crunchy crackers, delightfully savory
papadum
, and hot, fluffy, buttery naan.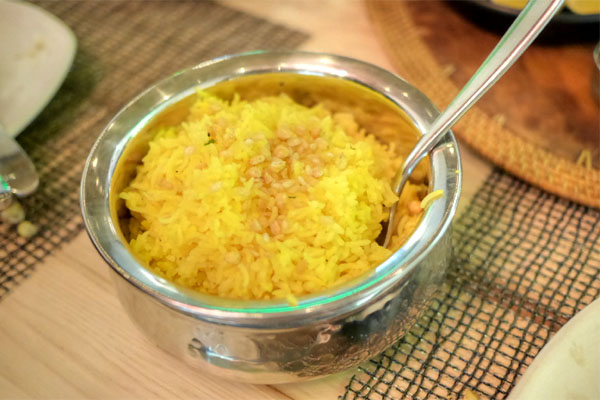 lemon rice [$6.00]
| mustard seeds, curry leaves & toasted dal
Lemon rice was a nice change of pace from your typical basmati preparation, with the long, well-textured grains permeated with a well-placed lemon-y kick.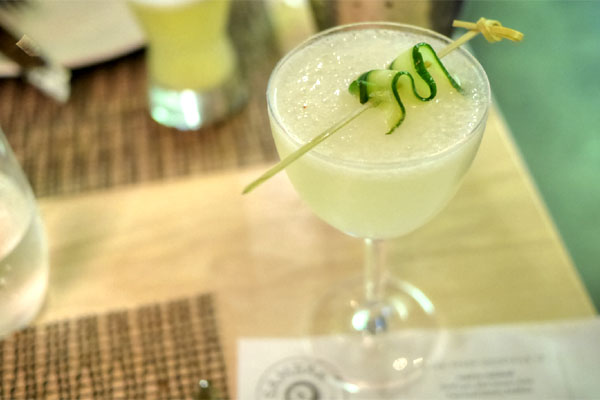 road to rishikesh [$12.00]
| ford's gin, aloe liqueur, lime, holy basil bitters, bubbles
Our next cocktail did a good job playing notes of basil against the sweet, floral qualities of aloe, a combination that worked quite well with the gin's inherent botanical edge.
head-on prawns [$16.00]
| mango powder marinade, preserved tomato chutney, lime
Prawns were well-seasoned, though completely mushy texture-wise. A shame.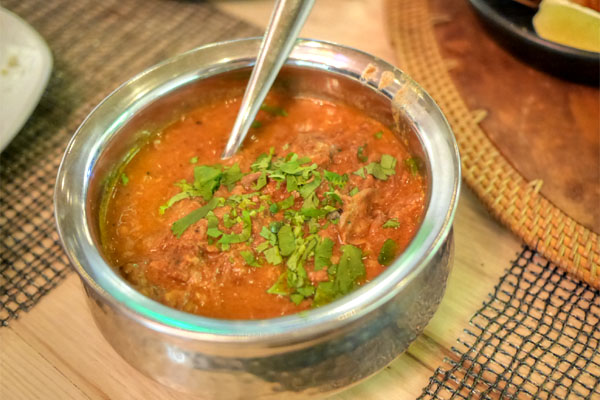 truck stop goat curry [$15.00]
| slow braised in a cumin, tomato, onion & goat yogurt sauce
The curry looking appealing, and indeed, the actual goat arrived properly tender, but with just enough chew to it. Flavor-wise, things were going in the right direction as well, but the dish definitely could've used more depth, more oomph.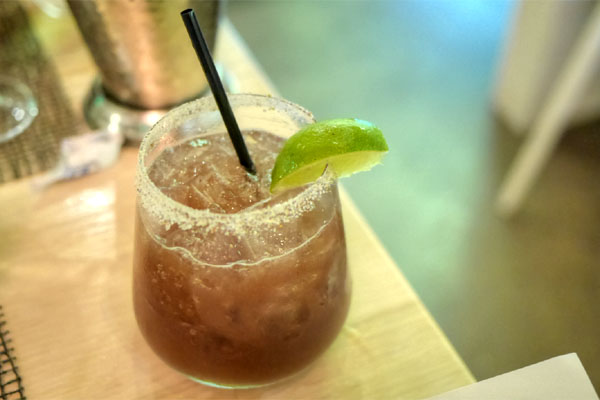 gypsy caravan [$12.00]
| tequila cabeza, triple sec, kokum, sour cherry, lime, masala salt rim
A margarita-esque cocktail was palatable, light in body and in the booze department, with a spicy-sour quality to it.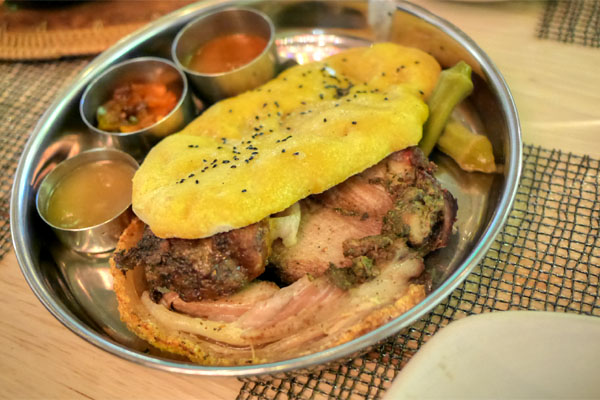 pork shoulder vindaloo [$16.00]
| turmeric naan, pickled okra, malabar hot sauce, mango chutney
We found it hard not to order this porchetta-like dish, which is ostensibly marinated in vindaloo spices. Lovely crisp skin here and overall porkiness, though again, I wanted some more aggressive seasoning, more spice, more piquancy.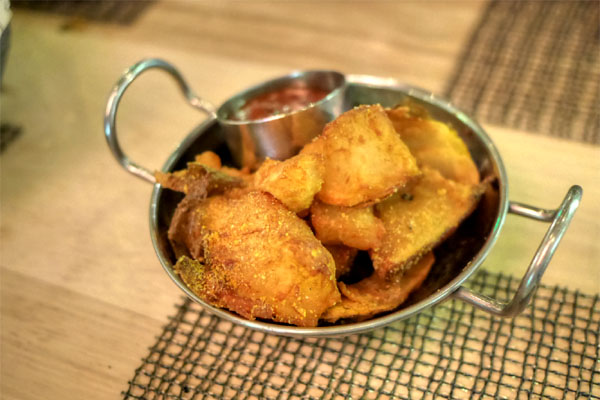 gunpowder potatoes [$5.00]
| gunpowder sesame masala, preserved tomato chutney
Potatoes were hearty and on point texturally, with just enough of that
molagapodi
kick.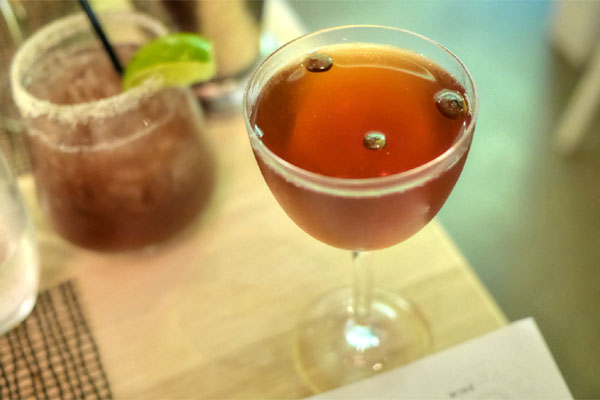 smuggling monk [$12.00]
| coffee infused scotch, carpano antica, coconut liqueur, chocolate & angostura bitters
A very coffee-forward cocktail, which I appreciated, with simultaneously notes of bittersweet dark fruit and a very palpable booziness.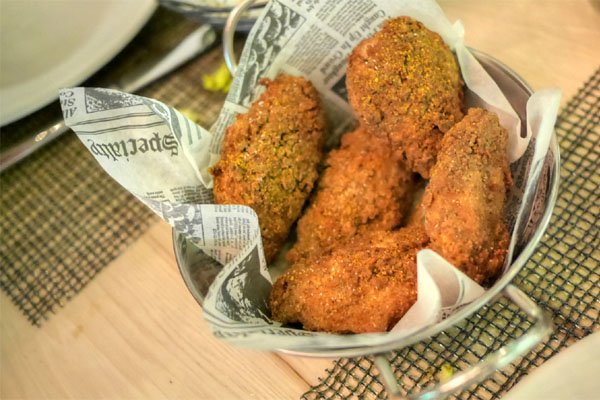 mississippi masala chicken wings [$11.00]
| hot sauce, summer fruit chutney
Next up: chicken wings (and drumsticks), a particularly "fluffy" preparation with enough masala flair to make 'em interesting.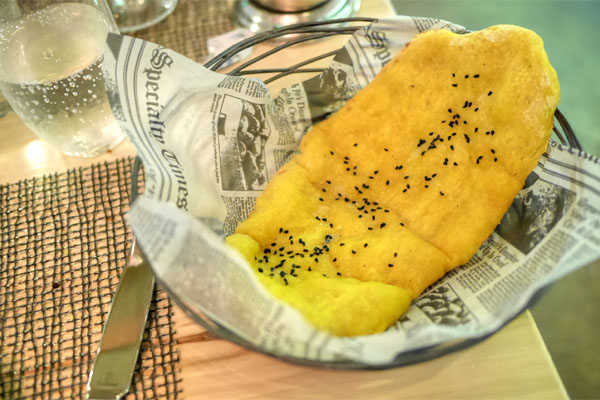 turmeric naan [$3.00]
| traditional punjabi flatbread with fresh turmeric & kalonji seeds
Made in a Beech oven (held over from the FFS days) instead of the traditional
tandoor
, the naan was an exceptionally yellow example, and spongier and denser than usual, but still delicious.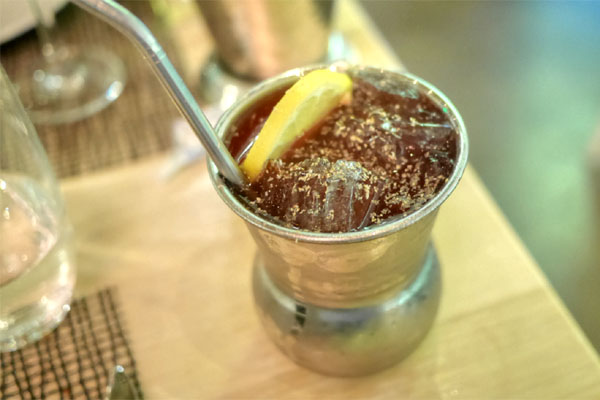 last train to goa [$10.00]
| bourbon, pomegranate, tart cherry, xta, lemon, orange bitters
Our sole item from the punch section of the cocktail list, this definitely veered tart, sour, with a slightly medicinal tinge to pair with the bourbon.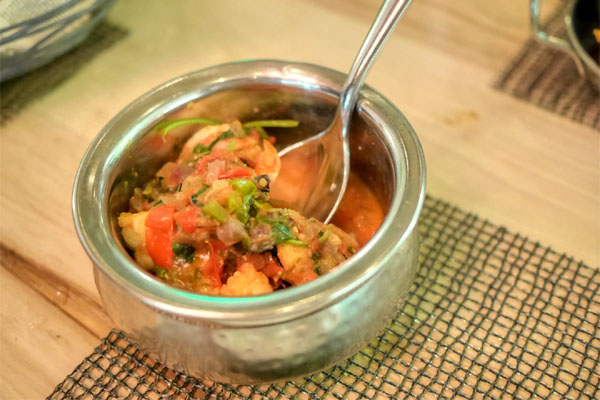 backwater shrimp stir-fry [$15.00]
| kerala style with red amaranth, tomato, lime
In our final savory, shrimp arrived slightly over, but still imbued with a noticeable brine, which I appreciated. It all made sense with the sweet-tangy combination of flavors here, though once again, I wanted more potency to the dish.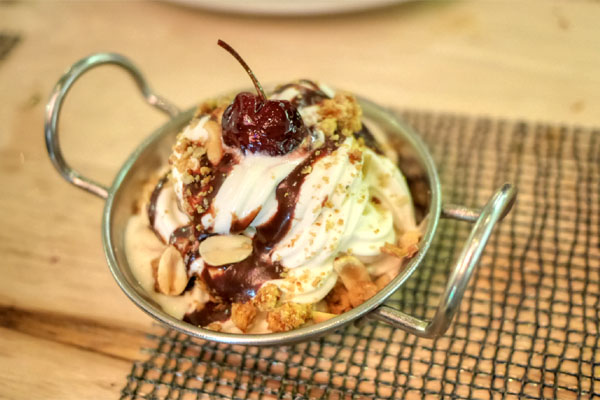 vanilla soft serve sundae [$7.00]
| akasha's cookie crumble, coconut-chocolate sauce, cashews & peanuts, preserved local cherry
Time for dessert. Sambar's sundae was pretty much spot on: velvety smooth, with a classic flavor profile tarted up by the addition of the spicy crumbles up top.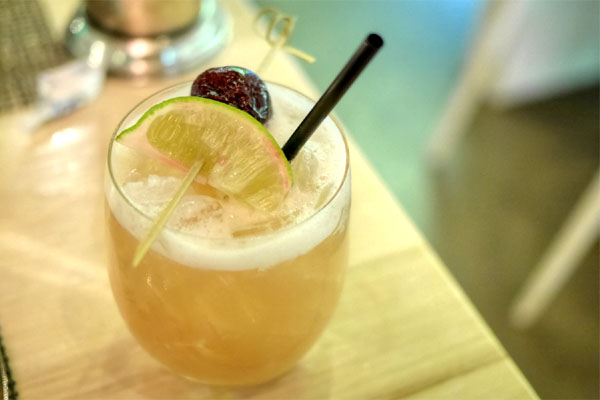 blood moon over bengal [$12.00]
| medley bros. bourbon, falernum, orgeat, spiced blood orange liqueur, lime juice
Seemingly a take on the Mai Tai, this final cocktail may have been my favorite of the night. I found it very well put together, with an enveloping sweetness, spice, and fruitiness accented by pricks of lime that really sang over the drink's base of bourbon.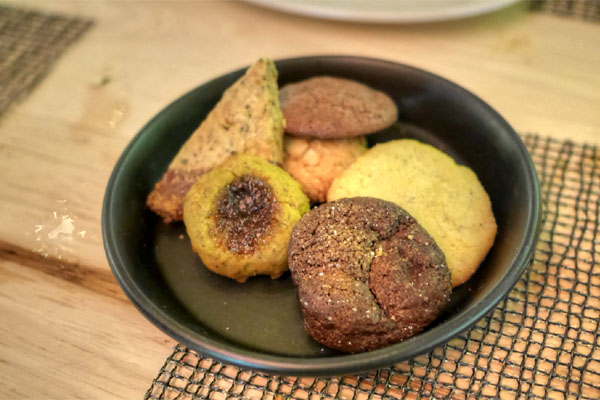 cookie plate [$5.00]
| turmeric poppy seed, chai spiced chocolate chunk, pistachio thumbprint with berry jam, dark chocolate goji berry, coconut cashew, chocolate dipped early grey shortbread with pistachio-almond-cashew dust
An assortment of cookies stood up well to Sambar's "New Wave Masala" treatment.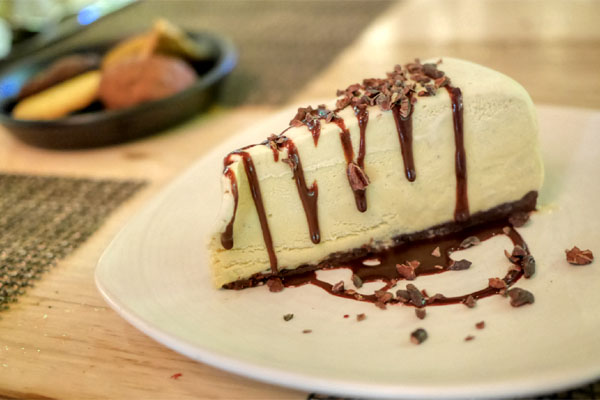 coffee ice cream pie [$8.00]
| flourless chocolate crust, coconut-chocolate sauce
We ended with my favorite of the desserts. Some great coffee notes on this one to go with the chocolate, and fantastic crust as well.
Our experience at Sambar was mostly good, though somewhat uneven. There were definitely dishes that worked, that captured the essence and diversity of Indian cookery and blended it with the restaurant's sort of Cal cuisine core. However, there were also courses that really needed a kick in the pants in the robustness department (as well as that mushy shrimp). Hopefully things will get worked out as the kitchen grows, evolves, and gains more confidence.