Gwang Yang (Los Angeles, CA)
Gwang Yang Korean BBQ Restaurant
3435 Wilshire Blvd, Los Angeles, CA 90010
213.385.5600
www.gybbq.com
Sat 09/12/2015, 06:00p-08:20p

One of the newest entrants to LA's high-end KBBQ game debuted last August. Housed in a low-slung structure in the shadow of the Equitable Life Building, Gwang Yang is named after its eponymous locale in Korea and represents the second location of a family-owned restaurant in Seoul. The signature dish here is the
bulgogi
, ostensibly inspired by a style of preparation originating in Gwangyang city, one incorporating black oak charcoal (though gas is used here). It's available in two styles: a sweeter "LA-style" and a more subtle, beef-focused "Gangnam-style."

Gwang Yang takes over the old home of So Hyang, a stone's throw from
EMC
and close to Koreatown heavyweights
POT
,
Le Comptoir
, and
Kang Hodong Baekjeong
. The place has gone through a pricey renovation, and is no doubt one of the swankiest KBBQ joints I've been to (probably
the
swankiest, actually), replete with a complement of private rooms (one of which we occupied).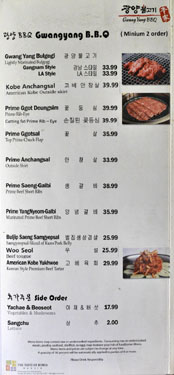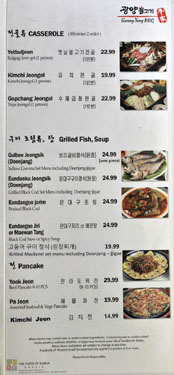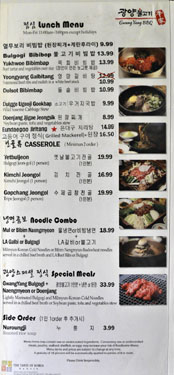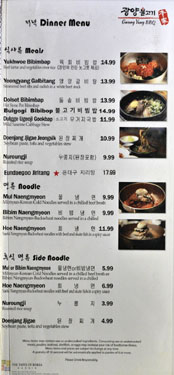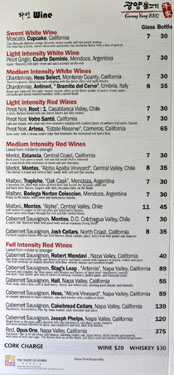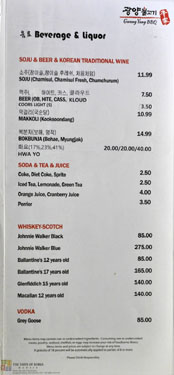 As for the menu, you get a welcomingly compact selection of pricey, prime cuts, plus a variety of other Korean staples including some pretty substantial soups and stews. Note also the lack of combos. To drink, find your typical Korean beverages (beer, soju,
makgeolli
,
bokbunja
), a small New World wine list that's exactly what you'd expect from a place like this, and a smattering of Scotch by the bottle (topped by Blue Label, natch). Corkage is advertised at $20 a pop for wine (we were only charged for one of our five bottles though), and $30 for whiskey. Click for larger versions.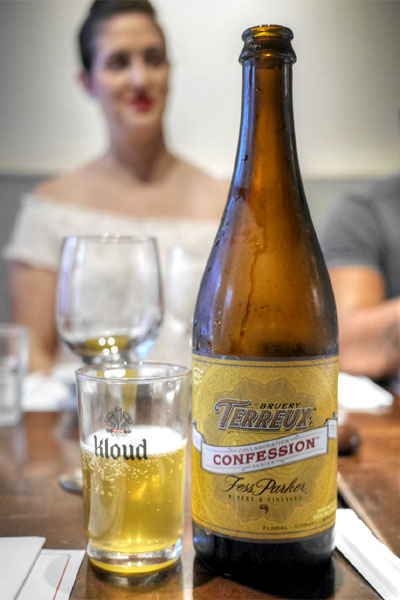 We had a mix of beer and wine tonight, so I commenced with sort of a blend of the two, the
2015 The Bruery Terreux Confession
, a collaborative brew with Fess Parker comprising a sour blonde ale blended and fermented with Riesling grapes. I found this quite lovely, tart and acidic and a bit earthy at first, with the dry, floral, vinous notes from the fruit coming in later and lingering.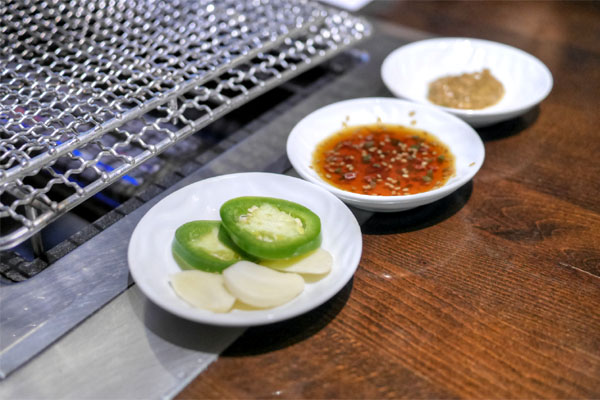 The requisite condiments quickly made their way to our table.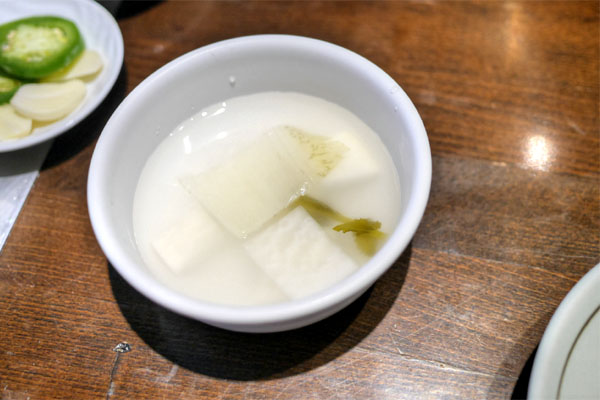 Then came the flurry of
banchan
, starting with this cool, tangy, watery
mul kimchi
.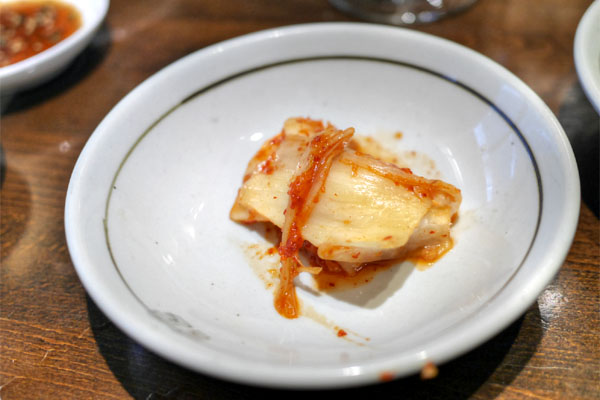 Good ol'
baechu kimchi
was crunchy and seemed a bit funkier than usual.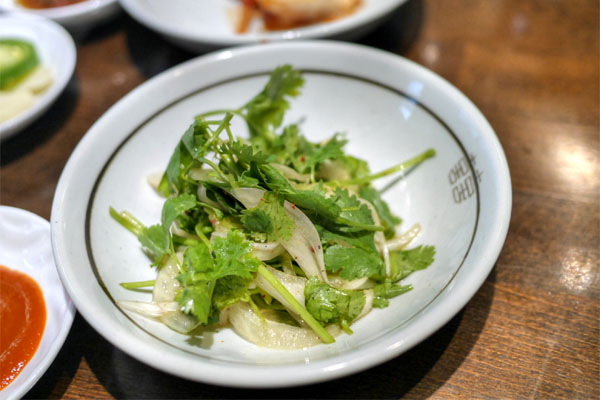 Next, a bright, herby combination of
yangpa
(onion) and
gosu
(cilantro).
The
NV Le Vigne di Alice Osé Vino Spumante Brut Rosato
was a delightful sparkling wine constructed from 100% Marzemino. I found it a perfect summer quaffer, with tons of sweet, floral strawberry on the nose, and plenty more on the palate, the sugariness of the fruit always present, but not overwhelming thanks to a countering puckeriness.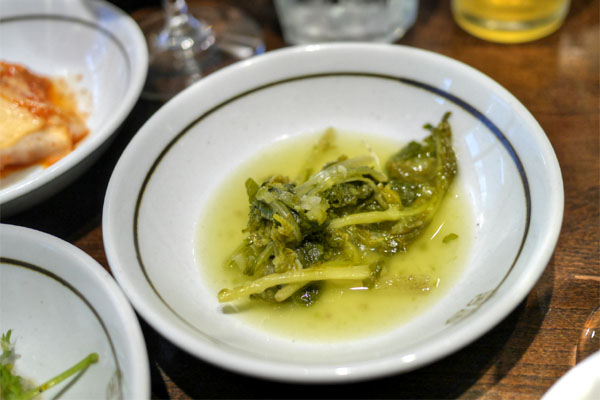 I believe we had here
uguji bokkeum
, or radish stems, bracing 'n' bitter.
This was tofu if I recall, a somewhat firmly textured example with a nice soy-enhanced richness.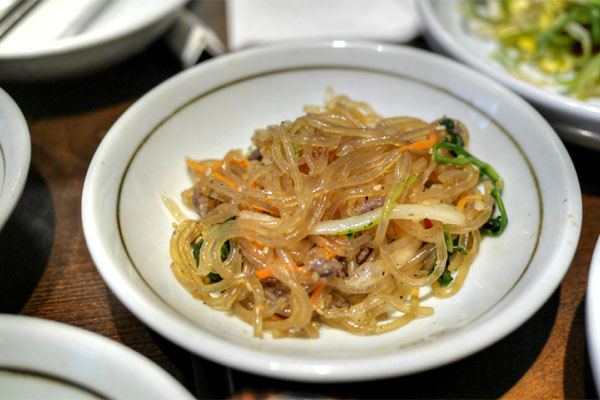 Japchae
was tasty, as slick as you'd expect with a good pepperiness to the noodles.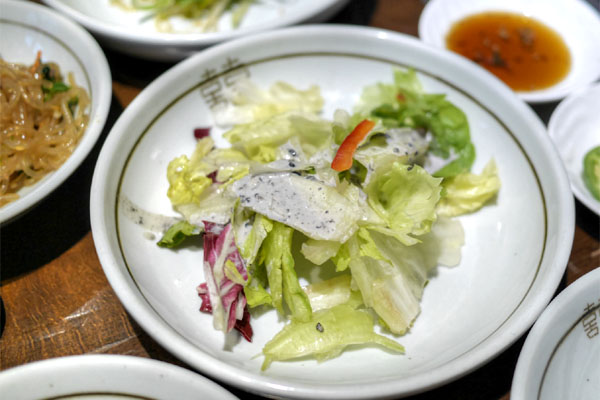 Not too much to say about the salad.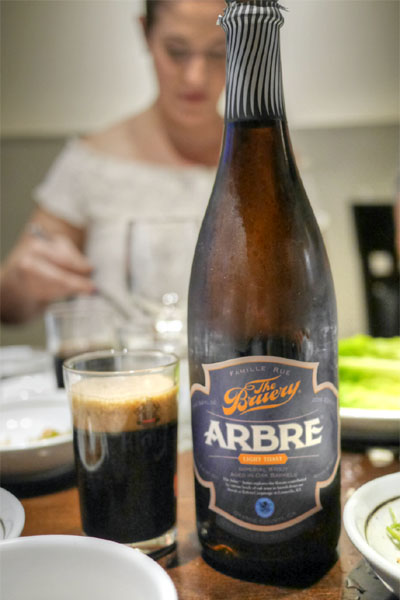 Moving on to something heavier now, here was the
2015 The Bruery Arbre Light Toast
, an imperial stout aged in oak barrels. The bottle's part of a series exploring the effect that various levels of barrel charring have on the beer aged within. This was the lightest variation, and was actually much more delicious than I'd anticipated. Lovely aromas of vanilla and chocolate, leading to a palate of rich, balanced malt with a persistent woodiness to it.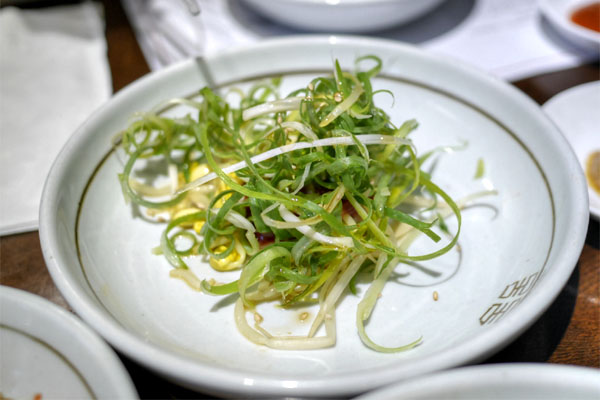 Some crunchy, spicy soybean sprouts (
kongnamul
) topped with shreds of green onion (
pa
).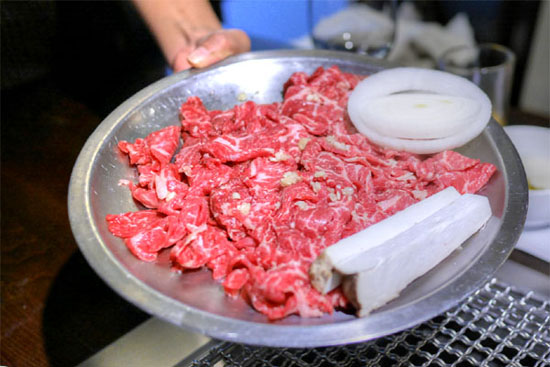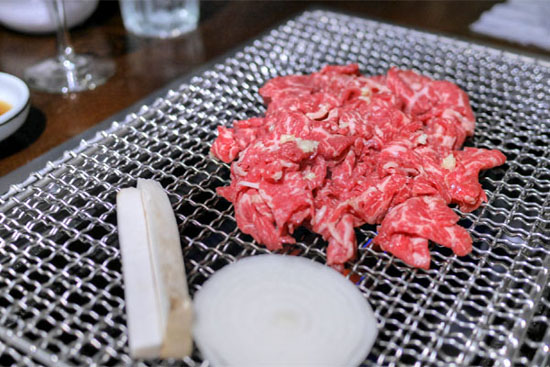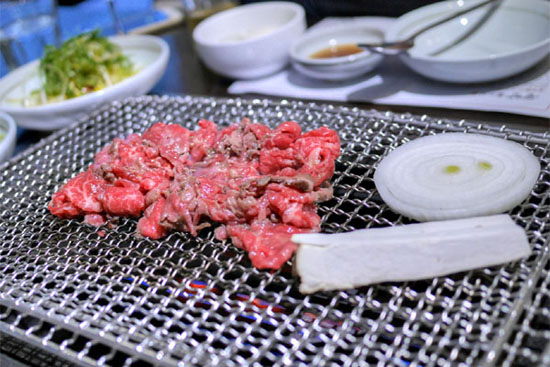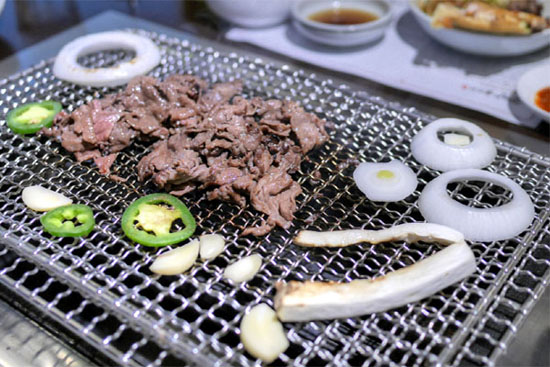 Gwang Yang Bulgogi - Gangnam Style [$33.99]
| Lightly Marinated Bulgogi
Naturally, we had to start with Gwang Yang's signature dish, and it didn't disappoint as probably the best
bulgogi
I've had. The beef was tender sure, but also had a sweetness that pervaded, but never overshadowed the meat, and paired beautifully with the light charring. Certainly a bit of a redemption for the oft maligned cut.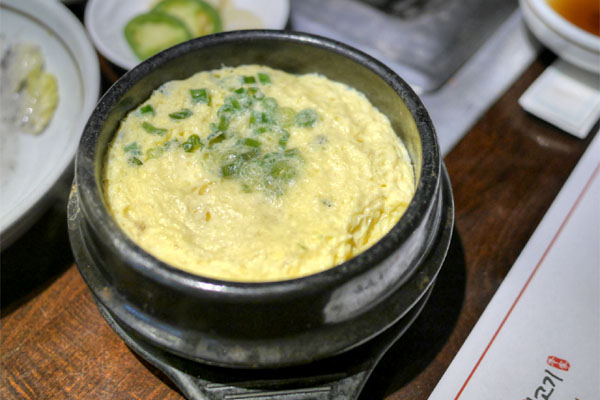 The
gyeran jjim
was a winner, all fluffy and light, with a great herbiness and salt to it.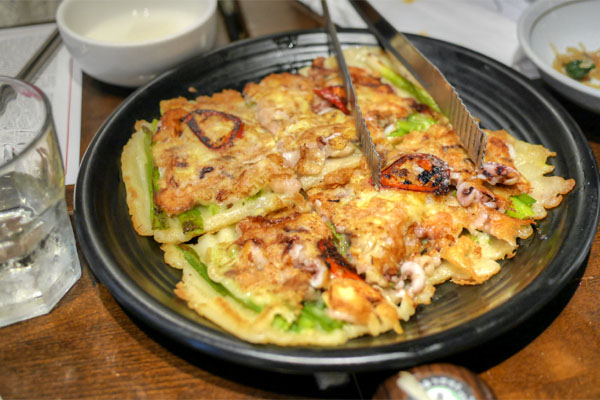 Pa Jeon [$19.99]
| Assorted Seafood & Vege Pancake
I also enjoyed the
haemul pajeon
, a preparation that really showed off the back and forth between the brine of the seafood and the bite of green onion.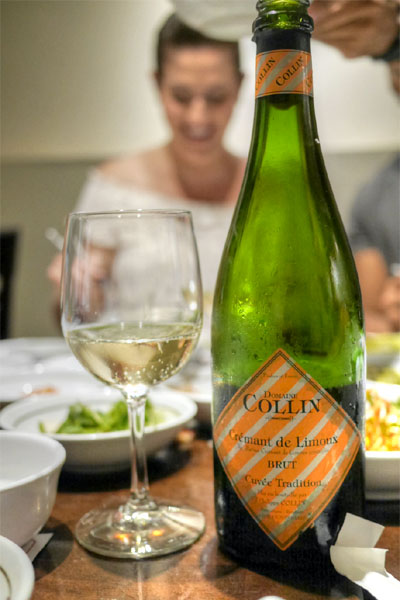 Next up: another sparkling wine in the form of the
NV Domaine Collin Crémant de Limoux Cuvée Tradition Brut
. I found this gluggable as well, with a base of sweet, light, refreshing fruit offset by just a touch of toastiness to make it more interesting.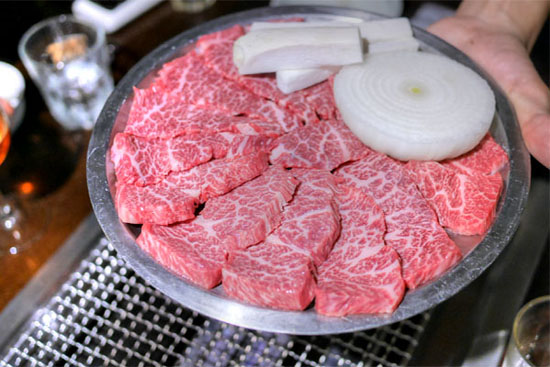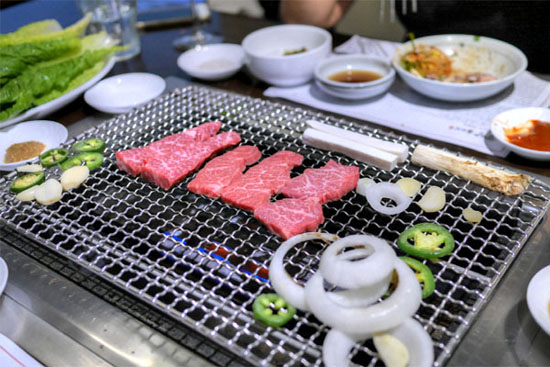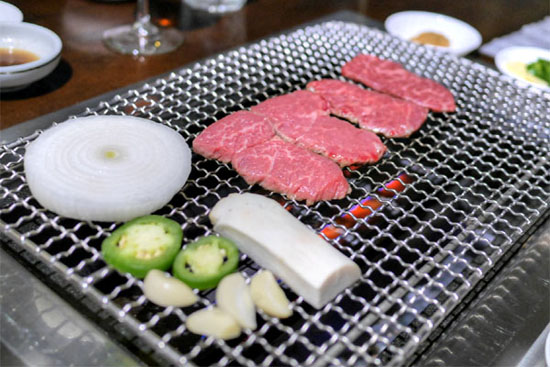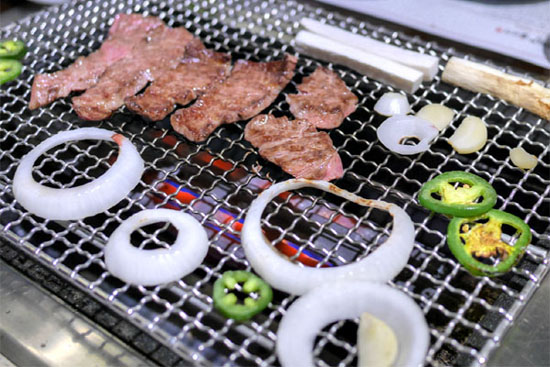 Prime Ggotsal [$35.99]
| Top Prime Chuck Flap
One of my go-to cuts, the
kkotsal
delivered. It actually had a bit more chew than I'm accustomed to, but was also richer, more flavorful than usual. Superb when taken with the included veggies.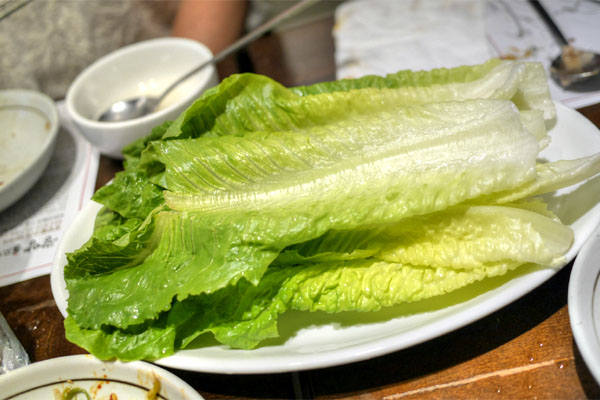 Sangchu [$2.00]
| Lettuce
We requested some romaine lettuce to pair with the pork below.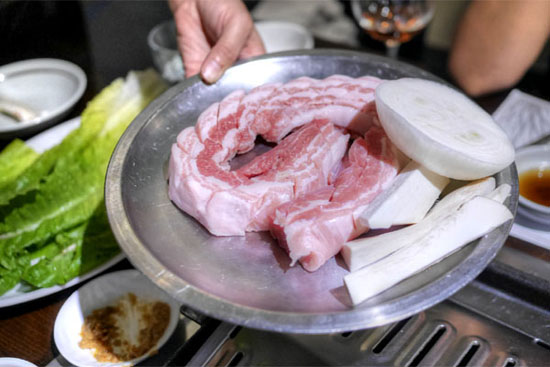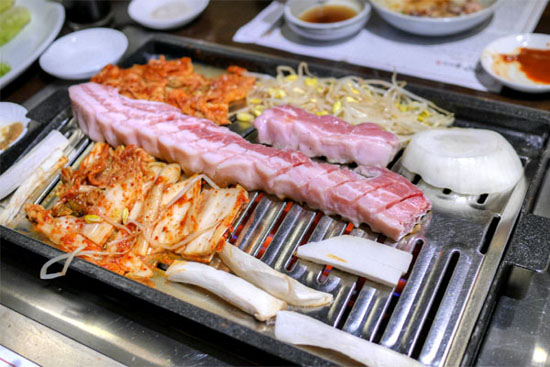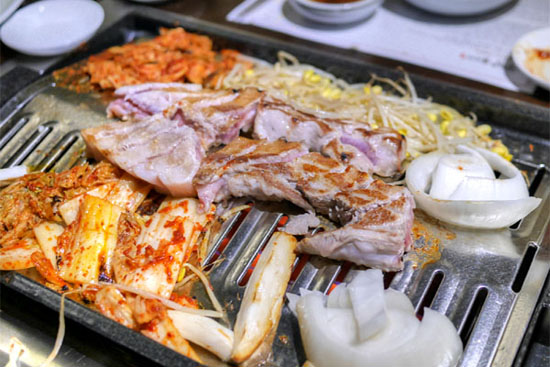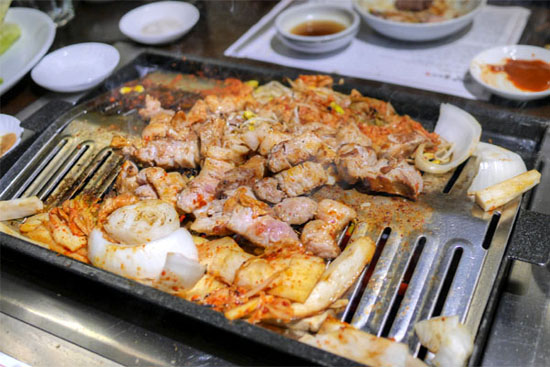 Buljip Saeng Samgyeopsal [$25.99]
| Samgyeopsal-Sliced of Kuro Pork Belly
Samgyeopsal
is always a must-try for us, and Gwang Yang's was definitely one of the thickest versions we've encountered. It tasted super concentrated, with a great char to the meat and a good ratio between lean and fat.
Our final tipple was the
2015 Green Flash Natura Morta Plum
, a Brett-fermented saison aged six months in red wine barrels with Italian plum purée. I liked it, finding the beer softly tart, dry, with a pleasant acidity and subtle floral notes from the fruit.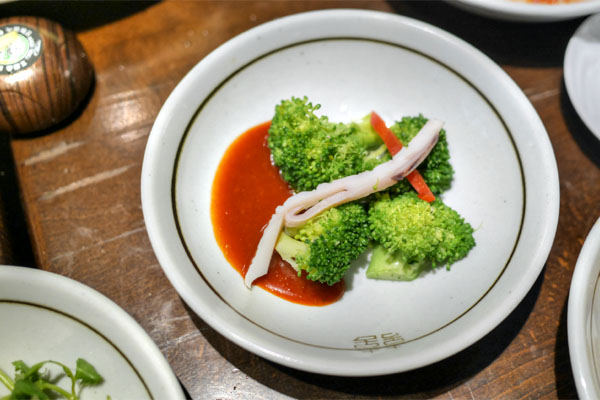 A new
panchan
makes an appearance: broccoli with a
gochujang
-esque condiment.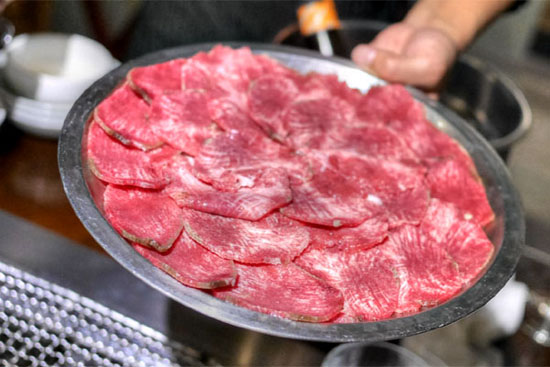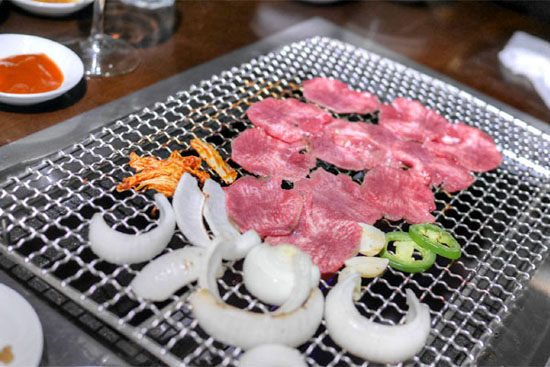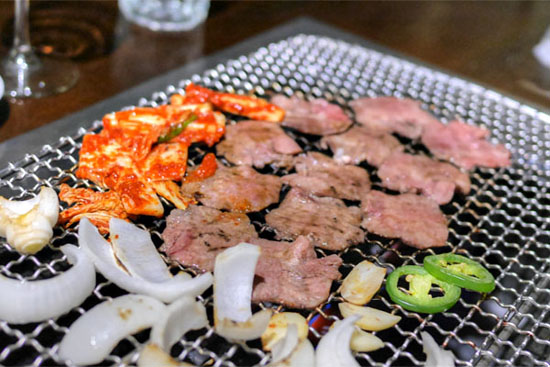 Woo Seol [$25.99]
| Beef Tongue
We closed out with another one of my standbys. Tongue was a touch tougher than I'd prefer, but made up for that with its immense depth of flavor. Even better with a dab of sesame oil.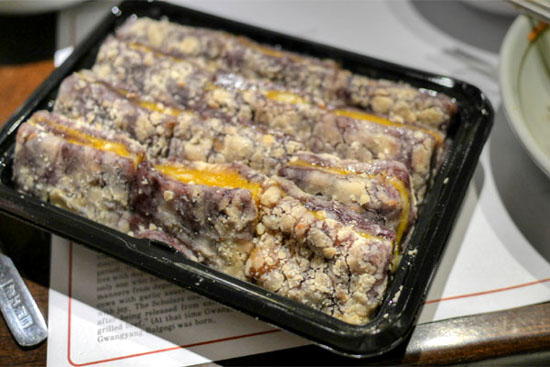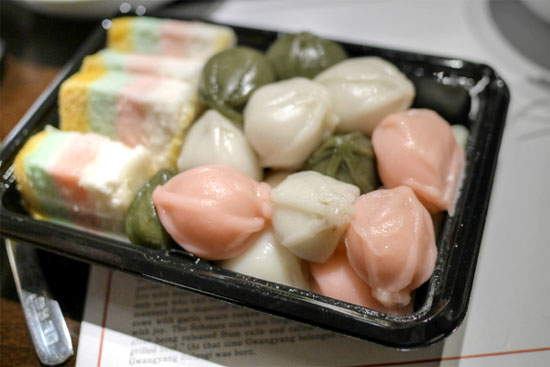 Since dessert really isn't served here, we BYOT'd with our own
tteok
(glutinous rice cakes).
We left pretty pleased with the place. The quality of the meat was up there, and the various
banchan
and other dishes all hit the mark as well. Combined with the above-average service (headed by GM Isaac Kim) and slick surroundings, Gwang Yang looks to fit right in with all the upper echelon KBBQ joints around town.