Pot (Los Angeles, CA)
POT Restaurant
3515 Wilshire Blvd, Los Angeles, CA 90010
213.368.3030
www.eatatpot.com
Wed 03/26/2014, 08:00p-10:00p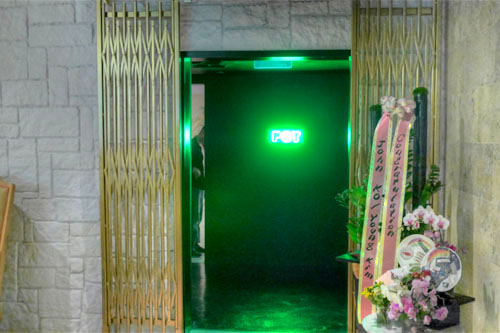 Koreatown's biggest opening of the year just arrived with the launch of Roy Choi's eagerly anticipated POT on March 25th. Set inside
The Line Hotel
(he's doing F&B for the whole property), the restaurant is ostensibly named after the traditional family-style hot pot, and not the Chef's herb of choice (why not both?). As for the food, it pays homage to traditional Korean cookery, but as interpreted through the eyes of a Korean-American who's never trained in Korean cuisine.

With its low ceilings, neutral color palette, and odd vegetation, POT's ambiance reminds me of a bad 1990's restaurant commingled with an institutional cafeteria, but with a tangible modernity. Of note here are the actual tables, each of which have their own induction burner as well as cubbyholes underneath to store various plates and utensils.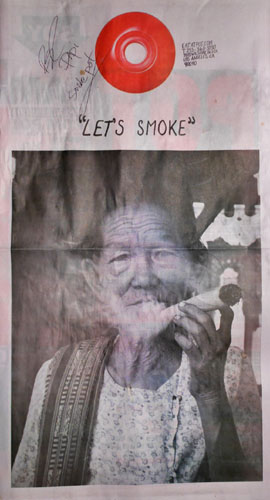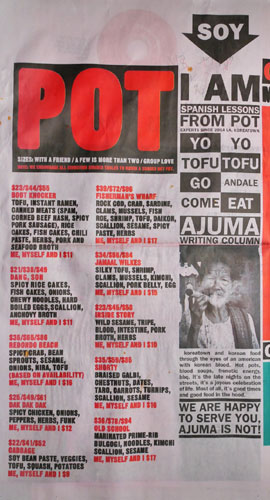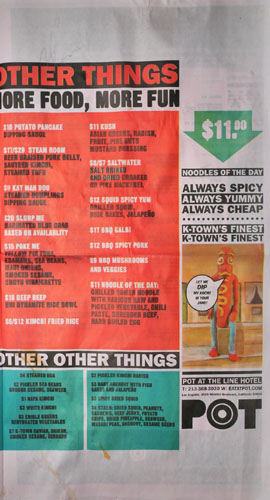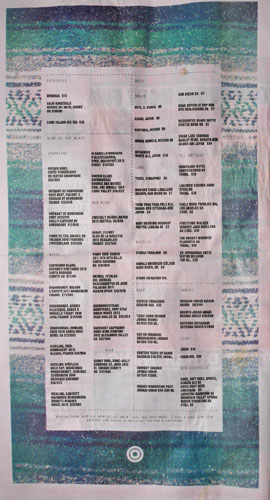 POT's menu is printed on newspaper stock and must've been the largest I'd ever encountered. Up first are the restaurant's namesake hot pots, meant for sharing between groups of two, four, or six, though individual portions are available as well (only if you order a larger pot first though, we were told). You'll find Choi's takes on classic Korean staples on the next page, a handful of more original dishes, as well as the various
banchan
-y type items too. And to drink, you're looking at a decent array of wine, beer, sake, shochu,
soju
, as well as cocktails from the
POT Lobby Bar
. Click for larger versions.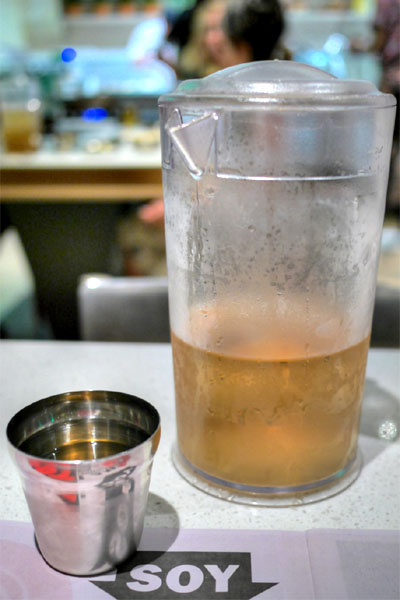 In lieu of water, diners are instead served
boricha
, a type of Korean-style roasted barley tea that's very apropos given the setting.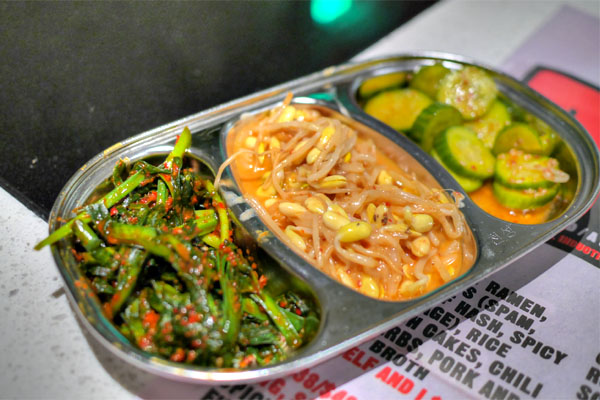 There's no parade of
banchan
here like you might receive at other places. Instead, you get three selections, though they're good ones: a fantastic
pakimchi
with a great spice to go against the green onion's inherent astringency; crunchy and ferment-y
kongnamul muchim
(soybean sprouts); and some delightfully tangy, nutty, and slightly sweet cucumber
oi kimchi
.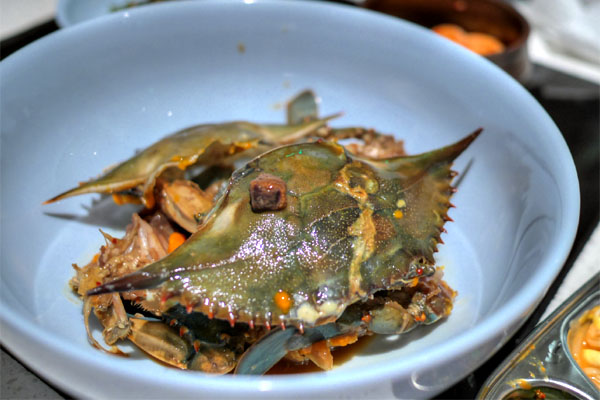 Slurp Me [$20.00]
| Marinated Blue Crab
Our first proper course was POT's
ganjang gejang
. What little actual flesh there was came out slick and gelatinous, its sweetness imbued with the umami-rich relish of soy sauce. The best part, though, was clearly the mass of tomalley stored in those shells, mustard-color globs of goo that tasted like super-concentrated crab, saccharine and saline all at once.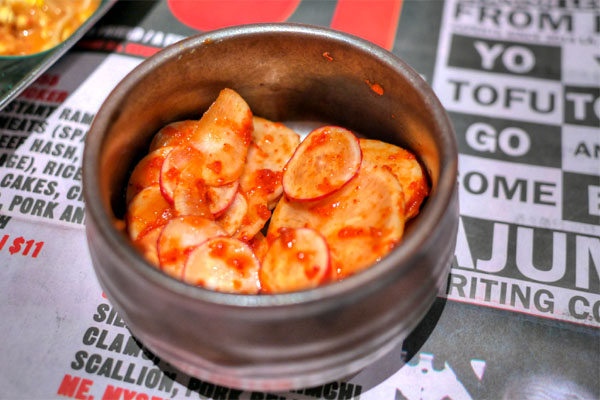 Pickled Kimchi Radish [$2.00]
Radish kimchi was wonderfully crisp and piquant, though I would've preferred thicker pieces to better appreciate their texture.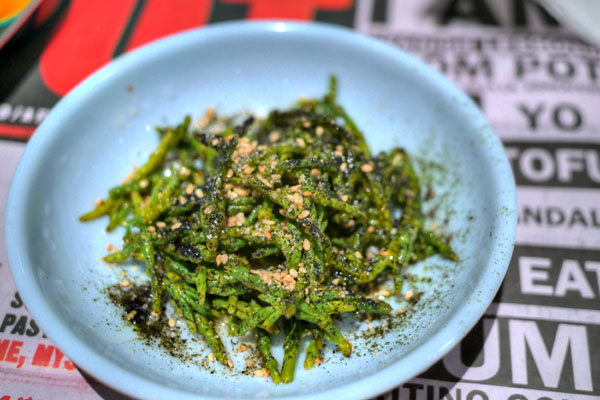 Pickled Sea Beans [$2.00]
| Ground Sesame, Seaweed
Sea beans were salty, slightly astringent, and smartly paired with the nutty sesame.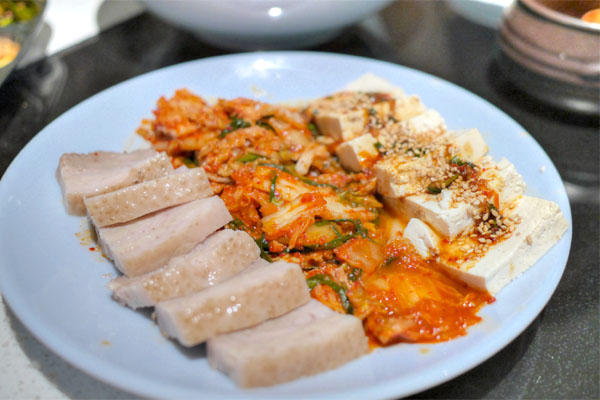 Steam Room [$17.00]
| Beer Braised Pork Belly, Sauteed Kimchi, Steamed Tofu
Dubu kimchi
was rather enjoyable, the belly coming out fatty, trembling, and almost ridiculously tender, its porky flavors balanced by the sting of kimchi while tofu served to moderate the dish. Yum.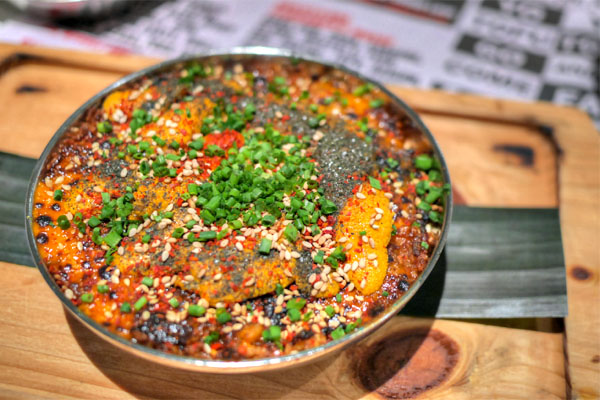 Beep Beep [$18.00]
| Uni Dynamite Rice Bowl
From early reports, the must-try dish seems to be the Beep Beep, which is hardly surprisingly since it contains copious amounts of uni. It was certainly one of the most creative uses of the ingredient I've seen, with the roe's sweet, creamy character giving way to a palpable amount of spice and tang while the rice sort of tied everything together. I was impressed by how the urchin remained the hero in the dish despite all the other strong flavors at play. Great texture on that
nurungji
, too.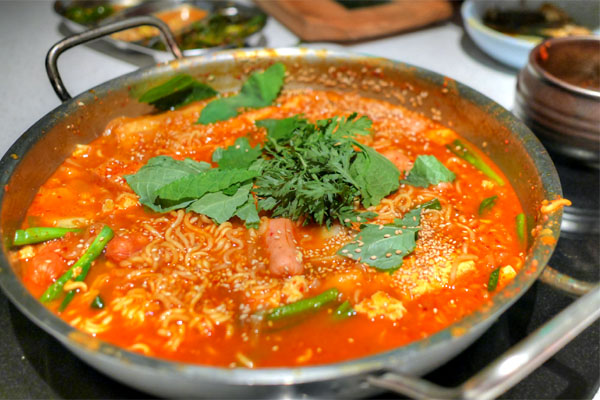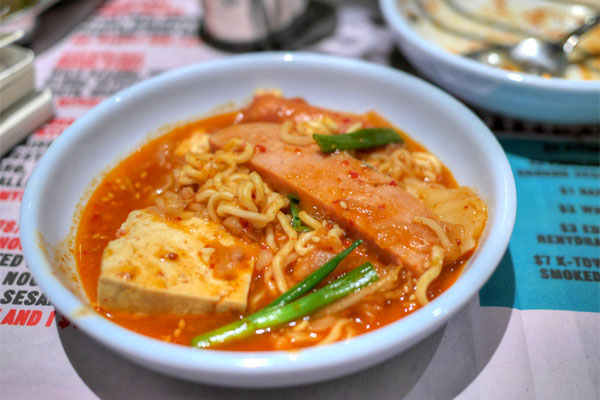 Boot Knocker [$23.00/small]
| Tofu, Instant Ramen, Canned Meats (Spam, Corned Beef Hash, Spicy Pork Sausage), Rice Cakes, Fish Cakes, Chili Paste, Herbs, Pork and Seafood Broth
At this point, our various hot pots arrived, the first of which managed to be the favorite of the group. It's basically a version of
budae jjigae
, or army stew, where a bunch of things are tossed in together and cooked in a
gochujang
broth. I loved the mish-mash of ingredients here, the canned meats in particular (hadn't had Lit'l Smokies in ages), as well as how the noodles helped integrate the soup. Very satisfying in a sordid sort of way.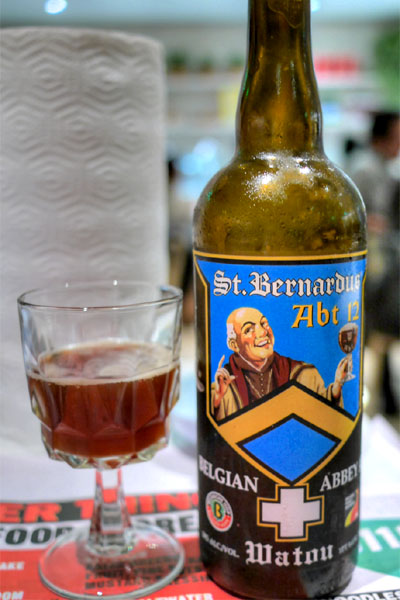 We needed to drink something more than mere
boricha
, and beer seemed like a good choice given the food. The
St. Bernardus Abt 12, Watou, Belgium [$28]
was a winner, a benchmark of the quadrupel style: think sweet, spicy, and fruit-forward, brimming with caramel-y flavors and just a touch of bitterness to balance things out.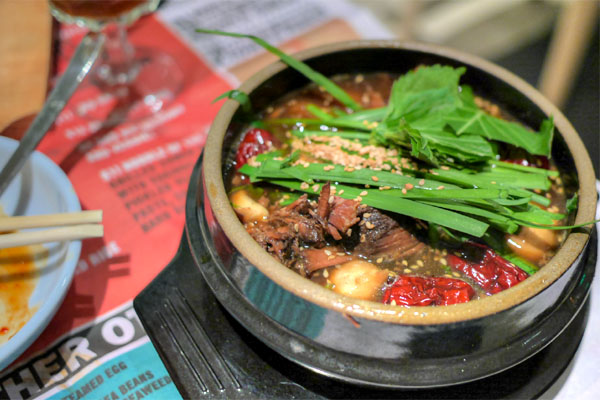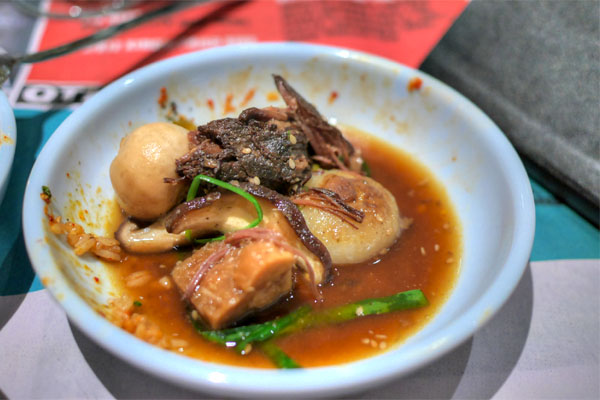 Shorty [$16.00/individual]
| Braised Galbi, Chestnuts, Dates, Taro, Carrots, Turnips, Scallion, Sesame
Our second
jjigae
, on the other hand, was much more contemplative, featuring lush, tender cuts of short rib that were just bursting with deep, dark, sugary flavors recalling
hongshao rou
. The broth, meanwhile, came loaded with a laundry list of ingredients, and conveyed a bitter, herbal, near-medicinal quality to it that I found hearty and heartwarming.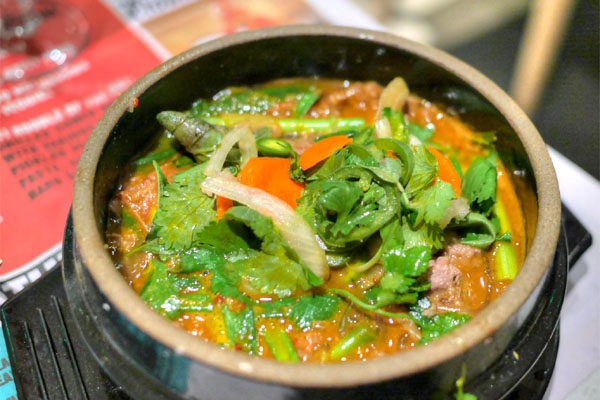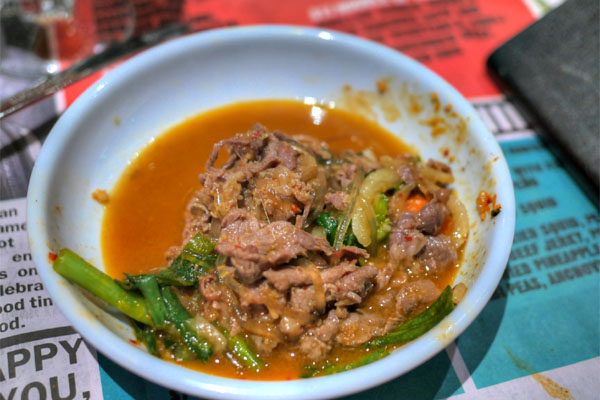 Old School [$17.00/individual]
| Marinated Prime-Rib Bulgogi, Noodles, Kimchi, Scallion, Sesame
The next hot pot was as old school as the name would imply, showing off the traditional sweet-savory deliciousness of
bulgogi
, beautifully set off by the zing of the included herbs and veggies. Classic and comforting--tastes like K-Town.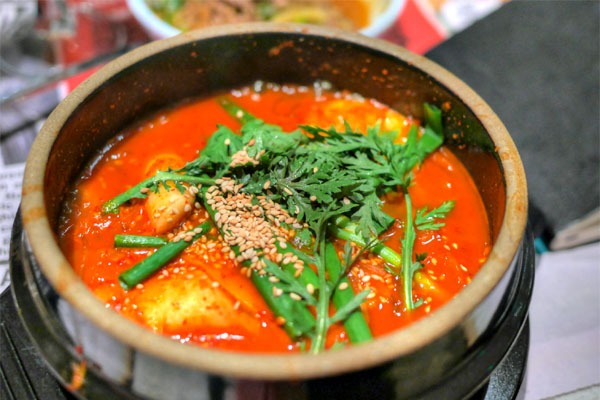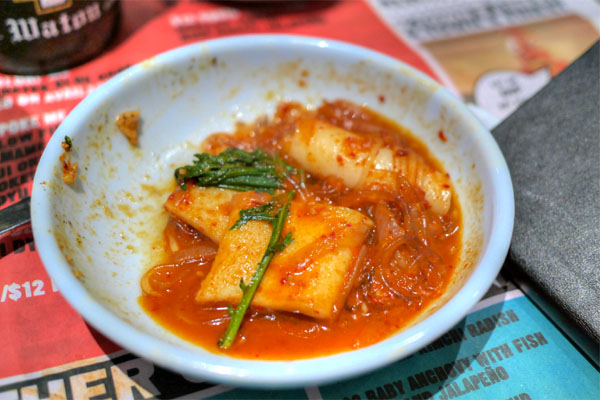 Dang, Son [$11.00/individual]
| Spicy Rice Cakes, Fish Cakes, Onions, Chewy Noodles, Hard Boiled Eggs, Scallion, Anchovy Broth
Our final stew was probably the spiciest of the bunch, and I was a fan of the soft yet substantial strips of fish cake, as well as how the noodles sort of linked all the various elements together. Very nice broth too, with its dose of heat and undercurrent of anchovy goodness.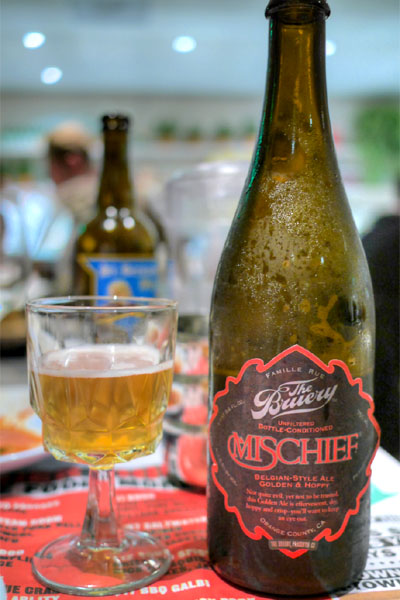 On to the next beer. We thoroughly enjoyed
The Bruery Mischief, Placentia, CA [$19]
as well, a great example of strong Belgian golden ale. I found it floral and delightfully yeasty, with notes of fruity malt and spice along with just enough bitterness. Very well balanced.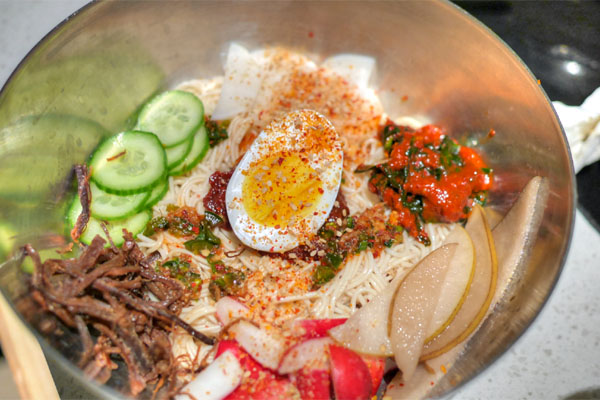 Noodle of the Day [$11.00]
| Chilled Somen Noodle with Various Raw and Pickled Vegetable, Chili Paste, Shredded Beef, Hard Boiled Egg
We ended our meal at POT with the restaurant's daily noodle selection, and tonight's was a version of the classic
bibim guksu
. It was a refreshing change of pace from the heavier dishes preceding, a lovely amalgam of nutty, sweet, salty, and spicy tastes and disparate textures, all beautifully brought together by the thin strands of
somyeon
.

Unfortunately, POT doesn't do dessert, but diners are encouraged to visit POT caFe outside after their meal.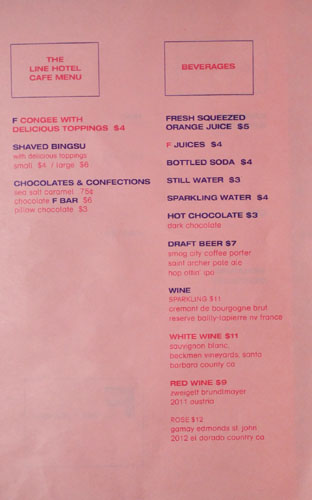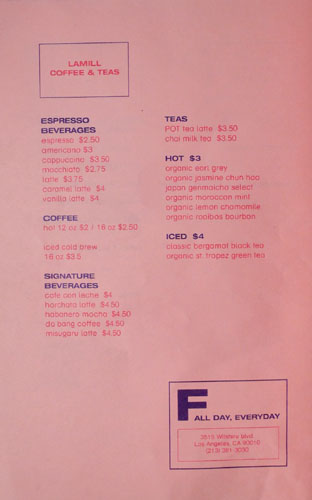 The caFe slangs a variety breads, pastries, cakes, desserts, coffee, teas, and even a limited selection of booze. Click for larger versions.
It looks like Roy Choi has yet another winner on his hands. The menu may read waggish, fanciful, even irreverent, but the flavors are robust, bold, legit, really capturing the essence of Korean cuisine, with a cheffy sort of finesse elevating the cooking. It's the type of place you may find yourself coming back to again and again (though I wish they were open later). I guess the takeaway here is that this is not just Korean food, but
Roy Choi's
Korean food. You know you want to check it out.