Elite (Monterey Park, CA)
Elite Restaurant
700 S Atlantic Blvd, Monterey Park, CA 91754
626.282.9998
www.elitechineserestaurant.com
Wed 05/20/2015, 07:00p-10:05p

Ever since debuting in February 2007, Elite has pretty much lived up to its moniker as one of the top Chinese restaurants in Los Angeles. The place is well-known for its cartless dim sum offerings, and has actually been on my to-try list for a while now. I finally made it out here recently, but for dinner, thanks to an invitation from a private beer tasting group to join in an exploration of sour ales.

Elite takes over the old New Concept space, which has been revamped with some fancy wallpaper and schmancy curtains. The overall effect is quite nice, though the room is considerably smaller than that of many of its competitors.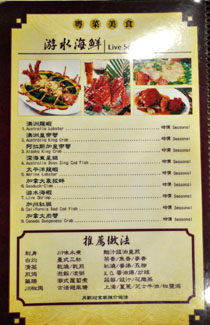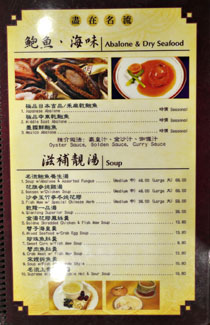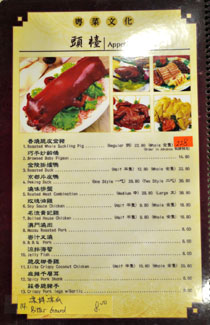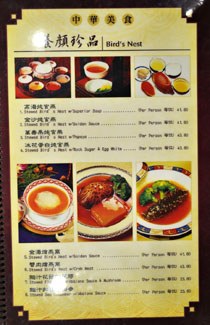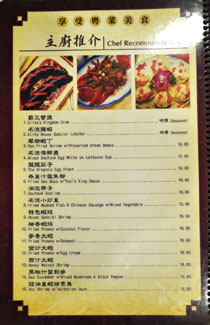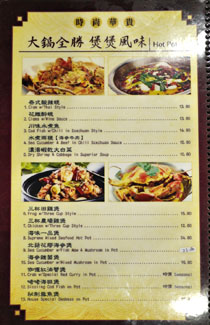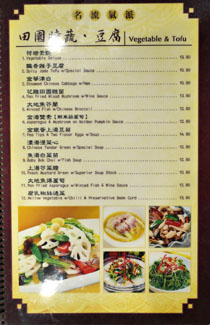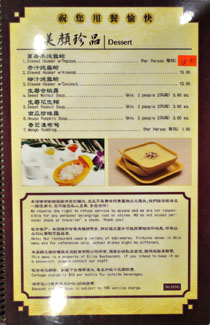 Above, we see Elite's dinner menu, an expectedly expansive
carte
featuring all your favorite Hong Kong-style seafood stylings. To drink, there's not much worth talking about save for a few wines, so best to BYOB here. No idea what corkage was, but it was comped, as it should be given that we spent four figures. Click for larger versions.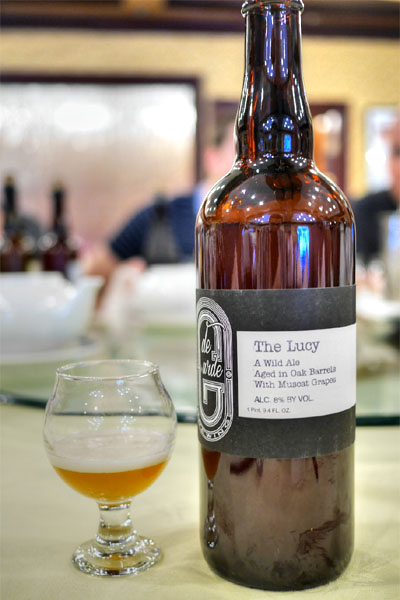 2014 De Garde The Lucy
: Wild ale aged in oak barrels with Muscat grapes, my first beer from De Garde.
S: Funky and distinctly vinous; I believe one of my dining companions likened the nose to "7 Up," interestingly enough.
T: Not as tart as the smell would imply; very smooth, refreshing, with a palpable oakiness to it.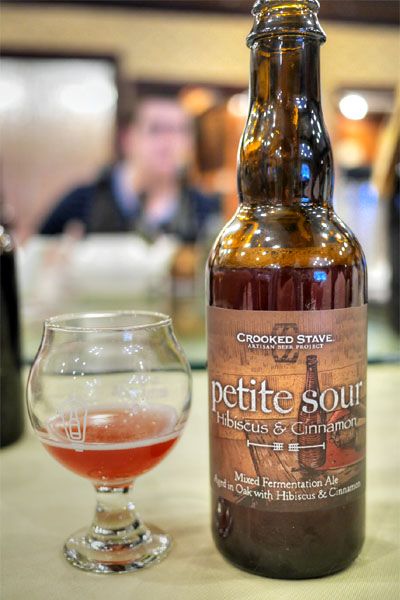 Crooked Stave Petite Sour with Hibiscus & Cinnamon
: Mixed fermentation ale aged in oak with hibiscus and cinnamon, my first taste from the brewery.
S: Tart, floral, sweet 'n' spicy as expected.
T: Funky cherry character with oak and a mustiness to it, joined by restrained nuances of cinnamon toward the end.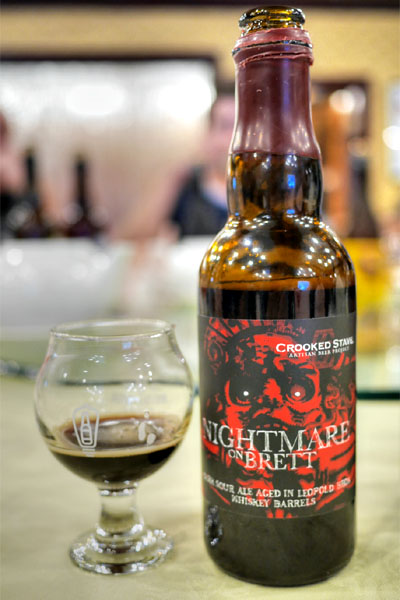 Crooked Stave Nightmare on Brett
: Dark sour ale aged in Leopold Bros whiskey barrels.
S: Quite dank; lactic and funky, with a trace of dark fruit.
T: Smooth yet boozy, with chocolate notes commingled with influences from the barrel aging.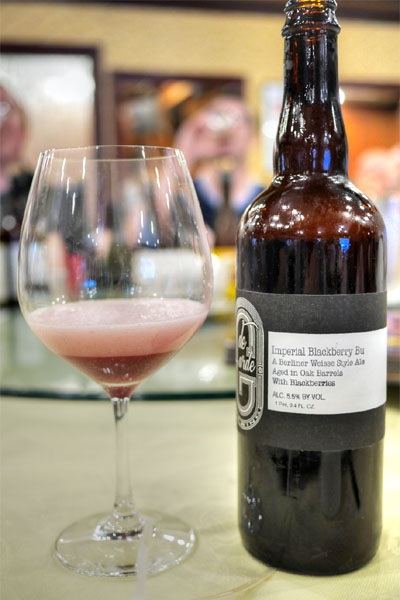 De Garde Imperial Blackberry Bu
: Berliner weisse style ale aged in oak barrels with blackberries.
S: Really funky, vegetal, with an almost blue cheese-esque earthiness; the nose caught me off guard.
T: Again, more of that lactic quality, over a base of delicate fruit, with a lingering close imbued with a surprising savoriness.
2015 The Rare Barrel Supermassive
: Dark sour aged in oak barrels with blackberries and black currants and fermented with
Brettanomyces
and
Lactobacillus
, my first beer from TRB.
S: Massive amounts of oxidative fruit over a backbone of sweetness and acidity.
T: Tart and dark, with distinct chocolate and spice flavors; I got a lot more currant than blackberry here.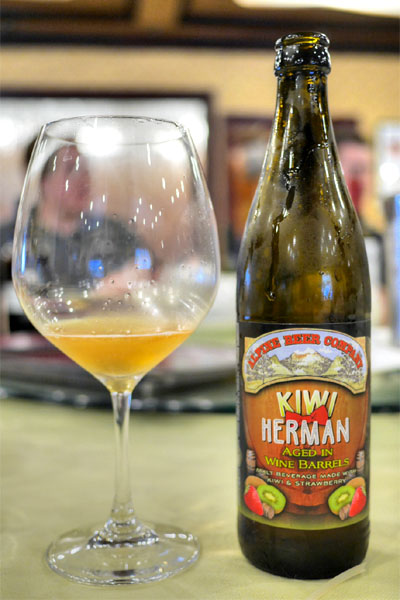 2015 Alpine Kiwi Herman
: Brewed with kiwi and strawberry then aged in wine barrels, this one had been on my to-tick list ever since it was released earlier this year.
S: Deliciously juicy yet sour aromas of kiwi that almost gave off a stone fruit-like richness and depth.
T: On the palate, I got much more of a strawberry presence, joined by further thrusts of citrus, wine barrel, and acidity; super refreshing.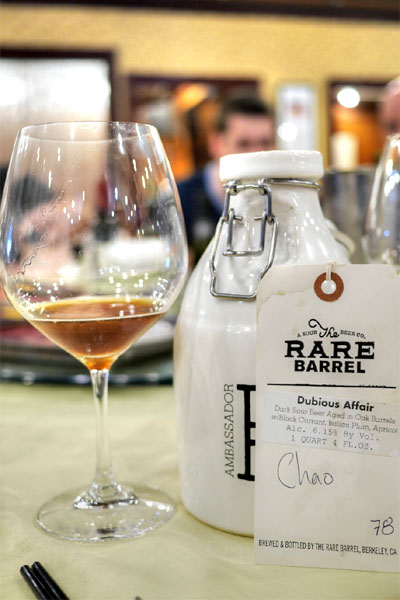 2015 The Rare Barrel Dubious Affair
: Dark sour aged in oak barrels with black currant, Italian plum, and apricot.
S: Dark and earthy, with an almost rye-like spice to it all.
T: Lighter than I'd imagined, and smooth, with a glorious amalgam of fruit flavors countered by a great acidity.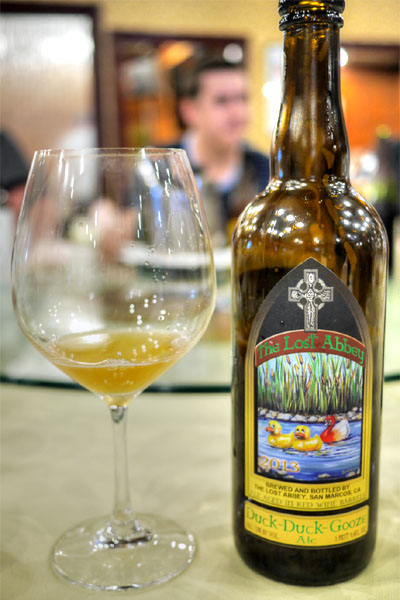 2013 The Lost Abbey Duck Duck Gooze
: A blend of 1-, 2- and 3-year-old ales aged in French oak red wine barrels; another beer that I'd been wanting to try for ages.
S: Very funky, with some lactic qualities commingled with bright notes of citrus.
T: Milder than the smell; smooth, and very, very well balanced, with a juicy-yet-puckering quality to it; acidic, grassy, lemony, delish.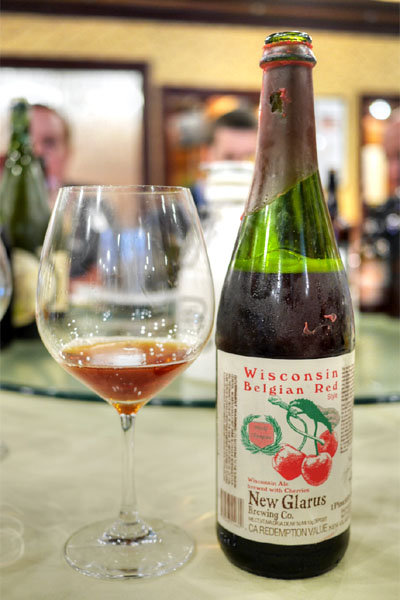 New Glarus Wisconsin Belgian Red
: Wisconsin ale brewed with Montmorency cherries; yes, so some non-sours snuck into the tasting as well.
S: Tons, and I mean tons of dark cherry aromas, cut by just a smidge of tanginess.
T: Massive amounts of sugary cherry flavor, but with a subtle sour edge to keep it from becoming too cloying.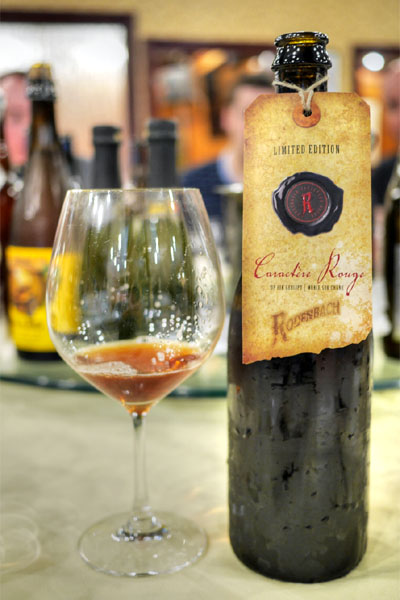 2012 Rodenbach Caractère Rouge
: Ale with cranberries, raspberries, and sour cherries aged two years in oak vats; this was Batch 2 (I'd sampled Batch 4 last year at
Black Hogg
).
S: Super smooth, super delicate; sweet-n-sour with an oaky tint to it.
T: Again, superbly balanced, with dark fruit notes backed by the presence of oak;
clean
.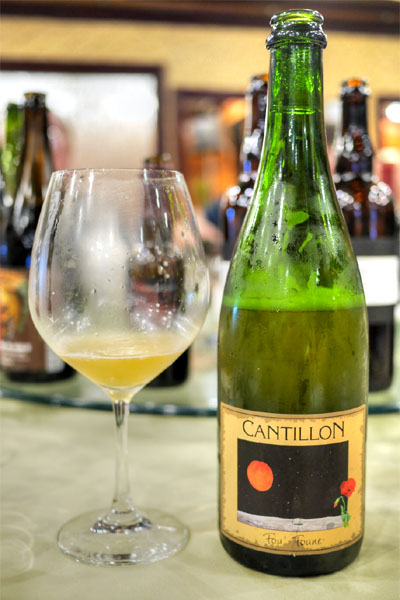 2014 Cantillon Fou' Foune
: Two-year-old lambic with apricots, and probably the beer that I was personally the most excited about tonight.
S: Ridiculously clean, pure apricot aromas accented by citrus and funk; excellent.
T: Fruit forward and utterly refreshing and dry; just tart and earthy enough; I found this delightfully easy-drinking and living up to the hype.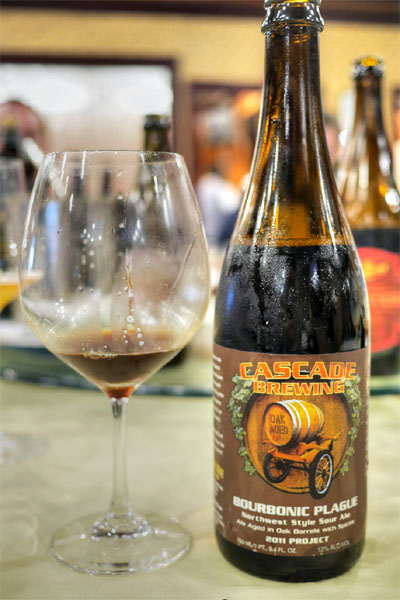 2011 Cascade Bourbonic Plague
: A blend of spiced porters aged in bourbon and wine barrels for 18 months before aging on dates and spices for an additional 12 months.
S: Rather boozy, with malty, chocolate-y notes blended with dark fruit and spice.
T: Deep and dark, with plenty of booze and massive amounts of barrel character cut by a bit of sourness.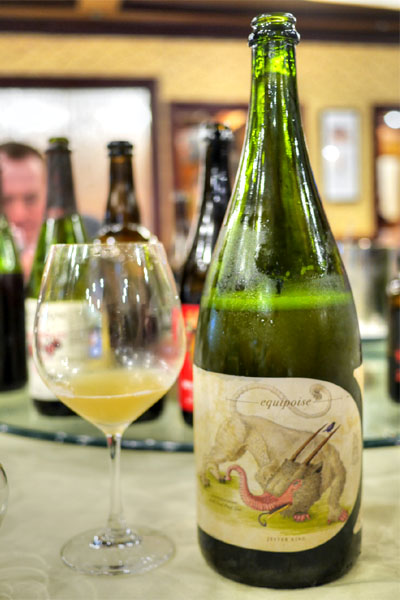 2014 Jester King Equipoise
: Not quite a sour, but a farmhouse ale brewed with ginger salt and tarragon, refermented with cantaloupe, done in collaboration with Chef Paul Qui.
S: Herby and spicy, with a savory accent.
T: Again, more herbs, salt, and savoriness, joined by a pleasant tartness but not much cantaloupe.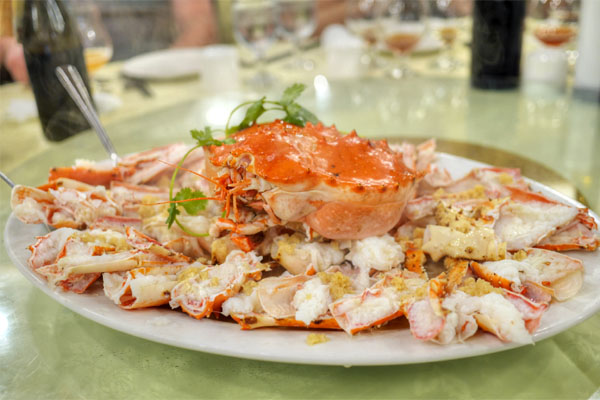 Australia King Crab [$38.00/pound]
Yes, we went through over a dozen bottles before the meal even commenced, but boy did the food get off to an impressive start. What we had here was no doubt one of the tastiest preparations of king crab that I'd ever experienced, the meat coming to us tender, buttery, and oh-so sweet, with a fantastic garlicky edge to it all.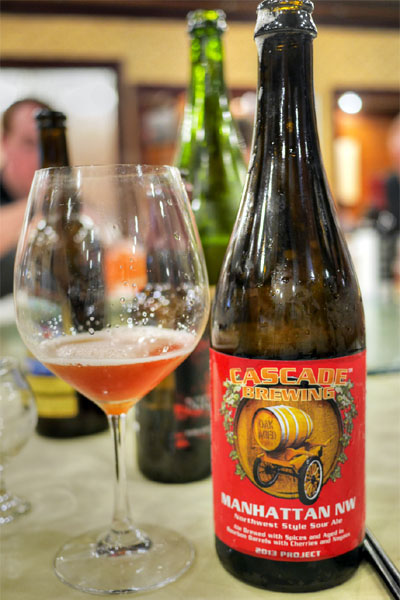 2013 Cascade Manhattan NW
: A blend of spiced blond quads, aged in bourbon barrels with sour pie cherries and apricot
noyaux
(kernels).
S: Sour cherry fruit, joined by spice and whiskey barrel character.
T: Surprising, with a vegetal, almost fennel-like bent to it over an undercurrent of tartness.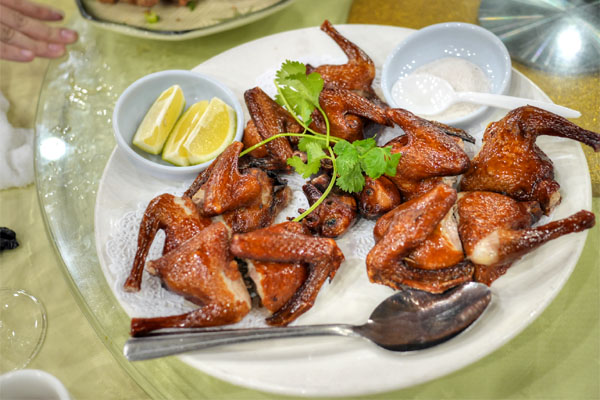 Browsed Baby Pigeon [$14.80/each]
Squab was better than most, nicely crisp in terms of skin, and loaded with deep, savory flavors and sweet spice.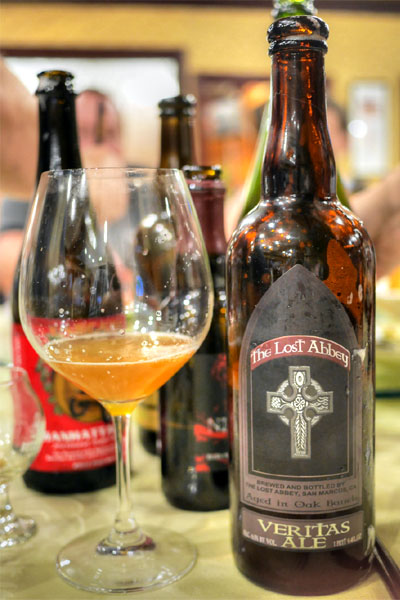 2015 The Lost Abbey Veritas 015
: Blended and oak aged American sour with apricots, nectarines, and peaches; definitely another highlight of the tasting for me.
S: Super juicy and multifaceted stone fruit aromas underscored by a lacto funk.
T: Tartness initially, transitioning to a base of complex stone fruit flavors and a finish of oak; dry, refreshing, superbly well-balanced, a standout.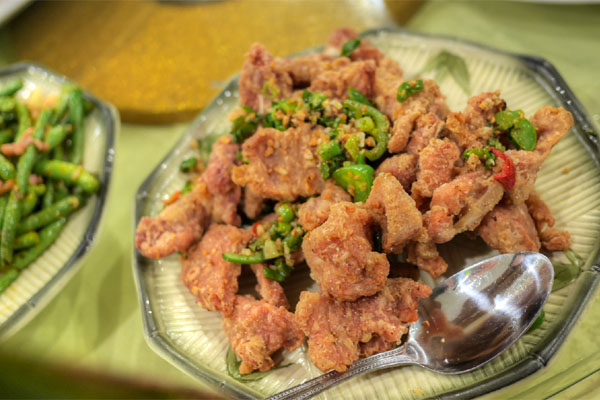 Pork Chop w/ Salt & Pepper [$10.80]
Excellent crispness and spice on the outside, with the tender, savory pork really shining through. A perfect rendition of the dish.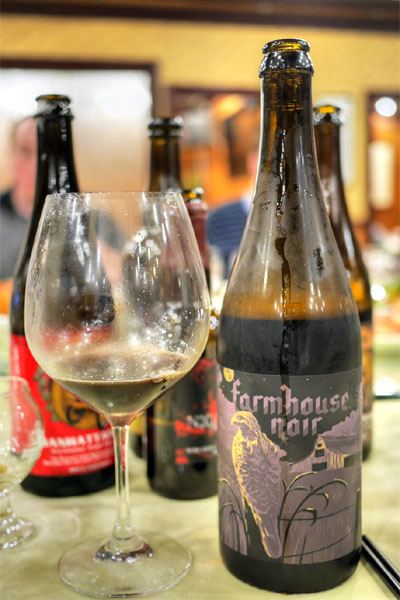 2015 Sante Adairius Farmhouse Noir
: A dark saison fermented in oak; Batch 2; the first of three beers that I contributed to the tasting.
S: Tangy and dark, with an acidic, almost
suanmei
-like quality.
T: Malty and grainy, with chocolate, funk, and a fun cola character; vinous on the close.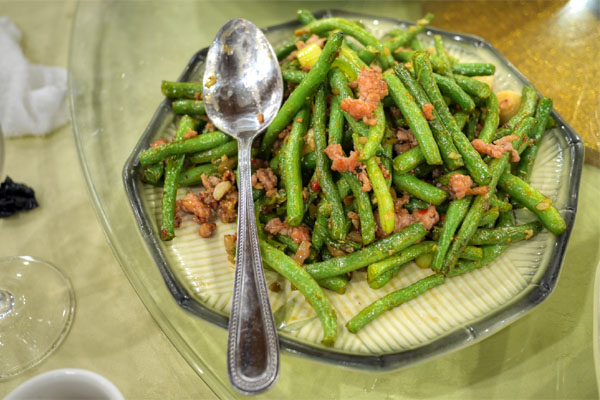 Dry Stir Fried Green Beans
One of my staples when it comes to Chinese veggies, the Szechuan classic of
gan bian siji dou
was spot on, the green beans coming out well-textured and perfectly paired with the savoriness of the pork.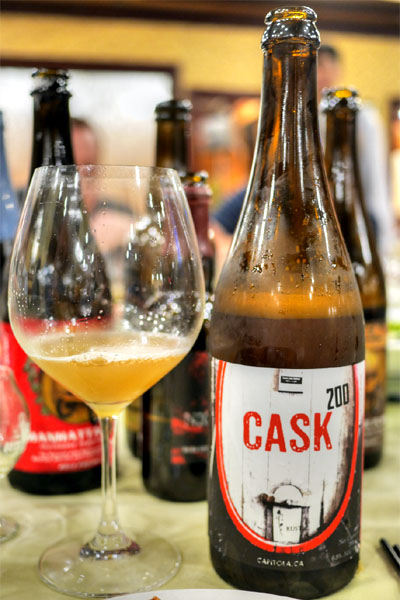 2015 Sante Adairius Cask 200
: Batch 5 of SARA's solera-style saison; another standout of the night.
S: Barnyard with delectable notes of juicy tropical fruit.
T: Wonderfully integrated flavors in a dry package with a balanced tartness and earthiness; really easy to drink and superbly put-together.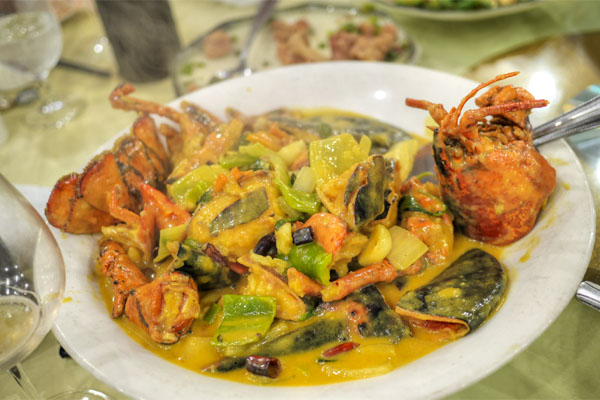 Australia Lobster [$25.00/pound (est)]
Lobster hit the mark as well, with the supple, snappy meat really meshing well with the curry flavors at play (which I was afraid might overwhelm the delicate flavors of the crustacean).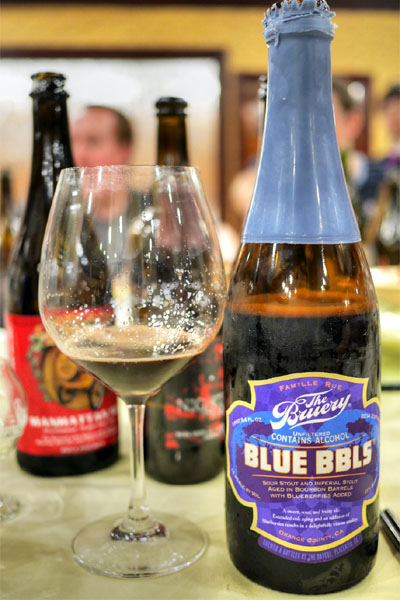 2014 The Bruery Blue Bbls
: Sour stout and imperial stout aged in bourbon barrels with blueberries added; a Hoarders-exclusive bottle that I'd had before at
Stir Market
.
S: A mish-mash of stout-y characteristics and juicy berry fruit.
T: Malty, roasty, oaky, and sweet, but cut by the tart, vinous qualities of blueberry.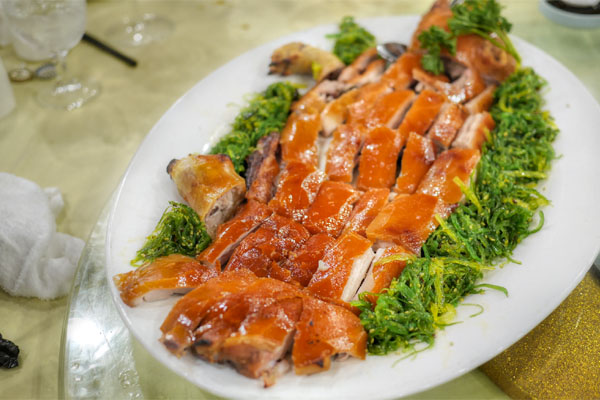 Roasted Whole Suckling Pig [$129.00]
A (half) whole suckling pig was something that I'd actually never had before at a Chinese restaurant. I thoroughly enjoyed it though, with its crunchy, crackling skin, supple, juicy flesh, and wonderfully porky, yet refined flavors satisfying in the utmost manner.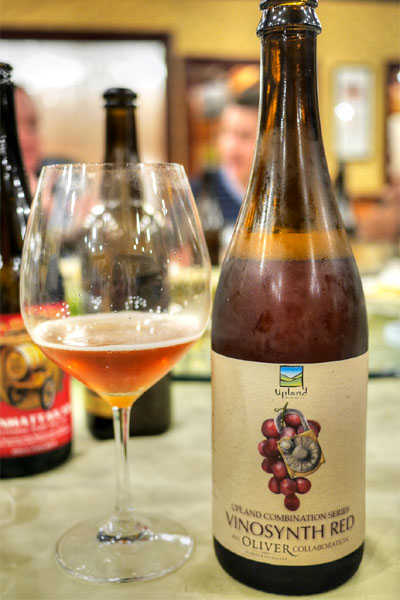 2015 Upland Vinosynth Red
: A 50-50 blend of wine-barrel aged sour ale and bourbon barrel-aged Flanders Red with Catawba wine grapes added; my second beer.
S: Musty and vinous, with the Catawba doing a nice job peeking through the barrel.
T: A very balanced presentation of wine nuances and an earthy tartness, all leading to a lingering woodiness.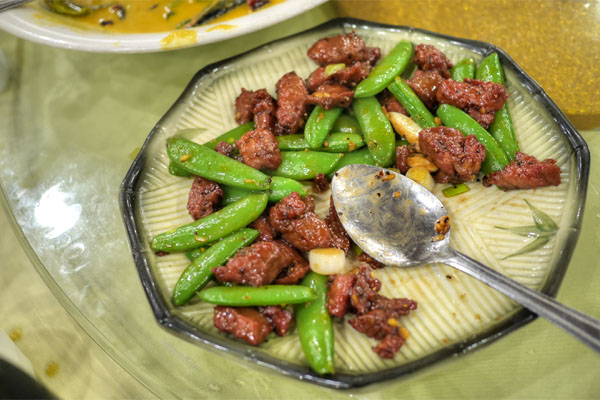 Black Pepper Beef with Snap Peas
You can't go wrong with this, the tender, well-spiced shards of beef really working hand in hand with the bright, crunchy counterpoint from the peas.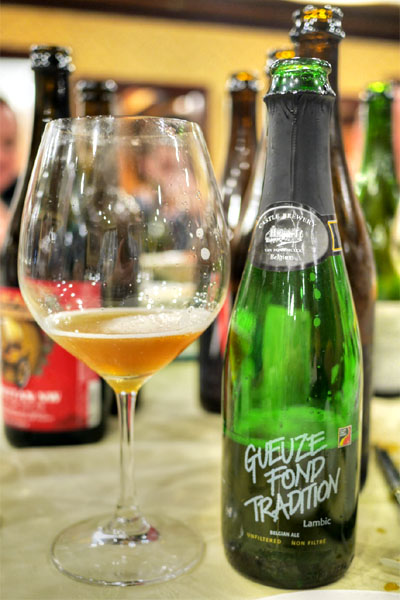 Brouwerij Van Honsebrouck St. Louis Gueuze Fond Tradition
: A classic Belgian gueuze.
S: I got a bracing sourness in the aroma, finished by an odd metallic character.
T: Sharply funky, with a savoriness that got stronger on the close and made the beer somewhat disconcerting. My least favorite of the night.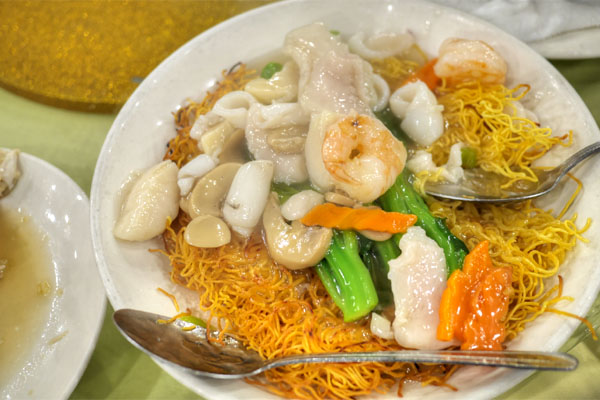 Seafood Chow Mein [$12.80]
A prototypical, but spot on rendition of chow mein, with a great crispness on the noodles and the seafood coming out distinct and well-cooked (i.e. not overdone).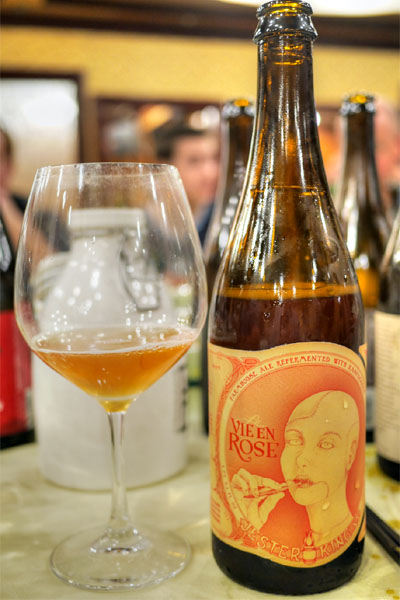 2014 Jester King Vie en Rose
: Wild ale fermented with
Brettanomyces
and raspberries.
S: Super tart and jammy, with just a whisper of farmhouse; delish.
T: Just as tasty as the nose; tart fruit at the forefront, but still dry and crisp, with a touch of grain.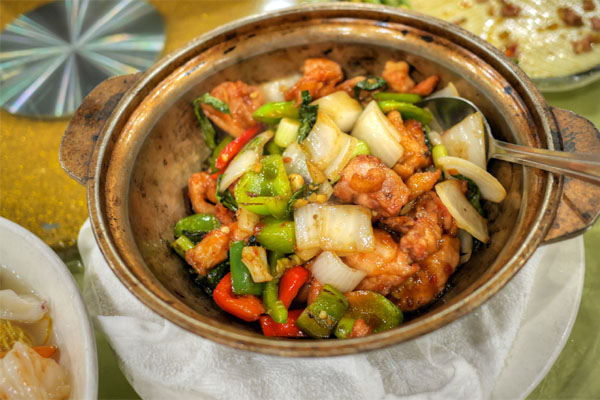 Chicken w/Three Cup Style [$12.80]
A wonderful preparation of
sanbeiji
, with the chicken coming out tender yet slight crisp, its deep, savory, spicy flavors offset by the trio of crunchy veggies. I just wanted to keep eating.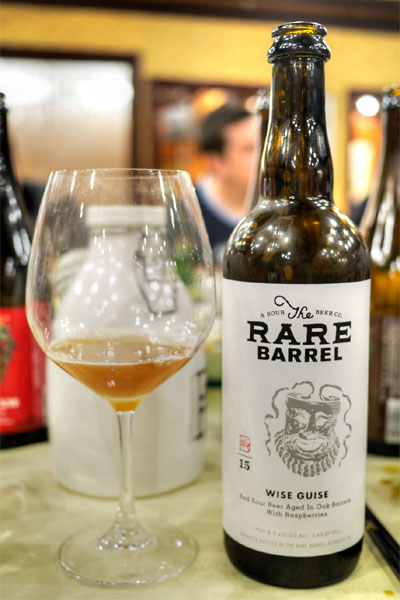 2015 The Rare Barrel Wise Guise
: Blend of Ensorcelled (dark sour ale aged in oak barrels with raspberries) and golden sour, fermented with
Brettanomyces
and
Lactobacillus
.
S: Surprisingly weak, with just a smidge of raspberry.
T: Much, much tarter than the nose at first, with the back end going toward darker, mustier, oakier flavors.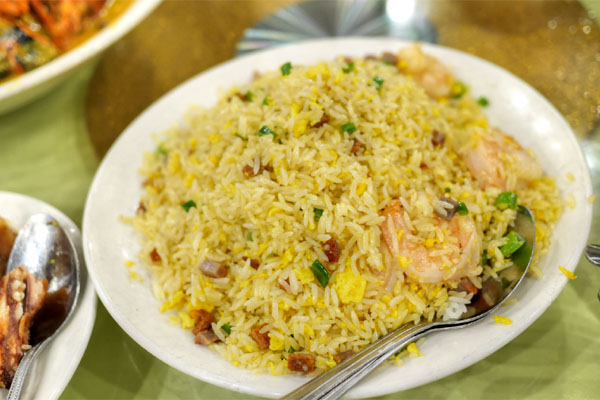 Yeung Chow Fried Rice
Yangzhou
fried rice was a commendable example of the dish: well-textured, comforting, and with a delightful bit of creeping heat.
2013 The Bruery Wanderer
: A dark sour ale aged in barrels with blackberries and cherries, which I'd had not long ago at
Kinjiro
.
S: Lighter than before, with subdued notes of tart berry.
T: More sour cherry; an oxidative edge over a backbone of malt.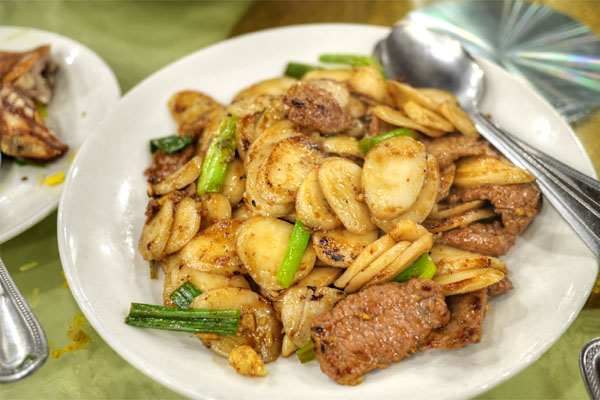 Beef with Rice Cakes
I quite liked the chewy, gelatinous texture on the rice cakes here, which did a nice job alongside the satisfyingly savory cuts of beef.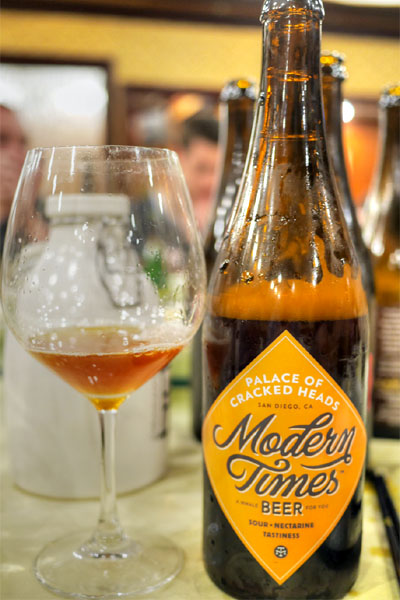 2014 Modern Times Palace of Cracked Heads
: An 11-month red wine barrel-aged sour, aged for another 5 months with nectarines.
S: Dark, deep stone fruit aromas, without too much funk.
T: Again, very apparent notes of nectarine, countered by a palpable sourness; a much weightier beer compared to the Foune or V015 above.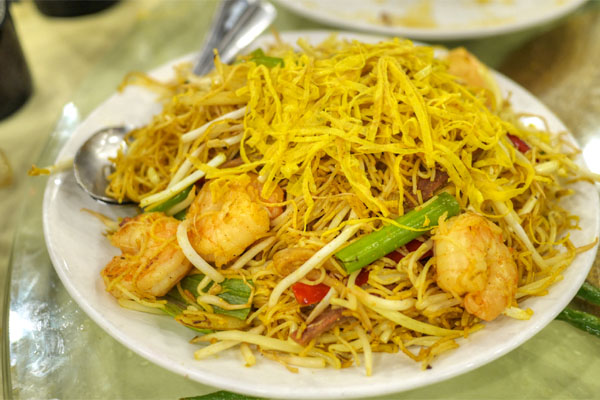 Vermicelli w/Singapore Style [$10.80]
Singapore-style noodles were on point, the curry present, but not overpowering. Great snap on the shrimp, too, and I especially appreciated the lightness imparted by the veggies.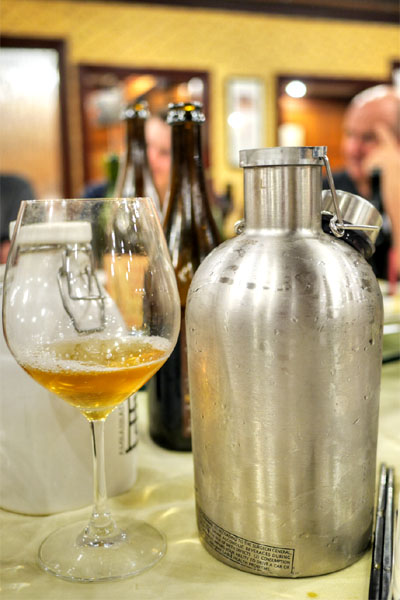 2015 Highland Park The Achiever
: A growler of IPA somehow got thrown into the mix.
S: Substantially hoppy, pine-y, with some citrus mixed in.
T: Nice, dark, with an almost bracing bitterness along with some juicy tropical fruit notes.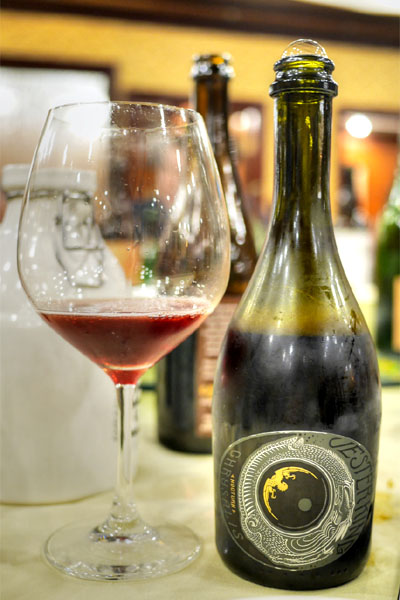 2014 Jester King Nocturn Chrysalis
: Barrel-aged sour refermented with Marion blackberries from Oregon; my third and final beer of the tasting.
S: Tons of band-aid funk alongside the Marionberry.
T: Sour and dry, with a strong underpinning of tart fruit and some oak on the back end.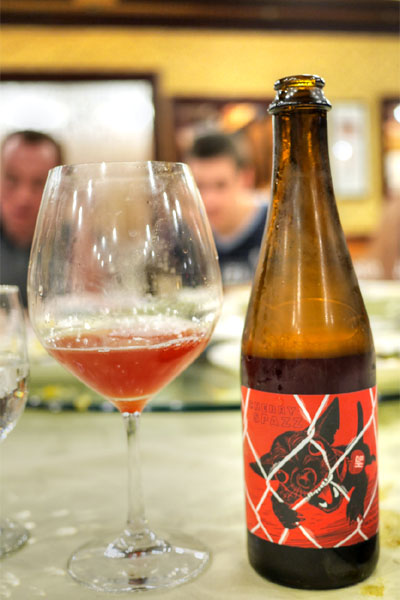 2015 Highland Park Cherry Spazz
: Sour wheat beer fermented with
Lactobacillus
and multiple types of
Brettanomyces
yeast, aged with Montmorency cherries.
S: Really funky, dank, with some fruit to brighten things up.
T: I get lots of bandaid here, back and forth with tart cherry.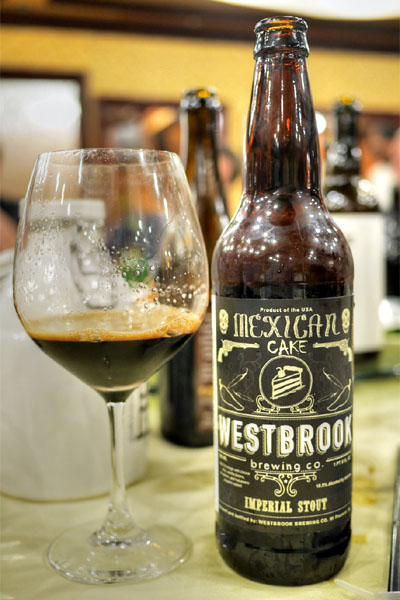 Westbrook Mexican Cake
: Imperial stout aged on cocoa nibs, vanilla beans, cinnamon, and habaneros; gotta end with something sweet right?
S: Big hit of chocolate, overarched by traces of sweet, aromatic spice--nice!
T: Follows the nose; legitimately sweet, with massive chocolate notes and a tinge of heat.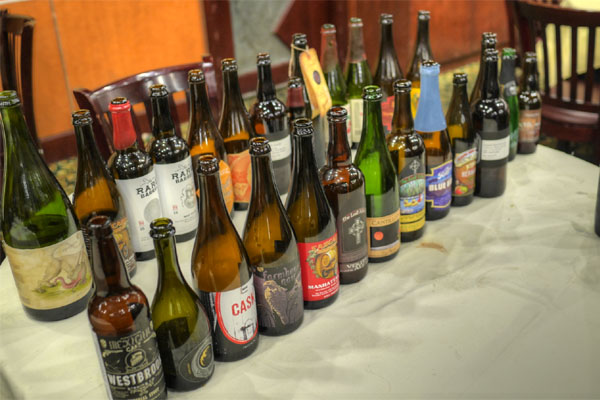 The bottle graveyard. I sampled 28 of the 29 beers (forgot to taste one of the New Glarus'), and I'd have to say that my favorites were the Kiwi Herman, Dubious Affair, Duck Duck Gooze, Fou' Foune, Veritas 015, Cask 200, and Mexican Cake. We had so much liquid left over though, such a shame. I hope the staff at least got to drink some with their family meal at the end of the night.
In terms of beer, this was a pretty fantastic evening, with a great array of sours of various proclivities, including several bottles that'd been on my "to drink" list for years. Food-wise, Elite definitely hit the mark as well, delivering some of the tastiest Hong Kong-style Chinese that I'd had in a long while. Gotta get back for that dim sum...