Pineapple & Pearls (Washington, DC)
Pineapple and Pearls Restaurant
715 8th St SE, Washington, DC 20003
202.595.7375
www.pineappleandpearls.com
Thu 10/19/2017, 09:00p-12:00a

For this latest visit to the Capital, the restaurant I was most excited about was Pineapple & Pearls, the new-ish tasting menu-only joint in Barracks Row from DC dining golden boy Aaron Silverman. When I last caught up with the Chef, it was April 2014, and his first place,
Rose's Luxury
, had been open for just six months. Quite a bit has happened since then, so I'll quickly recap:
May 2014 - The launch of The Roof Garden at Rose's Luxury, a one-seating-per-night AYCE experience for 8-12 guests.
Aug 2014 - Rose's gets the #1 spot on Bon Appetit's list of "Best New Restaurants in America."
Feb 2015 - It's announced that Silverman will be debuting a new place, one that'll operate as a café during the day and a fine dining eatery at night.
Feb 2015 - Rose's gets the top slot on GQ's list of "25 Outstanding Restaurants of 2015."
Aug 2015 - President Obama celebrates his 54th birthday at Rose's Luxury.
Oct 2015 - The Washington Post's Tom Sietsema names Rose's Luxury his favorite restaurant.
Feb 2016 - The cafe portion of Pineapple & Pearls opens for business.
Feb 2016 - Silverman gets a semifinalist nomination for James Beard's "Best Chef Mid-Atlantic" prize.
Apr 2016 - Pineapple & Pearls finally debuts. Head Chef duties are handled by Scott Muns (Rose's Luxury, Volt, 2941), with Kim Janusz (Del Posto) as Pastry Chef.
May 2016 - Silverman wins "Best Chef Mid-Atlantic" at the James Beard Awards.
May 2016 - Sietsema declares Pineapple & Pearls his favorite new restaurant in his spring dining guide.
Aug 2016 - Sietsema gives his maximum of four stars to P&P.
Oct 2016 - Michelin doles out two stars to Pineapple & Pearls in its inaugural DC guide.
Jan 2017 - Washingtonian magazine announces that Pineapple & Pearls is the best restaurant in DC.
Mar 2017 - Silverman agrees to take over David Guas' Bayou Bakery in Capitol Hill's Hill Center, which closes the following month.
Sep 2017 - Silverman closes the cafe part of Pineapple & Pearls ("Little Pearl"), with plans to relocate it to Hill Center. It should be opening shortly.
Oct 2017 - Michelin reaffirms its two-star rating for Pineapple & Pearls.


Pineapple & Pearls resides right next door to Rose's Luxury, in a building that was once home to a boutique called Homebody. I sat at the Bar area up front, which accommodates roughly eight diners. There's also the option of the Dining Room and its eight-seater Chef's Counter, which overlooks the kitchen's two-ton custom Bonnet range.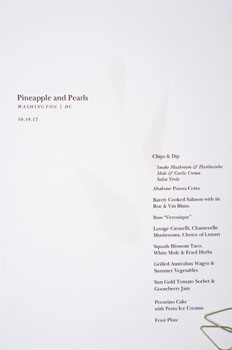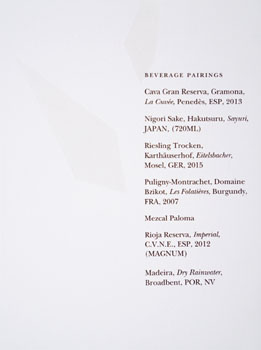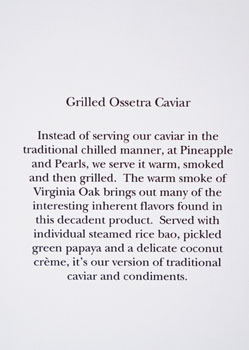 As far as menu options go, guests in the Dining Room and Chef's Counter get an ~11-course tasting menu priced at $280 per head, which includes tax, tip, and beverage pairing from Jeff Faile (
Neighborhood Restaurant Group
,
Fiola
/Casa Luca, Palena). The Bar has the same menu, minus the drinks, at $180 all-in. You can of course add in the wine pairing for an extra $100 (or non-alcoholic pairing at $75), as I did. Note also that there's the choice of a traditional pairing or an unconventional one; I asked my server Elizabeth to choose, and she opted for the former. If you're not in the mood for a lengthy tasting menu, P&P also has patio seating, which offers up a short menu of snacks, cocktails, and wine. Corkage is a hefty $60 a pop in the patio, and is not available in the rest of the restaurant. Click for larger versions.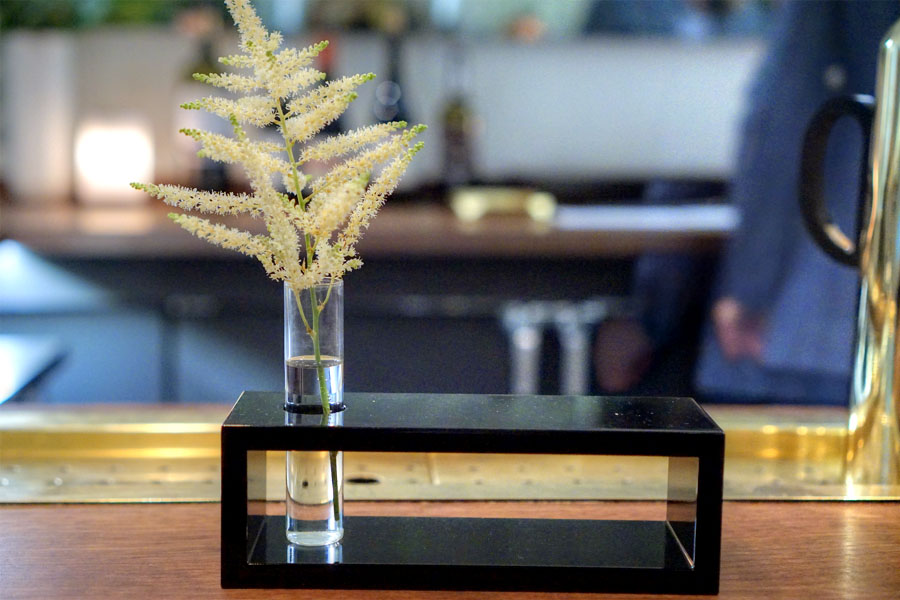 An attractive centerpiece awaited me at the Bar. I was hoping that it'd be somehow incorporated into the meal (à la
Alinea
), but that wasn't the case.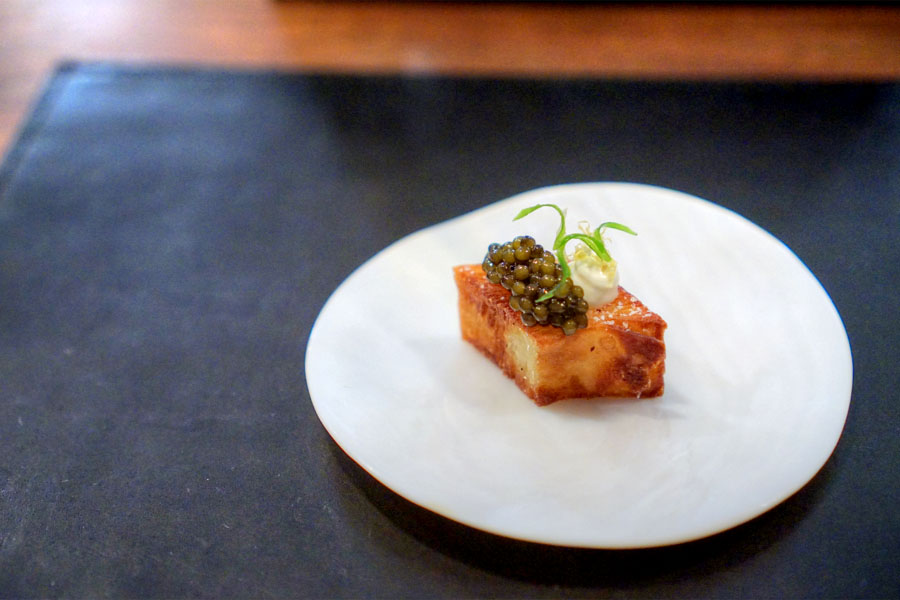 Canapé duties were handled by a parallelepiped of potato terrine dotted with ossetra caviar, crème fraîche, and lemon zest. It was a delicious bite, one showcasing the cozy, crispy nature of potato and the saltiness of caviar, with the cream and citrus serving as a contrast. It worked with the glass of dry, slightly acerbic, apple-y cava that accompanied it.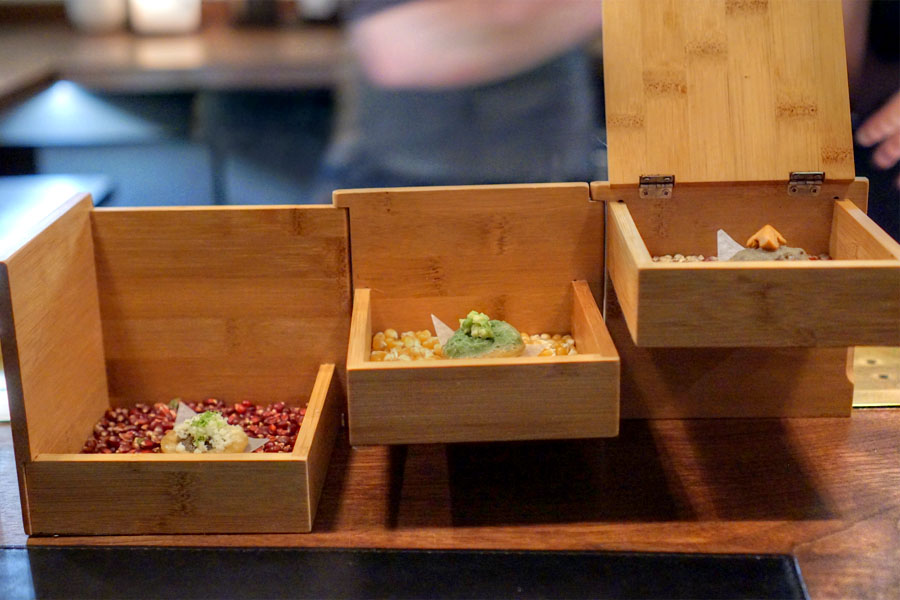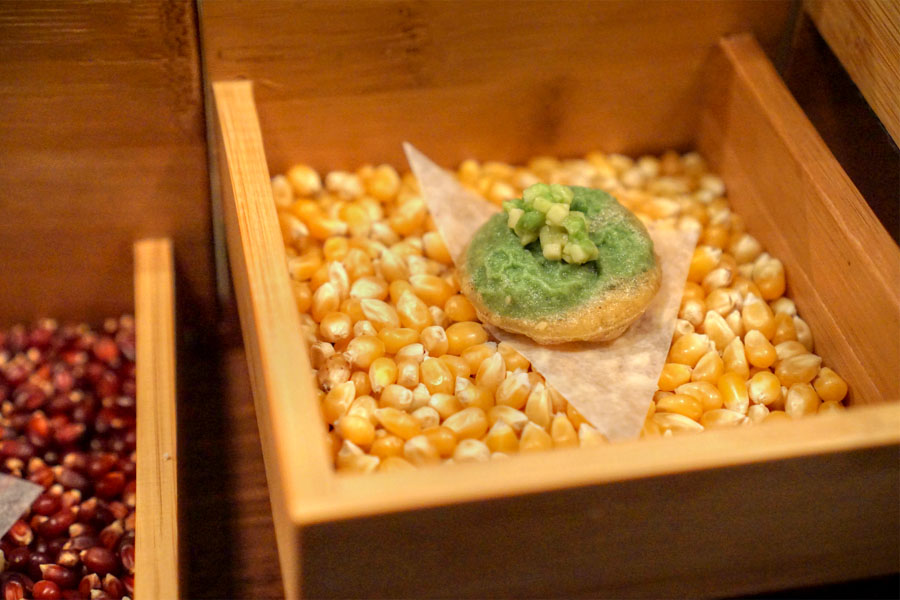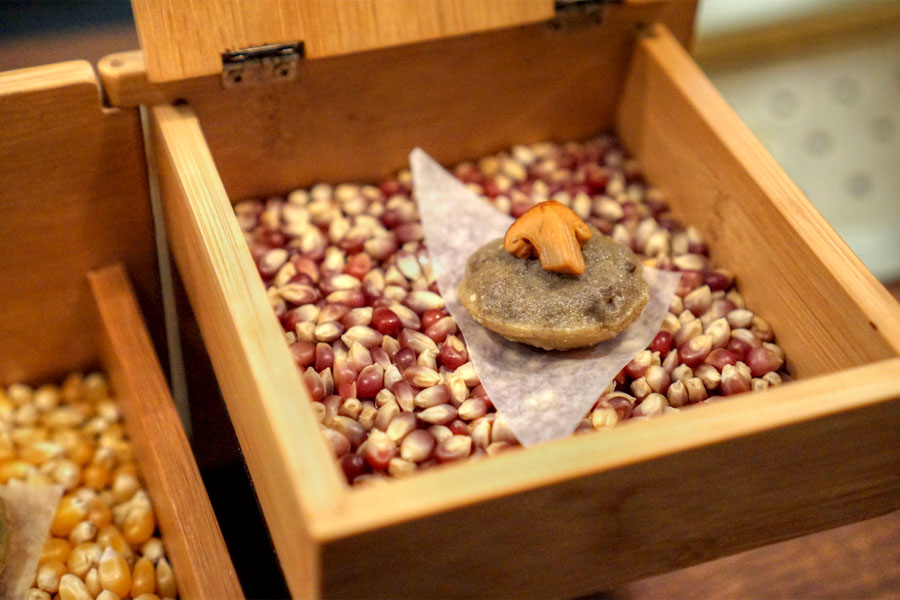 1: Chips & Dip
| Smoke Mushroom & Huitlacoche / Mole & Garlic Crema / Salsa Verde
Cava Gran Reserva, Gramona,
La Cuvée
, Penedès, ESP, 2013
The first proper course arrived in a wooden box, which folded out to reveal three different takes on chips 'n' dip. I went from right to left (as recommended), beginning with the smoked mushroom with
huitlacoche
, topped with chanterelle. It was delightful, displaying a bevy of smoky, spicy, funky flavors in a creamy, crunchy package, all with a tangy finish. In the middle was the salsa verde, which was super bright and tart at first, but had the corn really making itself known on the back end--a great to and fro. Last was a circular chip topped with a 50/50 split of mole negro and garlic crema as well as crumbles of
cotija
. This one ate beautifully as well, conveying loads of earthiness and smoke from the mole, tempered by the crema and cheese while the finish gave up a lingering heat. Overall a very strong start to the meal, and I could've easily put away a dozen more of these guys.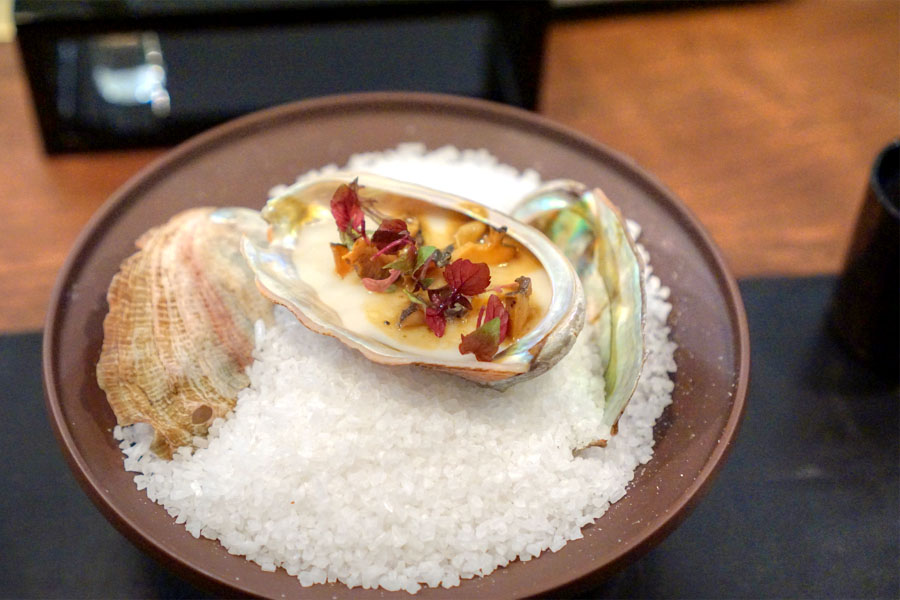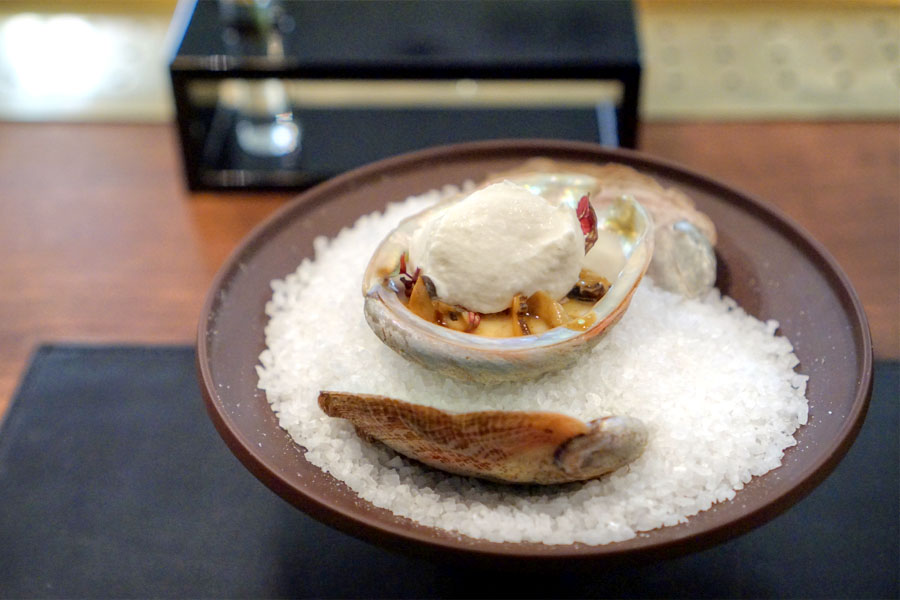 2: Abalone Panna Cotta
Nigori Sake, Hakutsuru,
Sayuri
, JAPAN, (720ML)
Next was an abalone panna cotta incorporating abalone bits braised in soy, sake, and dashi. Also present was a vinaigrette made from the reduced braising liquid, shiso, and a dollop of salsify whipped cream. I found the course absolutely teeming with briny, umami notes, which were evened out by the earthiness of that salsify as well as the generous helping of herbs up top. Texturally, I appreciated how the meaty chunks of abalone provided a textural contrast to the smoothness of the panna cotta. On the beverage side of things, I was given an unfiltered sake, which made sense. It showed off creamy, fruity nuances of peach and melon, with rice and alcoholic heat underneath, and its sweetness was actually teased out even further when taken with the food.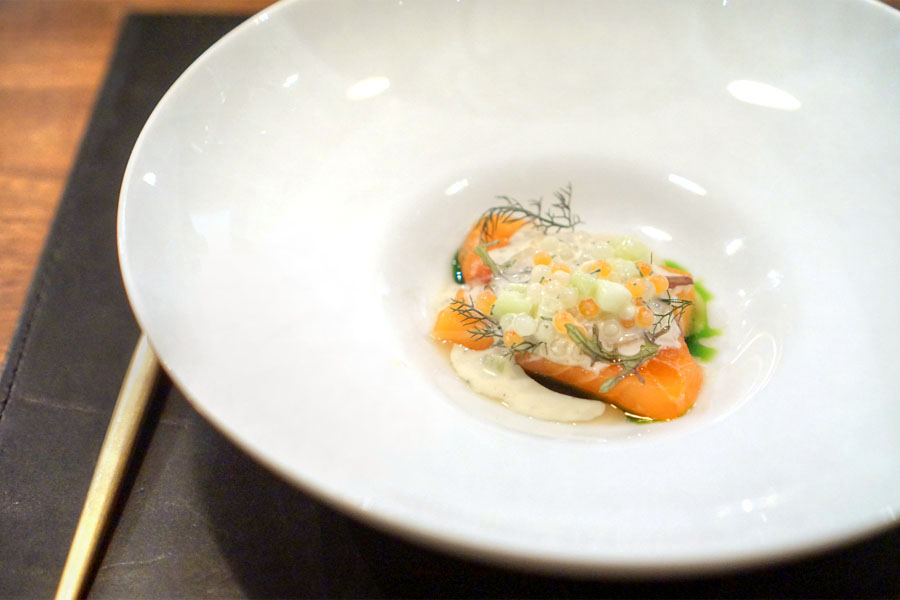 3: Barely Cooked Salmon with its Roe & Vin Blanc
Riesling Trocken, Karthäuserhof,
Eitelsbacher
, Mosel, GER, 2015
Vancouver salmon was cured for 45 minutes, sous vide'd for three minutes, then served with a classic
vin blanc
studded with tapioca pearls, trout roe, and finger lime. The fish was spot on, its smoky, saline characteristics perfectly matched by the bright, robust flavors of its accompaniments. I especially appreciated all the textural variation in the dish. As for the paired wine, I found it delicious and fun to drink. Fresh fruit flavors were joined by a very pleasant acidity, and the ingredients in the course seemed to make the Riesling even more vivacious.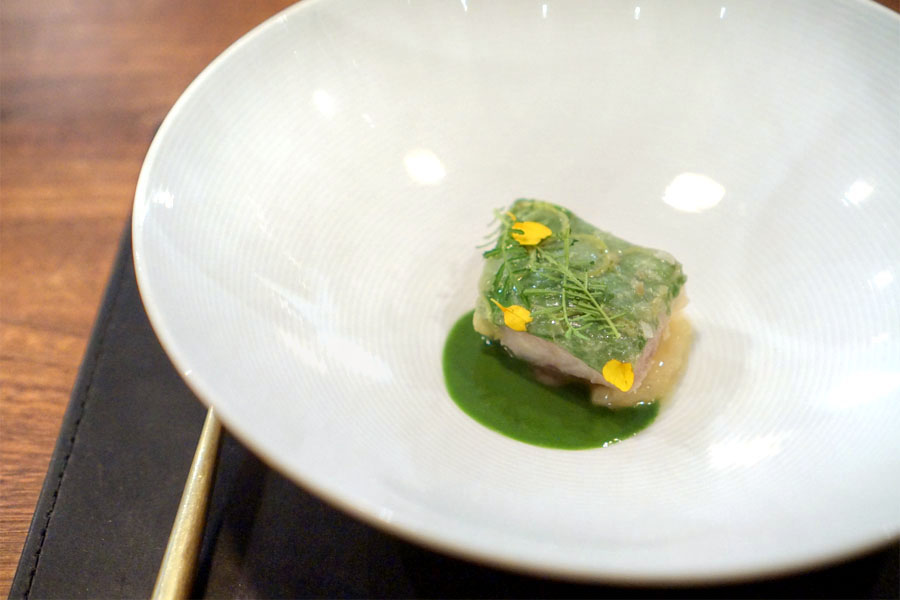 4: Bass "Veronique"
Riesling Trocken, Karthäuserhof,
Eitelsbacher
, Mosel, GER, 2015
The second fish course was a winner as well. An homage to the traditional Escoffier dish typically made with sole, we had here bass, shingled with thinly sliced green grapes, with grape chutney and a dressing of parsley, lemon, chamomile, and vouvray. I found the fish meaty, substantial, yet fine-spun with its ocean-y qualities. The accompanying sauce provided a wonderful offsetting piquancy and herbaceousness, while the chutney imparted a sweet-tart element.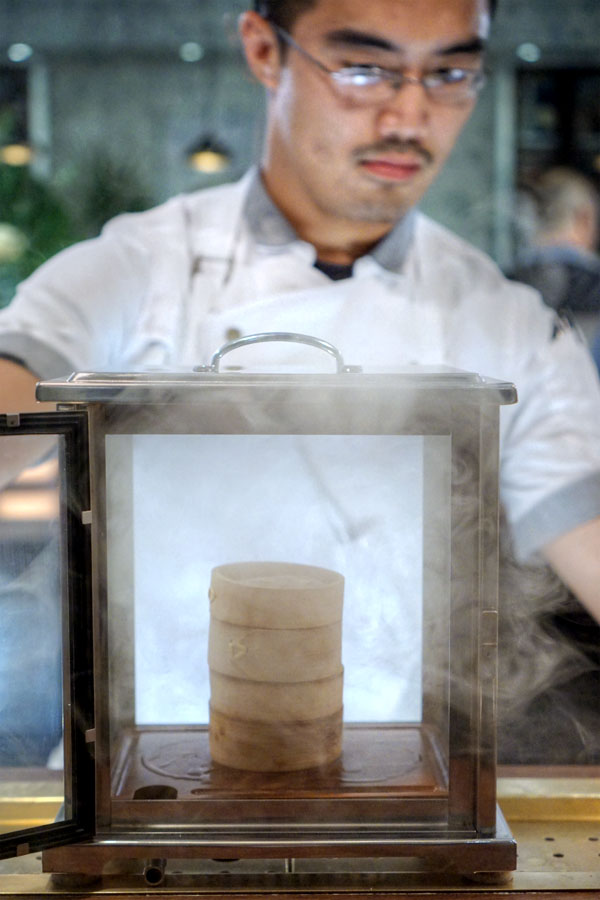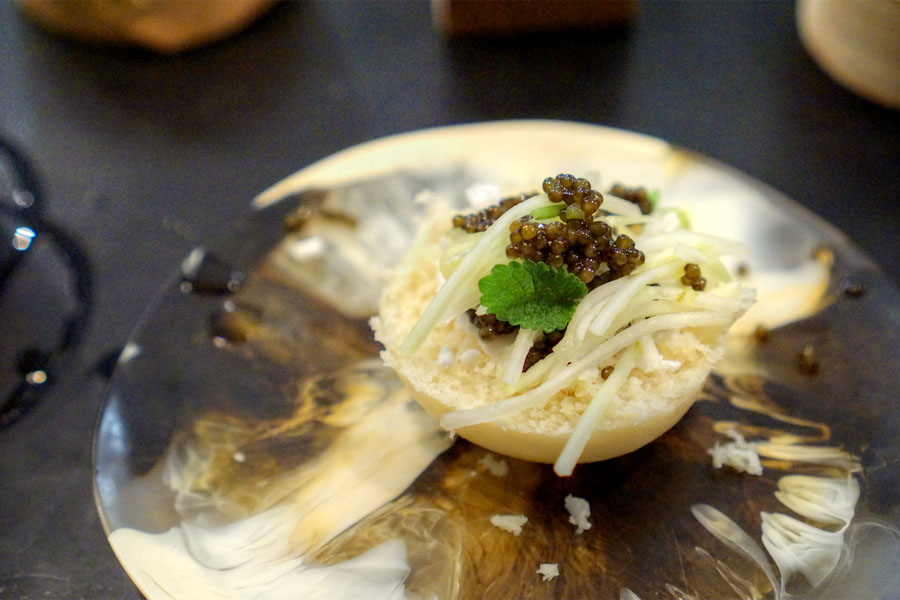 Supplement: Grilled Ossetra Caviar [$60.00]
| steamed rice bao, pickled green papaya, coconut crème
Puligny-Montrachet, Domaine Bzikot,
Les Folatières
, Burgundy, FRA, 2007
The caviar course was a fun one for sure. Royal ossetra from Bulgaria was smoked for 20 minutes on Virginia oak, then grilled. It was accompanied by a rice porridge
bao
bun, coconut cream, and a papaya-mango salad. Since I'd never had the roe prepared like this before, I first tried it alone, and got some nutty flavors along with a deep, saline, powerful funk that lingered long and strong; there was also a seaweed-like character that was intriguing. Next, I piled all the ingredients together into an open-faced sandwich of sorts. I got a lovely contrast of both taste and temperature between the caviar and the sweet coconut crème, while the pickled veggies offered both acidity and crunch. Interestingly, the food seemed to smooth out the flavors of the paired Chardonnay, which at first had a buttery, funky, hay-filled nose and a palate heavy on the barnyard, grass, and fruit.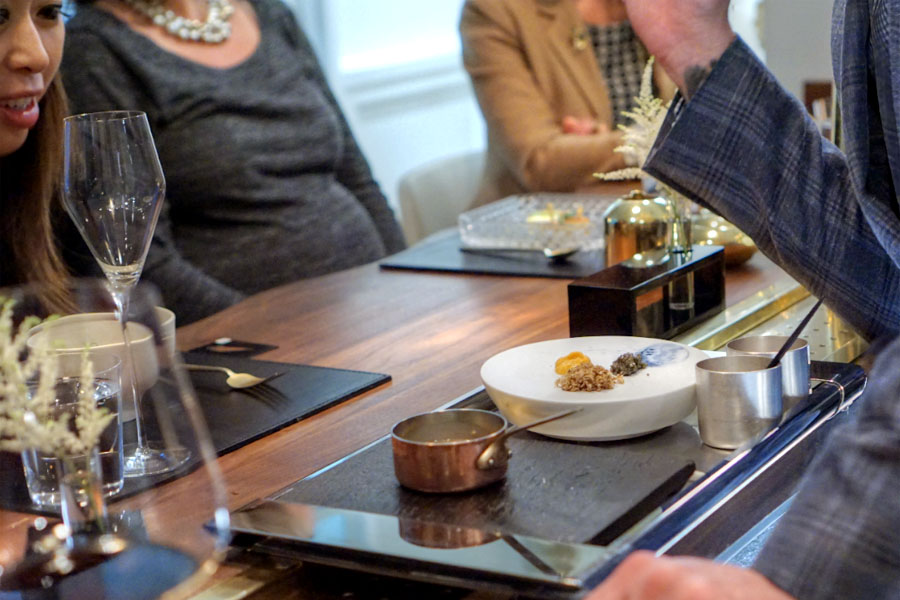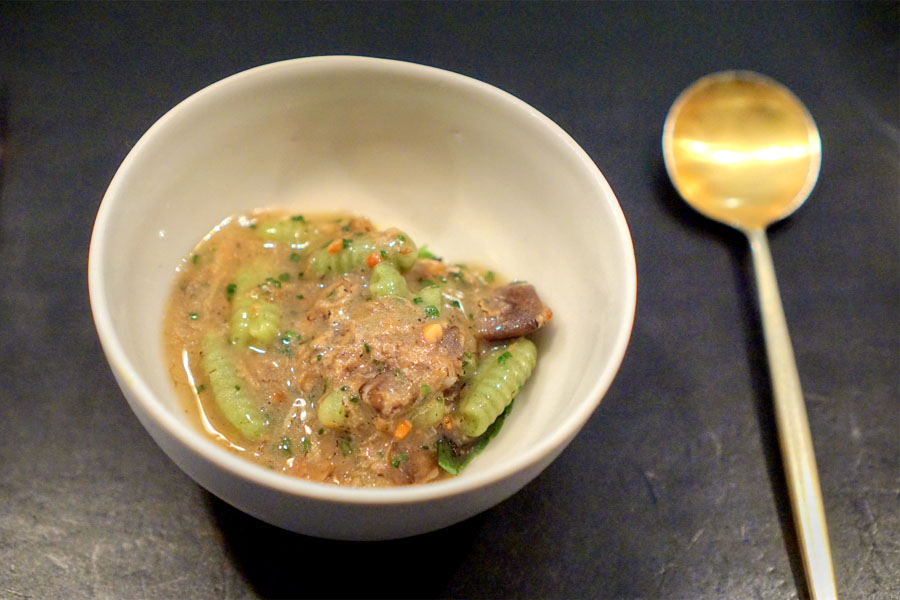 5: Lovage Cavatelli, Chanterelle Mushrooms, Choice of Luxury
Puligny-Montrachet, Domaine Bzikot,
Les Folatières
, Burgundy, FRA, 2007
My next course was also an interactive one, though unfortunately I forgot to snap a photo of the setup, so we'll have to make do with a pic of a fellow diner's spread. We had here cavatelli with chanterelle, porcini confit, lovage sofrito, and puffed buckwheat. To this, there was a choice of three mix-ins: uni from Maine, West Coast paddlefish caviar, or Burgundy truffle. I went with the truffle per Elizabeth's recommendation, and was able to (separately) get a bite of the urchin as well. The end result was a pasta course that was cozy and comforting, but also inventive. The lovage really made itself known, and worked swimmingly as a foil to the intensely woodsy mushroom-on-mushroom action going on. Excellent crunch from those bits of buckwheat, too.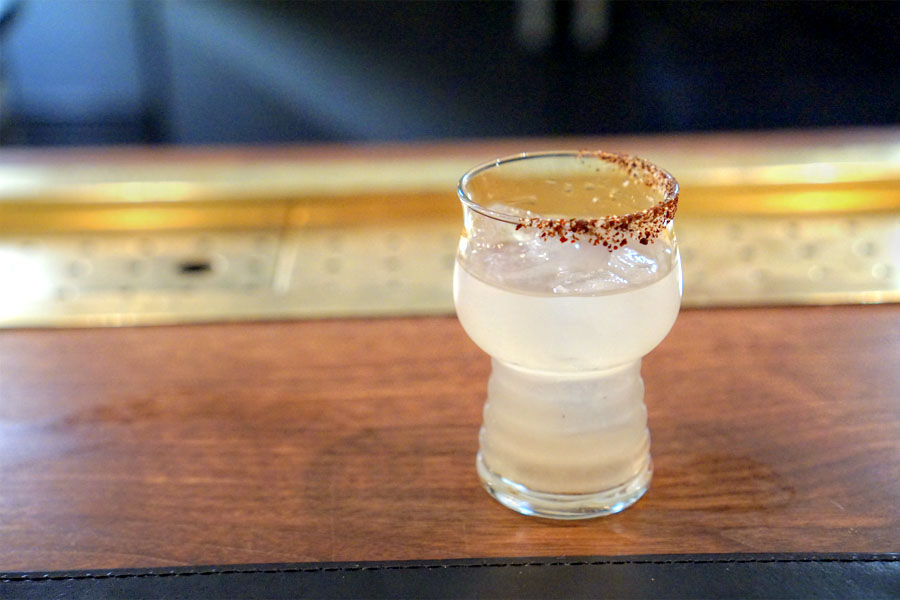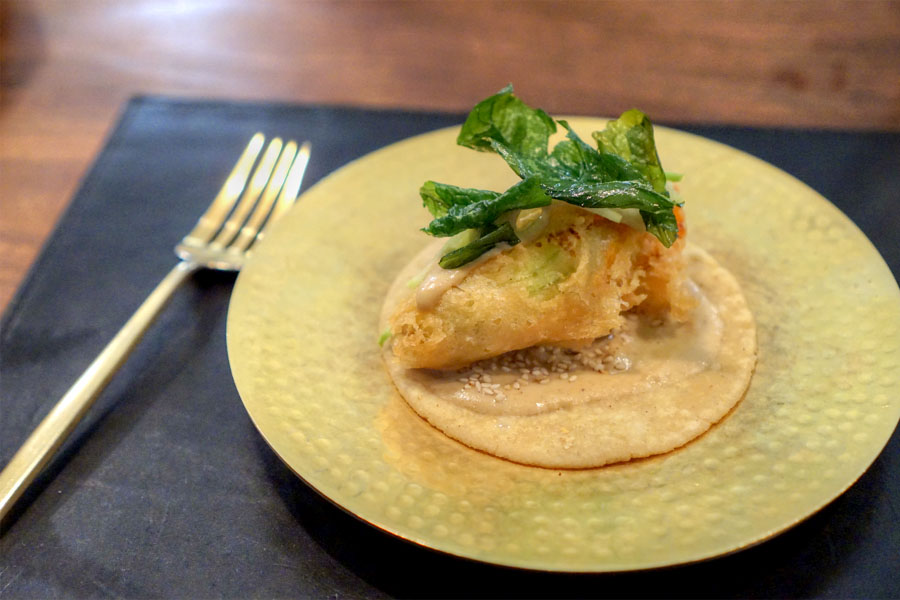 6: Squash Blossom Taco, White Mole & Fried Herbs
Mezcal Paloma
The pairing of a Paloma with this next course seemed apropos. The cocktail showed off a bouquet filled with smoke and citrus, as well as the spice of
chile-limón
, while its taste went in a vegetal, smoky, citric direction. It worked with taco, while I'd put up against any of the "fancy" ones we have here in LA. A squash blossom was filled with ricotta and Fresno chile, covered in flour, and fried, then topped with fried herbs and julienned Mexican squash. Spread across that thick, hearty tortilla was a white mole with almonds, cashews, habanero, and about 15 other ingredients. Taken all together, this made for no doubt one of my favorite bites of the meal. The interaction between the crispy blossom and its creamy insides was just about perfect, and I loved the sweet, nutty flavors of the mole as well as the creeping heat in the dish.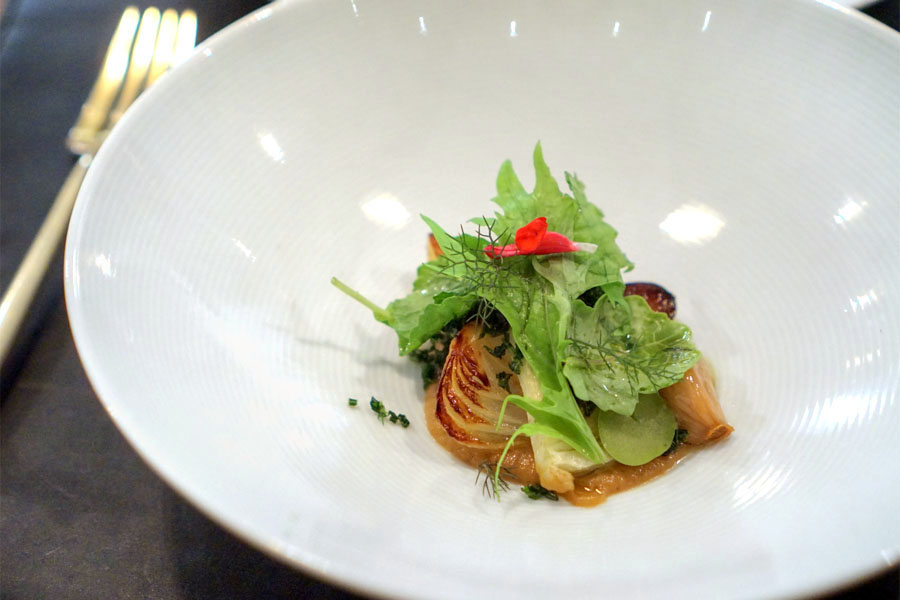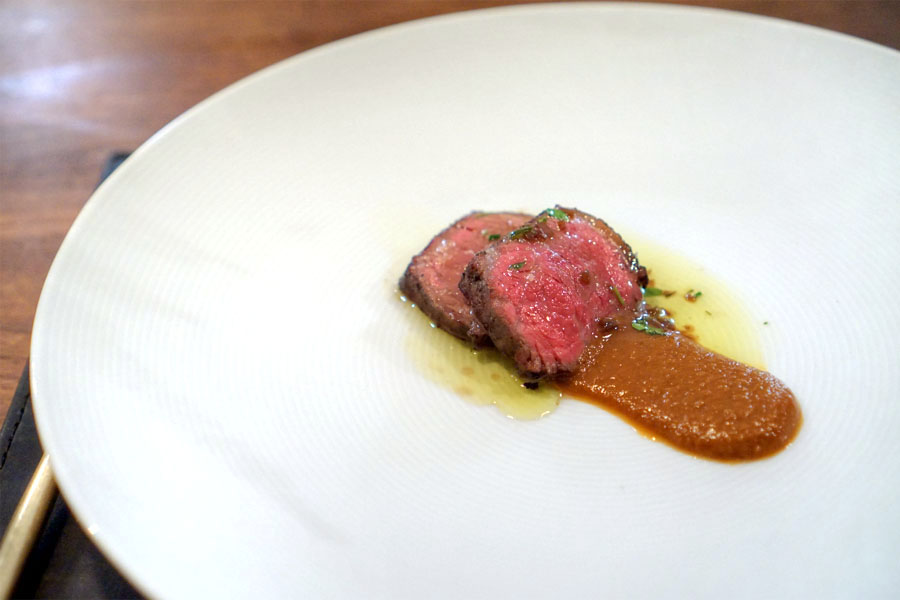 7: Grilled Australian Wagyu & Summer Vegetables
Rioja Reserva,
Imperial
, C.V.N.E., ESP, 2012 (MAGNUM)
For our final savory, a top sirloin cut of Australian wagyu was smoked and grilled, then set atop a black olive "tapenade" and sherry vinaigrette. On the side was a bowl of vegetables, which included a smoked eggplant purée, potato, and poached garlic. I was advised to mix the beef right into said bowl, and I complied. The beef had just enough chew to it, as well as a tasty marriage of smoke and fat. The veggies moderated the dish, and I was especially a fan of the potato. Given the Spanish influences in the course, the accompanying Rioja made sense. Lots of pepper and dark fruit on the nose, along with a noticeable alcoholic heat. The palate went dry, tannic, with more pepper, spice, and rich berry notes appearing in the middle.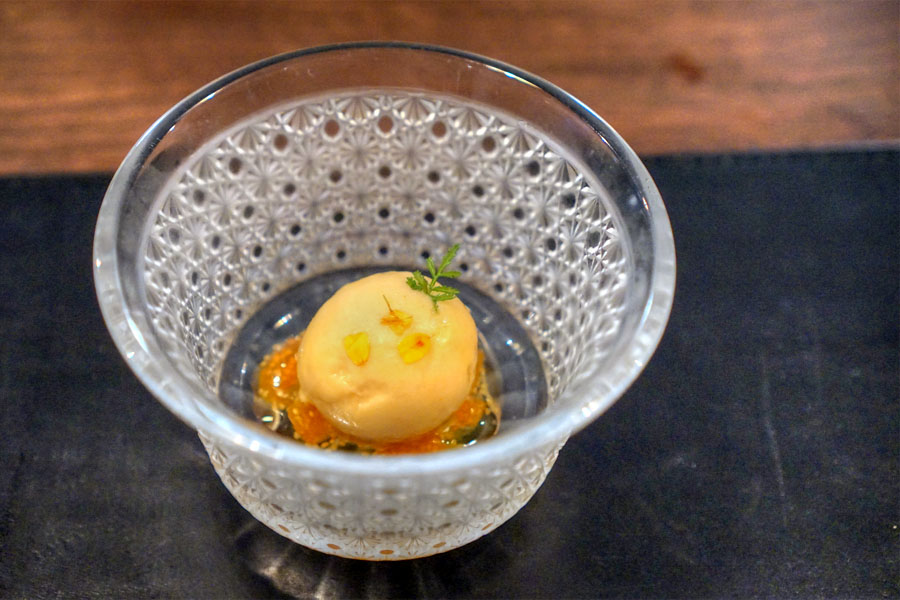 8: Sun Gold Tomato Sorbet & Gooseberry Jam
This palate cleanser of sorts combined a super intense, true-to-life tomato sorbet with a gooseberry jam. I liked the restrained sweetness in the course, and there was a great touch of saltiness to boot.
9: Pecorino Cake with Pesto Ice Creams
Madeira,
Dry Rainwater
, Broadbent, POR, NV
The pesto-inspired dessert combined a toasted pine nut-basil-olive oil gelato with warm pecorino pound cake, pecorino
fricco
, and microgreens. The tri-layer ice cream was superb, and really did recall the classic sauce. It worked flawlessly with the rich, dense pecorino cake (which almost had a donut-like goodness), and I loved the fried shards of cheese as well. For the beverage pairing, I of course tried the sweet, nutty, oxidative Madeira. However, Elizabeth also offered me a glass of the beer from the off-the-beaten-path pairing: the Andechser Doppelbock Dunkel from Klosterbrauerei Andechs. I actually preferred it, with its sweet, malty, grainy notes, distinct nuttiness, and hints of caramel and dark fruit.
10: Fruit Plate
We closed with a reinterpreted fruit plate, one featuring sour,
suanmei
-like candied quince, smoky brûléed fig, and a fun frozen banana-dark chocolate lollipop.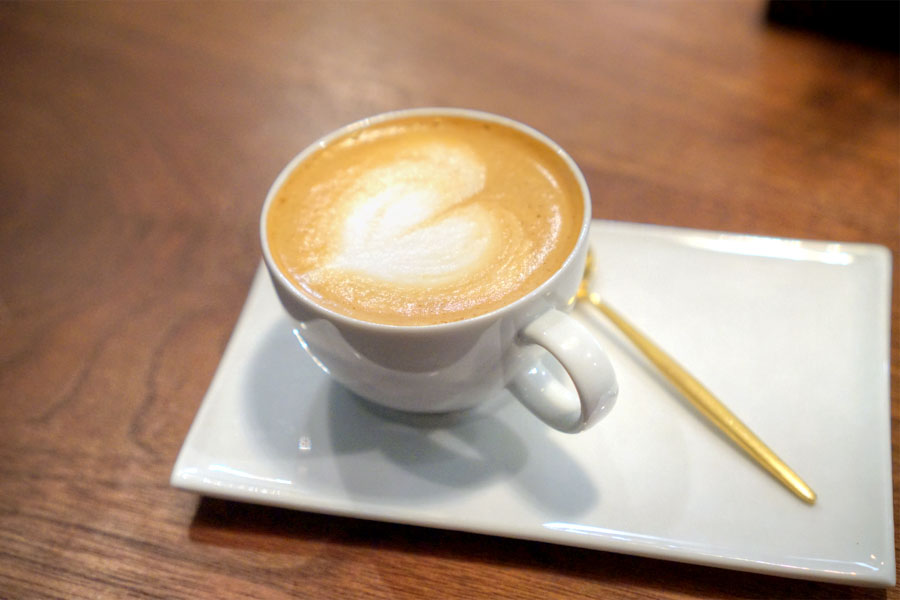 A complementary cup of macchiato hit the spot.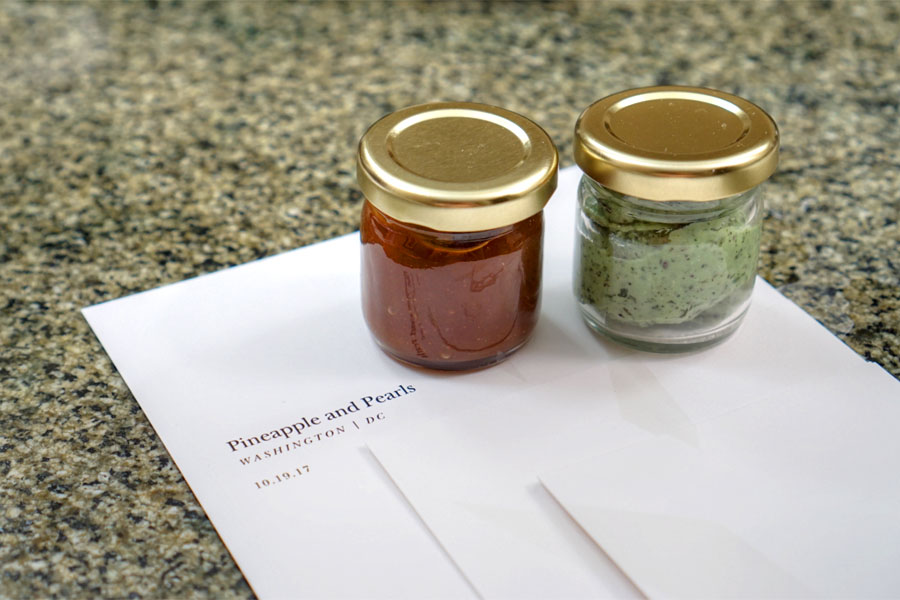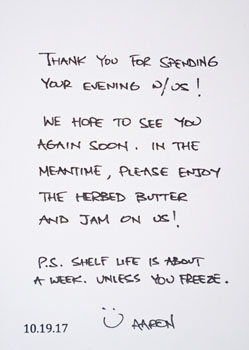 Takeaway gifts of jam and herbed butter were accompanied by a thank you note from the Chef. Click for a larger version.
Pineapple & Pearls represents a bit of an unconventional take on fine dining, and I have to say that I really enjoyed myself here. Silverman's cooking doesn't necessarily have as much of a modernist aesthetic as you might expect. Rather, the key here is the playfulness of the cuisine, its interplay between traditional and reimagined, how it can simultaneously be both whimsical and elegant. Fittingly, the service had a lighthearted, relaxed quality to it, but at the same time, was always polished and efficient. I can definitely see why a lot of people deem this DC's best restaurant. Indeed, if you ever find yourself in the area, Pineapple & Pearls should for sure be high on your "to-eat" list.