ink.well (Los Angeles, CA)
ink.well Restaurant
826 N La Cienega Blvd, Los Angeles, CA 90069
310.358.9058
www.mvink.com
Sat 10/14/2017, 07:30p-11:00p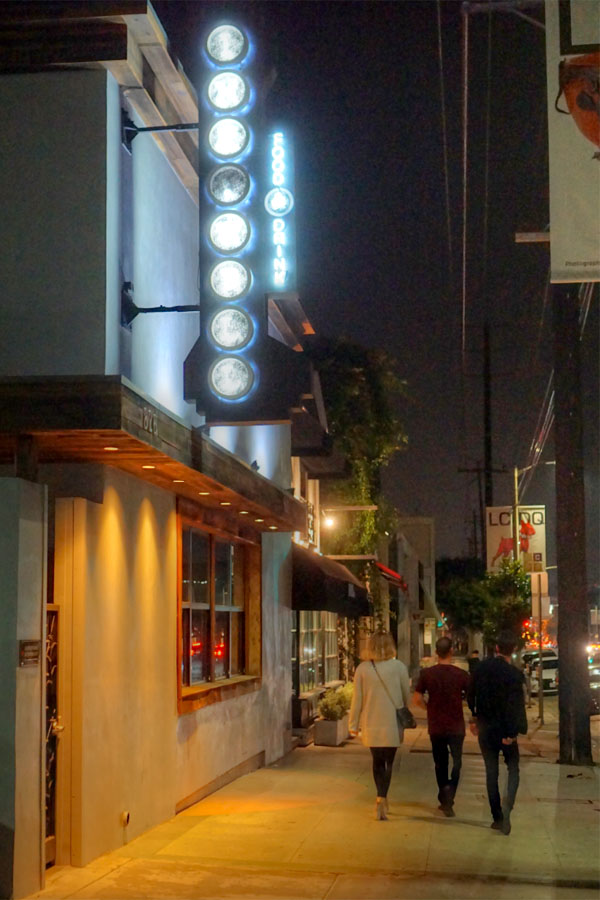 My final visit to Michael Voltaggio's
ink
was on July 16th, and just days later, it was announced that the restaurant would be closing at the end of that month. It was a surprising shutter to me, but what was also surprising was how the Chef opened up its replacement just weeks later, on August 11th, in the old Hutchinson space not even a half-mile away. Ink.well is ostensibly designed to be more approachable than its predecessor, so we decided to give it a try to see if that was actually the case.



Before it was James Trees' Hutchinson, the building previously held The Spanish Kitchen (which wasn't actually Spanish, but Mexican), southern eatery The Shark Bar, La Mer Brasserie, Alzaco's, Manhattan West, and The Lobster Barrel, which was actually owned by Alan Hale Jr. of
Gilligan's Island
fame. The space was apparently revamped by Voltaggio himself, and features a bi-level main dining area along with another room to the side and a narrow patio out front.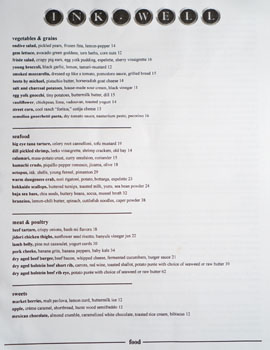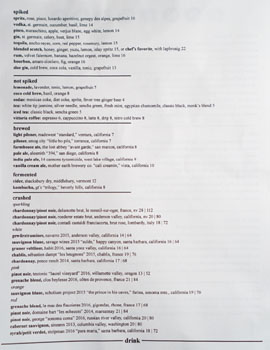 Compared to that of ink, the menu here's slightly more casual I'd say, but still has a very similar aesthetic. And in fact, many of the dishes are nearly identical, if not identical identical. Drink-wise, you get cocktails from barman Otello Tiano, a half-dozen beers, and appropriate wines. Click for larger versions.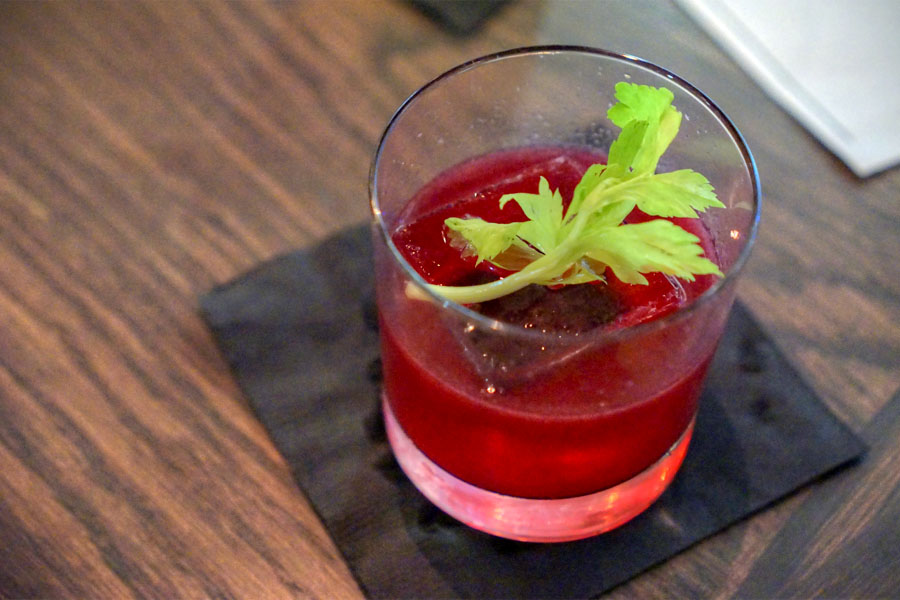 gin [$15.00]
| st. germain, celery, beet, lime
A couple of my dining companions had arrived early and ordered drinks at the bar, and I was able to give 'em a try. The first was somewhat reminiscent of a Bloody Mary, with an earthy sweetness from the beet paired with strong, vegetal notes of celery. A well constructed cocktail, though not exactly my cup of tea.
blended scotch [$15.00]
| honey, ginger, yuzu, lemon, islay spritz
The next cocktail--basically a Penicillin variation--married tart citrus and zesty ginger with the sugariness of honey. This was all layered over a base of whiskey, which really made itself known on the mid-palate.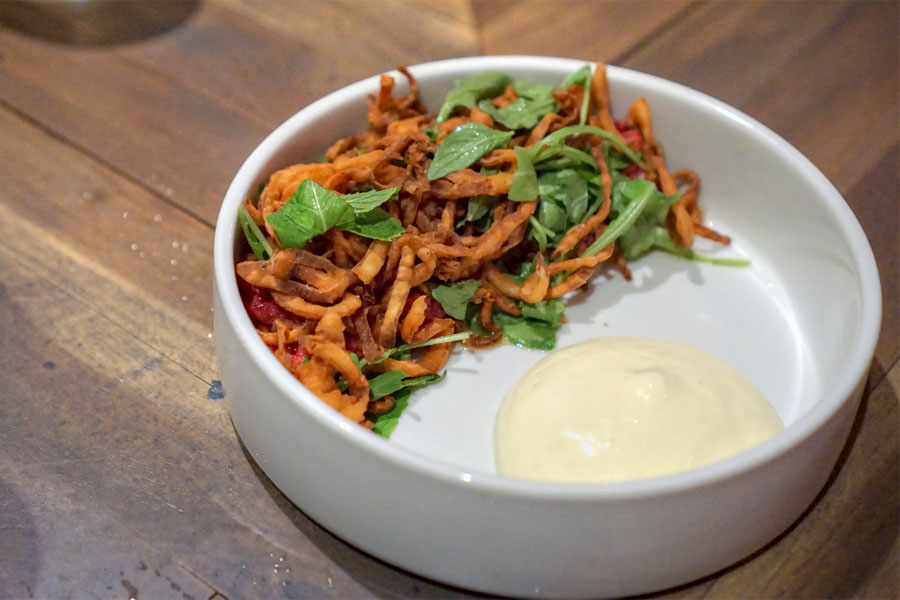 beef tartare [$18.00]
| crispy onions, banh mi flavors
Our first dish was an interesting take on the classic beef tartar. Texturally, I wanted more substance from the meat, as it seemed to get overshadowed by the mounds of crunchy onions. The flavor profiles worked though, with the aerated fish sauce providing an overarching funk and creaminess that really meshed with the beef and basil.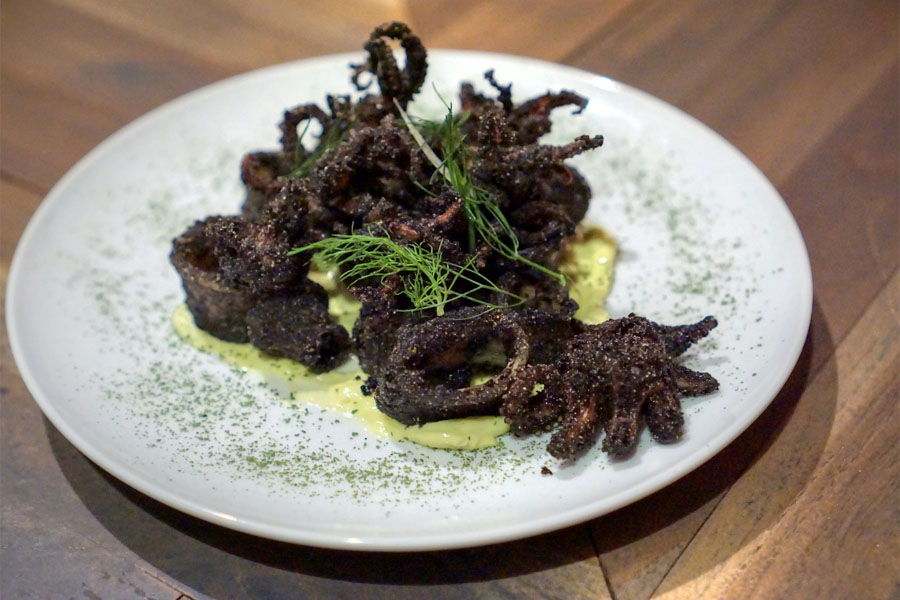 calamari [$15.00]
| masa-potato crust, curry emulsion, coriander
The squid was a favorite, its considerable brine well-matched with the astringent, herby qualities of coriander powder. I loved the texture of the calamari too: crunchy, yet light, with a slight grittiness.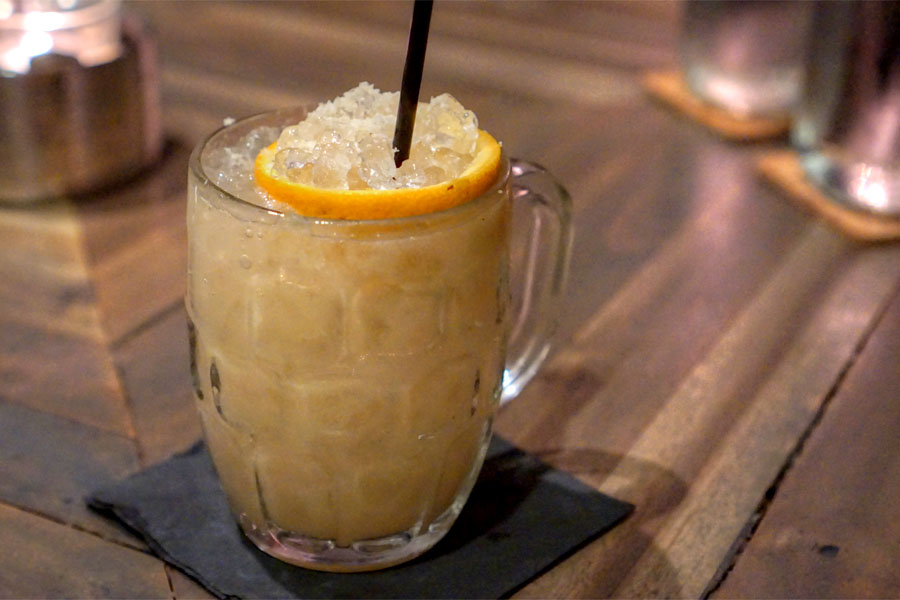 rum [$16.00]
| velvet falernum, banana, hazelnut orgeat, orange, lime
This was described by our server as a tiki-inspired cocktail, which makes the choice of serving it in a standard beer mug seem odd. That being said, it was damn tasty, coming out loaded with fruity, sweet, and spicy flavors as well as a familiar, almost savory quality. Very light on the booze, with a great nuttiness on the finish.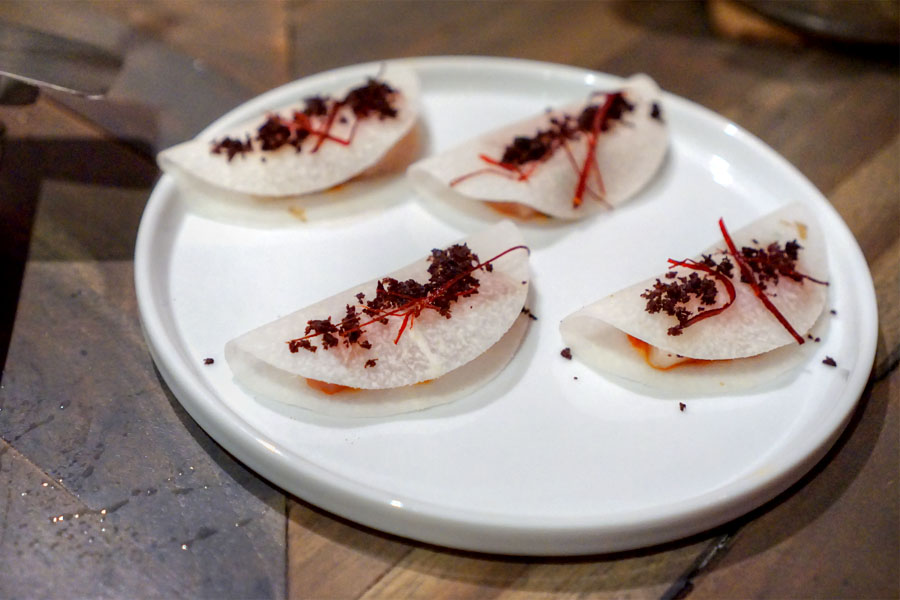 hamachi crudo [$18.00]
| piquillo pepper romesco, jicama, olive
Hamachi "tacos" were lovely. I found the fish itself meaty and fatty, with a oceany character that married well with the savory, nutty, somewhat spicy notes present. There was also a "funky" quality on the back end (perhaps from the olives) that I quite liked, and I appreciated the contrasting crunch from the jicama, too.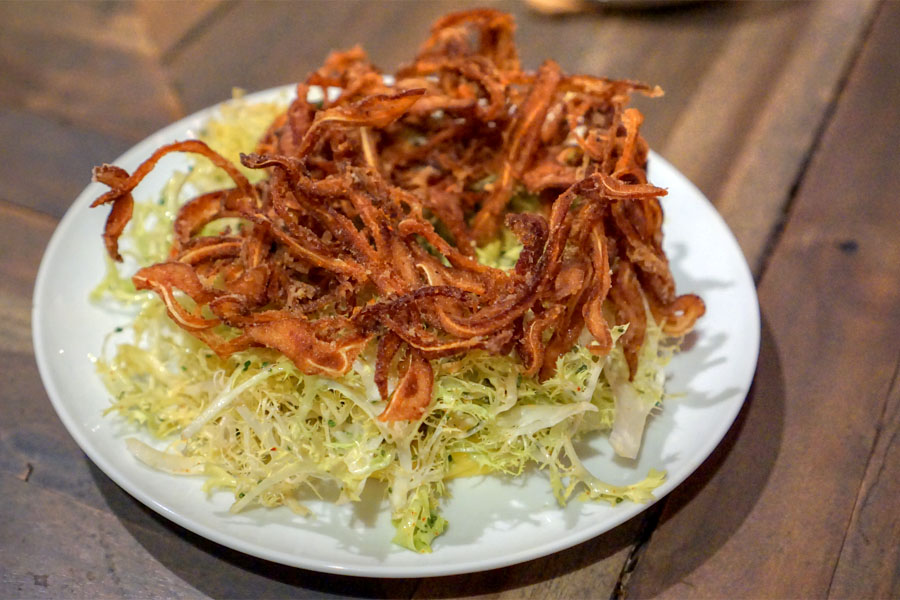 frisée salad [$16.00]
| crispy pig ears, egg yolk pudding, espelette, sherry vinaigrette
A riff on the iconic
salade lyonnaise
was next. Shards of pig ear played the role of lardons, providing a salty, crunchy element that just made sense with the rich, creamy egg pudding and tangy vinaigrette.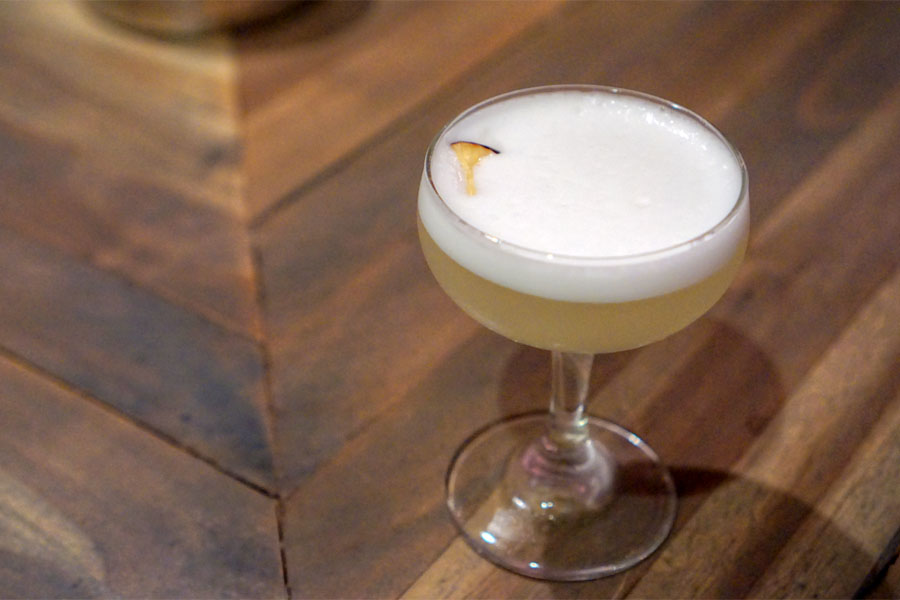 pisco [$14.00]
| maraschino, apple, verjus blanc, egg white, lemon
A take on the pisco sour met the mark. The cocktail displayed a somewhat chocolate-y quality that I enjoyed, which played well with the bitter, grapey nuances present as well as the drink's eggy aromatics.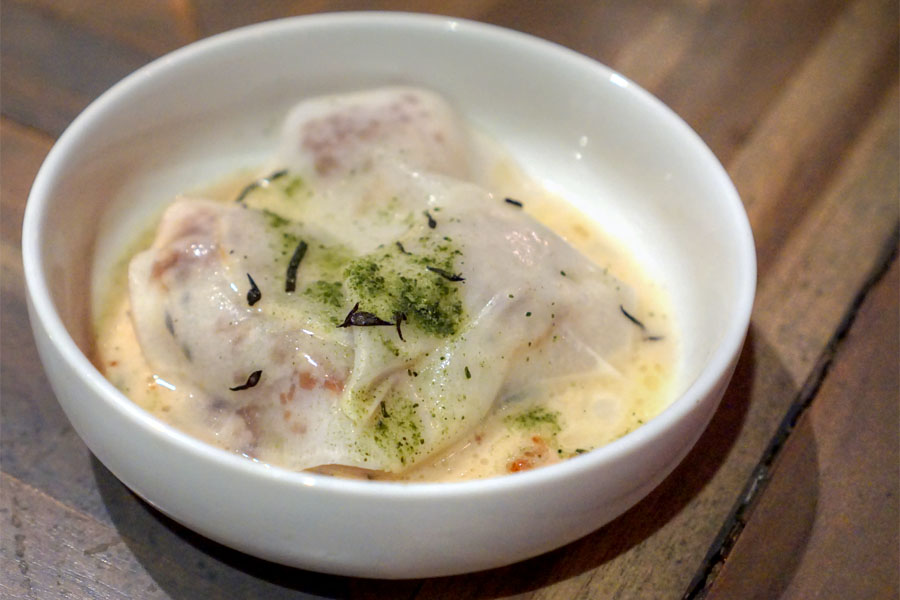 hokkaido scallops [$24.00]
| buttered turnips, toasted milk, yuzu, sea bean powder
This was the weakest course of the night for me. My first issue was that I wanted more oomph to the actual scallops. More concerning, though, was the toasted milk, which imparted a lactic quality that seemed rather one-note, and not very harmonious with the rest of the dish. More acidity would've been nice, too.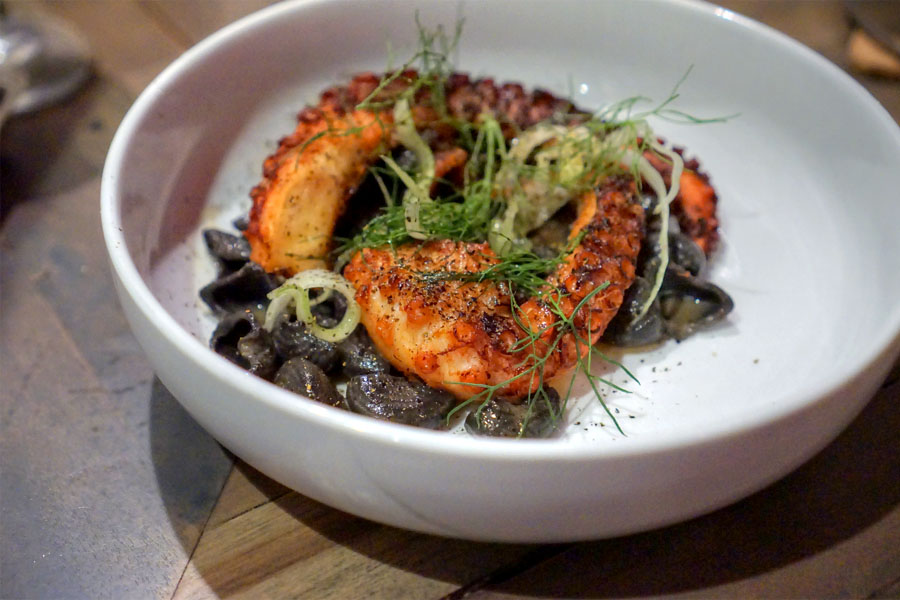 octopus [$29.00]
| ink. shells, young fennel, pimenton
This was a standout, not surprisingly. Texturally I found the octo firm, meaty, yet yielding, with a wonderfully crisp, charred exterior. It showed off a great mix of savoriness, spice, and funk that really satisfied, especially when paired with the zippiness of fennel. Great counterpoint from those pasta shells as well.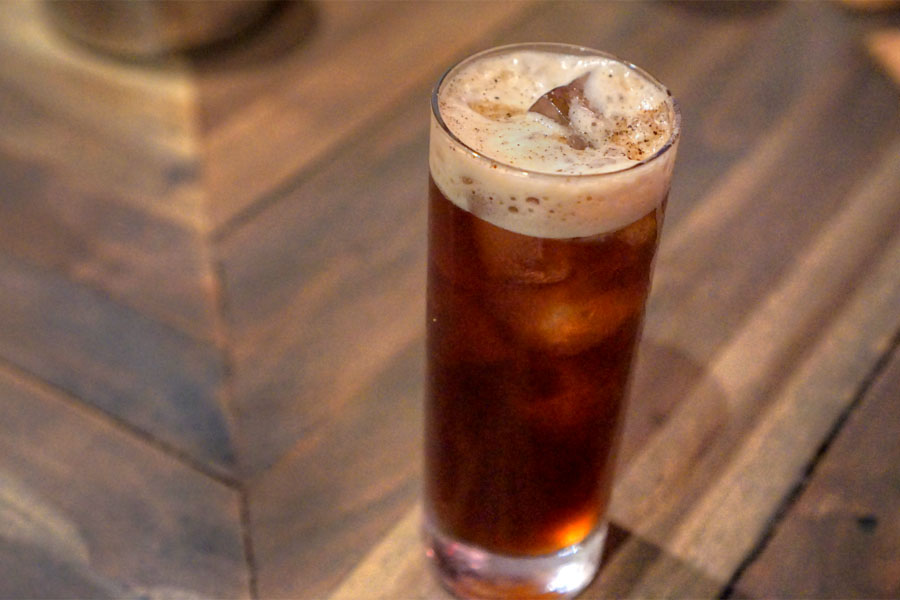 sloe gin [$13.00]
| cold brew, coca cola, vanilla, tonic, grapefruit
Our next cocktail was a favorite of mine for sure. Great coffee and cola flavors leading to a marked fruitiness and vanilla, with the finish giving up more long-lasting coffee. Light and easy.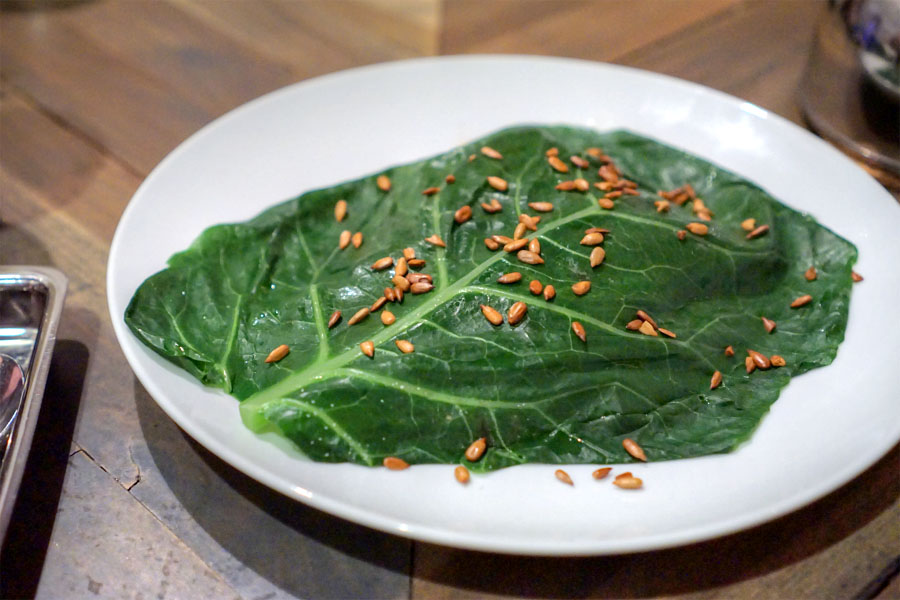 jidori chicken thighs [$22.00]
| sunflower seed risotto, banyuls vinegar jus
The Chef likes to play "hide the chicken" it seems. Hearty, tender, moist thighs made for another favorite. The bird was delicious alone, but I also loved the almost "crunchy" risotto and bitterness from the collard greens. Superb accent from the tangy vinegar, too. Mouseover for a secondary photo.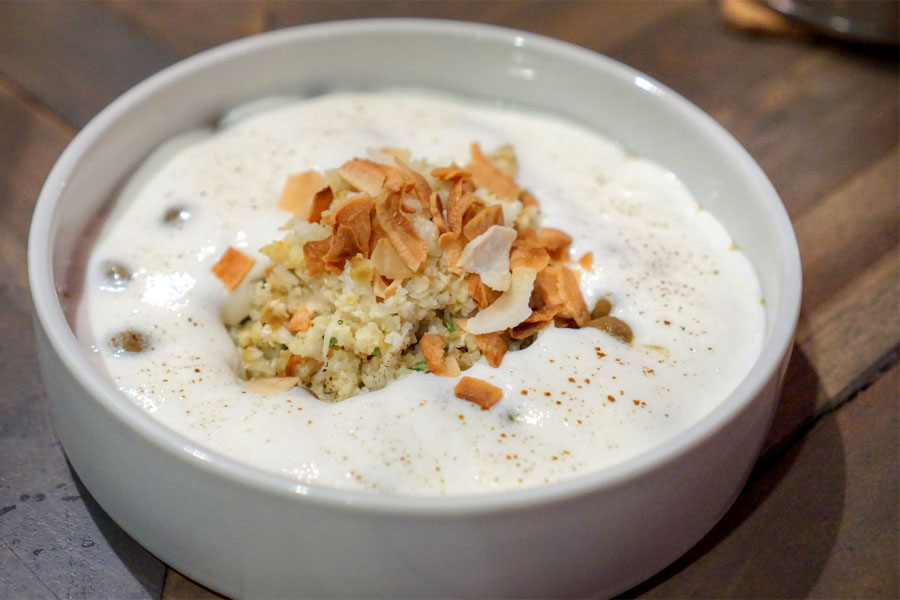 cauliflower [$14.00]
| chickpeas, lime, vadouvan, toasted yogurt
This tasted like Indian food (sort of like a
chana masala
with
raita
), which I didn't mind. I was a fan of the hefty garbanzos, and how they worked with the coconut-y, yogurt-y flavors at play and the pinpoints of sourness from the lime.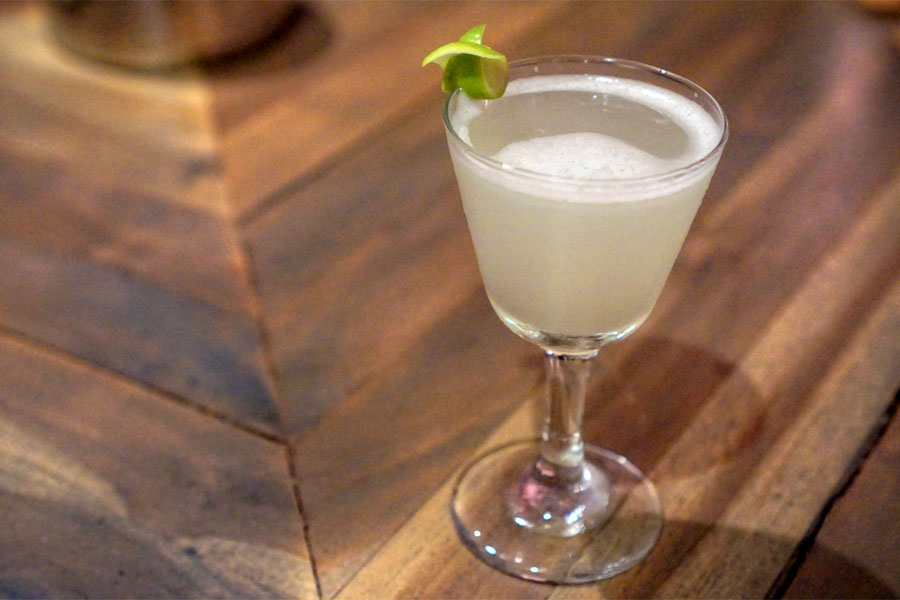 vodka [$14.00]
| st. germain, cucumber, basil, lime
The requisite vodka cocktail was another easy-drinker, displaying plenty of tart, refreshing citrus and sweet elderflower notes perked up by the application of basil.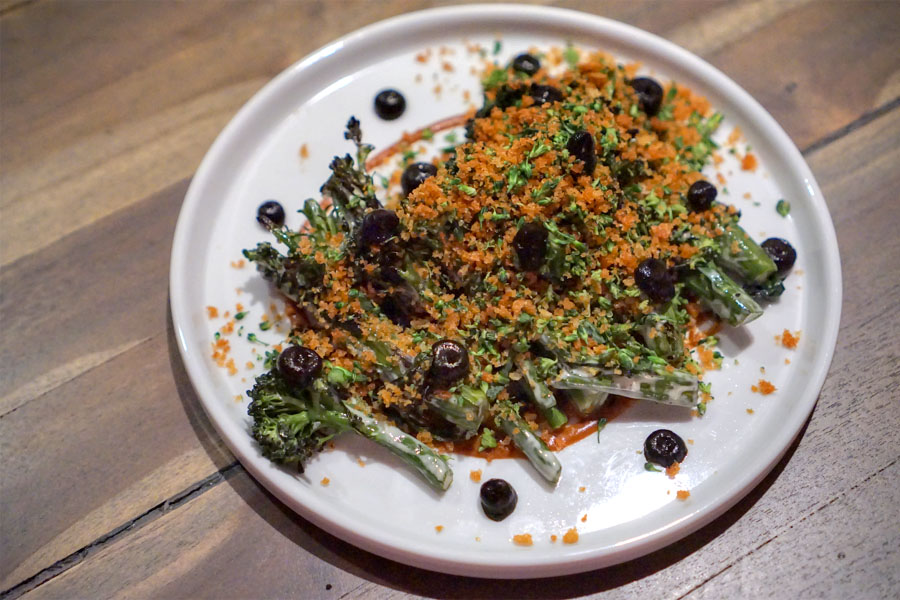 young broccoli [$12.00]
| black garlic, lemon, tamari-mustard
Baby broccoli was superb, delivering its signature crunch and bitterness alongside the piquancy of lemon and black garlic, the
tamari
and olives imparting a dose of umami to the mix.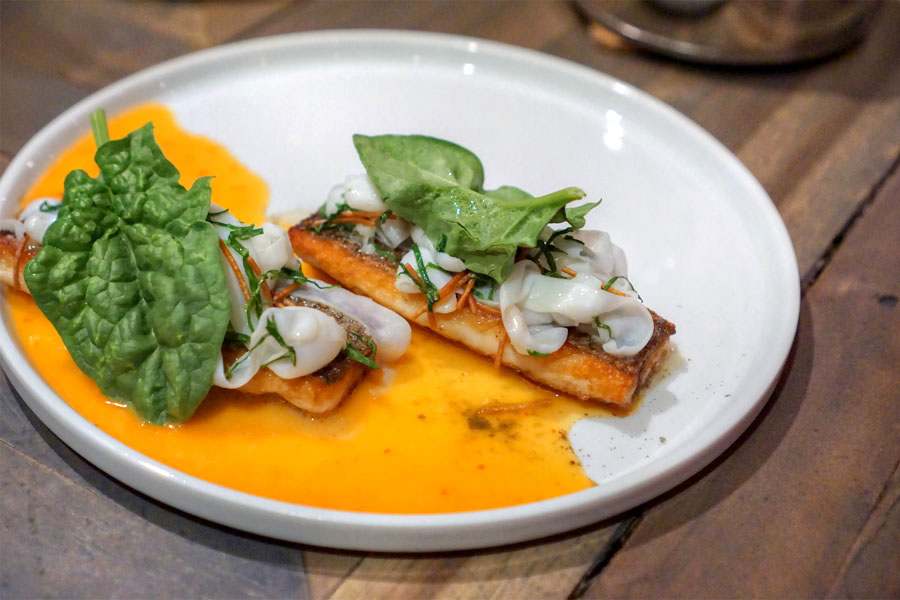 branzino [$38.00]
| lemon-chili butter, spinach, cuttlefish noodles, caper powder
The branzino was another highlight, arriving flaky and flavorful, with a wonderfully crispy skin to boot. The fish was thoroughly enjoyable all by itself, though I also liked the textural contrast from the cuttlefish.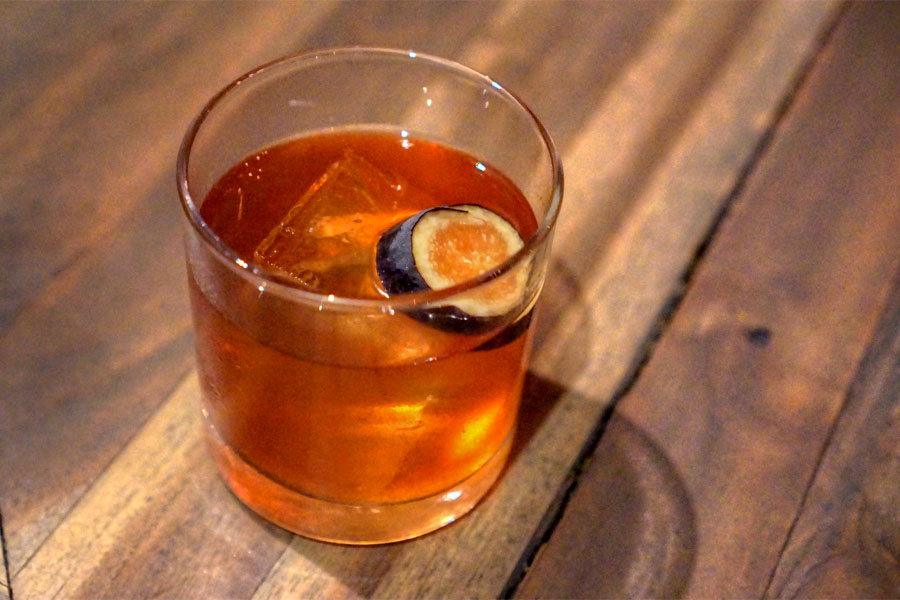 bourbon [$16.00]
| amaro ciociaro, fig, orange
This was the booziest cocktail of the bunch. Super aromatic nose brimming with sweet fig. The taste went in a medicinal direction, with a lot of heat, plenty of bittersweet, and a smidge of citrus.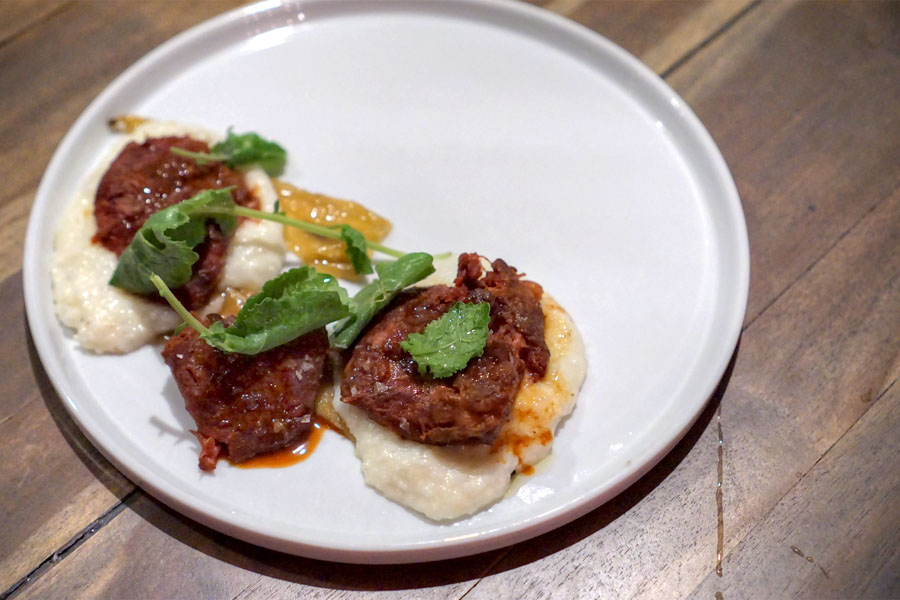 pork cheeks [$34.00]
| banana grits, banana peppers, baby kale
Pork came out ridiculously tender, with an almost gelatinous consistency. Its flavors were as rich and satisfying as expected, but what really surprised me were the grits, which had an unusual banana-powered sweetness that really sung when taken with the cheeks.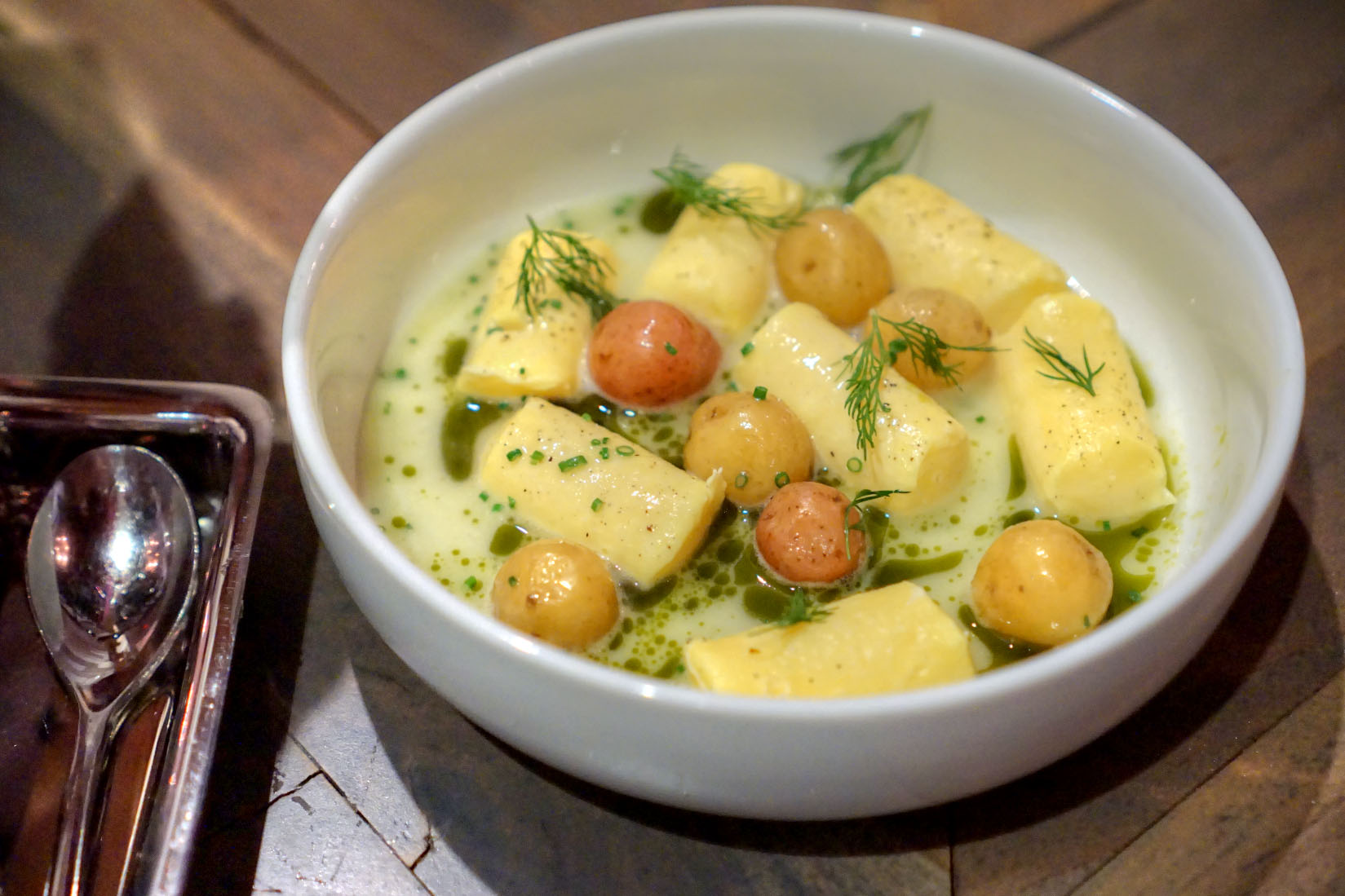 egg yolk gnocchi [$15.00]
| tiny potatoes, buttermilk butter, dill
Gnocchi were super soft, creamy, eggy, and sort of pop in your mouth. Given low luscious they were, the potatoes were key as a counterpoint, and I appreciated the use of dill as well.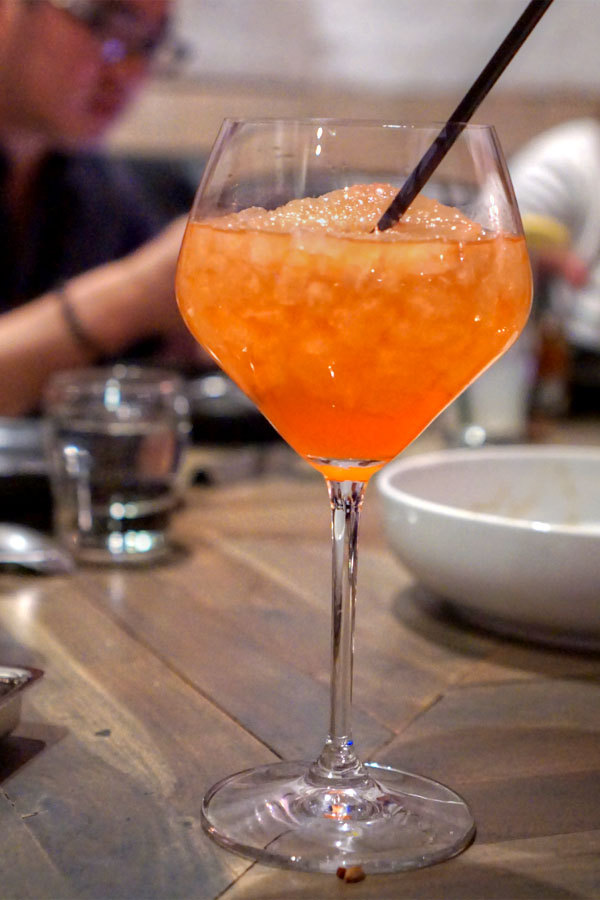 spritz [$16.00]
| rose, pisco, luxardo aperitivo, genepy des alpes, grapefruit
The spritz was expectedly gluggable, featuring a light astringency along with floral, botanical elements and a healthy dosing of grapefruit.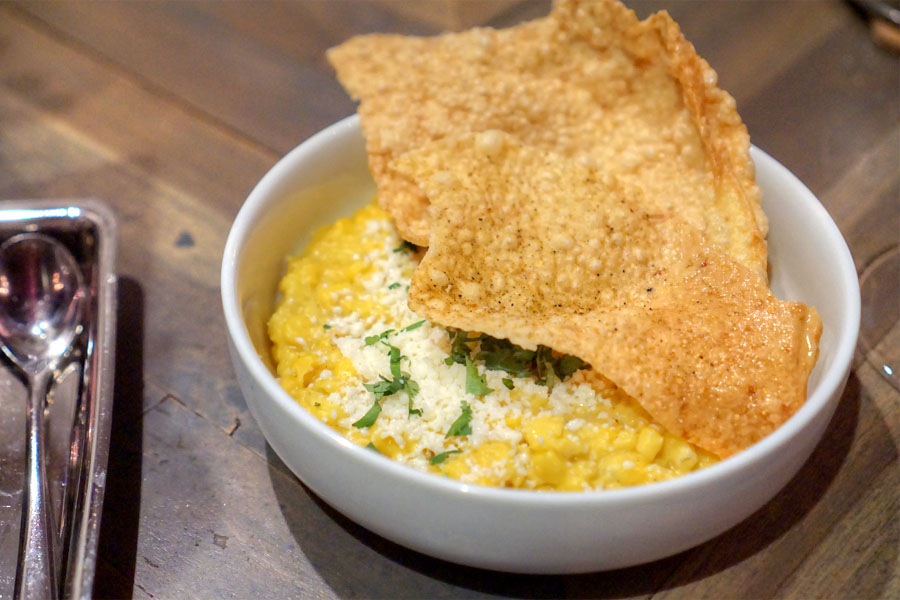 street corn [$13.00]
| cool ranch "foritos," cotija cheese
I was a big fan of this reimagined
esquites
. The kernels were beautifully textured, their sweetness working hand in hand with the cheesy, herby flavors in the dish. Excellent crunch from the chips, too.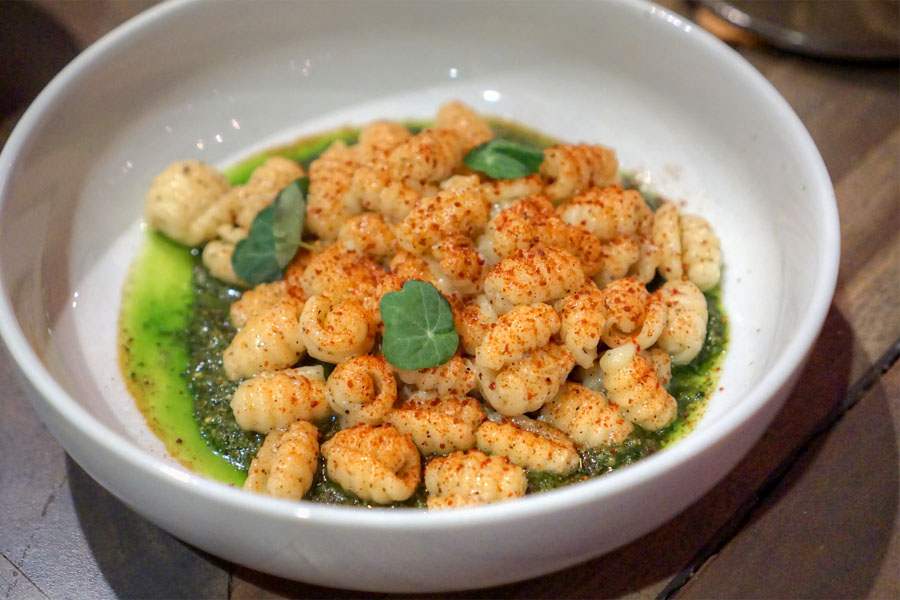 semolina gnocchetti pasta [$16.00]
| dry tomato sauce, nasturtium pesto, pecorino
The gnocchetti definitely had an al dente-like consistency going on. Taste-wise, I got lots of astringent notes from the nasturtium-laced pesto, which was actually a bit much, as the sauce tended to dominate the dish.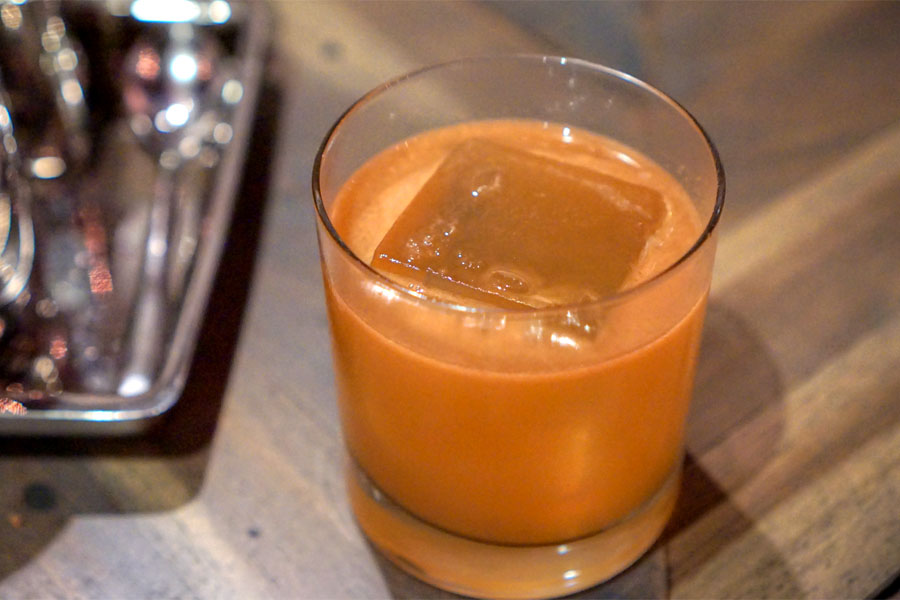 tequila [$15.00]
| ancho reyes, corn, red pepper, rosemary, lemon
Our final cocktail featured an intensely sweet, vegetal nose and flavors that were herby, medicinal, yet simultaneously sweet 'n' spicy. The tequila was pretty well masked.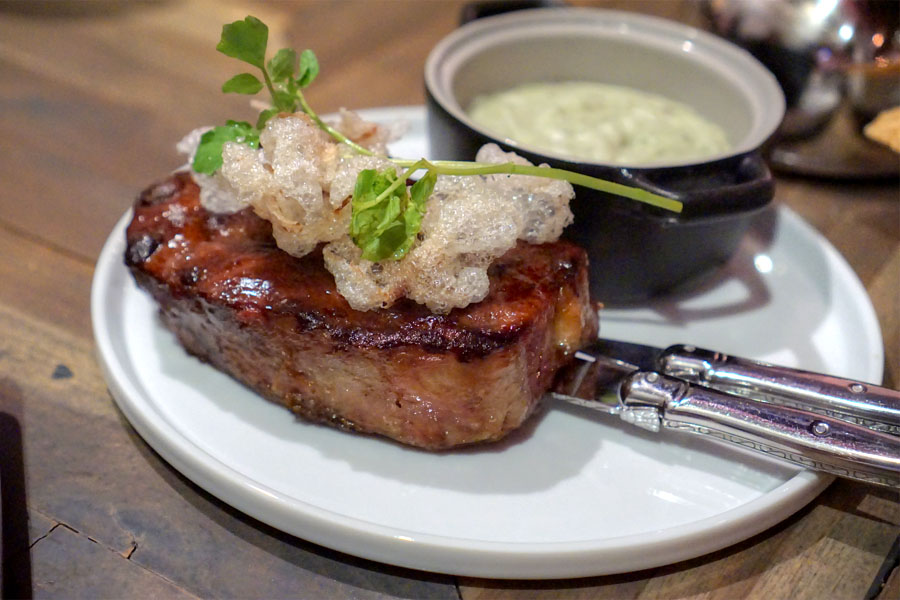 dry aged holstein beef rib eye [$62.00]
| potato purée with choice of seaweed or raw butter
Finishing up the savories was the steak, which was a crowd pleaser. Cooked medium-rare, it conveyed a mouthwatering, concentrated beefiness along with a nice sear. The potatoes, meanwhile, also delivered, with the seaweed amping up an otherwise classic preparation. Mouseover for a secondary photo.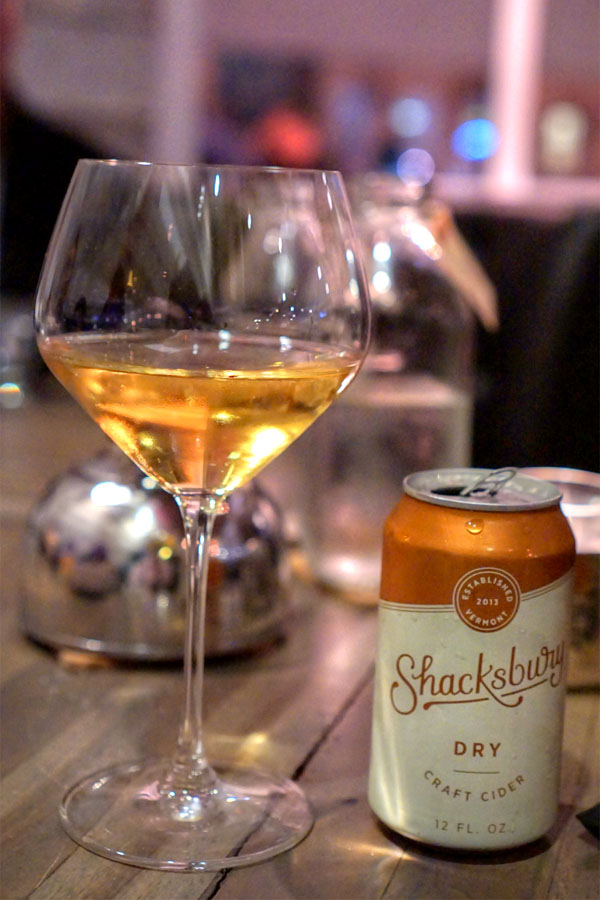 With the cocktails all done with, we sampled the
cider, shacksbury dry, middlebury, vermont [$12]
. I rather liked it. Think crisp, dry, and just sweet enough, with some great funky, barnyard-y notes.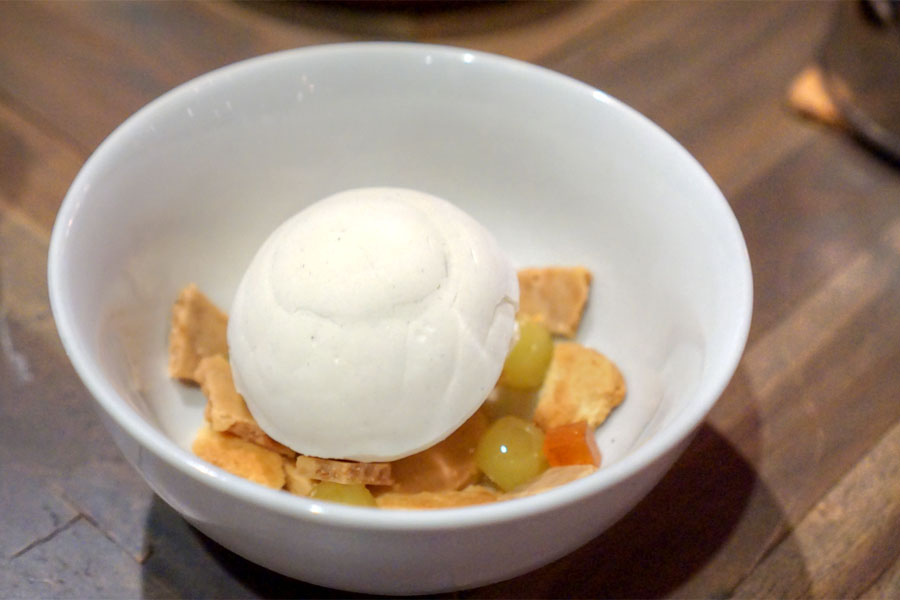 apple [$12.00]
| crème caramel, shortbread, burnt wood semifreddo
There were just three desserts on offer tonight, so of course we had to get 'em all. Our first was ink.well's signature, which is almost like a modern classic among LA desserts at this point. The reconstructed caramel apple pie was as delish as always, giving up great apple flavors commingled with a helping of salt and smoke. Really well put together, with a great texture from the shortbread too.
mexican chocolate [$12.00]
| almond crumble, caramelized white chocolate, toasted rice cream, hibiscus
One of my dining companions humorously described this dish as "cottage cheese and testicles." He wasn't far off the mark visually, but fortunately the dessert's flavors were much more appealing: spiced chocolate, toasty almond "soil," and those two quenelles of caramelized white chocolate ganache, with a bit of fruitiness from the hibiscus syrup and a finish that definitely highlighted the jasmine rice "rocks."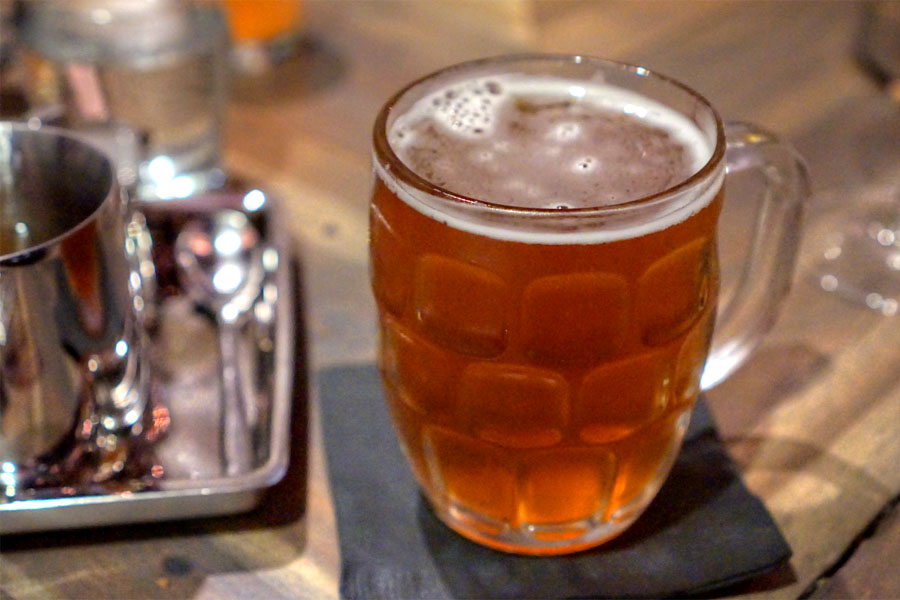 We also tried a beer, the
india pale ale, 14 cannons tyrannicide, west lake village, california [$9]
. This was a solid IPA. Nose was bitter, floral, with a touch of juiciness underneath. The palate again went in a floral, herbaceous direction, with traces of tropical fruit and lots of hop bitterness.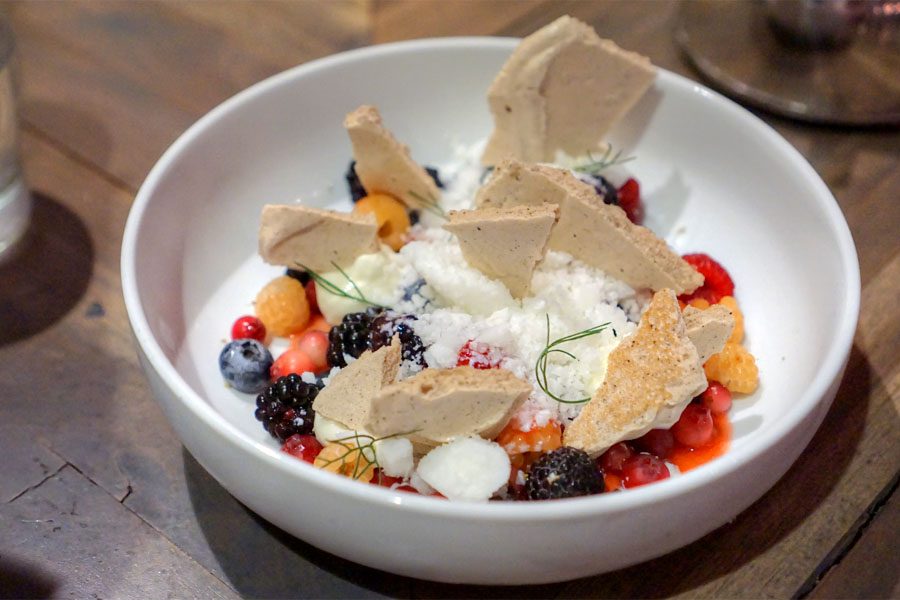 market berries [$12.00]
| malt pavlova, lemon curd, buttermilk ice
Our final dessert featured a variety of berries in a strawberry consommé, set against the tartness of aerated lemon curd while the buttermilk granita provided a contrast in both texture and temperature. My favorite part? Those nutty, airy meringues and wisps of fennel on top.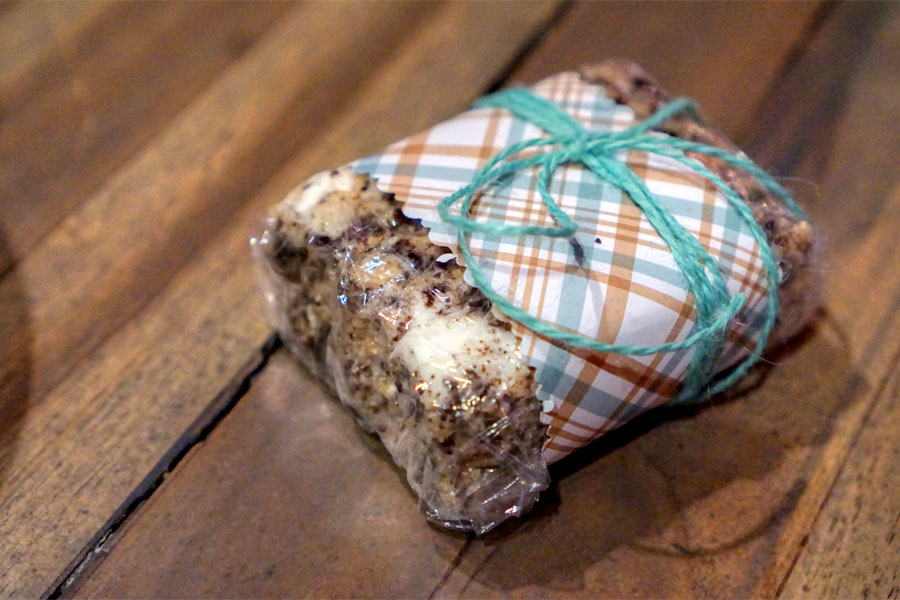 As a bonus, one of my fellow diners brought along Oreo-flavored Rice Krispies Treats for us all to enjoy.
I think the Chef's goal here was to serve food that's more accessible. I'd say that it probably is, though not by much, and that's actually a good thing. The cooking still reads like Voltaggio's doing, and still has those sort of modernist flourishes you expect, but the overall package is indeed more mainstream. In the end, I don't think we should bemoan the loss of ink, since this is basically ink 2.0 in my eyes.