Testa (Los Angeles, CA)
Testa Restaurant
1111 S Hope St, Los Angeles, CA 90015
213.973.5013
www.testadtla.com
Thu 10/26/2017, 07:35p-10:00p

One of the newcomers to Downtown's booming South Park district is Testa, which grand-opened on September 21st as an Italian restaurant run by Chef Marty Shield (whom we previously encountered over at
Gadarene Swine
). However, he was out the door after only a few weeks, replaced in mid-October by none other than Sydney Hunter III, a familiar face who was last seen running the kitchens over at
Kettle Black
and
Sawyer
in Silver Lake.

Penned by
Ricki Kline Design + Build
, Testa is situated on the ground floor of a parking garage (a stone's throw from
Broken Spanish
), in a spot once home to North African-Mexican eatery The Briks, and before that, Il Mare.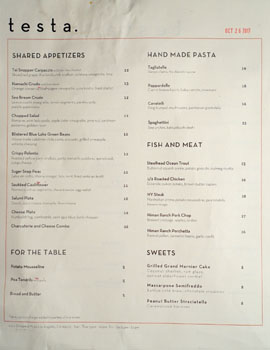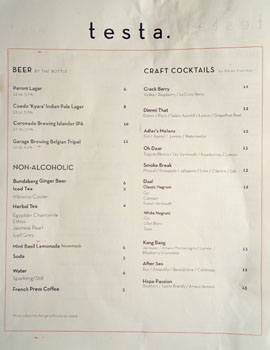 Testa's menu has already been reworked by Hunter. Though it still does have an Italian bent, there's further diversity now, befitting the Chef's more Californian sensibilities. Drink-wise, you get cocktails created by Devon Espinosa (who recently did the bar programs over at Sunset & Vinyl, Gusto, and
Woodley Proper
), a handful of beers, and a compact wine list focused on California-Italy-France. Click for larger versions.
Kang Bang [$13.00]
| Jameson / Amaro Montenegro / Lemon / Blueberry Grenadine
We ended up working our way through all of the cocktails, starting with this intriguingly-named number. Not much to the nose on this one, with just light, sweet berry making itself known. The taste went more assertive, conveying a mix of lemon and blueberry over a boozy base of whiskey, with the amaro adding a slight herbaceous element.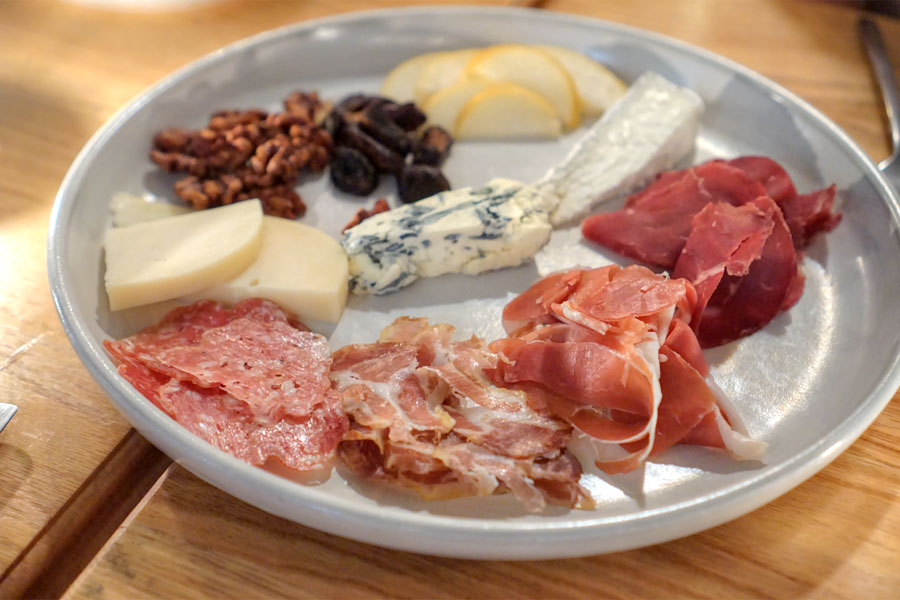 Charcuterie and Cheese Combo [$26.00]
| Speck, spicy coppa, bresaola, finocchiona + Humboldt fog, cambozola, lamb chopper
Up first was the
salumi
and cheese plate, which came with smoky walnuts, figs, and slices of crisp 'n' juicy
bae
pear. Clock-wise from right, we had:
Bresaola - Rich and salty, and loaded with some almost beef jerky-like flavors.
Speck - Hammy and lightly smoky, with a bit of a funk to it.
Spicy Coppa - Slick and fatty for the most part, and there was also a spicy, herbal quality that I enjoyed.
Finocchiona - Very pleasing bite here, along with a nice porkiness and touch of fennel.
Lamb Chopper - Easy-eating, with a sweet, buttery, milky taste. Interestingly, I actually found this somewhat reminiscent of Laughing Cow (not necessarily a bad thing).
Cambozola - Rich and creamy, and brimming with a spicy, salty blue funk that grows on you.
Humboldt Fog - A Californian classic, this was a relatively light, mild cheese, with a bit of a lactic tang to it.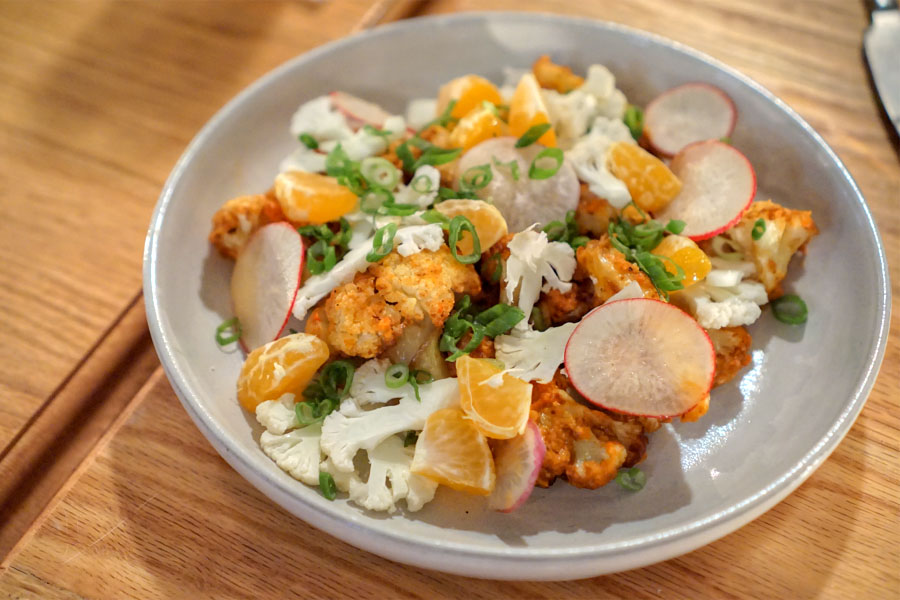 Sautéed Cauliflower [$11.00]
| Romesco, citrus segments, shaved easter egg radish
The cauliflower was one of the more creative preparations I've seen. The peppery, full-flavored romesco really did meld beautifully with the vegetable, and the citrus worked as a sweet, juicy contrast. Raw slices of the cauliflower, meanwhile, provided a further counterpoint, as did the radish.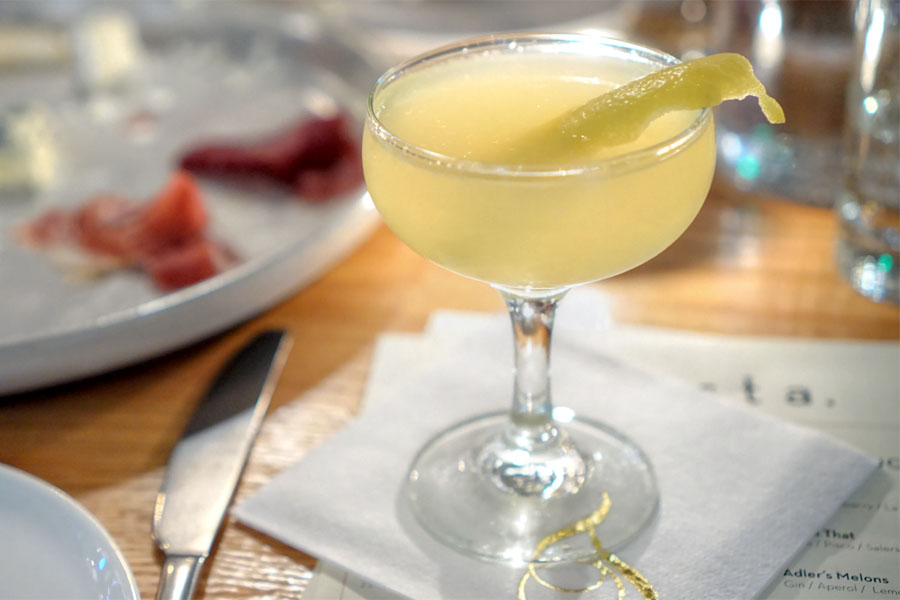 Dimmi That [$12.00]
| Dimmi / Pisco / Salers Aperitif / Lemon / Grapefruit Peel
Another pun-y cocktail displayed aromas of strong citrus layered over a sugary base. The taste was puckering and somewhat astringent, with more citric character meshing with bitter, botanical nuances.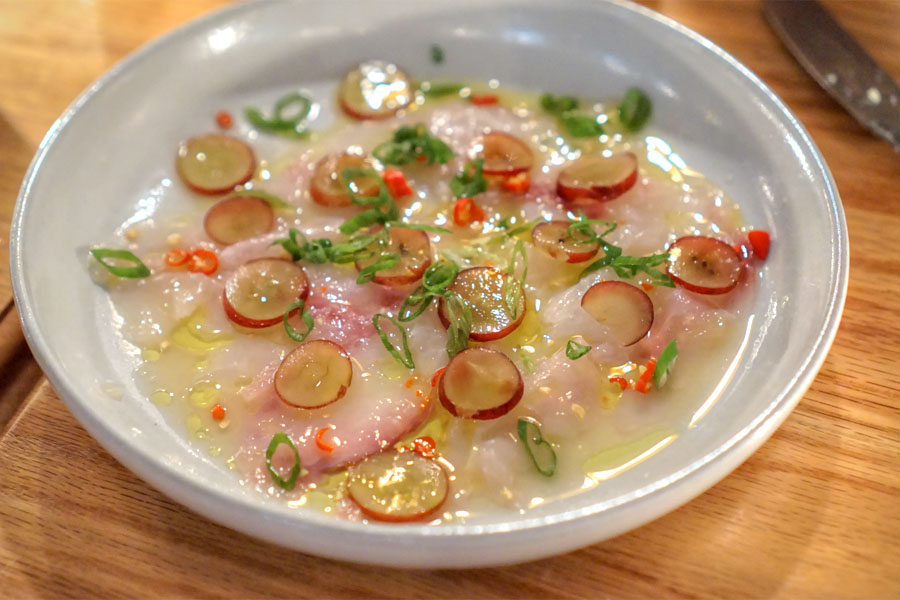 Tai Snapper Carpaccio (wild from New Zealand) [$12.00]
| Sliced red grape, thai bird's chili, scallion, colatura vinaigrette, lime
The carpaccio definitely delivered. Firm, meaty cuts of snapper were heightened by the fishy, funky flavors of
colatura
, with grape and chili adding contrasting sweetness and spice to complete the dish.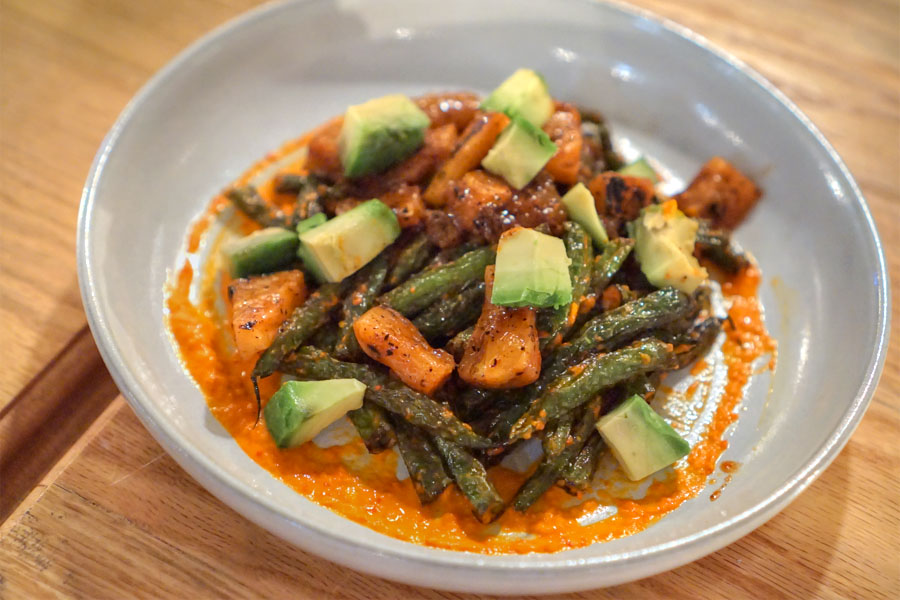 Blistered Blue Lake Green Beans [$11.00]
| House made calabrian chile paste, avocado, grilled pineapple, achiote dressing
This was another standout largely thanks to that stellar combination of chili paste and annatto, which worked wonders with the green beans. Pineapple added a sweet, juicy accent, while the avocado served to lighten things up.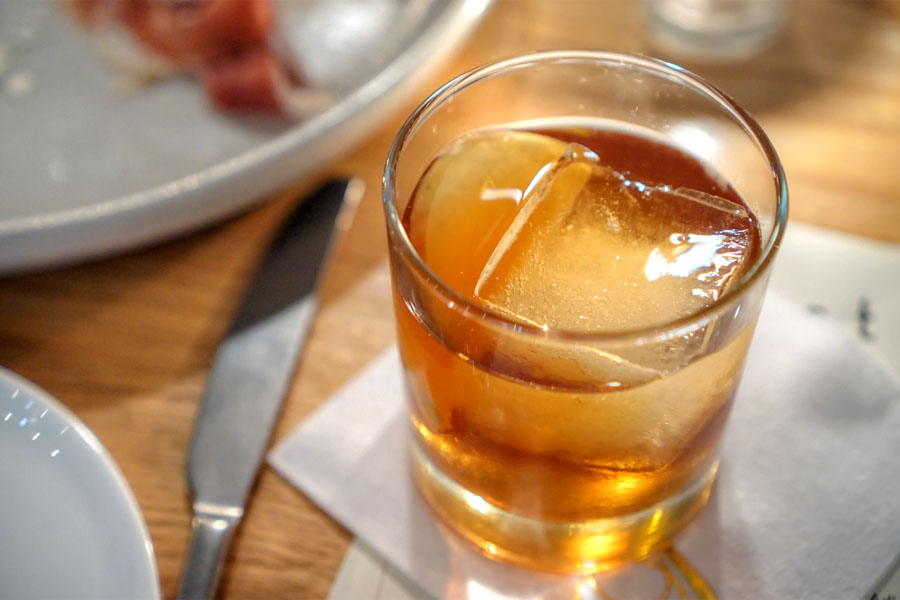 Hope Passion [$13.00]
| Bourbon / Apple Brandy / Amaro Nonino
Next was one of my favorite cocktails this evening. Loads of sweet fruit and caramel on the nose, along with a marked nuttiness. In terms of taste, I got lots of brown sugar joined by bittersweet, nutty notes and a citrus accent.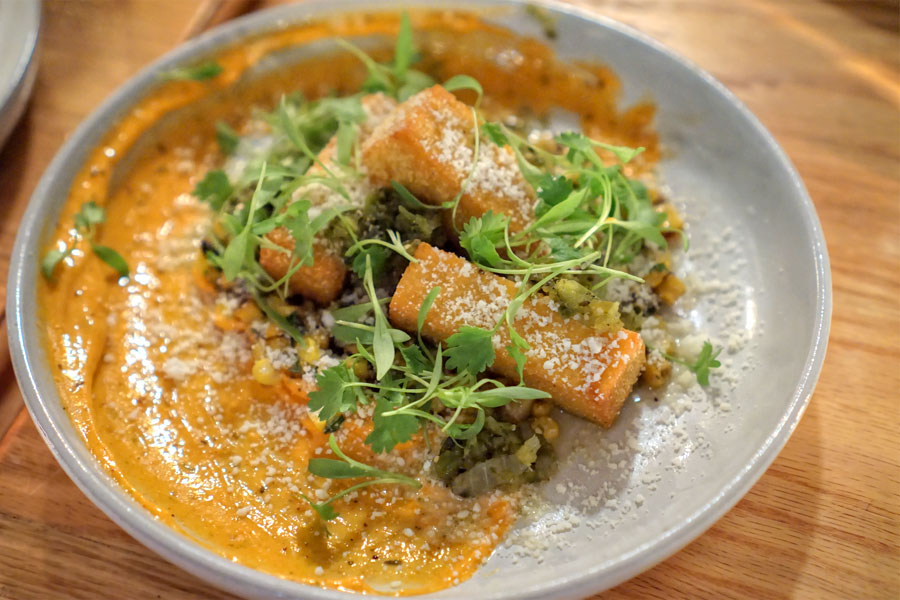 Crispy Polenta [$12.00]
| Roasted yellow corn, shallots, garlic, tomatillo poblano, spiced aioli, cotija cheese
Polenta cakes came out grainy and gritty, with crisp exteriors. I especially liked 'em with the sweet, roasty corn and piquant aioli--nice.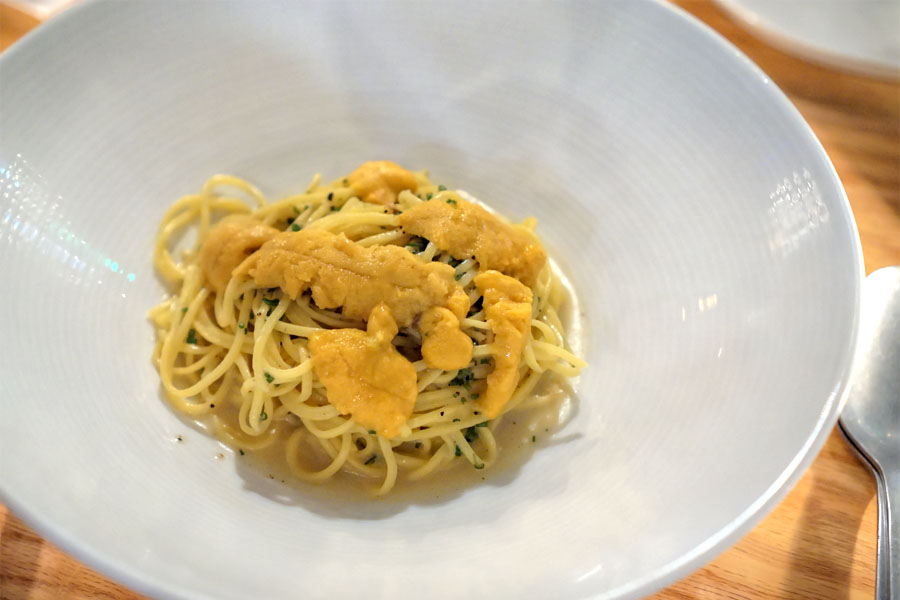 Spaghettini [$23.00]
| Sea urchin, katsuobushi dashi
Thin strands of spaghetti had a gratifying bite, and worked without a hitch as a vessel for the dish's rich, umami-filled broth and mounds of briny-sweet urchin.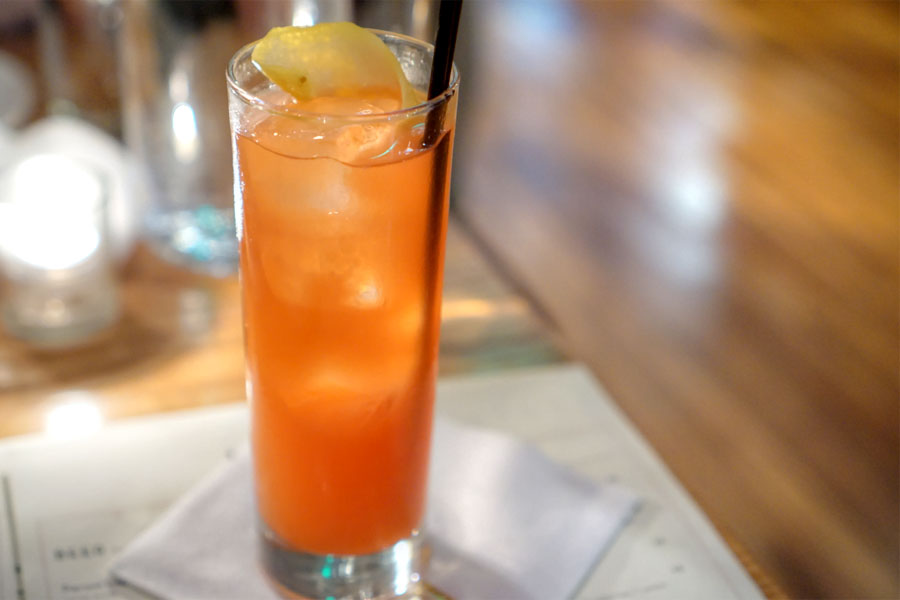 Adler's Melons [$13.00]
| Gin / Aperol / Lemon / Watermelon
Here, I got a definite bittersweetness from the Aperol at the forefront, countered by omnipresent lemon and a finish filled with juicy watermelon.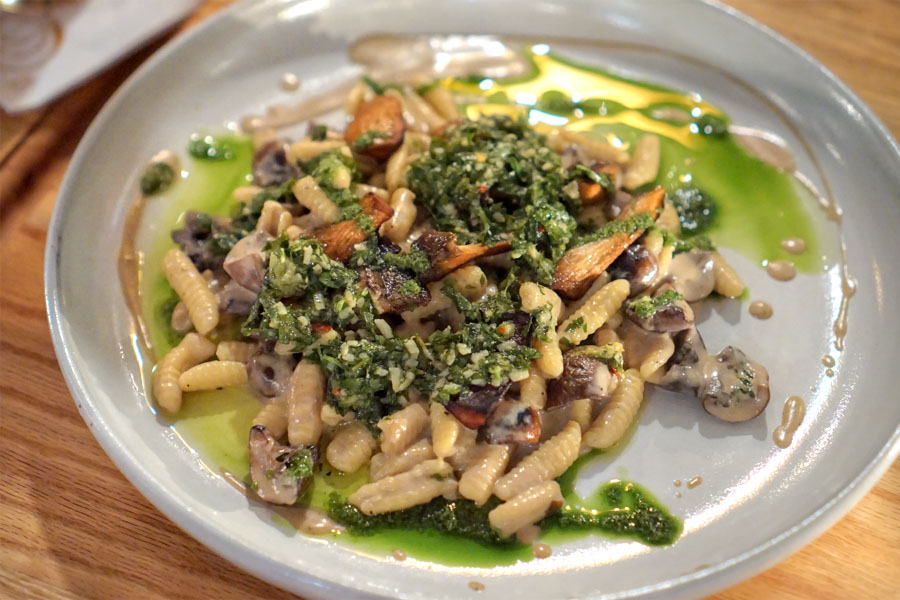 Cavatelli [$16.00]
| King trumpet mushrooms, parmesan gremolata
The pairing of woodsy mushrooms and zippy gremolata worked, as did the firm, slightly chewy pasta shells.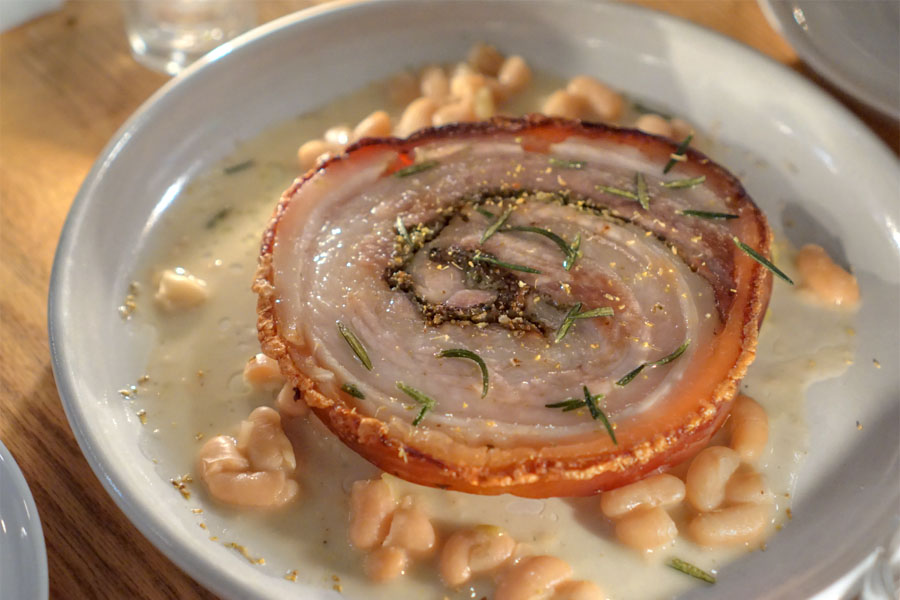 Niman Ranch Porchetta [$26.00]
| Fennel pollen, cannellini beans, garlic confit
I was a fan of the porchetta, which ate fatty and tender, with big, bold flavors and plenty of salt and herb. I liked the crispiness on the skin too, not to mention the counterweight provided by the beans.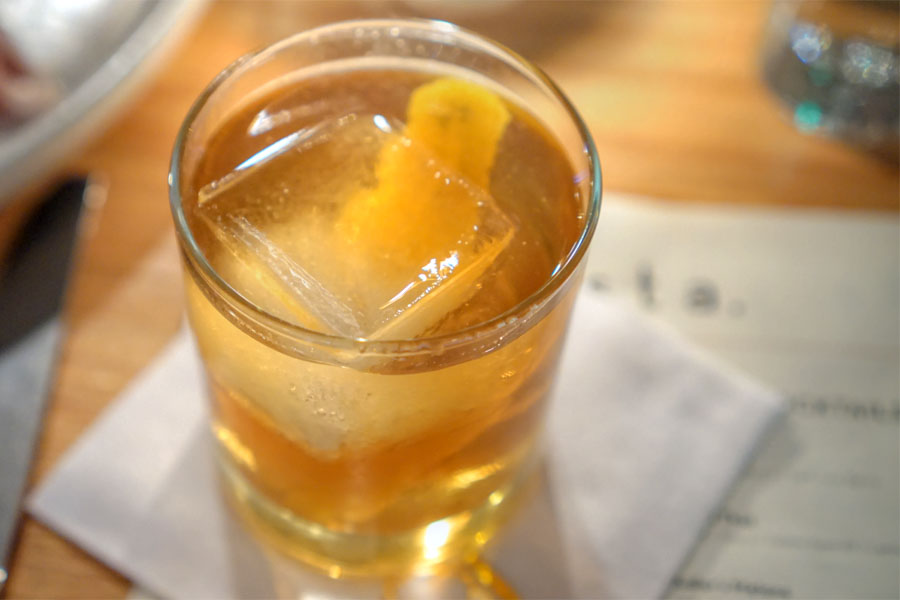 After Sex [$12.00]
| Rye / Amaretto / Benedictine / Cointreau
This provocatively-titled cocktail smelled pleasantly sweet 'n' nutty, with a whisper of alcoholic heat. The taste again showed off the amaretto, as well as a bevy of bittersweet, herbaceous notes and the spiciness of the whiskey.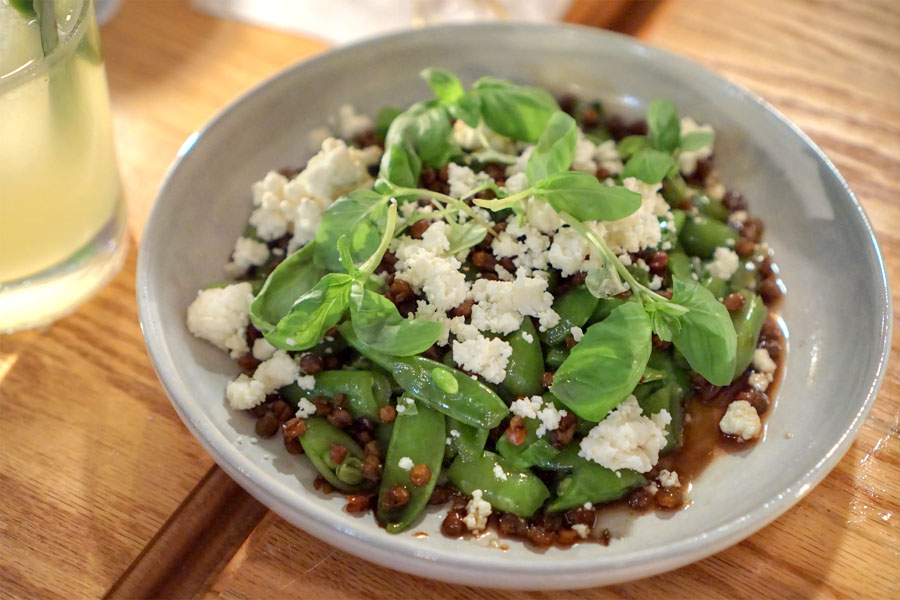 Sugar Snap Peas [$12.00]
| Saba vin cotto, sherry vinegar, feta, mint, fried umbrian lentil
Snap peas were superb, arriving all crunchy and bright, with an excellent mint accent and additional saltiness from the feta. I also appreciated the tanginess imparted by the vinegar, as well as the texture on those fried lentils.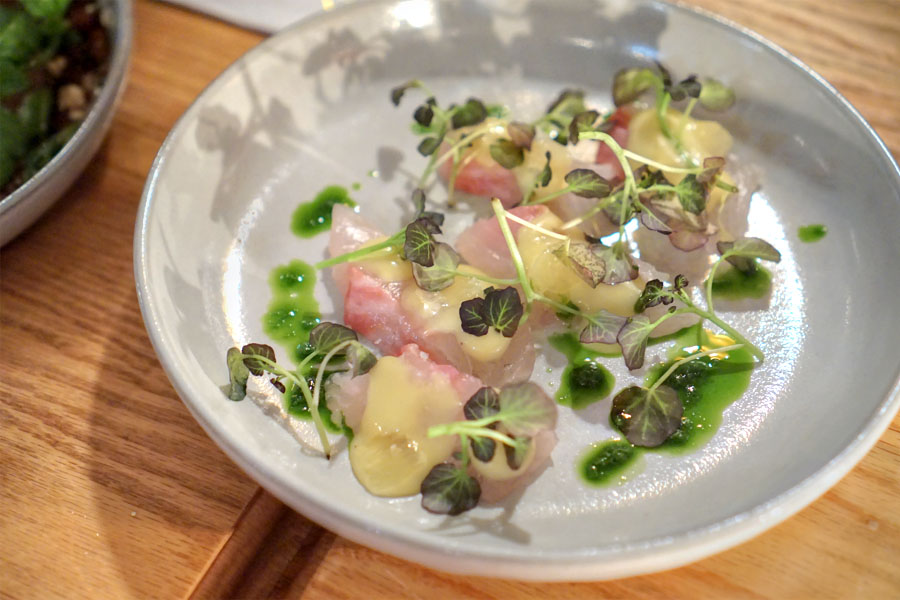 Sea Bream Crudo [$12.00]
| Lemon confit vinaigrette, lemon segments, parsley pulp, purple watercress
Slices of sea bream were sturdy and satisfying, their weight evened out by the zesty combination of lemon, parsley, and watercress.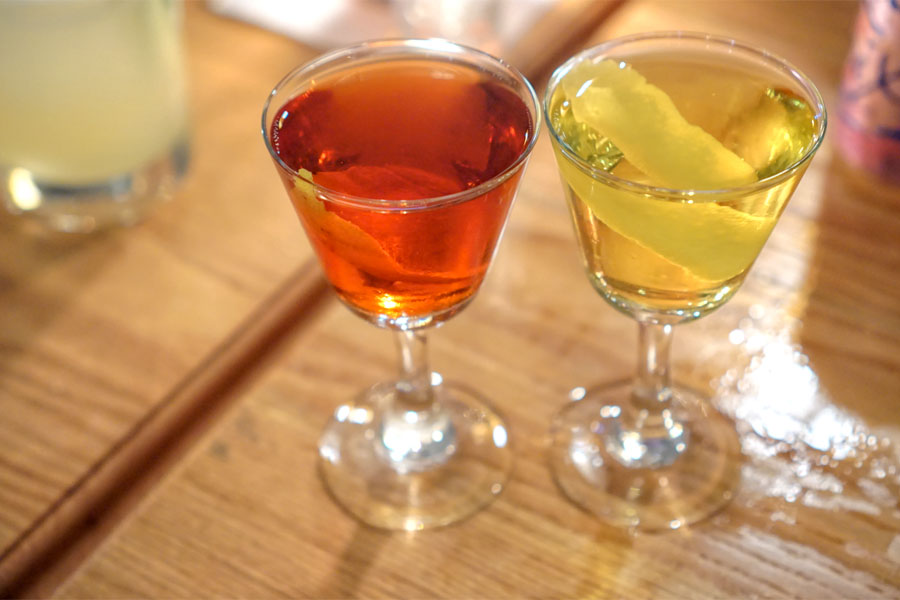 Dual Classic Negroni + White Negroni [$12.00]
| Gin / Campari / Sweet Vermouth + Gin / Lillet Blanc / Suze
Next was a Negroni duo. Thick on the palate, the classic preparation featured your expected bittersweetness as well as a botanical character and light
ume
on the nose. The
bianco
, on the other hand, had a bouquet featuring light citrus and honey from the Lillet, while its taste was again bittersweet, but also citrusy, floral, and familiar.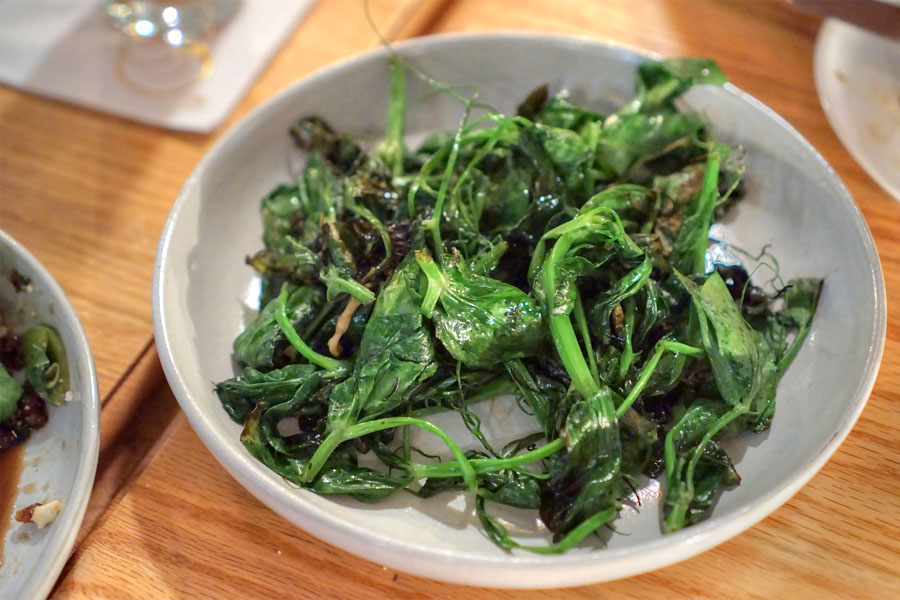 Pen Tendrils (with garlic) [$5.00]
Pea tendrils were smoky, bitter, and, regrettably, on the salty side.
NY Steak [$28.00]
| Manhattan prime, potato mousseline, pea tendrils, beurre rouge
The tendrils made an appearance here as well, but fortunately the potatoes really worked in reining in their saltiness, making for a rather tasty combination. As for the steak, it was a pretty classic preparation, with good flavor, tenderness, and a decent sear.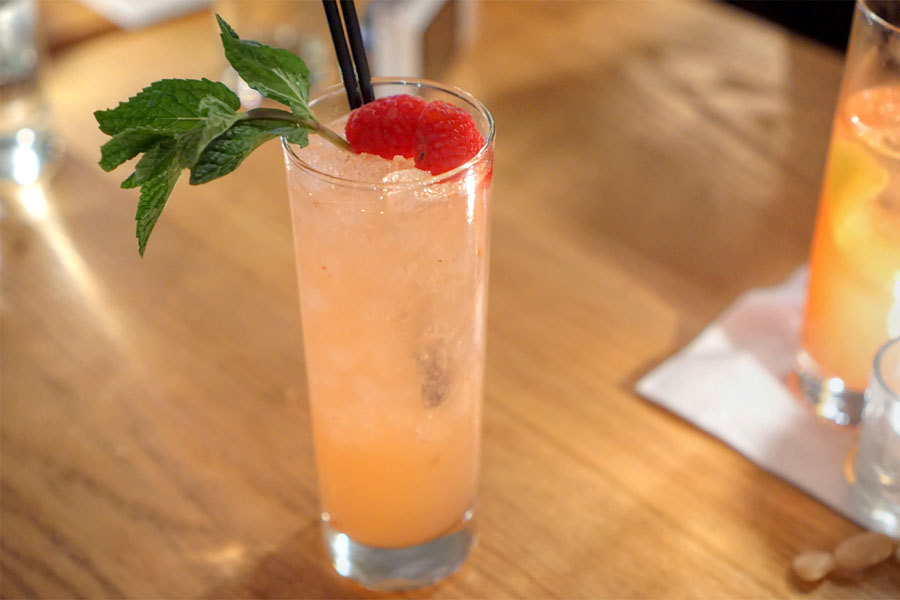 Oh Dear [$13.00]
| Tequila Blanco / Dry Vermouth / Raspberries / Lemon
This straightforward cocktail did a fine job conveying the earthy, vegetal qualities of the tequila, tempered by the vermouth and fruity, citrusy notes present.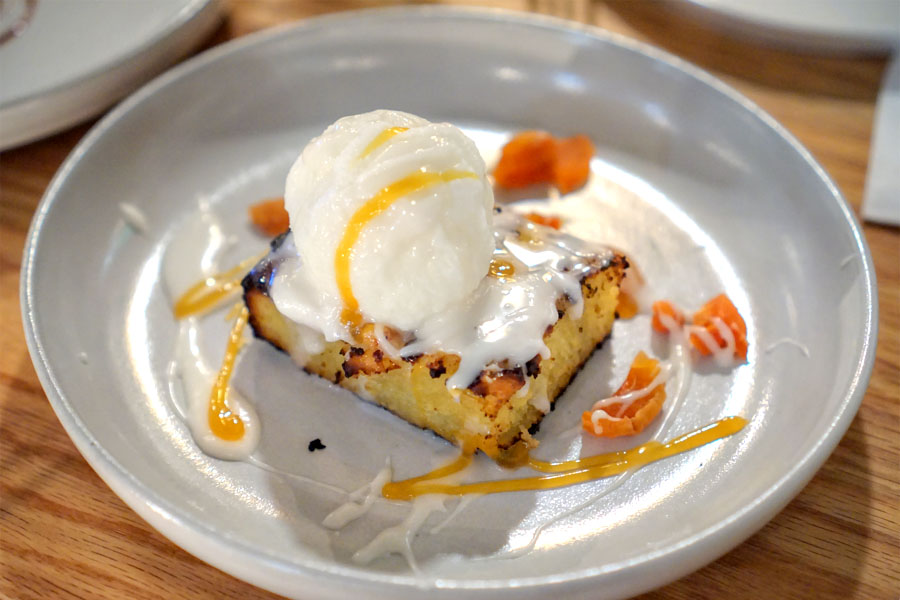 Grilled Grand Marnier Cake [$8.00]
| Coconut sherbet, rum glaze, apricot elderflower cordial
In the first of our desserts, a cake teeming with the boozy, orange-y flavors of Grand Marnier was set against the coolness of coconut and that sugary apricot cordial.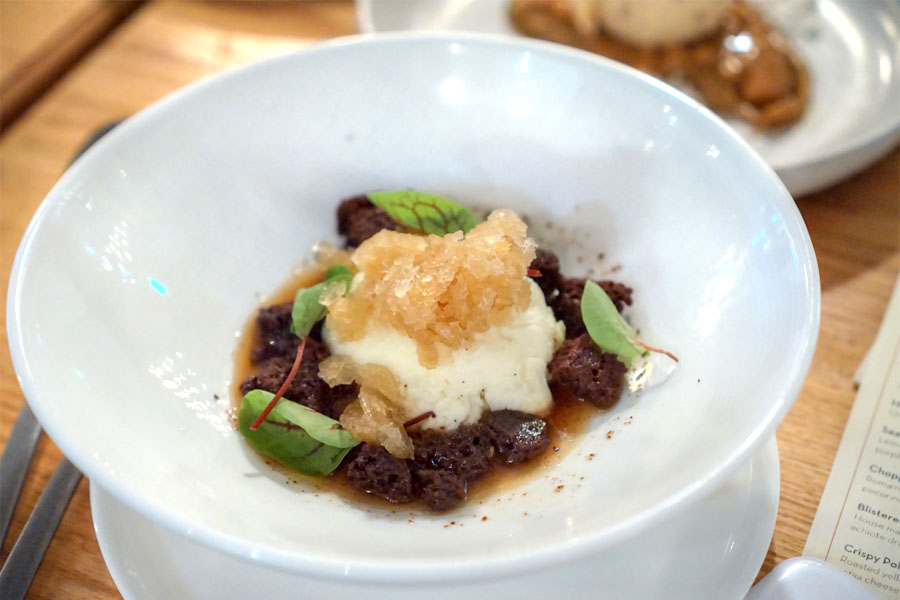 Mascarpone Semifreddo [$8.00]
| Kahlua cold brew, chocolate croutons
There were robust, in-your-face coffee flavors in our next dessert, along with hints of dark fruit that worked effectively as a foil to that cheesy semifreddo.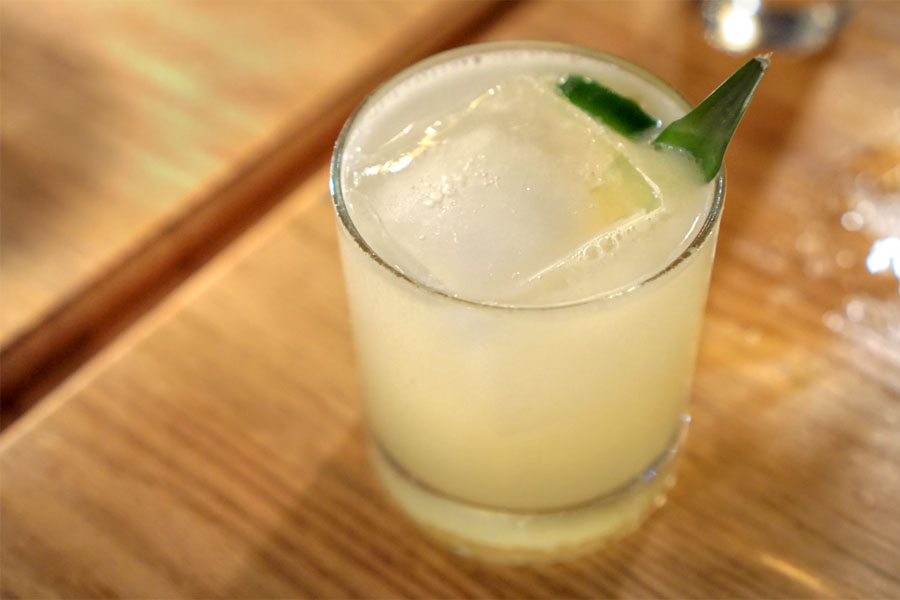 Smoke Break [$13.00]
| Mezcal / Pineapple / Jalapeno / Lime / Cilantro / Salt
Our requisite mezcal cocktail displayed the considerable smokiness of the spirit, alongside typical pairings of citrus, spice, and pineapple. Interestingly, I even got some vanilla in there.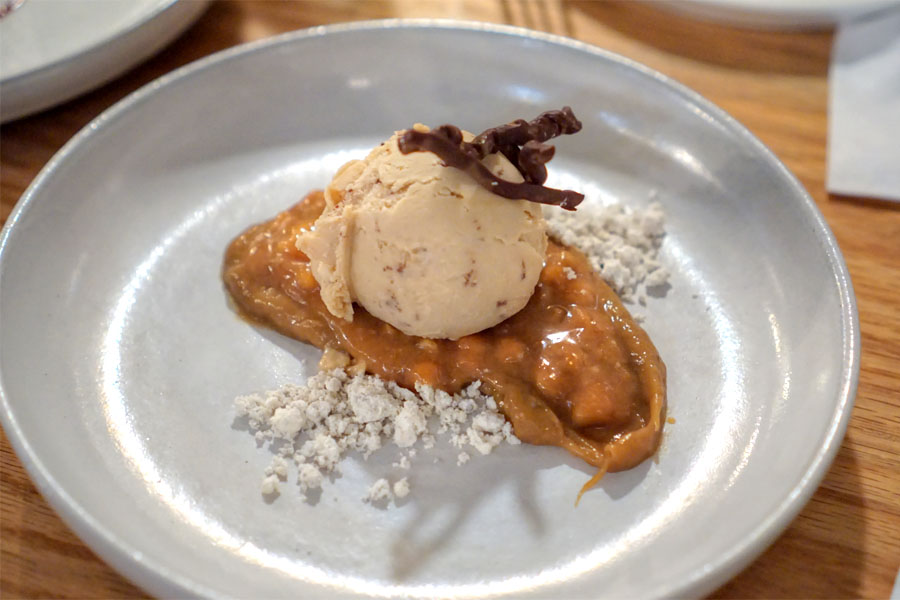 Peanut Butter Stracciatella [$8.00]
| Caramelized bananas
This was a fun one, with boatloads of peanut butter married with the sugariness of caramelized banana. Nice crunchy bits of chocolate up top, too.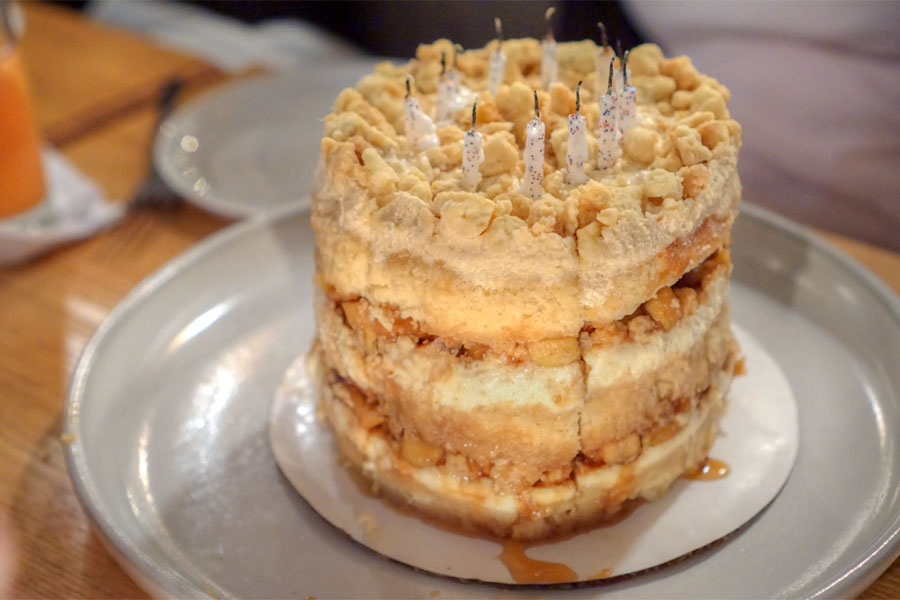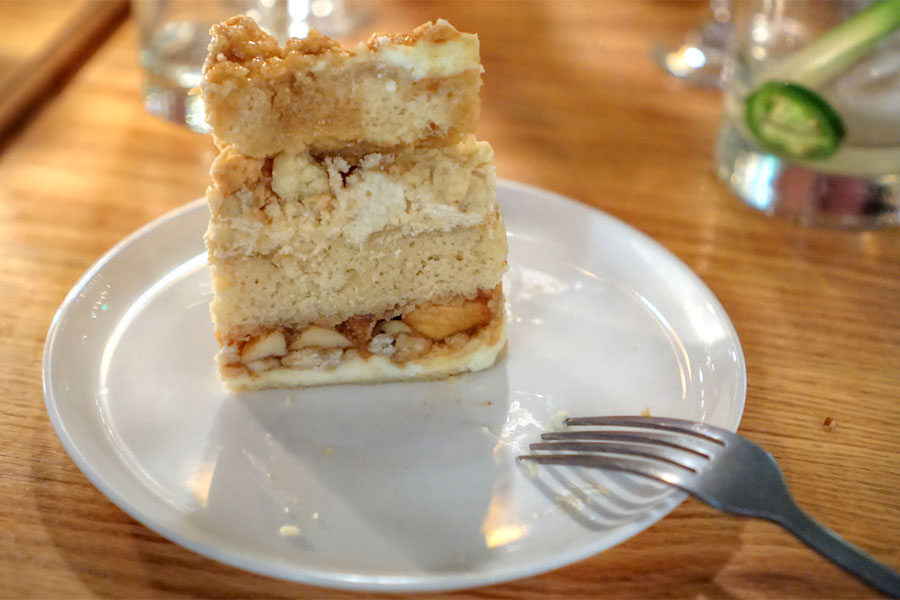 Since we came here for a birthday, one of my dining companions made a Momofuku Milk Bar Apple Pie Cake, which was just lovely.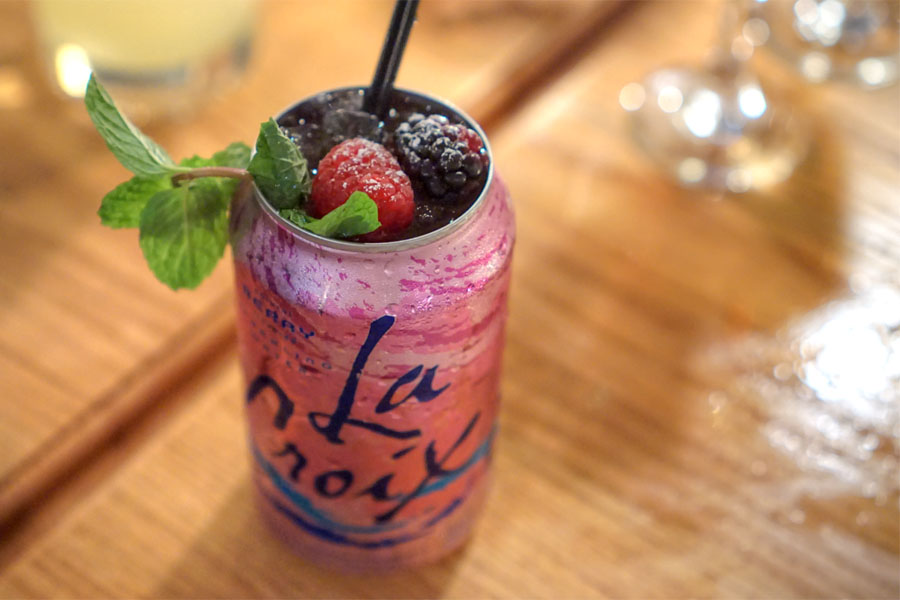 Crack Berry [$12.00]
| Vodka / Raspberry / La Croix Berry
We ended with perhaps Testa's most well-known cocktail. It drank pretty much like a berry soda, with nary any booze. Easy-peasy.
Our meal at Testa was actually much more interesting than we'd anticipated, no doubt due to Hunter's revamped menu. The food's Italian-ish, but also much more than that, and the Chef isn't averse to including a Japanese or Mexican flourish when called for. It's a promising direction. As we all know though, Hunter's prone to moving around a lot, so hopefully he's able to stay here for a decent length of time.