Koshiji (Torrance, CA)
Yakitori Koshiji Restaurant
22807 Hawthorne Blvd, Torrance, CA 90505
310.378.3787
www.koshijiusa.com
Tue 11/07/2017, 08:00p-10:30p

My latest craving for skewered chicken led me to the South Bay once again, and specifically to Koshiji, which had been on my to-try list for a couple years. The restaurant comes to us courtesy of 40-year yakitori veteran Nagayuki Ebata and wife Kiyomi. The Chef came up in the Tokyo area, and cut his teeth at a yakitori branch of the Miyagawa restaurant chain. He moved Stateside in 1983 to cook at Nanbentei, located in Little Tokyo's Weller Court. His intent was to work a couple years there, travel the US on motorcycle, and return to Japan. Obviously that never happened. The Chef later helped open the still extant Sakura House near Venice, and in 2000, took over the Nanbentei space and turned it into his own spot, Koshiji. The restaurant did well, which allowed Ebata to debut this Torrance outpost in May 2010. In January 2015 however, he shuttered the original Koshiji, and the space is now home to Torigoya (a.k.a. the new
Kokekokko
).

This address was previously home to Shin Yakitori (which opened in August 2007 and closed at the start of 2010), and the
kushiyaki
-focused Monjiro before that. The decor hasn't changed much since the Shin days.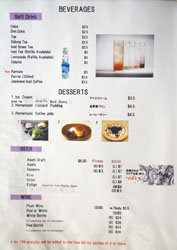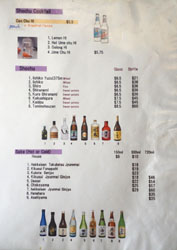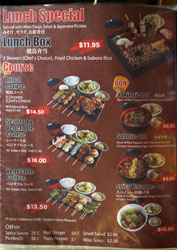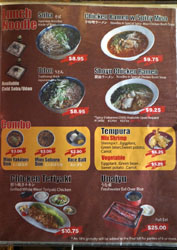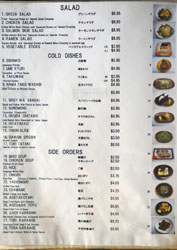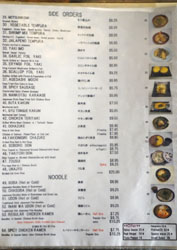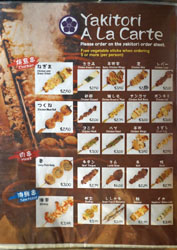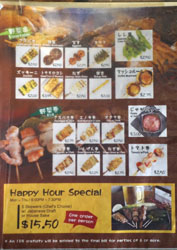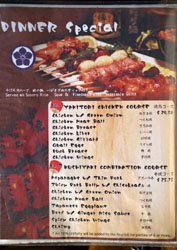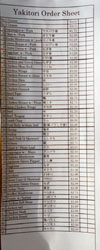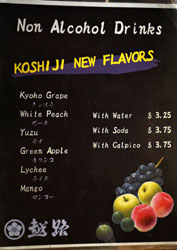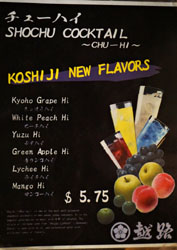 Menu-wise, you of course get a variety of skewers, both chicken-based and otherwise, and these are joined by a large array of accompanying dishes. To drink: your typical Japanese beers, mystery wine, some shochu, and a small sake selection (which includes Asahiyama, Ebata's favorite). Corkage is $15, though we were only charged once. Click for larger versions.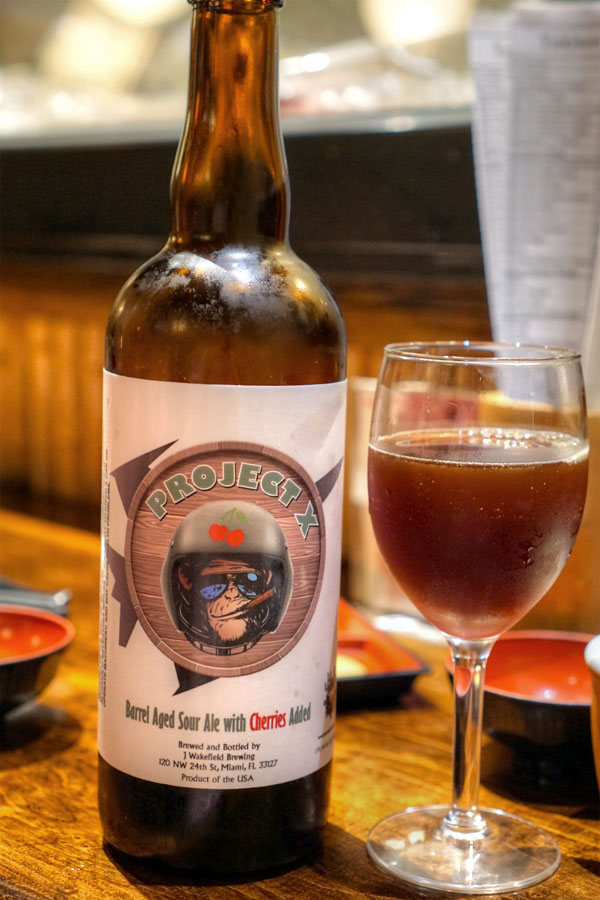 We had a couple beers with us. Our first was the
2017 J. Wakefield Project X
, a sour ale aged in bourbon barrels with Brett and cherries. Intense nose filled with oak, funk, fruit, and a bracing balsamic tartness. The taste showcased lots of wood, along with cherry, barnyard, and vinegar-y acidity. I got a slight vinous quality, too.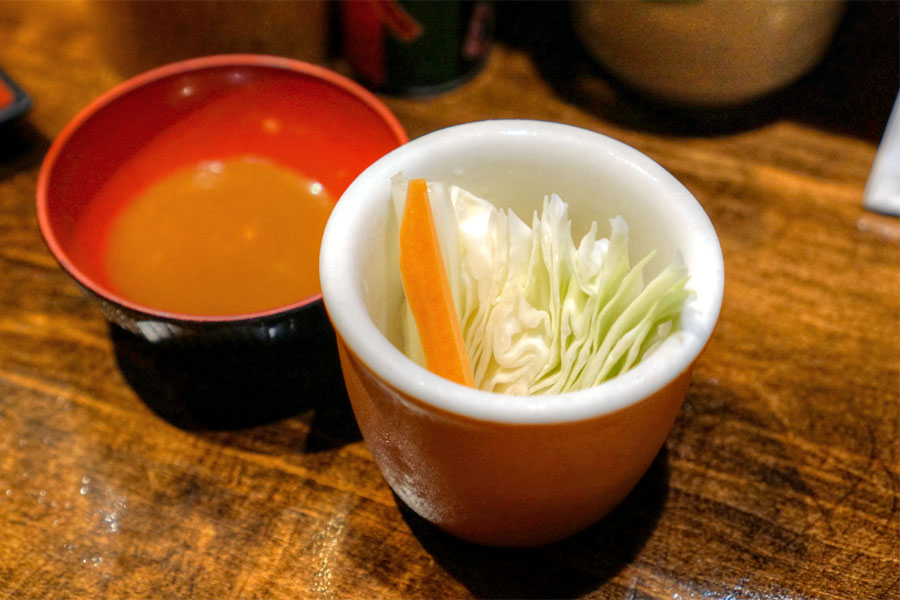 A complimentary serving of crunchy cabbage with a tangy, umami-rich miso dip.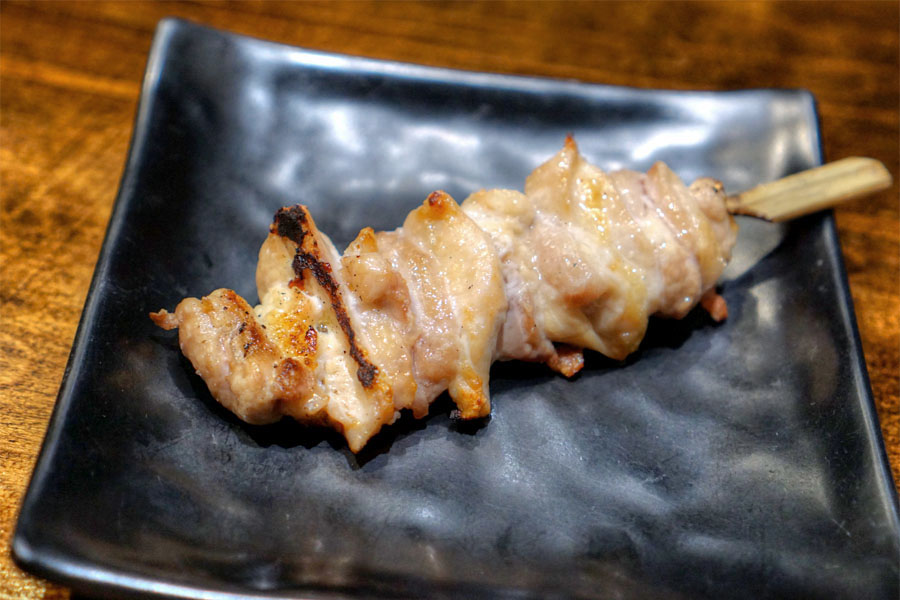 Chicken Soft Bone [$3.00]
We began our gauntlet of bird parts with
nankotsu
, which showed off its trademark crunch paired with a good amount of meat. A promising start.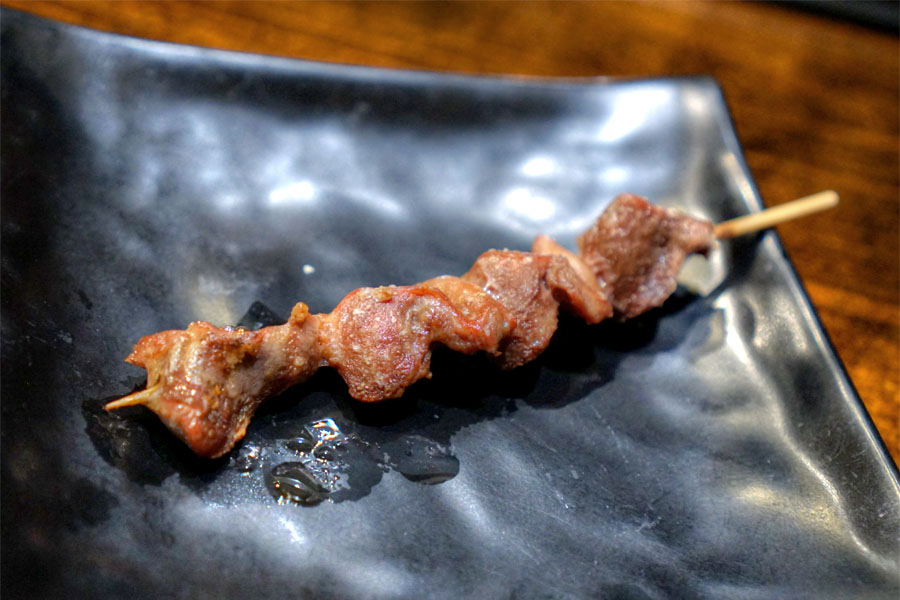 Chicken Gizzard [$2.00]
And speaking of crunch, the
sunagimo
also gave us its interpretation of the texture, providing the expected marriage of crisp and chewy consistencies. I really appreciated the pin points of salt on the gizzard as well.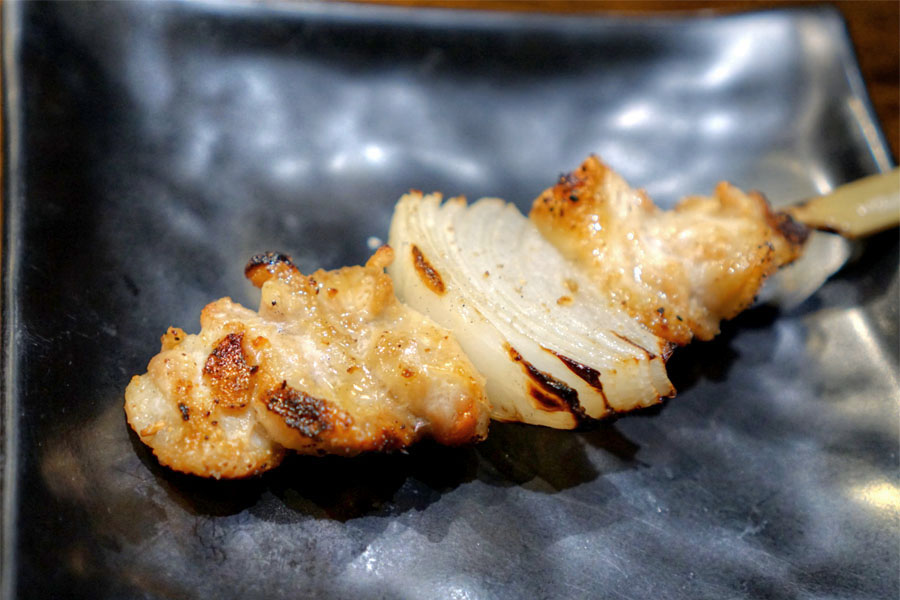 Chicken Tail [$3.00]
The
bonjiri
is one of my favorite cuts, and it didn't disappoint tonight, a fatty, super flavorful presentation with a satisfying bite to boot. And again, nice hits of salt here. Always a treat.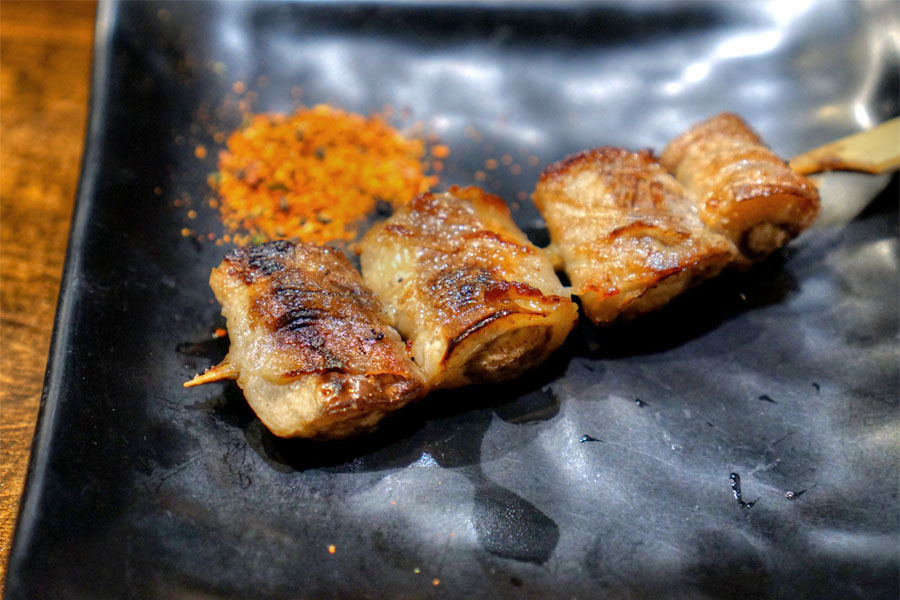 Eggplant w/ Pork [$2.50]
Nasu-maki
arrived soft, smoky, and well matched with the salty crunch of bacon. Surprisingly good.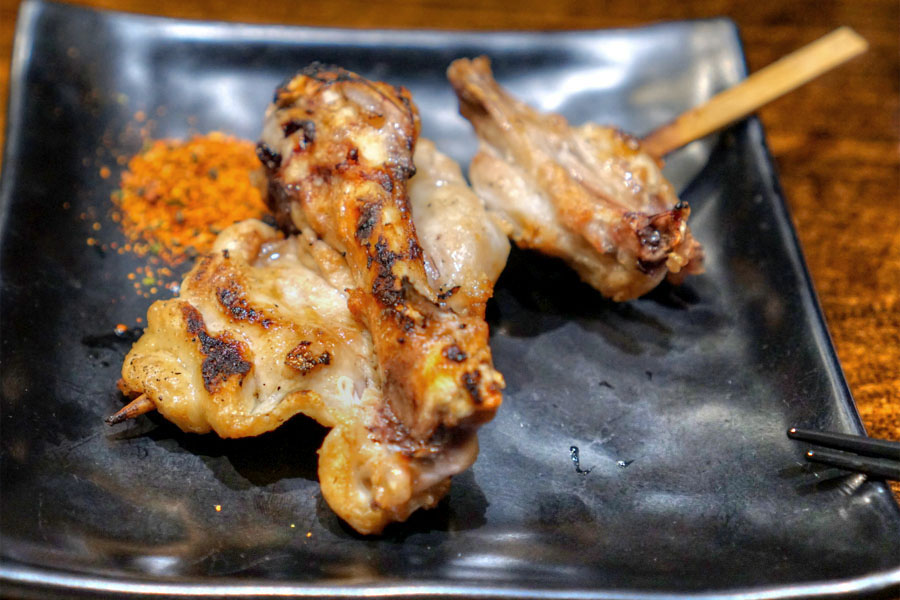 Chicken Wings [$3.50]
We had to get the
tebasaki
of course, which managed to be no doubt one of the most scrumptious bites we had. Superb charring going on here.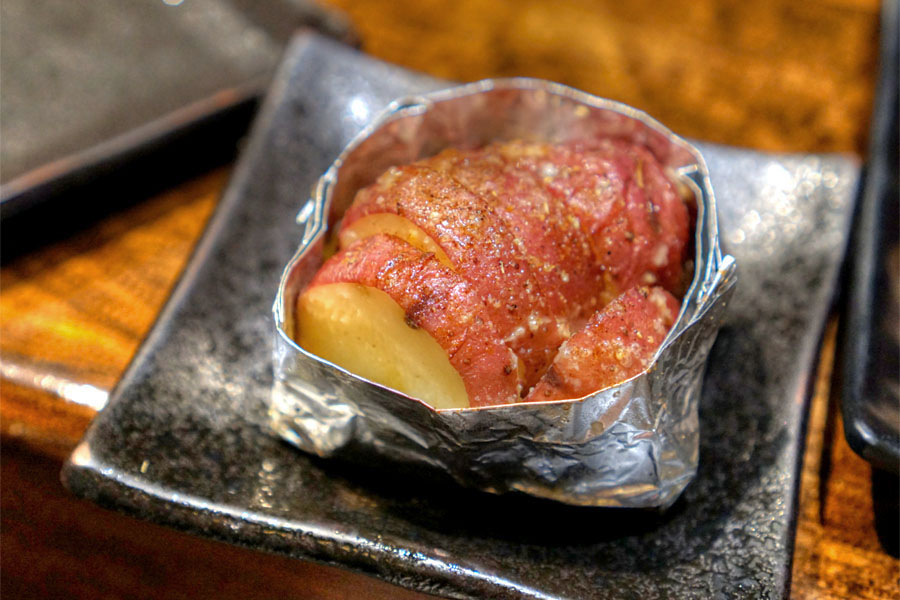 Potato w/ Butter [$3.00]
The
jaga-bata
was one of the more unusual selections on offer. It tasted like a really buttery mashed potato, but with a delightful crisp skin.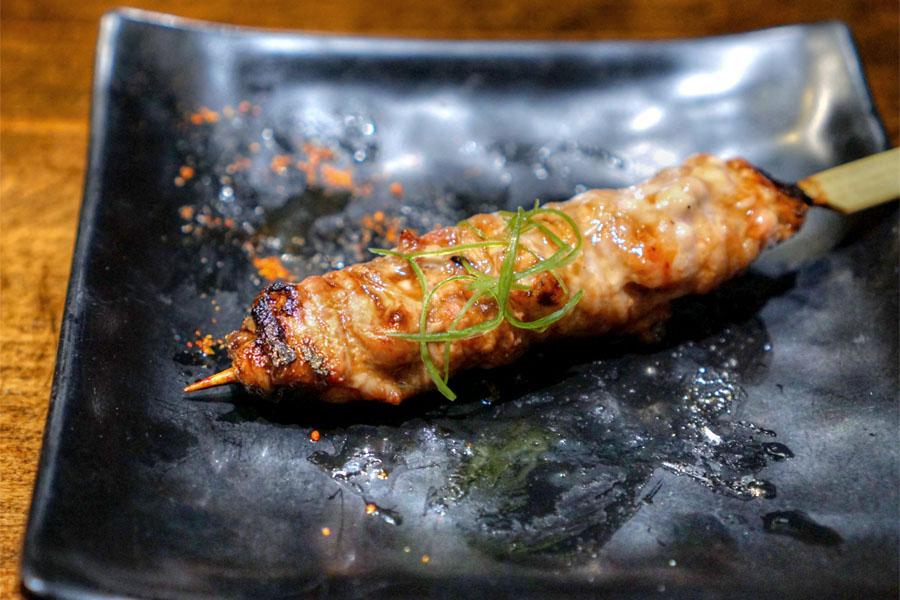 Chicken Neck [$3.00]
The
seseri
had a milder taste I'll say, along with a pleasant chewiness to it.
Chicken Meat Ball [$2.50]
The
tsukune
made for a nostalgic course, sort of reminding me of the meat patties I ate growing up. Think juicy and savory, with a great tang from the use of what I believe was green onion.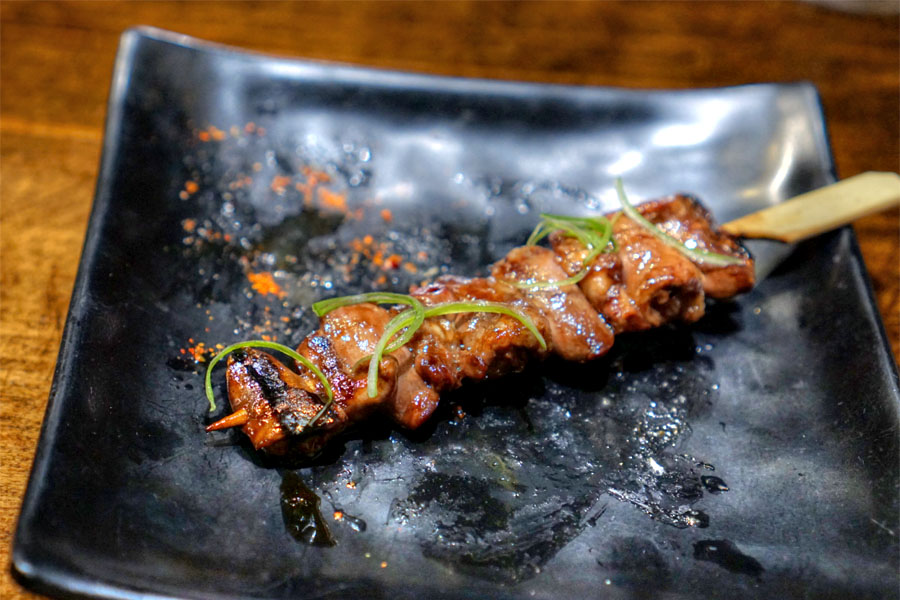 Chicken Heart [$3.00]
Hatsu
arrived earthy and snappy to the bite, with a noticeable sweetness.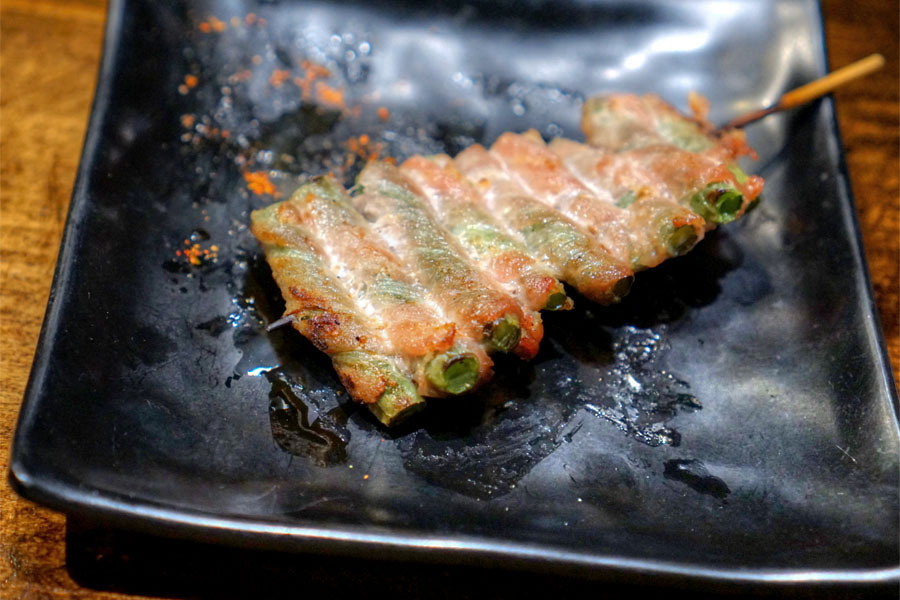 Green Beans w/ Pork [$2.25]
I'm a big fan of green beans in general, so I was curious about the
ingen-maki
. I got a welcomed brightness from the veggie that really went along with the smoke and salt of that crispy bacon.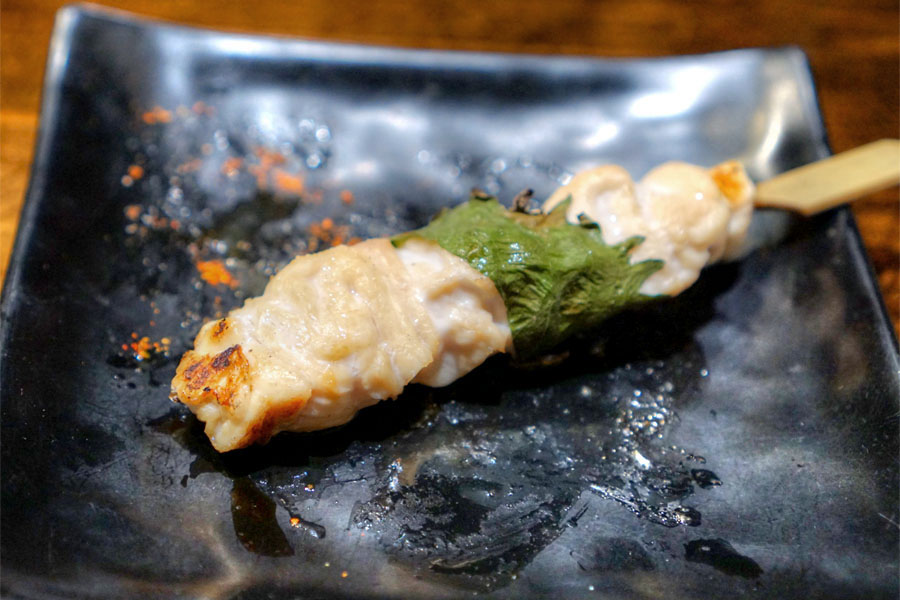 Chicken Breast w/ Shiso [$2.50]
Sasami
was a touch on the dry side unfortunately, though it did have a fitting accompaniment in the form of that shiso.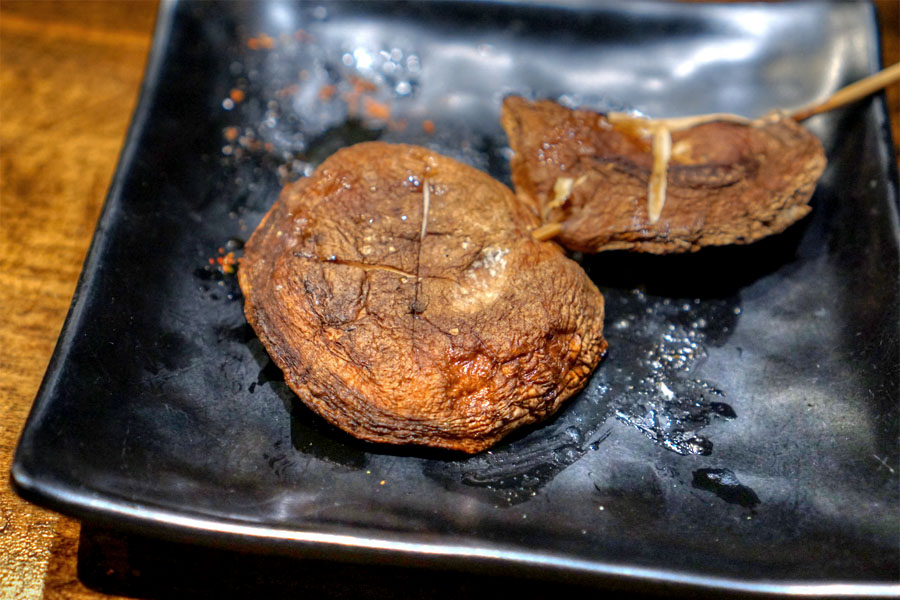 Shiitake Mushroom [$2.50]
Shiitakes were soft and woodsy, with a sweetish bent.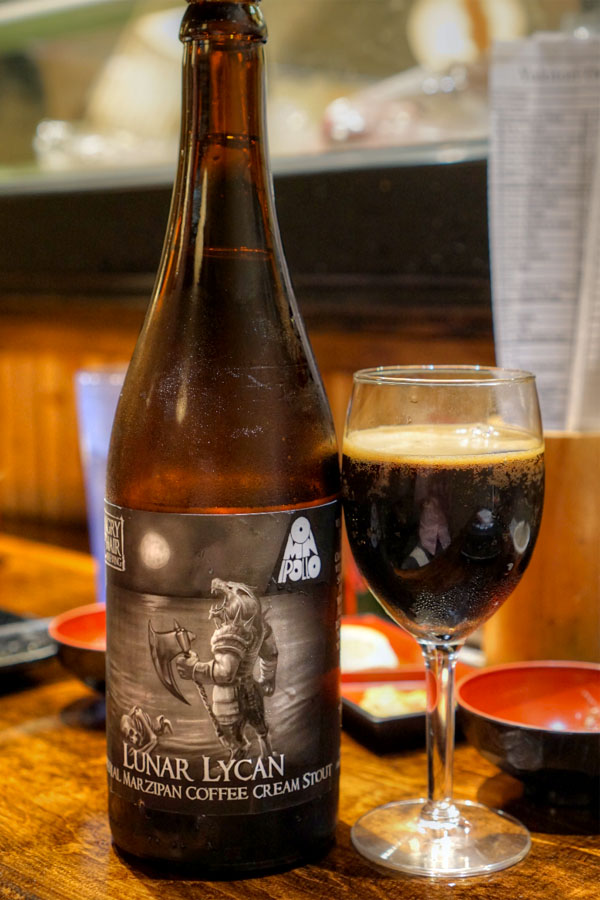 Next to imbibe was the
2017 Angry Chair Lunar Lycan
, a lactose-boosted, marzipan-inspired imperial sweet stout with toasted almonds and coffee, created in collaboration with Omnipollo. This one smelled nice, with aromas of roasty coffee, dark fruit, and caramel. The beer drank smooth, creamy, with a caramel-y, nutty sweetness finished by more coffee.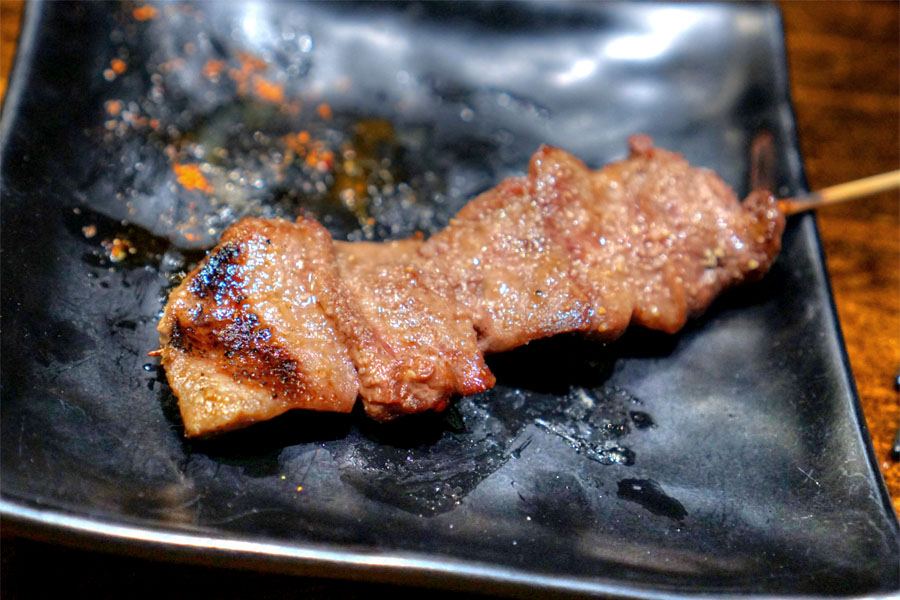 Beef Tongue [$2.75]
The
gyutan
conveyed its signature chew, as well as boatloads of smoke-kissed beefiness.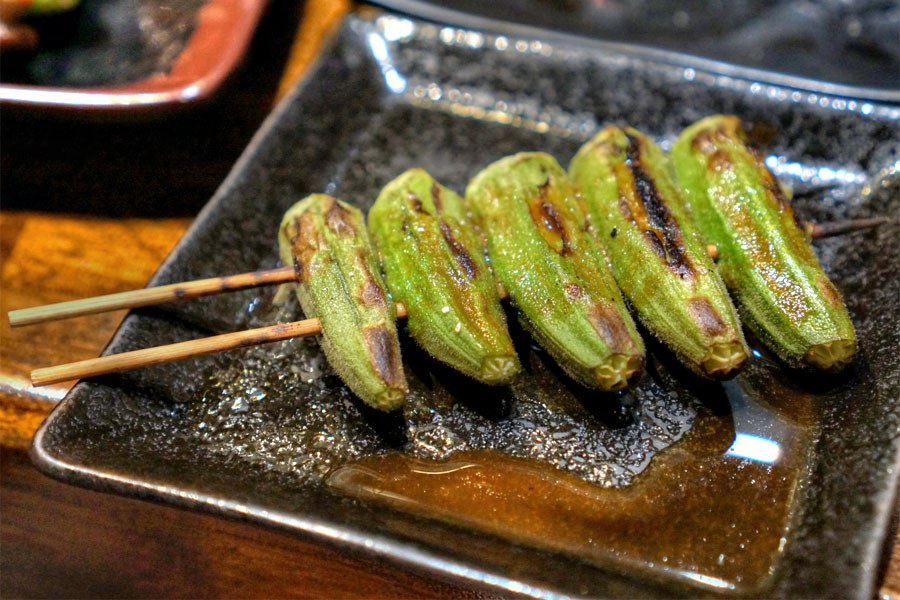 Okra [$2.50]
Okra was light on the slime, its relatively restrained flavors taking kindly to the char, as well as the dish's sweet dipping sauce.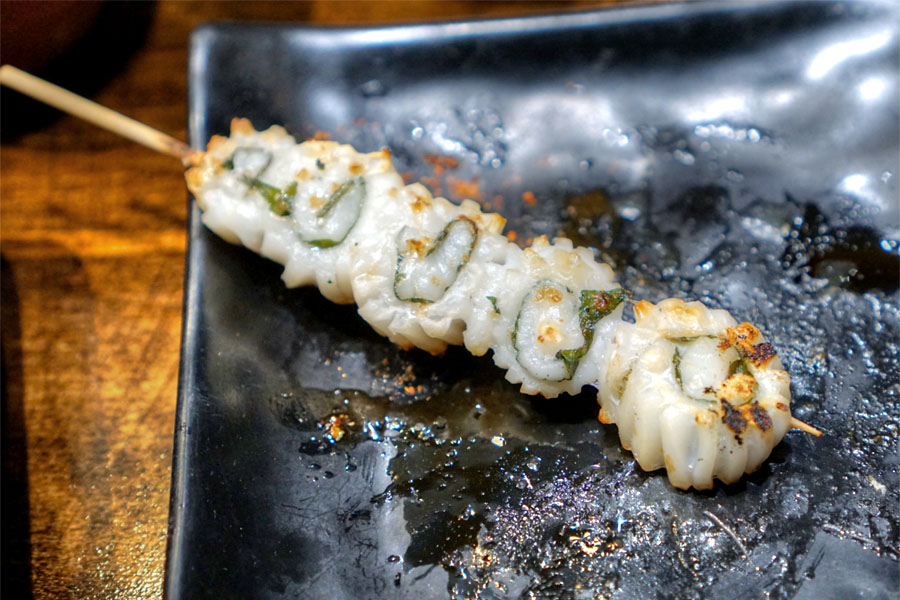 Squid w/ Shiso Leaf [$3.95]
The
ika
was more rubbery than I'd prefer, though I did like its subdued smoke and mintiness from the shiso.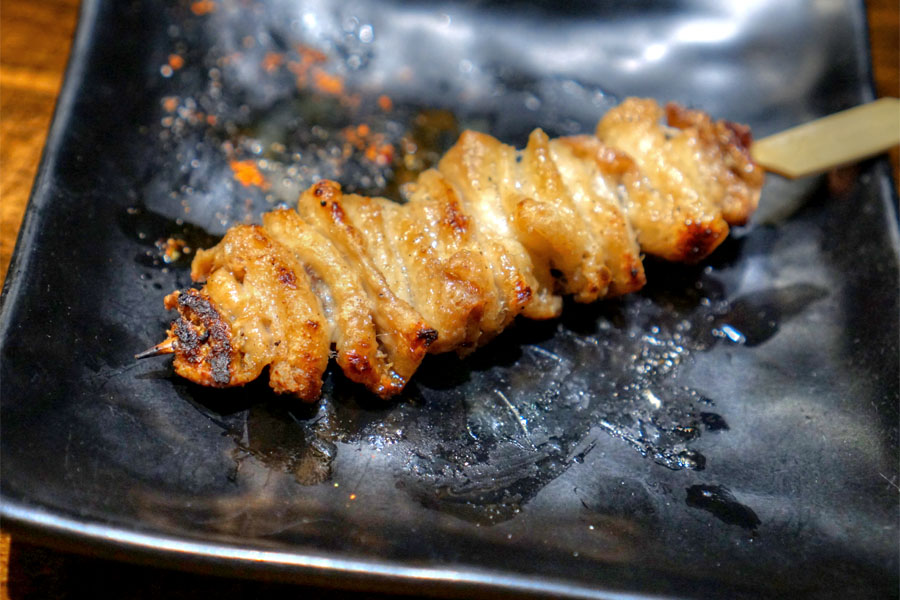 Chicken Skin [$2.50]
I was a fan of the
torikawa
and its mix of crispy, charred bits and fat.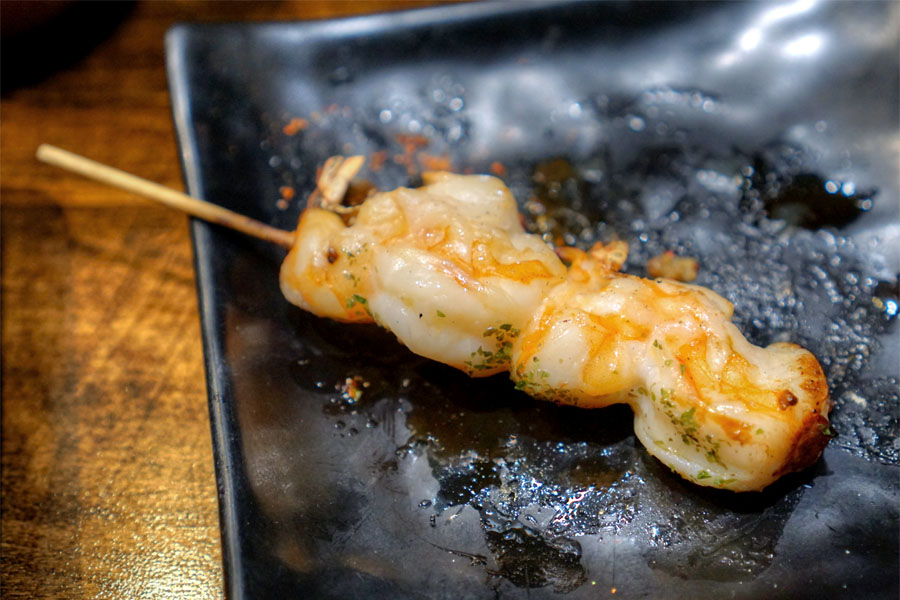 Shrimp [$3.95]
Fortunately, the
ebi
wasn't overcooked, coming out meaty and well-textured. The smokiness on this one was light, so as to not mask the shrimp's sweetness and brine.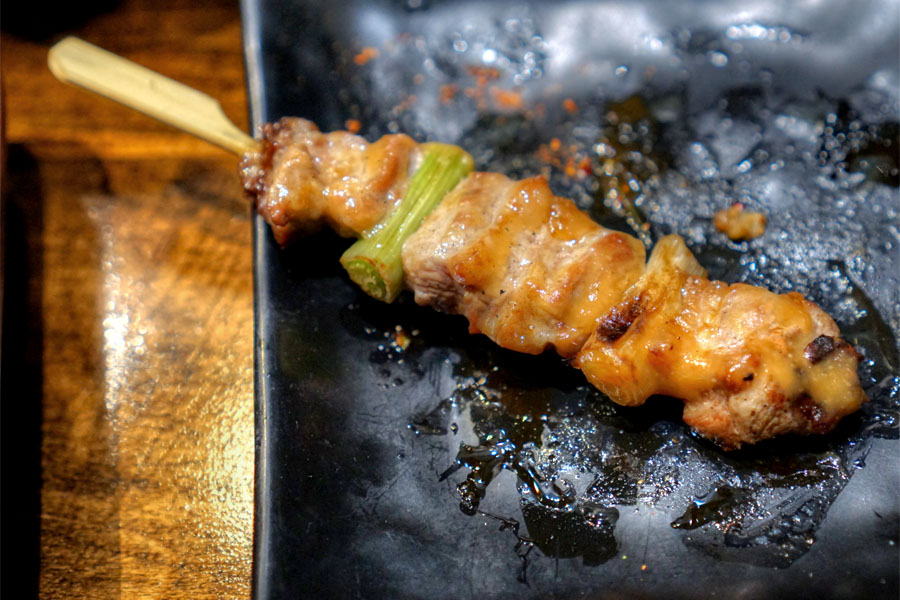 Duck [$2.75]
Our
kamo
wasn't particularly "ducky," but gave up a noticeable sweetness that matched well with the included
negi
.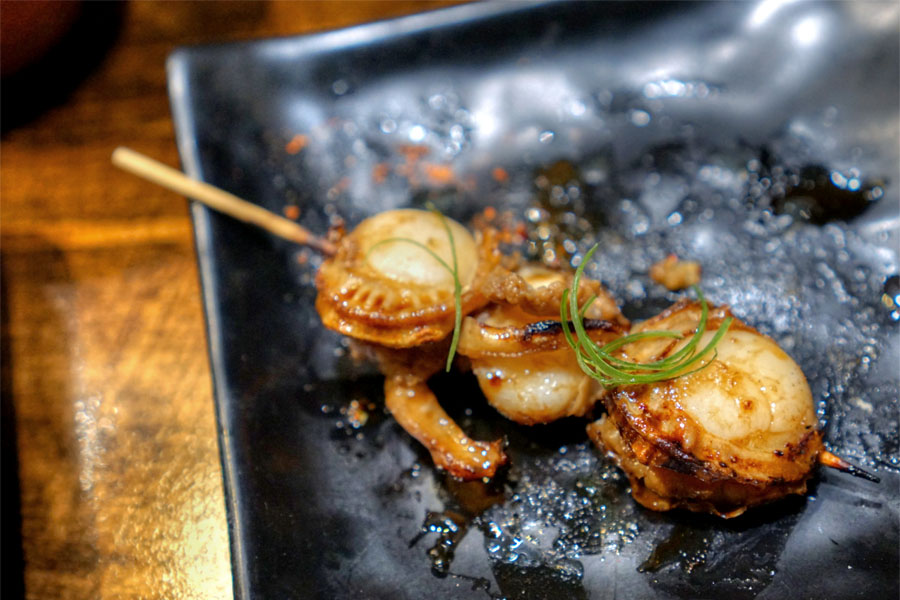 Scallop [$3.95]
Unfortunately, the
hotate
was cooked more than I would've liked, and was thus on the chewier side. Flavors were fairly intense, and came mostly from the sauce. Note that some of the innards were still left on the adductor, resulting in some more textural variation.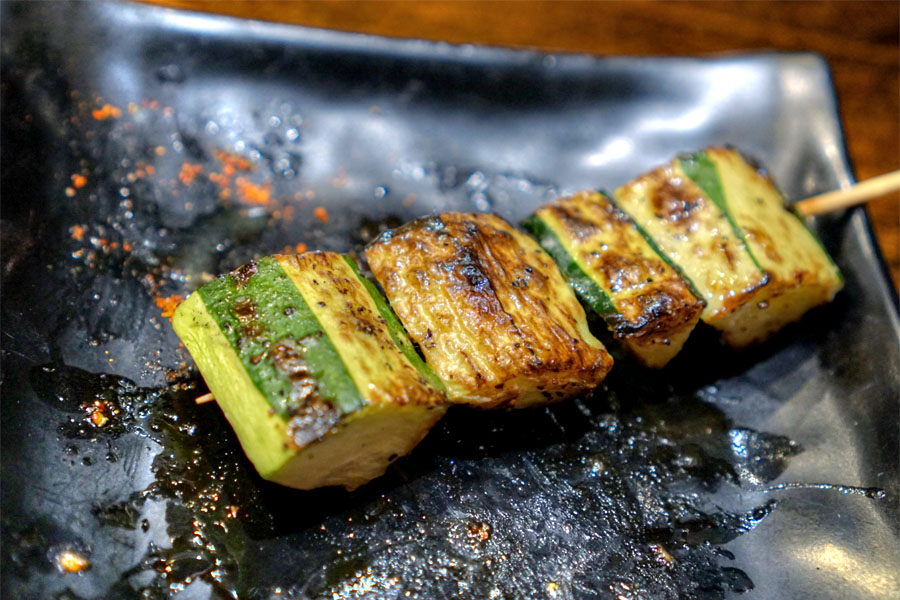 Zucchini [$2.00]
Zucchini was bright and juicy, with just enough sear to keep it interesting.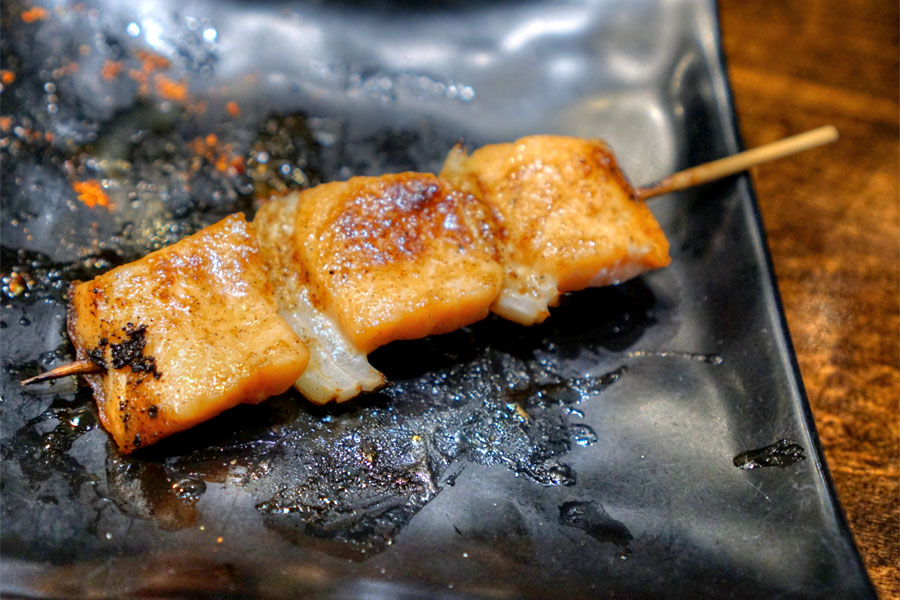 Salmon [$2.75]
The
sake
was on the overdone side sadly, though I did appreciate its pairing of onion.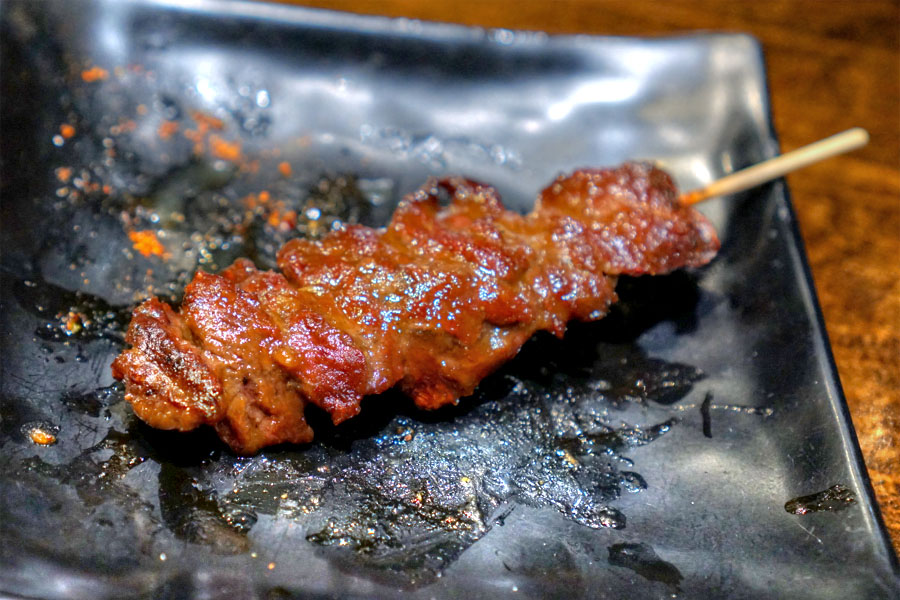 Beef [$2.25]
The
gyu
was also overcooked, coming out rather tough. Flavors were overly sweet as well, and I didn't really taste much of the actual beef.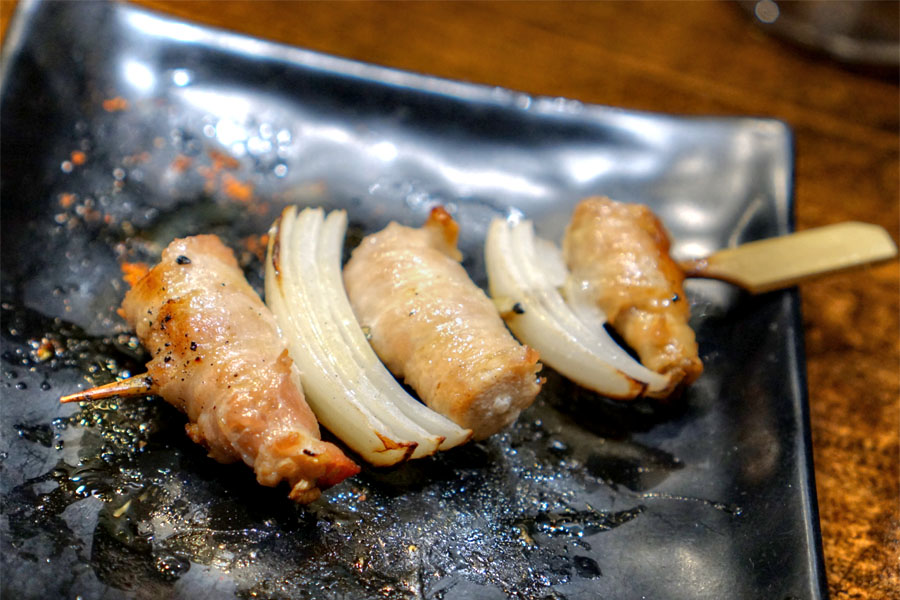 Enoki Mushroom w/ Pork [$2.50]
Texturally this was one of the most gratifying bites we had. I loved the sensation of all the mushrooms tightly bundled together, set against the salty, smoky crunch of their bacon wrapper.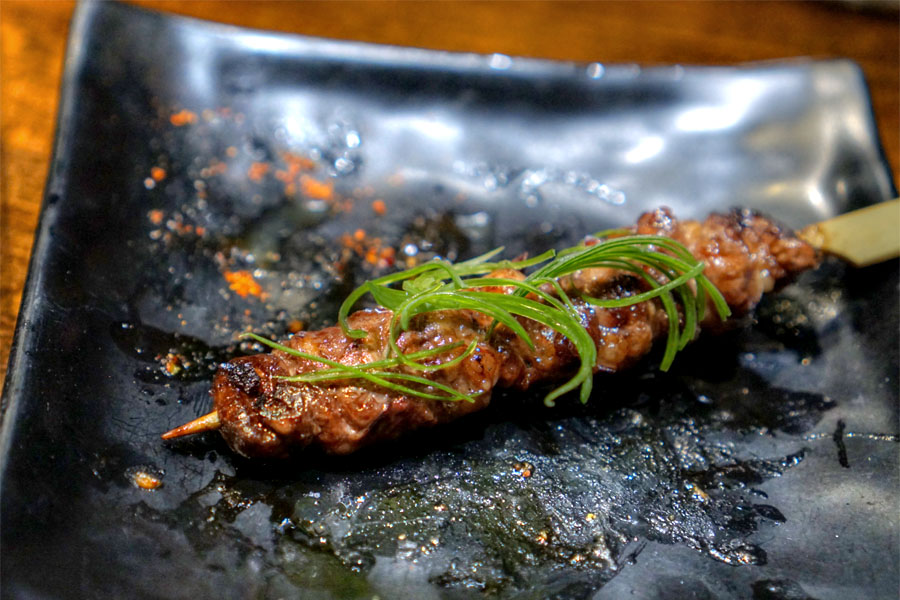 Special Chicken Heart [$3.00]
The first of two "secret" menu items we had, the
hatsumoto
was a special part of the chicken heart, and indeed it had an extra "hearty" chew to it, as well as a particular sweetness.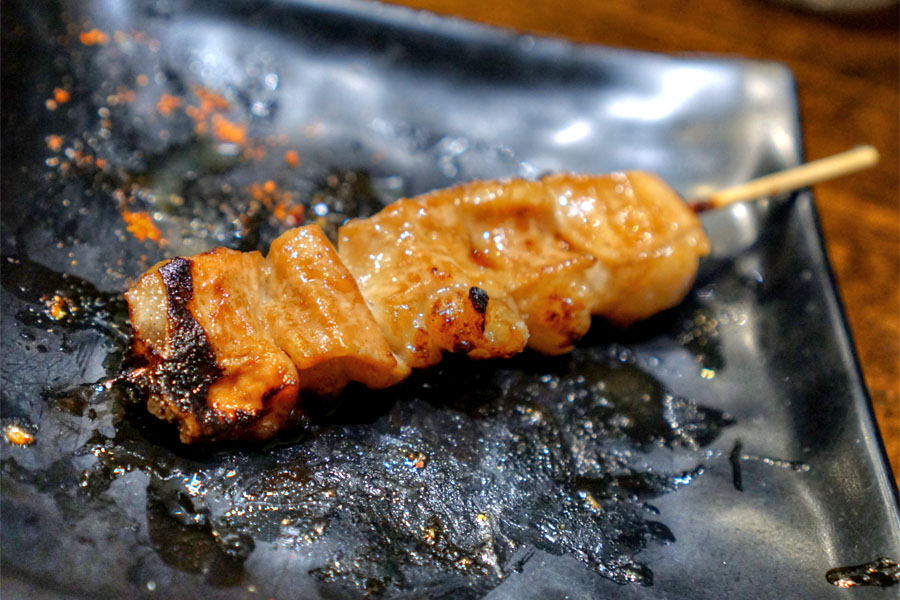 Chicken Intestine [$2.50]
The
horumon
was also quite sweet, and had a slick, gelatinous consistency accented by touches of crisp char. Note that there was a third "secret" item, the
tori harami
(diaphragm meat), though the kitchen had run out of it.
Another yakitori joint crossed of my list. I had a few complaints with some of the items, though they mostly had to do with the non-chicken skewers, and overall we enjoyed the meal. Stick with the
tori
and veggies, and you should have a very solid experience.