Bistro Na's (Temple City, CA)
Bistro Na's Restaurant
9055 E Las Tunas Dr, Temple City, CA 91780
626.286.1999
www.bistronas.com
Tue 10/16/2018, 07:50p-10:10p

Los Angeles' upscale Chinese cuisine scene got a shot in the arm in November 2016 with the debut of Bistro Na's, also known as
Najia Xiaoguan
("Na family's little eatery"). The restaurant is the first US outpost of a very popular mini-chain based in Beijing, one serving dishes inspired by the Manchu imperial court cuisine of the Qing Dynasty. The (somewhat apocryphal) story behind this place is that a member of the Na family was the royal physician for the Qing emperor, and was able to compile a number of imperial recipes into a so-called Golden Soup Bible (ca. 1748). Said Bible eventually wound up in the hands of one of his grandsons, who went on to open the original
Na Jia Xiao Guan
on Xiangshan Road in Beijing's Haidian District based off the recipes contained within.
This US location is the work of owner Xianyi Kong, while the kitchen is helmed by Chef Tian Yong. Yong hails from Beijing, and boasts over two decades of experience cooking in some of the City's better hotels and restaurants, including time spent as head chef for the 2008 Summer Olympics in Beijing and the 2010 Asian Games in Guangzhou.

Bistro Na's is located inside Temple City's new-ish Camellia Square development, which opened in October 2016 on the site of a former empty field. It's a large space, spanning approximately 7,100 square-feet with seating for a reported 177. The decor is decidedly grandiose, with lots of wood and fancy touches, a nod to the original restaurant's aesthetic.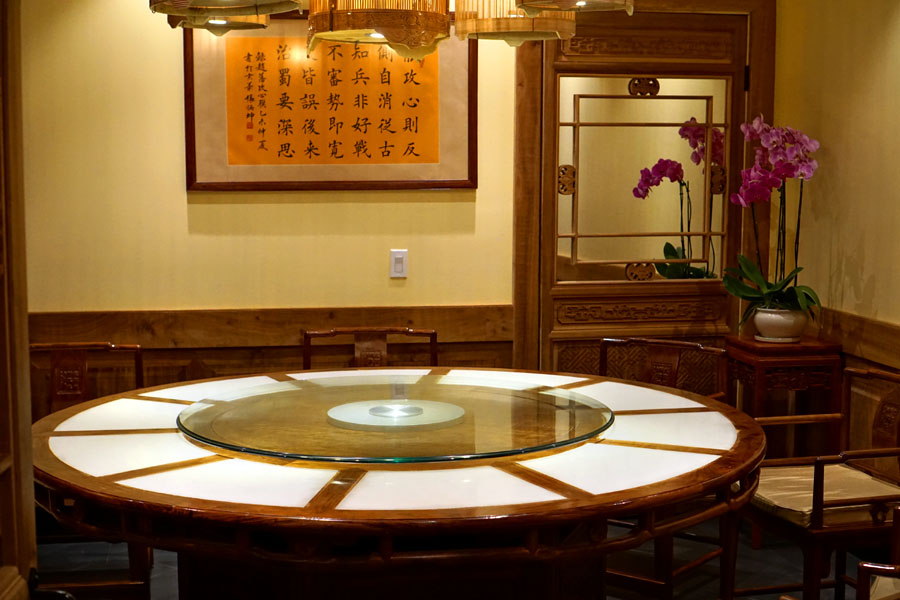 There are also five private dining rooms, one of which we used (at a $500 minimum charge).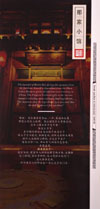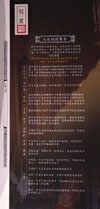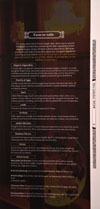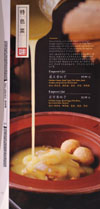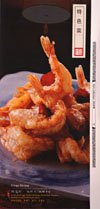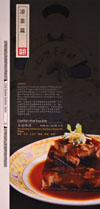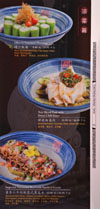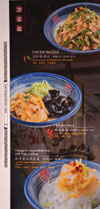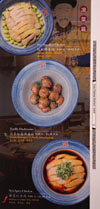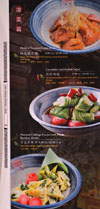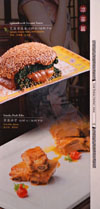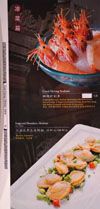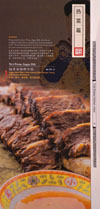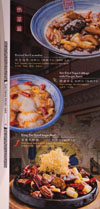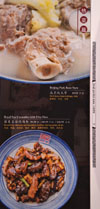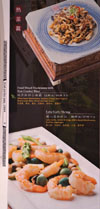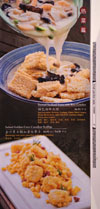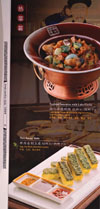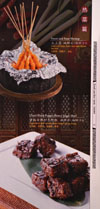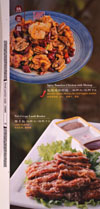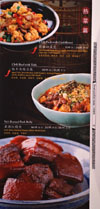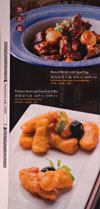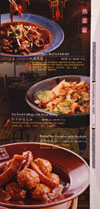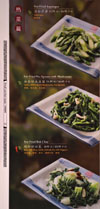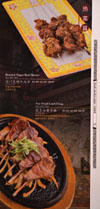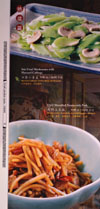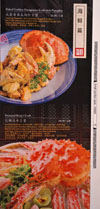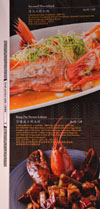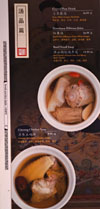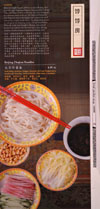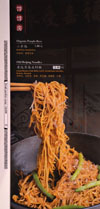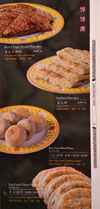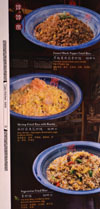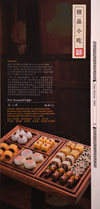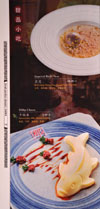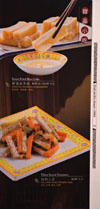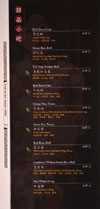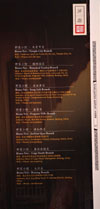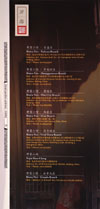 Bistro Na's menu is no doubt one of the schmanciest I've seen, an inch-thick tome with colorful illustrations of pretty much every available item. The food seems to be a mix between the more uncommon royal Manchu cuisine items and your more prosaic dishes. I will say that things appear to be more toned down compared to what you can get at the restaurant's Chinese locations (no deer penis to be had here). There's also a lunch special menu with many of the same dishes, but at lower price points. Click for larger versions.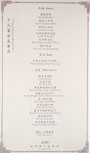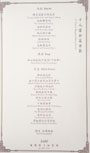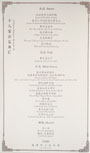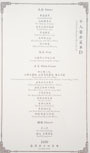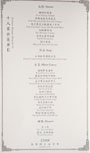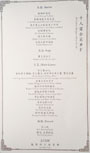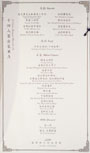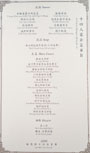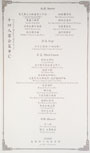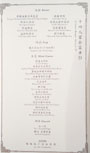 And here are Bistro Na's' many banquet menu options, if you're interested. Click for larger versions.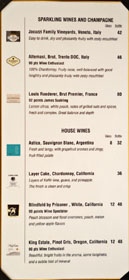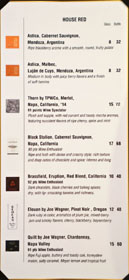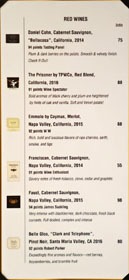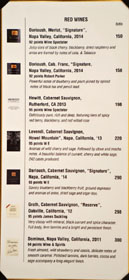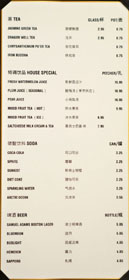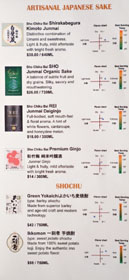 To drink, there's some sake, pedestrian beers, and a wine list that's not too shabby for a Chinese restaurant. Given that this was a beer-focused dinner though, we brought our own bottles at a corkage fee of $20 each. Click for larger versions.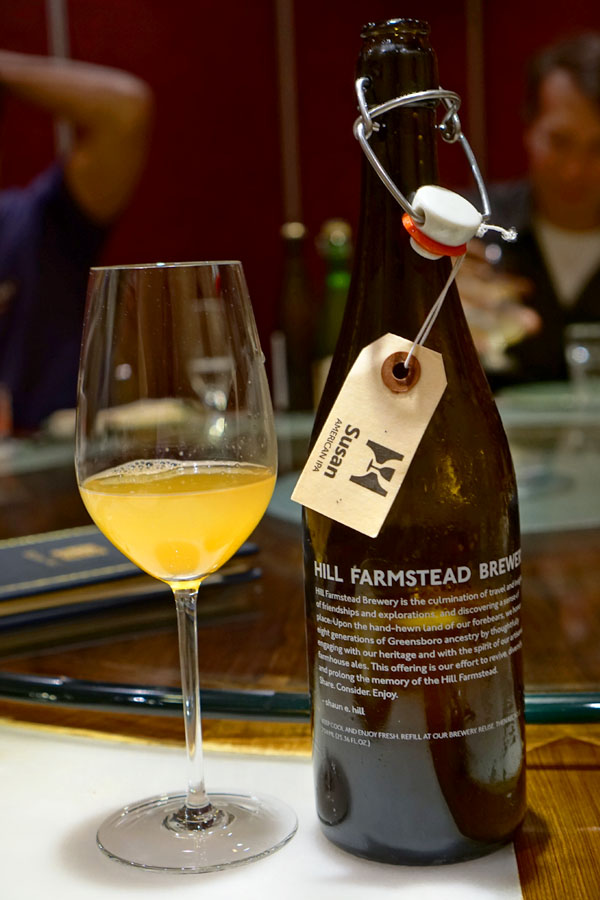 We began with a lighter beer, a New England-style IPA in the form of the
2018 Hill Farmstead Susan
. It smelled just as you'd expect: aromatic, juicy grapefruit with a touch of aromatic pine. Taste-wise, it was citrusy and tropical at first, but had a definite hop bitterness and herbaceousness bringing up the rear.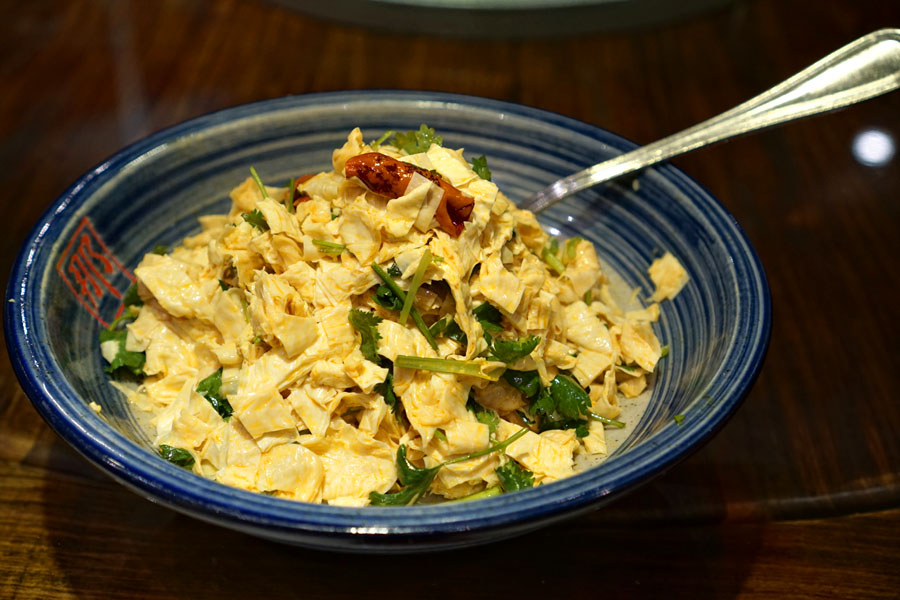 Chili Tofu Skin Salad (Regular) [$8.95]
| Cilantro, Bean Curd Sheets, Dry Chili Peppers
This was as good of a
doufu pi
as I've ever had. Texturally I found it pleasingly soft, yet with some rubberiness, while its mild flavors were joined by the perfect amount of chili heat and cilantro zestiness. A very promising start.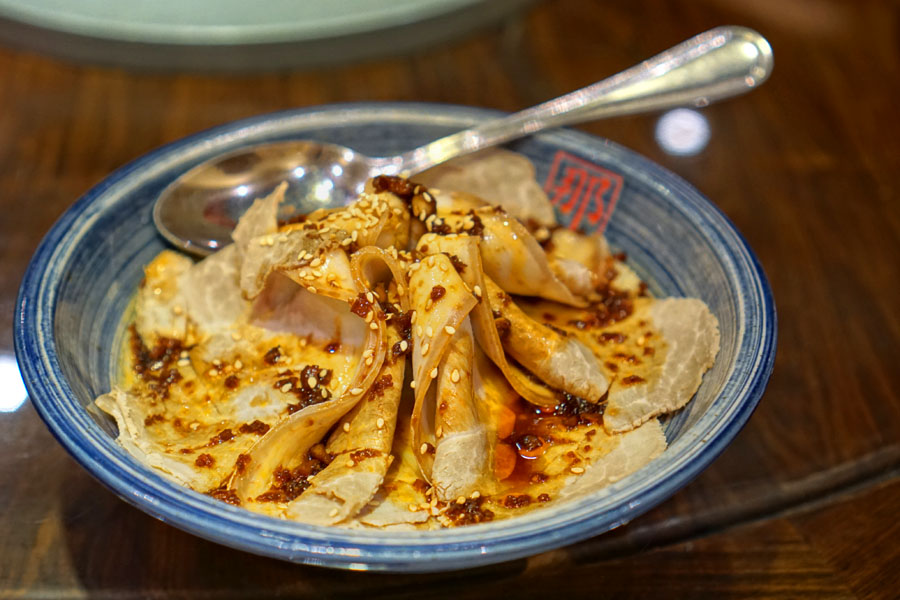 Na's Sliced Pork with Sweet Chili Sauce (Regular) [$11.95]
| Sliced Pork belly, Cucumber Slices, Sweet Chili Sauce
Sheets of thin-cut pork were fatty and funky, their potency well-matched by the piquancy of the chili sauce and the crunchy brightness of the accompanying pickle slices.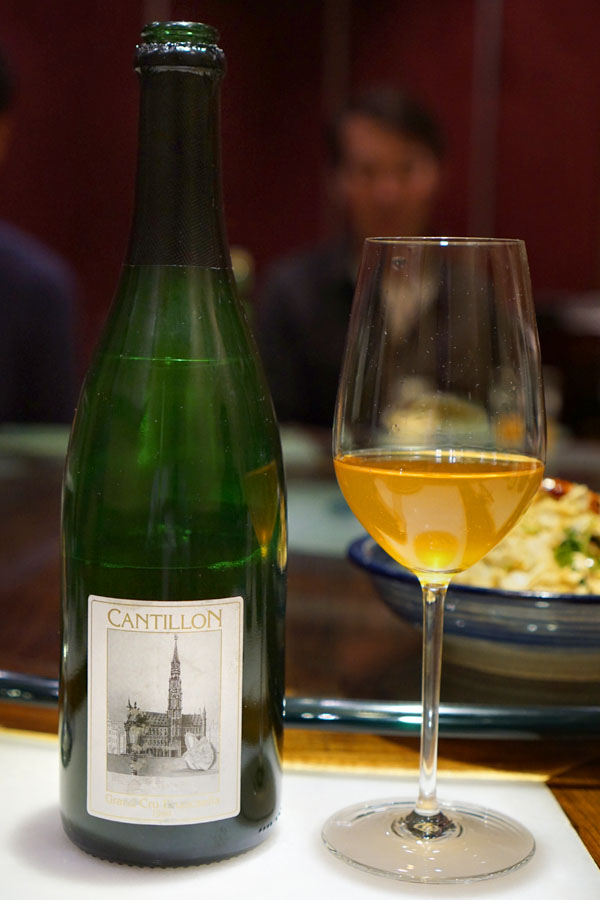 The oldest beer this evening was the
1999 Cantillon Grand Cru Bruocsella
, an unblended lambic that was aged for three years in oak. Its nose was as mature as expected, and had some decidedly earthy, oxidative nuances along with a backbone of acidity. On the palate, I found minimal carbonation but plenty of sour, barnyard-y, somewhat balsamic-like notes along with citrus. What was interesting was that it was quite sharp tasting, yet somehow soft and velvety at the same time.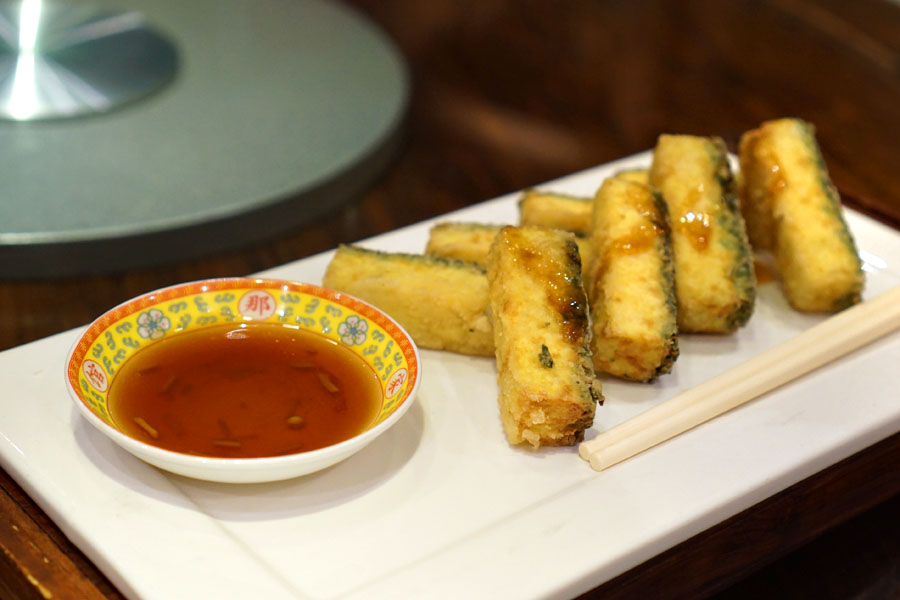 Na's Secret Tofu (Regular) [$12.95]
| Egg, Soy Bean, Bok Choy Leaves
These crispy cuboids of tofu were another favorite of mine. There was a great contrast in texture going on, while taste-wise they had an "egginess" to 'em that I really appreciated, as well as some bitter notes from the layer of bok choy on one side. Tasty alone, and even better with a dab of the accompanying umami-packed sauce.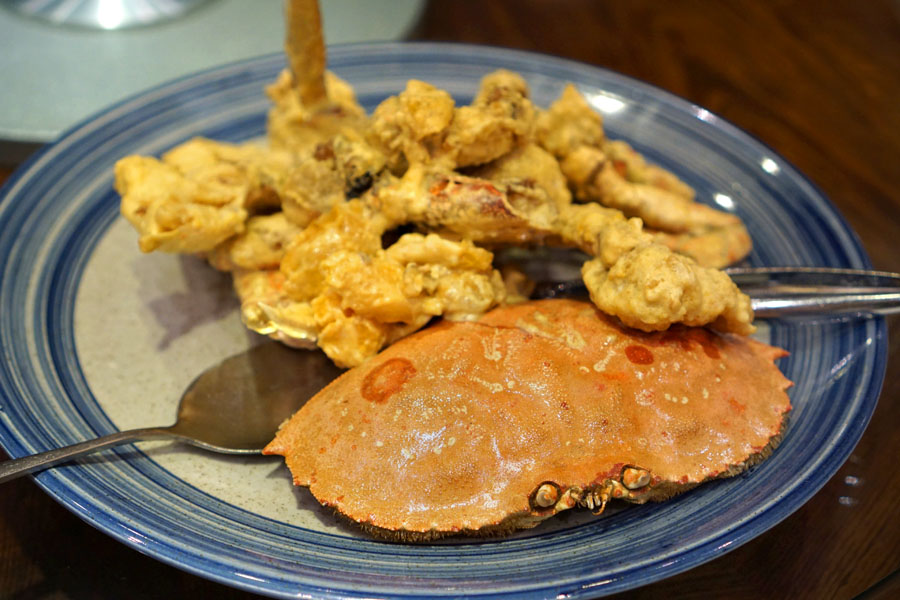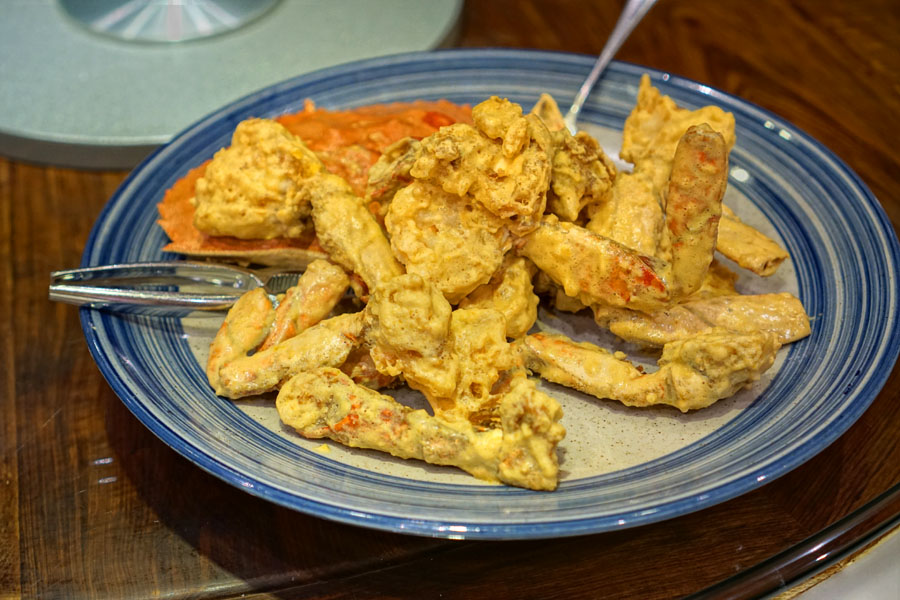 Baked Golden Dungeness Crab with Pumpkin (3.5 lbs) [$26.95/lb]
Dungeness was expertly prepared. The crab's inherent sweetness was well-conveyed, and linked up with its gritty coating, which was like a combination of pumpkin sweetness with pops of salt.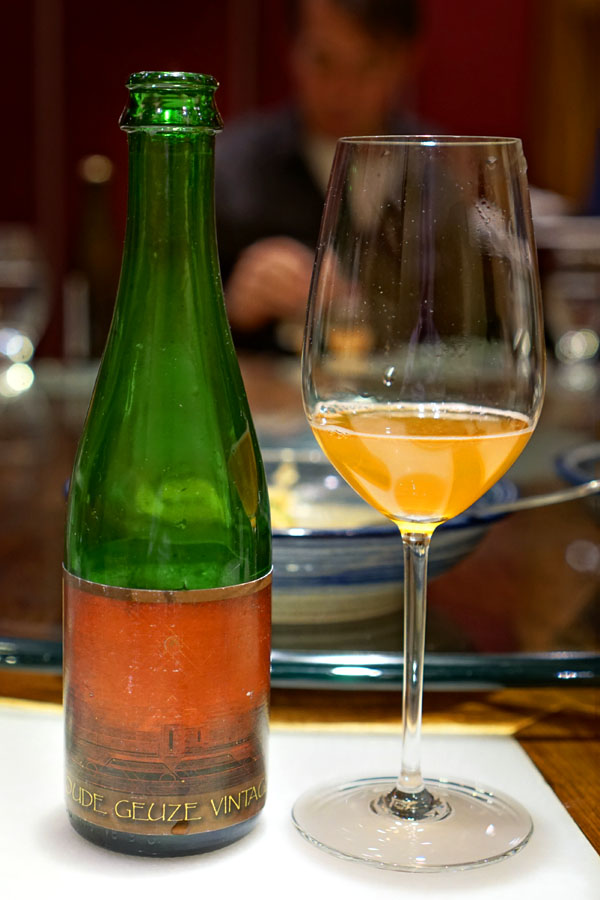 Our next beer also had a good amount of age on it, the
2005 3 Fonteinen Oude Geuze Vintage
, a "reserve" gueuze that the brewery holds back for extended aging. Appealing nose of stone fruit sweetness, barnyard, and lemon. I found it quite soft and round on the palate; there was a fruity funk and sourness up front that led to musty, oak nuances with a pinch of sherry.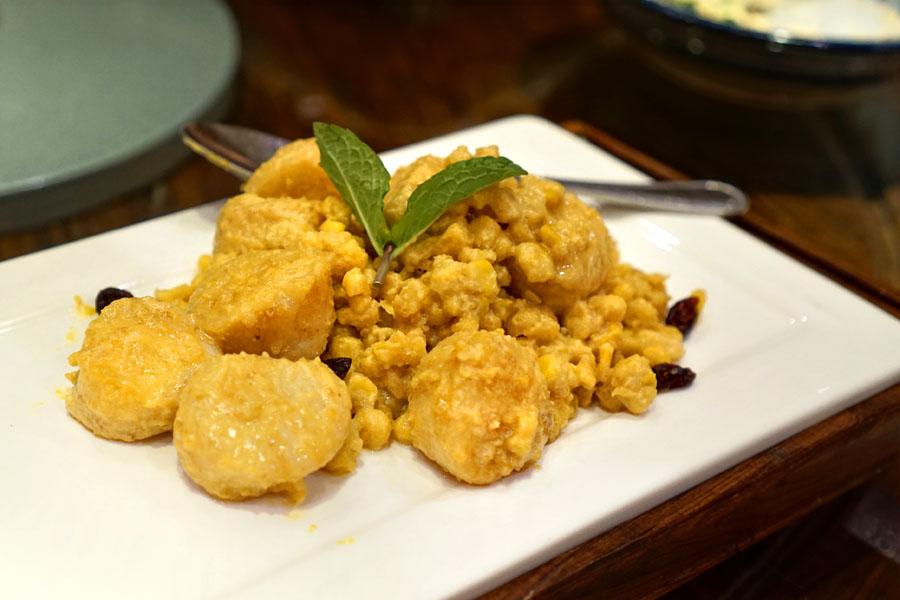 Salted Golden Corn Canadian Scallop (Regular) [$36.95]
| Salted Egg Yolk, Corn, Canadian Scallops, Beet Leaves
Scallops were plump, supple, their natural sweetness enhanced by the incorporation of corn while the salted egg seemed to amplify their brininess on the back end. There was too much corn for the number of scallops present, however.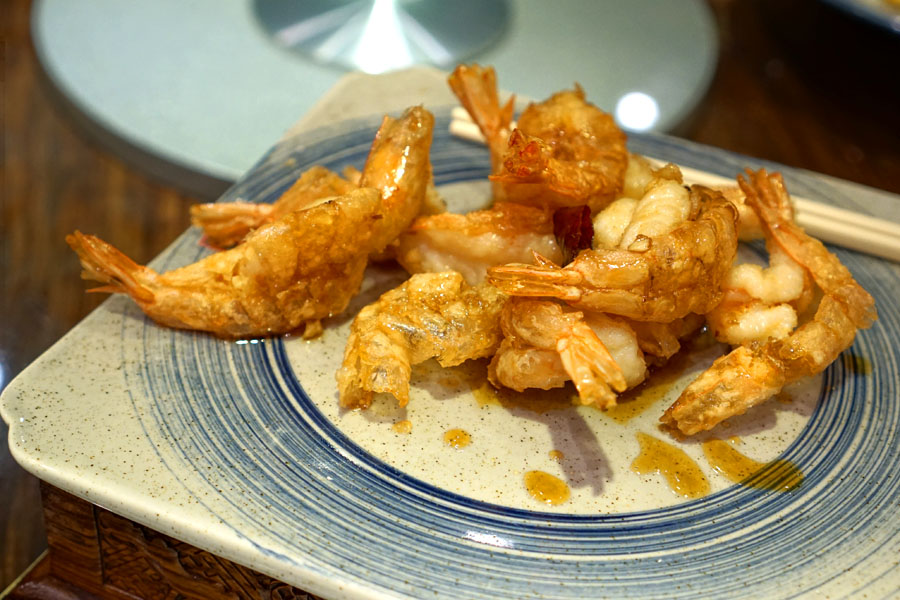 Crispy Shrimp (Regular) [$16.95]
| South American Jumbo Shrimps, Dried Chili Peppers, Shrimp Sauce, Red Potato Slices
Of course we had to try the signature shrimp, and the dish for sure didn't let us down. The key was the sheer crispiness of the skin--it almost shattered upon mastication, tail and all--and how that played with the firm-yet-pliant nature of the meat. Meanwhile, flavors were a contrast between an omnipresent but never overwhelming sweetness and a smidge of heat.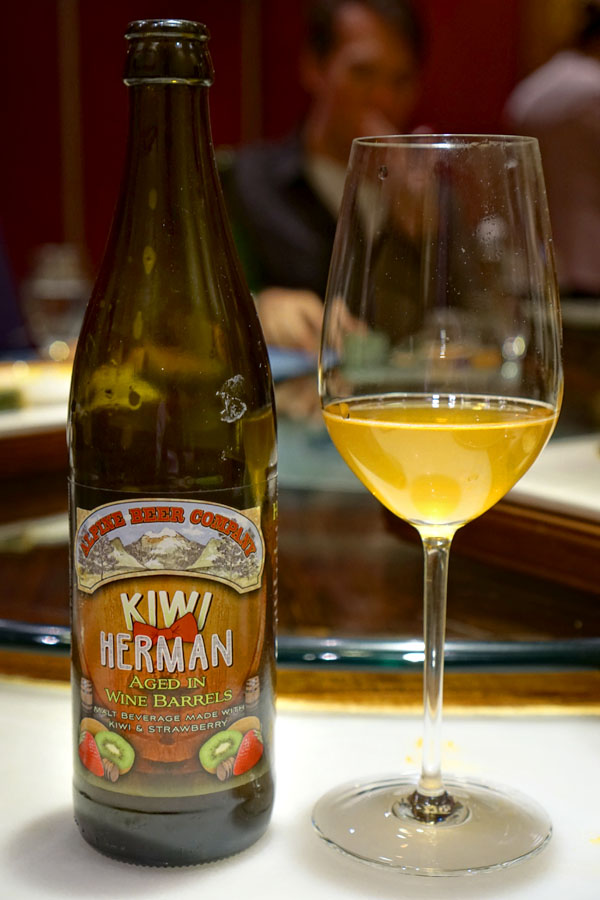 Next to drink was the
2015 Alpine Kiwi Herman
, a sour blonde ale with kiwi and strawberry aged in wine barrels. Aromas of rich tropical fruit, sourness, and funk--nice. The taste was tart and heavy on the strawberries at first, with the kiwi in the background, while the close showcased some dry, earthy elements.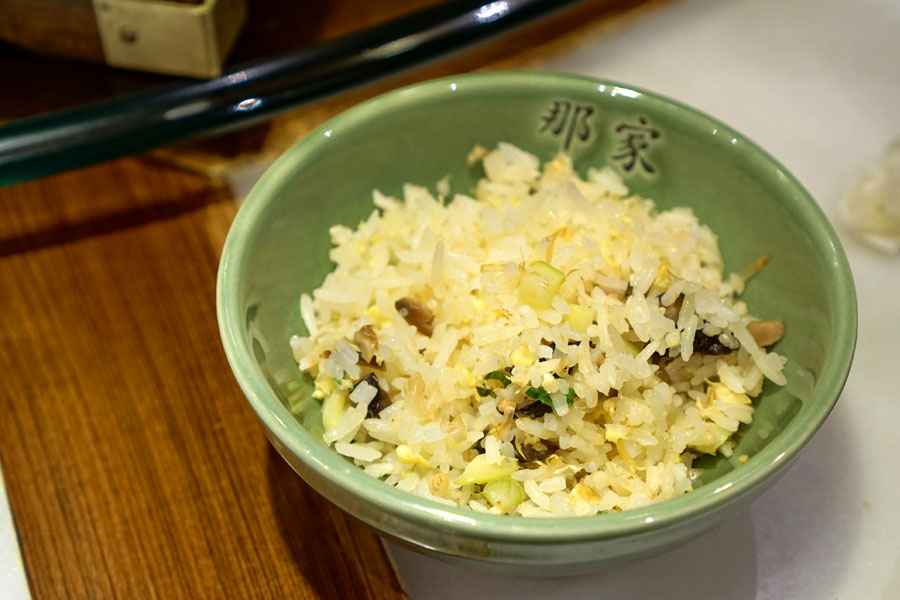 Shrimp Fried Rice with Bonito [$12.95]
| Rice, Shrimp, Asparagus, Mushrooms, Eggs, Scallions, Bonito
The requisite fried rice was a rather refined preparation, and had a base of umami from the mushrooms and bonito set against your more classic egg-scallion flavors. Note: the photo above depicts only a bowl of the rice, which was served from a larger platter.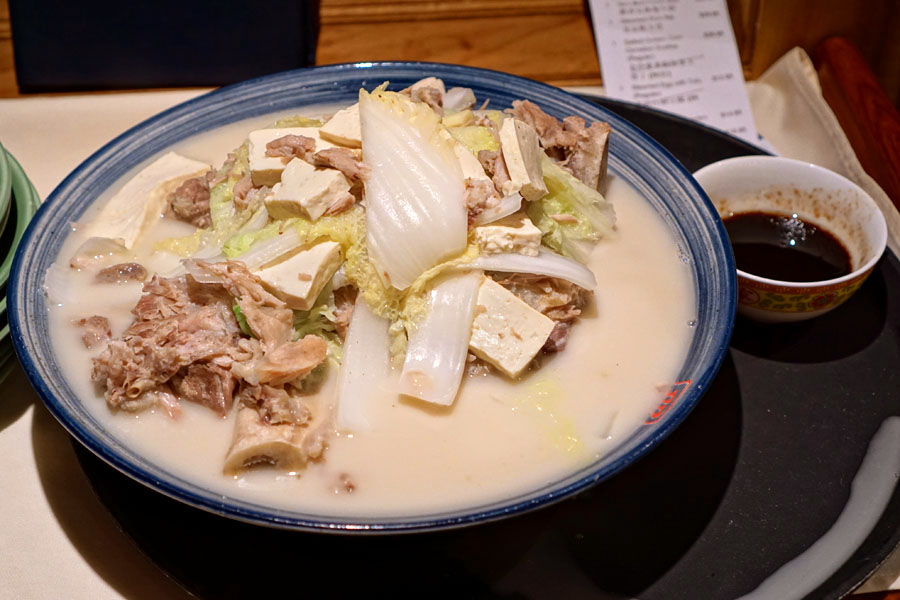 Beijing Pork Bone Stew [$29.95]
| Pork Bone, Napa Cabbage, Tofu
Visually, our soup course had a turbidity that recalled
seolleongtang
. It didn't really taste like it though. Rather, the stew had a rich, heady, unmistakable porkiness to it evened out by the presence of cabbage and tofu.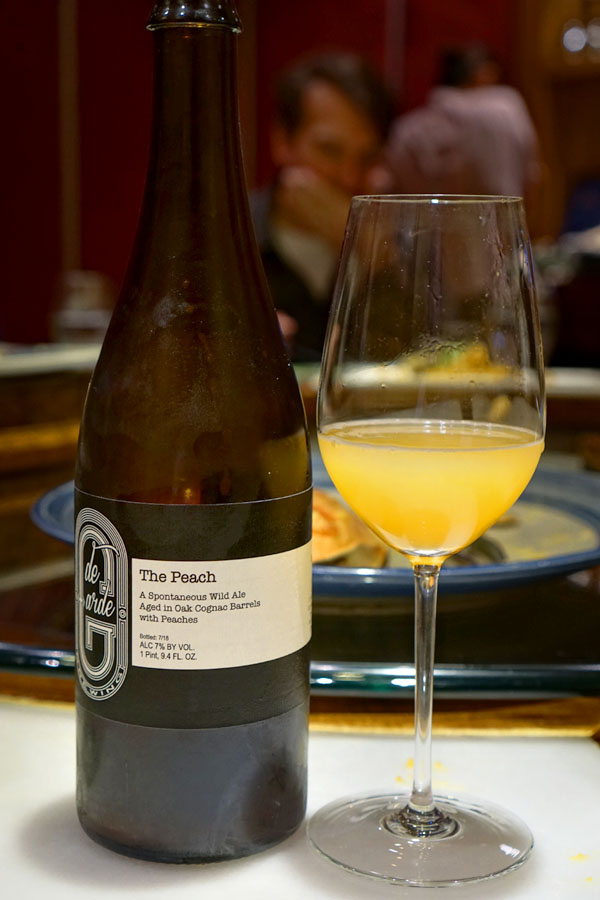 Here was the
2018 de Garde The Peach
, a spontaneously-fermented wild ale aged in oak cognac barrels with peaches added. Big aromas of stone fruit and earth along with strong barrel. In terms of taste, I found it super acidic initially, with the peaches coming in on the mid-palate before the oaky funk of the cognac casks made itself known on the close.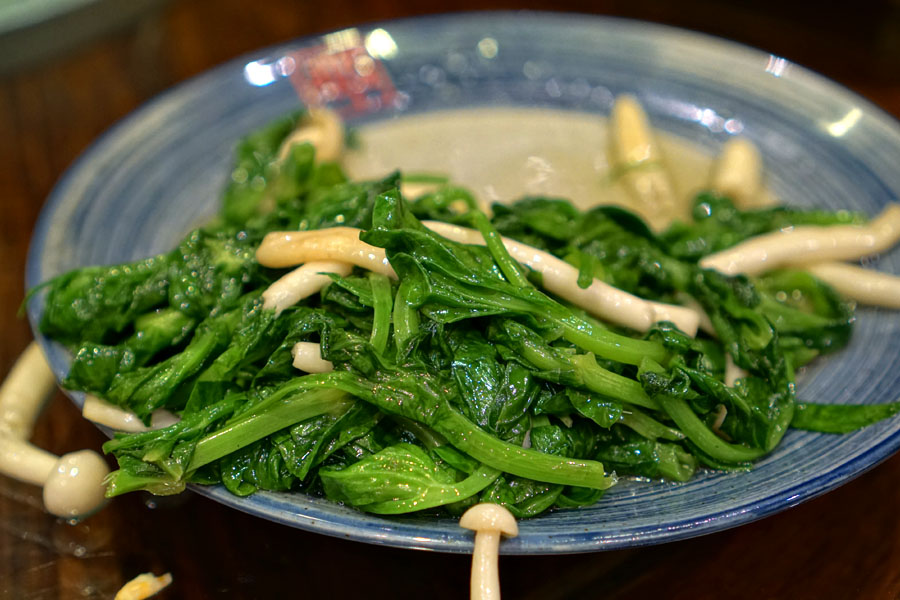 Stir Fried Pea Sprouts with Mushrooms (Regular) [$11.95]
| Garlic, White Beech Mushrooms, Pea Sprouts
Dou miao
were bright and garlicky, just like I wanted, while the incorporation of
bunapi shimejis
was a welcomed addition. Note: a couple of my dining companions got into this before I could photograph, so a good third of the dish is missing.
Na's Braised Pork Belly (Small) [$16.95]
| Pork Belly, Bamboo Shoots, Black Mushrooms
The
hong shao rou
was almost like pig candy. The meat was gelatinous to the bite, and had a marked sweetness to it that was balanced out just enough by the spicy and savory components in the dish.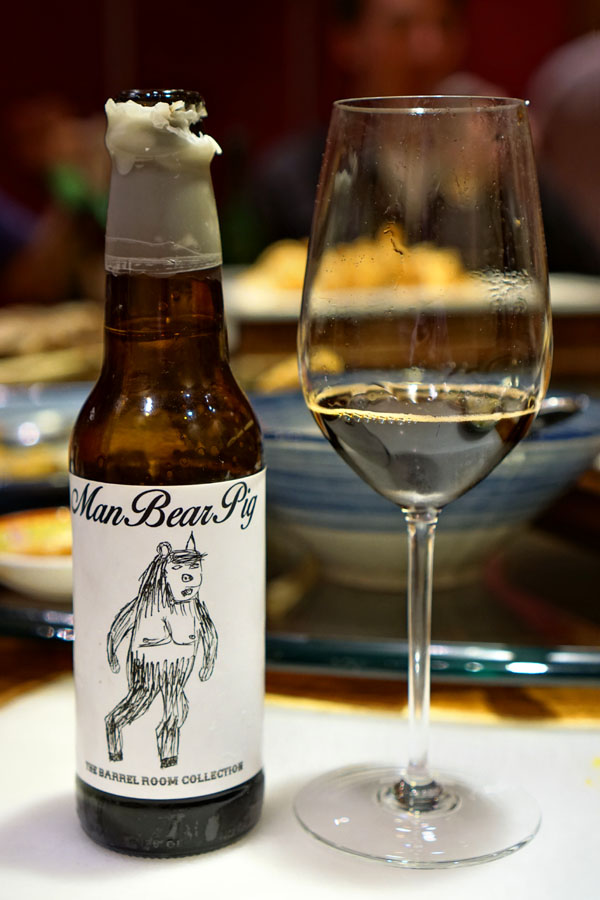 Speaking of candy, our next drink was the
2016 Voodoo ManBearPig
, which was definitely on the dessert-y side. This was an imperial stout with apple- and hickory-smoked Munich malt aged in bourbon barrels that had previously held honey and maple syrup. It smelled great, with sweet chocolate and maple all over the place, tinged with barrel. On the palate, I found the beer super smooth and silky, with almost no booziness; instead, there was loads of honey and somewhat less maple alongside sugary chocolate and a touch of oak.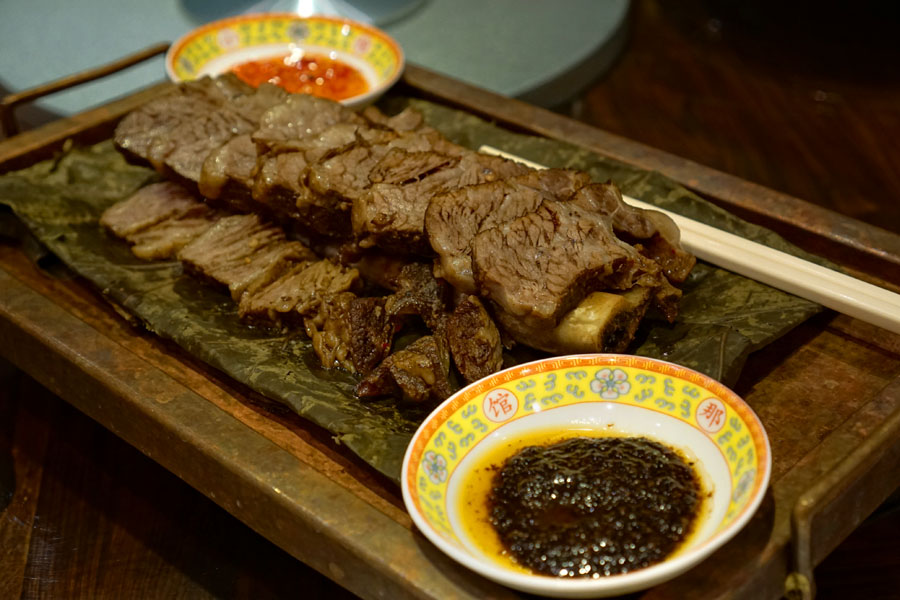 Na's Prime Angus Rib [$46.95]
| Angus Beef Ribs, Lotus Leaves, Black Pepper Sauce, Thai Sweet Chili Sauce
These were beef ribs, wrapped in lotus leaves, then brined and roasted. The end result was an utterly tender, almost melt-in-your-mouth cut of meat, one that matched up beautifully with that delightful black pepper sauce on the side.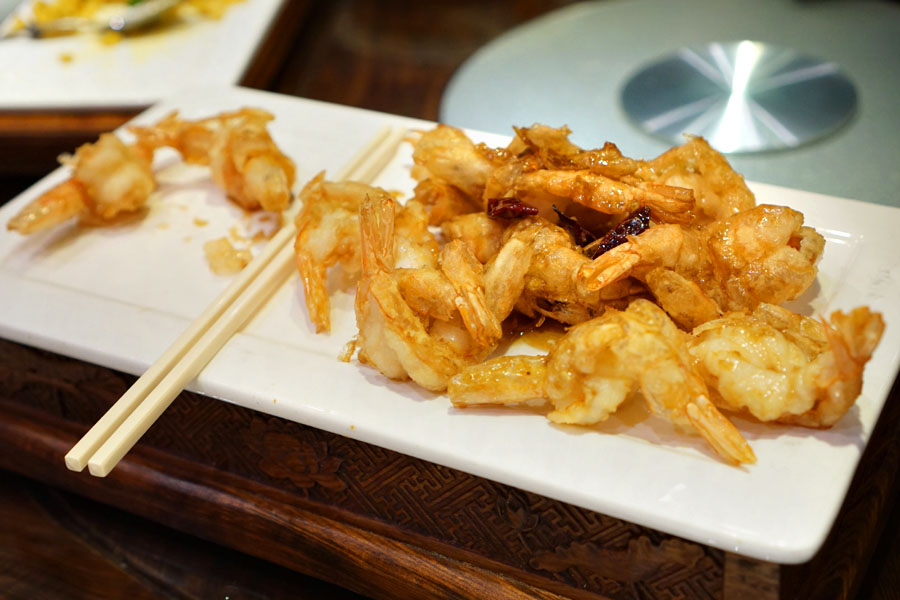 Crispy Shrimp (Medium) [$24.95]
| South American Jumbo Shrimps, Dried Chili Peppers, Shrimp Sauce, Red Potato Slices
Na's
cuipi xia
was so good that we actually had to get another order, a larger serving at that.
A blended Belgian-style ale aged in wine barrels with white peaches and apricots, the
2013 Alpine Chez Monus
is oft considered the prime example of an American stone fruit sour, and it lived up to the hype. It smelled amazing, giving up super intense aromas of sugary, candied fruit that recalled peach rings, Jolly Ranchers, or canned peaches (rumor is that they actually used canned fruit!). Tasting the beer, I got a perfect marriage of stone fruit, sourness, acid, and yeasty funk leading to a long-lasting finish rife with more peach. This one's showing very well, even after five years.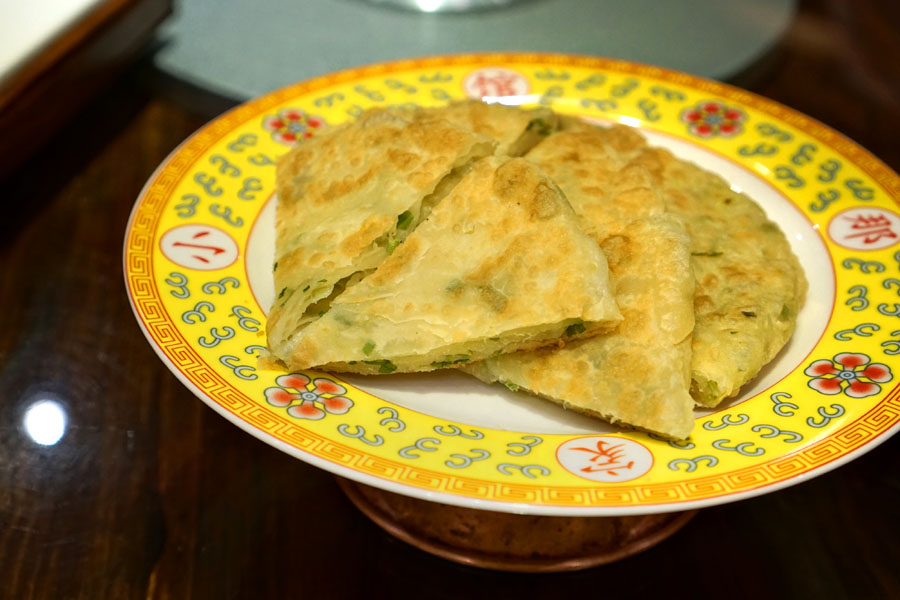 Scallion Pancakes [$6.95]
| Flour, Scallions
Cong you bing
were fine, though I would've liked 'em crispier, with more scallion.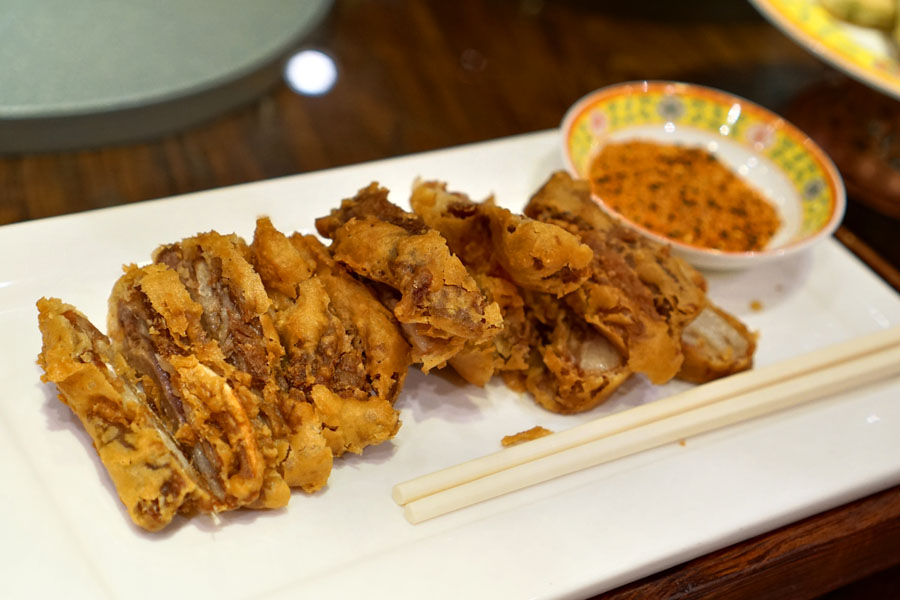 Na's Crispy Lamb Brisket (Regular) [$14.95]
| Lamb, Fry Batter
Shards of lamb were super crispy, and had a somewhat "doughnut-y" sweetness from the batter that actually linked up well with the dry spices on the side.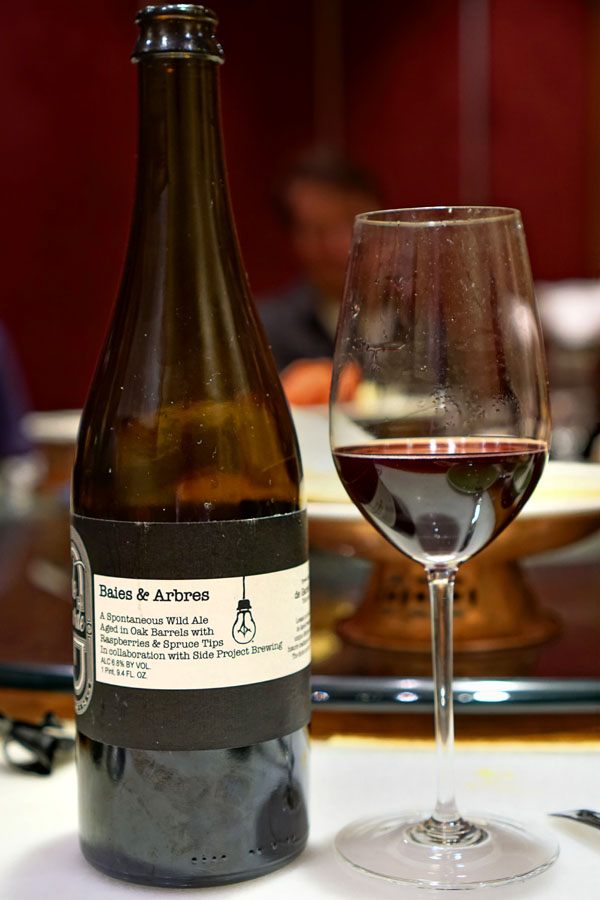 Our final beer was the
2017 de Garde Baies & Arbres
, which was created in collaboration with Missouri's vaunted Side Project Brewing. It's a spontaneously-fermented golden wild ale, hopped with four-year-old warm-aged whole leaf hops and a small amount of pellet hops, then aged in oak red wine barrels and blended. Following, the beer was refermented in secondary oak with fresh black and red raspberries for two months, blended with a bit of 1/2/3-year-old beer, then conditioned on foraged spruce tips. The nose here was almost straight jam, with just the slightest bit of spruce and wood. The palate was soft and smooth, and brought massive amounts of berry fruit and red wine along with just enough sourness and a finish highlighting the herbal, refreshing nature of the spruce. One of my dining companions even described it as "mead-y."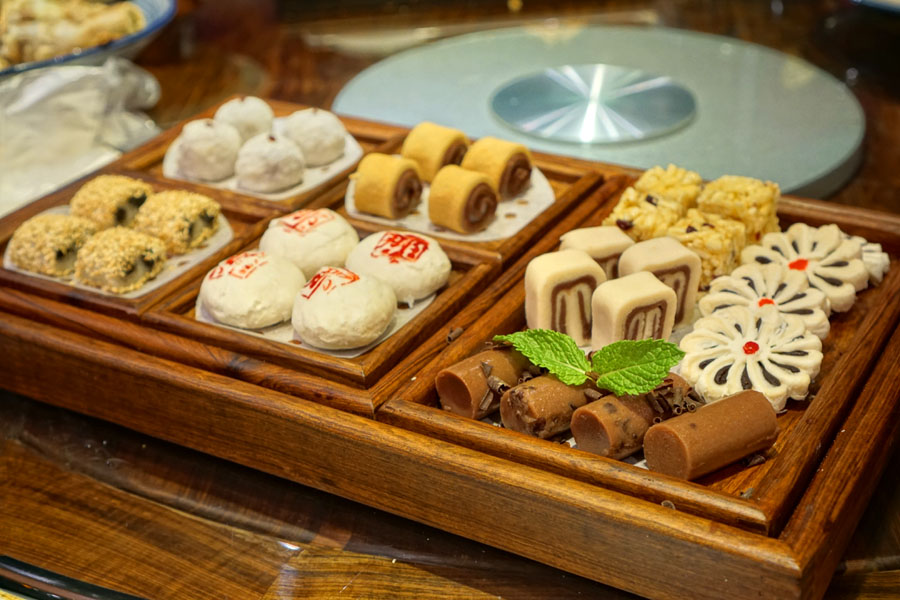 Na's Assorted Eight [$36.95]
| Includes: Red Date Crisp, Yin Yang Sesame Roll, Red Bean Cake, Sweet Rice Roll, Crispy Rice Treats, Cranberry Walnut Sweet Rice Ball, Red Bean Roll, Na's White Crisp (4 each)
We made sure to try an assortment of the restaurant's desserts (clockwise from upper-left):
Red Date Crisp - This was my favorite of the bunch, thanks to its rich jujube notes and firm, slightly crunchy texture.
Sweet Rice Roll - Soft and gummy to the bite, with classic red bean flavors.
Crispy Rice Treats - Dense and crunchy, these had a ricey sweetness along with a touch of tartness from the cranberry.
Na's White Crisp - These cookie-like creations actually didn't taste like much, and only had a bit of sweetness from the hong dou.
Red Bean Roll - Cylinders of red bean were soft and gelatinous--pretty nice.
Cranberry Walnut Sweet Rice Ball - I found these nutty and grainy from the walnut, while the red bean offered up a bit of contrast.
Red Bean Cake - Delightfully flaky, with again more of that classic red bean sweetness on display.
Yin Yang Sesame Roll - These soft 'n' sticky morsels made for my second favorite dessert thanks to their tangyuan-like nutty sweetness.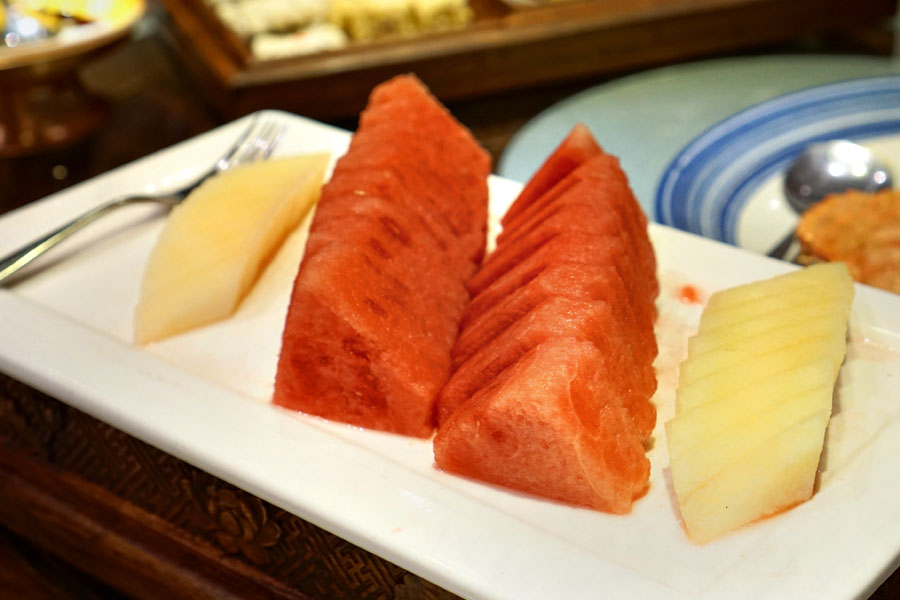 To end: a complimentary platter of watermelon and what I believe was
hami gua
(which was ridiculously sweet, almost honeyed).
We actually tried to do a beer dinner at Bistro Na's last December, but a too-small-for-our-party table here made us go to
Chuan's
across the street instead. I'm really glad we made it back after 10 months though, since this meal was very good, and no doubt one of the most memorable Chinese experiences I've had in the Southland. You get to sample a good number of dishes here that you just don't find all that often, and there's a subtlety and refinement in the cuisine that's hard to describe. The service and ambiance are top-notch for a Chinese place, too, so this really should be an "essential" spot for the SGV.