Copycat Co. (Washington, DC)
Copycat Company Bar
1110 H St NE, Washington, DC 20002
202.241.1952
www.copycatcompany.com
Mon 08/06/2018, 08:30p-11:00p

I was just in DC for work a couple weeks ago, but yes, I had to return once again on another business trip. This time around, I made sure to hit up the Atlas District's Copycat Co, which was actually recommended by several of the industry folks I talked on my last visit. It's the work of Devin Gong, a class of 2008 Maryland Institute College of Art graduate in painting (he named the bar after the Copycat Building, which was nearby his school). Gong boasts experience at DC spots Napa 1015, Ping Pong Dim Sum, Founding Farmers, as well as at
Barmini
, where he tended bar until April 2014. Situated in H Street Corridor's Hubert Newsom Real Estate building, Copycat opened its door in November 2014, and actually took over an address that was supposed to be home to another bar called Newsom.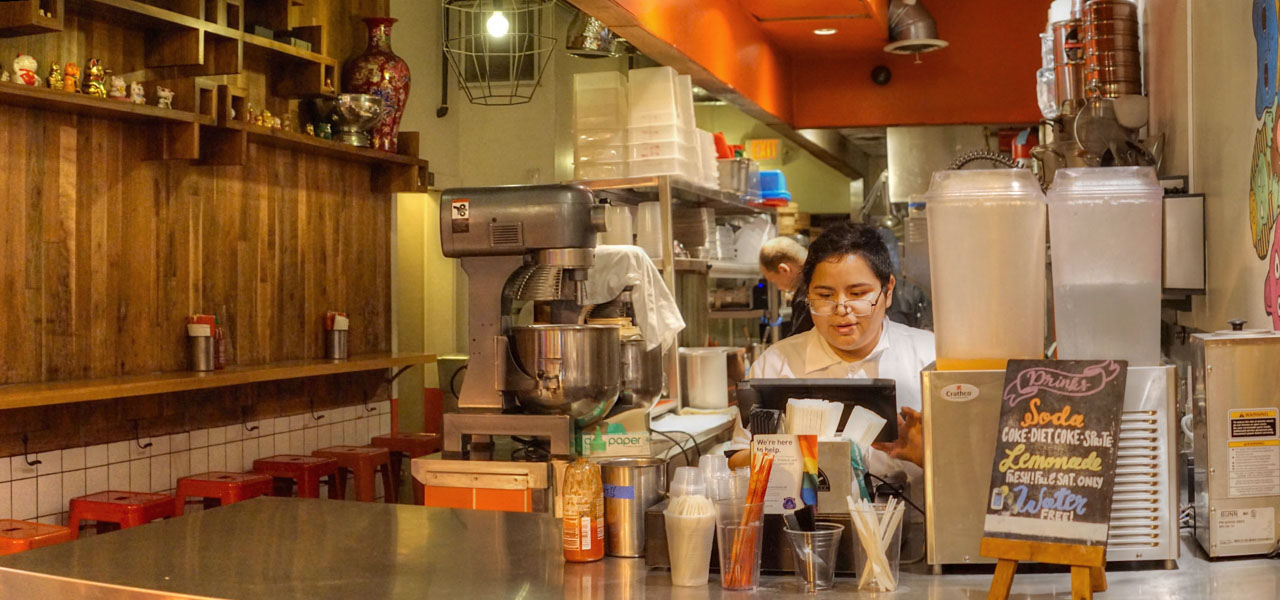 The lower level of Copycat is where Gong's Northern Chinese street fare is prepared, and there's seating for about a dozen guests in the casual, easy-going space. A cat-themed mural on the wall lists the various offerings. Click for a larger version.

The upper level, however, is where the action is. Designed by
CORE
's Allison Cooke (who also worked on Barmini) in collaboration with Gong, the upstairs seats about two dozen, and features a much darker, opium den-ish aesthetic.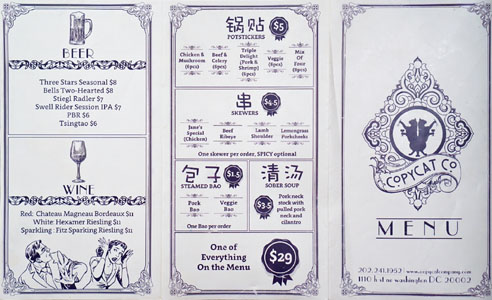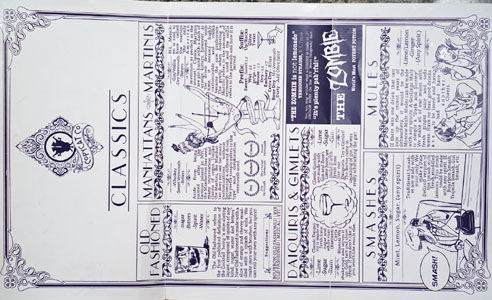 The printed menu boasts a straightforward food selection centered on potstickers and skewers, and also lists an assemblage of classic cocktails available. There's beer and wine too, if you must. Click for larger versions.

However, I was drawn to Copycat's chalkboard menu and its oft-changing, oft-thematic collection of cocktails. Click for a larger version.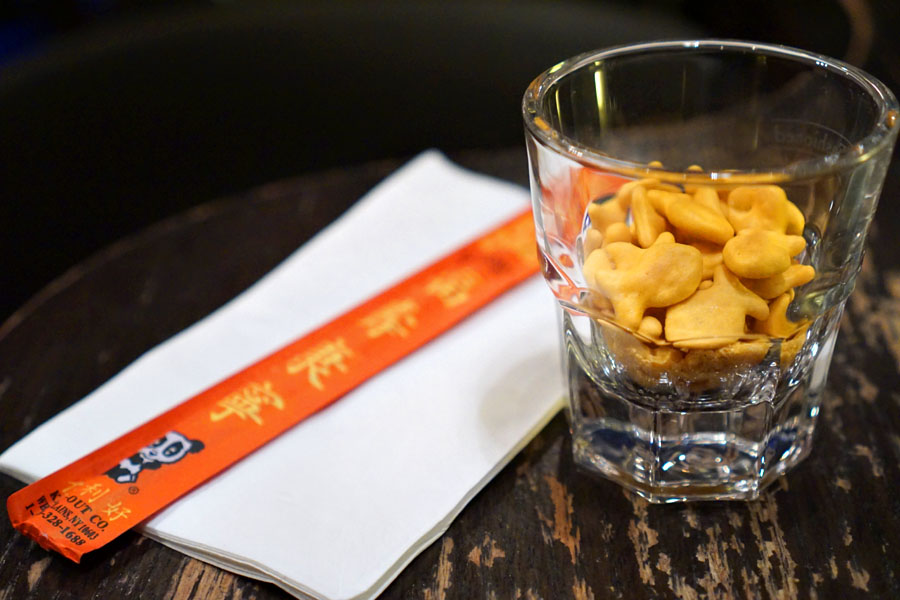 Here we have Copycat's complimentary Goldfish crackers.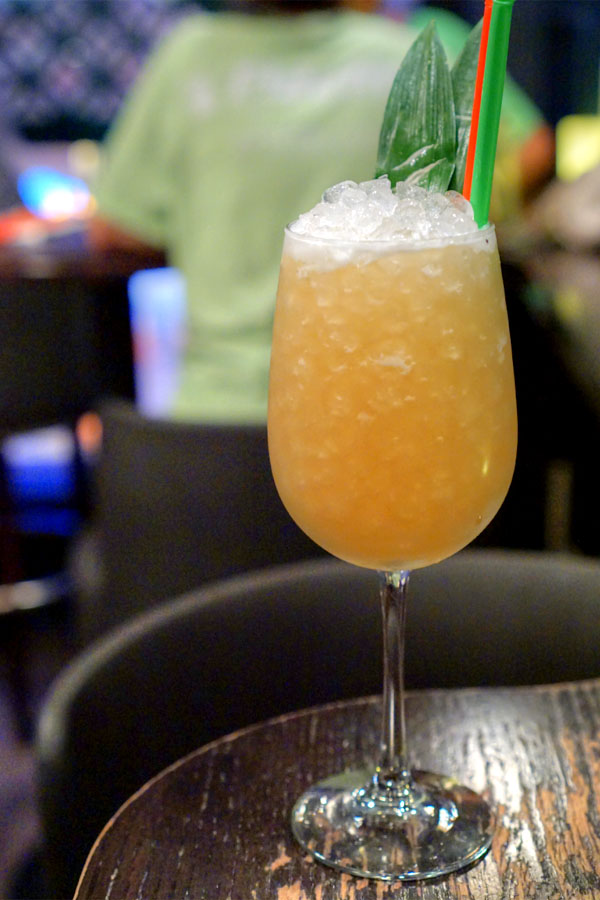 Ironranger [$13.00]
| Ango, Lemon, Falernum, Pine, Bourbon
I was in a tiki cocktail mood at the start of the evening and ordered accordingly. Tasting this, I actually didn't get much at first. But soon enough, a wave a sweet, tropical flavors arrived, moderated by the creaminess of falernum, before the drink finished with notes of bitterness and bourbon.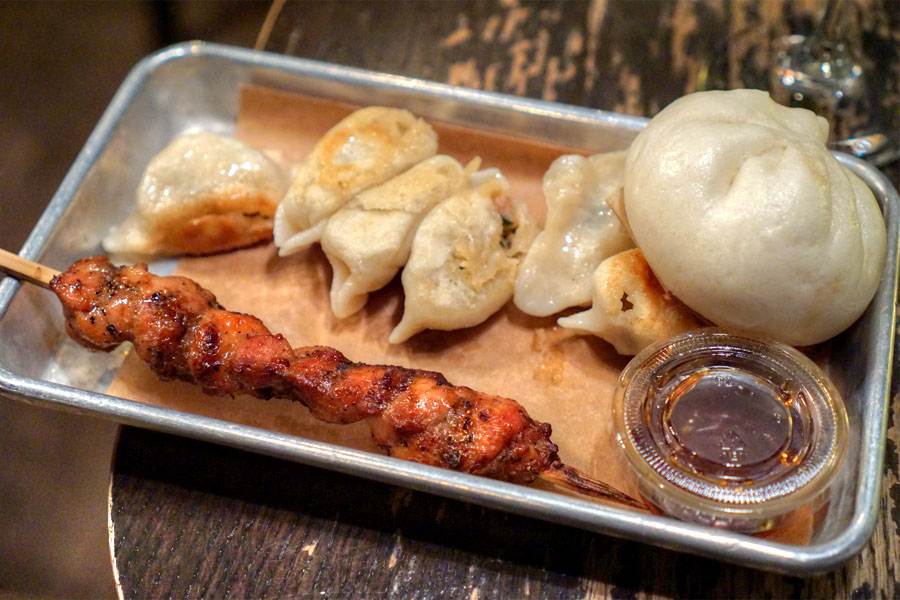 I ordered in rounds, each of which came on its own metal tray.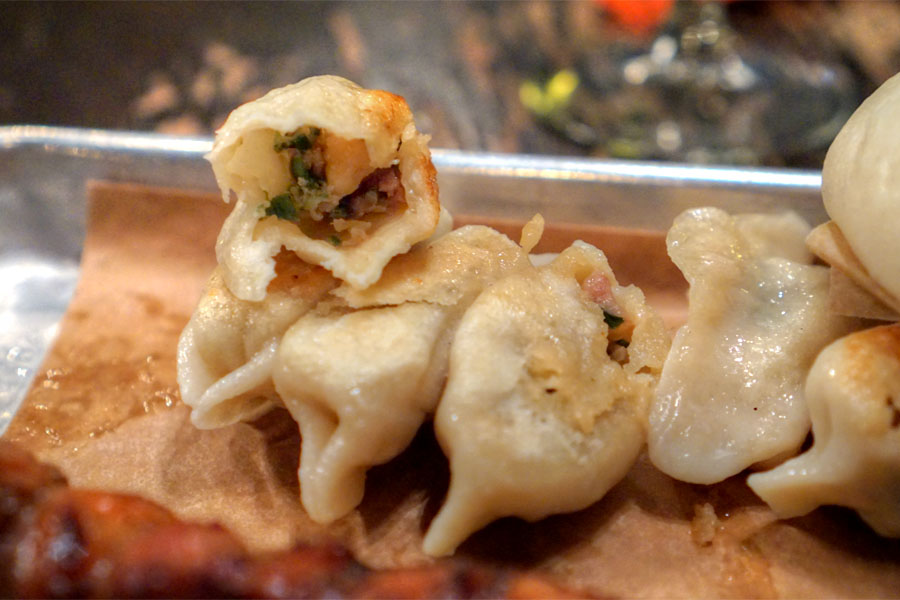 Triple Delight (Pork & Shrimp) Potstickers [$5.00]
My first order of
guotie
hit the spot. The brine of the shrimp really came through, while the pork added a satisfying savoriness to the mix. At the same time, notes of chive and ginger on the back end worked as a counterpoint.
Jane's Special (Chicken) Skewer [$4.50]
The chicken skewer was a winner, coming out juicy, tender, and teeming with just the right amount of char and smoke. There was even this creeping spice that I really appreciated.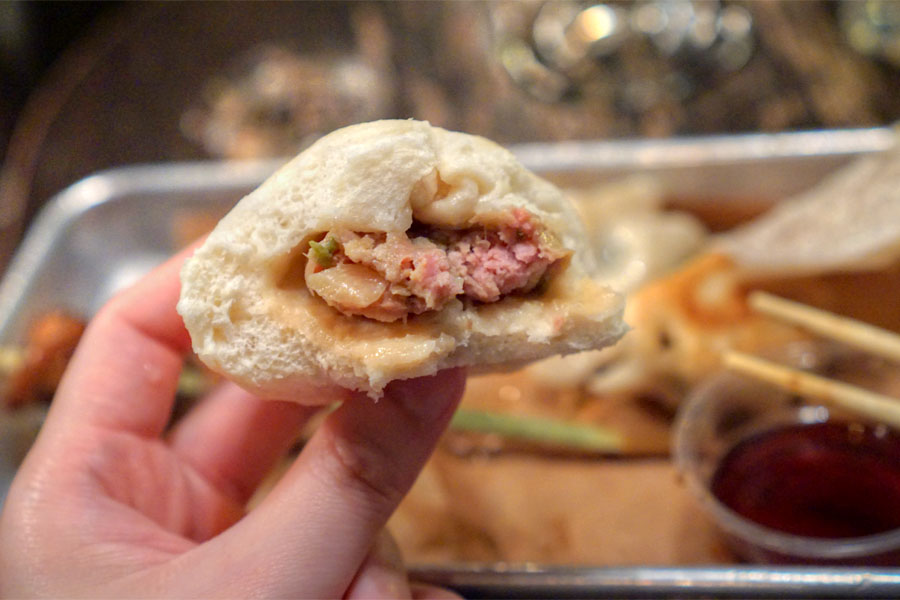 Pork Bao [$1.50]
My first
baozi
wasn't bad, with a nice porkiness evened out by what I believe was chive, though I would've liked a juicier filling. Meanwhile, the bun itself was properly fluffy, with a good bite to it.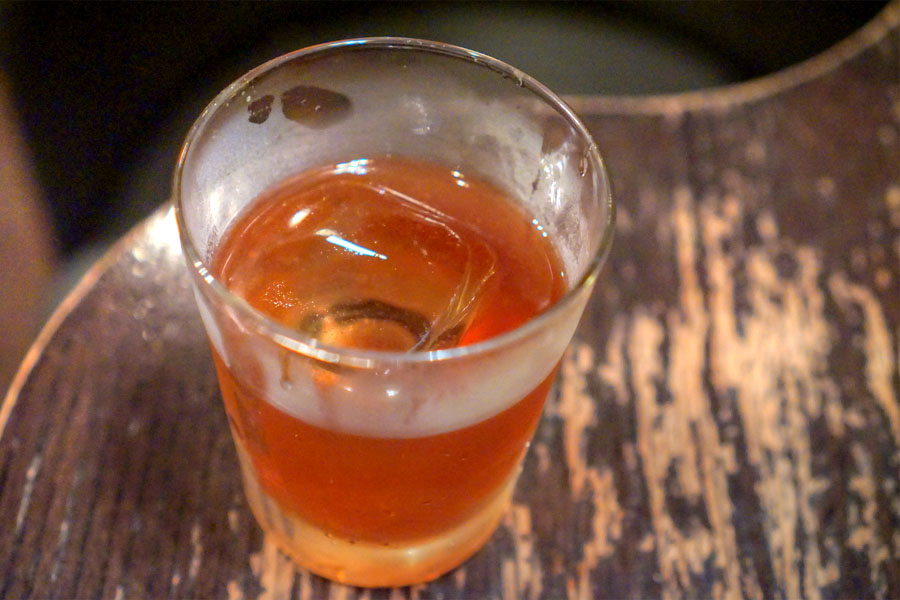 Gerry Mulligan [$13.00]
| Honey, Yellow Chartreuse, Brugal, Ango, Orange Peel
The next cocktail was definitely on the boozier side. Nose of citrus and cola, along with spice and berries. The palate was viscous, while the rum's heat, dark fruit, and caramel flavors were joined by grassy, medicinal elements and a strongly bitter finish.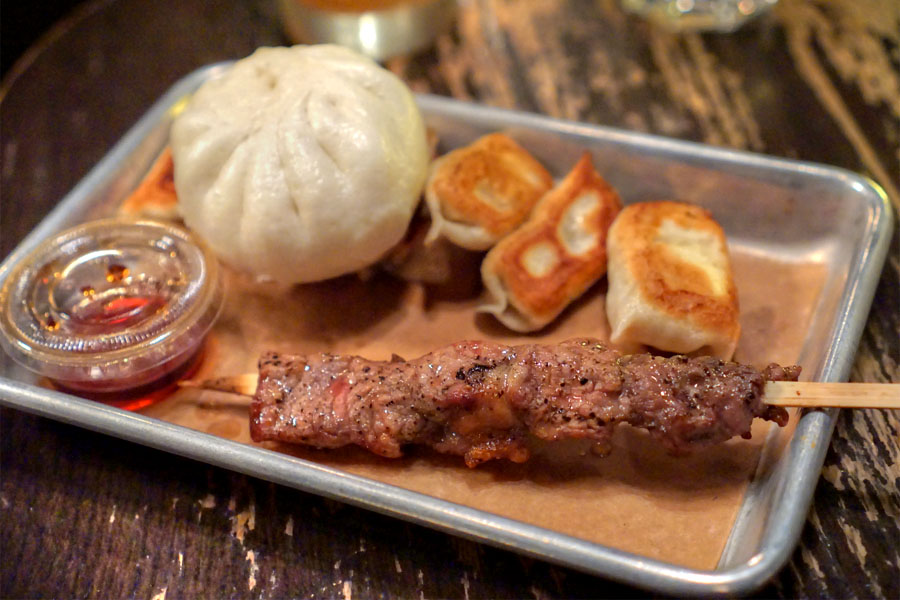 The second platter, with a similar mix of food to the first.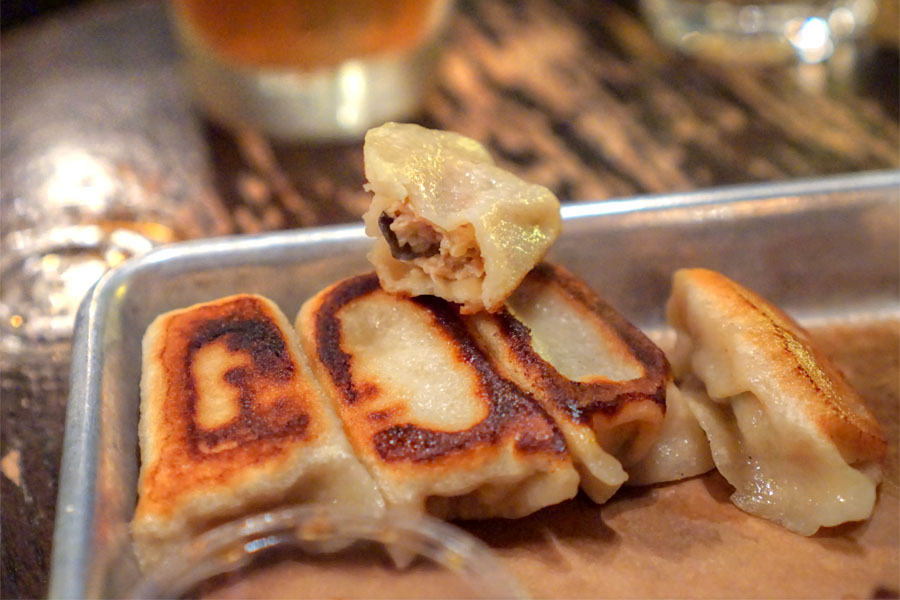 Chicken & Mushroom Potstickers [$5.00]
These
jiaozi
displayed a delicious marriage of juicy, flavorful chicken and earthy mushroom, all with a delightful touch of growing heat. Texturally, these were better than my first order thanks to the heightened contrast between the soft, thick, steamed part of the wrapper and the crispier fried portion.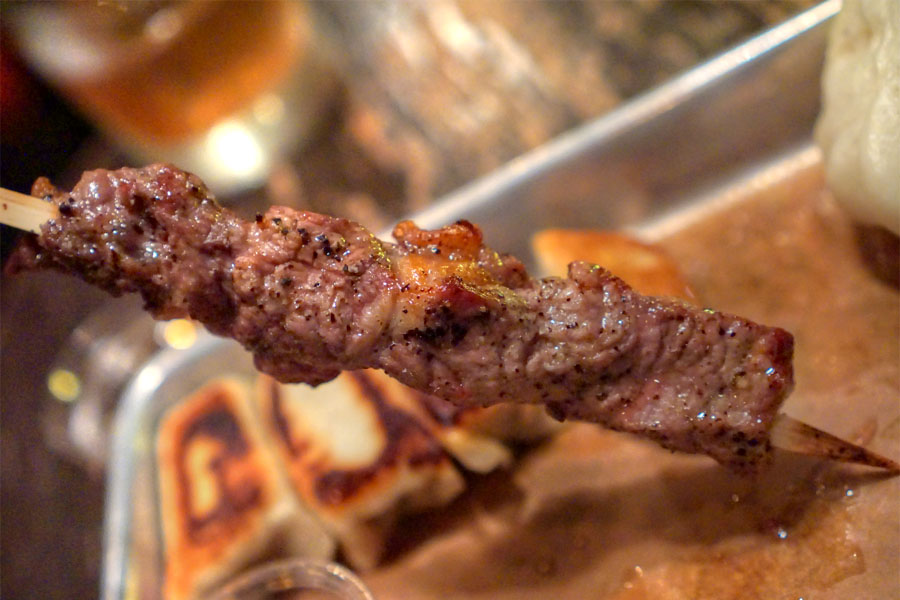 Beef Ribeye Skewer [$4.50]
The rib eye arrived more tender, more succulent than I was expecting, with a lovely pepperiness to boot. I will say, though, that I would've liked the skewer cooked a touch rarer.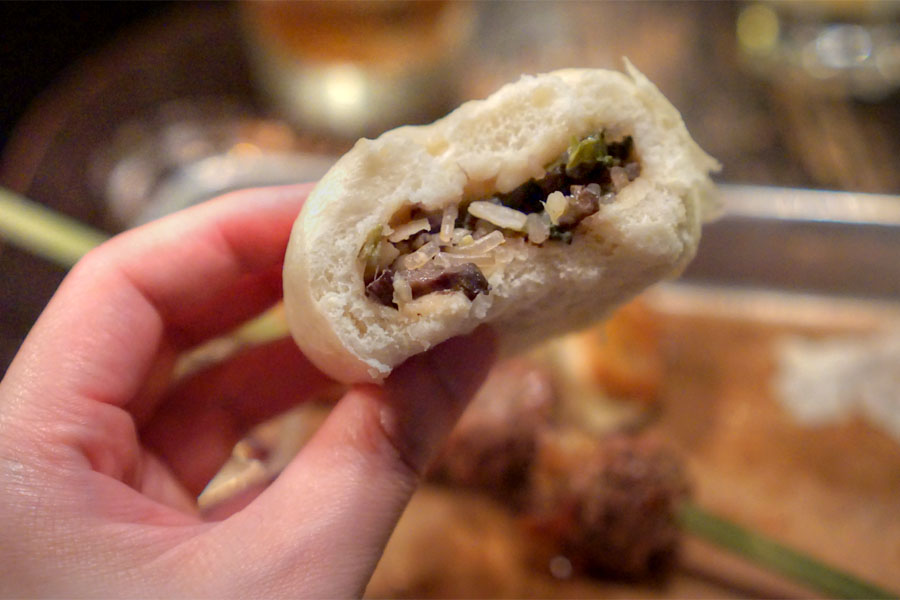 Veggie Bao [$1.50]
The veggie
bao
once again conveyed a good texture bun-wise, while its filling was definitely more austere with its use of bitter greens.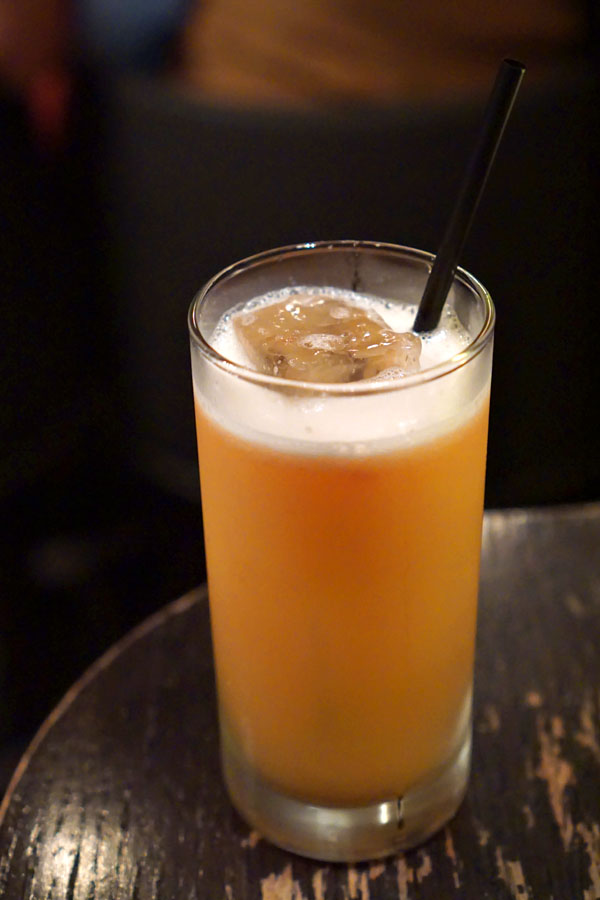 Harvest Buck [$13.00]
| Strawberry, Ginger, Applejack, Rye
Cocktail #3 meshed very apparent ginger notes with a candied, almost Lifesaver-esque sweetness, with the strawberry peeking through just a touch. The finish, meanwhile, had a lingering astringency that made sense.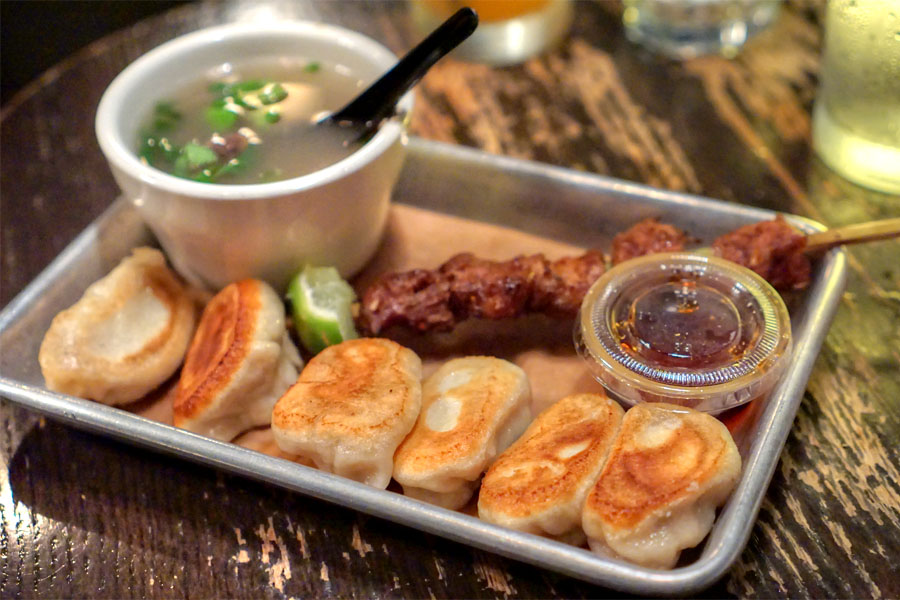 The third round mixed things up with some soup.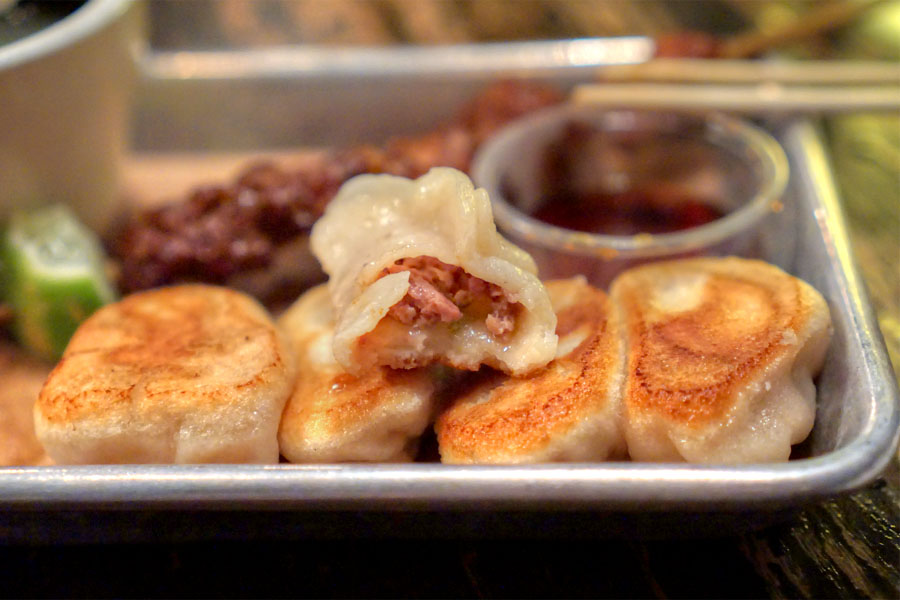 Beef & Celery Potstickers [$5.00]
Here, the zestiness of celery did an admirable job offsetting the heft of the meat. And again, nice texture and sear on the dumplings.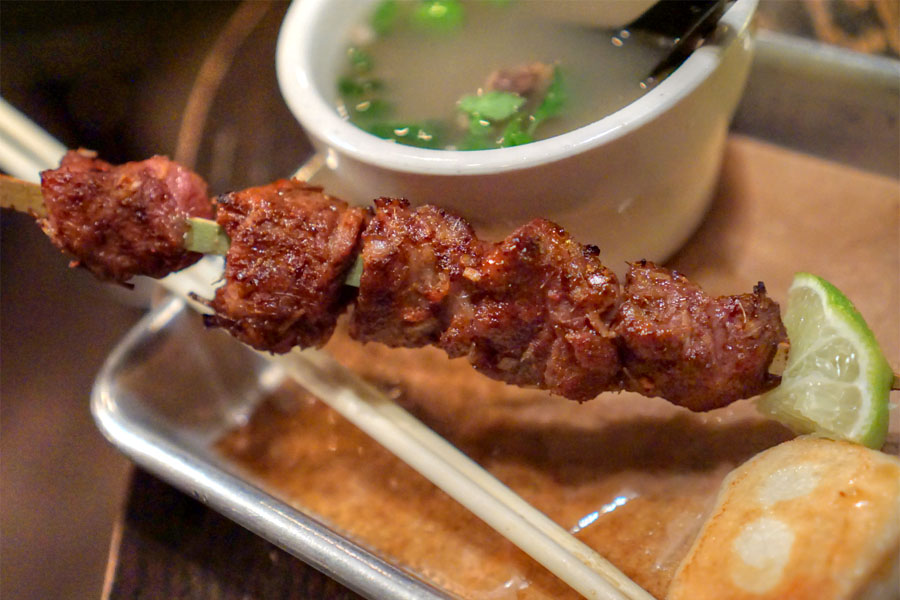 Lemongrass Porkcheeks Skewer [$4.50]
Pork cheek was undoubtedly on the fattier, richer side, with the char and lime working effectively for balance.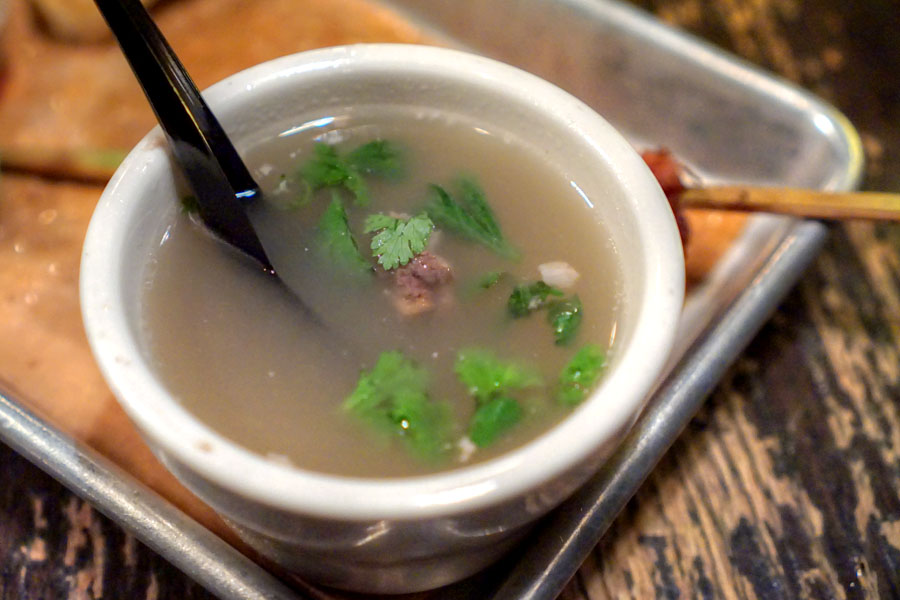 Sober Soup [$3.50]
| Pork neck stock with pulled pork neck and cilantro
The soup was decent enough, but I seriously doubt if this would actually help sober me up. Flavors were light and clean, with lots of cilantro but surprisingly little pork.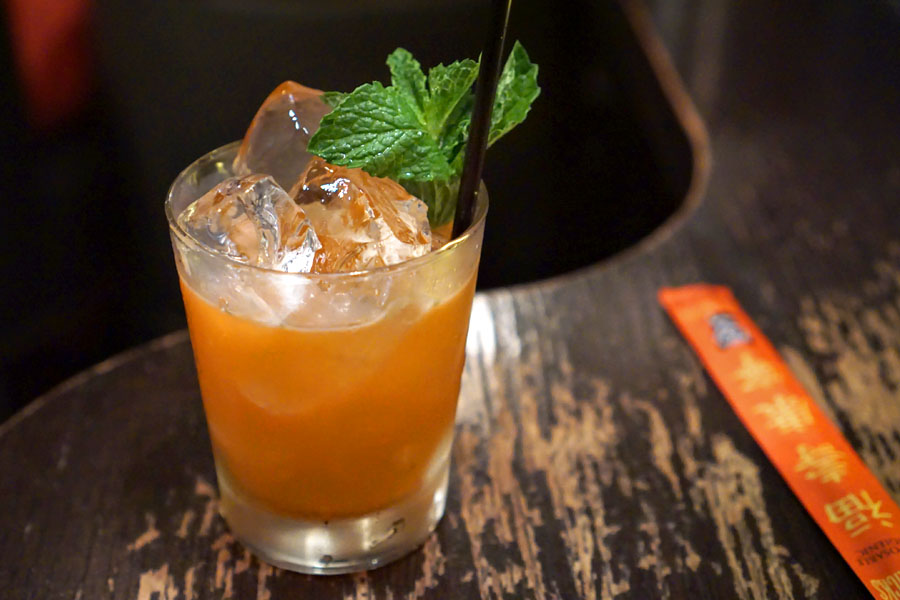 Plantation Smash [$13.00]
| Plantation Pineapple Rum Smash with Strawberry
We ended with this decidedly fruit-forward cocktail. Think lots of mint and spice and berry at first, leading to more in-your-face fruit, tempered just enough by the rum.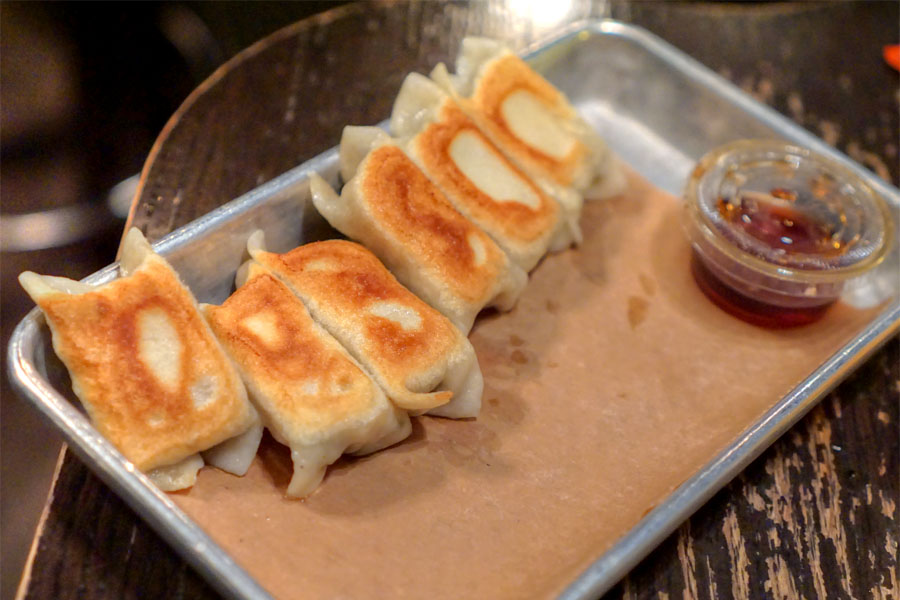 Veggie Potstickers [$5.00]
If you have to go vegetarian, I'd stick with the potstickers, since the dough here tends to stand up better to the astringency of the greens.
This place wasn't even on my radar until I heard about it on my last DC trip, but I'm glad I found out about it. I was certainly a fan of the cocktail selection, and I really wish I was able to try more of the drinks. As for the food, it was pretty legit, and better than I thought it'd be for sure. Overall, a fun concept than I could see myself going back to if I lived in the area. So given the success of Copycat, Gong is planning on opening a second spot, this one located right in Dupont Circle, not far from
Sushi Taro
. It'll be called Astoria, and will be more of a restaurant than a bar. I'll be keeping an eye out for sure.