Alta Adams (Los Angeles, CA)
Alta West Adams Restaurant
5359 W Adams Blvd, Los Angeles, CA 90016
323.571.4999
www.altaadams.com
Sat 10/13/2018, 08:20p-11:10p

We have here one of the more anticipated, as well as more curious debuts of the year. The original Alta was opened by Daniel Patterson back in 2013 on San Francisco's Market Street as a sort of casual Cal-cuisine cafe. The place was generally well-received, but shuttered last year (the address is now home to Nigel Jones' Caribbean restaurant Kaya), with plans to re-open inside the nearby Yotel hotel. There was also a second location in SF's Minnesota Street Project development that debuted in 2016 but closed in May (it was transformed into Heena Patel's Indian spot Besharam). A third Alta was previously slated to take over the old Haven space in Oakland, but that ended up turning into Dyafa, a Mideast cuisine place by Reem Assil. That brings us to Alta Adams, which officially bowed on October 11th, about a week after its daytime component Adams Coffee Shop.
Unlike the previous incarnations of Alta, this South LA iteration serves up modern soul food, which comes to us courtesy of Chef Keith Corbin, a Watts native who first starting cooking with his grandmother. After a stint in prison, he wound up getting a job at Patterson and Roy Choi's new-wave fast food spot
Locol
in 2016, where he was able to work his way up the line. Patterson also had him assist in the opening of Locol up in Oakland, and Corbin also
staged
at
Coi
and Dyafa during that period.

Alta Adams occupies a building that once housed three separate retail businesses, and the space was redone by David Irvin's firm
Folklor
. The first thing you see when you walk in is the bar area and its associated booth seating.

Pass by the open kitchen and its concomitant chef's counter to get to the second dining area.

There's also a patio out back.

And here's the attached Adams Coffee Shop, a daytime-only spot serving breakfast and lunch.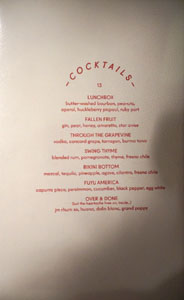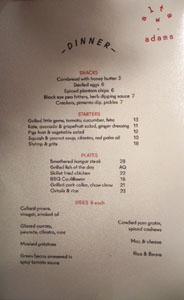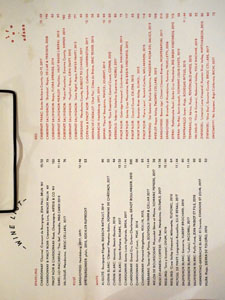 Menu-wise, you get Corbin's take on Californian soul food, which ostensibly focuses on local produce and healthier cooking. To drink, Alta Group Beverage Director Aaron Paul has got a rather appealing cocktail list on offer, as well as not-your-usual beers and a nice wine list. Click for larger versions.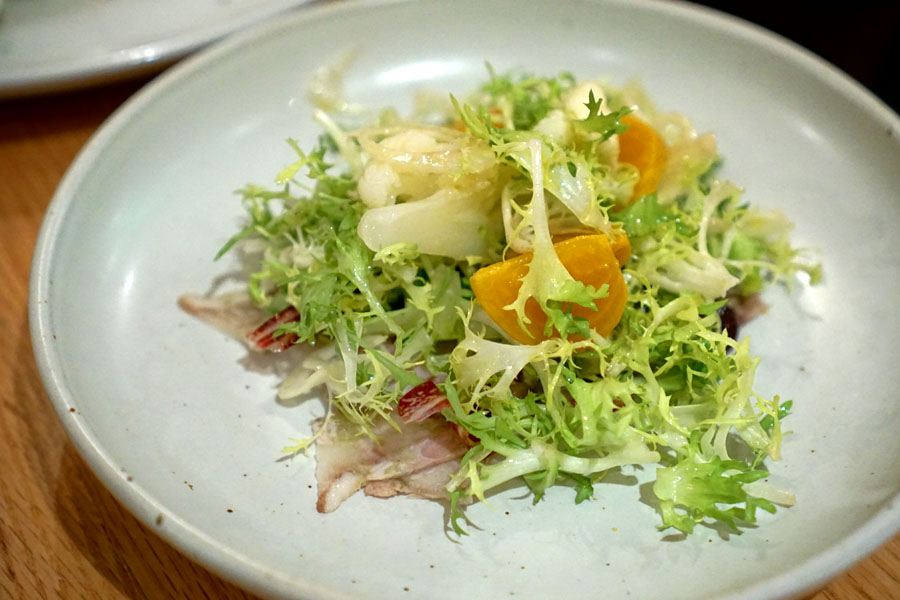 Pigs foot & vegetable salad [$12.00]
We commenced with fatty, flavorful slices of
pied de cochon
terrine, which were quite tasty on their own but also matched up well against the bright, tangy elements in the salad.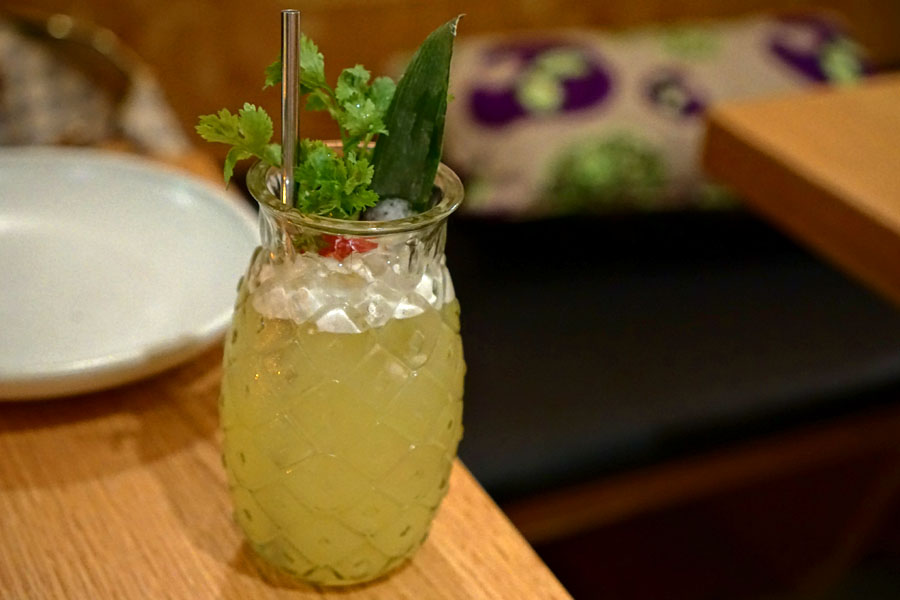 Bikini Bottom [$13.00]
| mezcal, tequila, pineapple, agave, cilantro, fresno chile
Our first cocktail was lovely. I found it delightfully zippy and herbaceous up front, but with a fruitiness and booziness coming in later, the drink finishing with a touch of heat.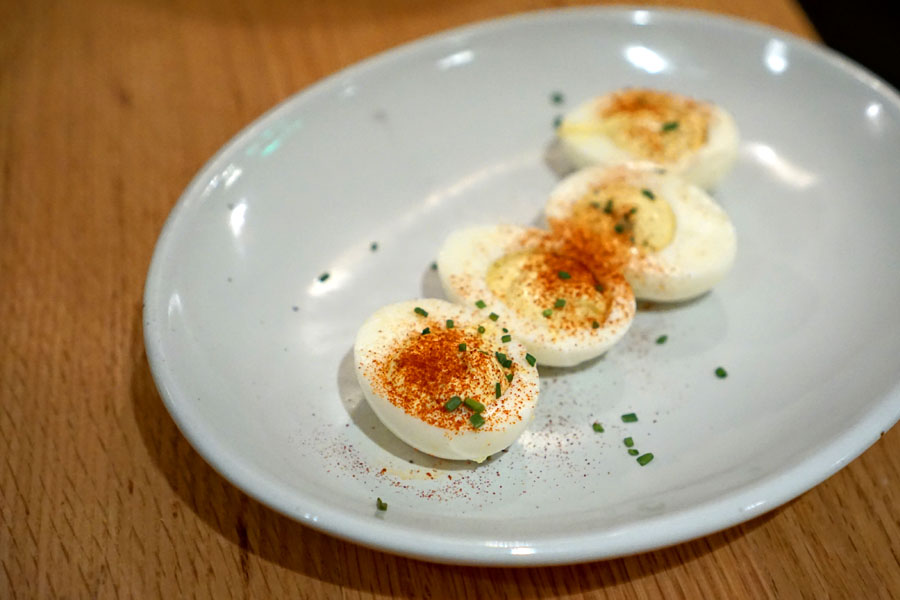 Deviled eggs [$6.00]
I'm quite the deviled egg fan, and Alta's were pretty much spot on, coming out lush and creamy, with just the right amount of spicing and a lingering tartness on the back end.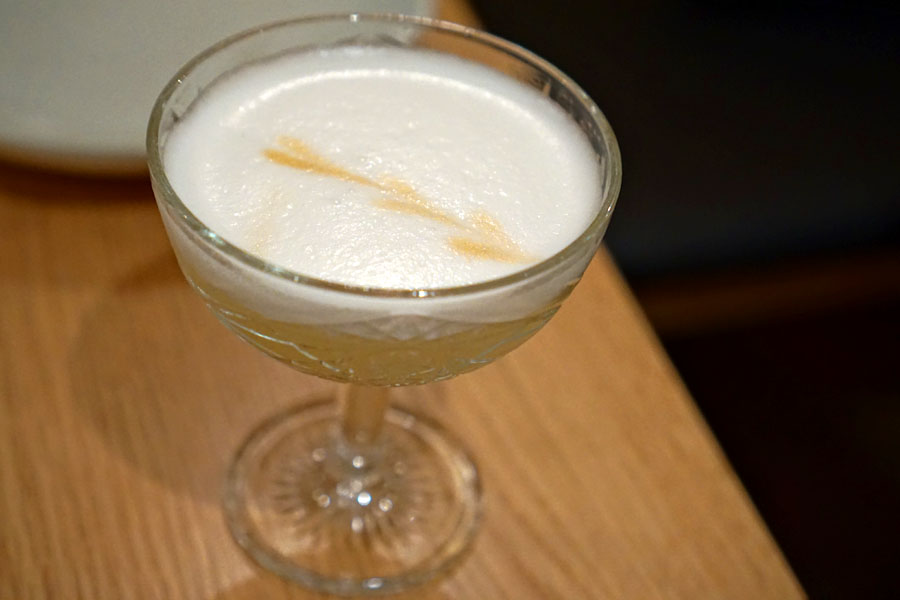 Fuyu America [$13.00]
| capurro pisco, persimmon, cucumber, black pepper, egg white
The evening's next cocktail was this take on a pisco sour. It smelled great, giving up notes of sweet, autumnal spice. The palate was expectedly luscious due to the egg white, and showed off more warm, baking spice notes joined by a fruity, juicy, apple-like element.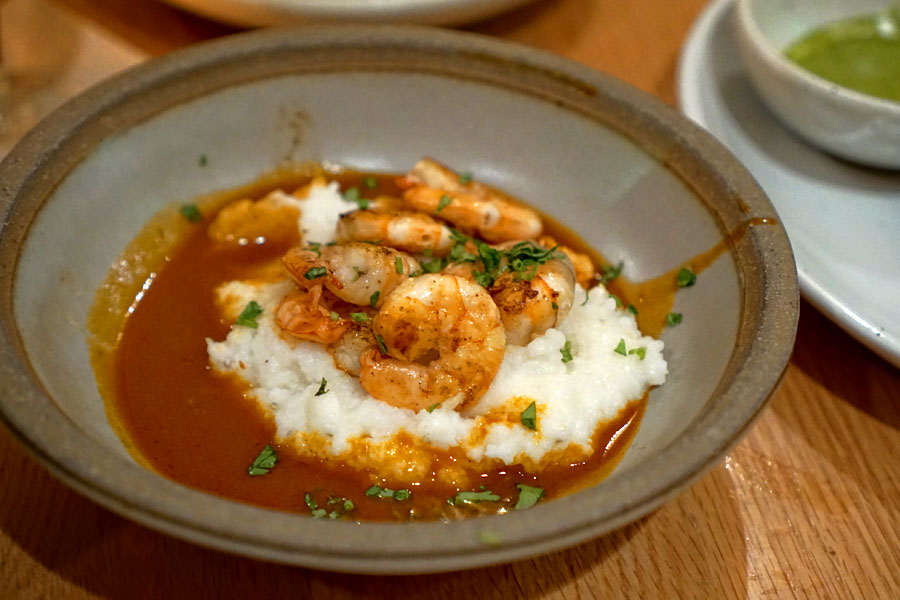 Shrimp & grits [$18.00]
This Lowcountry staple was something that caught my attention right off the bat. The shrimp were quite nice, and not overcooked as I'd feared, and had a great spice going on, with good depth. The grits, meanwhile, were well-textured, though I would've like some more aggressive seasoning on 'em.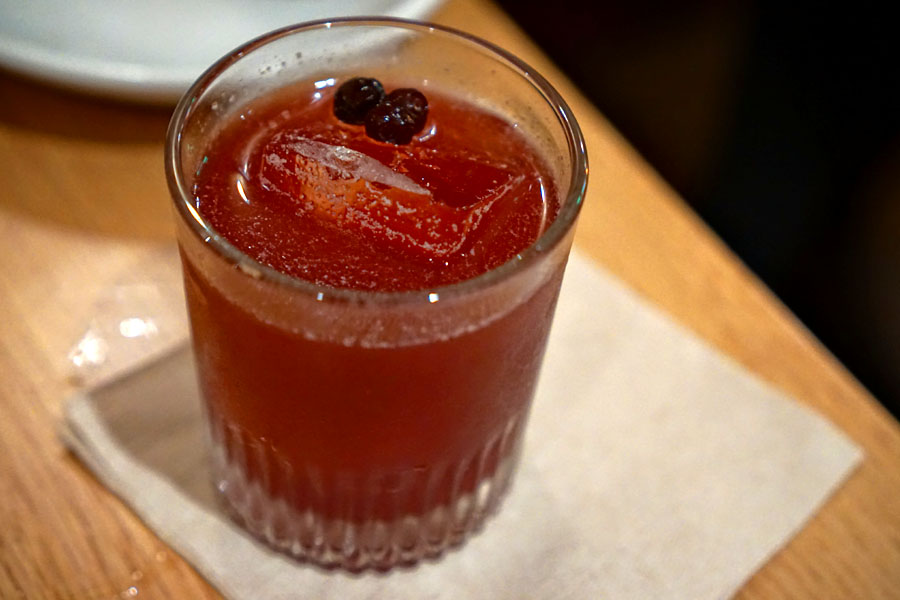 Lunchbox [$13.00]
| butter-washed bourbon, peanuts, aperol, huckleberry picpoul, ruby port
This cocktail was probably my favorite of the bunch. It smelled delicious, with tons of sweet fruit all over the place. Taste-wise, think lots of juicy berries up front leading to very apparent flavors of peanut butter and chocolate. It really did recall the childhood staple of PB&J--super neat.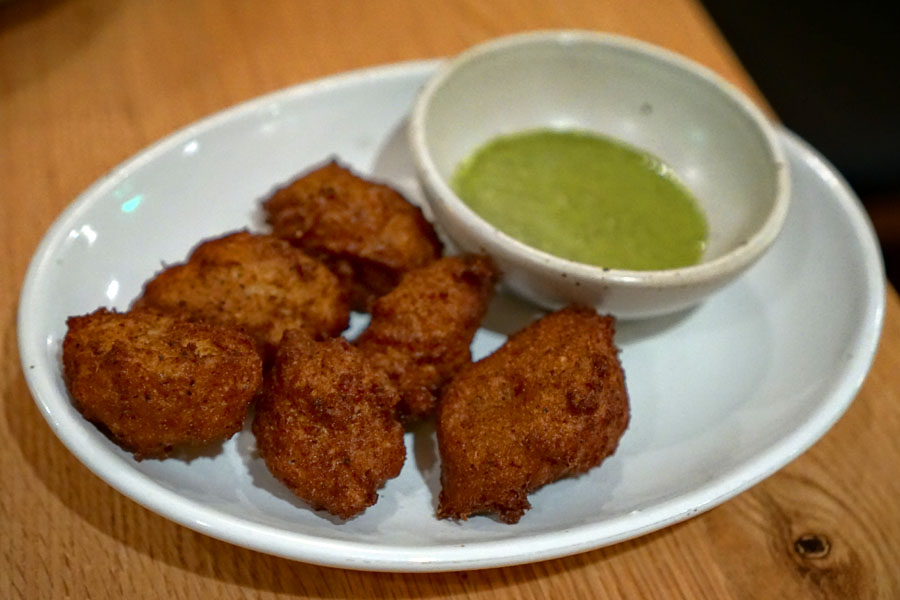 Black eye pea fritters, herb dipping sauce [$7.00]
Here we had my favorite dish of the evening. I loved the nutty, hearty flavors of the fritters, which also had scallion-like zestiness that really made 'em sing. They were tasty alone to be sure, but even better with a dip into that wonderfully piquant, herby sauce on the side. Way better than any hushpuppy I've had.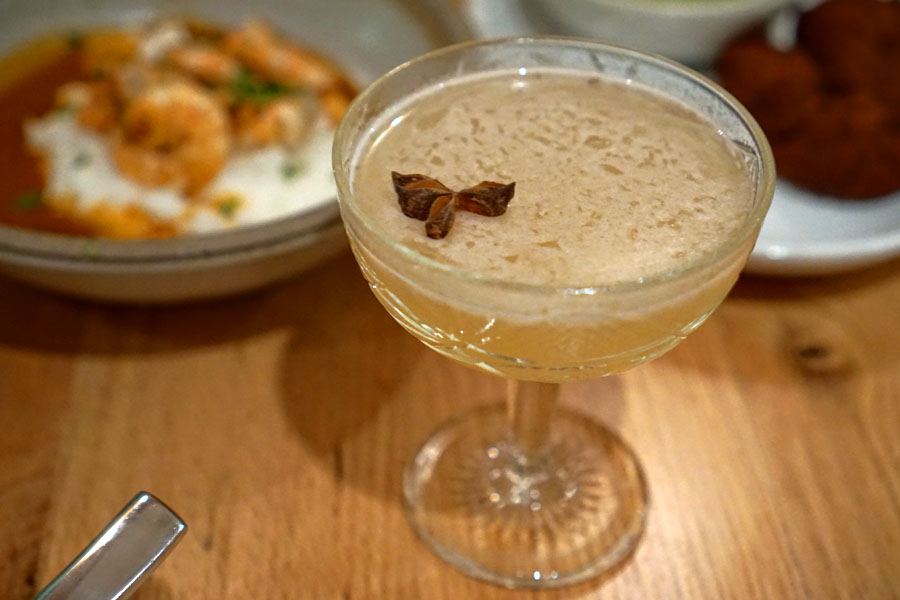 Fallen Fruit [$13.00]
| gin, pear, honey, amaretto, star anise
I got boatloads of star anise on the nose of this cocktail. In terms of taste, you had fruity, true-to-life pear commingled with more autumnal spice, the anise coming through again on a long-lasting finish.
Green beans simmered in spicy tomato sauce [$6.00]
Green beans were too soft for my liking, and really could've been crisper, firmer. The sauce, however, worked, with its tartness and smidge of heat making sense with the haricots.
Swing Thyme [$13.00]
| blended rum, pomegranate, thyme, fresno chile
This garnet-hued cocktail smelled appealing for sure, with lots of the advertised thyme and a good amount of pomegranate. Tasting it, I got a subdued floral character, joined by pome tartness and the heat of the Fresnos on the back end.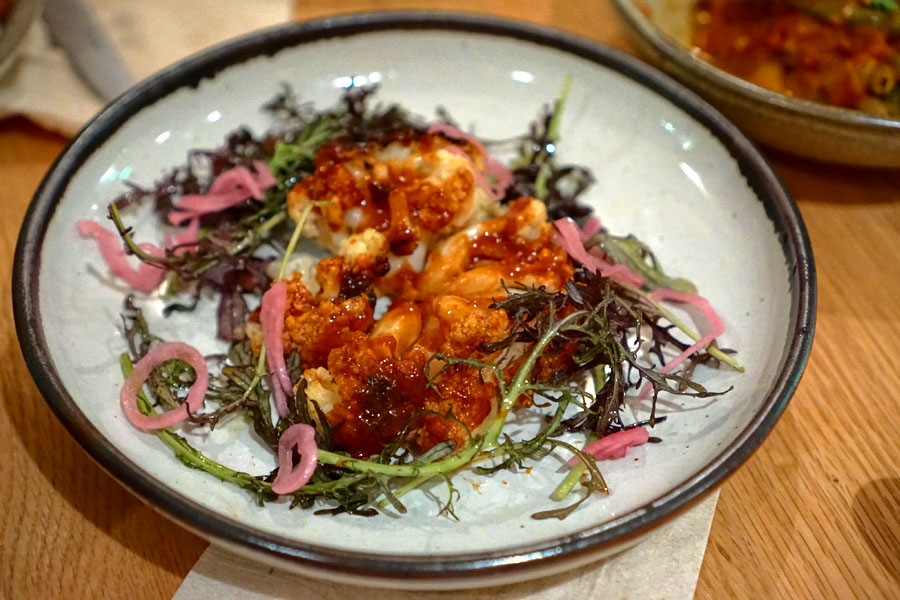 BBQ Cauliflower [$16.00]
The cauliflower wasn't nearly as good as I was hoping for, as it lacked any sort of char or smoke, which is part of what makes BBQ great. Instead, what we got was your standard cauliflower, drizzled with an overly-sweet barbeque sauce. I did appreciate the acidity from the onions, though.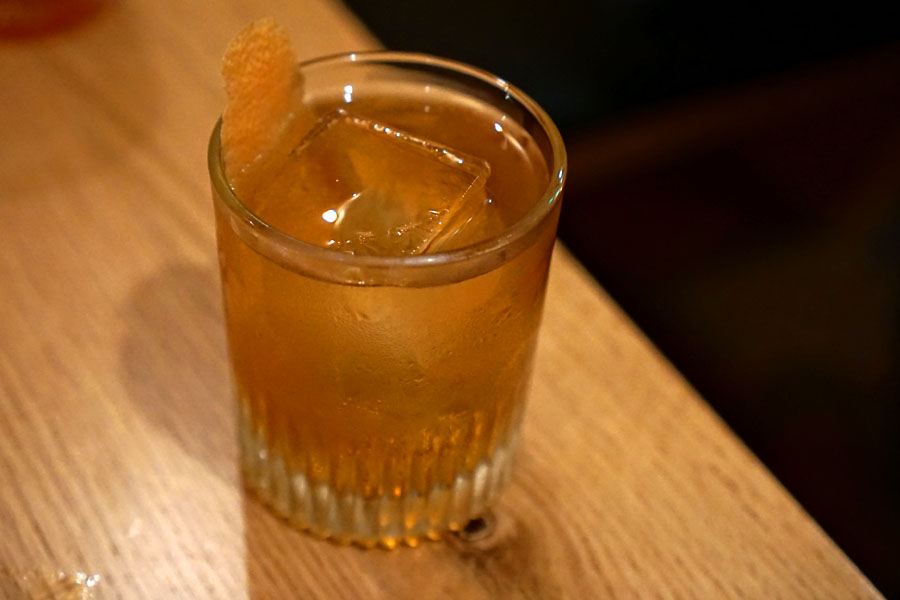 Over & Done (but the heartache lives on, inside...) [$13.00]
| jm rhum xo, huana, dolin blanc, grand poppy
Here we had the booziest and probably the most complex of the cocktails. It had aromas that were citrusy and bittersweet, while its palate was viscous, showcasing a chocolate-y richness tempered by more bitterness, sweet spice, and some apple-like nuances.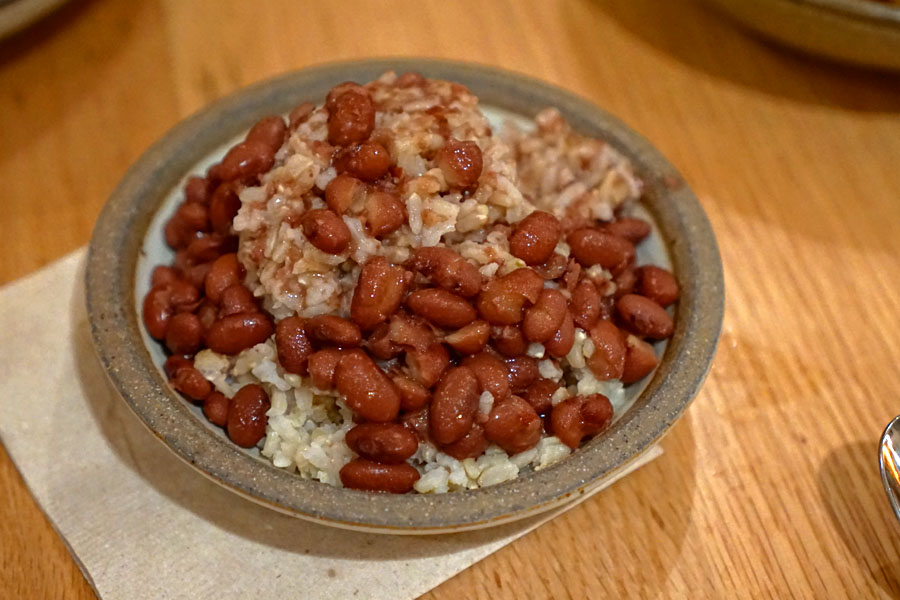 Rice & Beans [$6.00]
A classic marriage of rice and beans was quite good, a homey sort of dish with lots of ham-like smoke happening.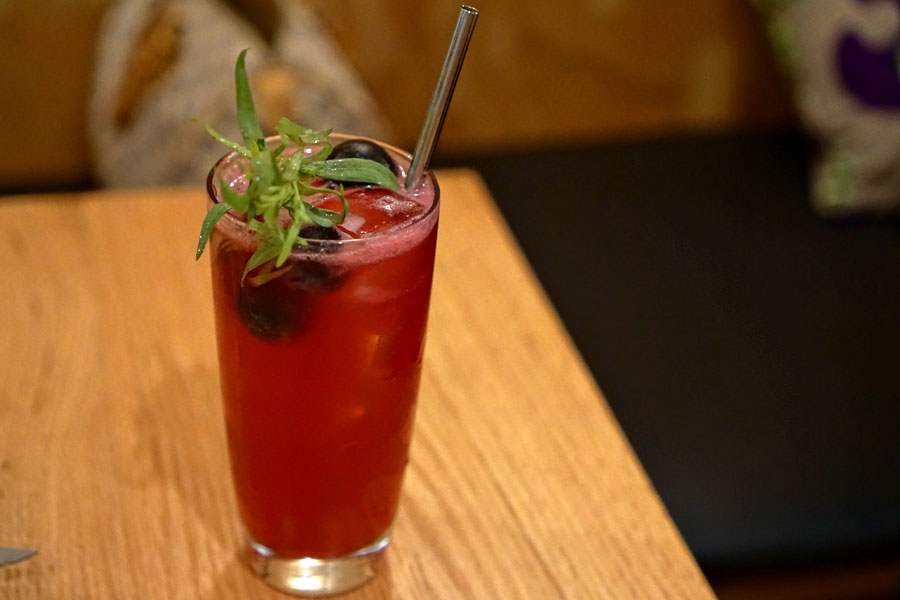 Through the Grapevine [$13.00]
| vodka, concord grape, tarragon, burma tonic
Our last cocktail ended up being complimentary on account of the kitchen running out of things. It turned out to be quite good, with boatloads of grapey sweetness evened out by a marked astringency, some herbiness, and a bit of a savory quality.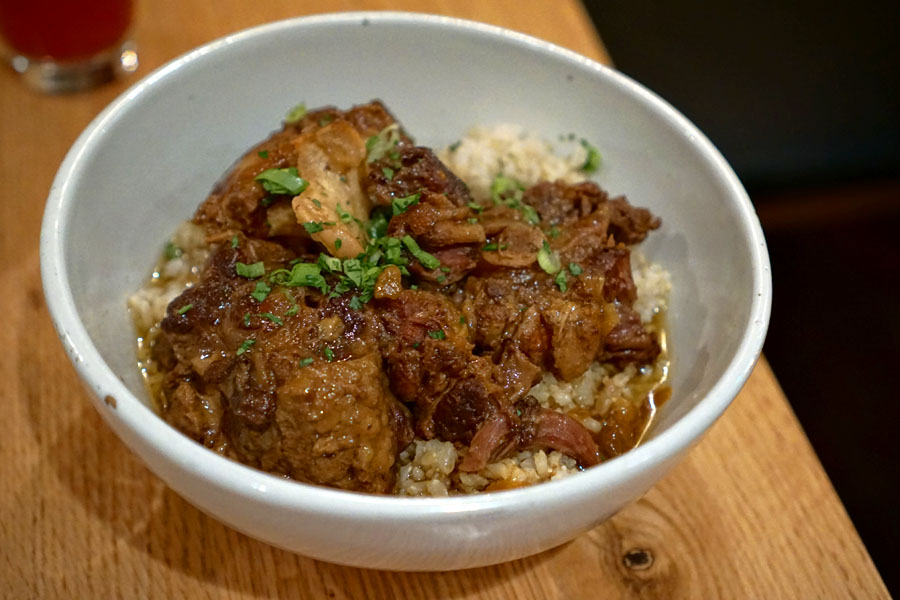 Oxtails & rice [$23.00]
Last up was the oxtail, which was super fatty and almost ridiculously rich. It was actually too much, though the rice did help moderate things. I really wanted more acidity, more brightness, more lightness for any semblance of balance.
I appreciate the premise of the cooking here, this sort of Cal-soul mash-up, but there were certainly some kinks to be worked out with some of the food; cocktail were outstanding though. In addition, the kitchen ran out of many of the dishes (in fact,
all
the dishes eventually at the end of the night), and service was uneven. However, given that I went on the third day of service, I'm willing to cut them some slack, since I do see promise in the place. It's obvious that Alta is still finding its footing, so I may need to revisit once they get in the groove of things.