Kabob Palace (Arlington, VA)
Kabob Palace Restaurant
2315 S Eads St, Arlington, VA 22202
703.486.3535
www.kabobpalaceusa.com
Thu 08/09/2018, 02:20p-03:15p
You might recall that I went to Crystal City's famous
Kabob Palace
back in July. I wasn't particularly enamored with it, but I later found out that I'd actually gone to the "wrong" spot, that is, not the
original
Kabob Palace. Well, I wanted to make sure to give the original a proper go. Confusingly, the O.G. restaurant is actually located just 50 feet up the street, and was opened back in 1992 by Habib Akbar and his older brother Mohammad Akbar, both of whom hail from Afghanistan. The joint quickly established itself as a standby for local cabbies (in part because it's open 24 hours), and to this day Lyft/Uber drivers still talk highly of the place (which I how I found out about it to begin with). Given how busy they were, the Akbars decided to open up a second location in mid-2004, a full-service eatery designed to appeal to families (which is where I went last time). Interestingly, they even launched a food truck in December 2012, but it proved to be short-lived.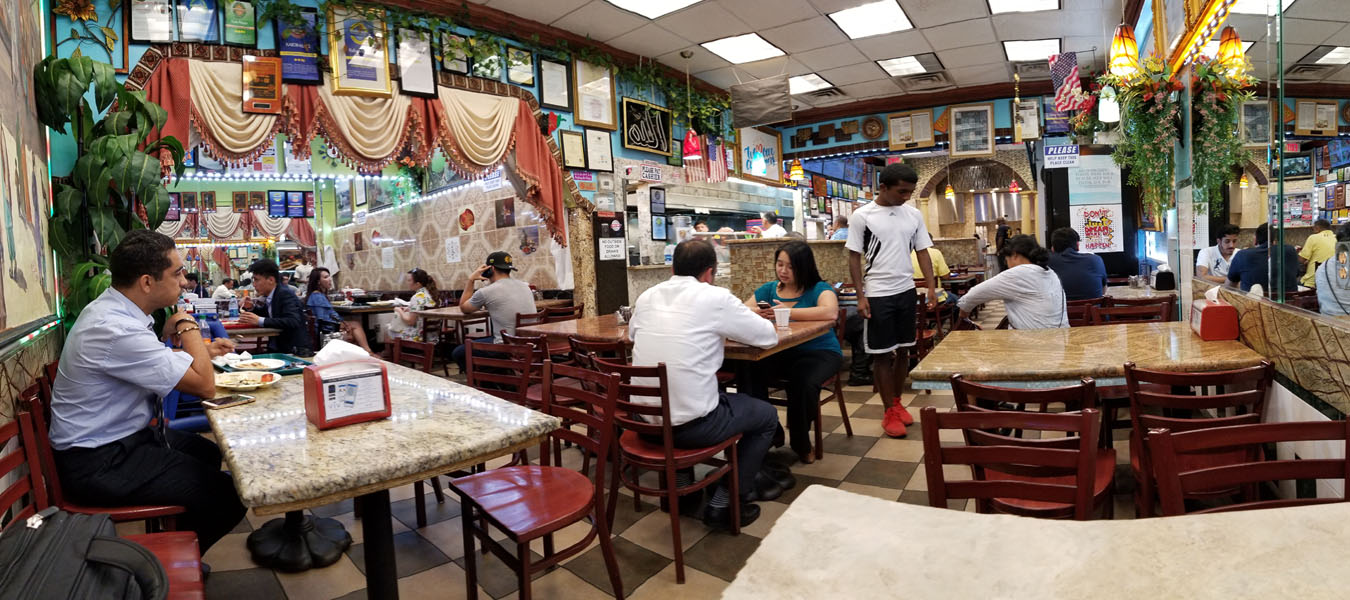 Inside, things are about what I expected. Note all the award plaques adorning the walls.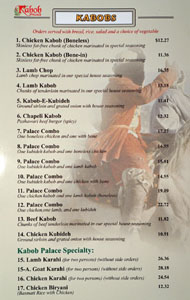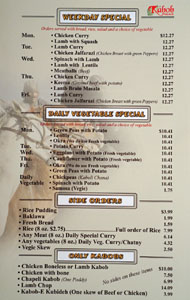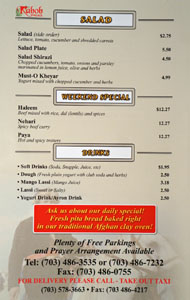 The Afghan-meets-Pakistani menu reads very similarly to that of the other restaurant, though prices, curiously, seem to be slightly higher here. Click for larger versions.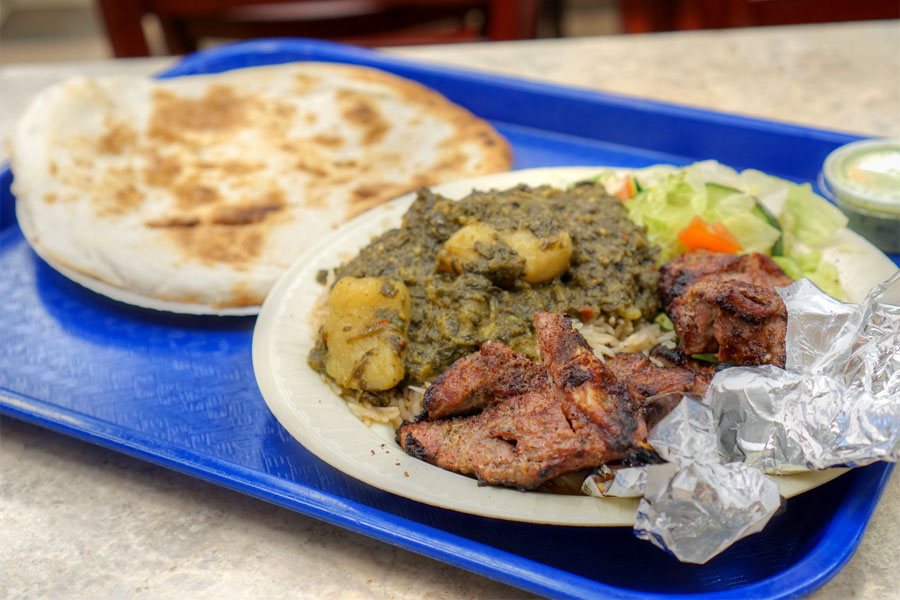 Lamb Chop [$16.35]
| Lamb chop marinated in our special house seasoning
To keep the comparison with the second location as fair as possible, I ordered the same thing this go around. The presentation is fairly similar, and as always, you get a serving of that zippy mint-yogurt condiment for your dipping pleasure.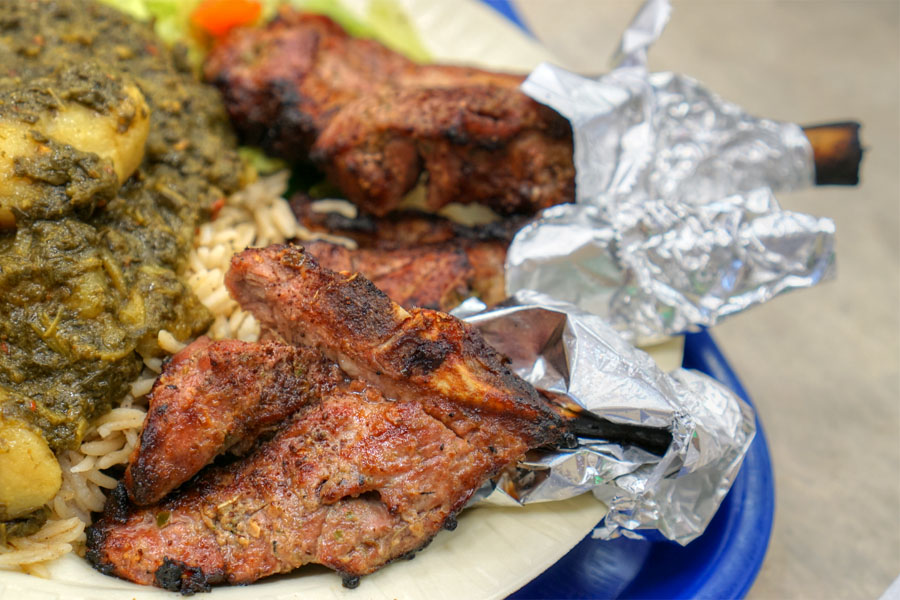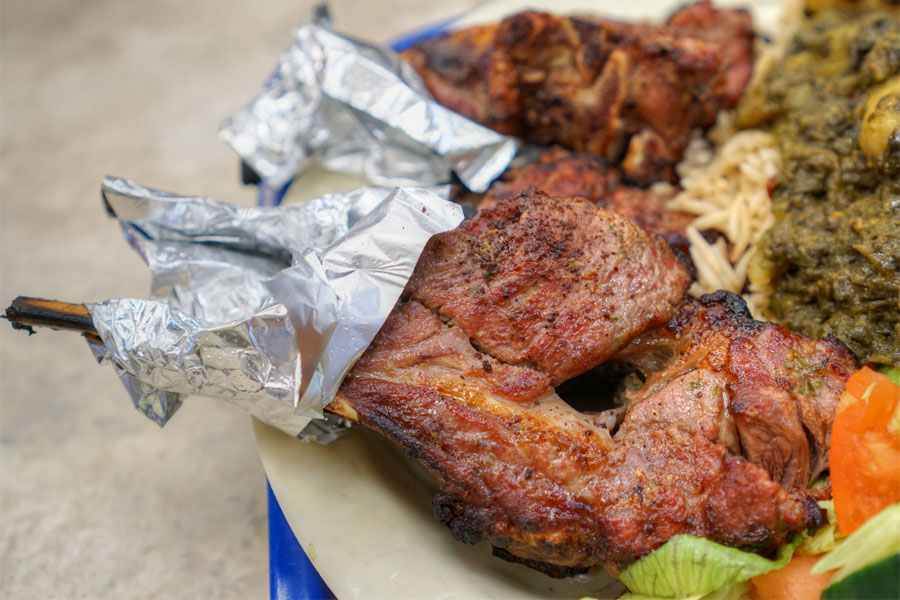 The lamb chops were perhaps slightly less gristly, and perhaps seasoned slightly better, but the differences weren't major. Hell, any perceived improvements may not even be real at all--maybe it's just my mind believing what it wants to believe.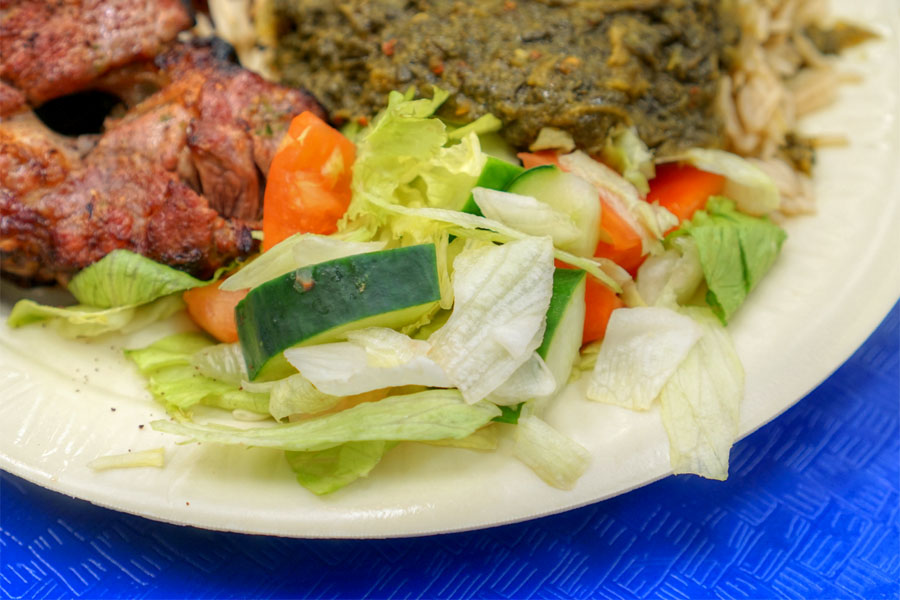 I will say that the salad was certainly less ambitious here, and was also underdressed. I didn't mind it too much though, since the veggies did work as a contrast to all the meat.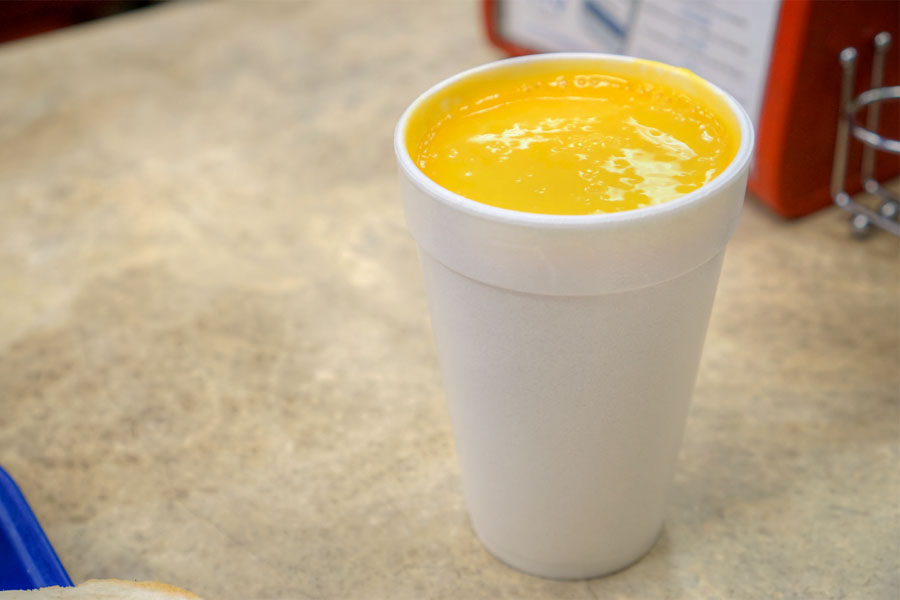 I'd actually say that there was more of an appreciable variation in the
Mango Lassi [$3.18]
, which seemed to have a more robust, truer mango taste.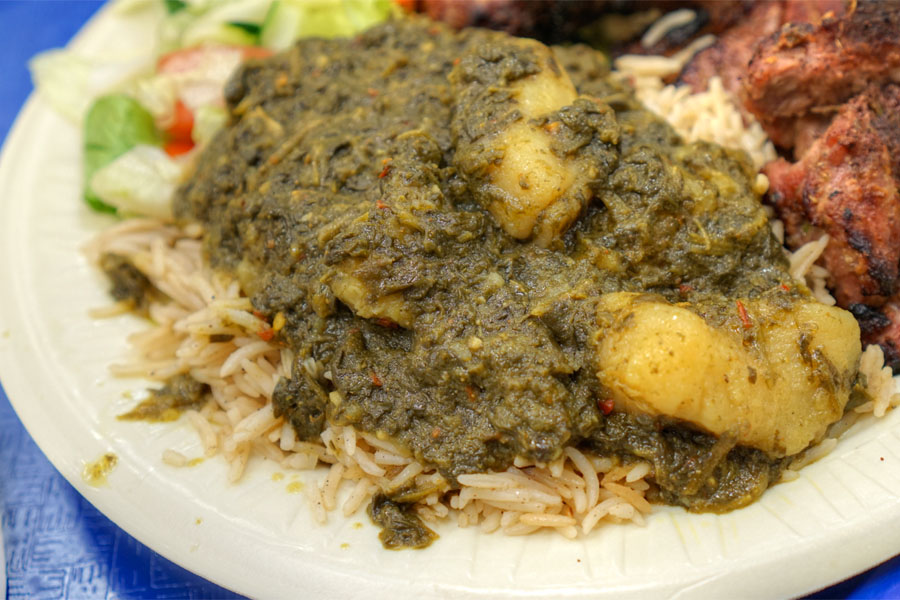 The spinach was arguably the best thing on the plate, its classically bitter-savory flavors matching up well with the hearty chunks of potato while the slick, long-grained rice worked to moderate it all.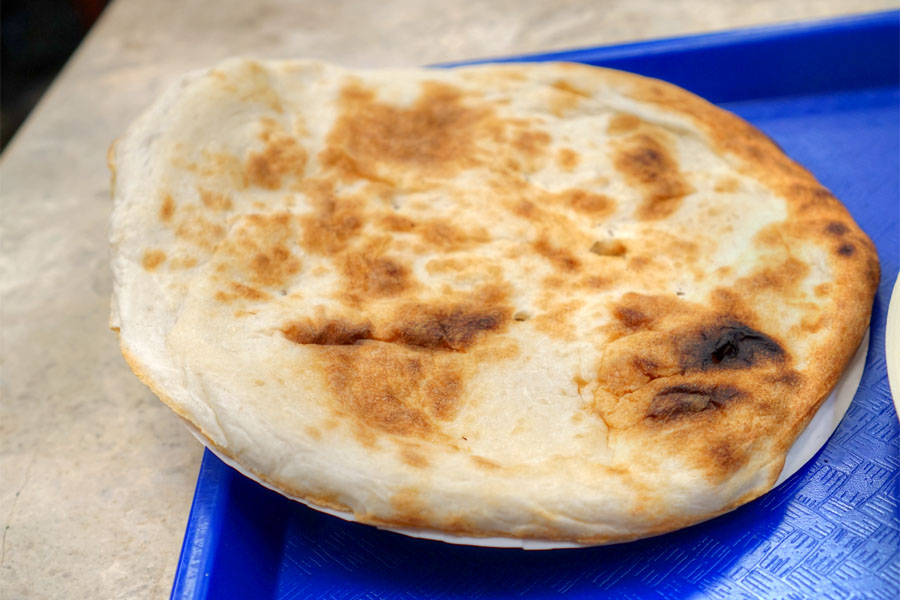 The pita/naan, unfortunately, was still denser and chewier than I'd like. It was almost difficult to tear apart.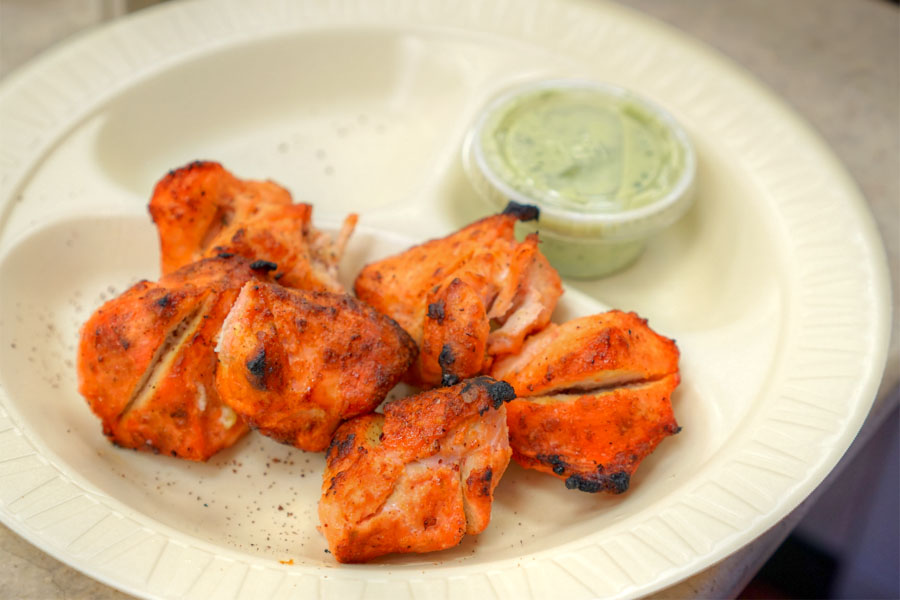 Chicken Boneless Kabob [$10.00]
I made sure to try the chicken kabobs as well. Again, there was good char, good seasoning here, but I still found the bird overdone, dry, and "crunchy" in spots.
I wanted to love Kabob Palace, but I just can't. Is the food better than at the
other location
? Maybe a touch, or maybe that's just my imagination. I was really looking for more, and I have to say that I just don't understand the hype surrounding this place.