Tempura Endo (Beverly Hills, CA)
Tempura Endo Restaurant
9777 S Santa Monica Blvd, Beverly Hills, CA 90210
310.274.2201
www.beverlyhills-endo.com
Wed 10/17/2018, 07:40p-10:15p

I've often bemoaned the lack of specialist tempura restaurants in the Los Angeles area, so I was delighted to hear about Tempura Endo. The Kyoto-style spot opened in January 2016, and comes to us courtesy of Chef/Owner Koichi Endo. It's actually part of a family of restaurants dating back to 1885, which is when tea house Ochaya Omie opened in Kyoto's Gion district. In 1991, Tempura Yasaka Endo debuted, which was followed up in subsequent years by further additions to the group.
Running the day-to-day here is Head Chef
Satoshi Masuda
. Born in 1970 in Kyoto Prefecture, he began cooking at age 20, and claims 28 years experience, including 13 years at the original Tempura Endo. He headed up the kitchen there before moving to the US in December 2015, settling in the South Bay.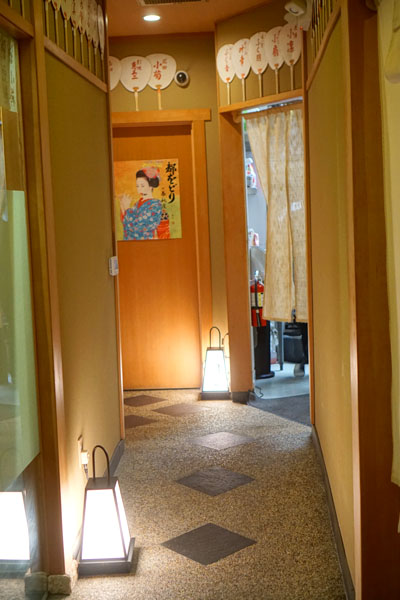 Endo takes over an address that was previously home to Nobu Shishido's Sushi Dokoro Ki Ra La (2006-2015) and Tomi Harase's Café Blanc (1993-2003). Designed by Kouji Sugimoto, the space is swathed in Kitayama cedar and gives you the sort of calm, serene vibe expected for a restaurant like this. You'll probably want to dine at the eight-seater tempura bar, but there's also a room off to the side that accommodates another eight guests.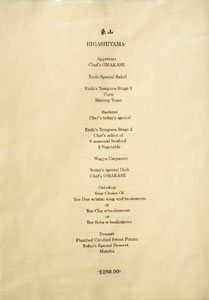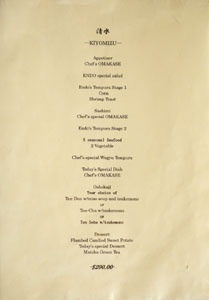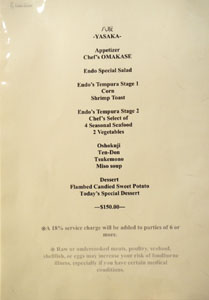 Menu-wise, you can choose from three prix fixe options: the Yasaka at $150, the Kiyomizu at $200, and the Higashiyama at $280 (which is what we went for). Note that à la carte ordering is also permitted, though there's a $150pp minimum before 9:00pm (and $50pp after). Click for larger versions.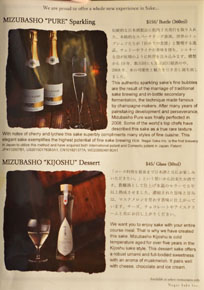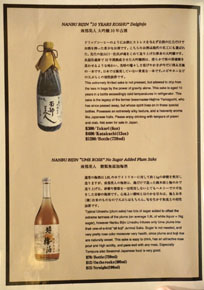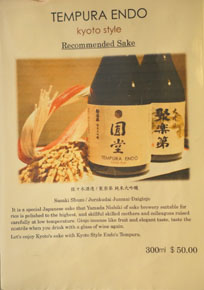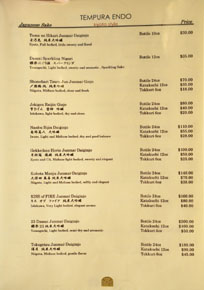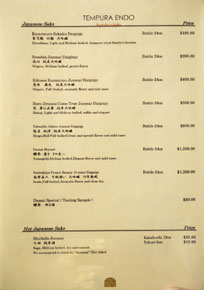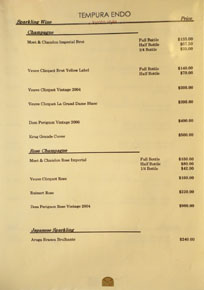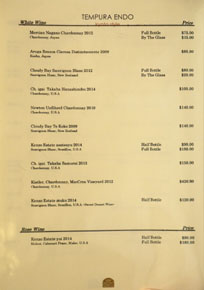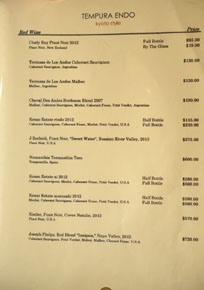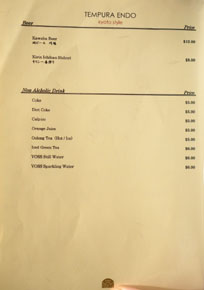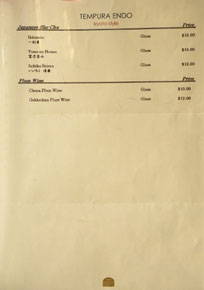 To drink, Endo offers up a small selection of sakes and wines, as well as a couple beers and shochu; pricing is on the expensive side. We ended up bringing our own bottles, paying a corkage fee of $50 a pop. Click for larger versions.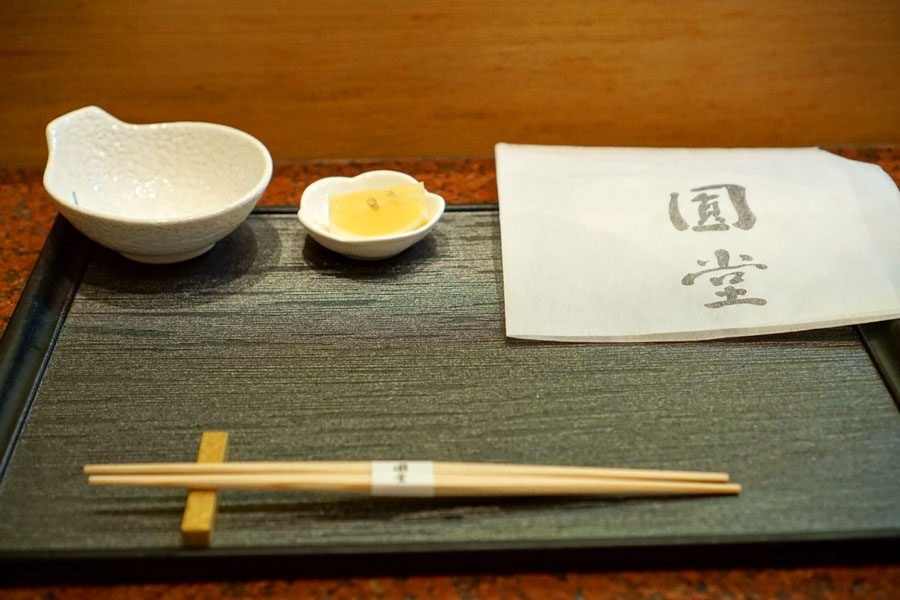 Above we see the place setting. Note the bib in the corner, which hid the dipping salts (regular and green tea).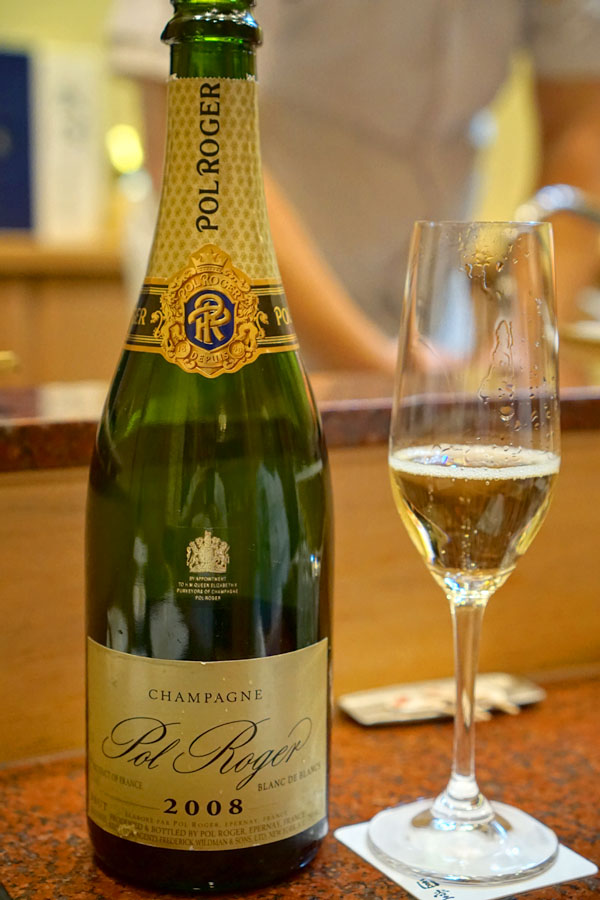 We commenced with a bottle of the
2008 Pol Roger Champagne Blanc de Blancs
. The wine smelled quite nice, with a marked fruitiness recalling apple juice and a hint of booziness and yeast. This nose, however, belied the palate, which was definitely on the toasty side, and rather sharp and dry to boot.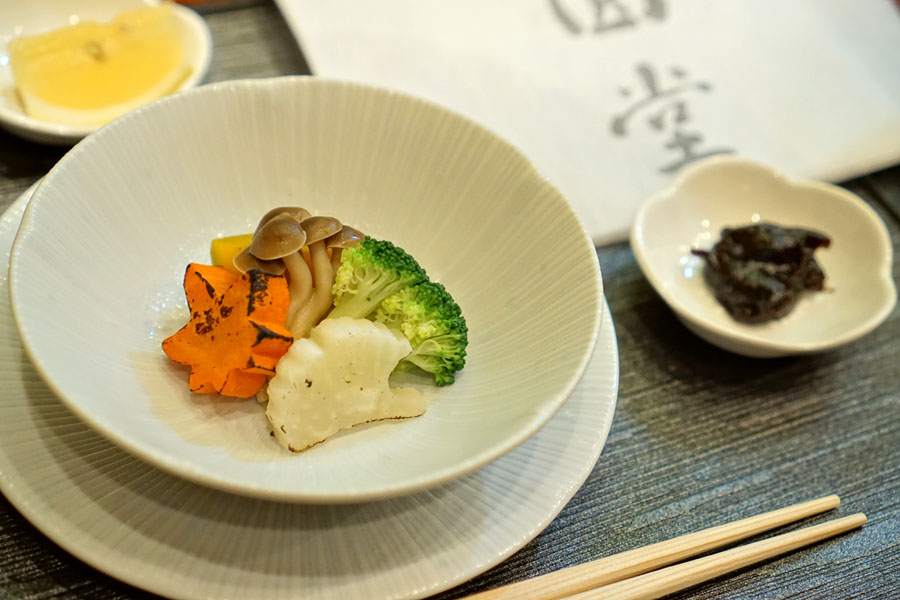 1: Warm Vegetables
For our
sakizuke
course, an array of vegetables was accompanied by a dollop of yuzu-miso sauce. The veggies didn't taste like much on their own, so that super viscous, savory-sweet condiment was a must.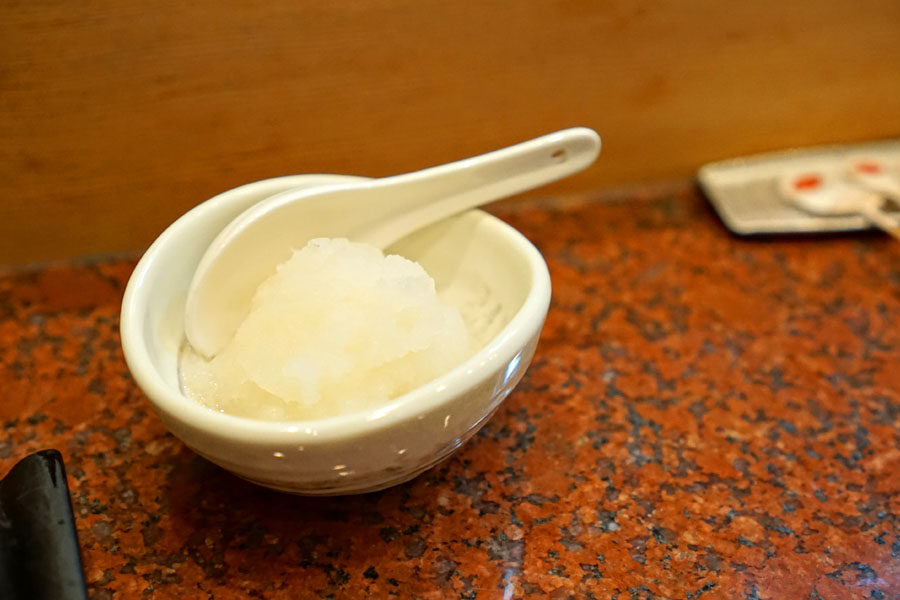 We were then provided some
daikon oroshi
to place in our
tentsuyu
sauce.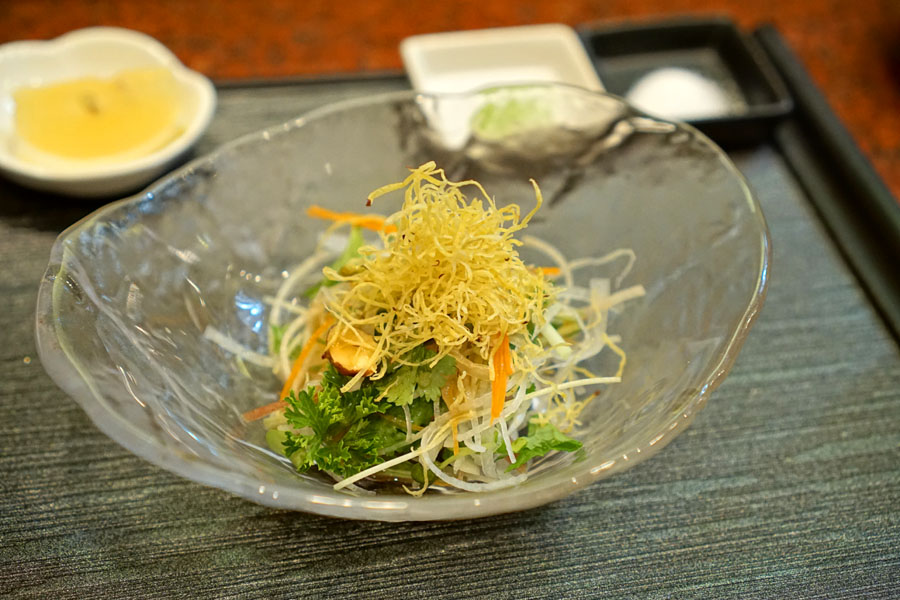 2: Endo Special Salad
The salad was actually a pleasant surprise, thanks to its mish-mash of crunchy, bright, tangy, and nutty elements, all tied together by some delightful herbal and floral notes from the plum dressing.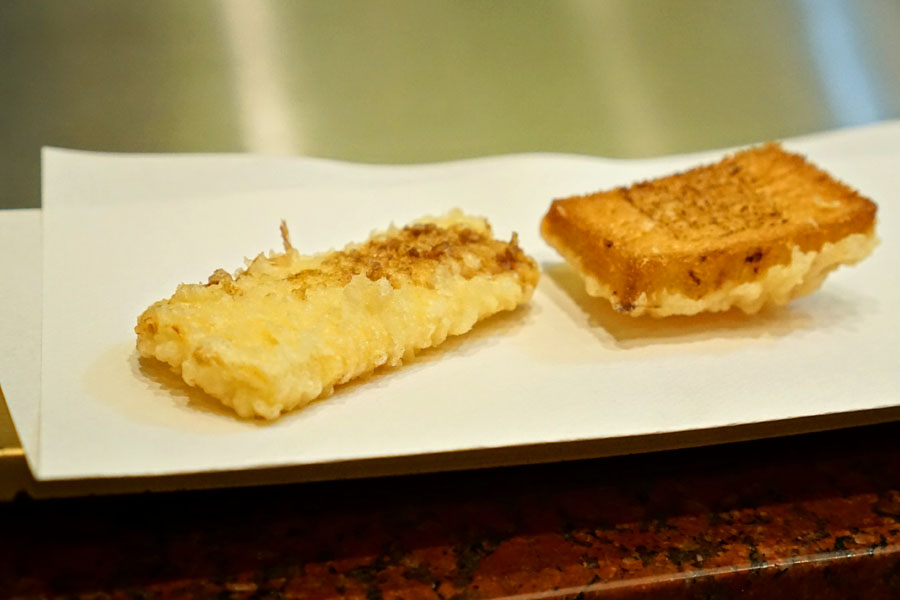 3a: Corn Tempura
Our first piece of tempura was Endo's signature corn variety (which I initially mistook for fish). Here, I appreciated the distinct nature of the individual kernels, and how their inherent sweetness played against the savoriness and crunch of the batter.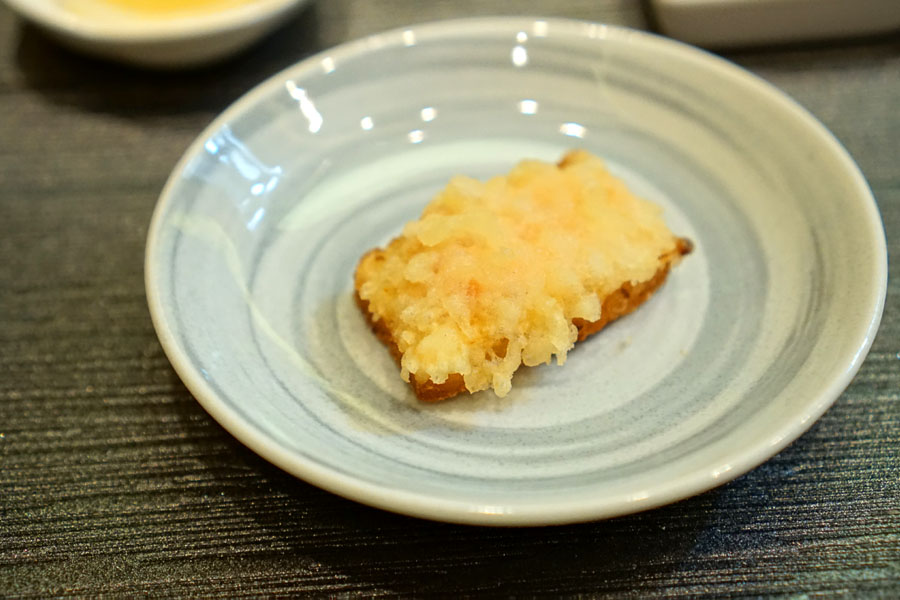 3b: Shrimp Toast Tempura
A tempura of shrimp toast was something I'd never seen before, but it was pretty magnificent. I loved how well the sweetness and brine of the
ebi
was conveyed, and how that went back-and-forth with the saltiness and crunch of the bread.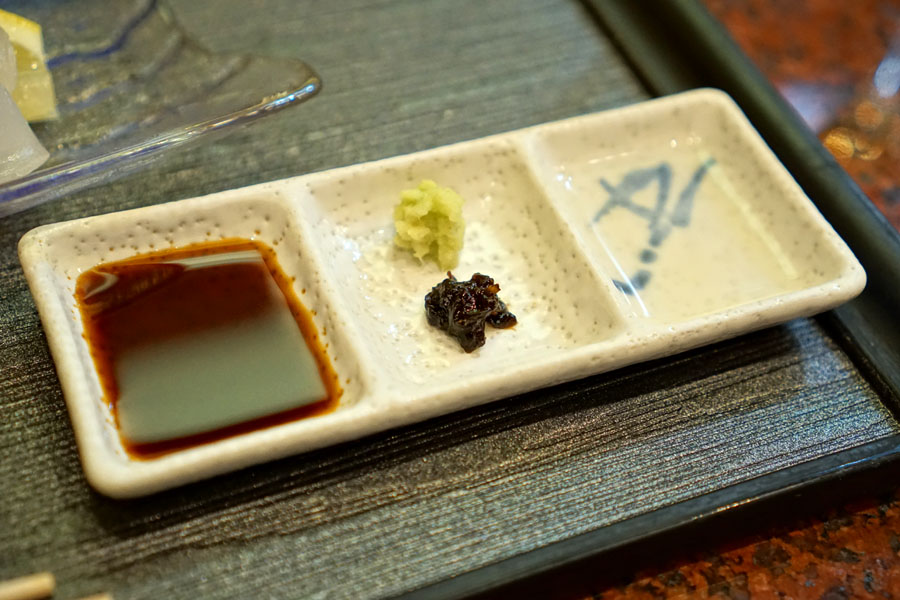 At this point, we were provided accompaniments for our upcoming sashimi course.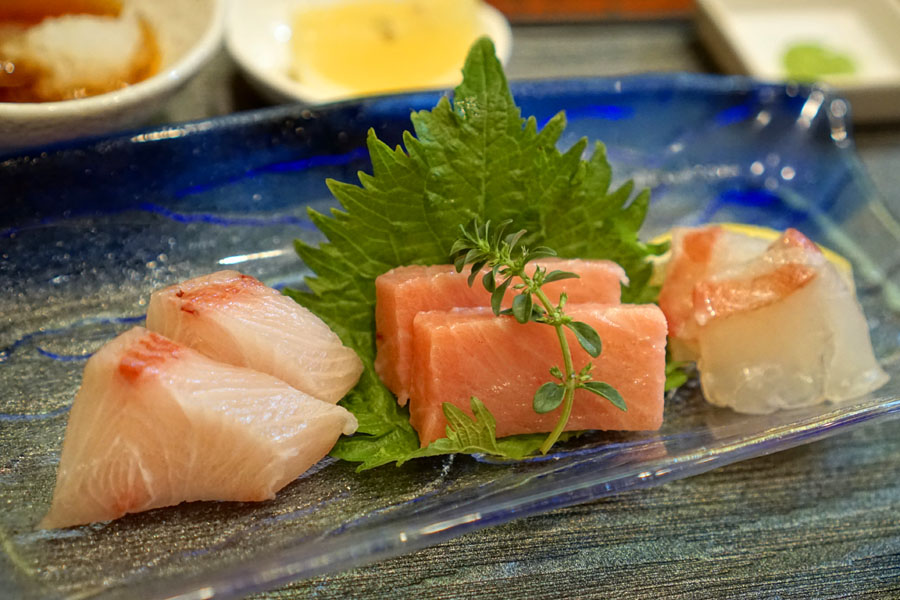 4: Sashimi Moriawase
Our sashimi plate comprised three selections:
Hamachi - Fatty for sure, this one definitely opened up with a brush of soy and wasabi.
Kuromaguro Toro - Bluefin toro had a melt-in-your-mouth richness that stood up to the smokiness of the paired seaweed.
Tai - Clean cuts of snapper were matched with a citrusy roasted sake sauce (reffered to as an irizake I believe).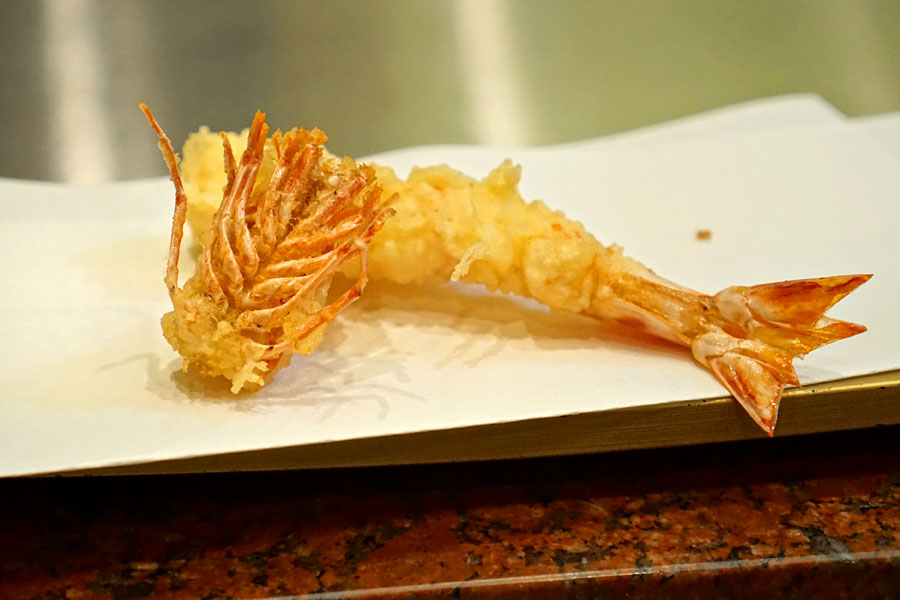 5a: Live Scampi Tempura
Our second stage of tempura began with a superb
kuruma ebi
. The shrimp had an almost creamy consistency that worked great as a contrast against the fine-spun crispness of the batter, while the salty fried head just might've been the best I've ever had.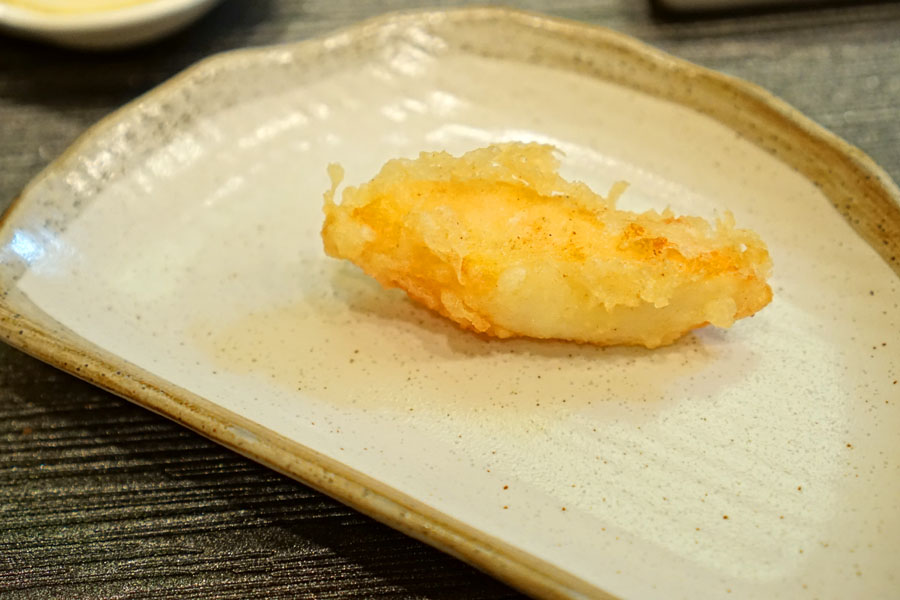 5b: King Crab Tempura
The
tarabagani
was another standout, coming out super sweet and perfectly fried. Even better with a pinch of salt.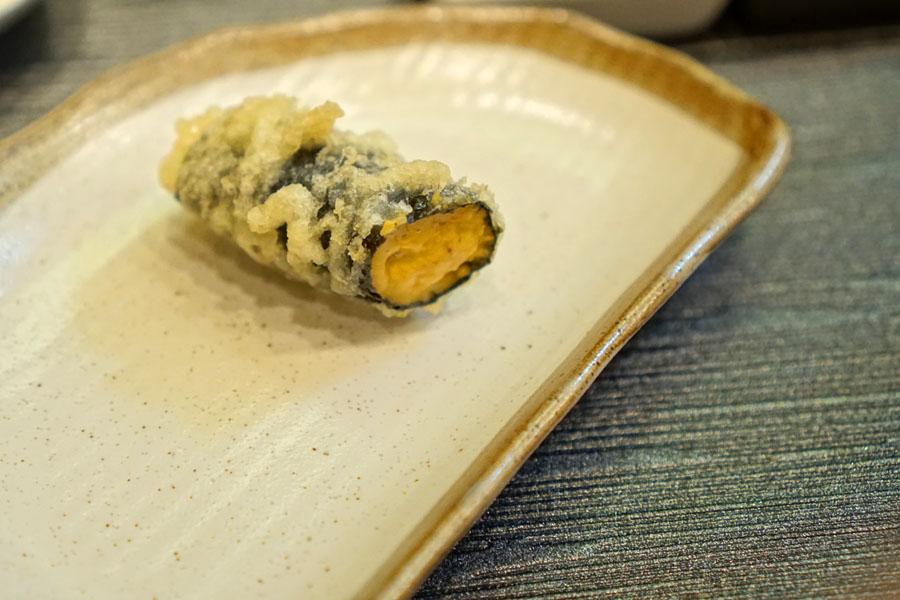 5c: Sea Urchin Tempura
Uni came wrapped in a layer of seaweed, and had a truffle-like funk at first leading to the umami flavors of the nori while the sweet, creamy nature of the roe made itself known on the finish. Delish.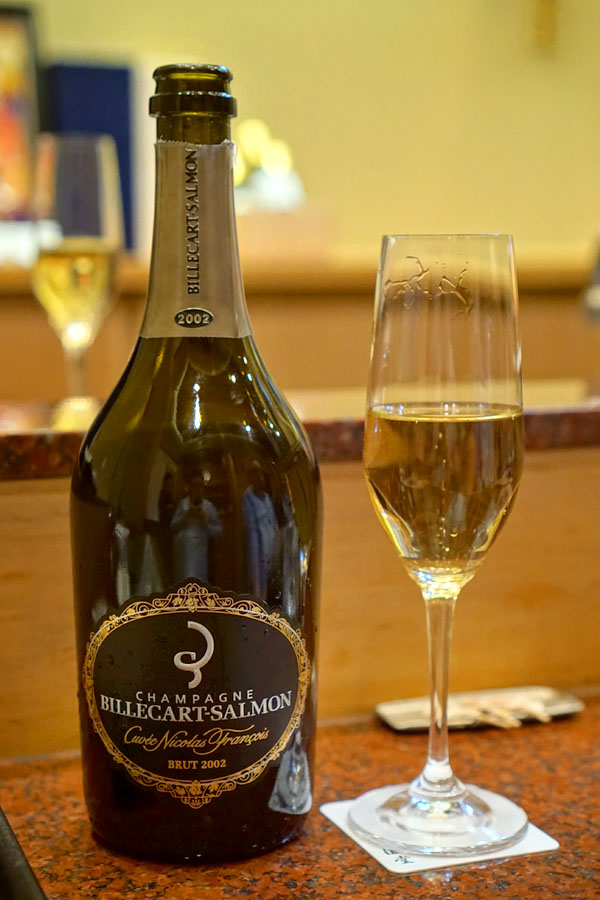 Next to drink was the
2002 Billecart-Salmon Champagne Cuvée Nicolas-François Billecart
, which was very different than the preceding wine. Its nose was definitely more floral, and had hints of lemon and pome fruit. Meanwhile, the palate was softer, more feminine, more fruit forward, with a hint of toast on the end and an almost beer-like finish.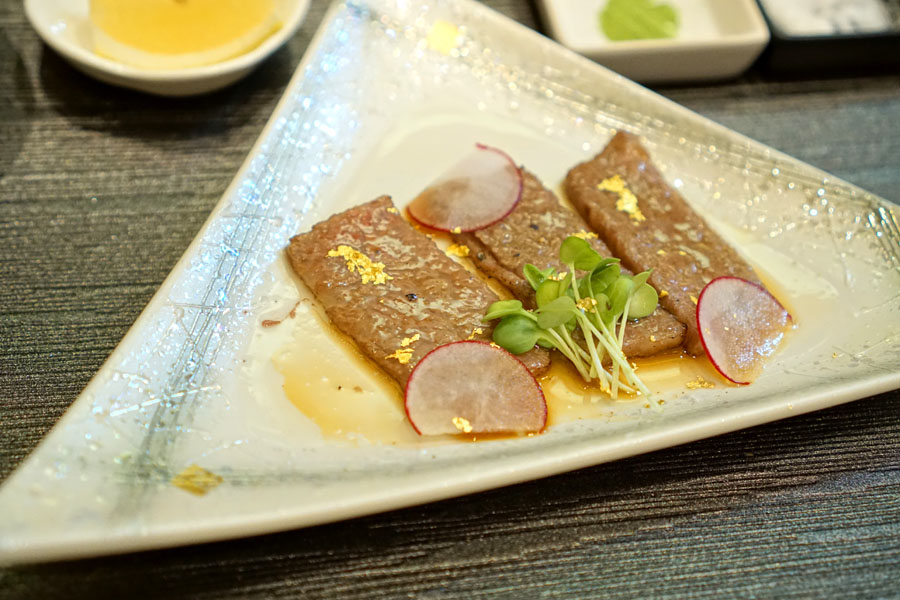 6: Wagyu Carpaccio
The Miyazaki wagyu was expectedly rich, its healthy amount of fat moderated by the considerable smokiness in the dish, while there was also a touch of truffle here that I didn't mind either.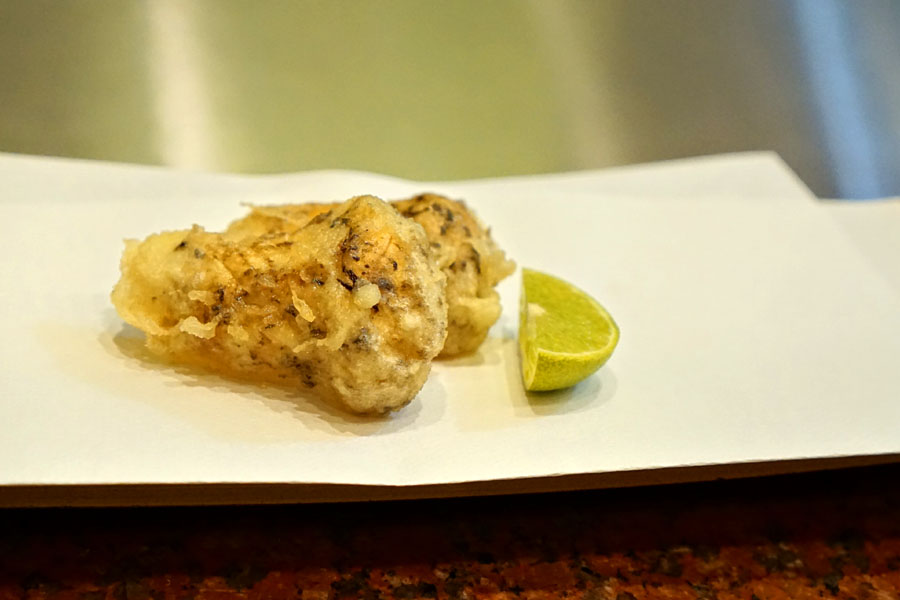 5d: Matsutake Mushroom Tempura
We were in the midst of
matsutake
season, so I was definitely looking forward to this. Coming from Oregon, the mushrooms were lightly-battered, and showcased a refined earthiness that linked up swimmingly with a squirt of
sudachi
and a dab of salt.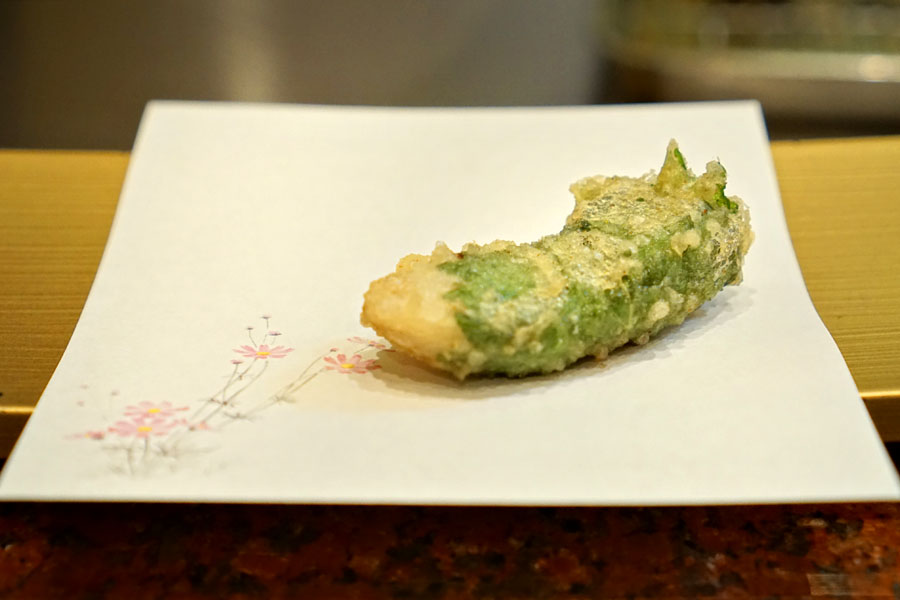 5e: Golden Eye Snapper with Shiso Tempura
A savory, satisfying cut of
kinmedai
made total sense with its counterpoint of minty shiso. Nice!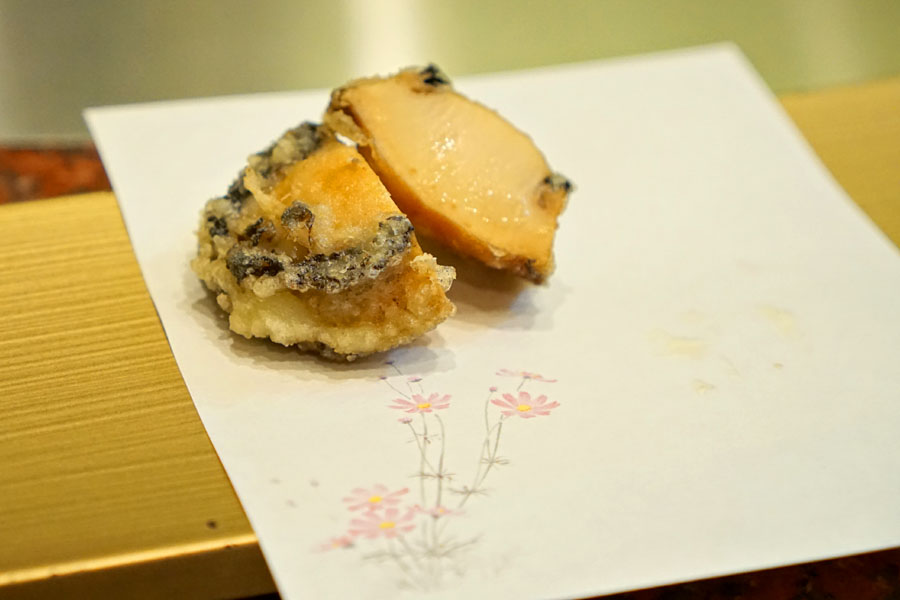 5f: Abalone Tempura
The
awabi
was perfect texturally, with its firm, yet somehow supple consistency working hand-in-hand with the tempura batter. Taste-wise, I got boatloads of oceany-umami flavors that really popped with a sprinkle of green tea salt.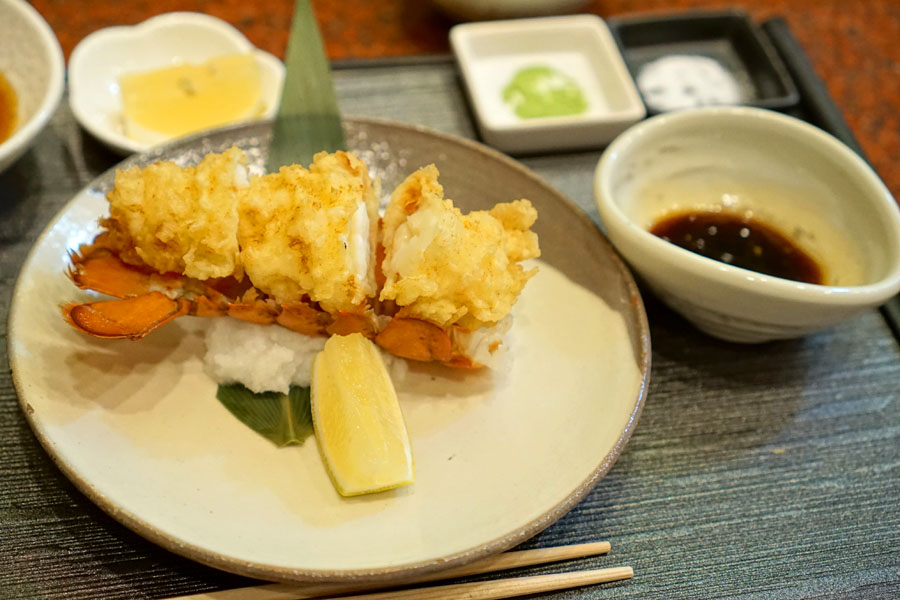 5g: Lobster Tempura
The
isebi
was another favorite of ours. The lobster tail was delicately fried, and had a sweetness that just worked beautifully with the batter. It was marvelous with just a squirt of lemon, and so the buttered soy sauce on the side wasn't even truly necessary.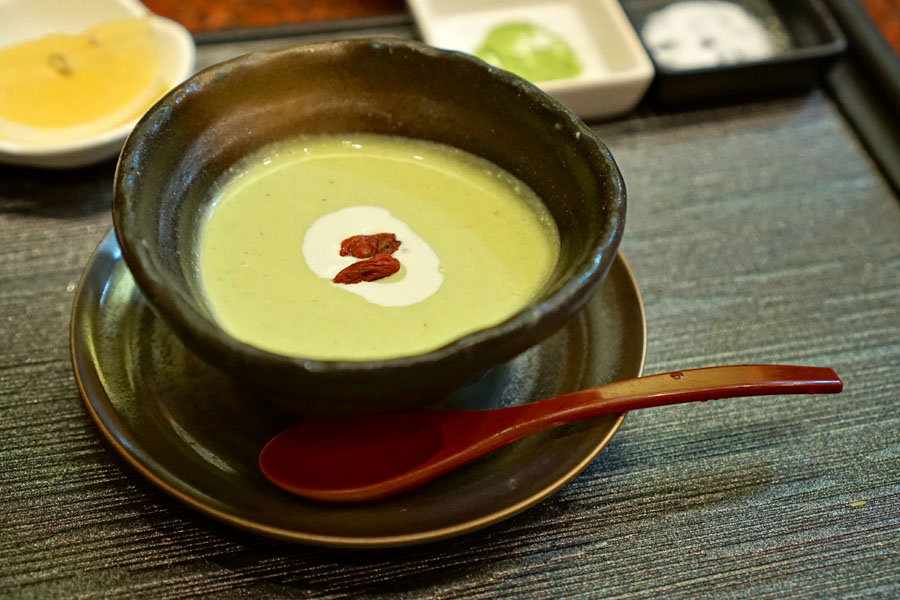 7a: Broccoli Soup
A special broccoli soup was cool and creamy, the bright flavors of the vegetable really working as a sort of palate cleanser. Nice tartness from the goji berries here, too.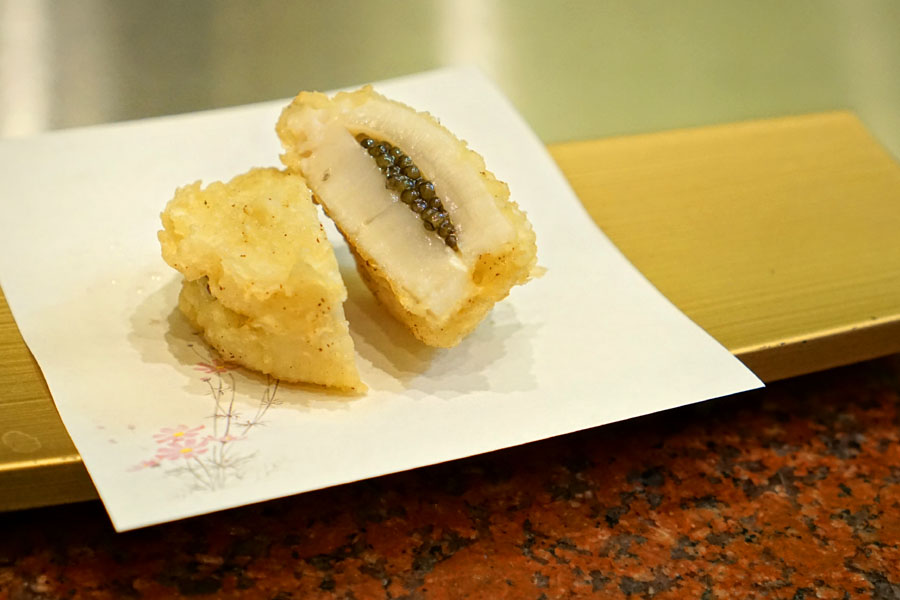 5h: Scallop with Caviar Tempura
Here was a decidedly non-traditional presentation of tempura: a firm, plump, super sweet
hotategai
, stuffed with Ossetra. The key here was really the caviar, which provided a salinity that almost seemed to emphasize the sweetness of the scallop. A touch of lemon did wonders in opening up the flavors as well.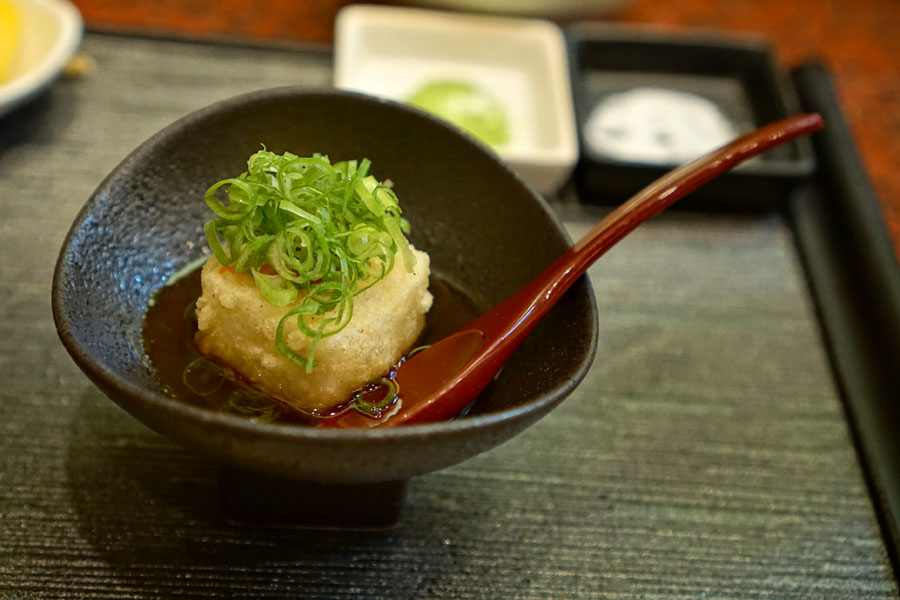 7b: Sesame Tofu
Agedashi gomadofu
was utterly creamy, its lusciousness working great against the crispness of its fried skin, while its relatively mild flavors were perked up by the savory, tangy ponzu and scallion.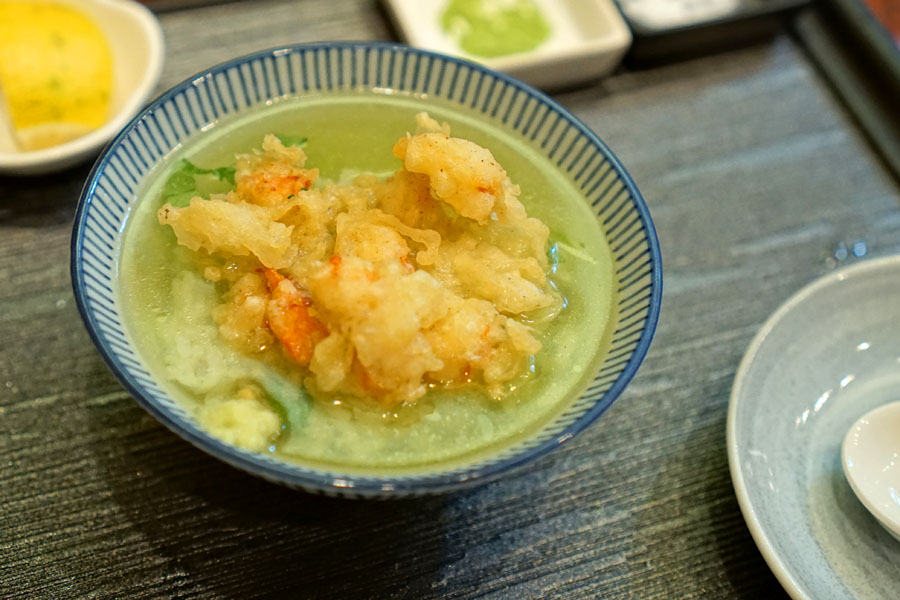 8a: Ten-Cha
We ended up trying all three of Endo's closing courses. The
chazuke
was a cozy preparation, setting the bitterness of the
sencha
against a savory shrimp tempura. However, I would've liked some citrus or wasabi or something to lift the dish a bit.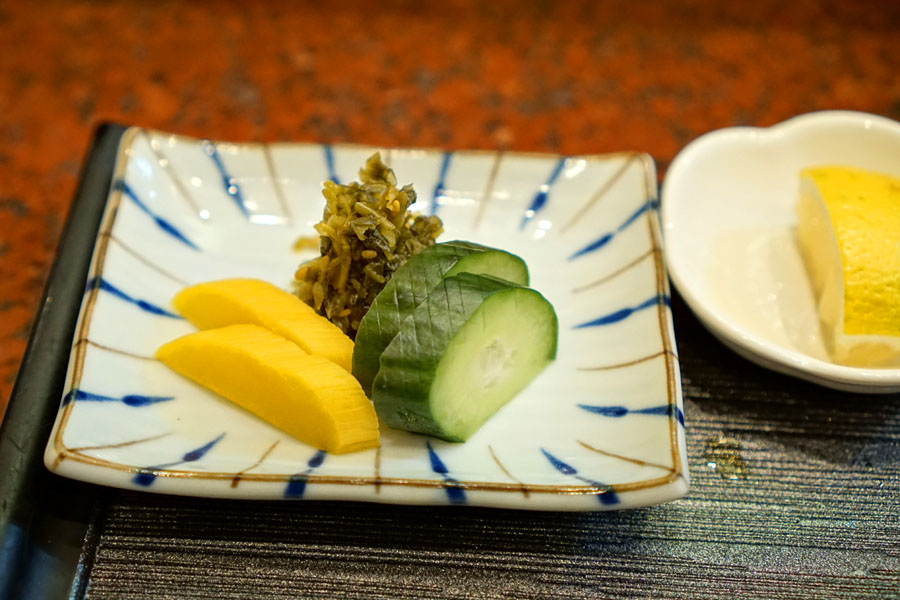 Accompanying the
ten-cha
were some crunchy pickles, which did provide a welcomed hit of acidity.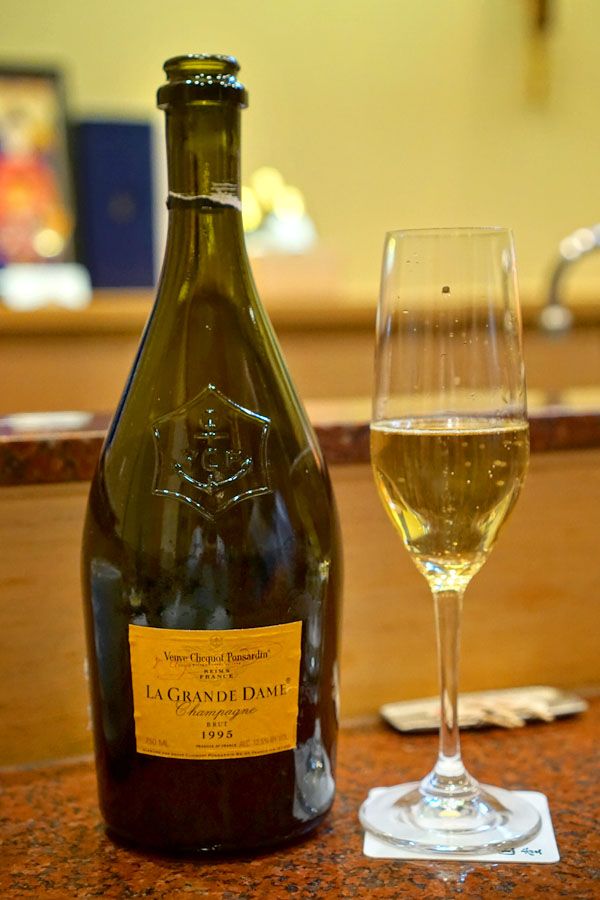 Our final beverage was the
1995 Veuve Clicquot Ponsardin Champagne Brut La Grande Dame
. This one certainly smelled more mature, and had a nutty quality on the nose along with notes of honey, biscuit, and minerals. Taste-wise, I found it tart and acidic and crisp, but also sherry-like, with some oxidation. The wine has aged pretty well, and still has some years left on it I'd say.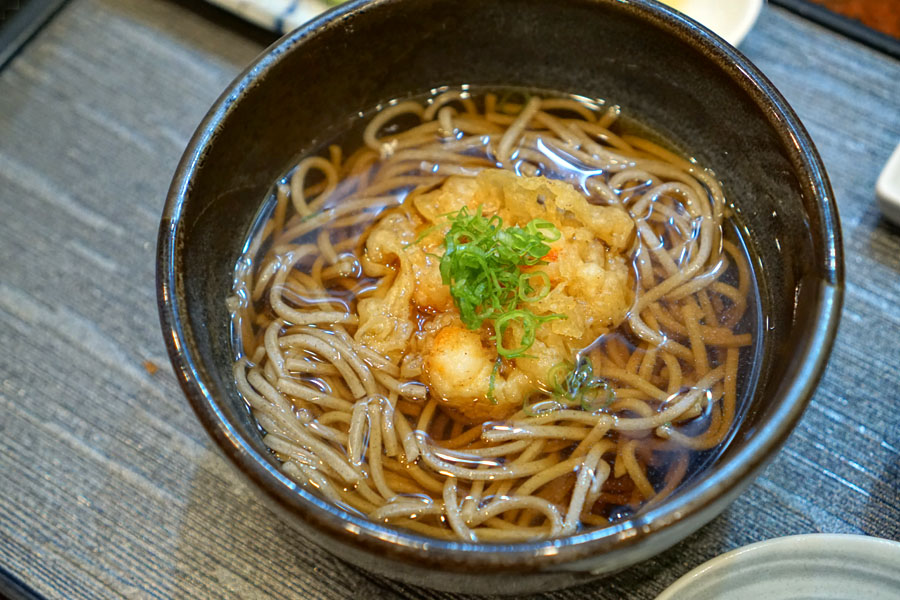 8b: Ten-Soba
The combination of tempura and soba was super comforting, and I especially appreciated the contrast in texture between the two elements.
Some green tea to finish the meal with.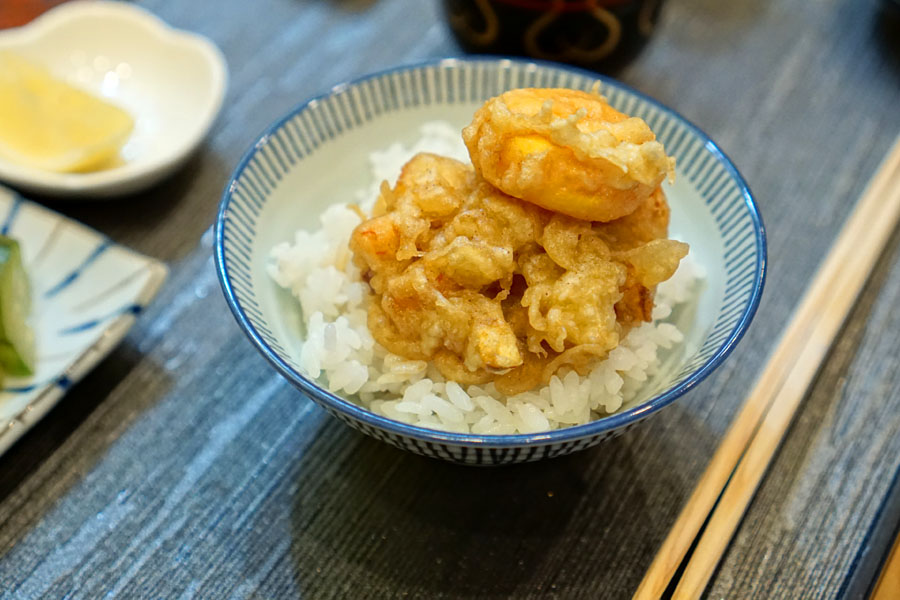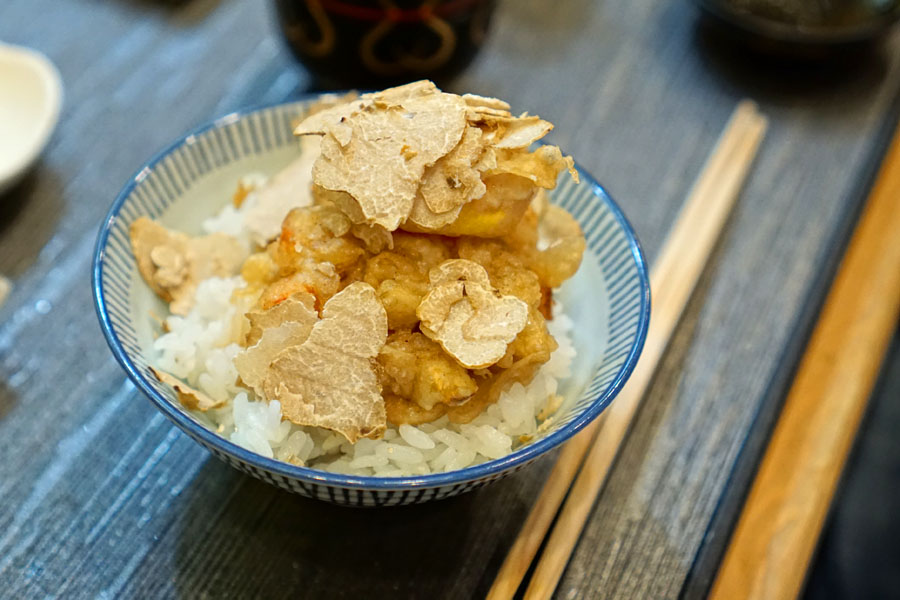 8c: Ten-Don
More tempura arrived, this time with a fried egg and $50 worth of French white truffle. It was as gratifying as expected, and the interplay between the sweet-briny shrimp, runny egg, and musky truffle certainly worked for me.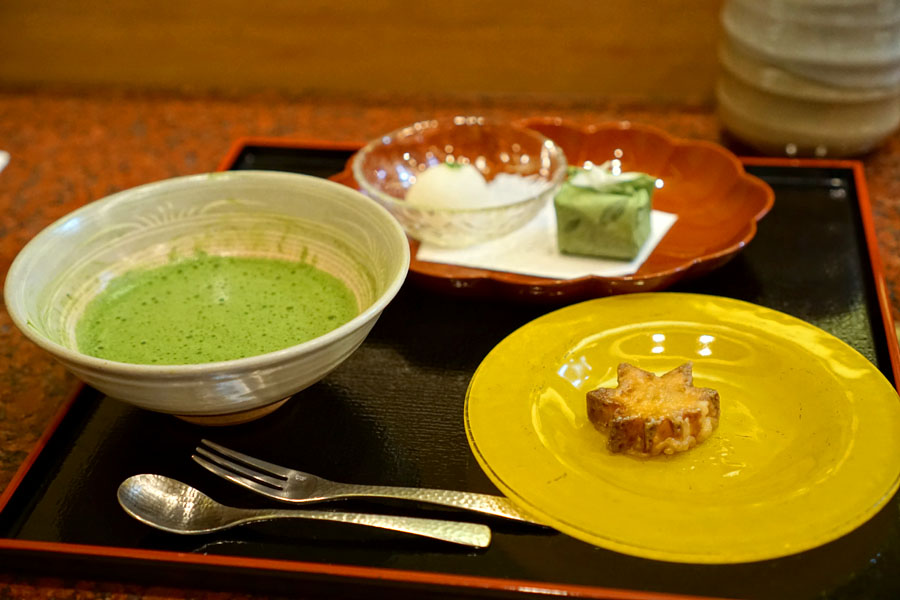 Next came a selection of desserts.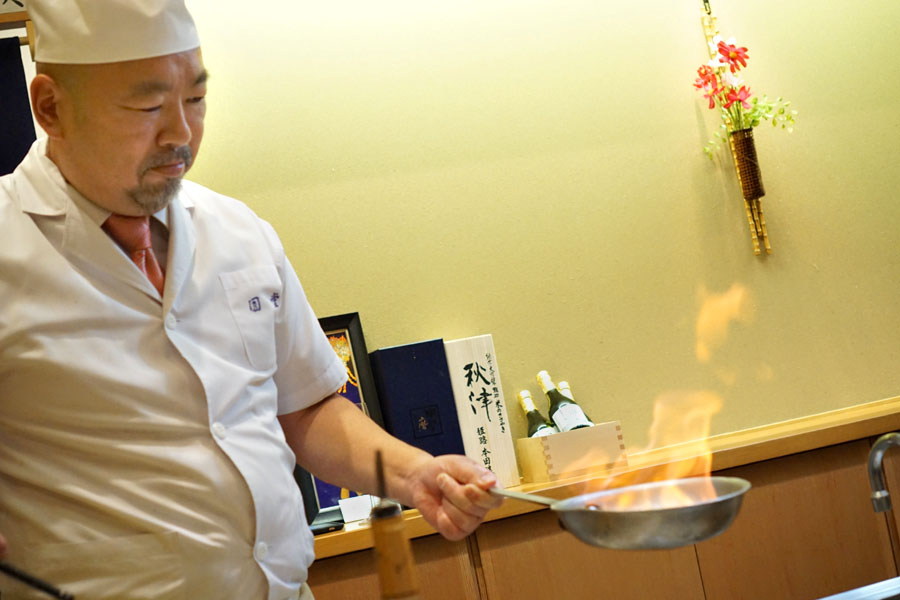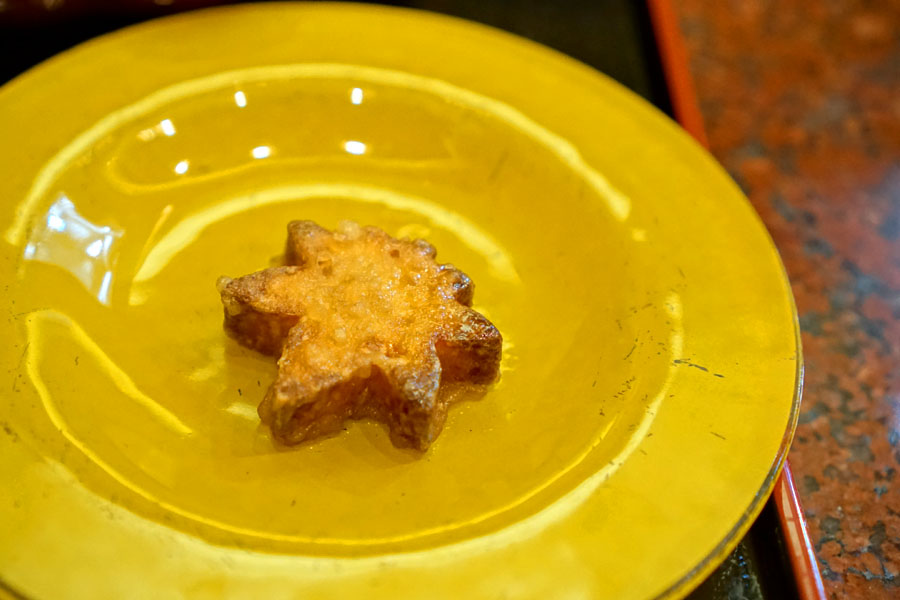 9a: Flambéed Candied Sweet Potato
The
satsumaimo
was a delight. Arriving with a pleasantly crisp exterior, its sweetness matched up perfectly with the smoky, boozy qualities of its Hennessy flambé.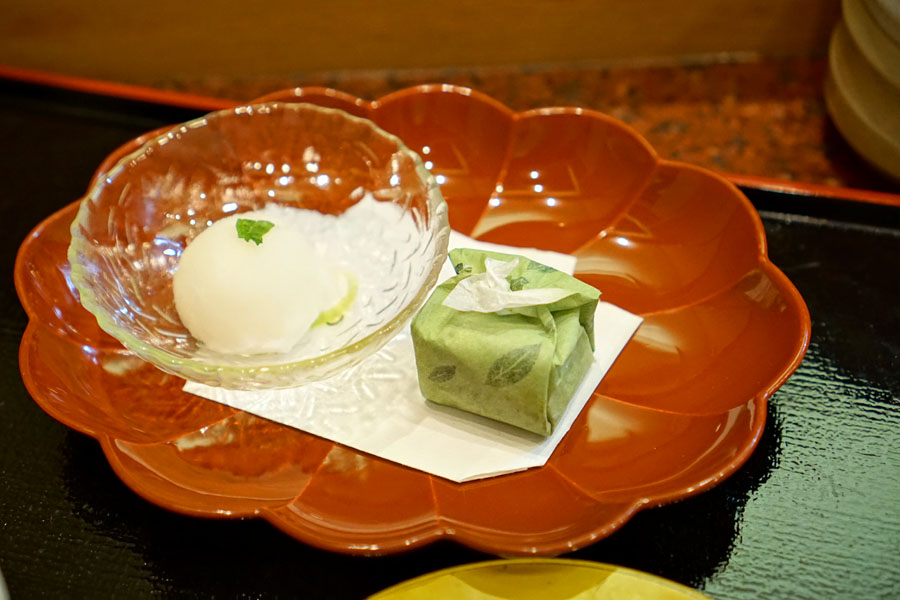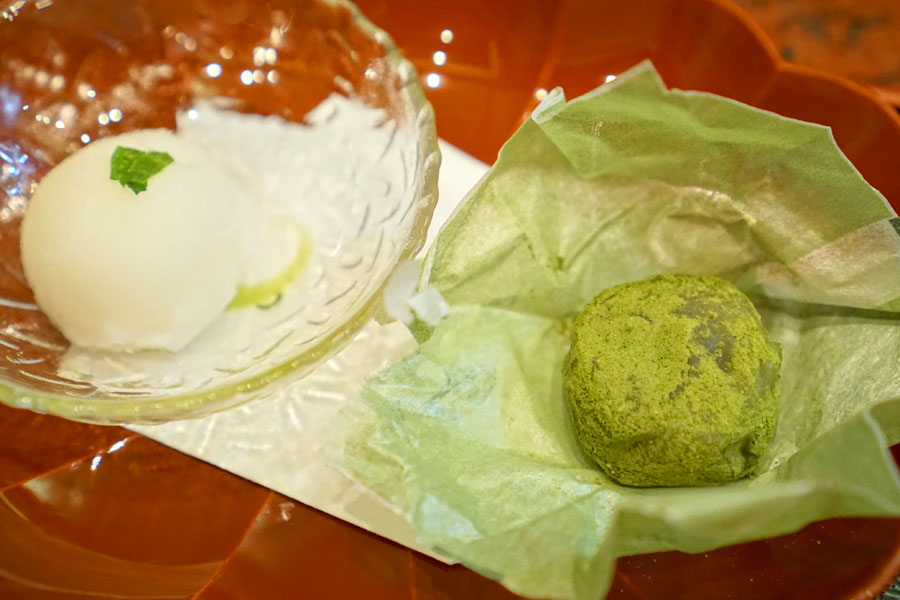 9b: Yuzu Sherbet & Green Tea Mochi
Here we see a super refreshing yuzu sorbet, and the softest green tea mochi I've ever encountered.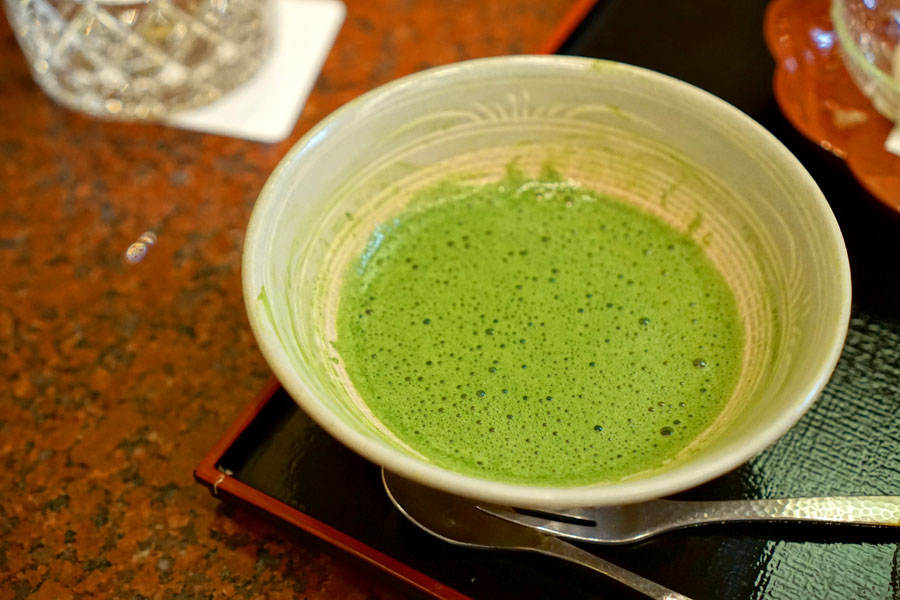 9c: Matcha
We ended with a thick, frothy presentation of matcha, which was probably the most bitter and astringent I've had. Do note that there was no accompanying tea ceremony, as unfortunately the restaurant appears to have done away with that nicety.
My dining companions commented that this was the best tempura they'd ever had, and I'd probably agree with them. There was certainly this level of precision and finesse in the frying that, while it may be common in Japan, is rarely found Stateside. I'm glad to finally have a dedicated
tempura-ya
that we can call our own, though admittedly it comes at a steep cost. Actually, I'd be curious about going back to Endo and ordering à la carte, so I can sample all the various items of tempura (and there are many) that I didn't get to try this go around.