Fiona (Los Angeles, CA)
Fiona Bakery & Restaurant
339 N Fairfax Ave, Los Angeles, CA 90036
323.852.3210
www.fionabakeryla.com
Fri 05/24/2019, 08:05p-10:10p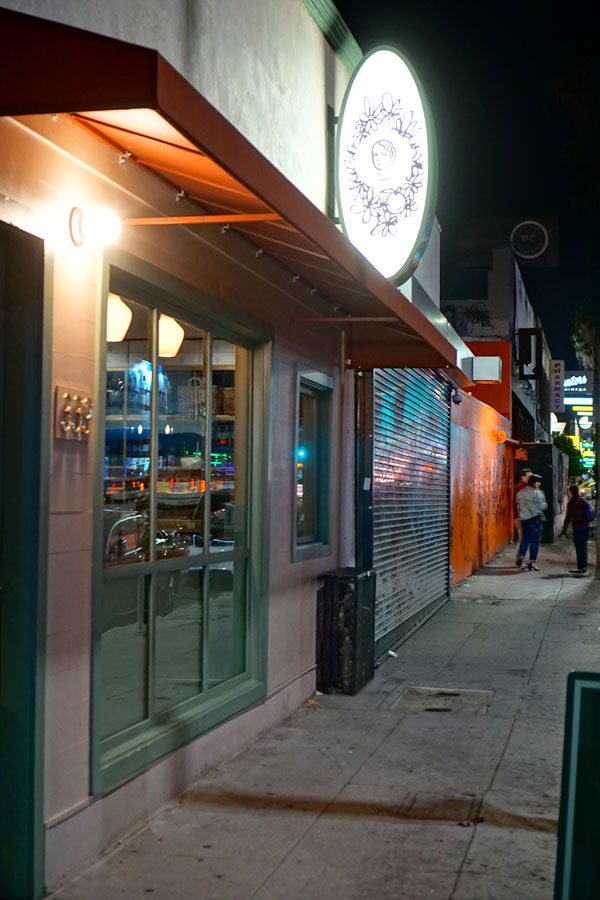 Nicole Rucker is a name that I'd heard mentioned many a time over the past several years, but I'd never tasted any of her famed pies until just recently, thanks to a visit to Fiona. Named after a hippo at the Cincinnati Zoo (who shares a birthday with her husband Blaine), the Beverly Grove all-day bakery-cafe bowed on November 19th, and was created in concert with James Starr and Jason Bernstein, the guys behind The Golden State,
Bludso's Bar & Que
, Cofax Coffee, and Prime Pizza. Rucker obviously handles the sweet stuff, but curiously, she's brought on Shawn Pham (of Simbal fame) to take care of the savory side of things. The two apparently met through a mutual friend when he was opening his Little Tokyo restaurant.
About the Chef
: Nicole Mournian was born in 1980 to a Native American-Mexican-Irish family, and was raised in the San Diego area. Her parents eventually divorced, and she ended up moving around a lot with her mom, who was a literature teacher. Her grandparents were good gardeners, and as a result, she always had a variety of fruit available to her, which is what initially drove her love of the stuff. While attending Poway High School, Rucker learned a bit about cooking by watching the likes of Jacques Pépin and company on TV, but after graduating in 1998, ended up attending the San Francisco Art Institute. Her major was photography, and during this period, she also sang in an Oakland-based band called Meeshee. However, she soon realized that she'd rather cook than photograph, and subsequently moved back down to San Diego. There, she faked a résumé and was able to land a pastry chef gig at Gina Bledsoe's Influx Cafe in 2003, where she stayed for three years. Rucker moved to LA in 2006 and began working at
Fraiche
in Culver City, under Pastry Chef Miho Travi. She left the restaurant in 2008 and became a barista at Caffe Luxxe in Santa Monica (she'd developed a taste for coffee at Influx), and then served a similar role at Intelligentsia in Venice.
It was here where she would meet
Gjelina
's Travis Lett. The two clicked, and Rucker was hired to open Gjelina Take Away as GM/baker, with the place debuting in June 2011. Later that year, Lett convinced her to compete in KCRW's Good Food Pie Contest, but she ended up losing. However, because of that loss, she refined her pie-making skills and completely redeemed herself in the 2012 contest, where she took home four blue ribbons. In 2013, she won first place for her apple pie at the National Pie Championships in Orlando (the experience was captured in the documentary
Pie Fidelity
). With those titles under her belt, Rucker and the Gjelina team opened Gjusta, an all-day bakery, in October 2014. However, she would leave Lett in March 2015 to join Jason Bernstein and James Starr as a partner in Cofax Coffee, where she became known for her doughnuts. Following a smattering of pop-ups and a stint at Smorgasburg, she and her partners planned to open a standalone bakery on La Brea (at the old Tinga spot) in 2017, but plans fell through. After the year or so delay, the team was able to launch Fiona last November, while dinner service started on December 3rd. And if that wasn't enough, Rucker just released her debut cookbook on July 2nd, entitled
Dappled: Baking Recipes for Fruit Lovers
.

Fiona takes over an address that was previously home to Bird N Hand, Deli Bar, and Moroccan joint Chameau. Anchored by the pastry case to one side, it's a bright, sunny space, one that features some of the Chef's personal art collection and was apparently designed to be like her perfect dream home. Do also note the table up front, which is covered in boutique-y knick-knacks, chocolate, tea, coffee, and the like.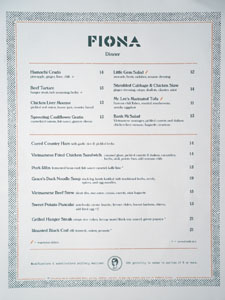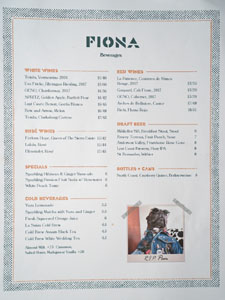 Fiona's menu definitely has a Southeast Asian inclination, which isn't surprising given Pham's Vietnamese background. Beverage-wise, there's a small wine list and a handful of beers, while take-out and delivery are also options here. Click for larger versions.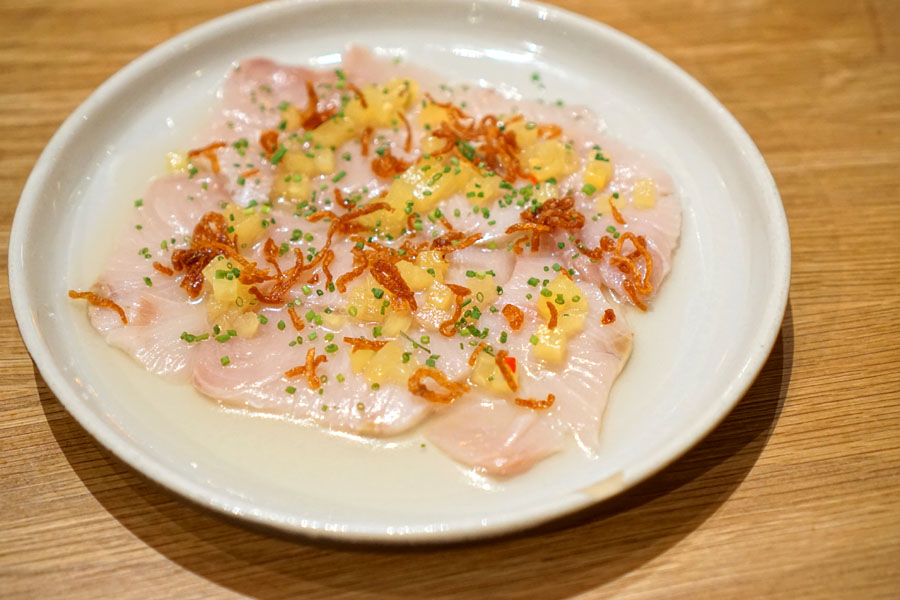 Hamachi Crudo [$14.00]
| pineapple, ginger, lime, chili
Our meal got off to a great start. Slices of yellowtail came out with a healthy dosing of fat and brine, and worked superbly with the tartness and funk of what I believe was fish sauce. The pineapple added a further burst of fruitiness and acidity that I appreciated, and I was a big fan of those savory fried bits of shallot on top, too.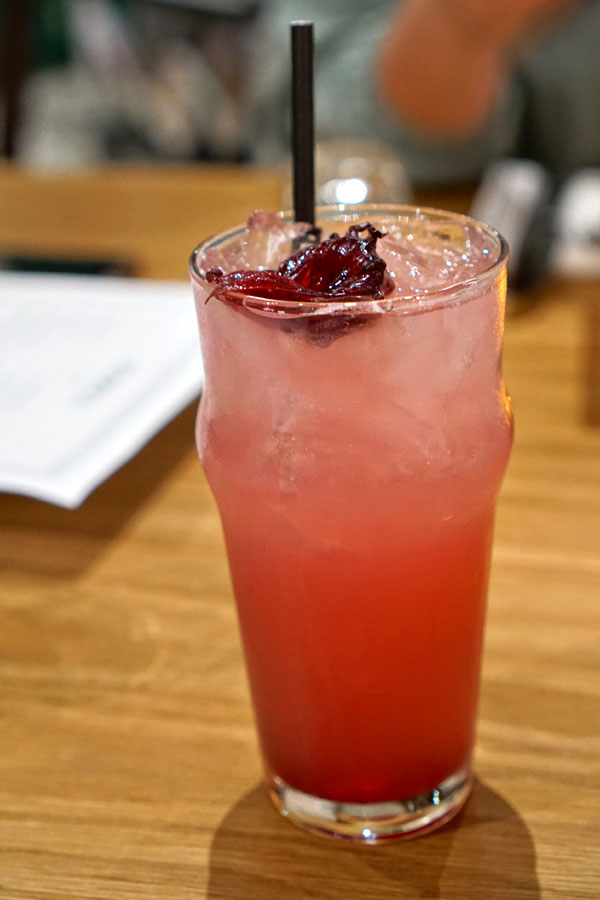 A
Sparkling Hibiscus & Ginger Yuzu-ade [$6]
married the sweet, floral nature of hibiscus with the unmistakable zestiness of ginger.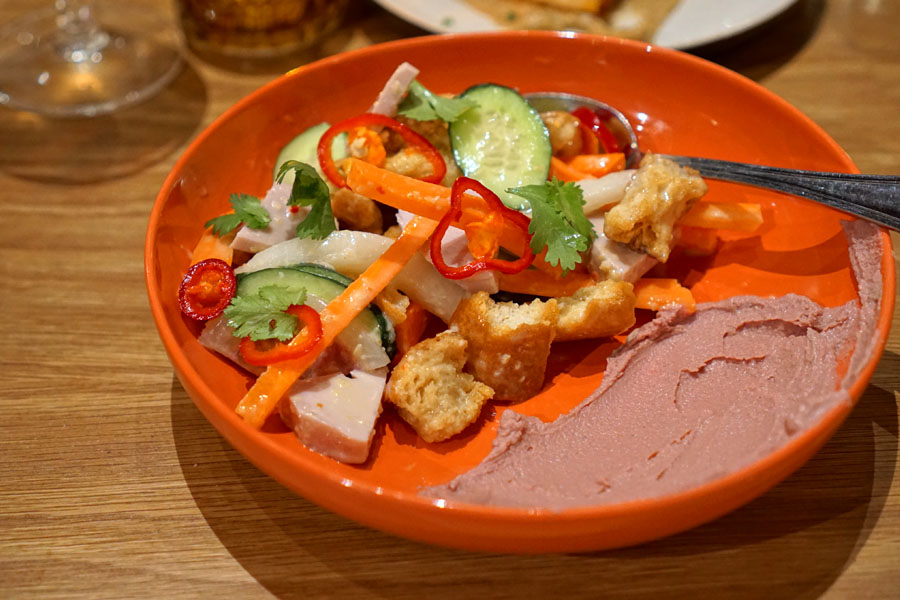 Banh Mi Salad [$13.00]
| Vietnamese sausages, pickled carrots and daikon, chicken liver mousse, baguette croutons
Here we had a deconstructed
bánh mì
of sorts, one that really did recall the ubiquitous "#1 Lee's Combination" with its liver-y funk and pickle-y acidity. I was especially enamored with the sausages.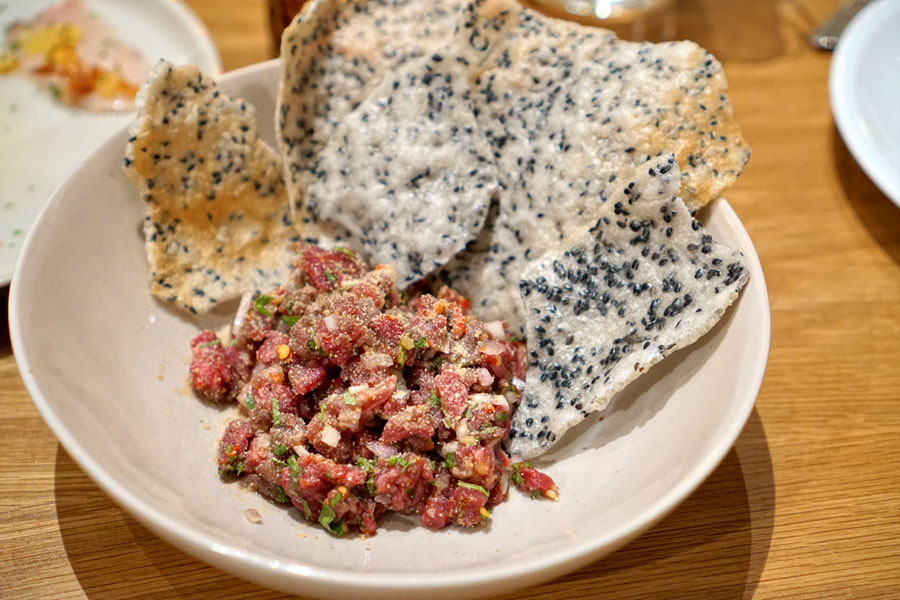 Beef Tartare [$15.00]
| hanger steak, larb seasoning, herbs
This very obviously Thai-inspired dish did a commendable job capturing the essence of Northern
larb
. I quite enjoyed the in-your-face dry spice character of the tartar, and how its savory, earthy flavors were lightened and brightened by the herbs mixed in. Nice texture contrast from those crackers, too.
Mr. Lee's Marinated Tofu [$11.00]
| Korean chili flakes, roasted mushrooms, smoky eggplant
I don't know who Lee-
ssi
is, but his tofu came out on the firm side, with classic flavors. I enjoyed the mushrooms, and the eggplant imparted a novel smoky element to the dish, but I really wanted more heat from the advertised
gochugaru
. It was all a bit too tame.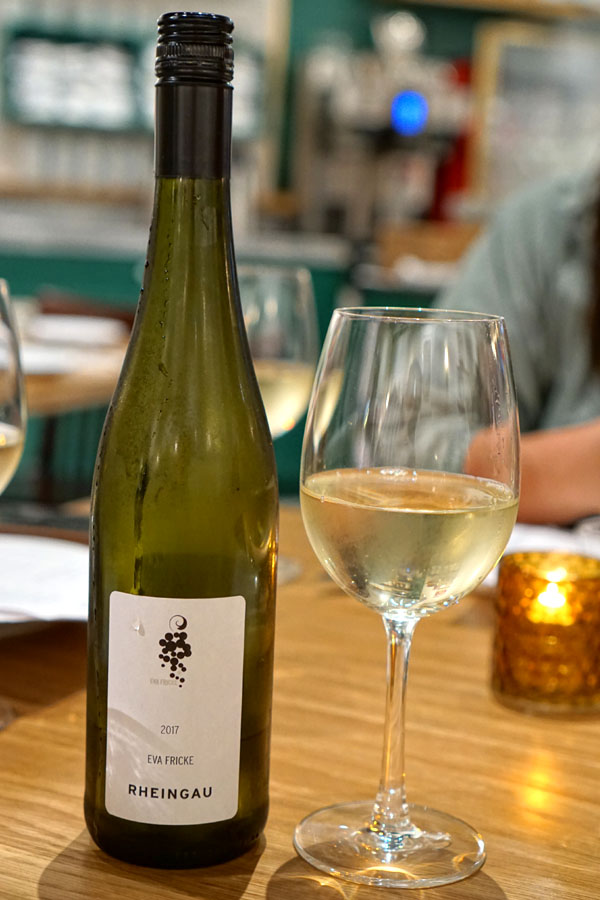 We ended up having a bottle of the
Eva Fricke, Rheingau Riesling, 2017 [$60]
with the food. The wine was surprisingly restrained on the nose, and had notes of honey, pome fruit, minerals, and alcoholic heat, with a slight undertone of barnyard. On the palate, I found the Riesling on the more austere side, with its grassy, saline, and acidic flavors commingled with just a touch of sweetness.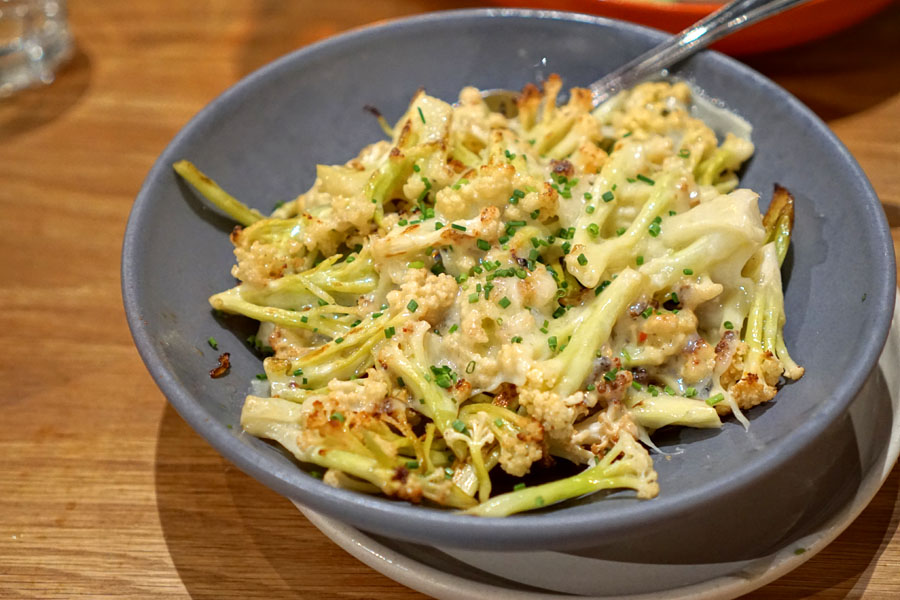 Sprouting Cauliflower Gratin [$13.00]
| caramelized onions, fish sauce, gruyere cheese
This was a bit of a miss for me, and I found it lacking the richness of a classic gratin, as well as the freshness and texture of normal cauliflower. Rather, the most prominent thing here was the sugariness from those caramelized onions, along with an undercurrent of piquancy from the fish sauce. The dish could've used more char, more browning too.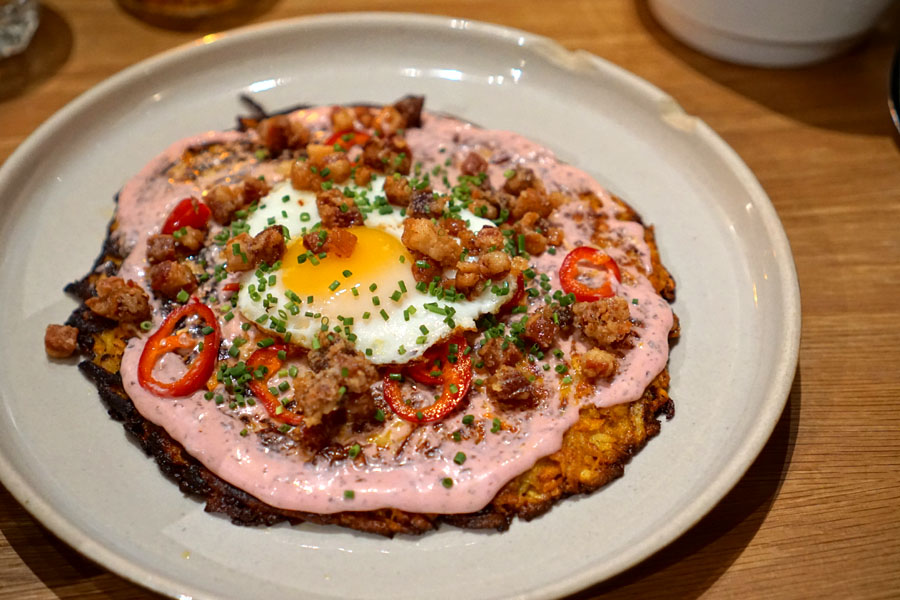 Sweet Potato Pancake [$13.00 + $2.00]
| umeboshi creme fraiche, fresno chiles, bacon lardons, chives + add fried egg
This
gamjajeon
-like creation had a nice sear going on at the edges, but the middle of the pancake seemed a tad undercooked. It definitely showed off the sweet potato, but was lacking in salt, though the lardons did help in that regard. I wouldn't have minded more heat from the Fresnos, either.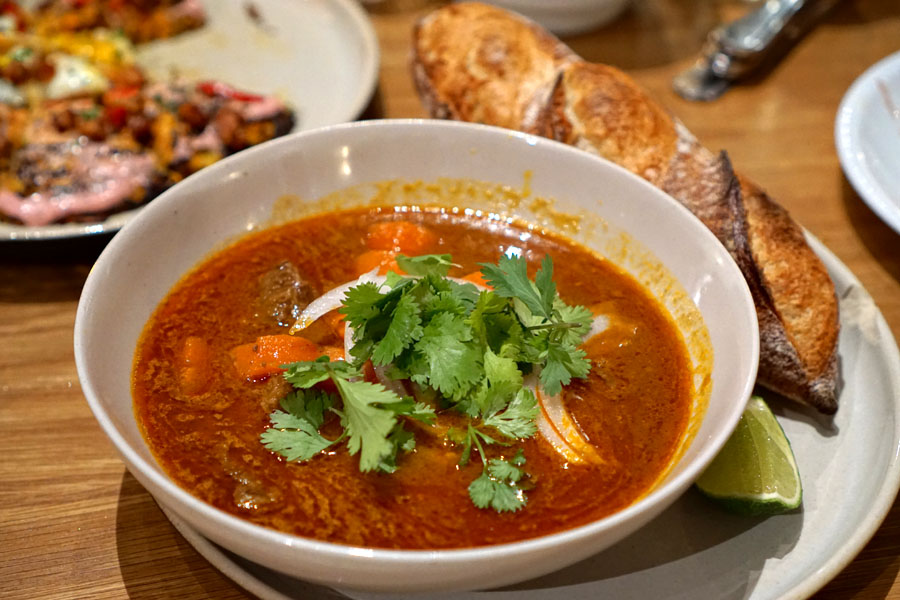 Vietnamese Beef Stew [$15.00]
| short ribs, star anise, cassia, carrots, mini baguette
A cozy, homey version of
bò kho
was a table favorite thanks to its invigorating depth of flavor, combined with wonderful nuances of sweetness, spice, and herb. It all came together beautifully. And the baguette? Soft, crisp, perfect.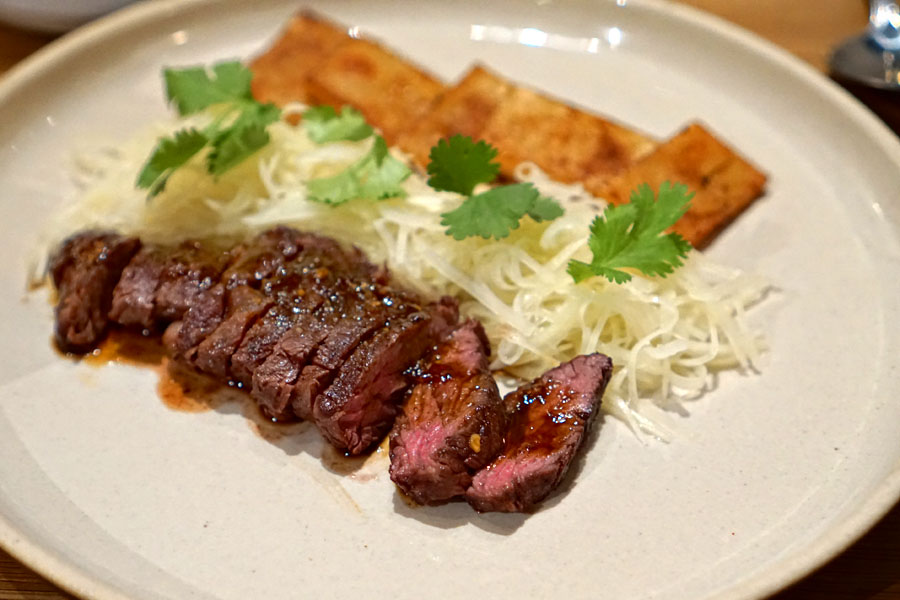 Grilled Hanger Steak [$21.00]
| crispy rice cakes, kecap mani (thick soy sauce), green papaya
Our final savory brought out a tart, funky presentation of hanger steak, one smartly evened out by a zippy, spicy, acidic,
som tam
-like presentation of papaya. I quite liked those well-charred, somewhat herbaceous rice cakes on the side, too.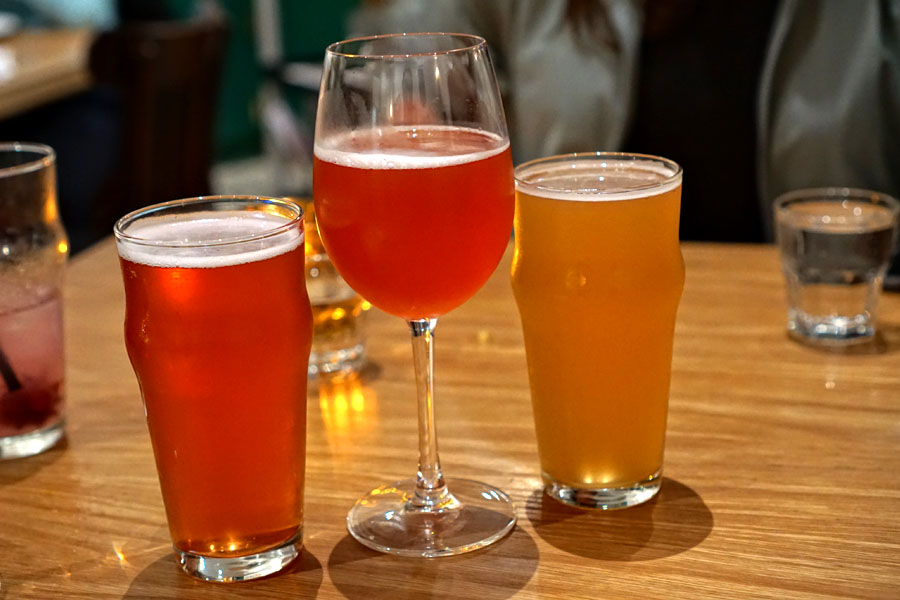 With the wine all drunk up, we moved on to a threesome of beer (left to right):
Anderson Valley, Framboise Rose Gose [$8] - Floral and salt-driven on the nose, this one showcased wheat-forward, tart, fruity flavors leading to a drying, astringent finish.
Bruery Terreux, Fruit Punch, Sour [$7] - Extremely tart, almost acerbic aromas laced with berries and citrus. Taste-wise, I got the claimed fruit punch flavors, along with grain and lots of puckering lemony acidity.
St. Bernardus, Witbier [$8] - This had sweet, almost candied bouquet with plenty of wheat. On the palate, I found the beer sweet and malty, with little of the anticipated coriander spice or citric tartness.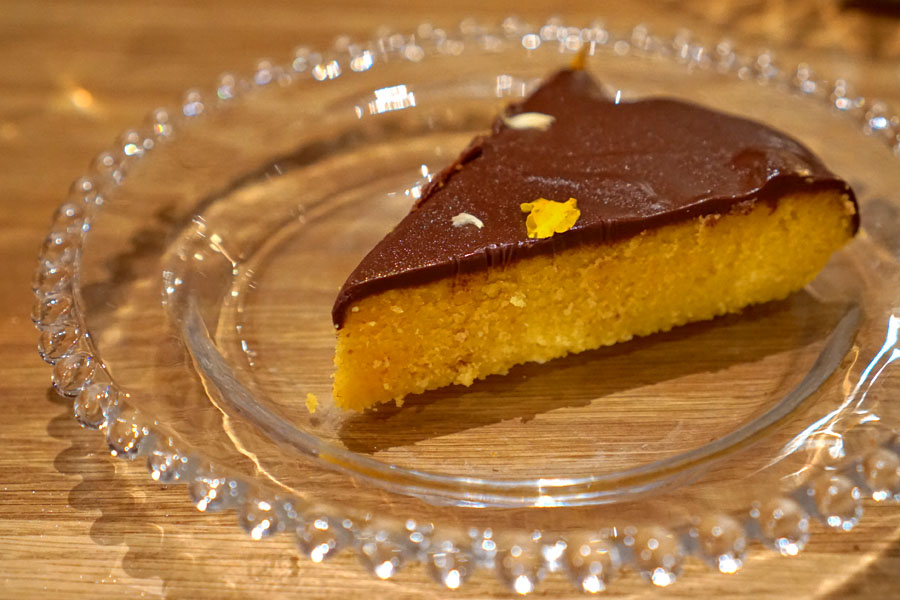 Given Rucker's reputation, naturally we had to save room for dessert. The
Flourless Tangerine Cake [$7]
was a strong effort to be sure, a great mélange of classic chocolate and citrus flavors in a moist, well-textured package.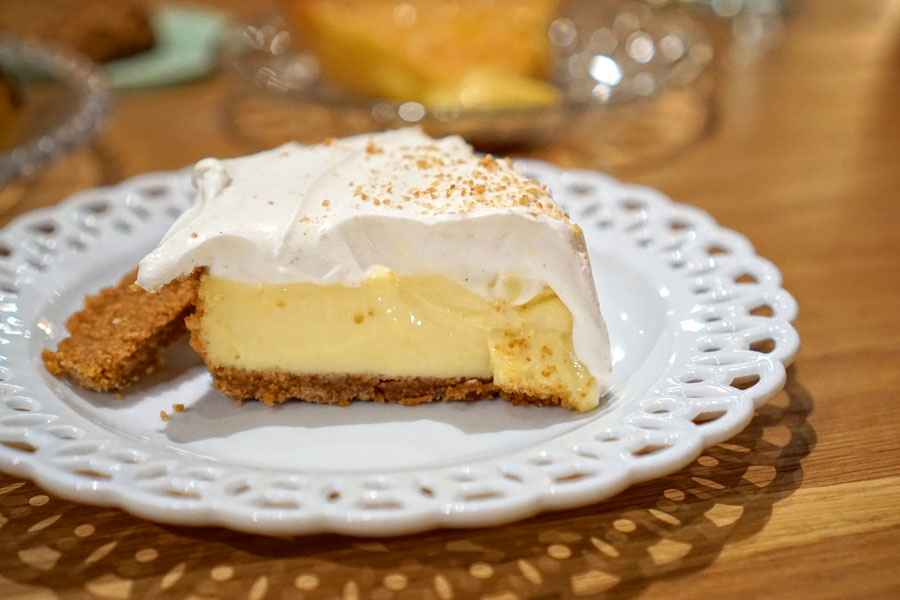 Her
Key Lime Pie [$7]
was definitely one of the better ones I've tried. I loved the balance between the tartness of the lime and the sweetness of the whipped cream--masterful--while just as important was the crust, which was properly crumbly and incorporated the right amount of salt.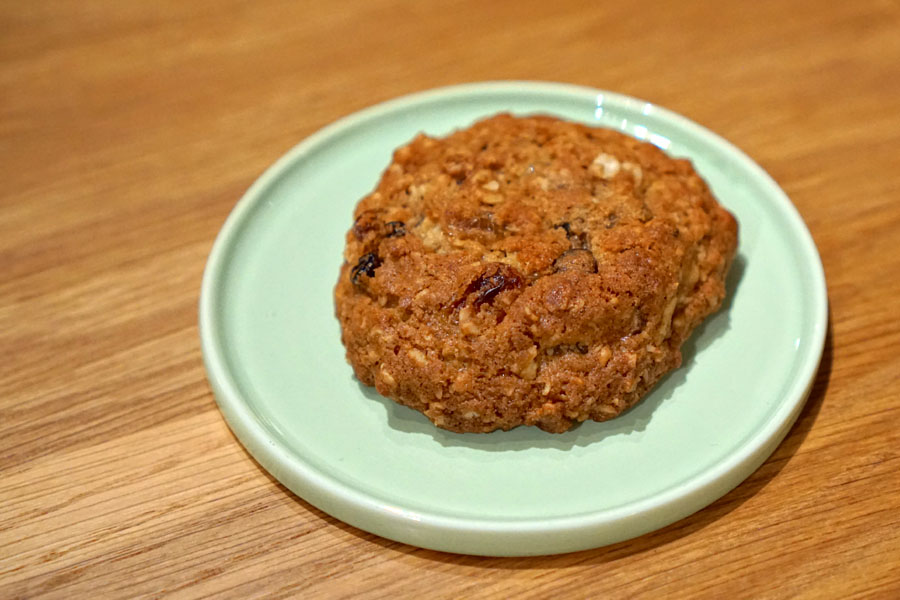 An
Oatmeal Raisin Cookie [$3]
definitely hit the spot.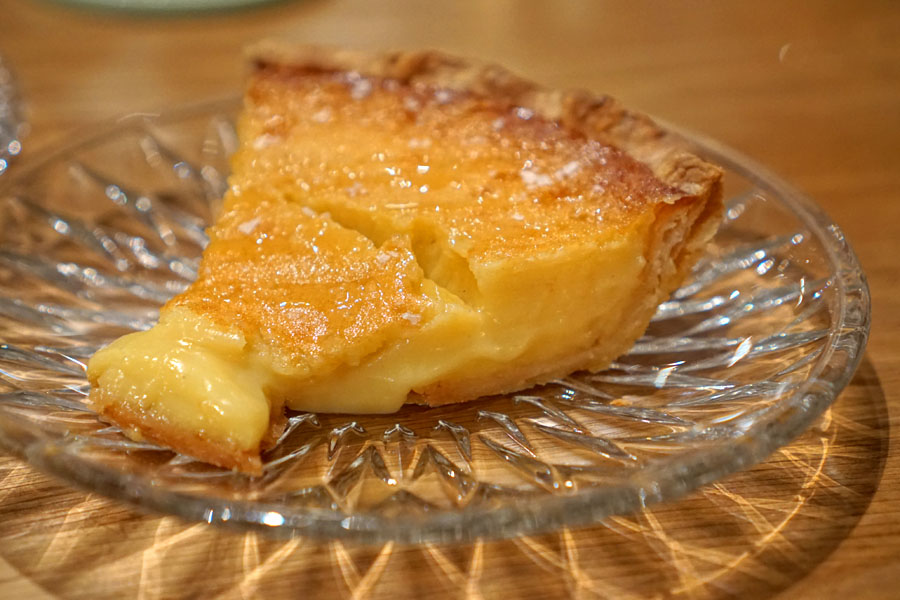 My favorite of the desserts was the
Honey Chess Pie [$7]
, which conveyed an unabashed sweetness from the honey at first, but one tempered by a very noticeable savoriness from what must've been the crust.
We enjoyed our meal at Fiona, though it wasn't without a couple criticisms. The desserts, though, were hard to fault, and Rucker's well-publicized facility for balancing sweet/savory/sour was clearly evident. I can see why there's all this hype behind her pies. The savory side of things wasn't quite as polished, but did show us a number of great dishes and the potential for more, and I do look forward to seeing how this collaboration between the two Chefs develops.