Journeyman's Food + Drink (Fullerton, CA)
Journeyman's Food & Drink at The Hotel Fullerton
1500 Raymond Ave, Fullerton, CA 92831
714.635.9025
www.journeymanfood.com
Sat 08/10/2019, 08:10p-11:30p

One of OC's most interesting new restaurants is situated in an odd location, abutting the 91 Freeway and adjacent to abandoned railroad tracks. Journeyman's resides in Charles Yang's Hotel Fullerton, which, you might recall, was previously a Crowne Plaza and a Four Points by Sheraton before that. I heard about Chef Zach Geerson's experiments in progressive American cuisine here earlier this year, and made it a point to put it on my list to visit.
About the Chef
: Zachary Geerson was born in November 1990 and grew up in Fort Myers, Florida. He graduated from Mariner High School in Cape Coral in 2008, and soon realized that he wanted to pursue a culinary career. In January 2009, he became a dishwasher at Harold Balink's Cru in Fort Myers, and subsequently worked his way up to the position of sous before leaving in March 2012. His next stop was the Culinary Institute of America, and during his tenure there, he cooked at the nearby Brasserie 292 in Poughkeepsie. Following graduation in June 2013, Geerson took on a "Manager in Training" position under mentor Gianni Scappin at the CIA's on-campus restaurant, Caterina de Medici. This lasted until July 2014, when he began cooking on the line at Scappin's Italian eatery Cucina, located in Woodstock. In October that year, he relocated to Miami Beach to become Executive Chef at the Pelican Hotel, but the gig lasted for about a week, as he quickly realized that the job wasn't what he was expecting.
Geerson then moved to Southern California in November to become Pastry Chef at Jorge Cueva's new Tempo Urban Kitchen in Brea. He was subsequently promoted to EC in less than two months, but would end up leaving the restaurant a year later. Through a connection from a colleague who worked at Tempo, he landed at The Hotel Fullerton as Exec Chef, and four months later, was promoted to F&B Director for the whole property. Here, he took over the existing hotel eatery Griswold Bar & Grill and turned it into Citizen Kitchen in 2016. In July 2017, Geerson got married to girlfriend Olivia Prachanpheng ("Prach" for short), who was actually the Pastry Chef at The Rose Venice. March 2018, meanwhile, saw the debut of Journeyman's, which was largely well-received. In fact, the place was deemed one of Gayot's "
Best New Restaurants in the US
," while
Orange Coast
chose it as "
Restaurant of the Year
" just this April.

Journeyman's occupies a part of the hotel that previous held a Chinese place called Red Restaurant. It's a fairly large room, with the most widely-spaced tables I've even encountered.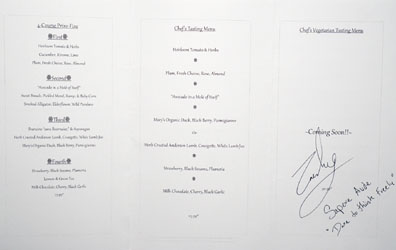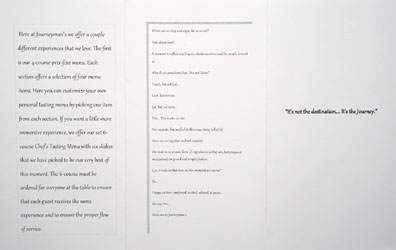 As far as the menu goes, you get a choice of a four-course prix fixe at $75 (+$50 for pairing), or a six-course tasting at $115 (+$75 for pairing). Click for larger versions.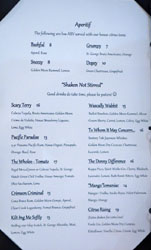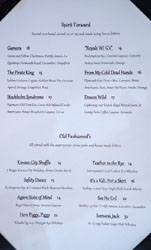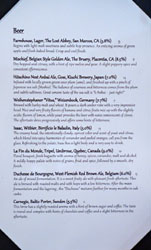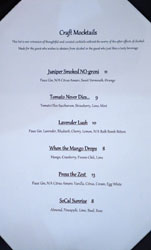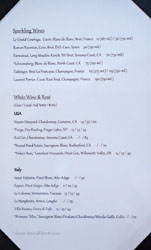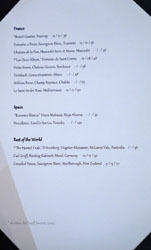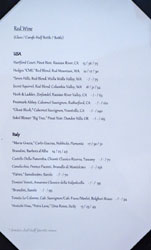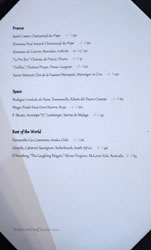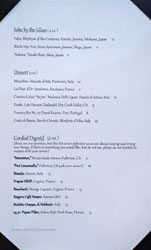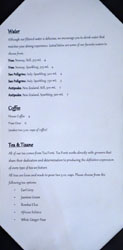 Beverage-wise, this draw for me is clearly the cocktail list, which is the work of Bar Director Steven Hayden, who's been with Geerson over the past few years, both here and at Citizen Kitchen. The cocktail selection is no doubt one of the most appealing I've seen in Orange County, but if that's not your thing, you'll also find a reasonable array of beer and wine. Click for larger versions.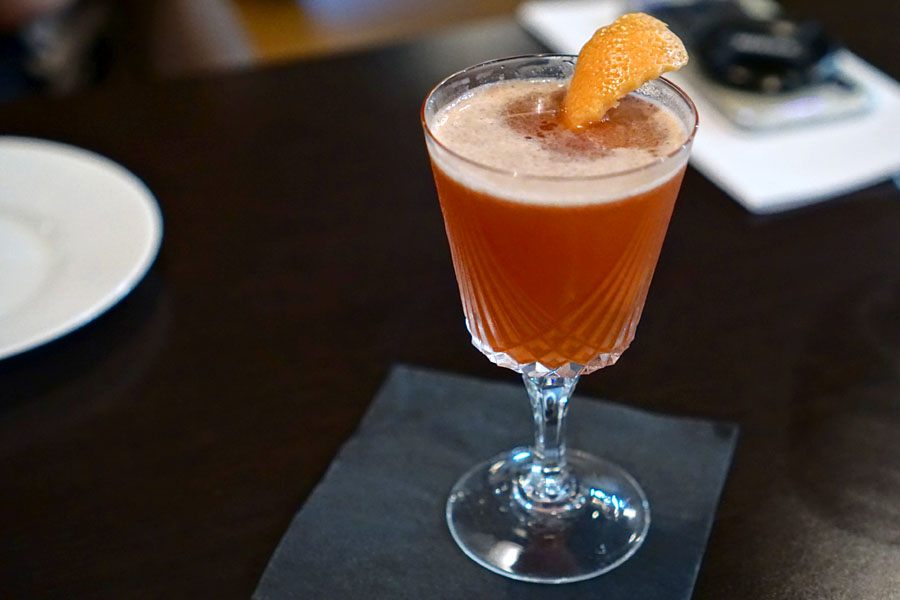 Crimson Criminal [$15.00]
| Cana Brava Rum, Golden Moon Genepi, Aperol, Clear Creek Loganberry, Fernet Branca, Grapefruit
We made our way through a number of Hayden's cocktails this evening, and our first was a promising start. It showcased plenty of fruit up front, while essential oil-like notes came in later, along with the bittersweetness of Aperol, all while the back end went in a minty, herby direction thanks to the fernet.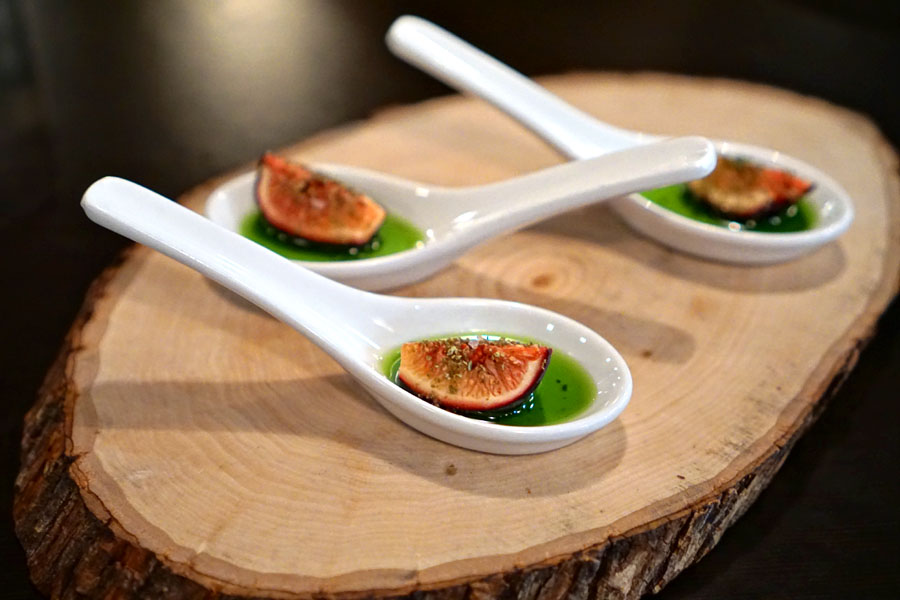 Our amuse bouche course comprised pickled figs, with burnt fig leaf oil, fresh thyme, and some sort of powdered substance that I unfortunately don't recall. I got the sweetness of the fruit initially, but then came enough savoriness and smoke to keep things interesting.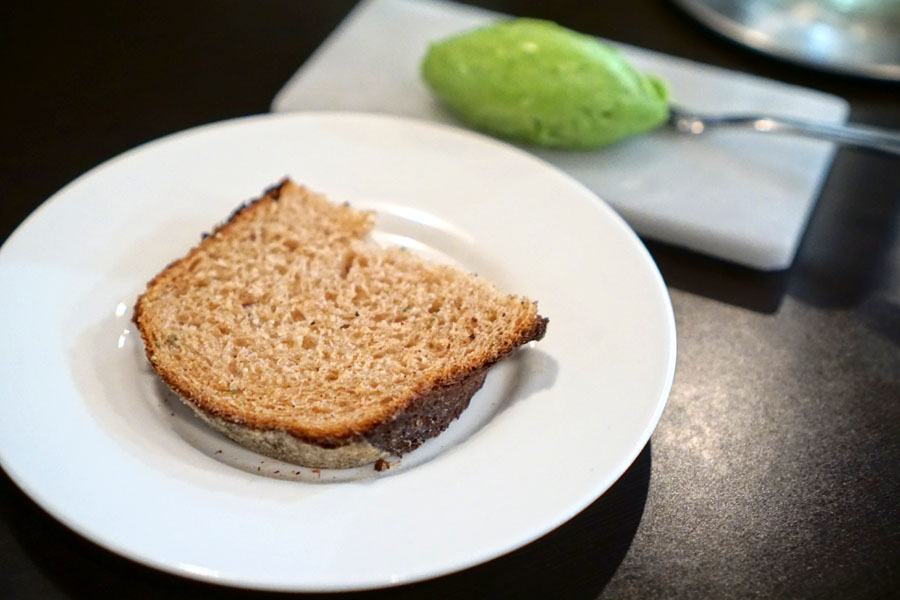 The housemade rosemary-thyme bread had a wonderfully crisp crust, and you could definitely taste plenty of the advertised herbs in the crumb. As for the compound butter, it was also produced in-house, and was delightfully light and bright thanks to its incorporation of basil, mint, and parsley.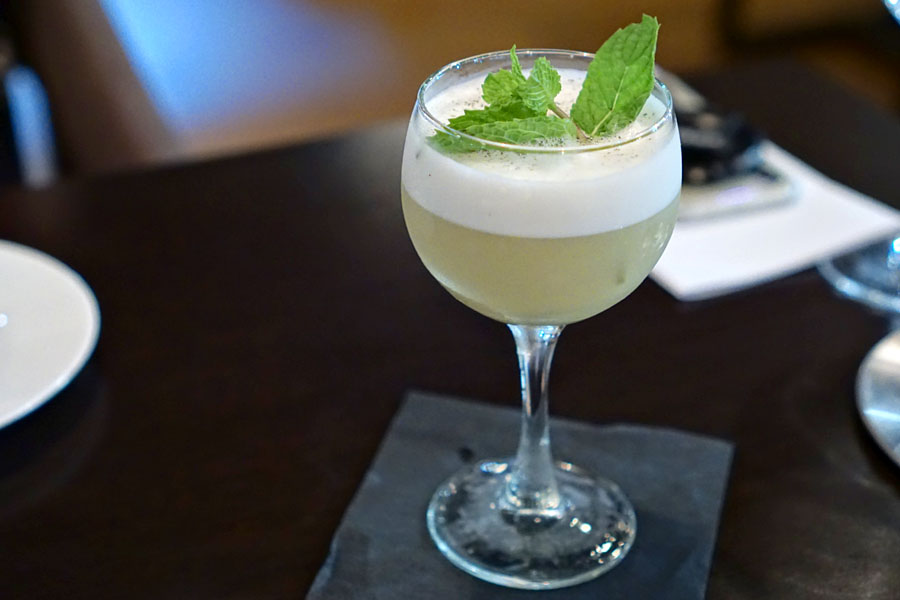 Kilt-Ing Me Softly [$15.00]
| Ardbeg 10yr Islay Scotch, St. George Absinthe, Mint, Lemon, Egg White
This next cocktail showed off plenty of peat from the whisky, which was cut by citrusy, herbaceous notes and the creaminess of egg. The finish, meanwhile, conveyed the anise-y taste of absinthe along with nuts and more smoke.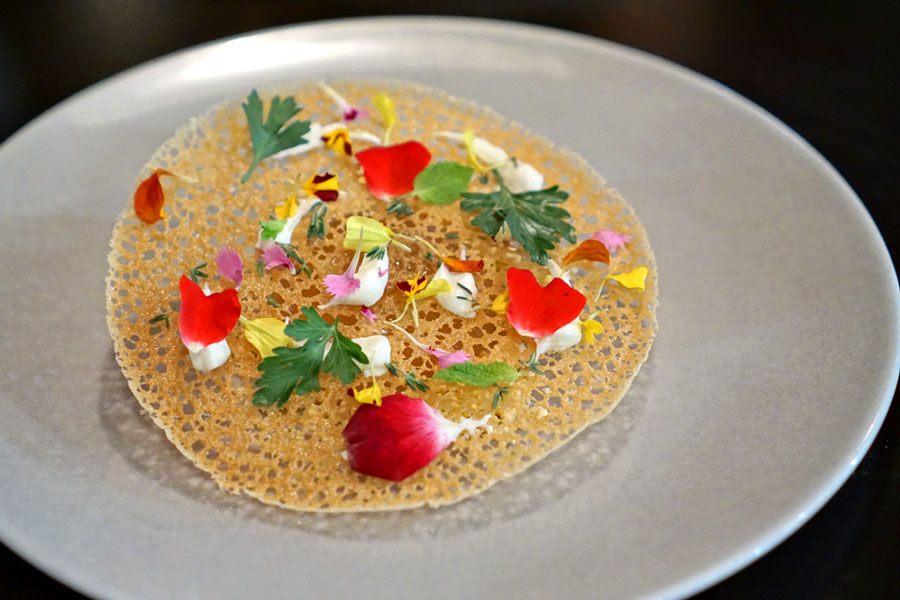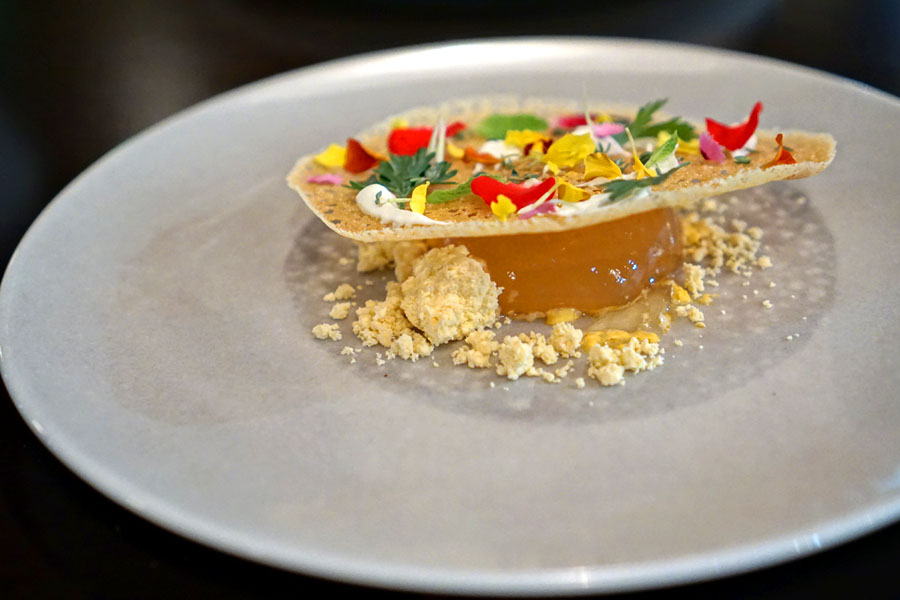 1a: Heirloom Tomato & Herbs
Our first proper course was composed of a lace tuile topped with house-cultured crème fraîche, flowers, herbs, mint, and parsley, sitting atop a jiggly aspic of clarified tomato juice and Earl Grey, surrounded by a "snow" of tapioca starch and tomato oil roasted with rosemary, dill, and bay leaf. The star of the show for me was actually that aspic (though there was a bit too much of it), which did a nice job conveying the essence of tomato, but in an unconventional fashion. I also appreciated the crunch of the tuile, and how that meshed with the herby, floral nature of its various toppings.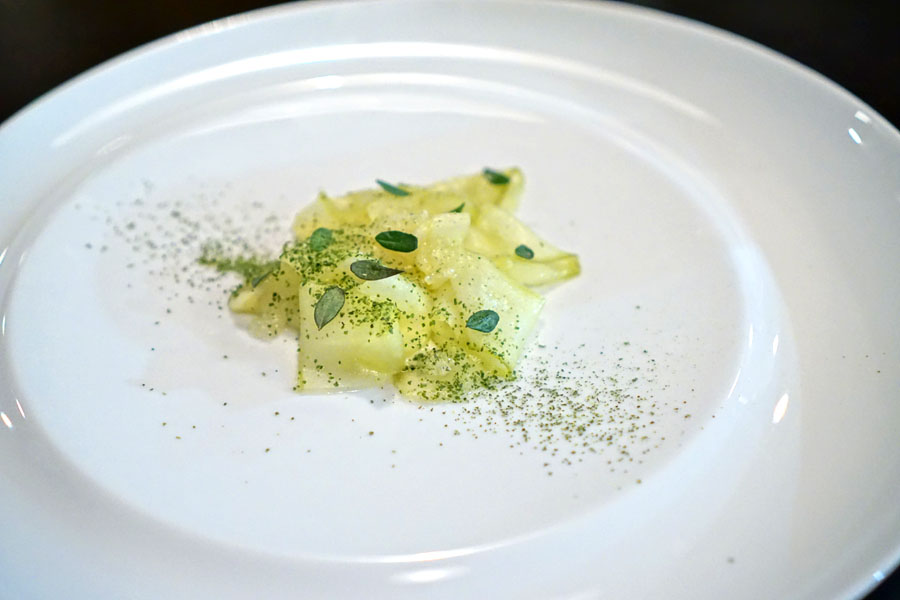 1b: Cucumber, Kinome, Lime
This was a multifaceted presentation of cucumber, one featuring cucumber ribbons compressed with lime leaf vinaigrette for a quick pickling, cucumber seed dressing, and cucumber rind "dust," along with finger lime vesicles on top and
sansho
leaves. I got plenty of acidity, sourness, and crunch here, with a touch of tingling pepper, while there was this lush, creamy element (unfortunately I forgot what it was) that worked nicely as a moderating force.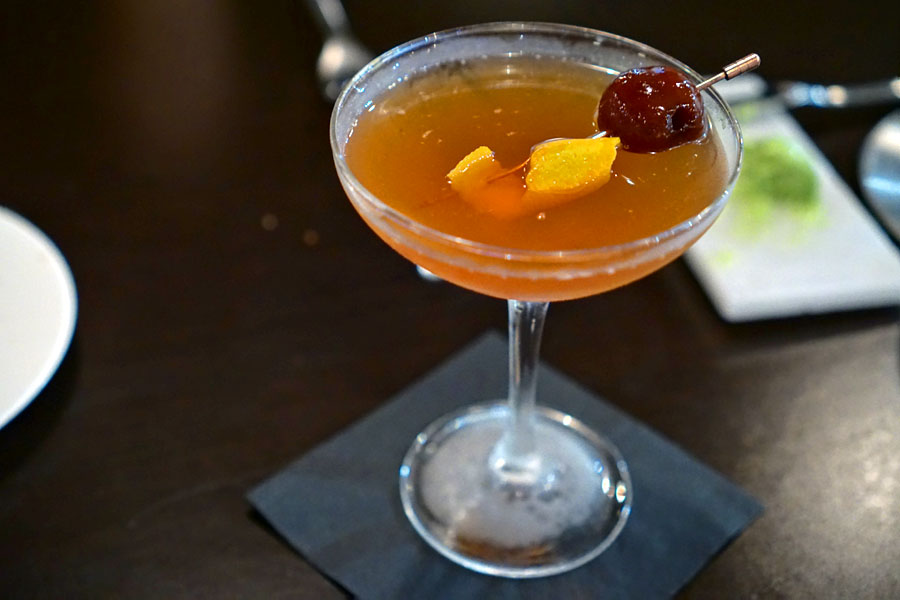 Stockholm Syndrome [$17.00]
| Hayman's Old Tom Gin, Cocoa Nib Infused Cocchi Americano, House Strawberry Liqueur, Cocoa
Next was one of my favorite cocktails of the bunch. It smelled of fruit punch interestingly enough, while the taste went from strawberry to smoke to herbs, making for a fascinating interplay of flavors all ending with lingering notes of smoky cacao.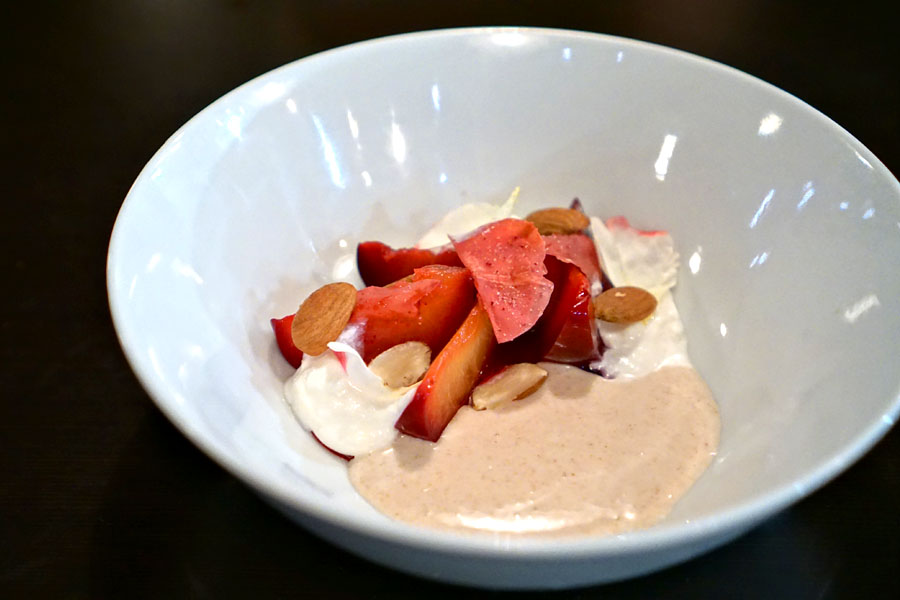 1c: Plum, Fresh Cheese, Rose, Almond
Black plums were poached in a rose gastrique, then combined with a housemade feta-like cheese (rested in fermented peach brine), toasted almonds, pickled/fresh/salted rose petals, and a rose water-infused almond milk. The end effect was a combination of super floral, super fruity flavors, evened out by the cheese while the almonds served as a nutty contrast.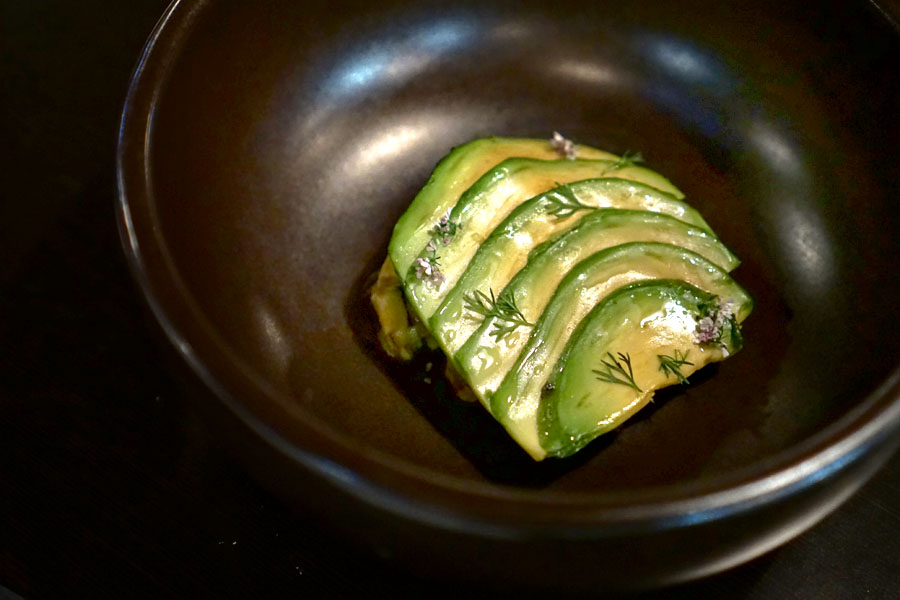 2a: "Avocado in a Mole of Itself"
Here came what was no doubt one of the most ambitious avocado dishes I'd ever seen. What we had here was a base of torched avocado cubes, garlic, and onion, with a sauce of seared avocado pits blended with guajillo and cumin, covered by a granita of avocado-eucalyptus sorbet and a layer of sliced avocado with EVOO and coriander flower. It tasted like a more concentrated, more complex version of avocado, largely thanks to the "mole," and I especially appreciated the growing herbal notes from the eucalyptus.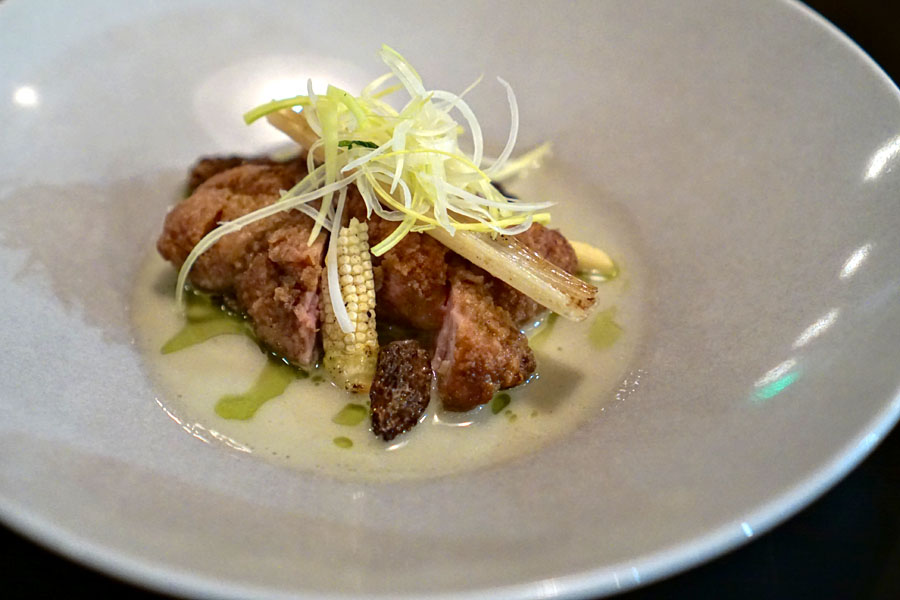 2b: Sweet Breads, Pickled Morel, Ramps, & Baby Corn
Veal thymus was poached in buttermilk, breaded slightly and seared, then set in a pickled morel beurre blanc with sautéed morels, while on top was pickled green garlic, poached baby corn, and julienned green onion. The sweetbread itself ate rich and savory and delicious, augmented by the woodsiness of those mushrooms. To offset that, we had the sharp pungency of the alliums, not to mention the soft, mild, crunchy nature of the corn.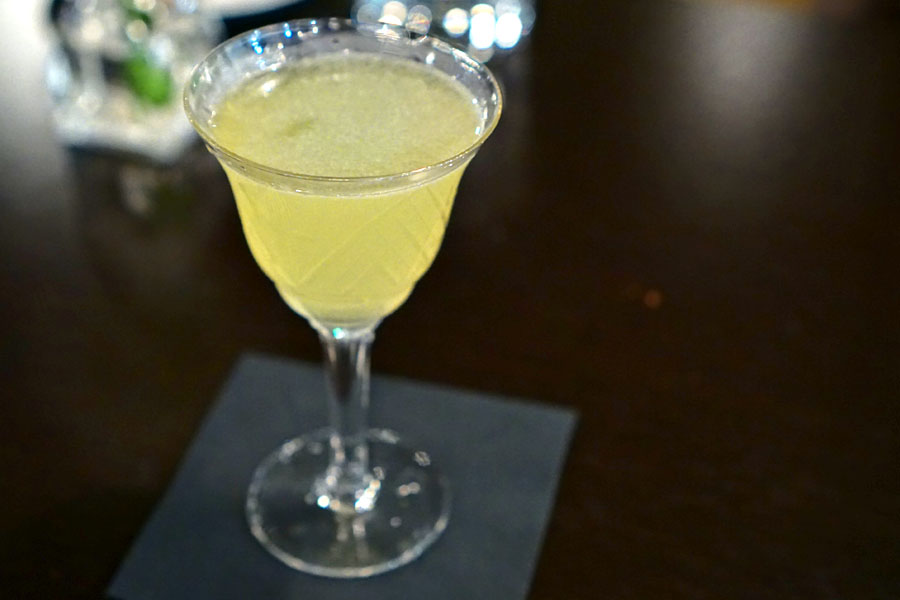 To Whom It May Concern [$16.00]
| Suntory Toki Japanese Whiskey, Golden Moon Dry Curacao, Chartreuse, Luxardo, Lemon
This brightly-hued cocktail featured somewhat bracing notes of citrus, commingled with sweet, chocolate-y nuances and plenty of sourness, all while the finish went in a decidedly nutty direction.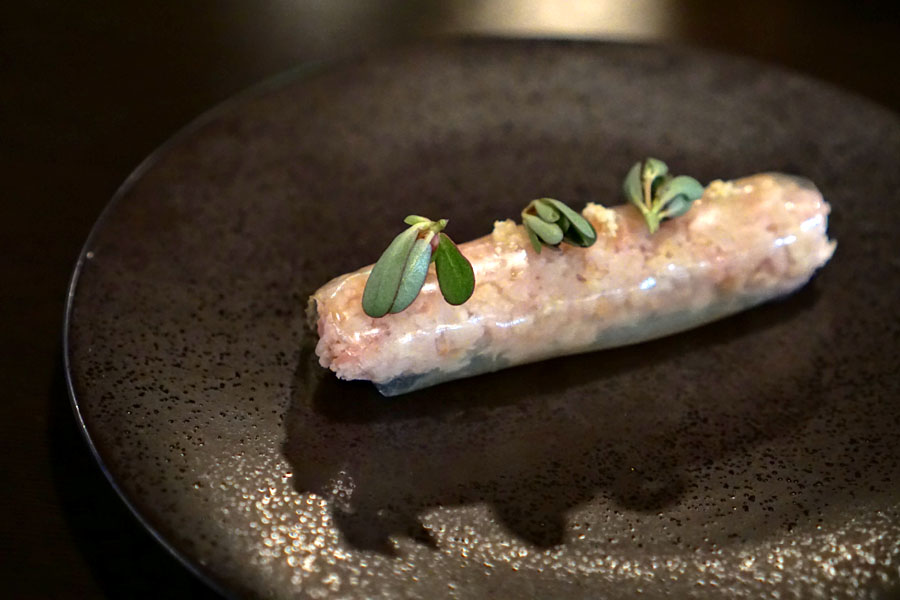 2c: Smoked Alligator, Elderflower, Wild Purslane
Florida gator came brined, smoked, and braised, then chilled with a pickled elderflower vinaigrette. It was then wrapped in an alligator stock "veil," and garnished with wild purslane (from the restaurant's on-site herb garden) and pickled elderflower. The meat was firm and flaky, and had burnt, briny flavors that reminded me of smoked fish. The tartness of the purslane and elderflower, meanwhile, provided a necessary counterpoint.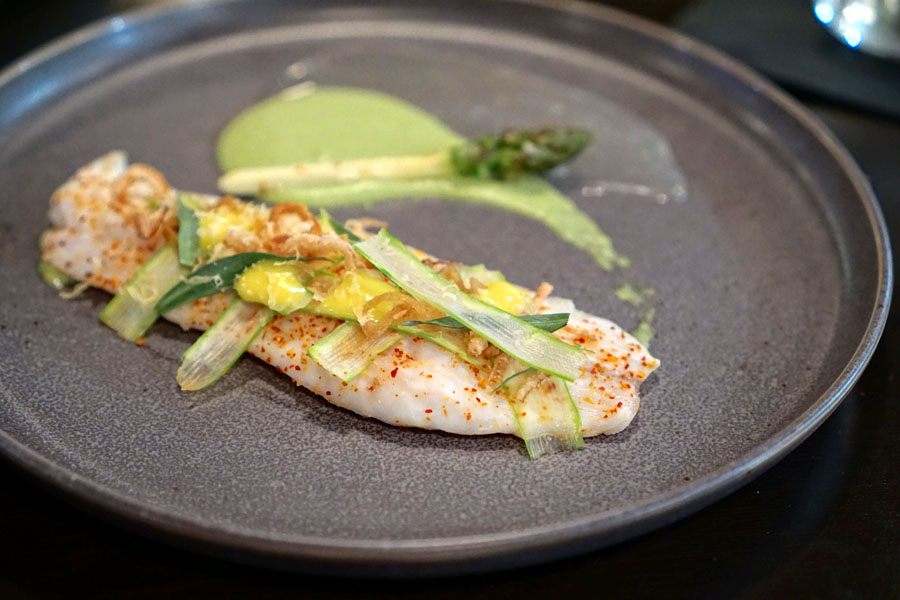 3a: Branzino "sans Bearnaise," & Asparagus
Our first main course was steamed Mediterranean sea bass, accompanied by grated one week-cured egg yolk, espelette, fennel pollen, tarragon, crispy shallots, a jam of sous vide'd egg yolk emulsified with green garlic vinegar, asparagus ribbons, asparagus purée, and peeled lemon juice- and olive oil-blanched asparagus. The dish was then finished tableside with a fumé made from the reduced stock of the branzino, cooked down with shallots, tarragon, and peppercorn. I found the fish well-seasoned, yet subtle, working swimmingly as a base for the multitude of other elements on the plate. It all came together pretty well, giving up hints of Béarnaise without the actual heft and potency of the classic sauce.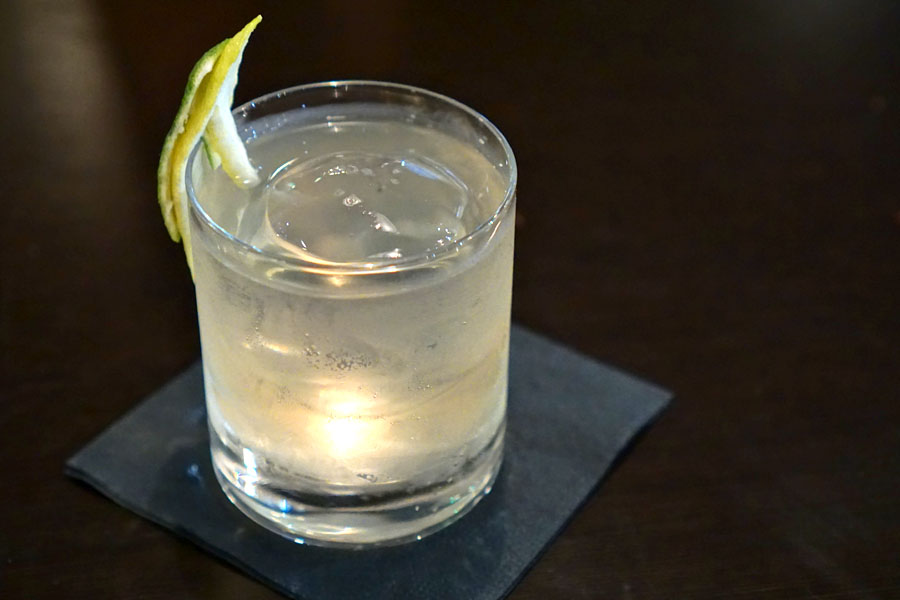 See No Evil [$22.00]
| Monkey 47 Gin, Fortify Amaro, Lavender, Cucumber
This rather pricey cocktail had an aroma that was not unlike that of a hard lemonade, curiously enough. Its taste, though, was more assertive, giving us boatloads of gin botanicals and a boozy burn, with additional complexity courtesy of the amaro, while the finish displayed lots of lingering lavender.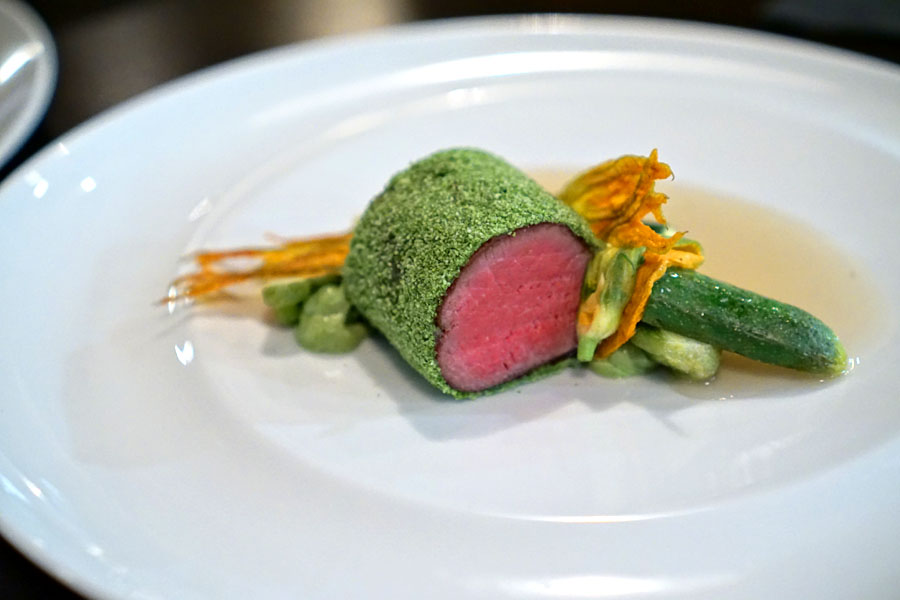 3b: Herb Crusted Anderson Lamb, Courgette, White Lamb Jus
Cascade Creek lamb rack was coated in mint, basil, and cilantro, then cooked sous vide, then rolled in panko with those same herbs, then finished in the oven to develop a nice crust. Accoutrements included zucchini, squash blossoms sautéed in housemade lamb bacon fat, squash blossom chips, white lamb jus, and white lamb jus-infused yogurt. The lamb was spot on, coming out at the perfect temperature, while flavors balanced the inherent game of the meat with the brightness of the herbs. At the same time, the veggies imparted a further levity to the dish that was very much appreciated.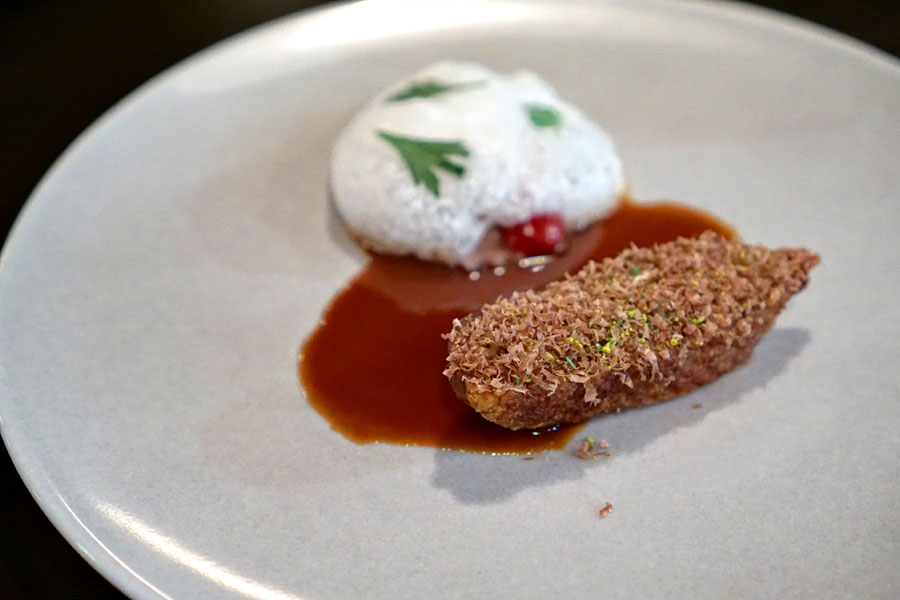 3c: Mary's Organic Duck, Black Berry, Parmigiano
In our final savory, ten day in-house dry-aged duck breast was seared in cast iron, then coated with a layer of dehydrated duck and fennel flower. Also on the plate was a blackberry-infused, duck leg confit ragout-stuffed raviolo with Thai basil, espelette, and black berry jam; the pasta when then topped with the same jam, as well as Parmesan foam and parsley. The finishing sauce, meanwhile, was a blackberry duck gastrique, made with reduced duck stock and blackberry-infused vinegar. I went for the breast first, and found a bevy of savory, sweet, and smoky flavors, all intertwined with the palpably "ducky" nature of the meat. The raviolo, though, was even better, playing the heft of the bird against a very delicate presentation of cheese and the bright fragrance of parsley.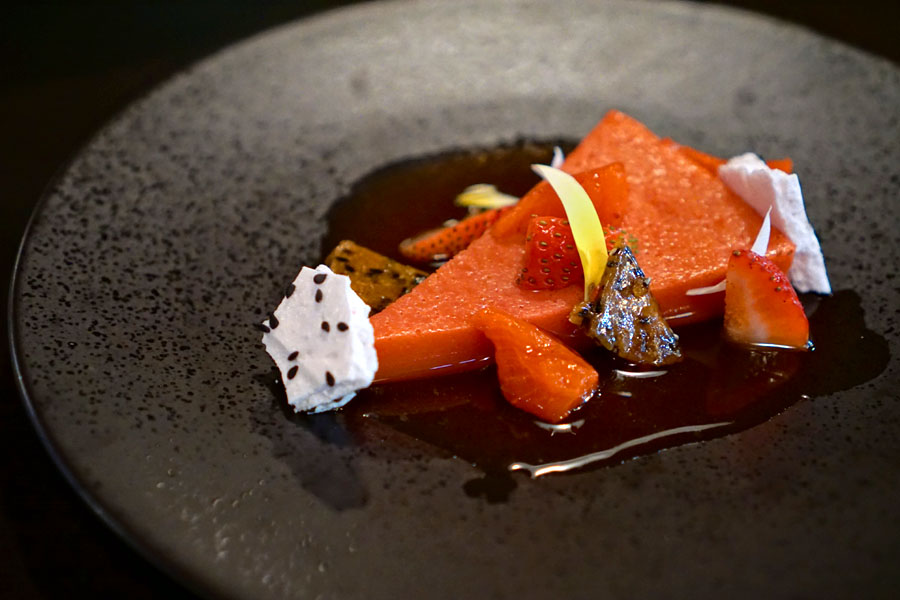 4a: Strawberry, Black Sesame, Plumeria
Time for desserts, which are the work of Geerson himself. This was a slice of strawberry gelée with fresh strawberry, macerated strawberry, black sesame meringue chips, black sesame brittle, and plumeria petals, all dressed tableside with a strawberry consommé. I definitely got the strawberry here--in multiple tastes and textures--but what I found interesting was that there was this almost ham-like savoriness pervading the dish, which wasn't necessarily a bad thing. The meringue and brittle, meanwhile, offered up a much needed contrasting element, and overall the dish was a bit reminiscent of
tanghulu
(Chinese candied hawthorn).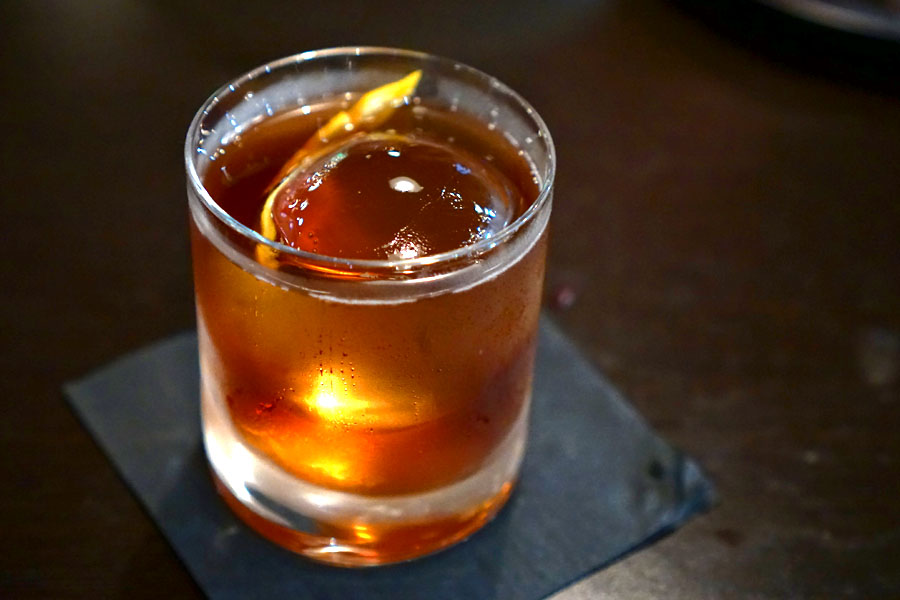 Deuces Wild [$17.00]
| Laphroaig 10yr Scotch, Ilegal Mezcal Joven, St. George Nola Coffee Liqueur, Aromatic
Our final cocktail was certainly on the campfire-y side, showing off plenty of peaty smoke from the combination of whisky and mezcal. Fortunately, this was balanced by notes of chocolate and roasty coffee, and overall it worked pretty well with dessert.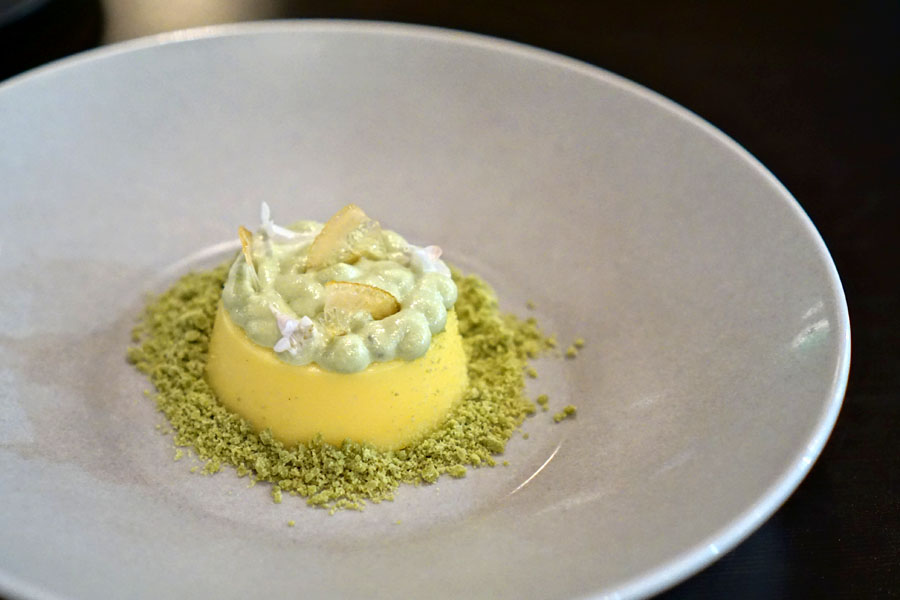 4b: Lemon & Green Tea
Next was a puck of lemon curd, topped with matcha-infused whipped cream, dehydrated candied lemon chip, and jasmine flowers, surrounded by crumbled green tea cookies. The focal point here was clearly the sourness and acidity of the curd. It was fairly intense, so the calming, bittersweet notes of the matcha were crucial, especially those crumbles.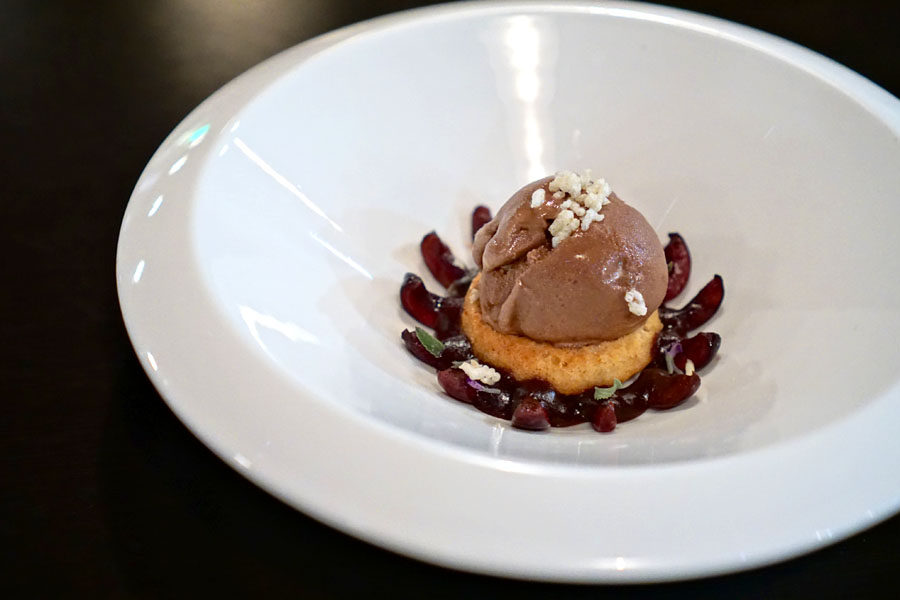 4c: Milk Chocolate, Cherry, Black Garlic
Last up was a black garlic and milk chocolate gelato, atop an almond financier, encircled by roasted cherries and cherry gel, then topped with puffed rice and mint flowers. The hero here was that ice cream. I don't think I'd ever had chocolate and garlic combined, and it made for an interesting interplay that was sort of profound. At the same time, the cherries provided a moderating sweetness, and I loved the crunch of the rice, not to mention the crisp nature of that financier.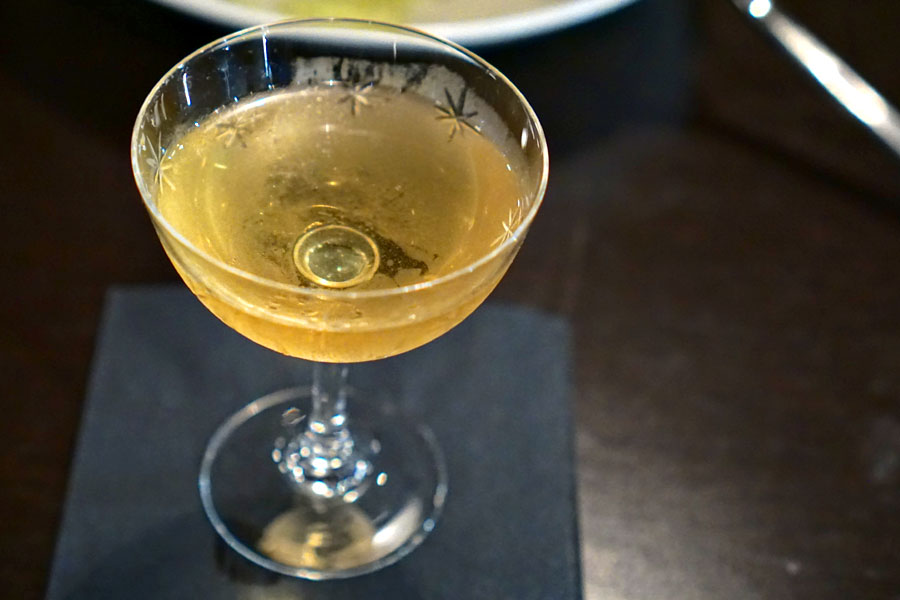 This was
"Not Limoncello" [$18]
, but instead a sort of housemade "yuzucello." I found it pretty bracing, with sweet citrusy notes up front leading to a bevy of herbaceous, boozy elements that lingered long and strong. A fitting digestif.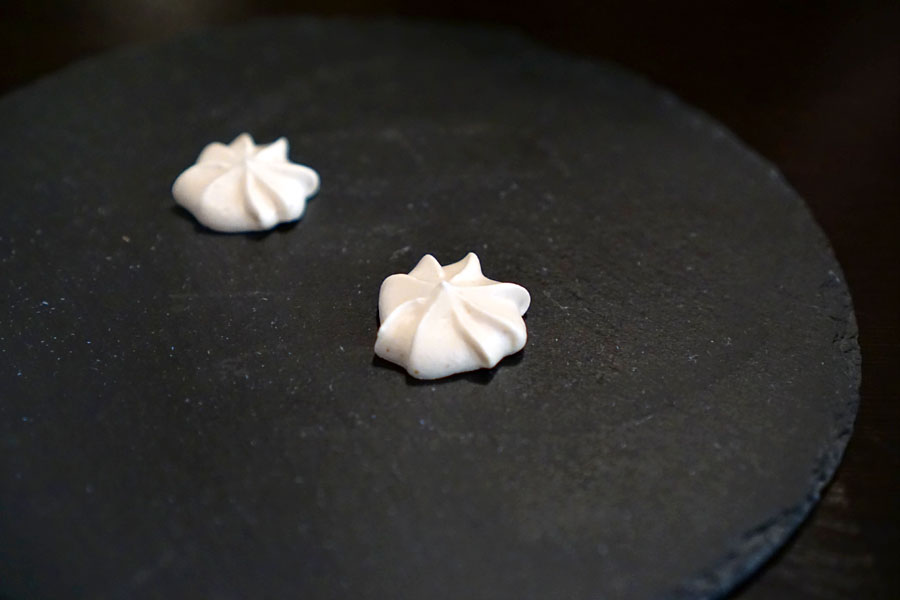 Mignardise duties were handled by these Fernet Branca meringues, which really did recall the minty nature of the liqueur.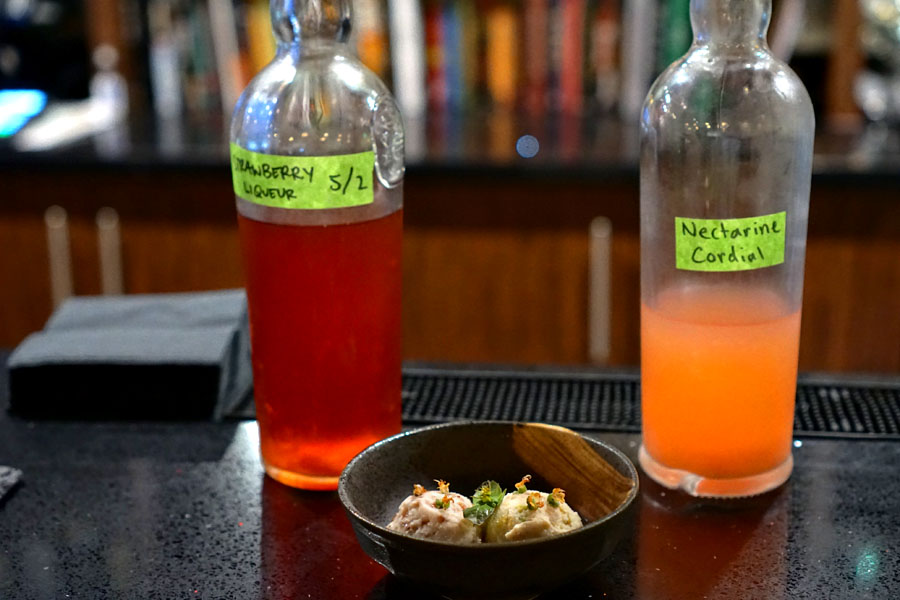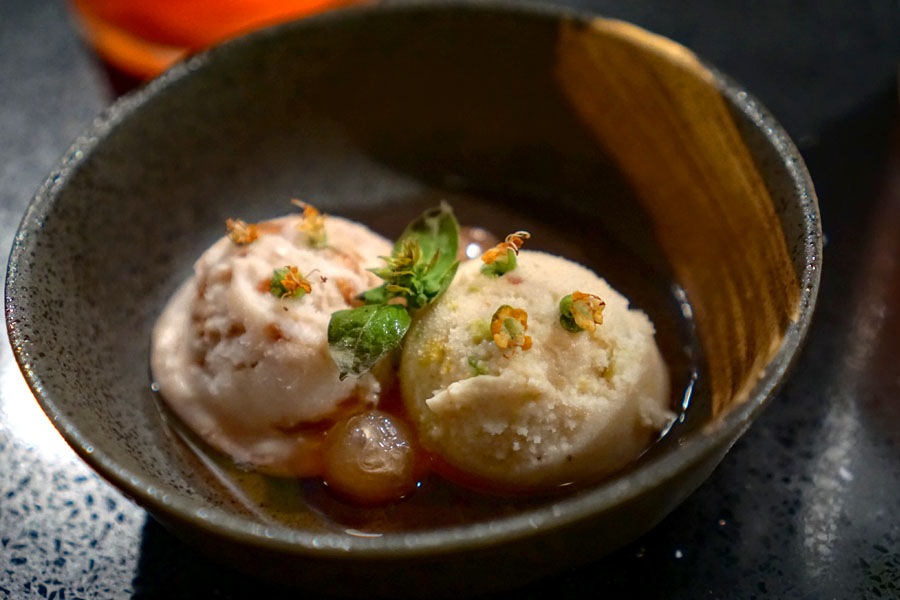 With our meal completed, Hayden called us over to the bar for a free serving of gelato, created with his housemade liqueurs infused with strawberry and nectarine (the fruit was from his backyard). On the left was the strawberry ice cream, which had a nice booziness to it softened by the presence of white chocolate. The nectarine version, meanwhile, showed off the nature of the stone fruit in vibrant fashion, accented by nutty bits of pistachio. Also present here were zesty basil buds, also from Hayden's home, as well as icy spherifications of strawberry liqueur gelatin.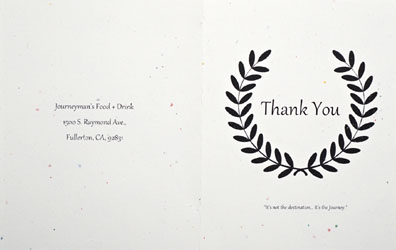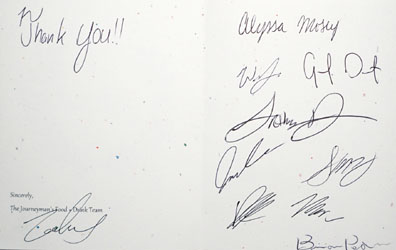 At the end of the night, we were provided a thank you card signed by the whole staff, which was a nice touch. Click for larger versions.
Journeyman's was certainly one of the more intriguing meals I've enjoyed in Orange County. Geerson's pushing things culinarily, which I appreciate, even though not everything necessarily hits it out of the park. There are definitely flavor combinations and preparations and techniques that you just don't see much around these parts, resulting in plates that are fun, whimsical, modern-yet-familiar, and sometimes a bit contemplative. I also have to give credit to Hayden and his cocktail program; it's one of the best in OC, and is worth checking out just by itself.