Chicas Tacos (Los Angeles, CA)
Chicas Tacos Restaurant
728 S Olive St, Los Angeles, CA 90014
213.896.0373
www.chicastacos.com
Wed 08/07/2019, 08:40p-10:30p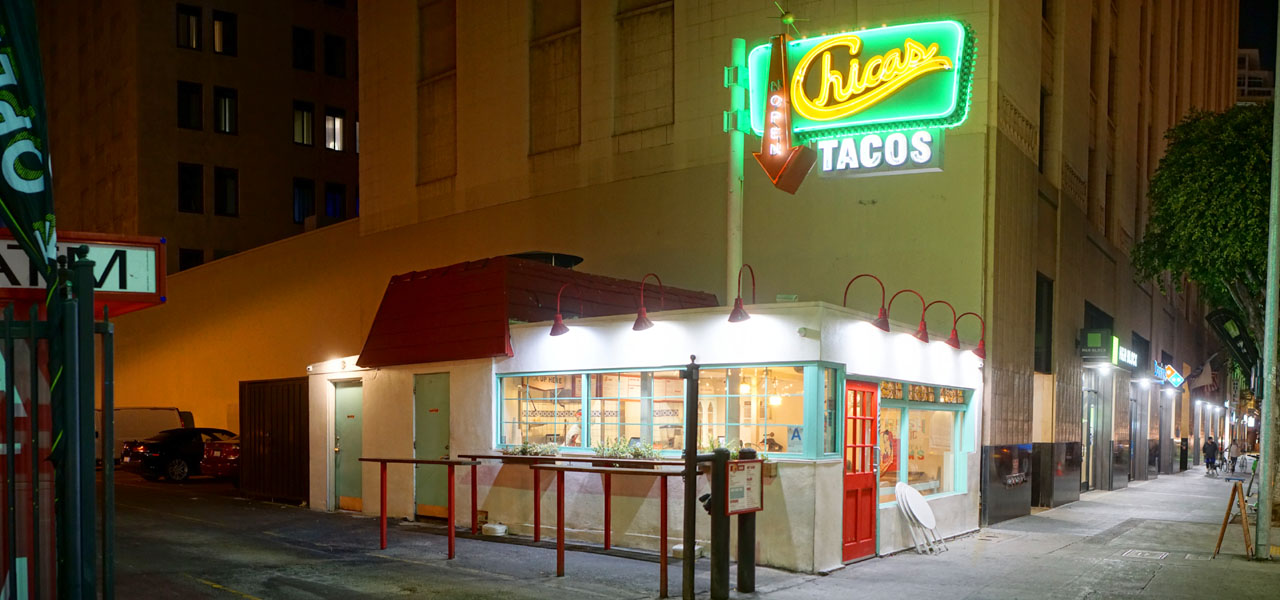 I'd been mildly curious about trying Chicas ever since it opened at the end of May 2016, and recently had a reason to check it out after a failed attempt to dine at Alex Carrasco's new Bee Taqueria (the place was closed due to the unexpected early birth of the Chef's son on August 5th). Chicas is the work of partners Chris Blanchard, Jon Blanchard, and Nico Rusconi (the latter two of
BLVD Hospitality
), and the idea for Chicas supposedly came when the Blanchard brothers visited Valle de Guadalupe decades ago. In fact, the name "Chicas" was apparently the nickname of a woman (Carmela) that the two met down in Mexico. In any case, on the food side of things, the menu is the work of Eduardo Ruiz, Director of F&B for BLVD.
If you recall, Eddie Ruiz first made a name for himself when he opened
Corazon y Miel
in Bell back in March 2013. The place was largely well-received by Angelenos, and even got him a "Rising Star Chef" semifinalist nod from James Beard. The success of CyM allowed for the debut of his sausage spot Picnik and its concomitant bar Punch in Pasadena in 2014. However, those two establishments closed at the start of 2015 due to lease issues, and in January 2016, Ruiz ended up joining the team at BLVD. This was followed by the Chef taking on an ownership position in Long Beach's
Public Beer Wine Shop
in April that year. Corazon y Miel, meanwhile, shuttered in June 2016, while Public closed in September 2018 (replaced by The 4th Horseman).

Chicas occupies a 700 square-foot building that previously held a series of unremarkable eateries: Medardo's Pinoy Fudtrip, Mama's Asian Cuisine, Korean BBQ & Tofu House, and Ichibang Teriyaki (a.k.a. Number One Teriyaki). However, most of the seating is outside: on the sidewalk, next to the structure (standing only), and on an artificially-turfed section of the parking lot next to a travel trailer (which is used for storage).


As for the menu, you get a pretty straightforward selection of tacos, joined by a number of related, but non-taco dishes. Click for larger versions.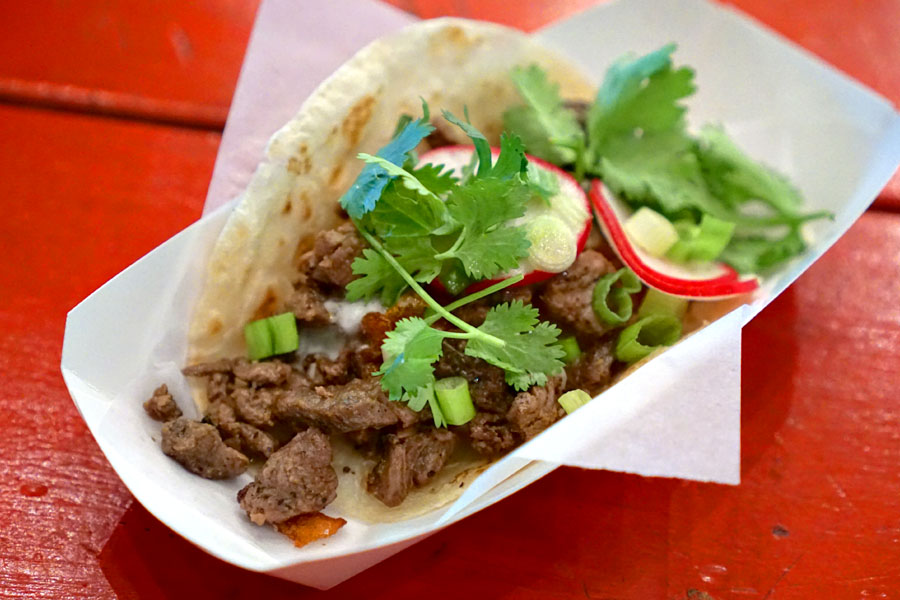 Steak Taco [$4.25]
| Flour tortilla, peppered steak, queso, crispy potato, morita salsa, radish, scallion, cilantro
We began with Chicas' take on the classic asada, which turned out reasonably well. The queso imparted a creaminess to the taco that was unexpected, though not necessarily unwelcomed, but the key for me was the potato, which served as a contributor of both heartiness and crunch. Nice zing from the combo of scallion and cilantro, too.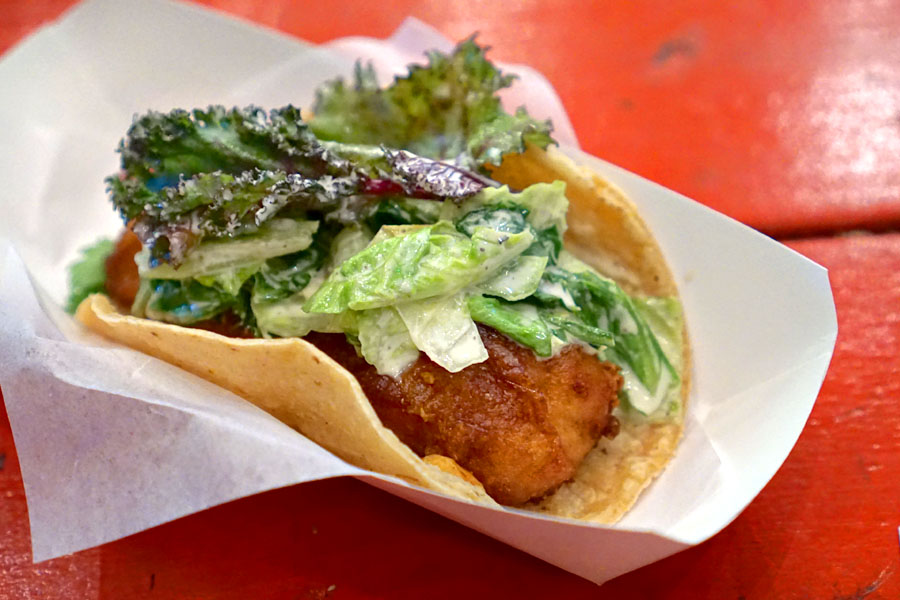 Fish Taco [$4.25]
| Corn tortilla, beer battered fish, caesar salad, morita salsa, croutons, parmesan
The fish was on point texturally, coming out crispy on the outside, with soft, flaky, juicy flesh, while its flavors were pretty mild, taking well to the slight smoke of the morita. The Caesar salad on top made for a creamy, crunchy pairing that I certainly didn't mind, though I think I prefer the more traditional accoutrements of cabbage, pico, and dressing.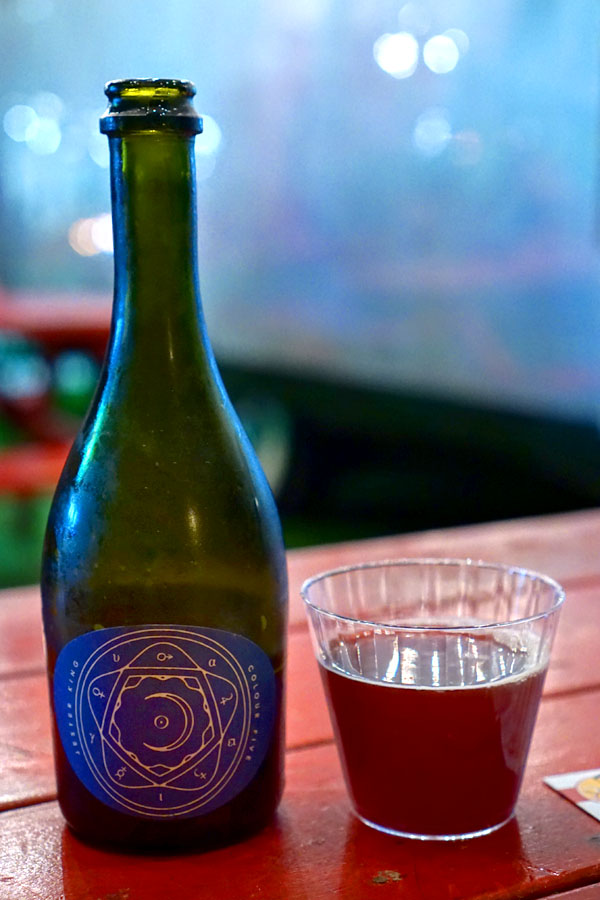 To drink, we had a bottle of
2016 Jester King Colour Five
, a barrel-aged sour ale refermented with Texas blueberries. It smelled tart and fruity as expected, with some yeasty, spicy, earthy notes in the background. Taste-wise, think more acidic fruit, but joined by tannic, leathery, drying qualities all leading to a surprisingly short finish. I will note that the beer got noticeably jammier as it warmed.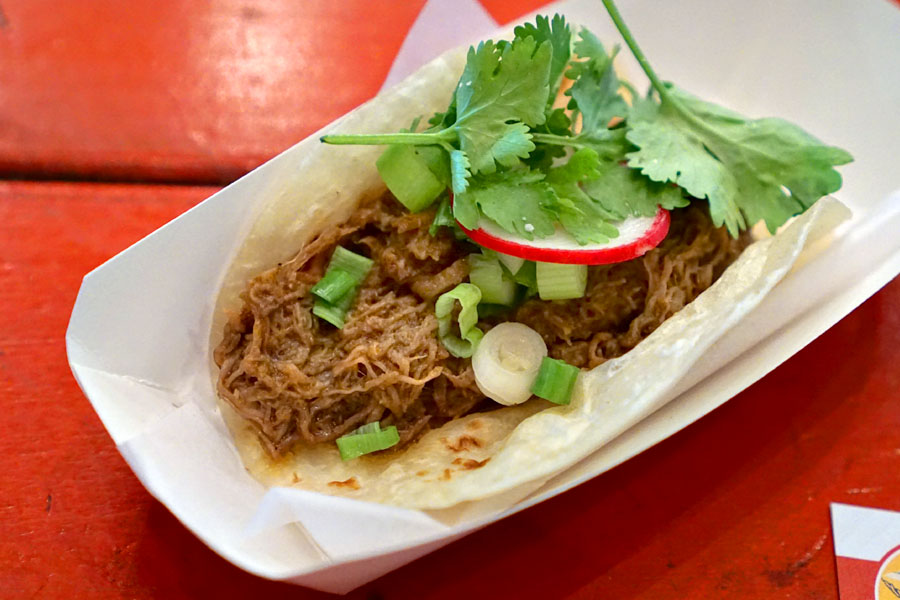 Shredded Beef Taco [$4.25]
| Flour tortilla, shredded beef barbacoa, radish, scallion, cilantro
Our next taco featured tender, juicy strands of beef imbued with a sweet 'n' spicy flavor profile. The veggies on top worked for contrast, and the tortilla meshed the best here out of all the tacos.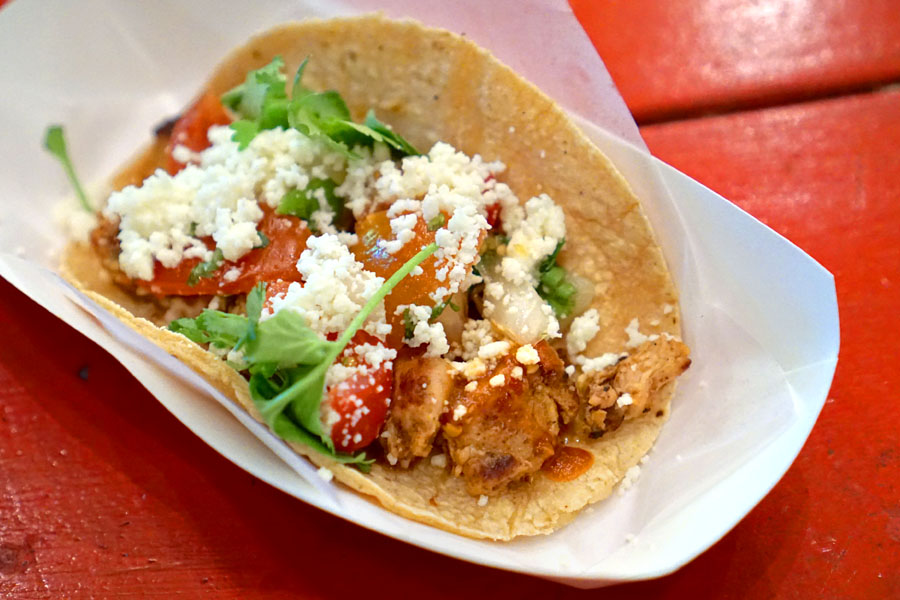 Chicken Taco [$3.95]
| Corn tortilla, yogurt marinated chicken, cherry tomato pico de gallo, morita salsa, queso fresco, cilantro
The chicken was probably the most benign of the tacos we tried. I appreciated the light smoke on the bird, which functioned well enough with the duo of salsas here, and the additional oomph provided by the cheese made sense, too.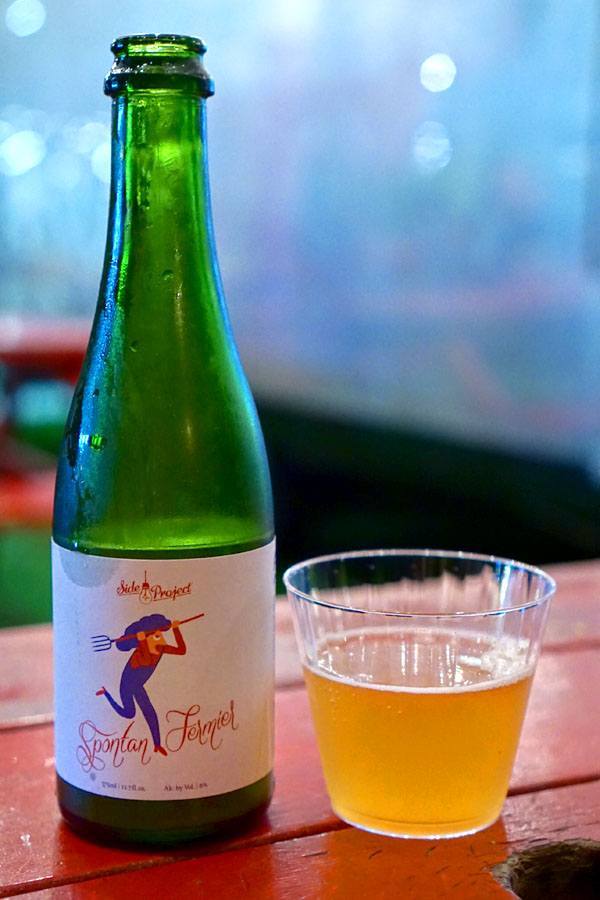 Next to imbibe was the
2017 Side Project SpontanFermier
, a 50/50 blend of Chardonnay barrel-fermented, seven-month oak barrel-aged Missouri spelt saison and Mikkeller lambic. The nose on the beer was surprisingly muted, but I did detect some plum, citrus, and yeasty funk. In terms of taste, it was more assertive, giving up tart, citric, barnyard-ish flavors alongside strong notes of stone fruit and vinegar.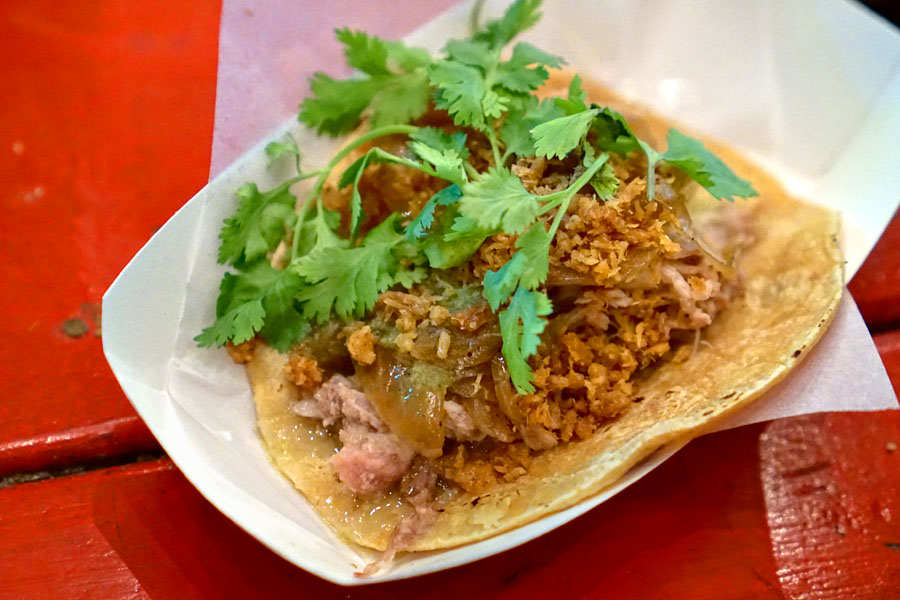 Pork Taco [$4.25]
| Flour tortilla, chile verde braised pork, caramelized onion, chicharron, cilantro
Soft shards of pork were fairly mild, with just a touch of piquancy from the application of chile verde. The most prominent thing here was actually the onion, which was definitely on the sweeter side. My favorite part? The crunch imparted by the pork rinds.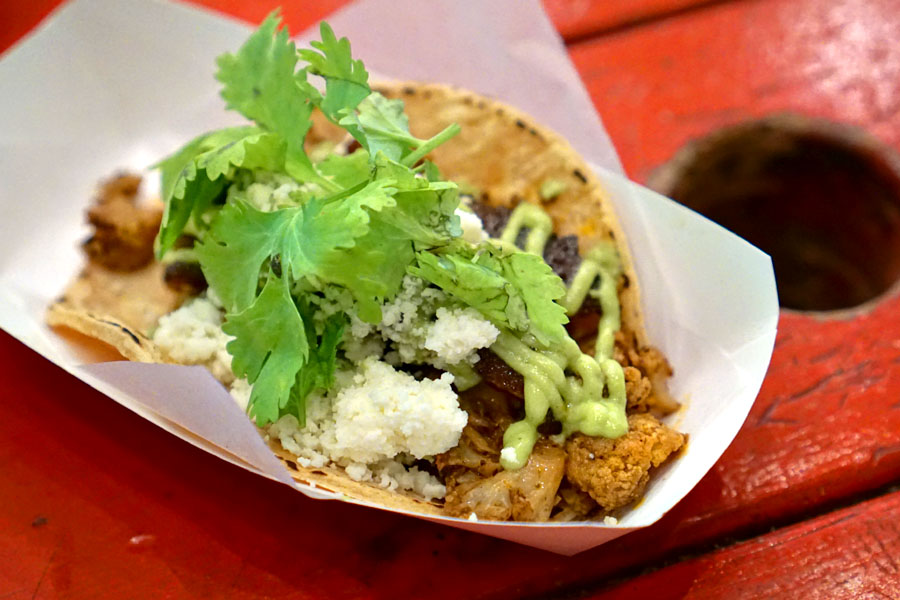 Cauliflower & Mushroom Taco [$3.95]
| Corn tortilla, chorizo spiced cauliflower, mushroom, avocado cashew crema, queso fresco, cilantro
I'm generally a big fan of both cauliflower and mushroom, but this managed to be my least favorite of the tacos. The issue for me was that the cauliflower, while being well-textured, had this acerbic sort of flavor profile that I found off-putting. The cheese did help temper things, and I liked the smokiness of the 'shrooms, but these weren't enough to save the taco.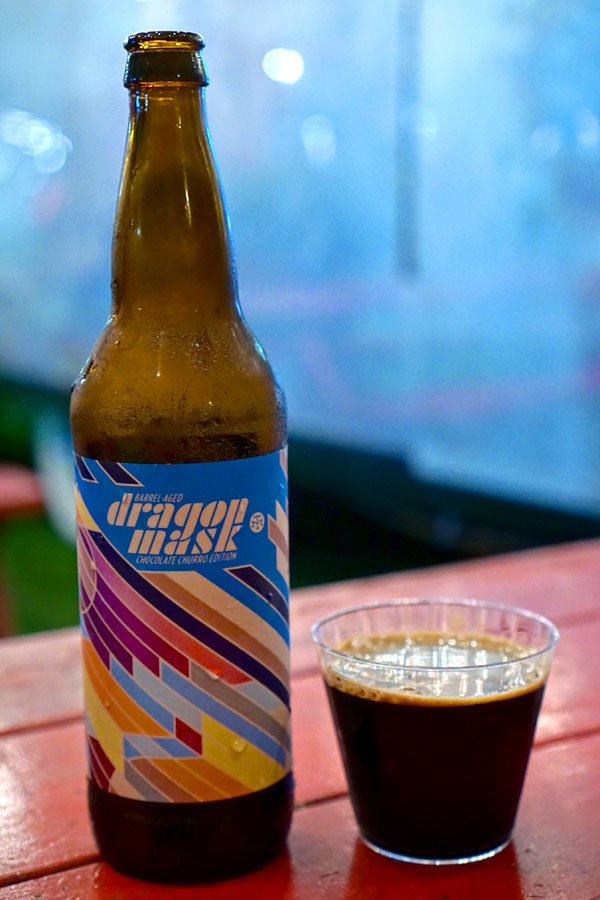 Our final beer was the
2019 Modern Times Barrel-Aged Dragon Mask: Chocolate Churro Edition
, an imperial stout aged in bourbon barrels with cinnamon, cocoa nibs, salt, and vanilla, created in collaboration with Casita Cerveceria. Loads of cinnamon, dark fruit, oak, and chocolate on the nose. The palate, meanwhile, was smooth and creamy, giving up more lingering cinnamon, along with cocoa, figs, bourbon, brown sugar, oak, and very palpable flavors of banana, somewhat surprisingly.
Nachos + Steak [$8.00 + $5.00]
| Three cheese blend, queso, morita salsa, scallion, radish, cilantro, chile blanco
I'm typically a big proponent of nachos, but this one fell short. The most prominent element here was very clearly the cheese, which had an unexpectedly strong funk to it. It was a bit domineering, but did marry well enough with the meat. However, overall the flavors didn't meld as much as I was hoping for, and things were just a bit too one-note. I wanted more brightness, more acidity, more spice.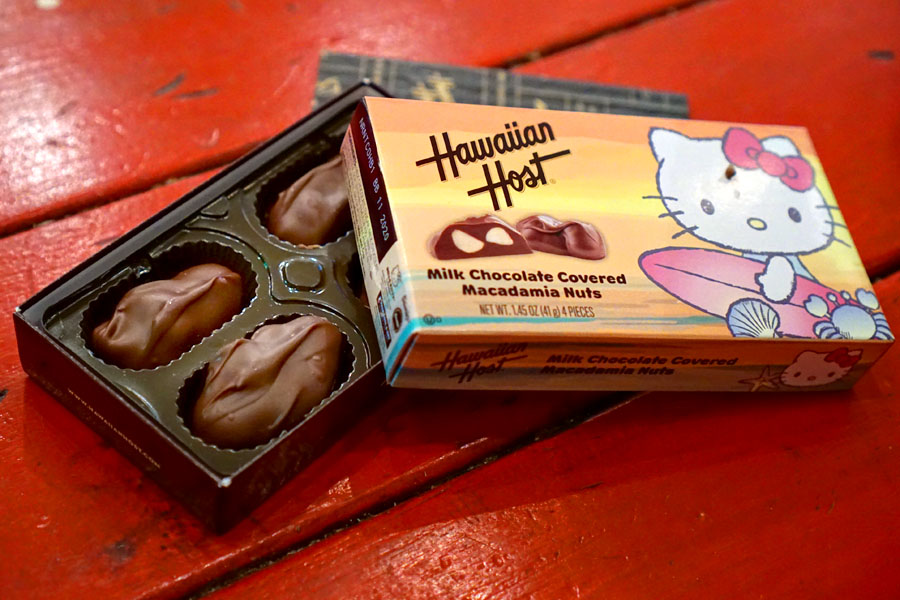 There's no dessert served here as far as I know, so instead we enjoyed these
Hawaiian Host Hello Kitty Surfer Milk Chocolate Covered Macadamia Nuts
.
So most of the items we tried were tasty enough and generally enjoyable, though I felt that the kitchen should've been more aggressive with seasoning. I was really hoping for some bolder, gutsier flavors, but maybe I'm in the minority, as the status quo seems to be working out for Chicas: the team already has two stalls at Banc of California Stadium apparently, and a new location in Culver City is set to debut this year.