Bon Temps (Los Angeles, CA)
Bon Temps Restaurant
712 S Santa Fe Ave, Los Angeles, CA 90021
213.784.0044
www.bontempsla.com
Fri 08/02/2019, 07:50p-10:55p

The most exciting Arts District debut of the year so far has to be Bon Temps ("good time"), which grand-opened on June 7th. The place comes to us from veteran Pastry Chef/Owner Lincoln Carson, in concert with prolific restaurant group Sprout LA, and is an all-day eatery describing itself as a "modern French brasserie with industrial roots," whatever that means.
About the Chef
: Lincoln Bruce Carson was born in March 1969, in Beirut of all places, due to his parents' involvement in Middle East diplomacy. From Beirut, he moved to Saudi Arabia (Jeddah and Dhahran), then to the Northeastern United States, then back to Riyadh, then finally back to Boston, where he completed high school. Following graduation, he didn't expect to pursue a career in the kitchen, but got sucked in after visiting a couple friends who'd decided to go to culinary school. He eventually enrolled at Johnson & Wales University in 1988, figuring that it'd be a good way for him to explore his creative inclinations. Carson studied pastry arts, and during his time there, also worked at a bakery.
He graduated in 1990 and found employment at a seasonal hotel in Watch Hill, RI, but soon decided to move to New York City. His first job in NYC was that of a pastry cook at Le Pactole, where he stayed until transferring to
Le Bernardin
in 1991 (before Eric Ripert owned the place). There, he worked under the legendary François Payard, who mentored him for about two years. In 1992, Carson got his first Pastry Chef role at Peacock Alley at The Waldorf-Astoria, which was under the control of
Laurent Manrique
at the time. The following year, he became Pastry Chef at Restaurant Luxe, where he mentored Johnny Iuzzini and introduced him to Payard, who eventually got him a job at Daniel. 1994 saw Carson start working with Tom Valenti at Cascabel, which is where he really began to come into his own stylistically.
In May 1996, he took on the Executive Pastry Chef post at La Côte Basque, one of NY's longest standing temples of French cuisine. Following, he moved to California, and in August 1997, began cooking at The Highlands Inn in Carmel. April 1999 had him in Las Vegas, at
Julian Serrano
's
Picasso
at Bellagio. After that gig, he moved back to New York in August 2000 to take on the Executive Pastry Chef role at Todd English's Olives at the W Hotel in Union Square. That lasted until April 2003, when he became Corporate Pastry Chef for the BR Guest restaurant group. Carson returned to Vegas in February 2005 to open Daniel Boulud Brasserie at Wynn, and during his tenure there, he was introduced to none other than
Michael Mina
.
He began serving as Corporate Pastry Chef for the Mina Group in September 2006, and helped open StripSteak at Mandalay Bay almost immediately after. He spent nearly eight years in this position, and during that time, opened 18 restaurants, but decamped in April 2014. The Chef landed in LA, Venice specifically, at
Superba Food + Bread
, which was under the watch of
Jason Travi
. He left, however, in February 2015 to start his own consulting company, working with clients such as his former employer Mina Group, The Rose Venice, Marcel Vigneron's
Wolf
, Spartina, and Valrhona. Rumors of Bon Temps began trickling out in the spring of 2018, and the restaurant debuted about a year later. Meanwhile, handling much of the day-to-day for Carson here is Executive Chef Anthony DiRienzo, a Chicago native who also spent time with Mina Group.


Bon Temps takes over the Downtown digs of a former Heinz facility, and which was previously home to restaurants
Petty Cash
and
Fifty Seven
. It was redone by
Klein Agency
and
NCA Studio
, and the goal was to create a sort of balance between hard (e.g. sheet metal and white Carrara marble) and soft (e.g. Douglas fir and brown leather).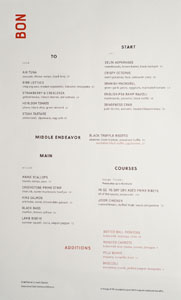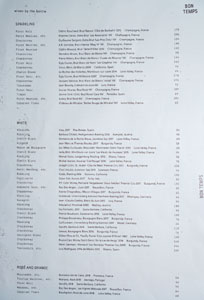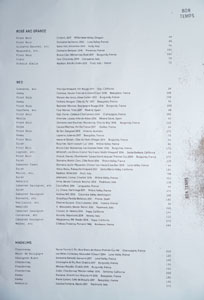 Divvied up into straightforward sections, the menu is tight, which I appreciate, and has a brasserie-ish, Cal-French feel to it, which I'm sure was intended. And though Bon Temps launched as a dinner-only destination, morning pastries and casual lunch items (i.e. sandwiches, tartines, and the like) are now offered as well. On the beverage side of things, we opted for an array of cocktails from Michael Lay, who'd just left
Hotel Figueroa
at the start of the year and who was previously at
Lono
,
Broken Spanish
, and
Faith & Flower
. If that's not your jam, you also get a handful of beers and a pretty interesting wine list from Wine Director Krystal Kleeman (
The Hearth & Hound
). Click for larger versions.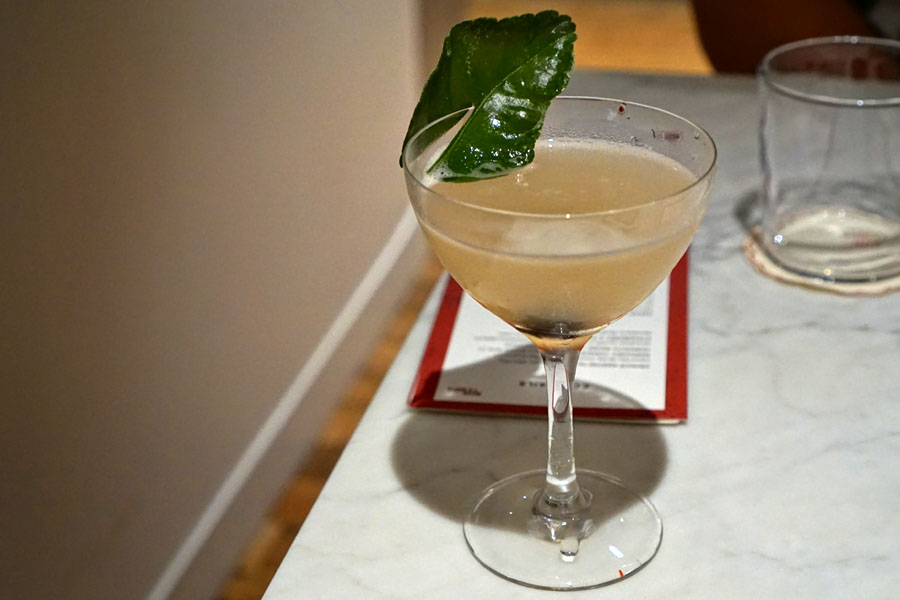 Galapagos [$15.00]
| Pisco, Lime, Grapefruit, Makrut Lime Leaf, Lemongrass & Black Peppercorn
We ended up getting most of the cocktails, and our first featured refreshing, yet at the same time acerbic notes of citrus on the nose, while its palate was focused on the lemongrass, with the pisco making itself known on the back end. Pretty tasty, though I would've liked more from the peppercorn.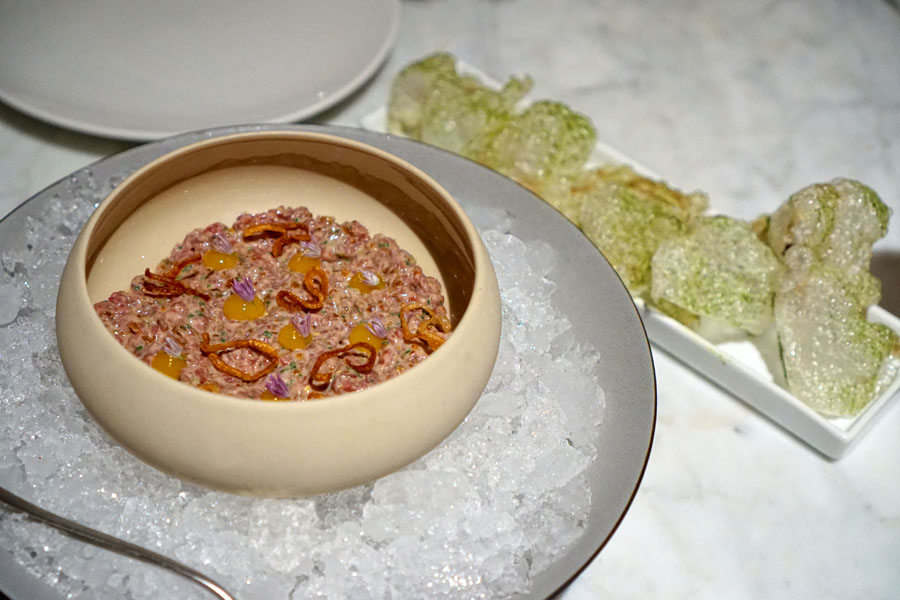 Steak Tartare [$18.00]
| prime beef, dijonnaise, egg yolk
The tartar was a winner. I loved the creamy, zingy nature of the Dijonnaise and how that meshed with the meat, while the yolk contributed a noticeable heft to the dish, one that was lightened up a tad by the airiness of those rice crisps.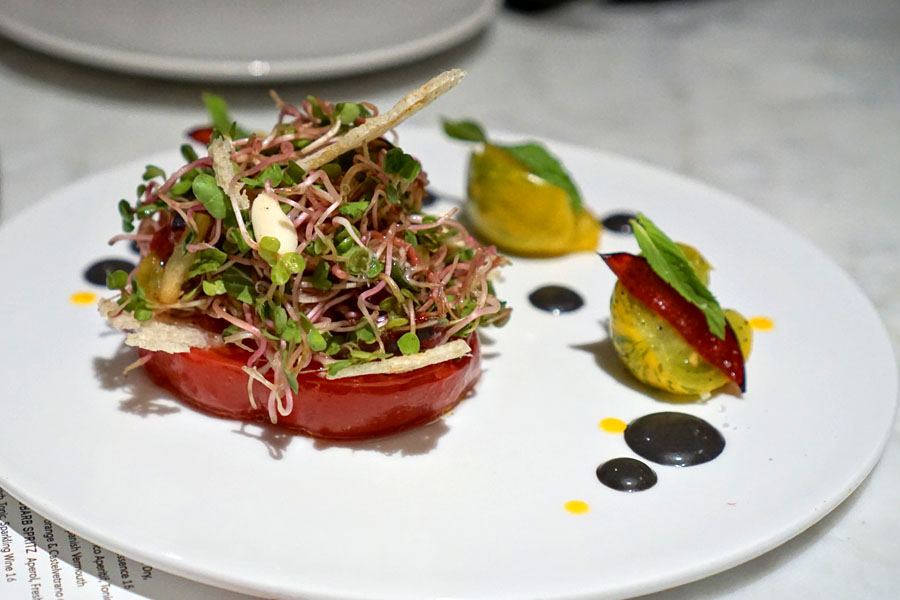 Heirloom Tomato [$16.00]
| plums, black olive, green almond
This next course managed to be a surprise hit thanks to its wonderful back-and-forth between the savory depth of the tomato and the zestiness of those sprouts. Way better than expected.
Vieux Carre [$16.00]
| Rye, Cognac, Benedictine, Italian Vermouth
Bon Temps' interpretation of this classic cocktail largely delivered. Though it didn't offer up much in terms of aroma, it had a masterful mix of bitterness, spice, and herb on the tongue, and was finished by an almost
mala
-esque lingering sensation that I quite enjoyed.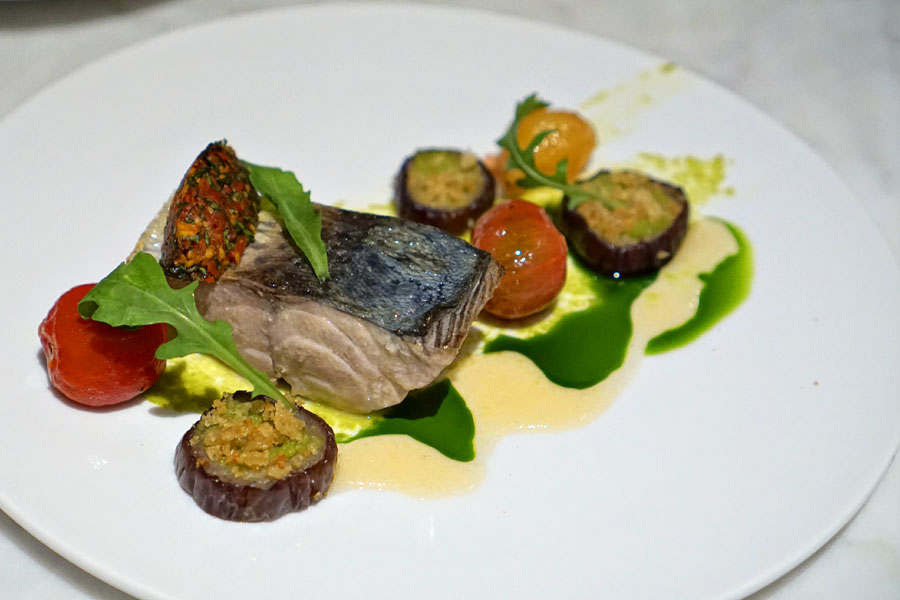 Spanish Mackerel [$16.00]
| green garlic pesto, eggplant, marinated tomato
Mackerel came out juicy, firm, and flaky, its considerable brine evened out swimmingly by the acid from the tomatoes as well as a superb brightness from that pesto.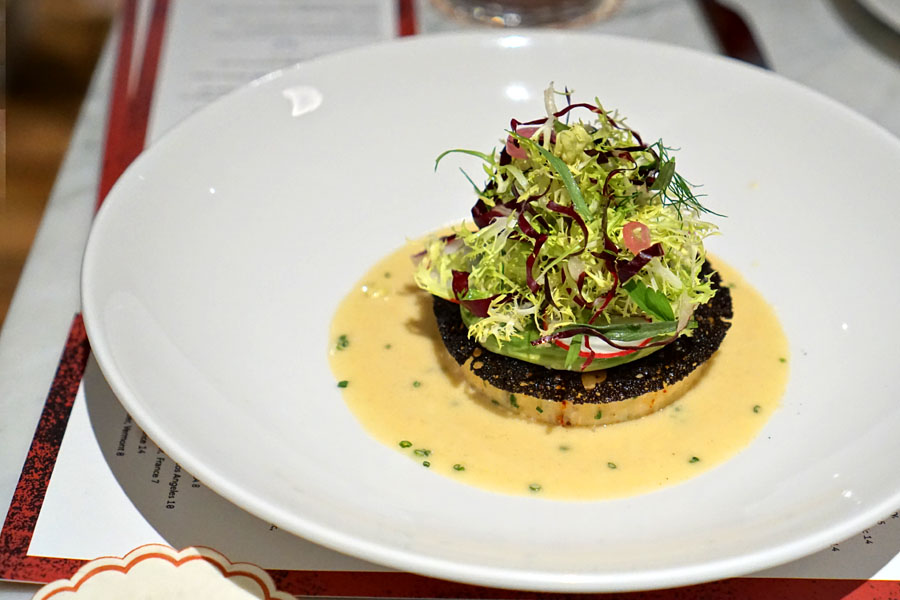 Dungeness Crab [$24.00]
| pain de mie, avocado, mustard beurre blanc
The sweet salinity of Dungeness was beautifully conveyed here, and married well with avocado, all while the
beurre blanc
offered up a creamy-yet-tangy contrast.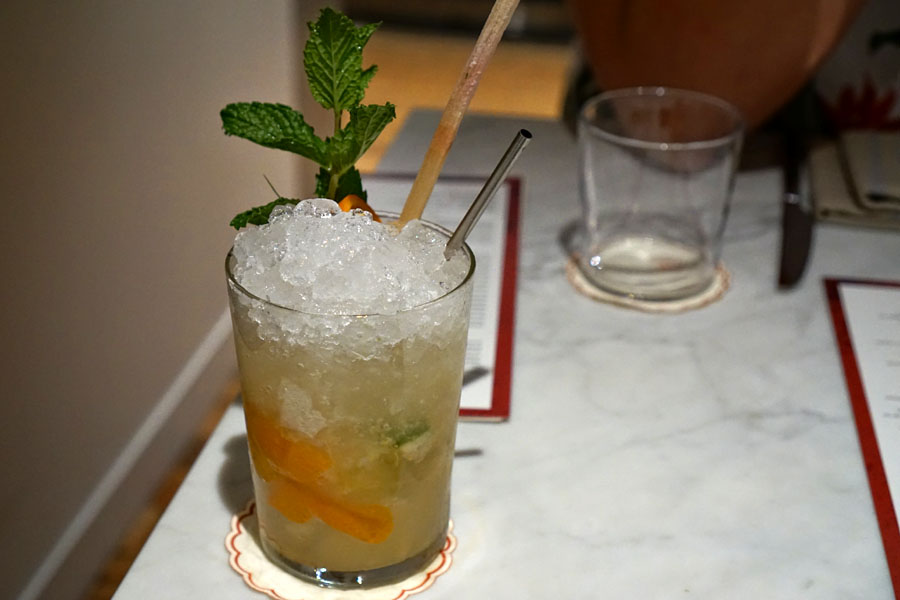 Kumquat Caipirinha [$14.00]
| Avua Prata Cachaca, Fresh Kumquat, Lime, Tamarind
A kumquat-enhanced caipirinha was easy and refreshing, as expected, but also showed off much-more-pronounced-than-usual citrus notes and a smidge of nuttiness.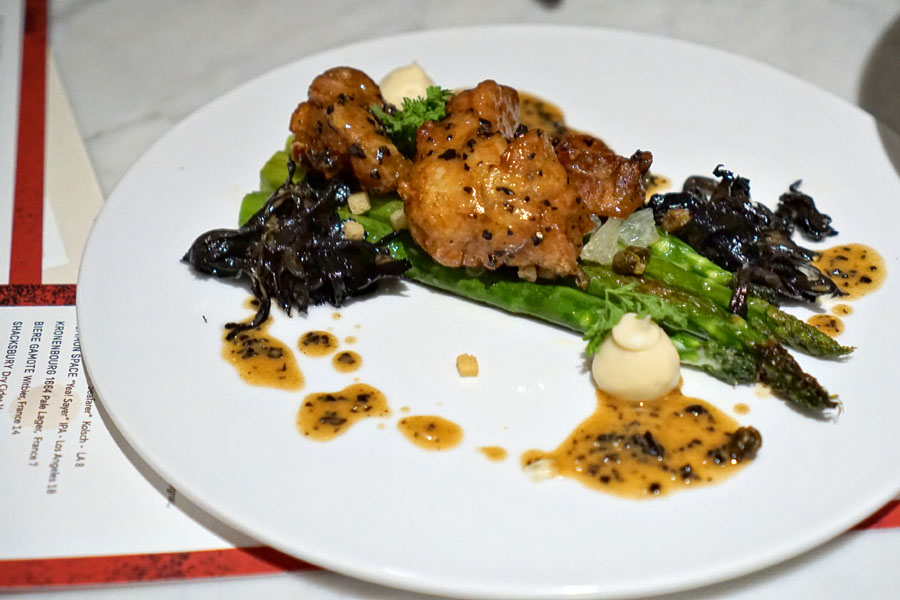 Delta Asparagus [$16.00]
| sweetbreads, brown butter, black trumpet
Crisp, bitter stalks of asparagus served as a great foil to the deliciously savory, peppery nature of those sweetbreads.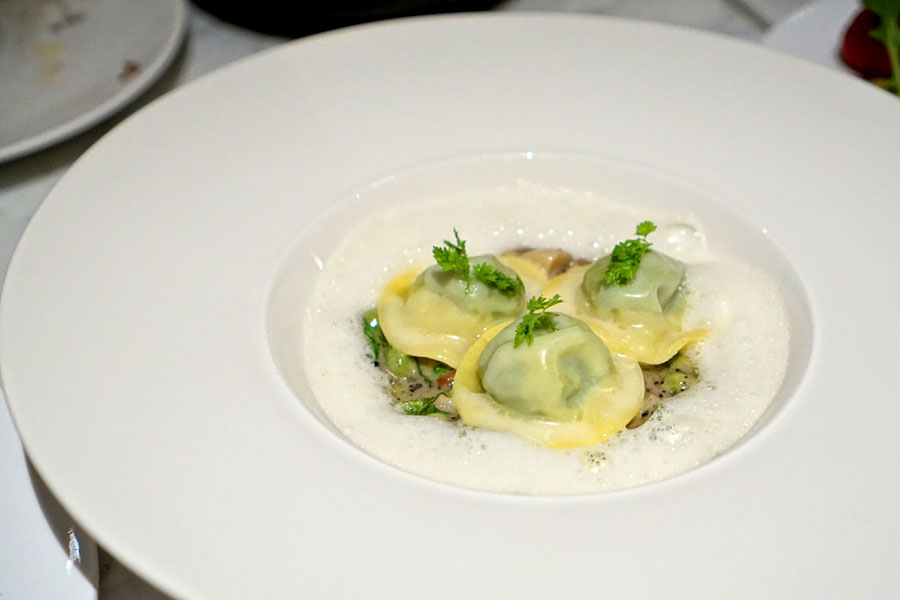 English Pea Ravioli [$18.00]
| mushrooms, pecorino, black truffle
The ravioli did a wonderful job marrying the sweetness of the pea with the punchy taste of ramps, all while the mushrooms and truffles imparted an earthy funk to it all. A table favorite.
Casablanca [$15.00]
| Cognac, Curacao, Lemon, Hibiscus, Clementine, Rose Hips, Faba
This next cocktail conveyed a bevy of fruity, floral, nearly candied flavors, all set against a counterbalancing, citrus-led sharpness.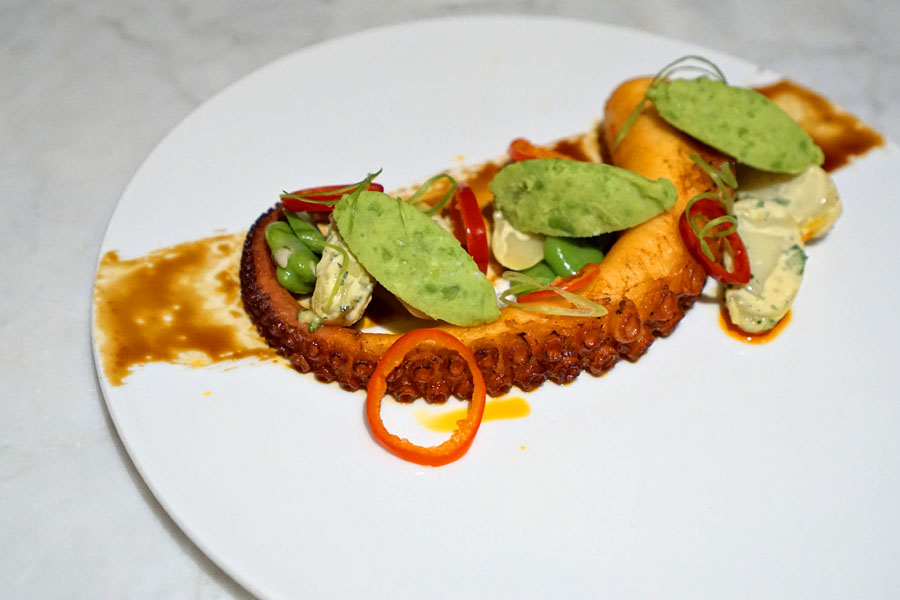 Crispy Octopus [$22.00]
| warm potatoes, fava, vadouvan curry
A lone leg was a delight texturally, its crisp crust giving way to soft, slightly chewy insides. Taste-wise, it was all about pairing savoriness and spice with the inherent salinity of the octo, while at the same time, the favas and potatoes worked great for contrast.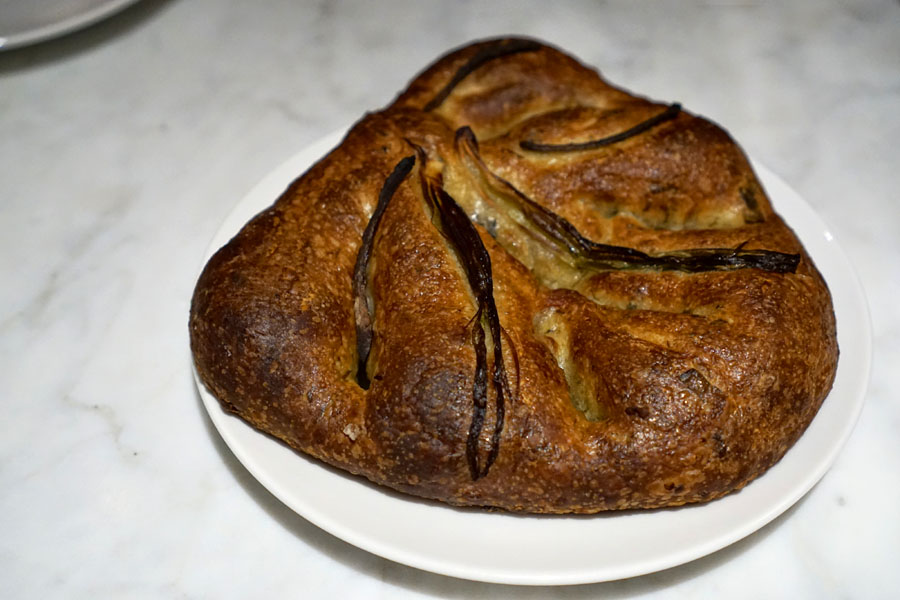 At this point we were served a complimentary loaf of housemade unleavened bread, with leeks, olive oil, and
fleur de sel
. Flavors here veered in a seaweed-y, citrus-y direction, though unfortunately the bread was a touch drier than I'd prefer.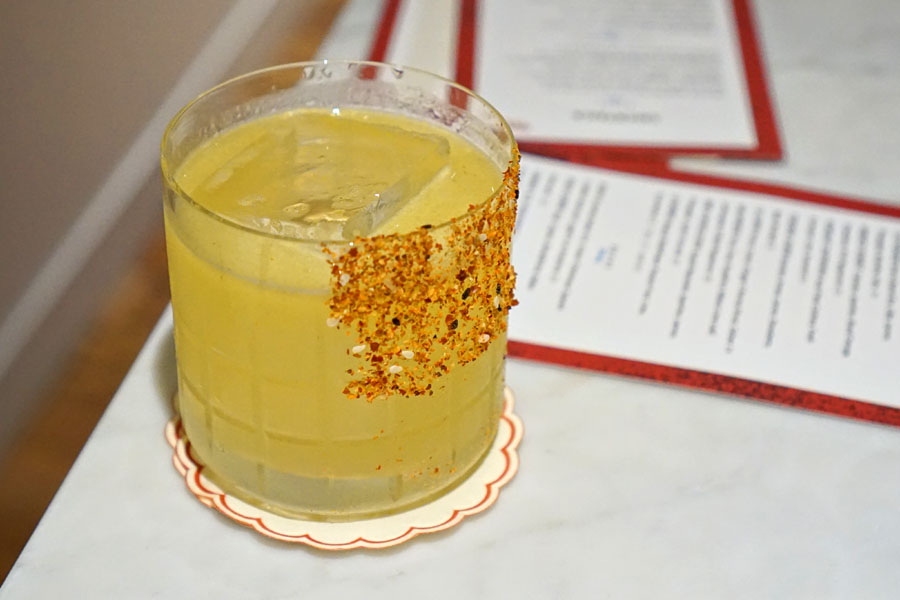 Le Smoke [$15.00]
| Mezcal, Elderflower, Passion Fruit, Lime, Yuzu Kosho
This cocktail had an aroma brimming with pineapple-fueled sweetness, while its taste was more contemplative, blending tartness and astringency with a light heat and smoke.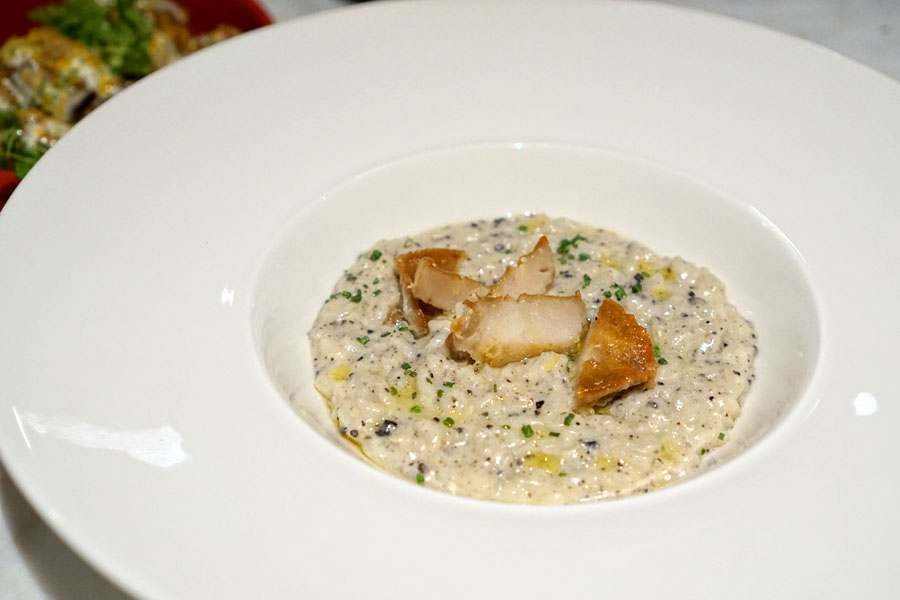 Black Truffle Risotto [$35.00]
| abalone, bone marrow, preserved truffle
Given my penchant for risotto, this was a must-try for me. The rice itself was pretty textbook, being of the right texture and displaying a creaminess that transitioned nicely to the musk of black truffle--delish. The abalone, on the other hand, wasn't really necessary and was on the verge of being distracting.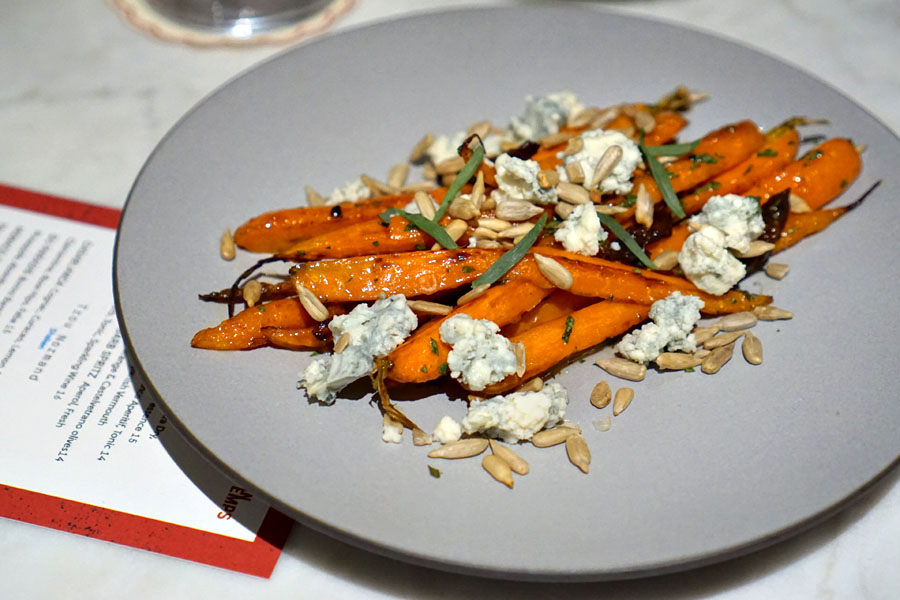 Roasted Carrots [$9.00]
| buttermilk blue cheese, prunes, tarragon
Carrots were well-roasted, and had their natural sweetness smartly matched to the funk of the cheese here, while the pumpkin seeds offered up a welcomed nuttiness and crunch. I got lots of anise from the tarragon, too.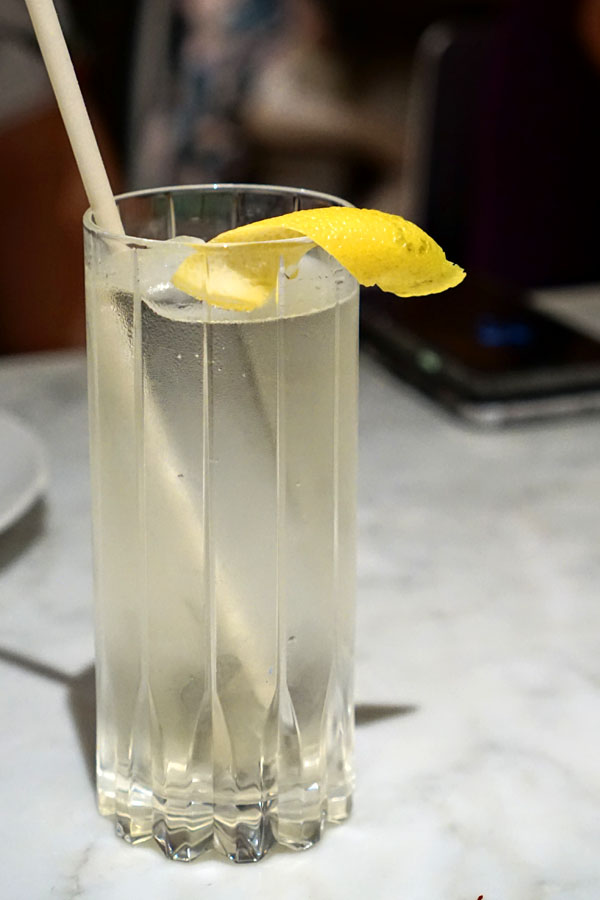 Normandy Tonique [$14.00]
| Calvados, Bianco Aperitif, Tonic
The evening's first long cocktail did a good job blending the apple notes from the calvados with the bitter, botanical nature of the Apéritif.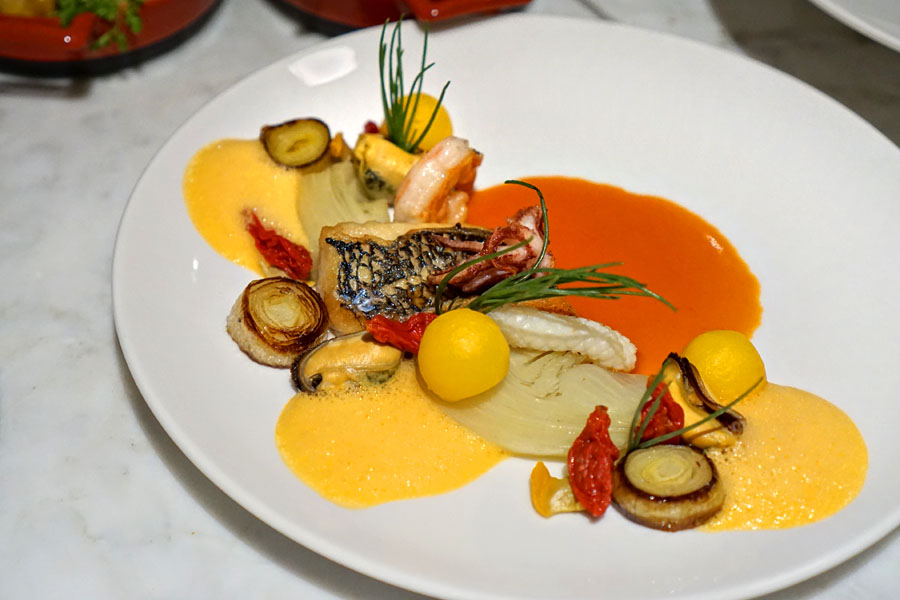 Black Bass [$36.00]
| shellfish, fennel, saffron
This somewhat bouillabaisse-ish dish featured a beautifully-prepared cut of bass that I found eminently pleasurable just by itself. Further potency was imparted by the additional shellfish and aromatics, and I definitely appreciated the tempering effect of the potato.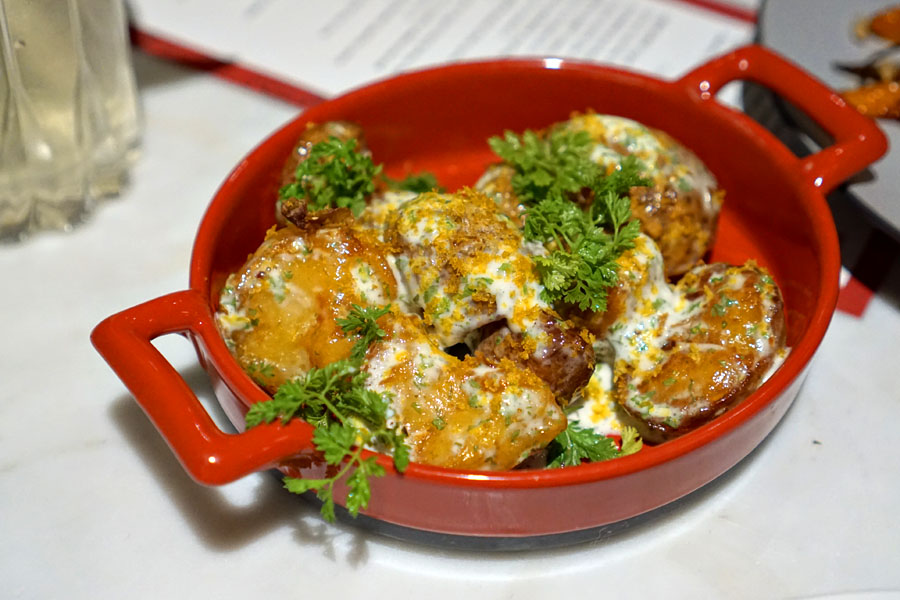 Butter Ball Potatoes [$10.00]
| buttermilk, bottarga, chive
Already buttery potatoes were taken up a notch thanks to the creaminess of that buttermilk dressing, all while the cured roe added a kick of salt to the fray. Nice herbiness from the chives for contrast, too.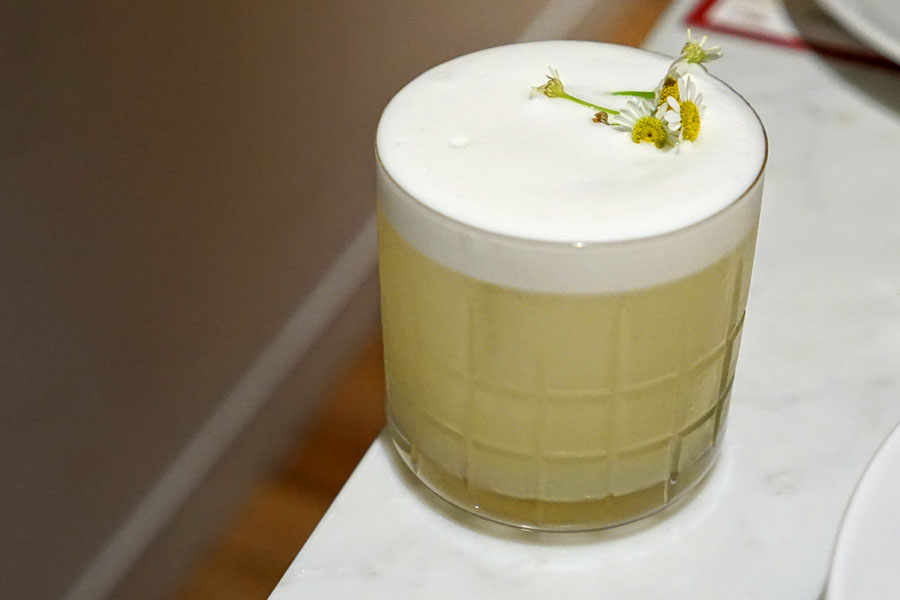 Du Paradis [$14.00]
| Bimini Barrel Gin, Lillet, Lemon, Pineapple, Absinthe, Faba
There was a delightful creaminess, a frothiness to this next cocktail, one that moderated the omnipresent gin botanicals as well as the tartness of the fruit. Anise-y notes, meanwhile, made themselves known on the mid-palate.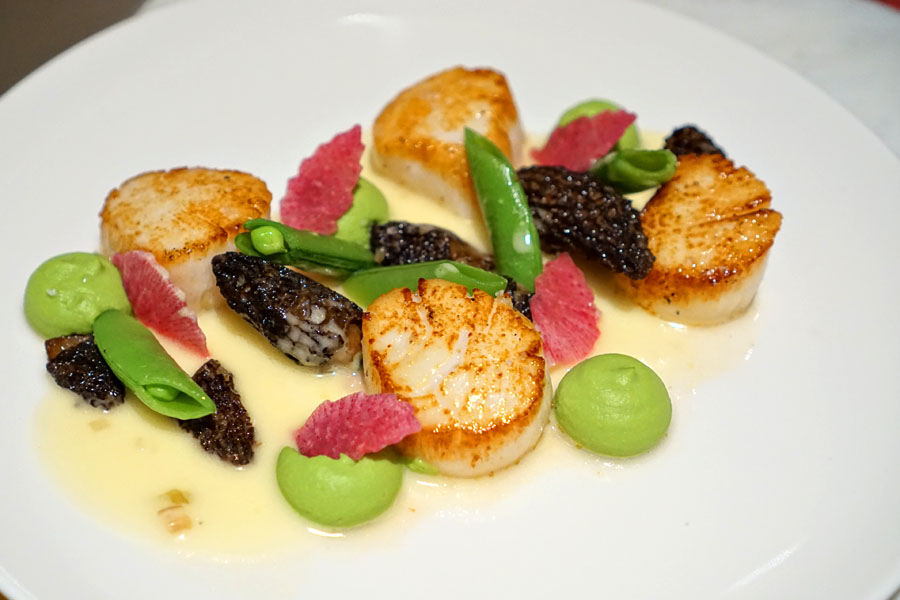 Maine Scallops [$34.00]
| morels, ramps, peas
Scallops were well-cooked and well-caramelized, their oceany flavors working hand-in-hand with the brightness of peas and green beans while the mushrooms imparted an earthy accent to the dish.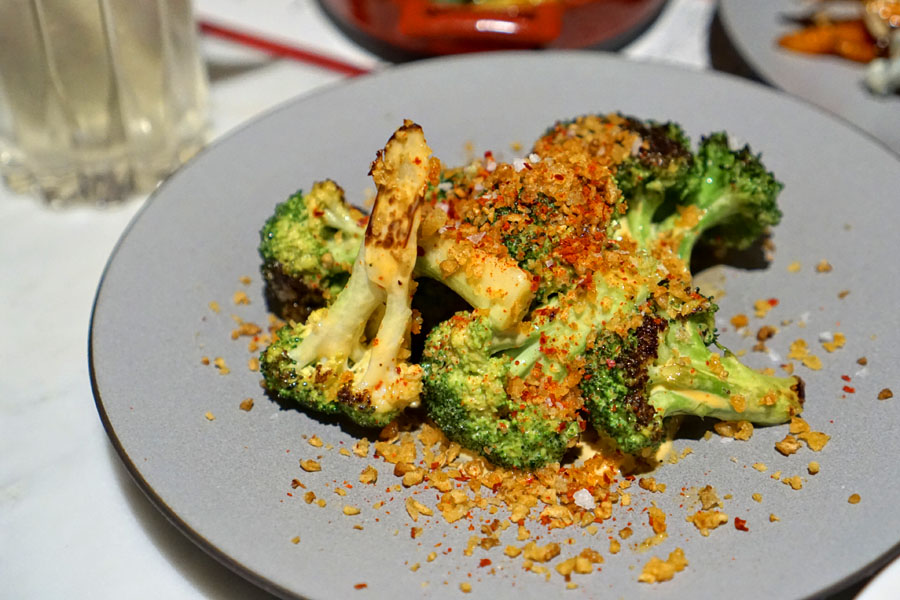 Broccoli [$9.00]
| everything crunch, pickled pepper vinaigrette
The so-called "everything crunch" was pretty genius, contributing copious amounts of texture and seasoning that really paired perfectly with the bitterness of the broccoli. Meanwhile, the vinaigrette, along with a creamy, luscious element in the dish helped bind everything together.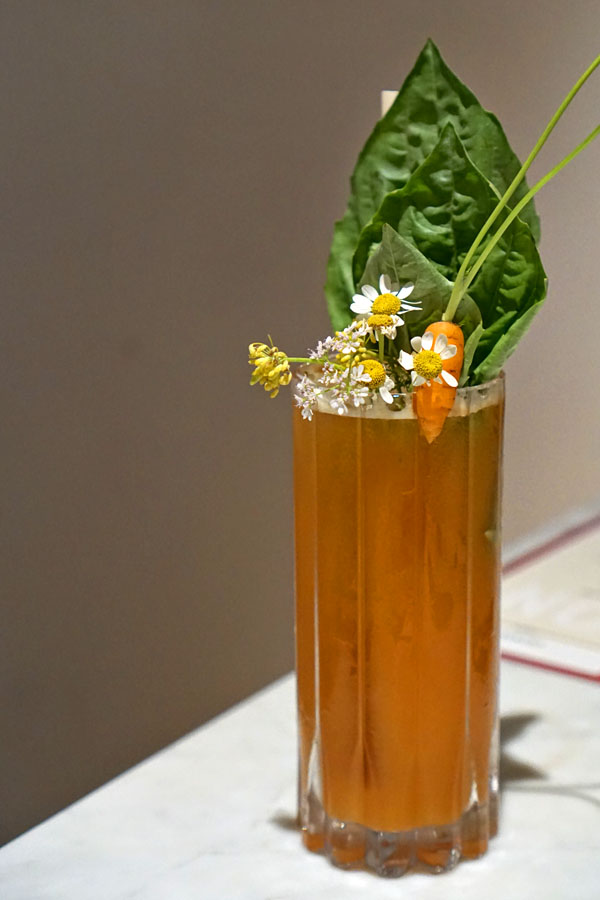 Le Lapin [$14.00]
| Pimms, Carrot, Ginger & Parsnip Shrub, Seltzer
A rabbit-themed cocktail displayed loads of carrot-y sweetness, punctuated by hits of spicy ginger. This was a fun one.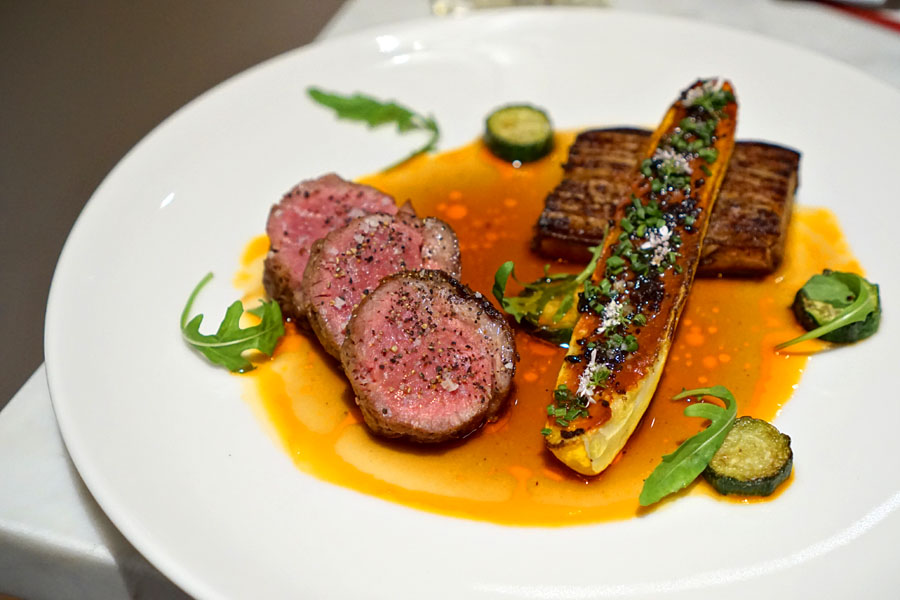 Lamb Ribeye [$42.00]
| summer squash, socca, aleppo pepper
Roundels of lamb were impeccably seasoned and super flavorful, yet made even better by the slight heat of Aleppo pepper. Also a hit was the lamb-enhanced
socca
, which showed off a considerable depth and was just plain cozy.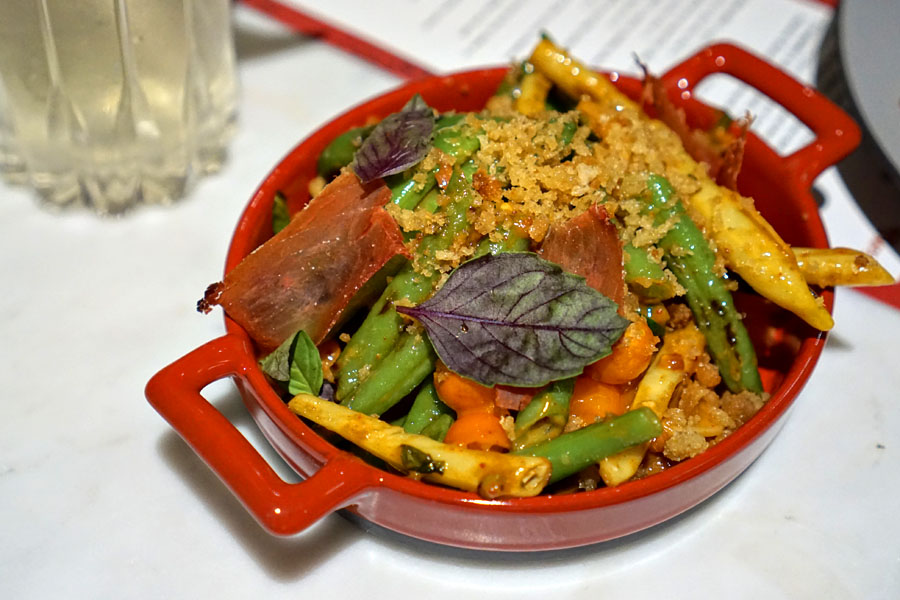 Pole Beans [$12.00]
| mojama, sungolds, basil
Pole beans arrived bright and crunchy, augmented by the tartness of tomato and the savory, hammy nature of the cured tuna.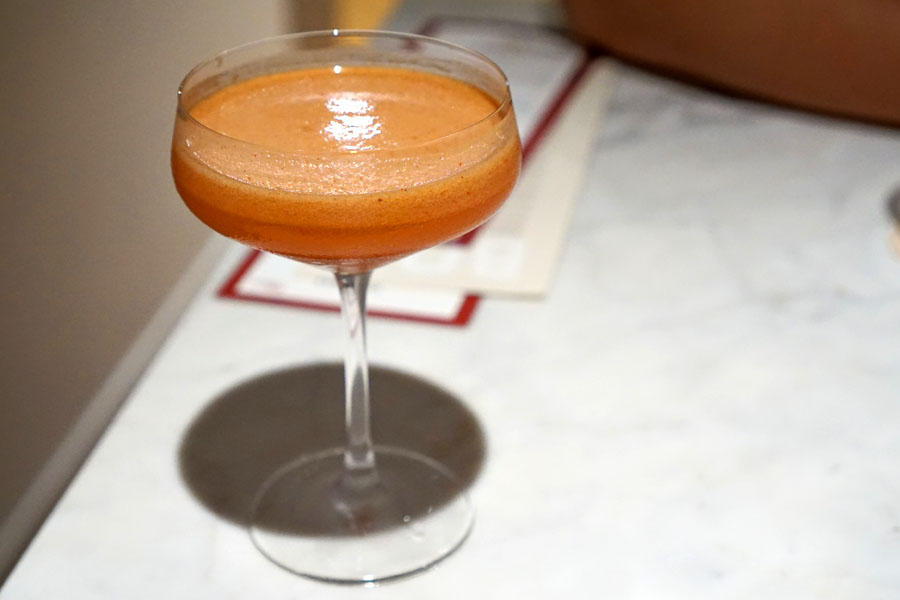 Monaco Sunset [$15.00]
| Calvados, Aperitivo, Blood Orange, Strawberry, Pink Peppercorn
Our penultimate cocktail displayed appealing flavors of strawberry and citrus, cut by a touch of bitterness and acerbicness from the booze, while the finish was filled with the advertised peppercorn.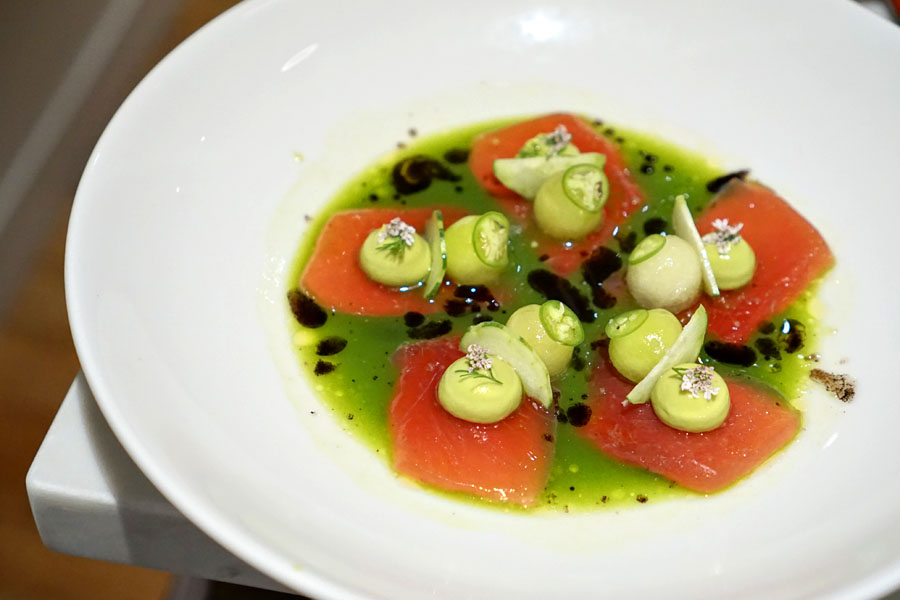 Ahi Tuna [$20.00]
| avocado, Weiser melon, black lime
A misstep in the service tonight resulted in us receiving our tuna appetizer at the end of the meal, though the restaurant did comp the dish as a result of the error. In any case, the ahi ate clean and lean, and actually meshed surprisingly well with the sweet, refreshing nature of the melon, while I got a slight heat on the back end that I certainly didn't mind.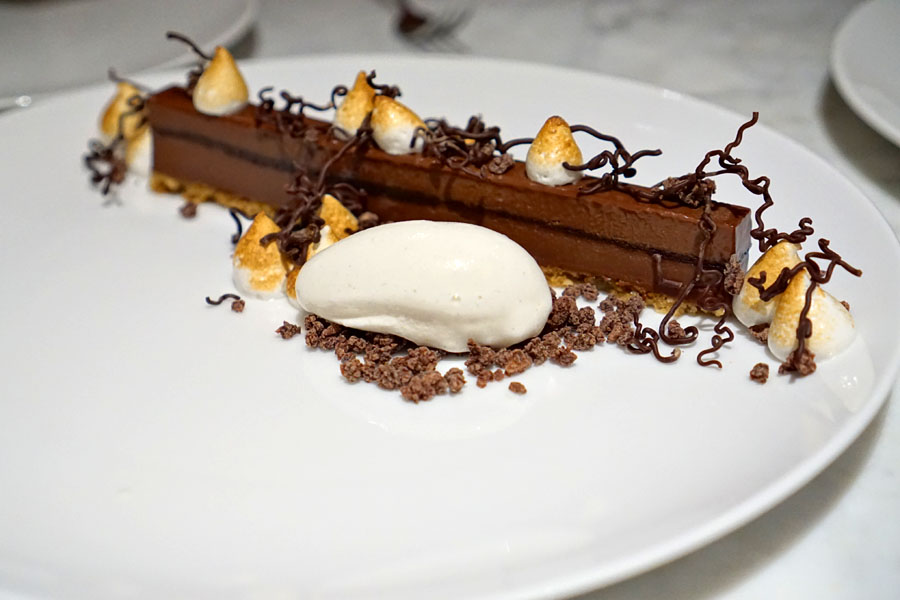 S'mores [$13.00]
| milk chocolate, campfire marshmallows, oat gelato
Time for dessert. Our first definitely hit the mark with its rich, robust, yet refined flavors of chocolate, augmented by a smidgen of smoke and the sheer deliciousness of that ice cream. Great textural component from the "pop rocks" here, too.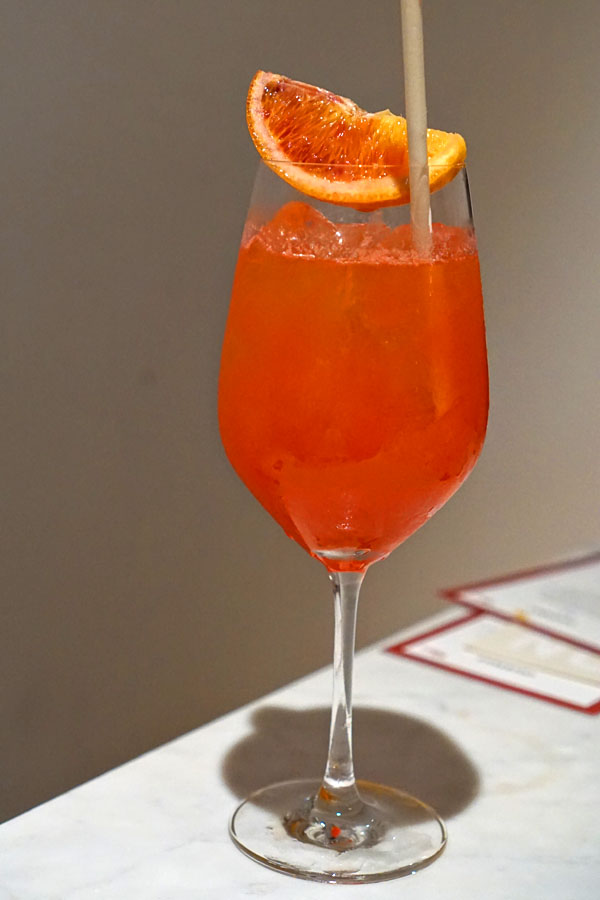 Strawberry & Rhubarb Spritz [$16.00]
| Aperol, Fresh Strawberry, Rhubarb, Tonic, Sparkling Wine
Our final cocktail was easy and breezy, showcasing refreshing fruit flavors cut by a touch of herb and earth.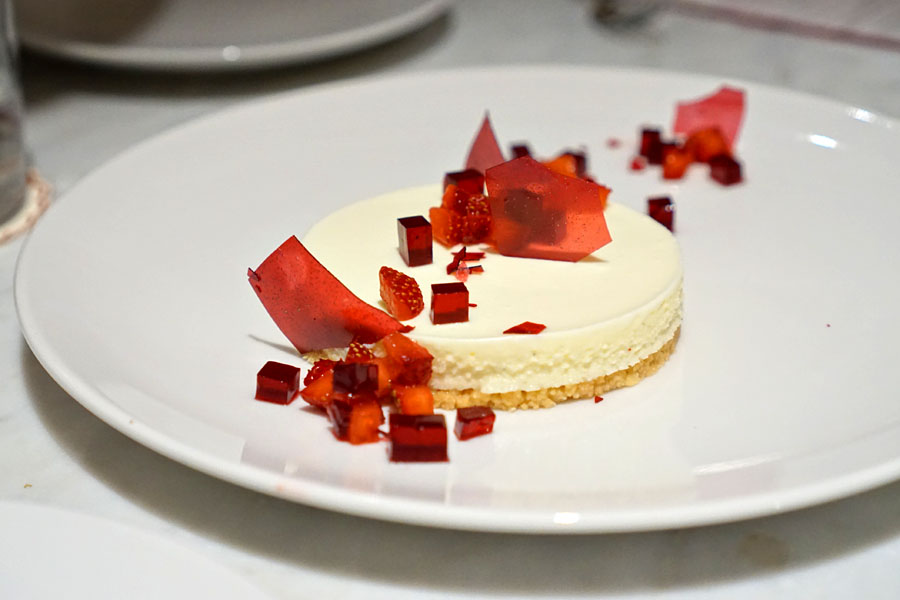 Gateaux Philadelphia [$12.00]
| tahitian vanilla, hibiscus, strawberries
This cheesecake-esque dessert featured an airy, somewhat savory, somewhat sweet top layer, set atop a superbly crumbly, salty crust. At the same time, the various shards of berry and hibiscus on top gave the dish some beautifully-placed hits of fruity tartness. Yum.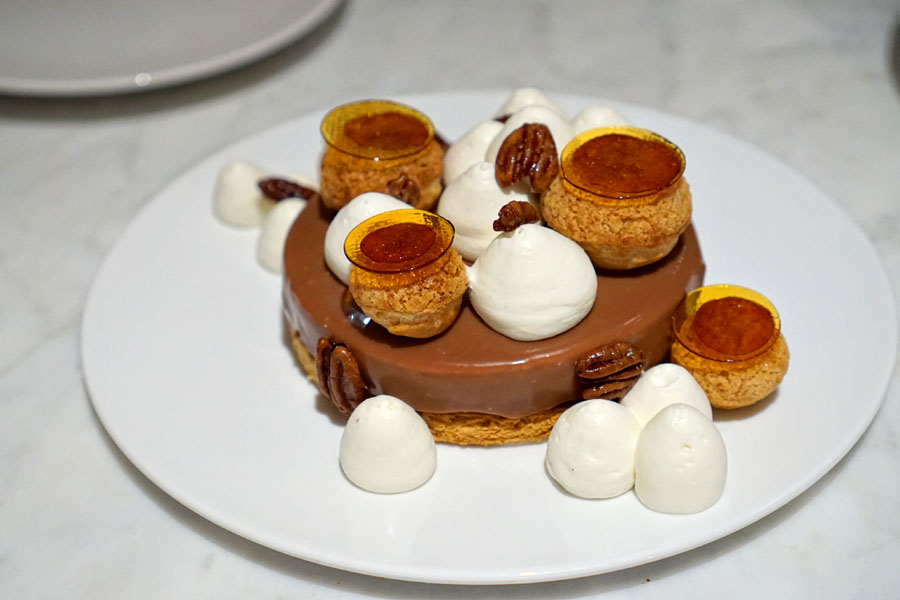 St. Honore [$23.00]
| pecan mousseline, chantilly, caramel; shareable for 2-4
We ended with my favorite of the desserts, and one of the best desserts I've had all year. This reimagined St. Honoré featured delicate layers of puff pastry at the bottom, which formed a perfect base for that utterly gratifying, sweet-nutty pecan mousseline. If that wasn't enough, cream puffs added further interest to the dish, while disks of caramel provided just the right amount of crunch, all while the cream help bind it all together. A must try.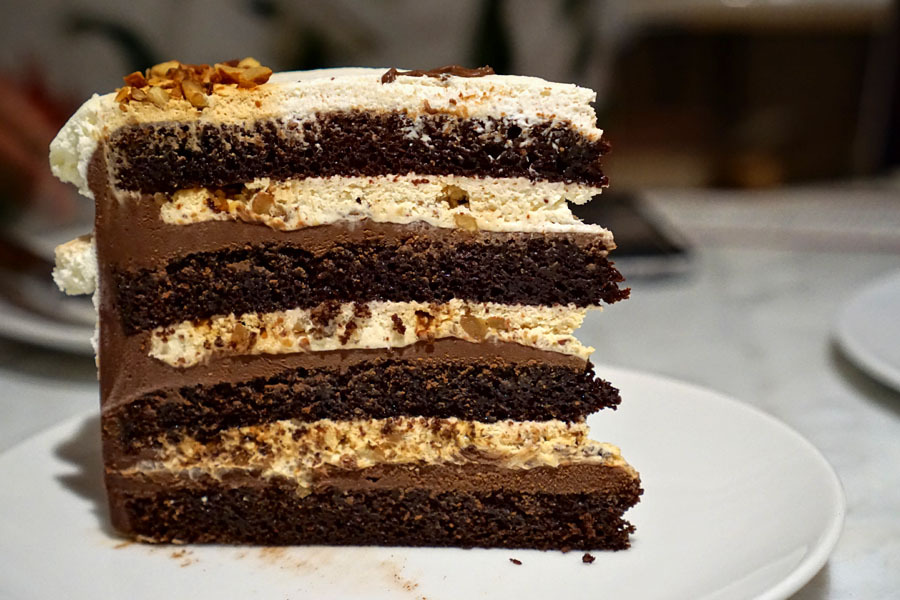 Given that this was a birthday dinner, we also brought along a
Sweet Lady Jane Almond Roca Cake
. Comprised of dark chocolate cake, chocolate ganache, whipped cream, and caramelized almonds, it was quite tasty, though it didn't particularly recall its namesake toffee treat.
Although we had a few service issues tonight (the tuna as mentioned above, as well as a couple disappearing drink orders), our meal at Bon Temps was still a success. This was mostly due to the food, which was by and large strong across the board and pretty tough to find fault with. Carson's cooking has this palpable precision to it--I'm assuming stemming from his years spent in pastry--resulting in flavors that demonstrate a remarkable clarity and contrast. This is a worthwhile take on a modern brasserie, and I do sincerely hope that this place can stick around longer than its predecessors.