Church & State (Los Angeles, CA) [4]
Church & State Restaurant
1850 Industrial St, Los Angeles, CA 90021
213.405.1434
www.churchandstatela.com
Fri 07/19/2019, 08:20p-11:50p

We last checked in with Chef David Féau back in December 2015, shortly after he started cooking at
Wally's
in Beverly Hills. He was doing some great things in the kitchen there (and was also overseeing the company's Santa Monica location), but wound up leaving the restaurant in November 2018. His whereabouts remained unclear for a while, but at the end of May, it was revealed that he'd be taking the helm at Arts District mainstay Church & State.
Church & State, if you recall, was opened in September 2008 by Steven Arroyo, Yassmin Sarmadi, and Chef Greg Bernhardt, but really started making a name for itself when Walter Manzke was installed as top toque just three months after opening. Sarmadi eventually bought out Arroyo in September 2009, while Manzke
decamped in March 2010
. He was replaced by Joshua Smith, and not after, Jeremy Berlin, while Sarmadi's beau
Tony Esnault
became Executive Chef at the start of 2013. The restaurant actually filed for bankruptcy in July 2017 due to a longstanding labor lawsuit, but hung in there for quite a while before announcing its closure at the end of April this year.
Now of course we have to mention prolific LA restaurateur William "Bill" Chait (recently:
Tartine
,
Tesse
), who's apparently an acquaintance of Sarmadi's. He was able to reach an agreement with her to take over Church & State, and contacted Féau about coming on board as Chef. Féau jumped at the opportunity to revamp the restaurant, keeping the bistro vibe but making things a bit more fun and modern. Sarmadi and Esnault, meanwhile, have gone on to open upscale French eatery Knife Pleat at the old
Marché Moderne
space in South Coast Plaza (and remember, their other project
Spring
shuttered in August 2018).
After a surprisingly speedy month-or-so turnaround, the new Church & State re-opened on June 11th. Taylor Parsons (ex-
Republique
, among others) is on board as partner, as is Chait's new wife Clija de Oliveira (the two got hitched last August). CdC duties are handled by Brandon Mendoza, while the FOH is run by General Manager/Beverage Director Adam Ohler and AGM Brooke Silva.


Inside, things aren't drastically different, and even the old tables and chairs remain. However, the former restaurant's red walls have been repainted in more neutral tones, the lighting has been redone, and overall the place is a bit less boisterous. The patio out front is still in place, though it's been beefed up.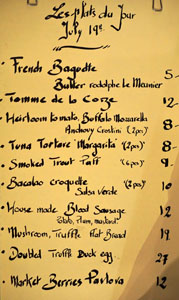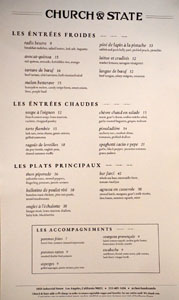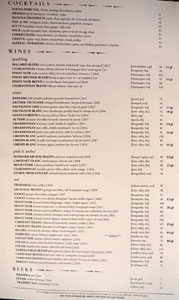 Feau's
bistronomie
-inspired menu is pretty compact, which I like, and is augmented by a list of specials hand-written by the Chef himself. On the beverage side of things, there are cocktails by longtime Chait collaborator Nick Meyer, a couple beers, and a very French-leaning wine list curated by Ohler. Corkage is $35 a bottle. Click for larger versions.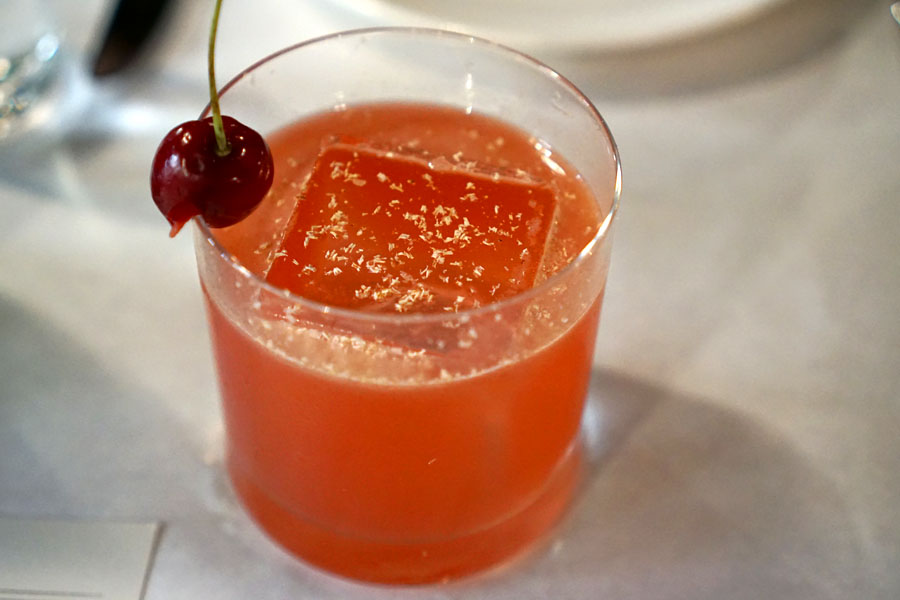 Cherry Sling [$14.00]
| cherry bounce, rye whiskey, benedictine, lemon
We went with a round of cocktails to start. This reworked Singapore Sling was light and toasty on the nose, with flavors that blended sweet, fruity notes of cherry with bitter, lingering herb.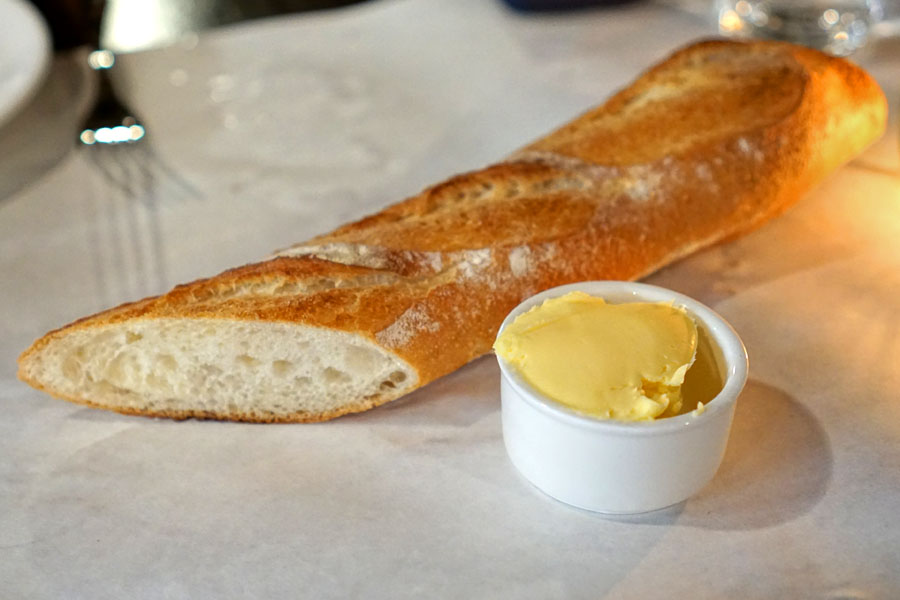 French Baguette [$5.00]
| Butter Rodolphe Le Meunier
I'm not sure if the baguette we had was made in-house, but either way, it was a pretty much textbook example thanks to its crisp, crusty exterior hiding soft, airy insides. The star here, though, was clearly Rudy Le Meunier's vaunted Beurre de Baratte from Normandy. It's an intense butter, salted to be sure, but with a particular depth to it. We even requested a couple extra loaves as to not let it go to waste.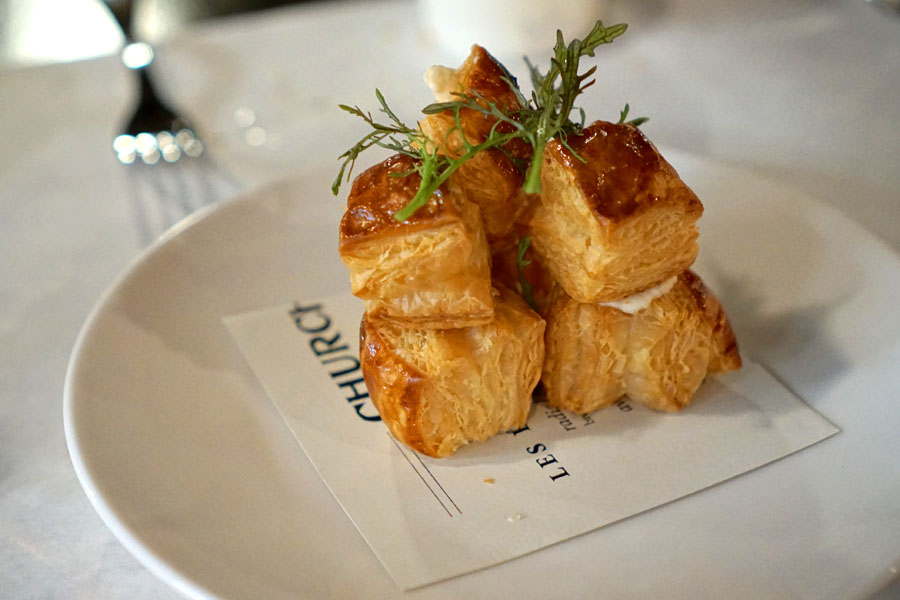 Smoked Trout Puff [$9.00/6 pc]
Feathery cubes of puff pastry nearly dissolved in the mouth, releasing a torrent of smoke and umami from the trout that was cut by a subtly acidic element. Yum.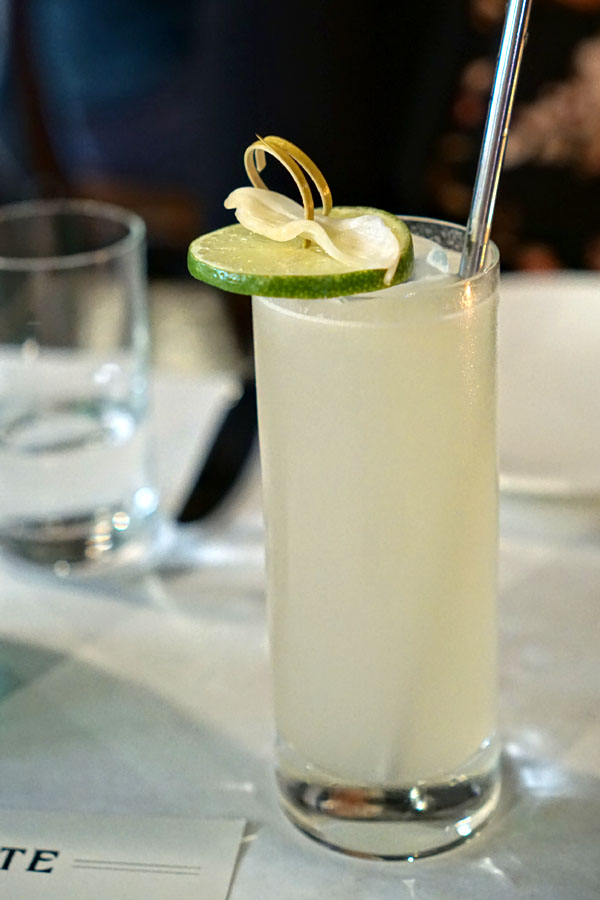 Young Pope Vol. 2 [$11.00]
| lime, riesling, finocchietto, seltzer
Our second cocktail married an intriguing citric tartness with a strong aromatic, herbal character from the fennel.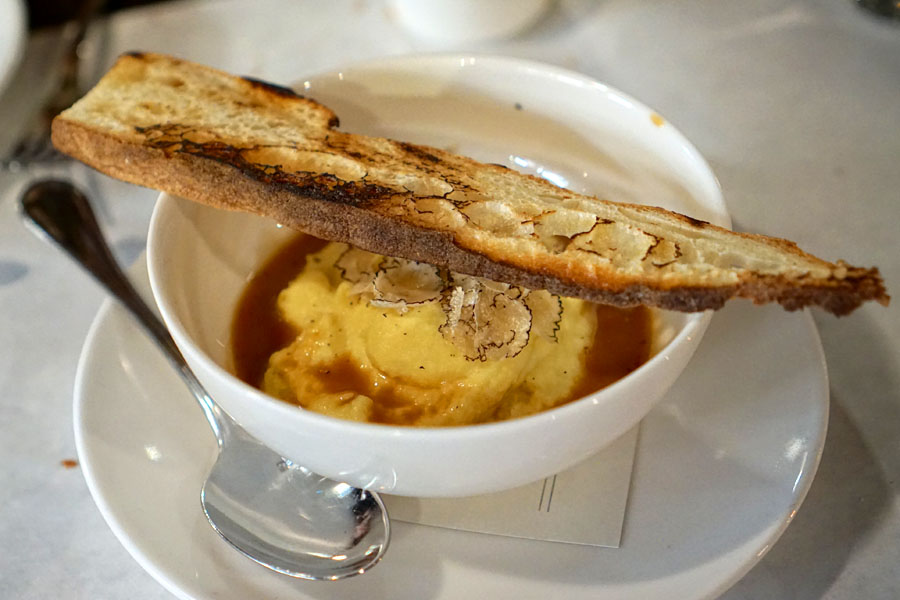 Doubled Truffle Duck Egg [$27.00]
Here we had an altogether luxurious dish of poached-then-scrambled duck egg, augmented by chicken jus and the pervasive funk of summer truffle. Interestingly, the egg had a consistency that was simultaneously creamy and gritty, and of course the toast imparted further textural variation to the bowl.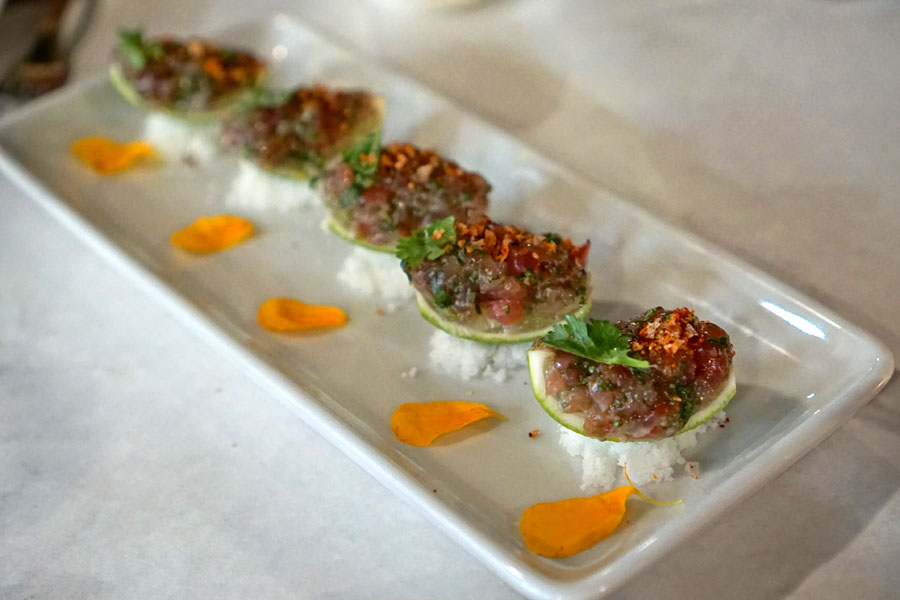 Tuna Tartare "Margarita" [$8.00/2 pc]
A complimentary serving of tuna tartar wasn't what I was expecting, since the "Margarita" actually made me think of the pizza initially. In any case, it was certainly one of the most unique, fun versions of the dish I've experienced, especially given the tart, acidic, lime-forward finish that really did recall its namesake drink.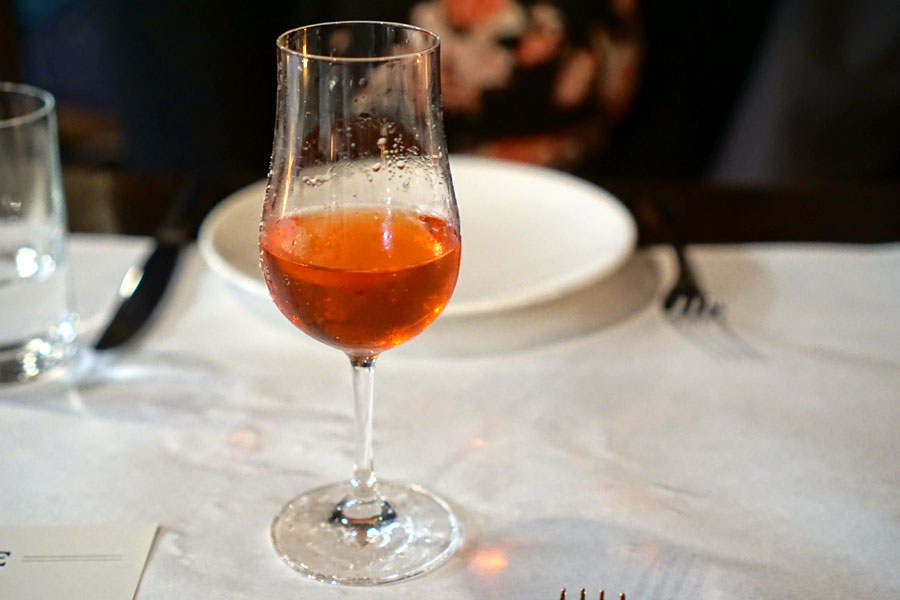 Sazerac Normand [$14.00]
| calvados domfrontais, cognac, rye whiskey, peychaud's, absinthe
A calvados-enriched version of one of the most classic of cocktails smelled, somewhat surprisingly, of sweet tropical fruit laced with citrus. The palate, meanwhile, was somewhat thick, with plenty of boozy, bitter, herbaceous notes finished by notes of apple.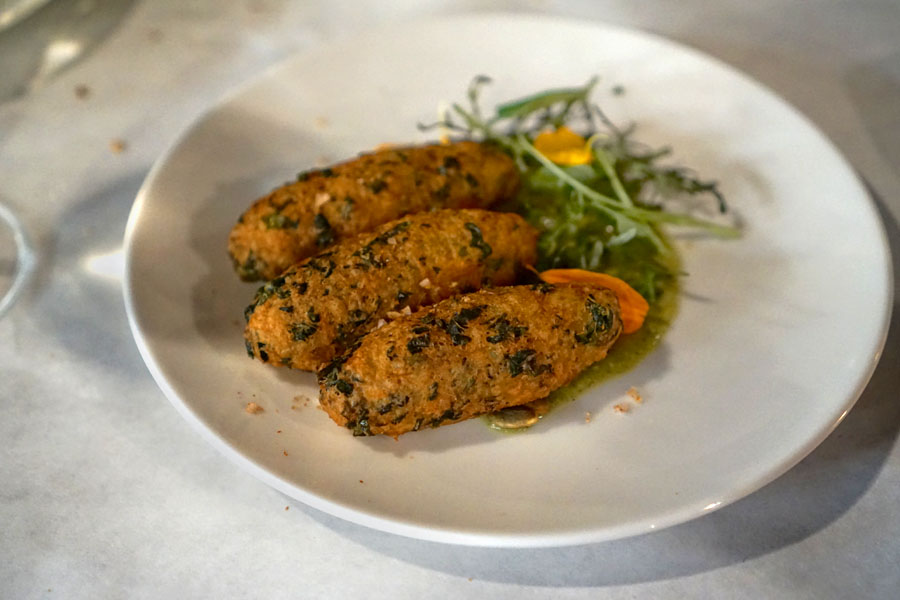 Bacalao Croquette [$10.00/2 pc]
| Salsa Verde
The
bacalao
was a standout for me. It was satisfyingly salty to be sure, but what made this special were the greens mixed in with the fish, as well as that bright, nutty salsa verde on the side, both of which perfectly balanced out the cod.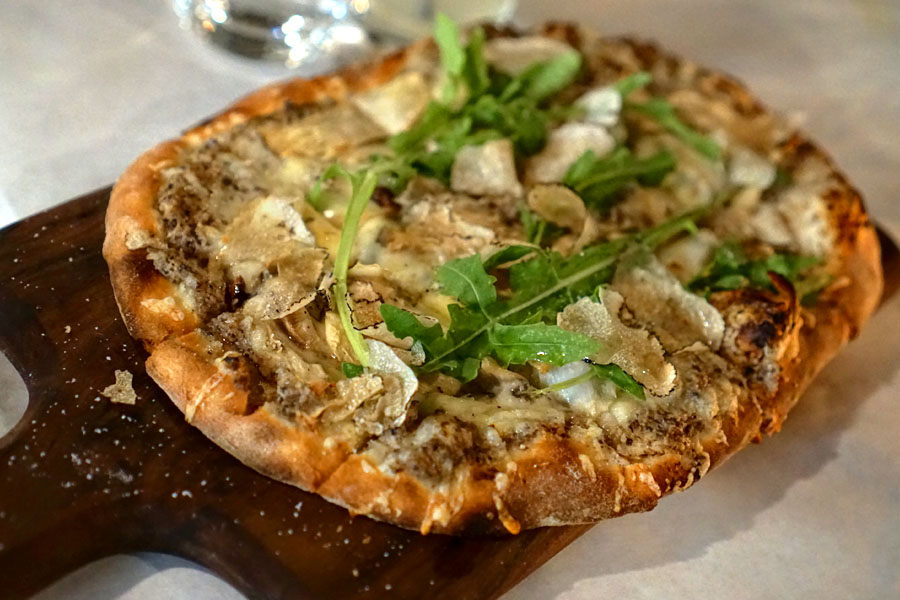 Mushroom, Truffle Flat Bread [$19.00]
This crisp-crusted flatbread was easy to enjoy, mixing cheesiness and zesty notes of onion with the earthy, funky smack of truffle and mushroom.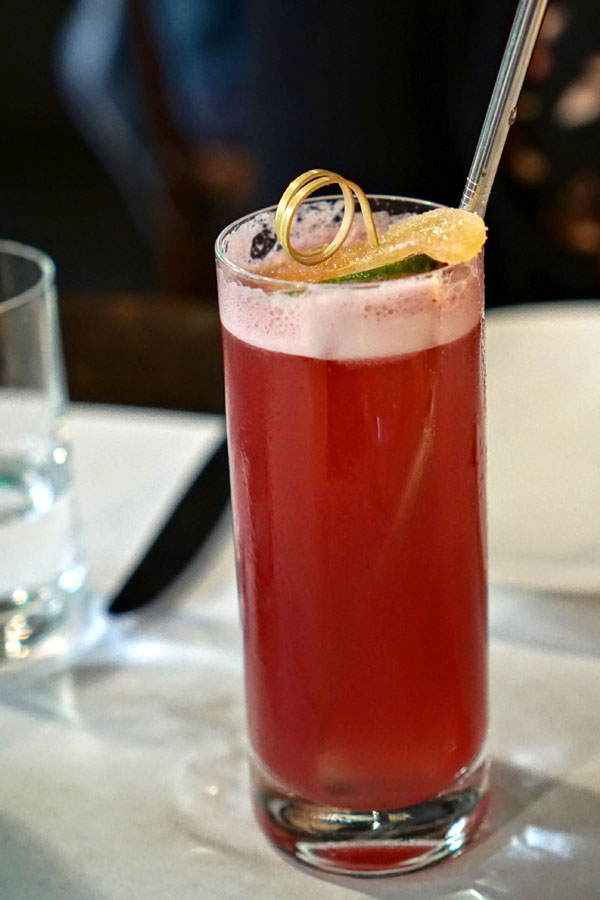 Kitty [$12.00]
| beaujolais, rancio, lime, ginger, club soda
This ended up being perhaps the most interesting cocktail of the night. I found it strongly sweet 'n' spicy at first, with an almost bracing citrusy zest going on. The finish, meanwhile, showcased more fruit and spice, along with a growing, lingering oxidized character that I rather enjoyed.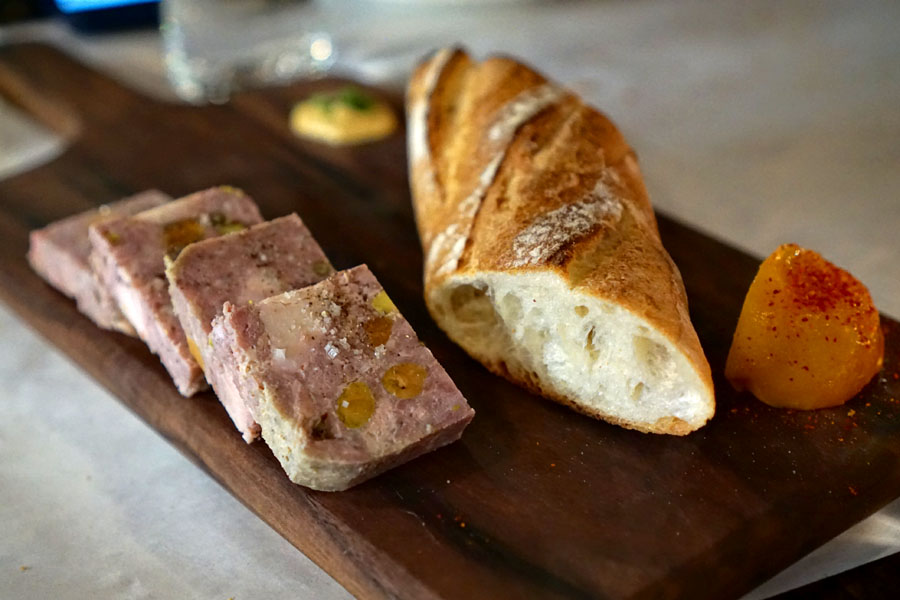 pâté de lapin à la pistache [$13.00]
| rabbit and pork belly paté, pickled peach, pistachio
Pâté ate rustic and palpably porky, and had a peppery spice that really did a great job accenting the forcemeat. At the same time, I loved the delightfully piquant mustard on the side, and didn't mind that sugary cut of peach, either.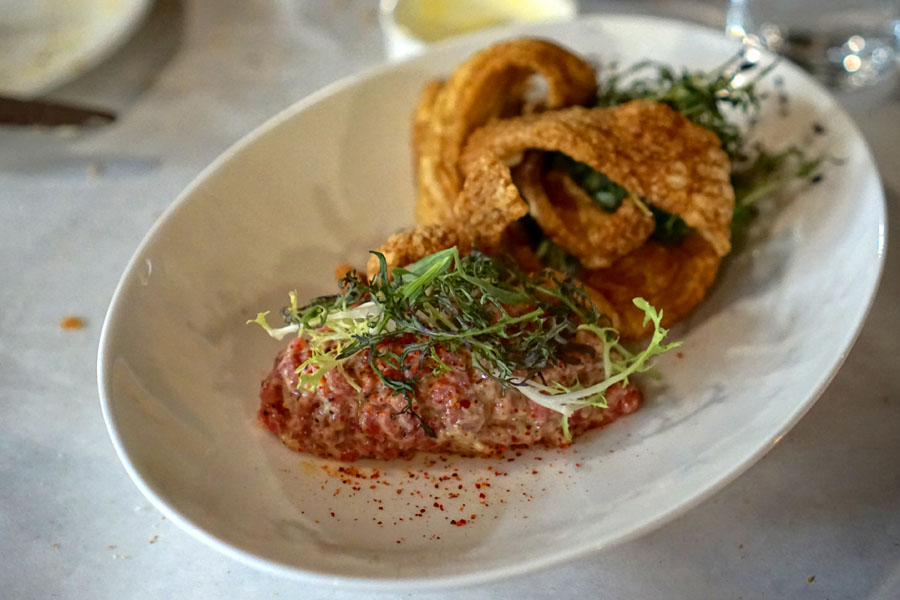 tartare de bœuf [$16.00]
| beef tartare, chicharrones, herb-mustard salad
The Chef's tartar was spot on, the beef coming out superbly textured and beautifully spiced; it matched swimmingly will all the herbs as well. Chicharrones were salty and smoky and savory and worked well for textural contrast. Unfortunately, a couple of the pieces were super hard, so hard in fact that some of my dining companions were concerned about tooth damage.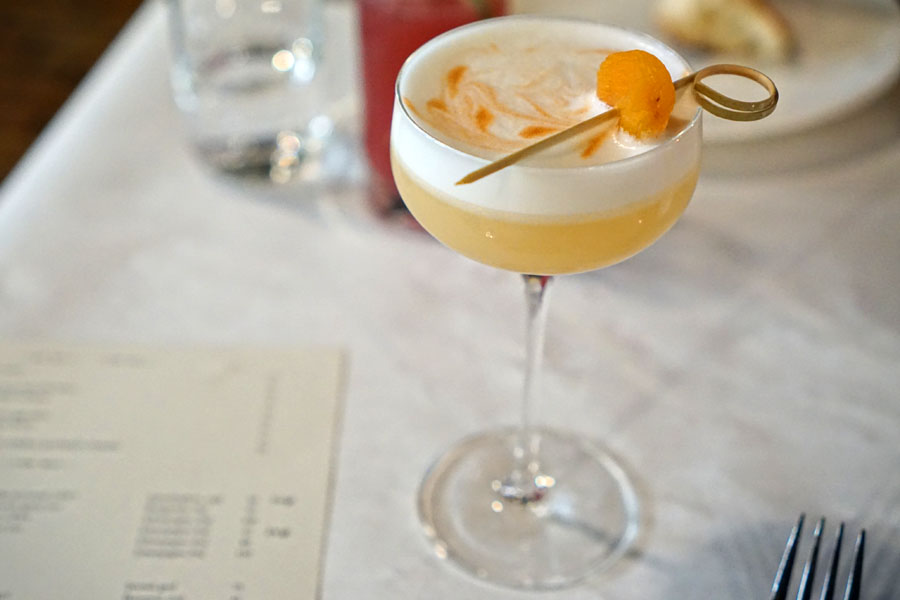 Sour [$14.00]
| tequila reposado, lime, cinnamon, apricot eau de vie, egg white
Our final cocktail certainly showcased the apricot, meshing the sweet stone fruit with creamy egg white and wisps of cinnamon, while the booze gave the drink a base of astringency.
langue de bœuf [$12.00]
| beef tongue, celery ravigote, croutons
Nuggets of beef tongue were soft and dense, their dark, savory flavors heightened by a very noticeable sweetness. The celery, meanwhile, worked as an effective contrast due to its refreshing crunch and brightness. The croutons, too, functioned as a moderating element.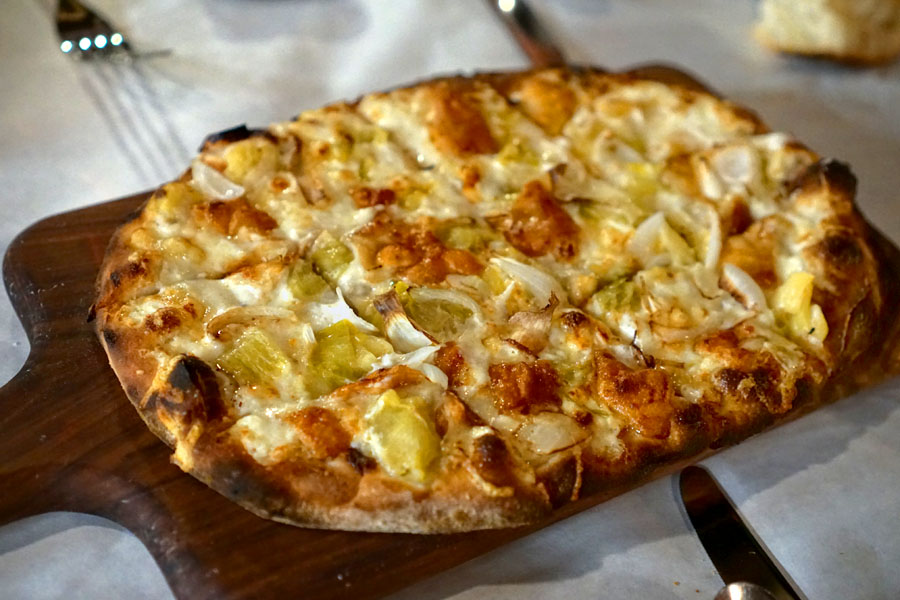 tarte flambée [$15.00]
| leek tart, swiss cheese, green onions, grilled scamorza
Flammkuchen
has been on the menu at Church & State since pretty much day one, so it was nice to see Feau's take on it. His version had a more substantial crust, which came out crisp and well-charred. The sweet-savory nature of the leeks was really highlighted, as was the heft of the two types of cheese.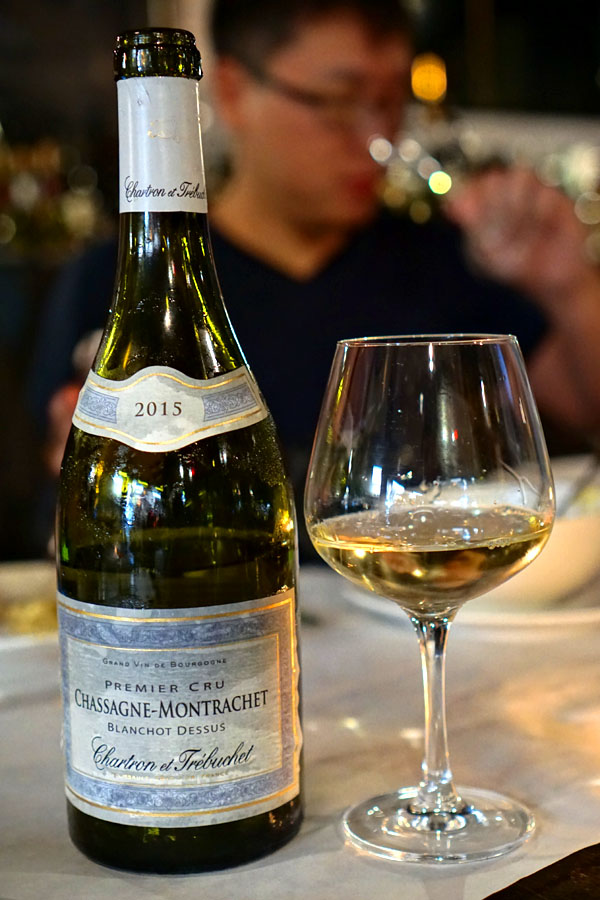 After cocktails, we moved into wine, starting with the
2015 Chartron et Trébuchet Chassagne-Montrachet 1er Cru Blanchots Dessus
. Fruity, floral nose with a grassiness and minerality. The palate, meanwhile, was on the softer, rounder side, showing notes of fresh citrus, lemongrass, oak, and buttered toast--classic and subtle. We made sure to pour a glass for Chef Feau, but it turns out that we were completely outclassed by the DRC Montrachet given to him by former boss
Joachim Splichal
, who was in the dining room tonight (with his son I believe).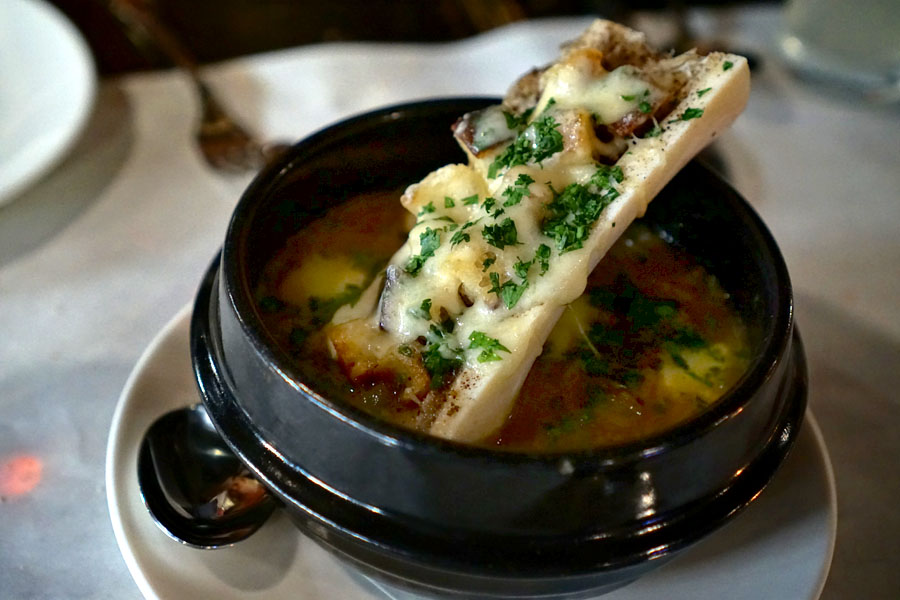 soupe à l'oignon [$12.00]
| french onion soup, bone marrow, raclette, chopped parsley
Served in what appeared to be a Korean
ttukbaegi
, next up was an excellent rendition of French onion soup, one of the best I've had no doubt. The star of the show was the onion, naturally, and I appreciated how balanced it was in terms of sweet 'n' savory. The sheer cheesiness of the dish was also crucial, making for an utterly rich, homey, gratifying course. Great crunch here from the croutons, too.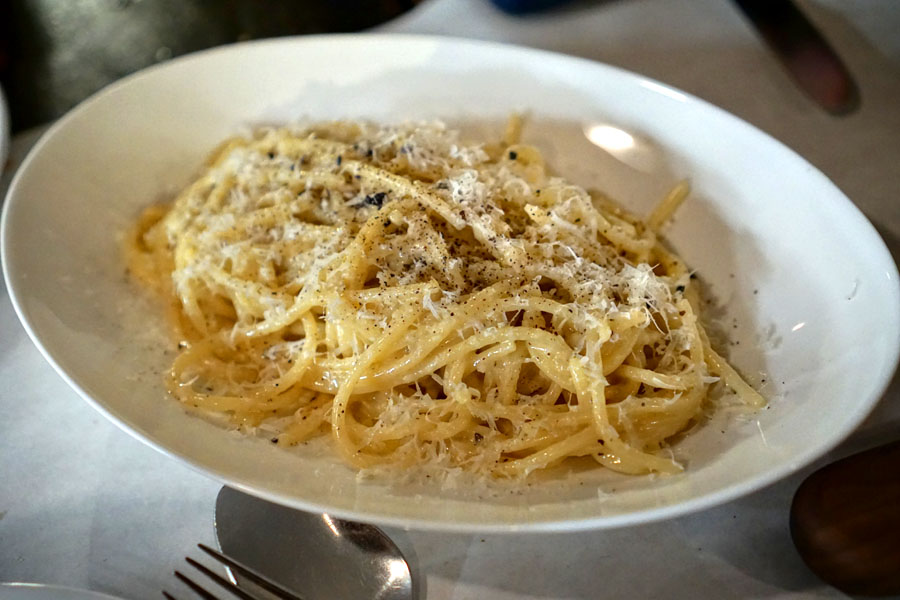 spaghetti cacio e pepe [$21.00]
| garlic, black pepper, pecorino romano, grana padano
The Chef's version of cacio e pepe was a crowd-pleaser as well, with the dish's base of properly al dente pasta serving beautifully as a stage for an explosion of cheesy, peppery, salty, and almost briny flavors.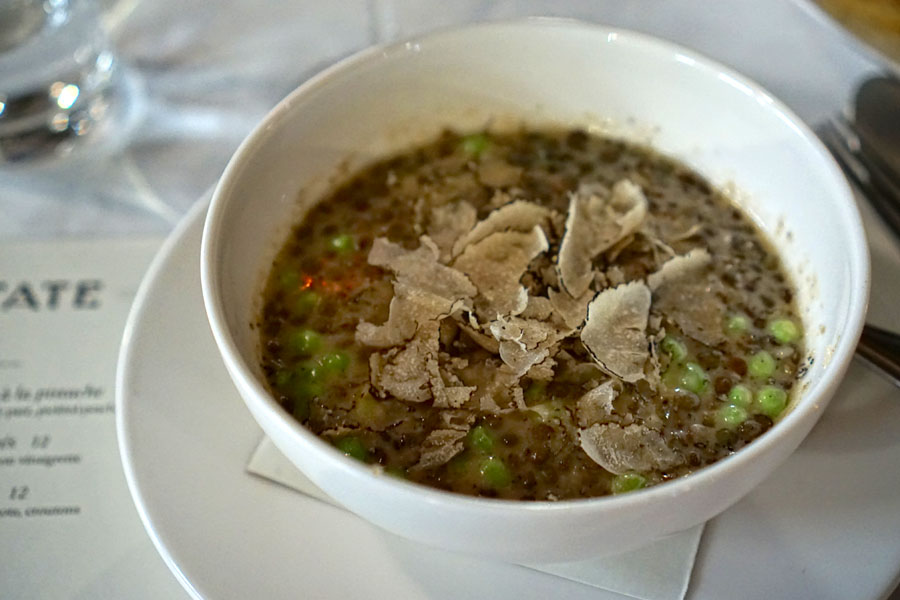 ragoût de lentilles [$18.00]
| du puy lentils, english peas, shaved summer truffle
I've tasted Feau's stew of Le Puy lentils
on
many
an
occasion
, and I consider it almost a signature of his. As always, I loved how savory and nutty and earthy the lentils were, and how they meshed with the brightness and pop of those peas, all while the truffle imparted an enveloping musk to the dish. This is something that I could just eat a whole big bowl of, and was likely my favorite item of the night.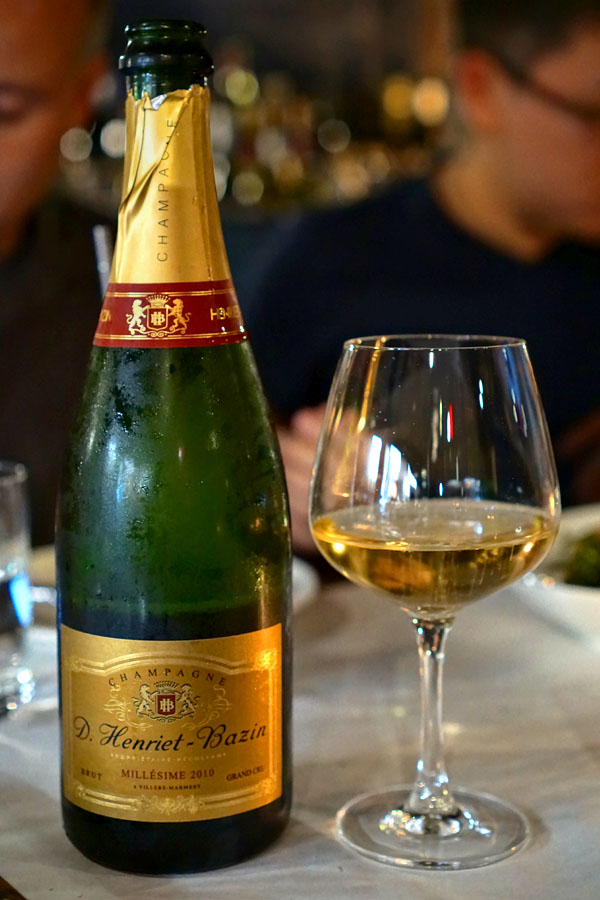 We ordered a bottle from the restaurant's list to try to get corkage waived (success!), and settled on the
Pinot Noir Blend, d. henriet-bazin, brut grand cru | 2010 champagne, fra [$88]
. It ended up being a lovely pick. I was pretty smitten with the wine's intense, heady nose filled with apple-y fruit, funk, and toast. The palate, meanwhile, was bright and brioche-y, conveying plenty of acidity along with a sprinkling of nuts and a great mineral backing. A really nice showing overall.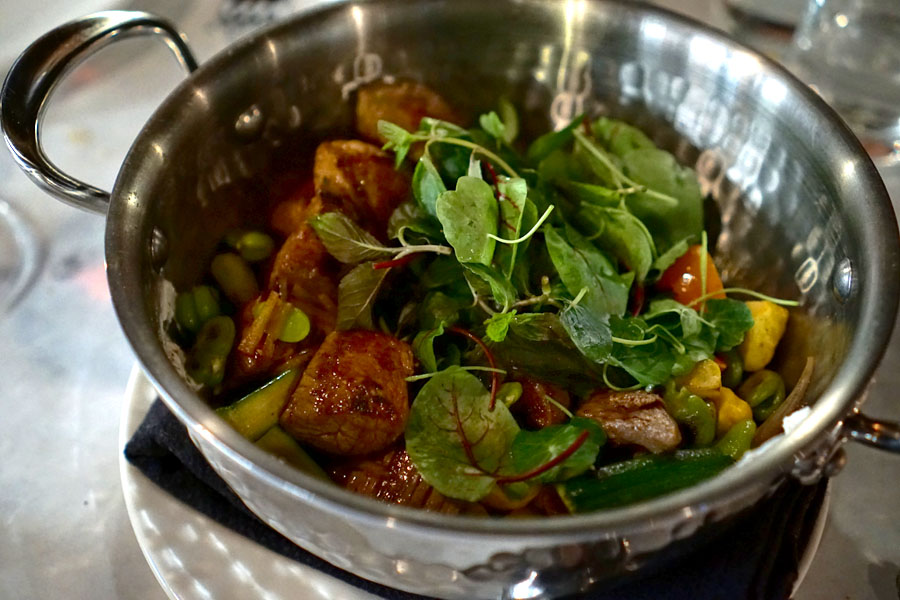 agneau en casserole [$38.00]
| stewed lamb, merguez, goat's milk ricotta, fava beans, summer squash, mint
At this point we got into our main courses. Up first was this rather refined, aromatic, subtle-tasting dish of lamb, one taken up a notch by the more aggressive seasoning and spice on the sausage. The greenery did an admirable job lightening things up, though I would've liked to have tasted more from the ricotta.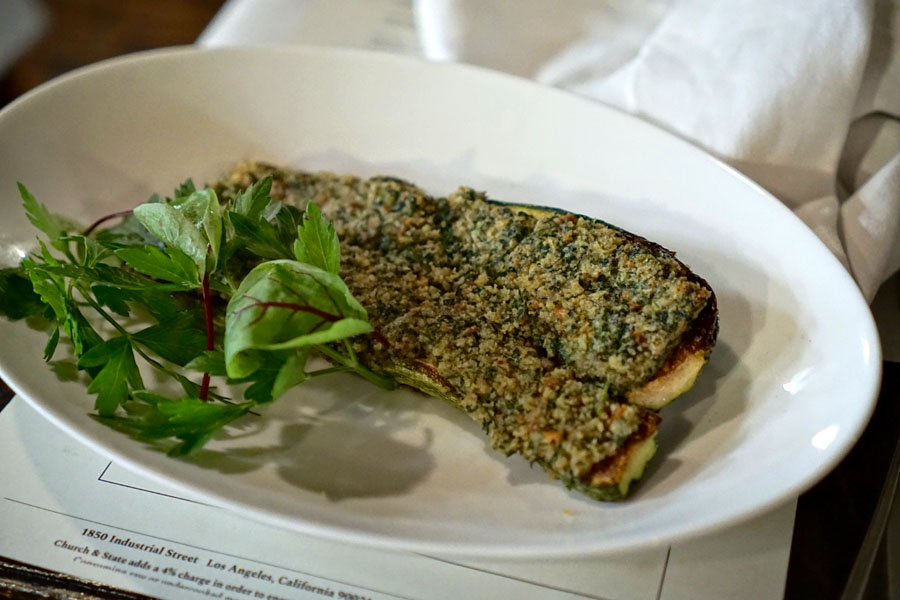 courgette provençale [$9.00]
| baked romano squash, sardine garlic butter, lemon juice, brioche crumbs
The zucchini was provided on the house, and was meant to go along with the steak below. I found it firm, substantial, with plenty of smoky, salty, briny flavors, though it could've used more acidity.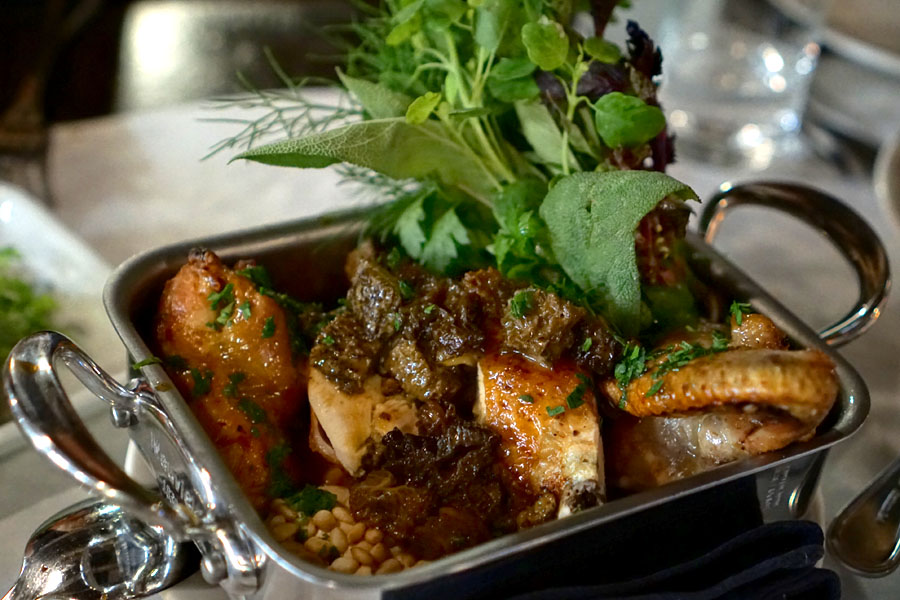 ballotine de poulet rôti [$38.00]
| boneless roast chicken, pine nut purée, morel mushrooms
The chicken was delicious, coming out beautifully seasoned and juicy, the morels adding a rich, woodsy quality to the dish that definitely heightened the bird.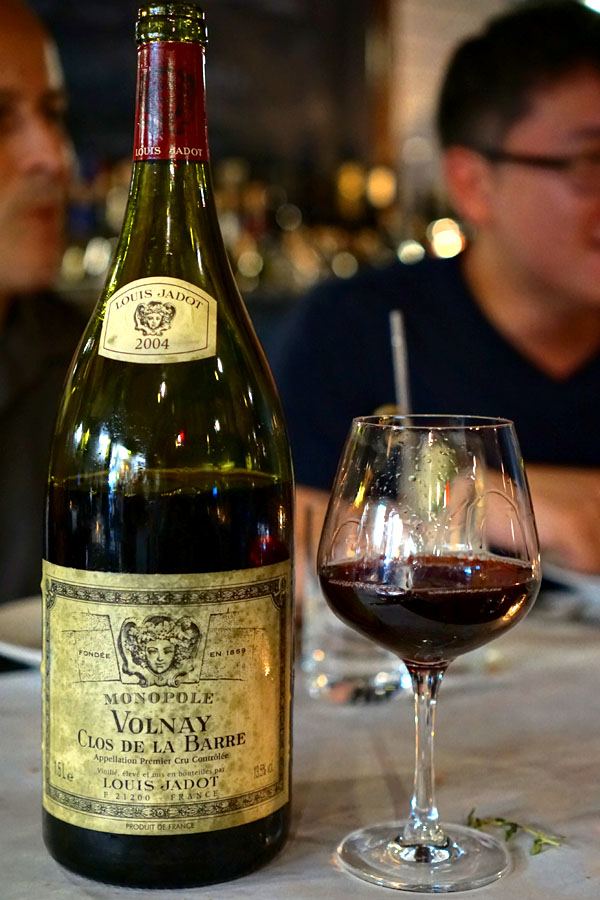 Our final beverage was the
2004 Louis Jadot Volnay 1er Cru Clos de la Barre
,
en magnum
. Appealing nose brimming with strawberries, along with flowers, stone, and some "green" qualities. On the palate, I found the wine tannic, with a noticeable heat, subdued fruit, and notes of herb, earth, and grass.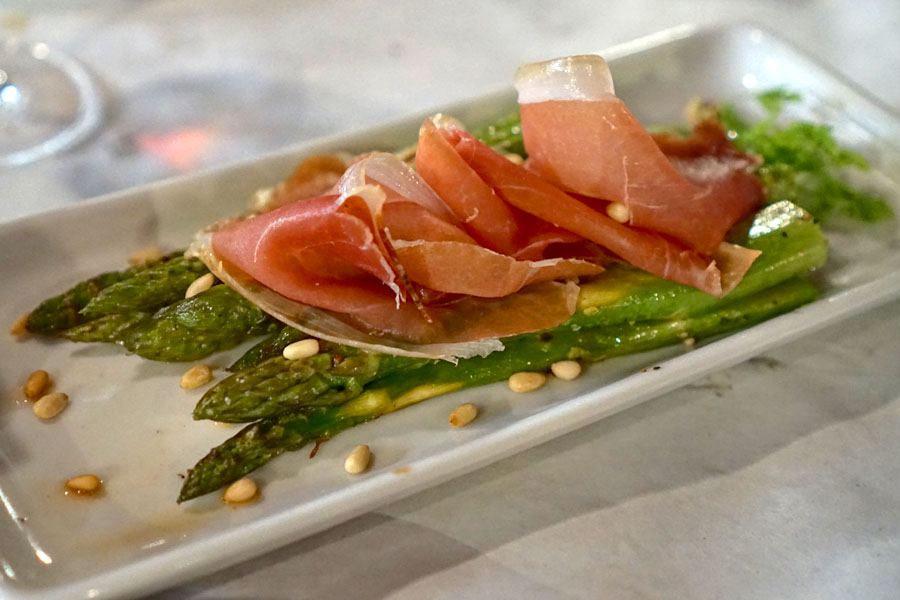 asperges [$9.00]
| grilled asparagus, jamón serrano, pine nuts
Juicy stalks of asparagus were about what you'd expect, their bitterness going along well with the saltiness of that ham.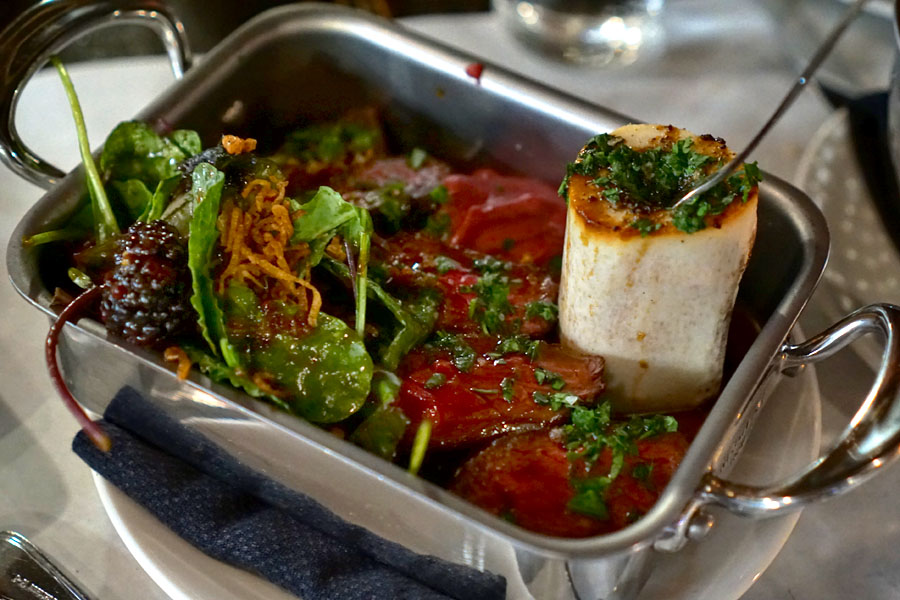 onglet à l'échalotte [$38.00]
| hanger steak, bone marrow, shallots, baby kale, blackberries
Cooked medium per the kitchen's recommendation, our hanger steak was pretty classic, a reasonably tender, flavorful cut that took well to the advertised shallots. I appreciated the kale as a counterweight here, though the marrow didn't make itself known as much as I thought it would.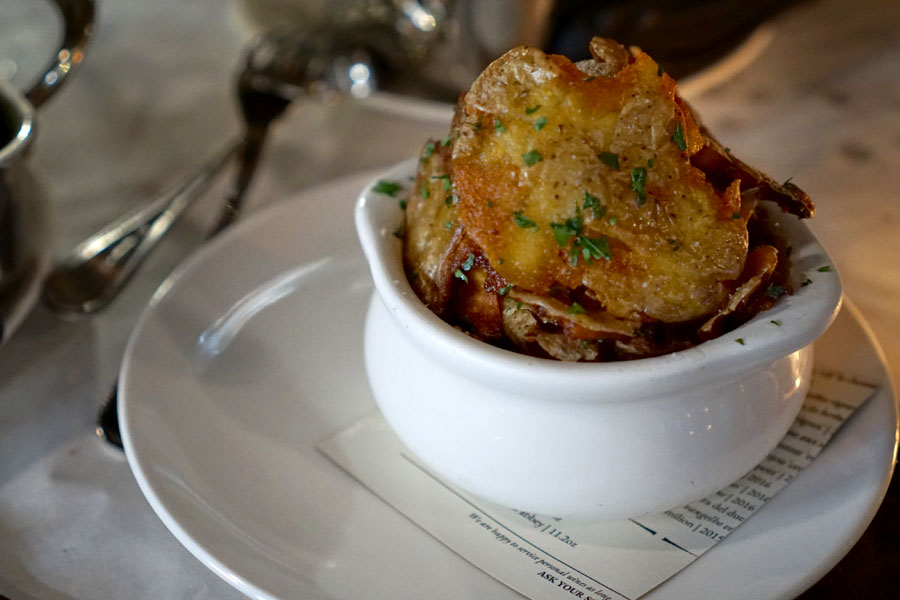 pommes rattes [$9.00]
| smashed double-fried potatoes
Now this was certainly the most intriguing of our sides. One of my dining companions described it as being "like if a chocolate chip cookie and a French fry had sex." I'd tend to agree with that assessment, since this really did have a Chips Ahoy-esque sweetness to it along with the expected savoriness of potato.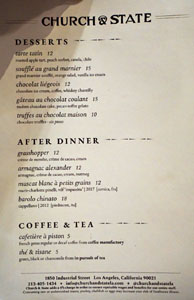 Dessert duties are handled by Pastry Chef Stephan Carriere, who worked with Feau at Wally's (and also spent time at
Le Petit Paris
). Click for a larger version.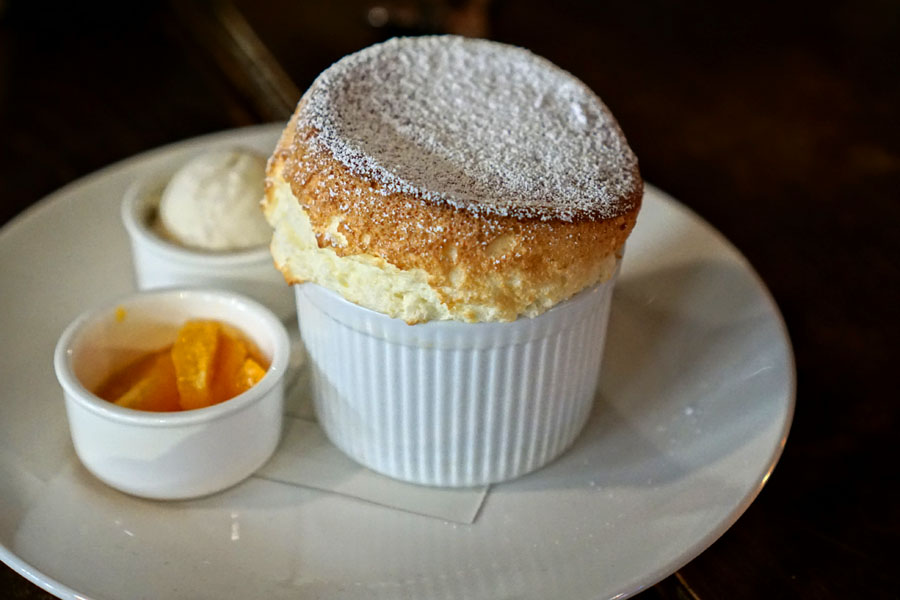 soufflé au grand marnier [$15.00]
| grand marnier soufflé, orange salad, vanilla ice cream
The soufflé was pretty much textbook, arriving supple and fluffy with flavors that blended egginess with a very obvious citrus-y tinge.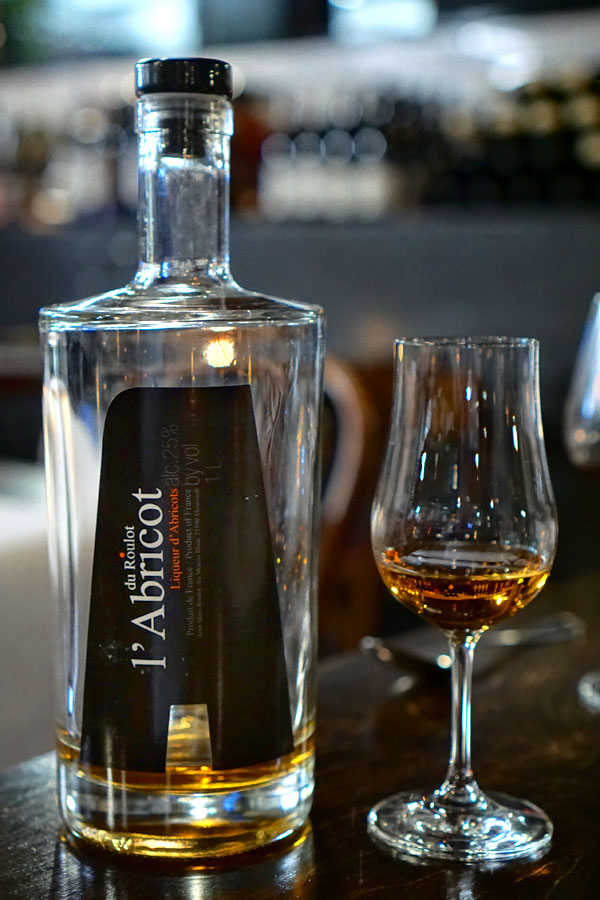 Ohler then poured us some
Domaine Roulot l'Abricot du Roulot
, a relatively rare bottling from the well-known Meursault producer. The liqueur smelled great, blending intoxicating notes of candied apricot with a boozy backing. On the palate, I got rich, round, thick flavors of stone fruit all over the place, accented by a medicinal, bitter edge that added a welcomed complexity.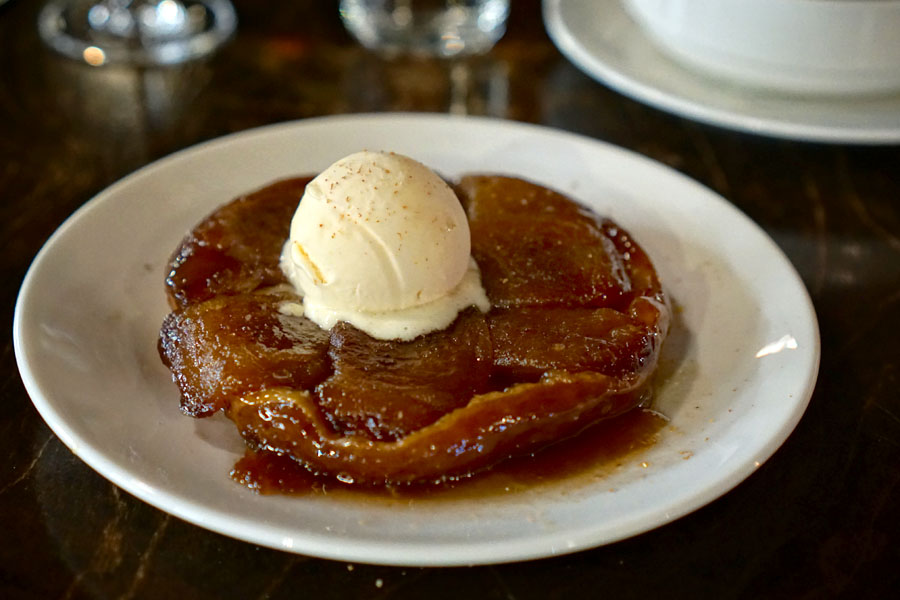 tarte tatin [$12.00]
| roasted apple tart, peach sorbet, canela, chile
Here, the otherwise classic, cozy flavors of an apple tart were enhanced by the warming spice of cinnamon and chili.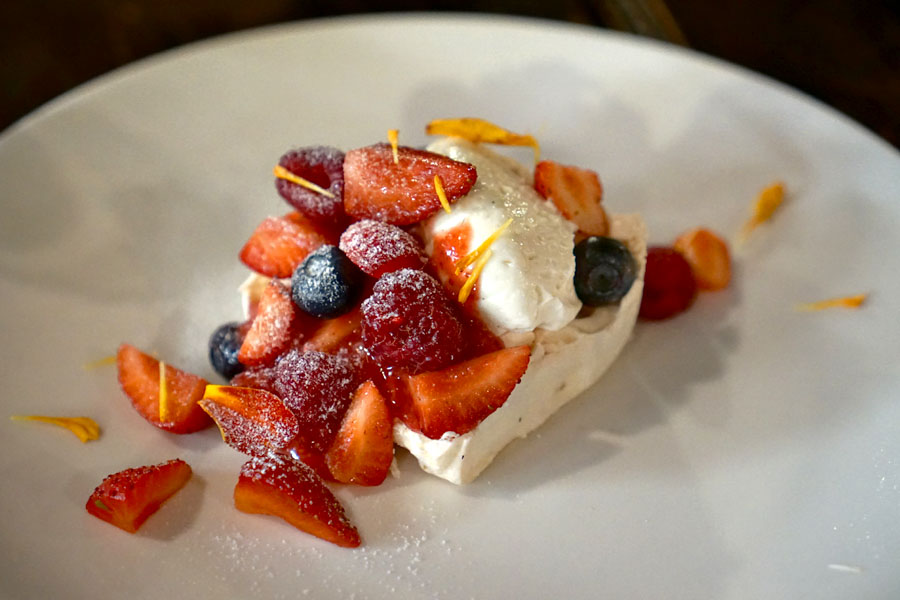 Market Berries Pavlova [$12.00]
The kitchen then sent out the evening's dessert special, which featured a spot on meringue topped with tart berries and tempering whipped cream.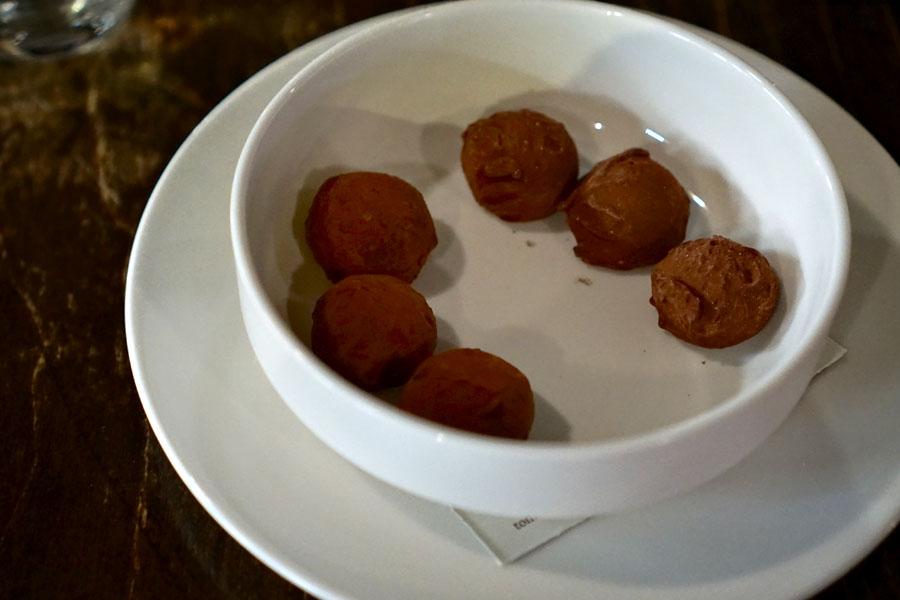 truffes au chocolat maison [$10.00/6 pc]
| chocolate truffles
Along with the pavlova came these utterly dense, rich truffles, which were chocolate-y for sure, but also had this sort of piquancy to them.
I was saddened to hear about Féau leaving Wally's, and I was similarly bummed to hear about the closure of Church & State. However, with Féau in command here now, it looks like we have a happy ending after all. Church & State has been a longtime favorite in the Arts District, and fortunately, the new team has kept intact most of what made the place great to begin with. However, they've also freshened up the menu a bit, making it a bit more "LA" so to speak, but while keeping its French roots. Hopefully this updated approach will resonate with diners. That being said, I still yearn for the type of cooking the Chef was doing back in the
Royce
days, and it looks like I may be in luck. Apparently, new ownership has plans to place a special round table (6-8 seats) up in the front of the dining room, next to the kitchen. This'll be used for special dinners where Féau can serve more "gastronomic" cuisine; I'll be looking forward to it.