Nihonryori Ryugin (Tokyo, Japan)
Nihonryori Ryugin
Midtown Hibiya 7F, 1-1-2 Yurakucho, Chiyoda-ku, Tokyo 100-0006
03.6630.0007
www.nihonryori-ryugin.com
Thu 10/31/2019, 08:00p-11:25p
RyuGin was the setting for the final dinner of my visit to Japan. It's a restaurant that I really felt I needed to try, as I'd been curious about the place for
at least
a decade now. I think I first found out about it in the late 2000s after a friend dined there and was raving about his meal. The creation of Chef/Owner Seiji Yamamoto, RyuGin is named after part of a short Japanese poem describing a singing dragon, while the cooking here has been described as
kaiseki-ryori
imbued with influences from modernist cuisine.
About the Chef
: Yamamoto Seiji was born in 1970 in Takamatsu, Kagawa Prefecture. At age 11, he learned to make a simple dish of rice with stewed beef and simmered veggies at elementary school. He then saved his money, went to the market to purchase ingredients, and recreated the dish for his mother; she was impressed, and this drove him to regularly help her with the cooking. However, this also meant that he didn't have much time to play, which irked him, but he soon realized that it was all worth it to see how happy it made his mom. By the age of 15, he knew that he wanted to become a chef. Yamamoto attended culinary school on Shikoku, and following graduation, secured an apprenticeship at Hirohisa Koyama's longstanding Aoyagi restaurant in Tokushima.
He spent 11 years there learning all about traditional Japanese cuisine, and was even able to work his way up to the position of head chef (note: he was there the same time as
Hiroyuki Kanda
). However, Yamamoto struck out on his own in 2003, and on December 23rd (the birthday of Emperor Akihito), at age 33, opened Nihonryori RyuGin, an 18-seater spot in Tokyo's Roppongi district. The place wasn't particularly busy at first, and the Chef even resorted to making late night curry in order to attract salarymen. In November 2004, he presented at the Gastronomika conference in San Sebastián, and got inspired by all the molecular cooking he saw (remember, this was the heyday of elBulli), which soon informed his own cuisine. The restaurant thus became known for its "technology-driven" fare, and in 2007, was awarded two stars in Michelin's inaugural Tokyo guide. Business picked up, and the Chef stopped making curry.
In 2010, RyuGin made its first appearance (at #48) in the "World's 50 Best Restaurants" list before peaking at #20 the following year (its ranking has fallen in recent years, and was #62 in the latest 2019 list). November 2011 saw the restaurant upgraded to three Michelin stars, a rating its retained from the 2012 edition to the latest 2020 release. In June 2012, Yamamoto opened Tonku RyuGin on the 101st floor of Hong Kong's International Commerce Centre (the tallest building in the region); the place received two stars in the latest 2019 Michelin Hong Kong guide. This was followed up by Shoun RyuGin in Taipei in September 2014, which landed two stars in the maiden 2018 Michelin Taipei directory (the rating was retained for 2019).
In December 2015, the French Foreign Ministry's La Liste ranked RyuGin as #14 in the world, and the restaurant rose all the way to the #1 spot in the 2020 guide (in a four-way tie). Meanwhile, Gault Millau launched in Tokyo in December 2016, and rated RyuGin highly at 19/20 (a rating it still has). Yamamoto then made a big move in 2018, when he relocated his restaurant to the Tokyo Midtown Hibiya building; the new spot opened on August 21st. In February 2019, he was awarded the "American Express Icon Award - Asia" from the folks behind the "50 Best" list, and in June, he, along with
Yoshihiro Narisawa
, cooked dinner for attendees of the G20 Osaka summit.
Note: I had to use my phone for the photos contained in this post, as apparently RyuGin doesn't permit standalone cameras. Evidently the reason for this is that they've experienced issues in the past with guests dropping their cameras on (and thus breaking) the tableware (some of which are antique pieces hundreds of years old).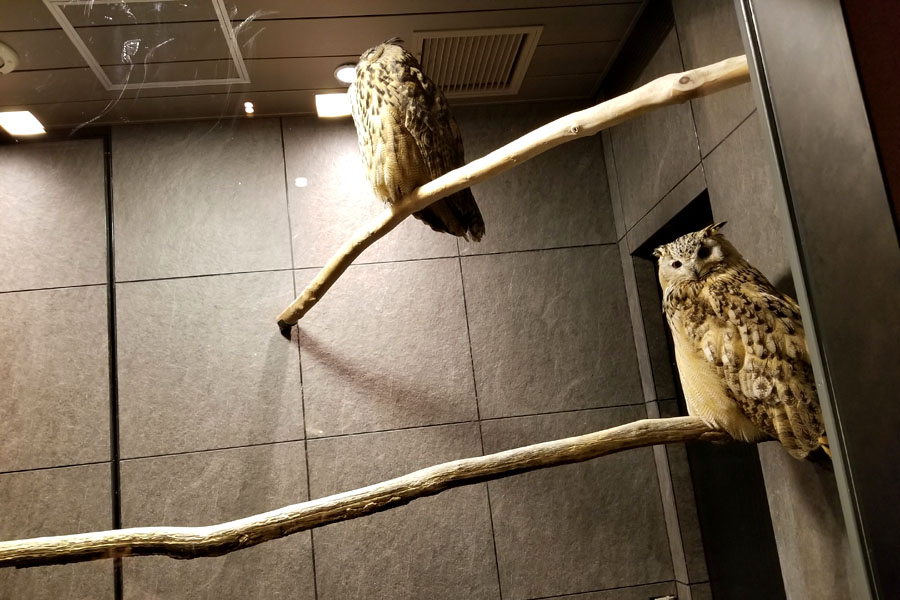 RyuGin keeps owls in an enclosure in the waiting room, which has to be one of the crazier things I've seen at a restaurant. Actually, at first I thought that the birds were stuffed, but then one turned to me, eerily.

Above we see the main dining area, which isn't particularly large. There are also a couple private dining rooms available, and total capacity is 40.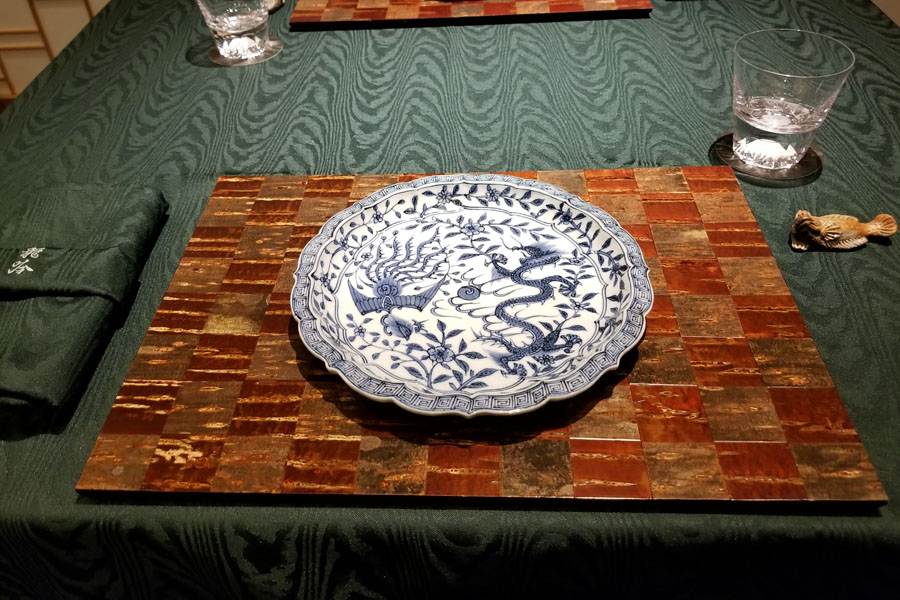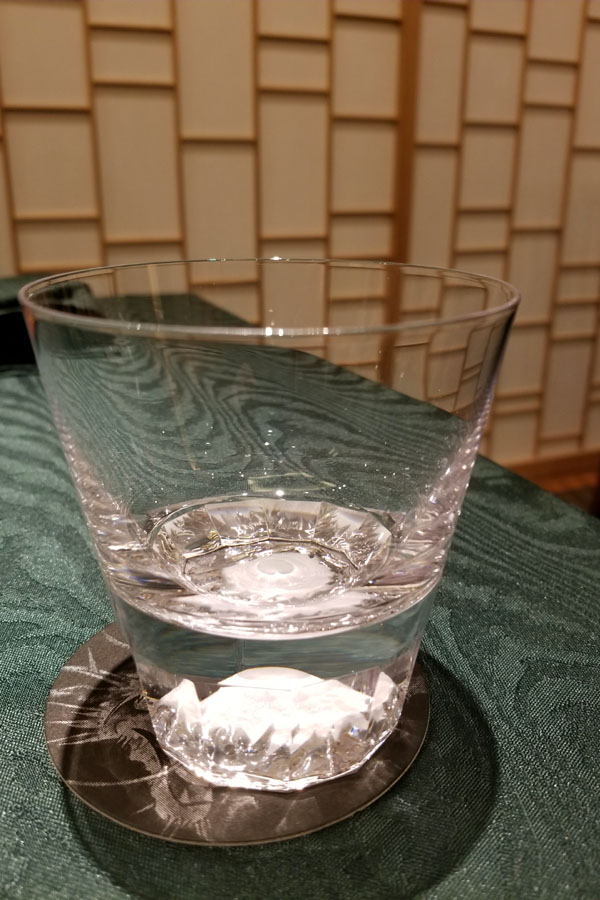 The restaurant's table setting showed off a sort of restrained luxury, and I was particularly taken aback by the unusual green hue of the tablecloth and napkin. Note the engraving of Mount Fuji contained in the water glass.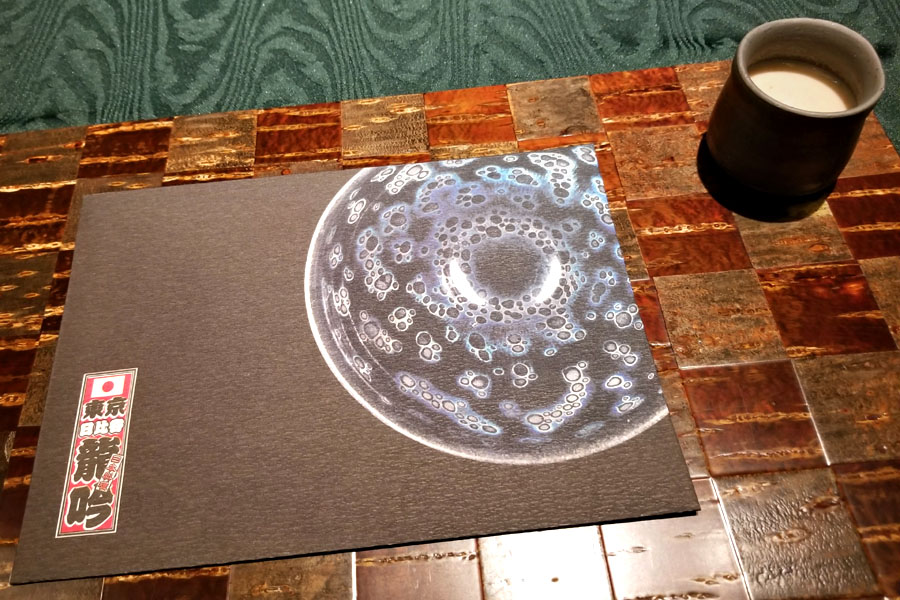 We were soon presented with an envelope containing the night's menu, along with a piping hot cup of creamy, super funky (almost briny in fact) mushroom soup.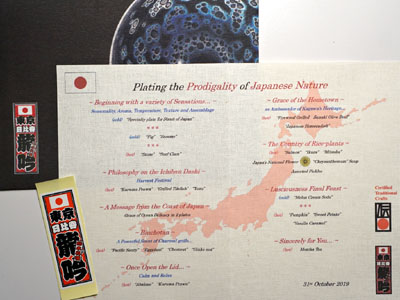 Printed on roughly-textured paper, the menu definitely had an atypical layout, and was obviously very proudly Japanese. The cost of the meal was ¥50,600 ($468.34) per person, inclusive of tax, service, and also one alcoholic beverage, strangely enough. There are also seasonal fugu and
matsuba
crab menus that are even pricier. Note also the RyuGin
sticker
I was given, an odd touch that I don't think I'd ever encountered before. Click for a larger version.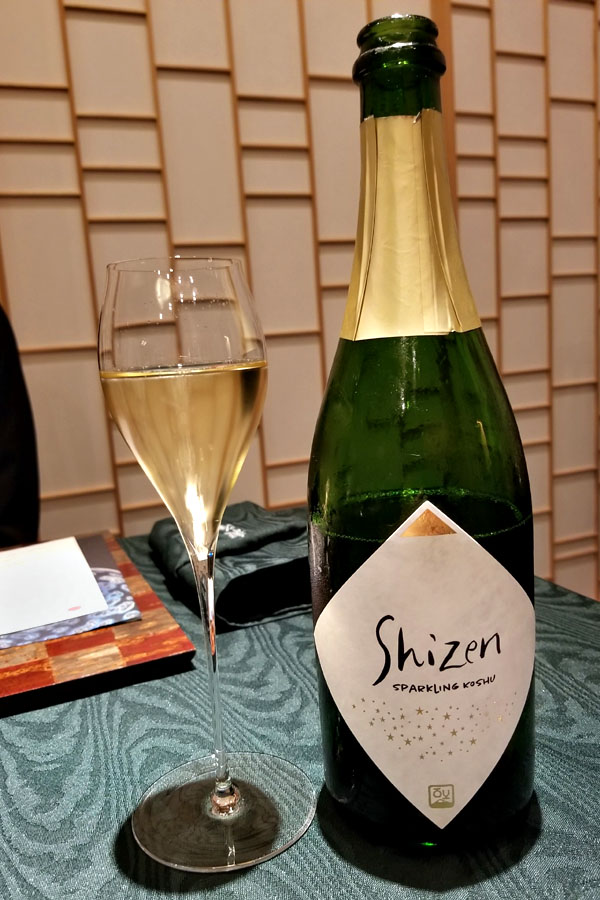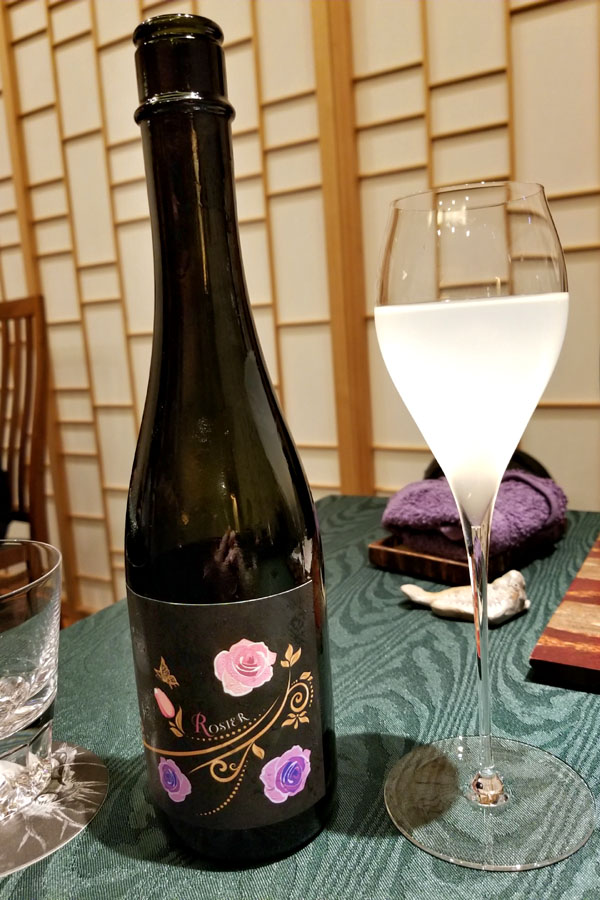 As mentioned above, the cost of the meal actually included a drink. First up was the
2015 Shizen Sparkling Koshu
, a sparkling wine from Shizuoka. It had a great nose filled with sweet-tart grape and wisps of citrus fruit, while the palate displayed juicy green apple, cut by a touch of minerality, leading to yeasty funk on the back end--very nice overall. There was also the
2018 Rosier Junmai Ginjo
from Nagano's Igaya Shuzo. The sake had loads of lemon on the nose, along with a distinct ricey sweetness, and tasting it, I got a lovely citrus element that almost recalled yuzu, along with a backbone of alcoholic heat and more rice character.
Also on the subject of alcohol, there was a wine/sake pairing offered at a hefty ¥50,000 ($462.83), which, in its defense, did include the likes of the '98 A.-F. Gros Richebourg, '99 Cheval Blanc, cult sake Juyondai, and the Super 7 below. If you prefer to go by the bottle, there are about 30 sakes available (some very, very high-end), along with a couple hundred wine selections, mostly French (Yamamoto-san apparently has some sommelier training). Corkage isn't allowed from what I've read.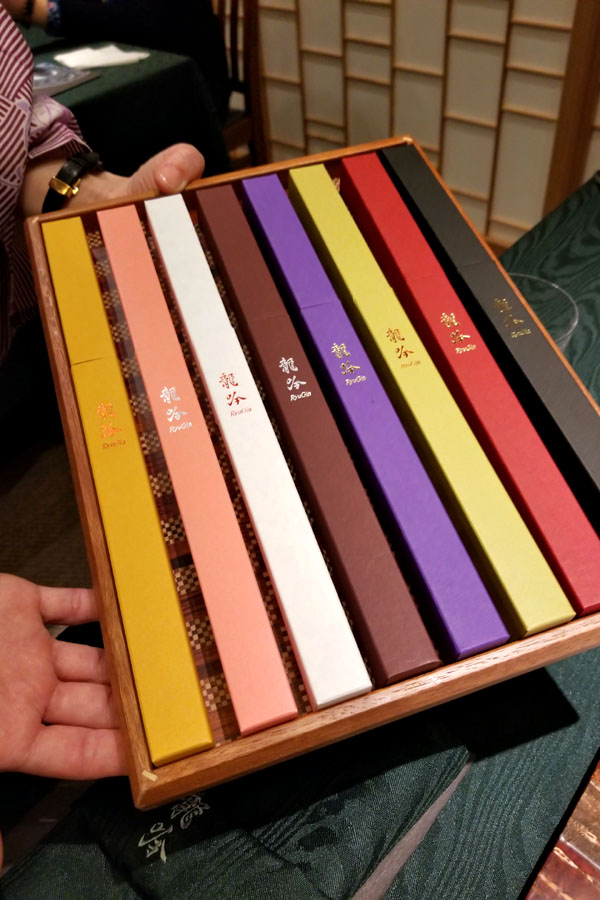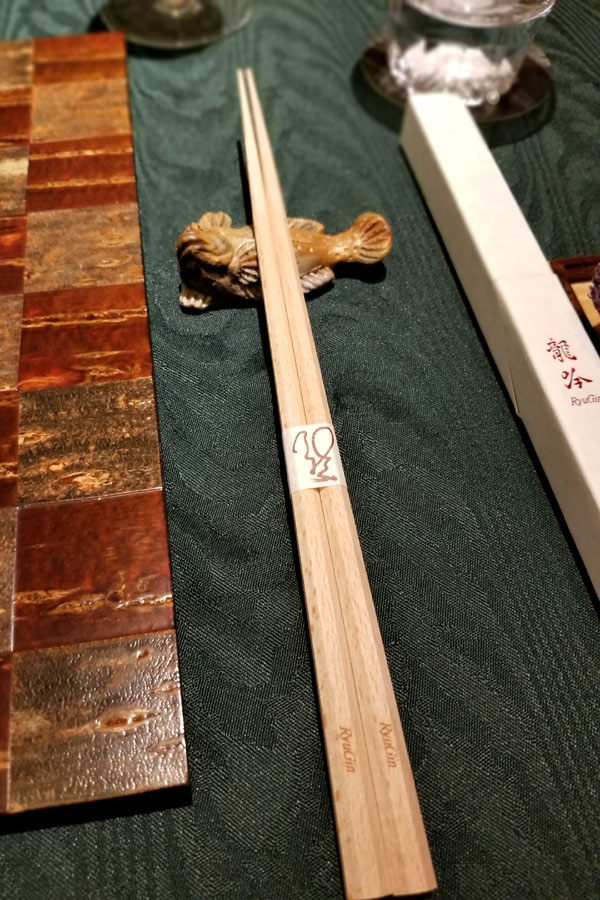 We were then presented with a choice of chopsticks, and ended up choosing white and red, which felt appropriate given that they're the colors of the Japanese flag (our server seemed very pleased by this selection). The
hashi
were certainly the nicest pair I'd encountered on the trip, and we were even encouraged to take them home (with accompanying boxes, natch) as a souvenir.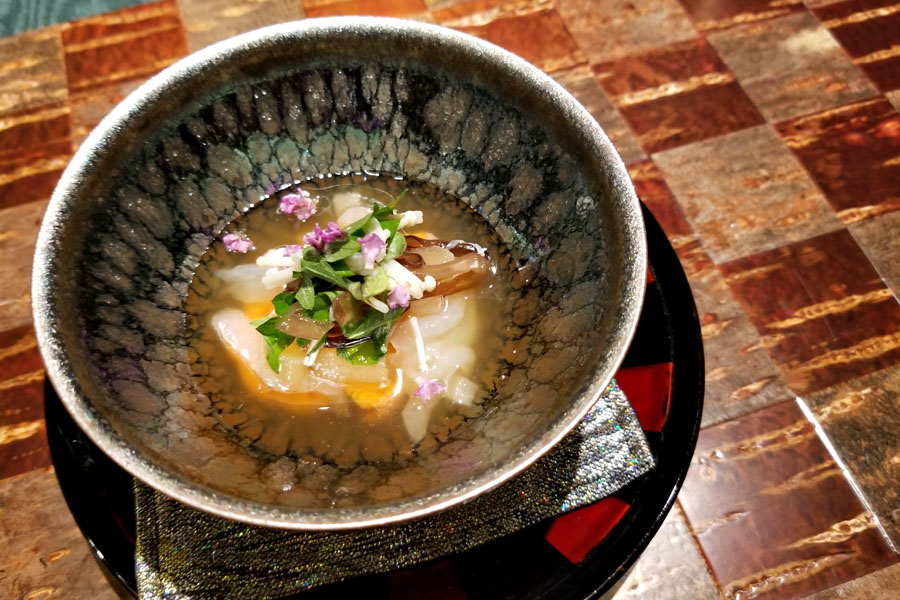 1a: Specialty plate for Straight of Japan
For our first course, creamy Toyama Bay
shiro ebi
(glass shrimp) was combined with Hokkaido sea urchin, making for a marriage of two types of saline sweetness, both contrasted by the bright, minty nature of the greenery.
1b: Fig, Sesame
Foie gras meshed absolutely beautifully with the fruitiness of Sado Island black fig, but even better was how the liver integrated with the nuttiness of sesame, while macadamia and the piquancy of
myoga
made themselves known on the close. This was one of the best bites of foie I've ever had--superb.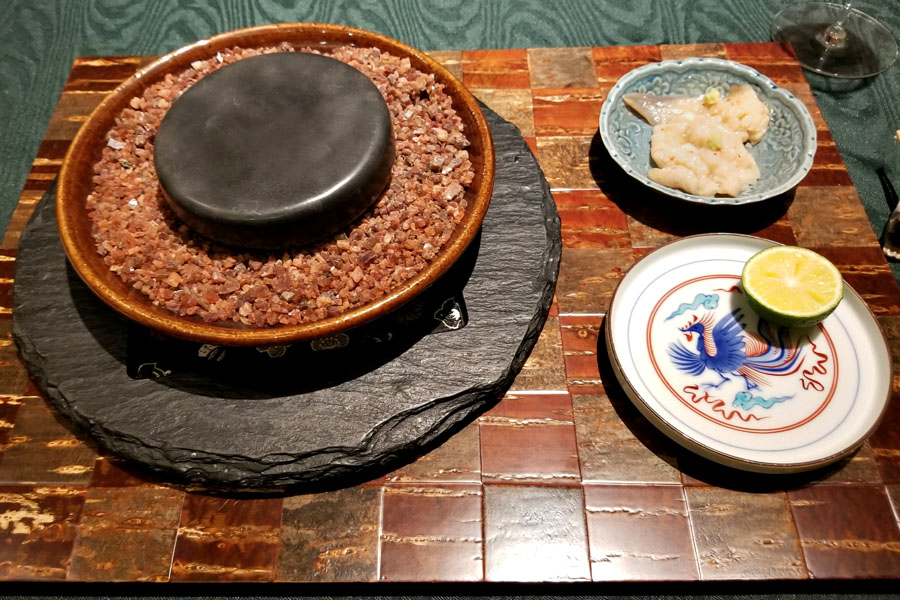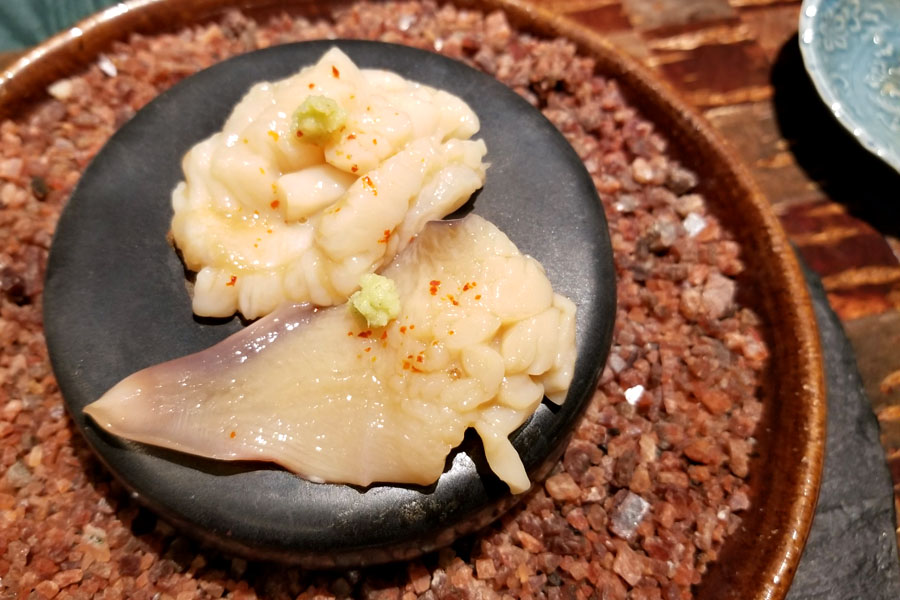 1c: Stone, Surf Clam
Dashi-marinated
hokkigai
was cooked
ishiyaki
-style (i.e. on a hot stone). The sweetness of the clams was fantastic, and I loved how sudachi and wasabi served as perfect exclamation points in the dish. Also key was the juxtaposition of textures from the two different cuts: one was chewier, while one skewed toward the suppler side.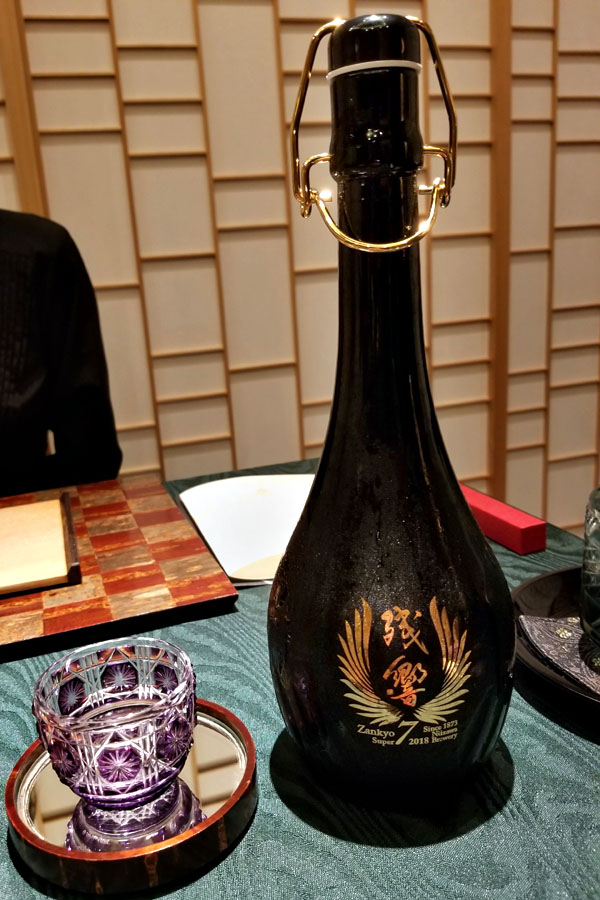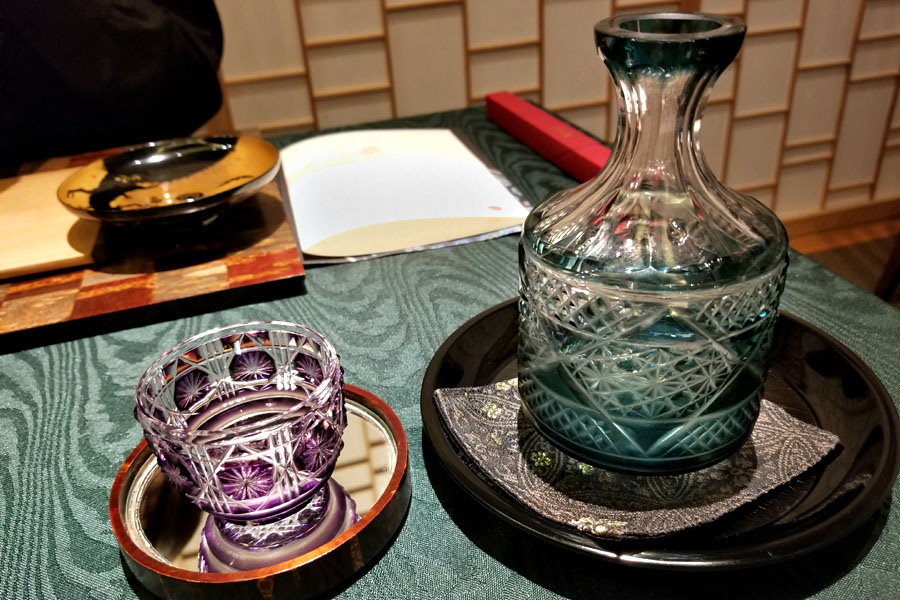 With the included drinks finished, I requested a carafe of the
2018 Zankyo Super 7 Junmai Daiginjo [¥23,000 ($212.90)]
from Miyagi's Niizawa Jozoten. It's known for its extremely low
seimaibuai
of only 7%, ostensibly achieved after polishing
Kura no Hana
rice for 350 hours so that each grain is less than a millimeter in diameter. If that wasn't enough, the sake's also aged at near-freezing temperatures for a year to develop its flavors. The result of all this was the most memorable sake I've ever tasted. It had an incredibly fragrant nose bursting with sweet, juicy berry fruit, flowers, and a hint of honey. Tasting it, I got a silky smooth palate filled with massive candied honeydew and pineapple flavors that were lush and luxuriant without being cloying or heavy. There was no alcoholic heat at all, no grain character, but just pure, unadulterated fruit--I'd never had anything like it before.
On a related note: as amazing as the Zankyo Super 7 was, the Niizawa brewery has actually made something even crazier. Called the Reikyo Absolute 0, the sake boasts a ridiculous
seimaibuai
of a mere 0.85%, achieved by milling rice for an absurd 5,297 hours, or over 220 days (the rice for a typical sake is polished less than 12 hours). The sake was produced in a limited run of only 300 bottles, and one was actually available tonight at the restaurant, priced at a staggering ¥850,000 ($7,868.04).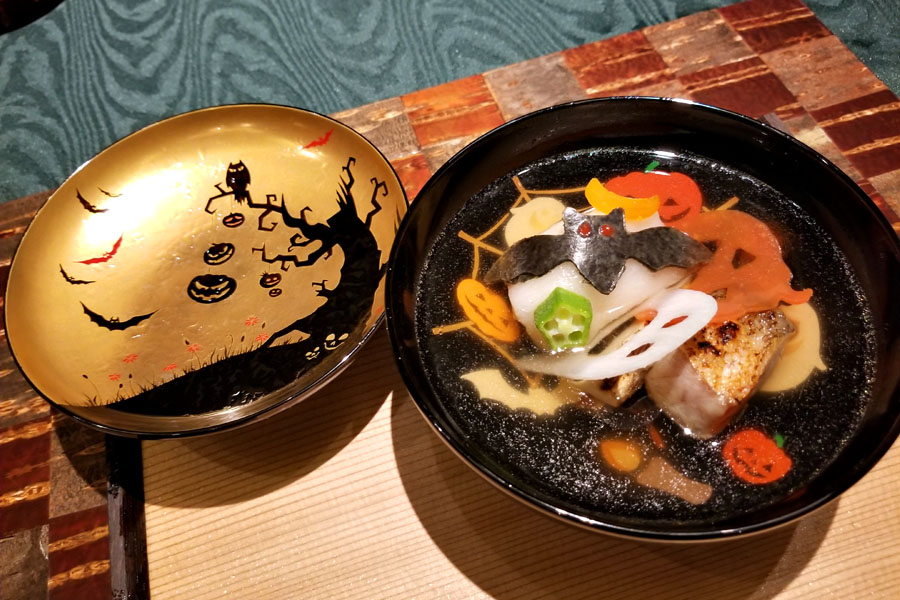 2: Kuruma Prawn, Grilled Tilefish, Yuzu
The evening's
owan
dish was a whimsical reminder that we were dining on Halloween. I loved the
amadai
here, which I found immensely savory, salty, and delicious. The crunchy veggies and clear, light broth worked effortlessly for contrast, and I also appreciated the in-your-face sweetness from the shrimp (which was accompanied by what I think was mochi).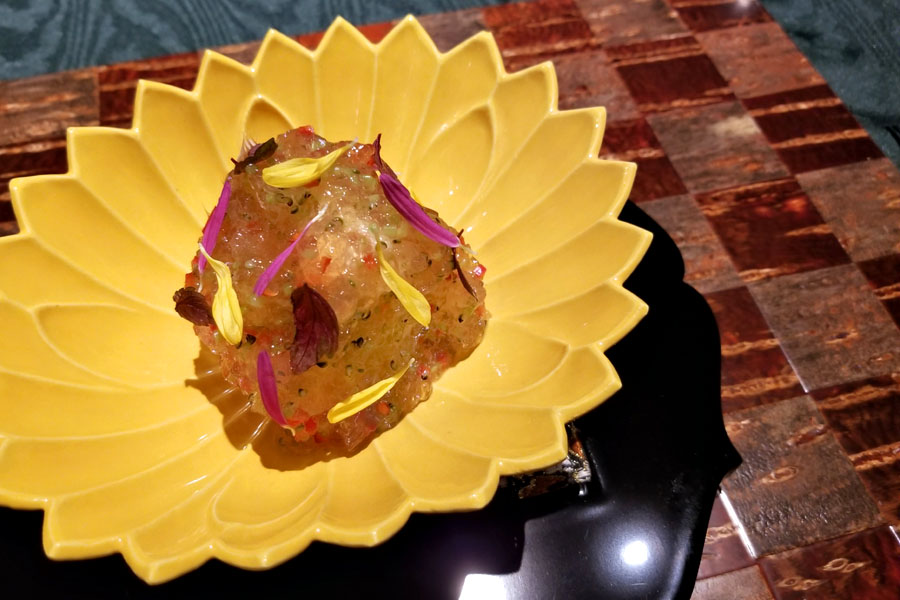 3a: Grace of Ocean Delicacy in 2 plates
The Hokkaido horsehair crab was definitely a standout. The crab ate sweet and tender and scrumptious, as you'd expect. However, the crux of the course was the
kurozu
(black vinegar) jelly that encased the crustacean. It had this wonderfully sharp, tangy, zingy taste to it that really invigorated the hairy crab, and along with the jelly came a bevy of gingery, vegetal, floral, minty, and sour pops that simultaneously lifted the dish. The whole mish-mash of flavors and sensations was something I'd never experienced before. The best
kegani
I've ever tried, no question.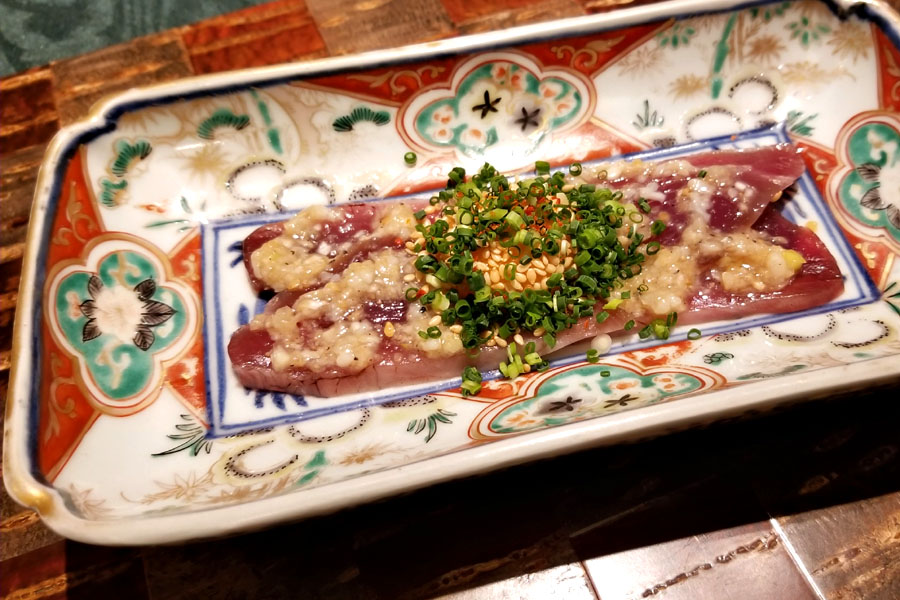 3b: Grace of Ocean Delicacy in 2 plates
Smoked
katsuo
was richly-flavored, and its potency was amped up by the application of egg and
koji
, which added a much-appreciated injection of umami. Chives imparted an offsetting zestiness to it all, and I was a big fan of the overarching flavors of sesame, too. A superlative preparation of bonito, and another favorite of mine.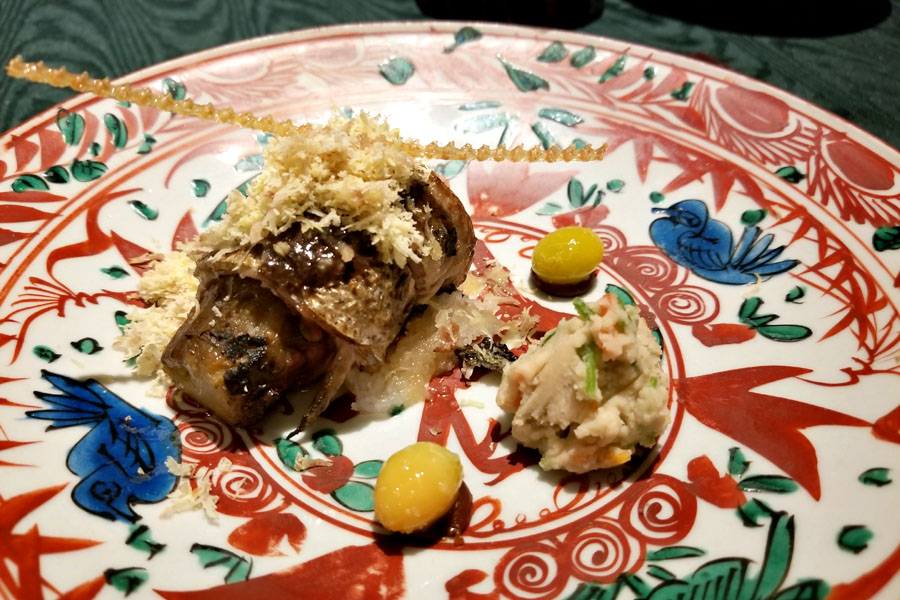 4: Pacific Saury, Eggplant, Chestnut, Ginkgo nut
It was
sanma
season, and I enjoyed a delectable presentation of the mackerel pike. A full-flavored fish augmented by the smokiness of eggplant, it was effectively set off by the hearty
okara
(soy pulp) and piquancy from the
umeboshi
. I also loved the crunch and salt provided by the
hone-senbei
(a cracker made from the fried bones of the saury), while the addition of shaved chestnut and ginkgo helped complete the dish's seasonal theme.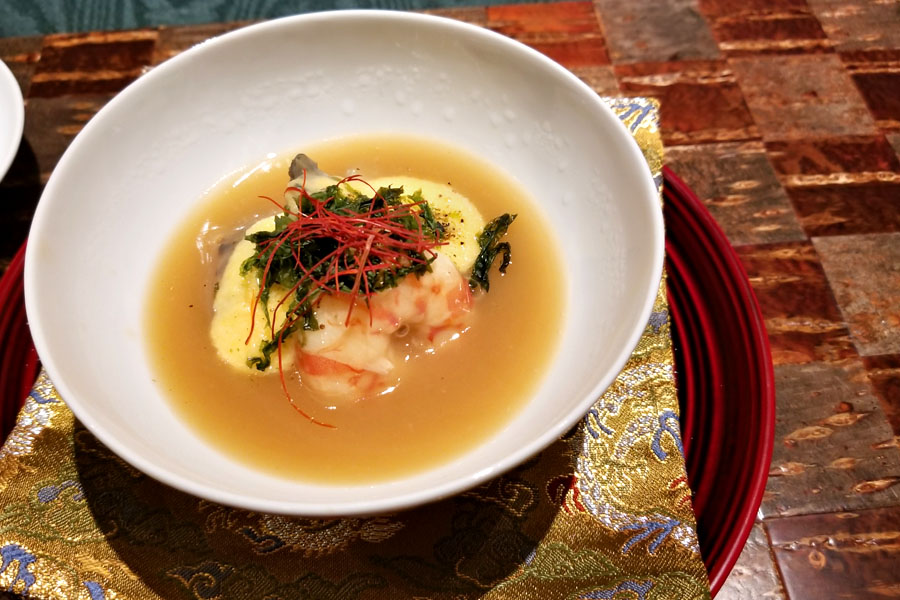 5: Abalone, Kuruma Prawn
Tiger prawn was perfectly textured, a marriage of suppleness and snap, and showed off a sweetness that worked hand-in-hand with the dish's viscous, strongly-flavored abalone potage, all while egg and
yamaimo
(?) modulated the interaction. Adding further interest to the dish were chili threads and the umami bomb that was dried seaweed.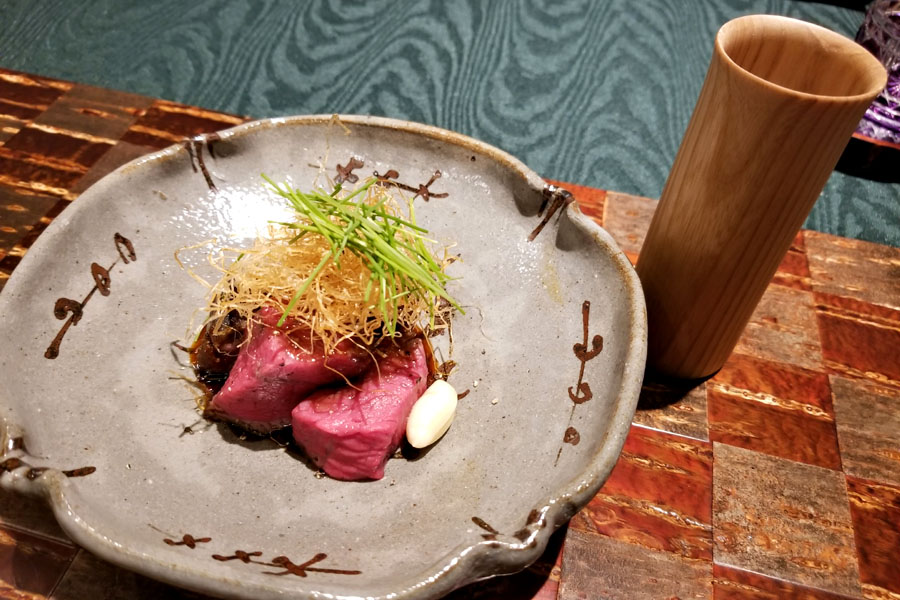 6: Firewood Grilled Sanuki Olive Beef, Japanese Horseradish
I feel like olive wagyu is having a bit of a moment now, so it was nice to see it served at RyuGin. The meat had a smooth, cushiony consistency along with a robust, peppery, almost onion-y flavor profile that actually linked up with the savoriness of those fried leeks(?) layered on top. Also bolstering the
Allium
-ness of the course was the cup of hot onion soup on the side, which functioned as sort of a palate cleanser, while Chiba peanuts offered up a crunchy complement. I will say, though, that I would've liked a harder sear on the meat.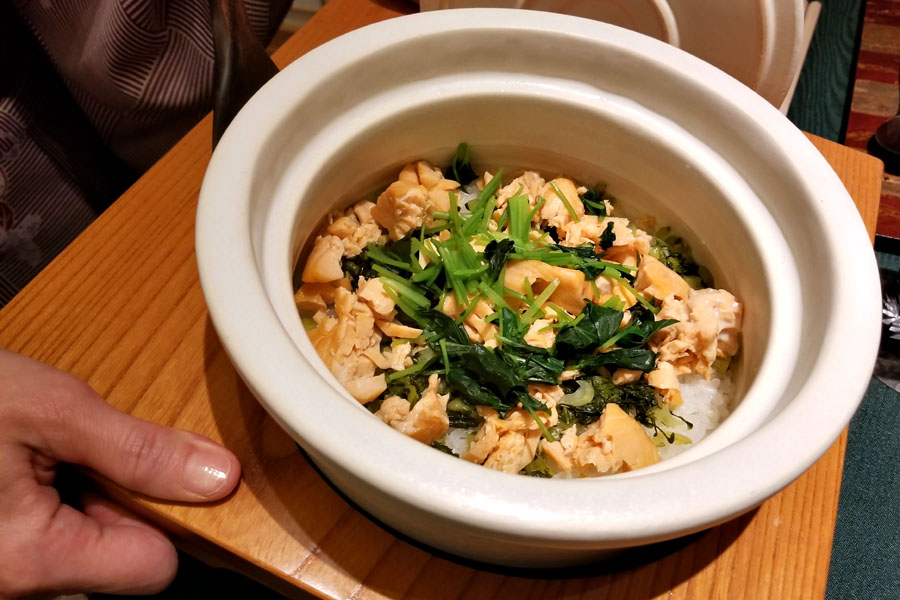 It was time for the
shokuji
portion of the dinner, and we were presented with a
donabe gohan
featuring
aki-sake
, or autumn salmon (the fish is at its peak around this time of year).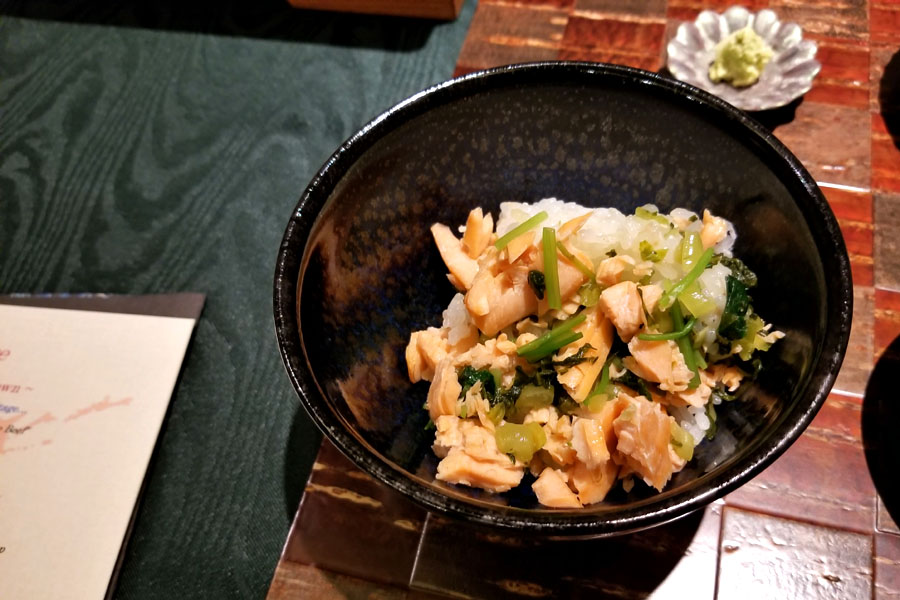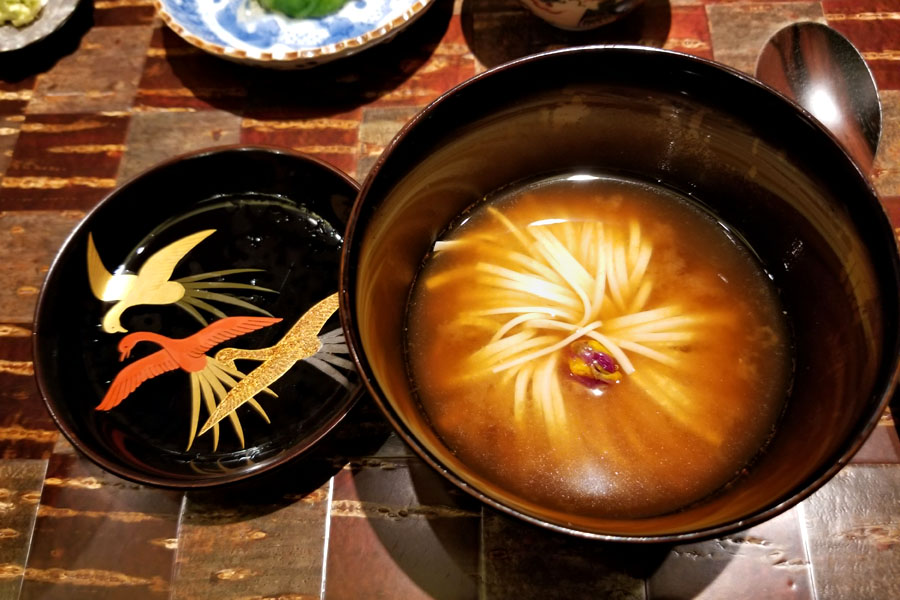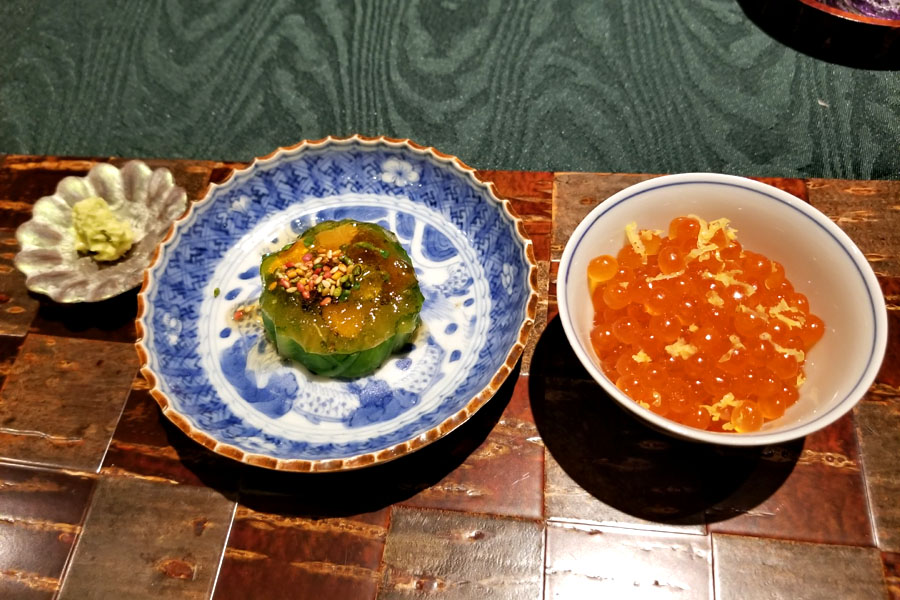 7: Salmon, Ikura, Mitsuba, Japan's National Flower Chrysanthemum Soup, Assorted Pickles
The rice managed to be the best of the trip. The salmon was rich, smoky, and quite possibly the fullest-flavored version of the fish I've tried. It worked beautifully against the bitterness of the
mitsuba
, and was even better with some of the included wasabi and salmon roe mixed in. Along with the rice came a soup heavy in the umami department, one containing impossibly delicate strands of tofu, as well as a minty, nutty cucumber pickle topped with soy jelly.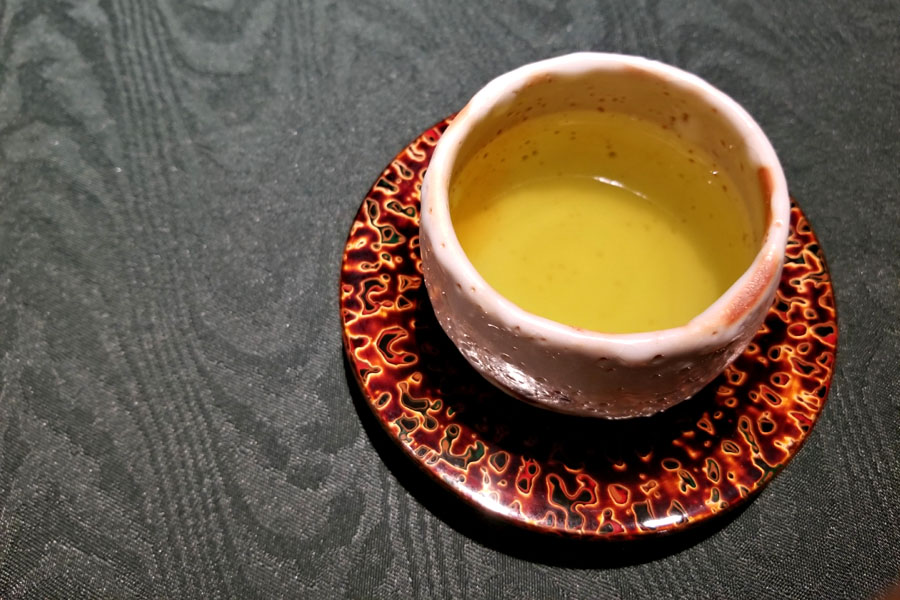 Prior to dessert, we were poured a nutty, floral tea that had some delightfully sweet, pineapple-y notes to it.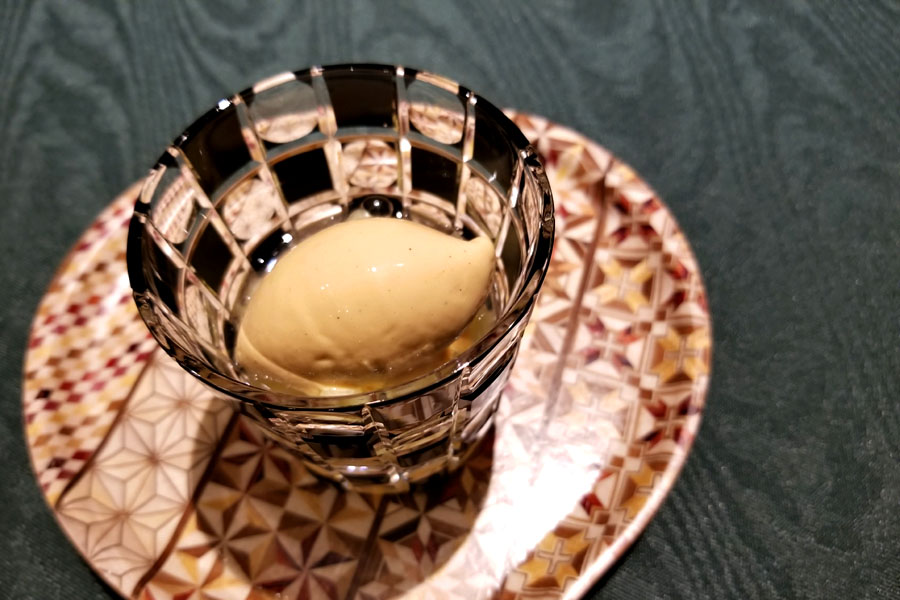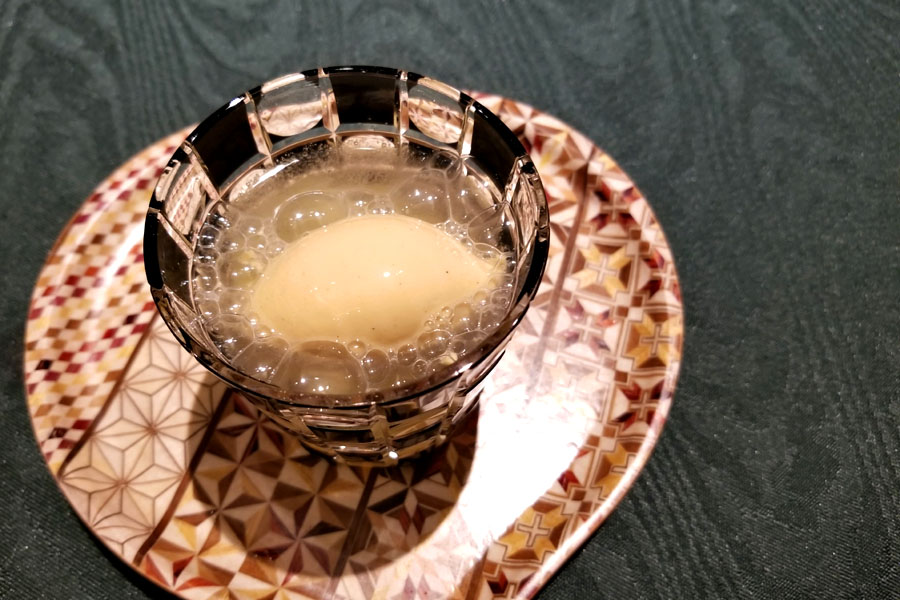 8a: Melon Cream Soda
Our first dessert featured ice cream made from Kyoto-sourced sugar. I was pretty enamored with it, and could've eaten a whole pint of the stuff just by itself. However, it was outstanding when taken with the zippy bits of melon in the dish, and I also enjoyed the bubbles imparted by the "soda" of Taittinger Nocturne champagne.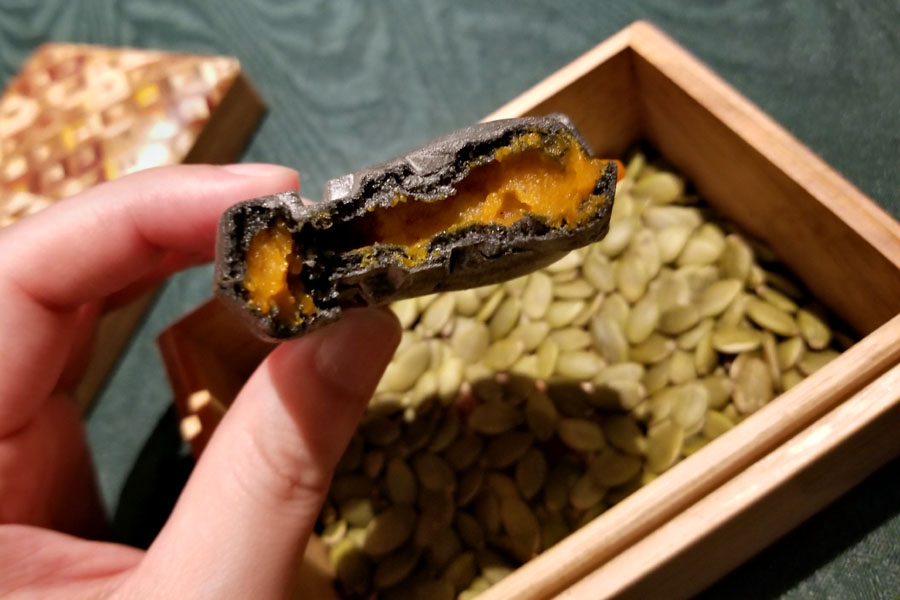 8b: Pumpkin, Sweet Potato, Vanilla Caramel
Continuing on with the Halloween theme was this
monaka
, one that did a remarkable job conveying the autumnal sweetness of pumpkin while also demonstrating a perfect texture from its rice wafers. The best single piece of
wagashi
I've had.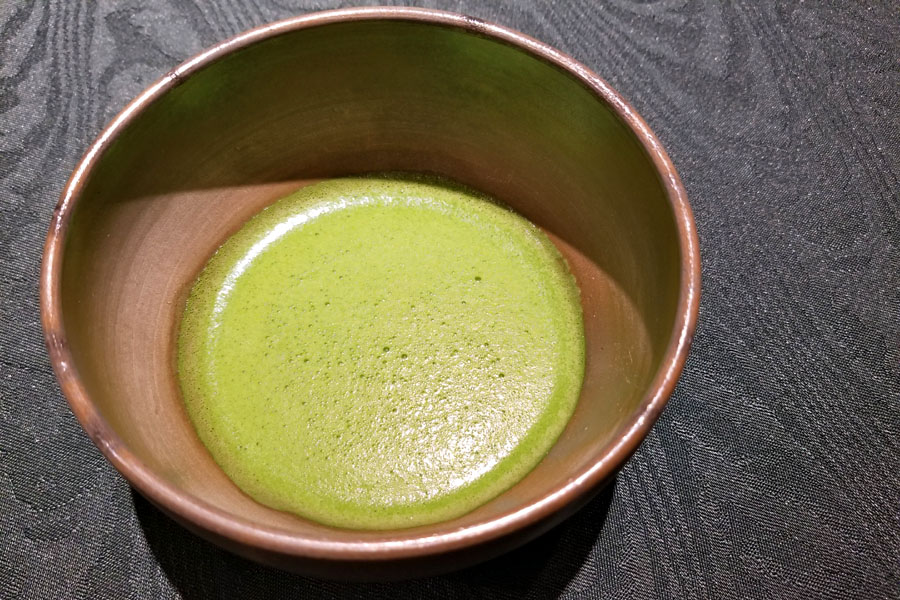 9: Matcha Tea
The traditional closer of matcha was unabashedly bitter, yet smooth, and not harsh at all, with a hint of fruitiness to boot.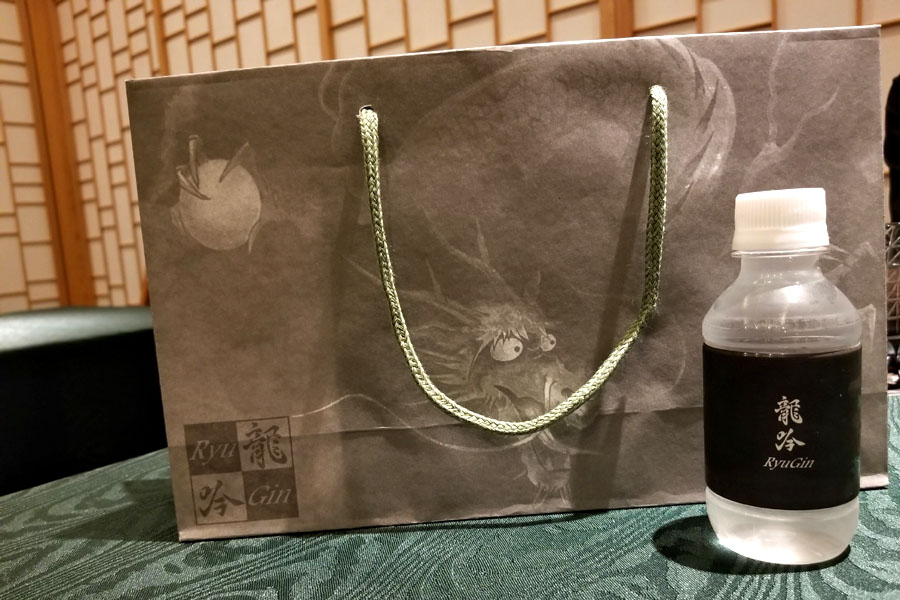 I was given a fancy bag at the end of the meal, not for leftovers (which actually aren't allowed here), but for the menus and bottles of RyuGin-branded water (sourced from Mount Fuji I'm told).
This was a splendid meal. What surprised me the most about Yamamoto's cooking was how little "molecular" influence there was, given that we're talking about a man known for screen-printing squid ink. I think he's probably toned things down as he's gotten older, and that's not necessarily a bad thing. I'm not sure how the techno-cuisine popular in the mid 2000s will be remembered or revered in the future, but what was served tonight did have a much more timeless quality to it. The Chef does a commendable job honoring the spirit of traditional Japanese fare while also keeping an eye on making the cuisine his own, and there was just something to the cooking that makes me think it could indeed transcend the bounds of any one culinary zeitgeist. It took me over 10 years to get here, but it was worth the wait.